35+ Super Fun Things to Do In Las Vegas For A Weekend
(This article may contain affiliate links. If you click through and make a purchase, we will receive a small commission at no additional cost to you. )
So you're heading to Vegas for the weekend and you want to make sure you hit the ground running when it comes to fun things to do. You know that there's so much to do and see that you can't possibly experience everything with the time you have available and you want to know about the absolute best things to do in Las Vegas for a weekend so you don't waste a single precious moment of your Vegas vacation.
Fear not! I've put together a list of Las Vegas activities and attractions that will leave you jumping up and down with excitement!
One of the best things about Las Vegas is that it packs a lot of attractions into just a couple of main areas of town (The Strip & Downtown) so you can do a lot in a short amount of time without wasting much, if any, of your valuable time traveling to and from various locations and attractions.
So here it is, our BIG list of fun things to do in Las Vegas for a weekend getaway!
Take a Spin on the High Roller Observation Wheel
The High Roller Observation Wheel is the tallest observation wheel in the world. Located on the Strip in the LINQ Promenade, the wheel will slowly lift you 550 feet in the air! It takes approximately 30 minutes for one complete revolution, offers a 360-degree view of the city both day and night, and is equipped with 28 spacious, fully enclosed cabins that hold up to 40 people each.
Oh, and by the way, some pod have a fully stocked and tended bar. High Roller happy hour anyone?!
RELATED: High Roller Ferris Wheel Las Vegas (Cost, Tips & Discounts)
Visit the Neon Boneyard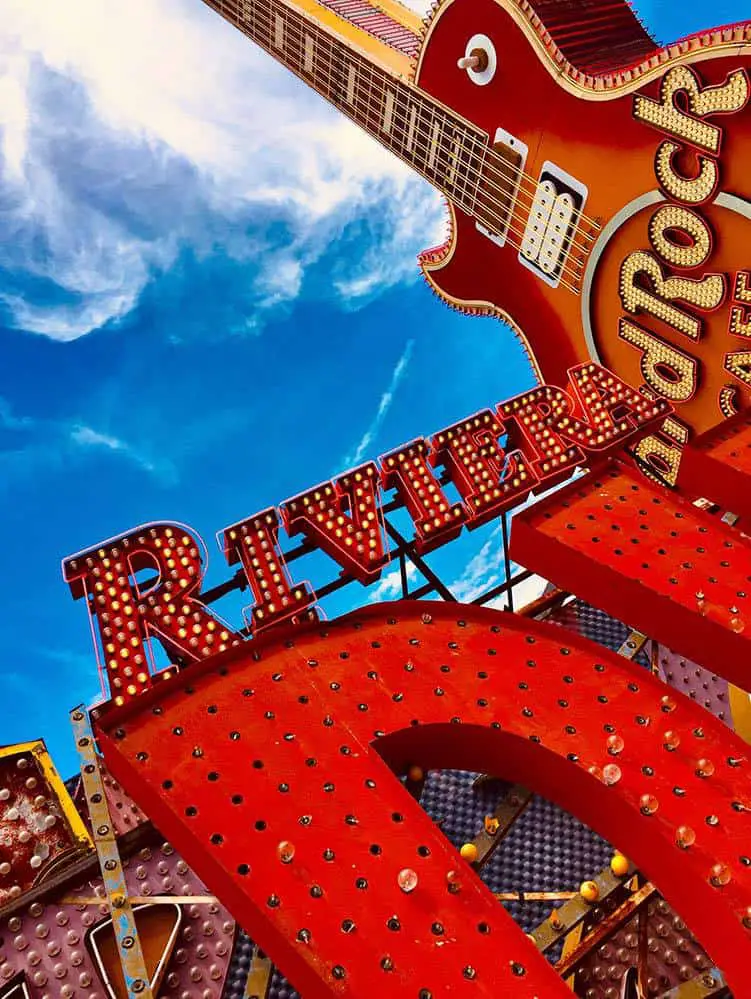 The Neon Museum boneyard is 2.6 acres of historic signs from old Las Vegas casinos and businesses. These are the signs you think of when you picture classic Las Vegas from the old days. Some of the signs have been refurbished and light up, while others are in a state of current disrepair.
The museum building itself is the actual lobby of the famous La Concha Motel (wikipedia). The boneyard and museum can be visited both day and night and offers something you can only see in Vegas.
See our article here to find out everything you need to know about visiting the Neon Museum Boneyard.
Cool Off at The Minus 5 Ice Bar
If you are looking for a place to cool off, then you should definitely check out the Minus 5 Ice Bar. Minus 5 is literally the coolest place in Las Vegas as everything in this amazing bar is made of ice! And I mean everything…the bar, bar stools, walls, and drinking glasses are all made of ice.
The bar itself is filled with lots of unique ice sculptures in a winter wonderland setting. Minus 5 offers a cool experience for all to enjoy. Perfect for a sweltering summer weekend in Las Vegas!
Break Things at Sin City Smash
A great start to any Vegas vacation is a trip to Sin City Smash! Think of that scene from the movie Office Space where the employees take out their aggression by smashing the office copy machine to bits.
At Sin City Smash you can de-stress by smashing dishes, televisions, computers, printers, and more with your choice of a sledgehammer or baseball bat. And when you're done, they recycle everything. Ahh, sweet release!
Try to score some discount tickets here.
Play at The Pinball Hall of Fame
The Pinball Hall of Fame is a museum dedicated to classic pinball machines. It features many different playable pinball machines from the past and present that have been painstakingly refurbished to their original glory.
You'll even find some extremely rare machines like Bally's Pinball Circus, Franco's Impacto, and William's Black Gold. With over 10,000 square feet of pinball machines from the 1950's to 1990's, you'll have a blast from the past! And unlike most museums, this one is definitely hands-on so bring lots of quarters!
It's FREE to enter and play is .25 to .50 per game.
Party at The Fremont Street Experience
Not to be missed, the Fremont Street Experience is located in downtown Las Vegas and is one of the most famous party streets in the world! It's a five-block pedestrian street that's chock full of attractions, shops, casinos, street performers, and live music.
Grab an adult beverage from one of the outdoor bars on the street and spend an evening walking around "Glitter Gultch" as it was known in the old days. Weekend nights (Fri & Sat) are when the party really gets going. You won't be disappointed!
RELATED: 9 Best Cheap Eats on Fremont Street (Downtown Vegas)
Check Out The Viva Vision Light Show
One of the top sights on Fremont Street is the Viva Vision Light Show. A huge digital canopy (in fact, it's the world's largest video screen with over 16 million pixels) covers the street and plays a light show choreographed to music at the top of every hour.
Over 20 million people a year take in the spectacular Viva Vision Light Show, and—best of all– it's free. If you're wondering what to do during a weekend in Las Vegas, Fremont Street, and the Viva Vision light show is an excellent choice!
The STRAT – Tallest Observation Tower in the United States
The Stratosphere Tower in Las Vegas is the tallest tower in the United States. It's 1,149 feet high and offers you a chance to see the city in a whole new way.
Not only will you be amazed by the view, but you can also dine at the Top of the World Restaurant, bungee jump off the top of the tower, or ride one of several thrill rides when you visit this amazing observation tower.
Enjoy the Bellagio Fountains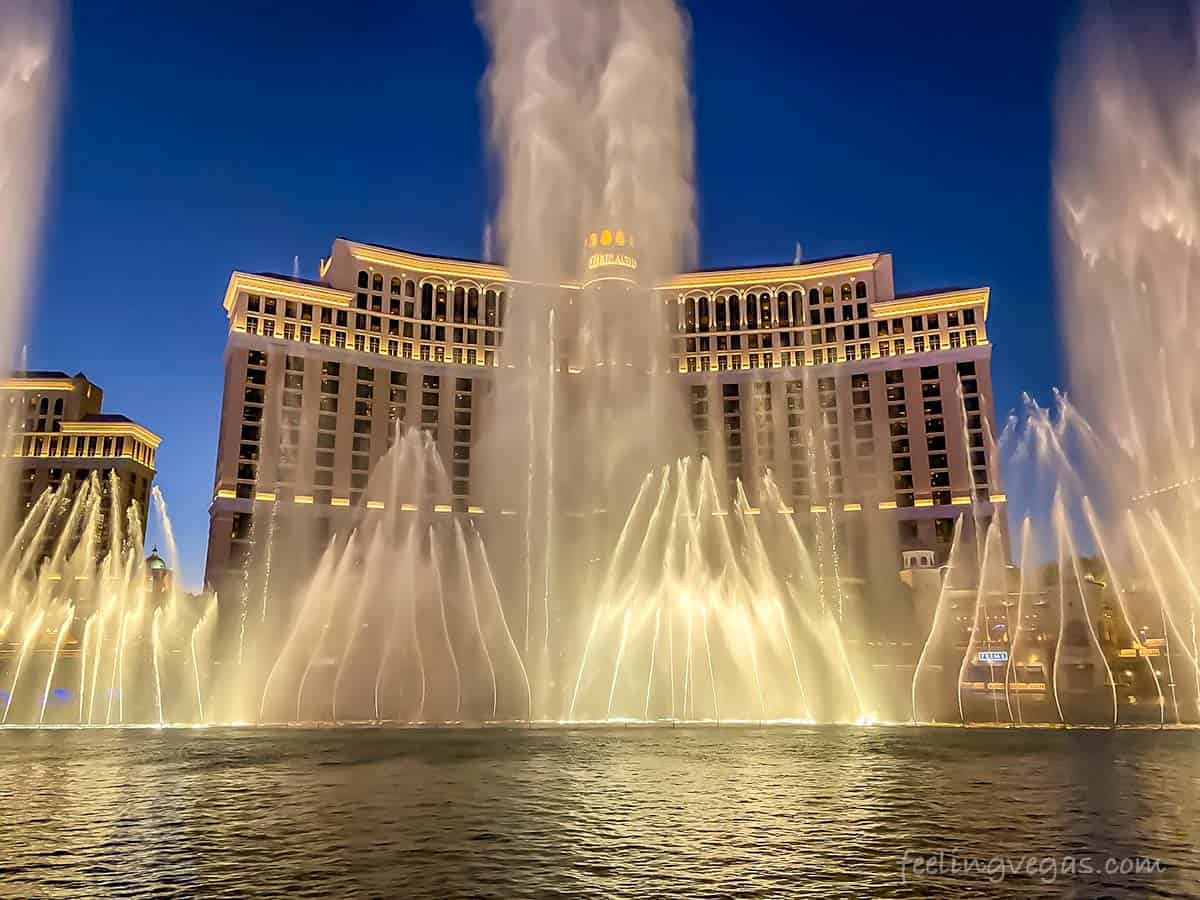 You are sure to find magic in the iconic Bellagio Fountain shows. It's the most magical water, music, and light show in Las Vegas (some might even say in the world).
Every 30 minutes, you can see a unique, perfectly choreographed fountain show right in the middle of the Strip. This is a must-do Las Vegas weekend item and guess what? It's FREE!
Find out more: Bellagio Fountain Show Times & Song List
Ride the Big Apple Virtual Reality Coaster
If you love a good roller coaster (I know I do!) jump onboard the Big Apple Coaster. This roller coaster runs on top of the New York New York casino. From the ground, it doesn't look that high but it's a lot higher up than it looks once you get on top! It's a fun coaster with a couple of big drops and a loop de loop but that's not all.
You also have the option to ride the coaster while wearing virtual reality goggles which takes the ride to a whole new experience level!
Shop at Container Park
This open-air shopping center is filled with a variety of boutiques, retail shops, and restaurants. It is also a place to go to concerts, movies, and other fun activities. The really interesting thing is that Container Park is built 100% from shipping containers, which makes for a truly unique shopping experience for people of all ages.
You can find this fascinating shopping park on Fremont Street in downtown. Oh, and by the way, there is a giant robotic Praying Mantis out front that talks, moves, and shoots fire out of its antenna! Hey, it's Las Vegas, did you expect anything less?
RELATED: 19 Best Things to Do in Downtown Las Vegas (Must See!)
Drive a Fast Car at Exotics Racing
Have you ever wanted to drive a super-fast car like a Ferrari, Lamborghini, or Porsche? If so, you should visit Exotics Racing in Las Vegas.
Choose from over 50 exotic cars to drive on their custom racetrack. It's sure to be the most intoxicating driving experience you've ever had! Check here for prices and hours.
Hit the Coin Slots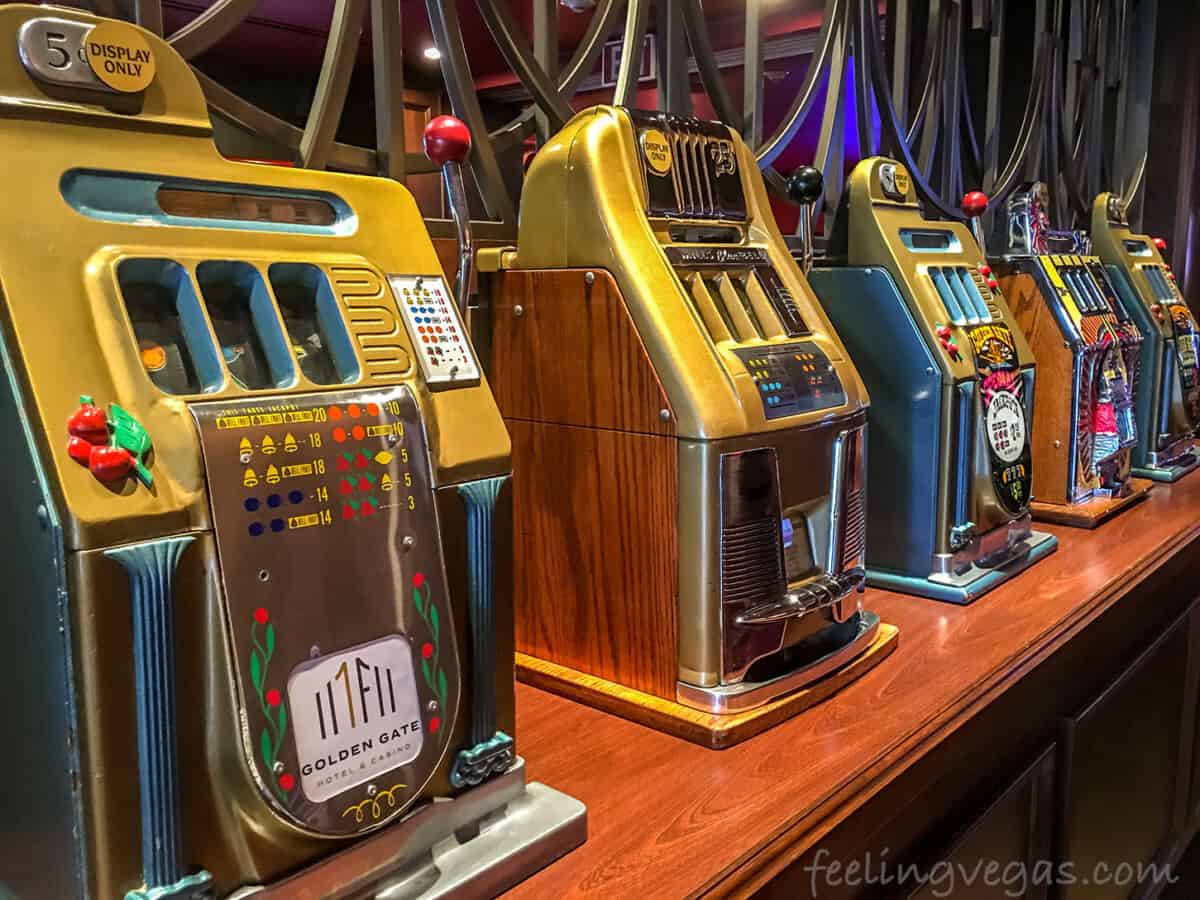 Yes, there are still a few casinos in Las Vegas where you can play coin-operated slot machines! While almost all of the slot machines in the city use ticket systems now instead of coins, you can still find a few casinos in downtown Las Vegas (on or around Fremont Street) where you can play the classic one-armed bandits using coins.
Check out our article here for a list of where you can still play coin slots in Las Vegas.
Visit Zak Bagans' The Haunted Museum
Interested in going on a haunted adventure? Check out this reputedly 1938 haunted house museum with over 30 spooky rooms and eerie corridors. Zak Began's The Haunted Museum has been featured on the Travel Channel's Ghost Adventures.
It's filled with many unique and original collectibles from well-known haunted sites.
On your journey through this museum, you may even hear paranormal activity so remember to listen closely and enjoy your adventure!
Explore Springs Preserve
The Springs Preserve is a great way to spend some of your weekend trip to Las Vegas surrounded by nature.  The Springs Preserve features pathways through a Mojave Desert landscape that takes you to exhibits located throughout the park.
Perfect for kids and families, it was named one of the "Top 10 North American Gardens Worth Traveling For" at the Garden Tourism Awards. To find out more information about the Springs Preserve you can visit them at their website here.
Try Indoor Skydiving!
Indoor skydiving has become a sought-after activity here in Las Vegas and the folks over at Vegas Indoor Skydiving will have you flying in no time. They'll set you up with all the gear and training you'll need to enter the wind tunnel and fly like an eagle.
Believe it or not but this is an activity that's perfect for families with young children (kids need to be at least 40lbs). I don't know about you but I'm all for the thrill of skydiving without having to jump out of an actual airplane!
Find out everything you need to know about Las Vegas indoor skydiving in our article here.
Get a Day Pass at The Spa at Aria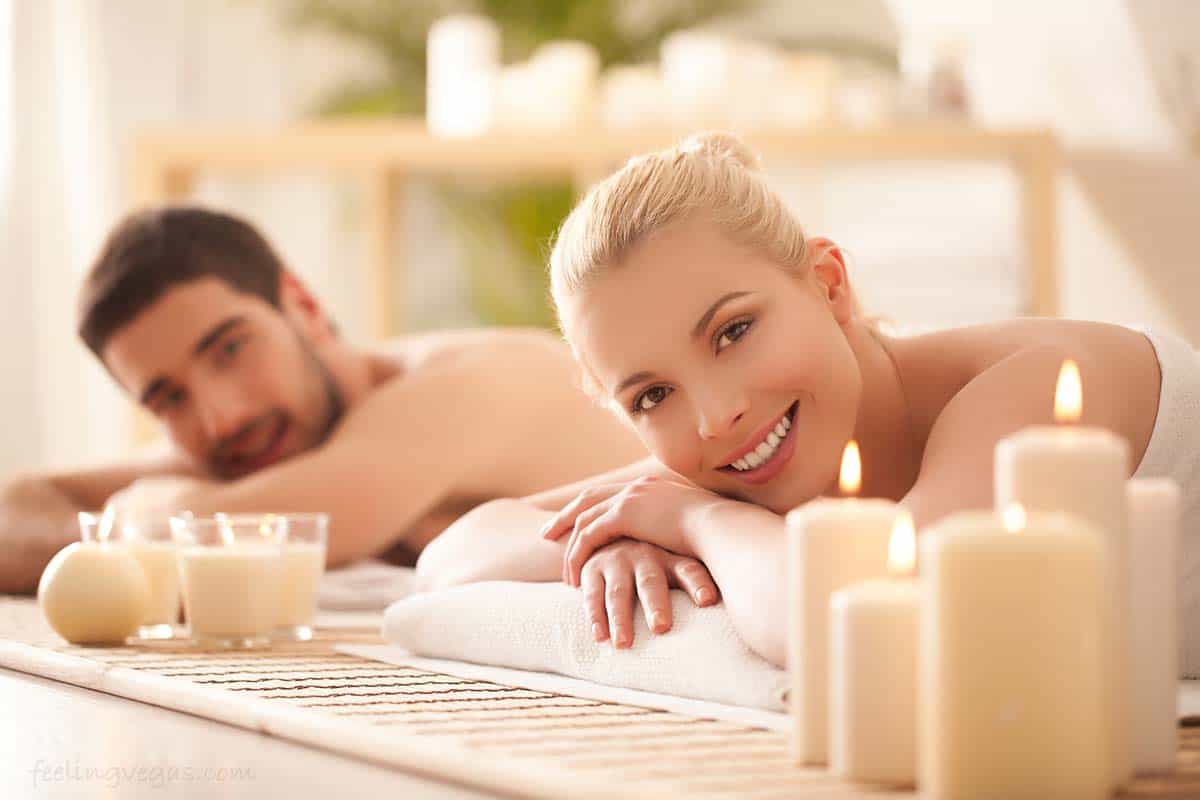 If you're looking for more of a relaxing idea for your Vegas weekend then The Spa at Aria is a five-star, award-winning day spa located in the Aria Hotel and Casino. They offer a complete menu of specialty spa treatments that are designed to relax, rejuvenate and re-energize your mind and body.
The day pass offers full-day usage of their therapy pools, salt room, fitness center, heated stone beds, and wet areas. This is an excellent activity for couples as well.
Check out our article here to find out about more Romantic Things to Do in Las Vegas for Couples.
Fly Over The Party on The SlotZilla Zip Line
If you are a thrill seeker, check out the SlotZilla Zip Line on Fremont Street. It is an eleven-story slot machine attraction that offers you the chance to zip line or zoom line over the street.
Fremont Street is crazy busy during the weekend and flying over the crowd in either a sitting or a 'superman' position is something you won't soon forget!
Before you go be sure to check for discount tickets here.
Bellagio Gallery of Fine Arts
The Bellagio Gallery of Fine Arts has rotating displays of some of the finest art pieces and installations from around the world.
This intimate gallery of fine art is nestled in the lavish Bellagio Hotel.
The artwork on display runs the gamut from ancient paintings and sculptures to works from current well-known artists. Check their website for hours and prices.
RELATED: 12 Amazing Art Galleries in Las Vegas (Revealed)
Take a Trip Thru The Void Omniverse
The Void, also known as a 'Hyper-Reality Facility', is where Virtual Reality (VR) merges with real-world physicality. You choose from a number of different scenarios and then fully immerse yourself in that world.
Up till now, VR had been something you just look at. At The Void in Las Vegas, it's something you can reach out touch, and interact with as well as see.
Part video game and part laser tag this is more realistic than anything you're ever experienced in the world of VR so far. Sooooo fun!
Go Boom at the National Atomic Testing Museum
The desert near Las Vegas is home to the Nevada Test Site where in the 50's & 60's the government performed over 900 above and below-ground nuclear tests. The National Atomic Testing Museum here in Las Vegas explores the history of these tests.
It's an educational experience that will teach you all about the history of nuclear weapon testing in America.
There are many items on display including rockets, nuclear reactors, pieces of the Berlin Wall, and parts of the World Trade Center.
Another fascinating thing you will find at the museum is information about alien culture, UFOs, and mysterious Area 51. (If you want to find out more about visiting Area 51 near Las Vegas check out our article here).
The 'Tank' – Swim with the Sharks
There is nothing as thrilling as swimming in the pool at the Golden Nugget. It is known as "The Tank" and features a 200,000-gallon shark tank aquarium in the center of the pool.
So while you're splashing around you can check out the sharks swimming just a few feet away. For a real thrill, ride the clear acrylic water slide that goes down through the middle of the shark tank. Yikes!
For more information about the tank, visit the Golden Nugget website.
Enjoy a Weekend Champagne Brunch Buffet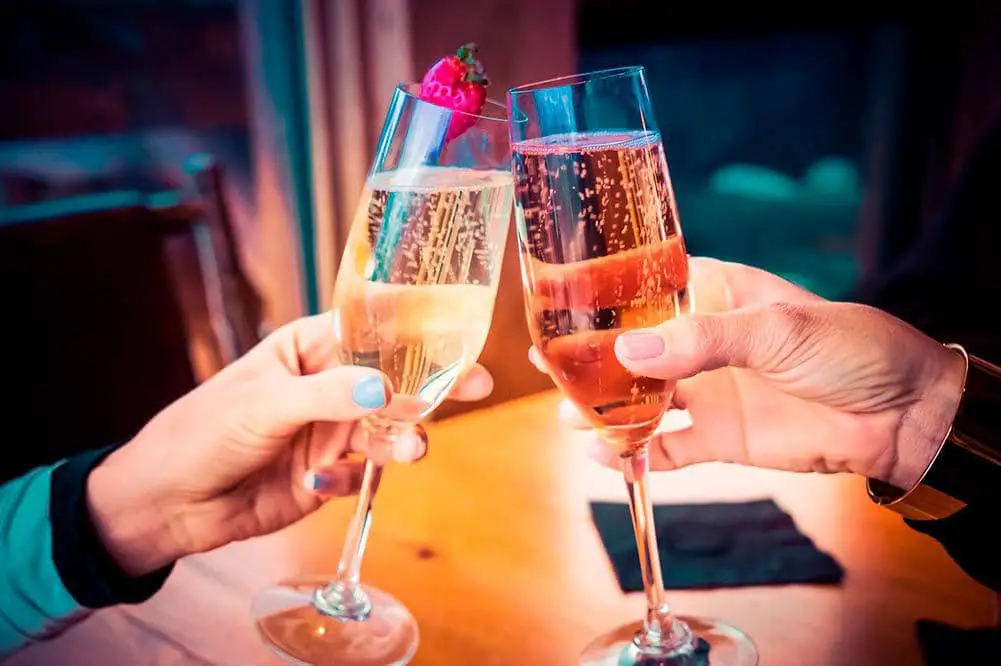 No weekend in Las Vegas would be complete without experiencing one of our famous champagne brunches. The delicious food, yummy champagne, and mimosas plus the exciting atmosphere all combine for a heck of a good time.
While many excellent brunch locations are available up and down the Strip, you'll want to check out our list of the best buffets in Las Vegas to make sure you choose one of the top buffets in town.
Play in the AdventureDome
Adventure Dome is a 5-acre indoor theme park located in Circus Circus Hotel & Casino. They have rides, live circus acts, and midway carnival games that are perfect for kids and the young at heart.
In addition, on Friday and Saturday nights, they feature Neon Nights, where they turn the house lights down and the neon lights up, adding a mesmerizing glow throughout the dome.
Take a Helicopter Ride Over Las Vegas
You can experience a breathtaking view from the sky in Las Vegas by taking a helicopter ride or tour. One of the most popular tours is a sunset flight over the Strip as night falls and the lights come up. You can learn more about this flight here.
You'll also want to check out our article here to see all of the many different helicopter tours available from Las Vegas and find out how to choose a safe helicopter company to fly with.
Slide around at Aqua Park in Lake Las Vegas
Aqua Park at Lake Las Vegas is a fairly new inflatable playground that includes a variety of runways, slides, jumping pillows, and bouncers that float around on the surface of Lake Las Vegas. Some other features you will find at the park include:
Ladders
Trampolines
Jumps
Obstacle Course
Swings
Wiggle Bridges.
Slides
You will also find other water activities available at Aqua Park including kayaks, paddleboards, and electric boat rentals.
This can be a busy place on warm Vegas weekends so be sure to get here early.
RELATED: The Best Water Parks In Las Vegas (Top 5 -Must Visit!)
Beat an Escape Room
Escape rooms are a growing trend in Las Vegas and the number of different themes may surprise you. What's an escape room you ask? You basically find yourself "locked" up in a room with your friends (or even strangers) and try to solve a series of puzzles using clues you find in and around the room.
The rooms are richly themed environments full of things you can look at and touch while you search for clues. Some themes are scary and others aren't but either way, you've got about an hour to solve the puzzle before your time is up.
Check out our article here to find out about The Top Escape Rooms in Las Vegas.
Get Your Laughs On at One of Las Vegas' Top Comedy Clubs
Without a doubt, Las Vegas has some of the best comedy clubs in the country. What makes them so great is the fact that Vegas has a constant flow of the funniest comedians in the world coming through town.
Any weekend (or weeknight for that matter) you'll find several well-known comedians performing at one or more of the top clubs in town.
You can find a listing of the Top 7 Comedy Clubs in Vegas in our article here.
Experience a 4DX Movie
How about checking out a movie in 4DX? Yep, that's right, I said 4D! At the Regal Red Rock 4DX theater, you can experience a movie as you've never experienced one before.
A 4DX theater has next-generation motion control seating that moves along with the movie so you feel every bump, turn, and explosion. In addition, the seats produce fog, wind, water, bubbles, and even smells to go along with the movie.
Check out the video above to get an idea of the experience I'm talking about.
RECOMMENDED: The 6 Best Movie Theaters in Las Vegas for Cinema Lovers
Visit a Shark Reef in The Middle of the Mohave Desert!
Try and imagine a 1.3 million gallon aquarium teaming with sharks that are viewable from the inside of a sunken shipwreck on the bottom of the ocean. Wow! … and that's just part of the aquarium facilities at Mandalay Bay!
The journey begins topside at an ancient temple in the jungle where you'll see Komodo Dragons, pythons, and piranhas. But the temple complex is sinking, and as you adventure deeper into the temple the sharks come out to play.
If you're in town for a weekend trip, you'll definitely want to check out Shark Reef.
Have Dinner at Lago by Julian Serrano
Enjoy dinner at one of the most famous restaurants in Las Vegas. Lago is an Italian patio terrace restaurant that directly overlooks the magnificent Bellagio Fountains.
It's one of the most sought-after celebrity chef restaurants in the city so be sure to make reservations ahead of time.
See our article here to find the 15 Best Restaurants in Las Vegas With Views of the Bellagio Fountains.
Catch One of
Seven

Cirque du Soleil Shows!
If you're like many other people, you might wait for years for even one of the Cirque du Soleil shows to finally come anywhere near your hometown.
Well, while you're in Vegas you've got the opportunity to choose from seven different Cirque du Soleil shows playing daily all year long!
Every one of these shows is spectacular and you really should catch at least one while you're here. If you'll be in Las Vegas over a weekend be sure to book the show in advance as they can sell out rather quickly.
Having said that, Cirque du Soleil is not even close to the only shows in town. Las Vegas literally has dozens of shows big and small playing every day.
Find out about all the Cirque du Soleil shows currently playing in Las Vegas.
Take a Day Trip Outside Vegas
Las Vegas is blessed to be located near some absolutely beautiful natural areas that can be easily visited on a half-day or full-day trip from the Strip. There are many tours to the following locations leaving Las Vegas daily.
Note:  Over the course of a weekend in Las Vegas, you won't be able to see them all, but visiting at least one of these locations during a 2 – 3 day trip is very possible, depending on your desires.
Red Rock Canyon
Red Rock Canyon is located only about 17 miles from the Las Vegas Strip (about 30 minutes). Some things that are offered at this beautiful place include the following:
13-mile scenic loop drive
Hiking and Trails
Geology
Camping
Plants and Wildlife
Cultural Resources
Visitor Center
The facility also offers many indoor and outdoor exhibits, along with a book and gift store.
A person could spend hours and hours visiting the Red Rock Canyon and still need more time or you can choose to simply drive the 13-mile scenic loop with a few stops along the way, and you'll be back on the Strip in a couple of hours. The choice is yours.
You can drive yourself or take a tour of Red Rock Canyon from Las Vegas.
Find out how to get to Red Rock Canyon and see a list of the interesting sights and hiking trails you'll see along the way in our article here.
The Hoover Dam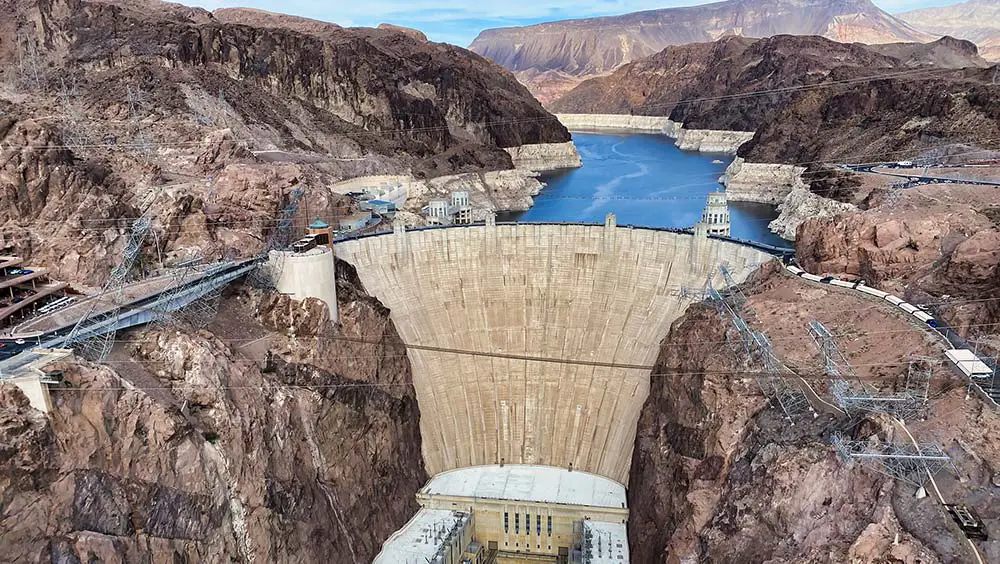 The Hoover Dam is a man-made natural wonder. It's a must-do trip when you're in Las Vegas for the weekend. It only takes about 45 minutes to reach Hoover Dam from the Strip.
You can take a tour of this amazing place which will most likely take about half a day. The amazing pictures you'll get will be worth the trip itself!
RELATED: Find out everything there is to do and see when you visit Hoover Dam in our article here.
The Grand Canyon
While the South Rim of the Grand Canyon may be out of reach for a weekend trip to Vegas, a bus tour to Grand Canyon West is only about a 2 1/2-hour drive one way, and the whole trip can be accomplished in a day.
There are also several helicopter and airplane tours that you could take from Las Vegas to see the Grand Canyon area in a shorter time frame.
Death Valley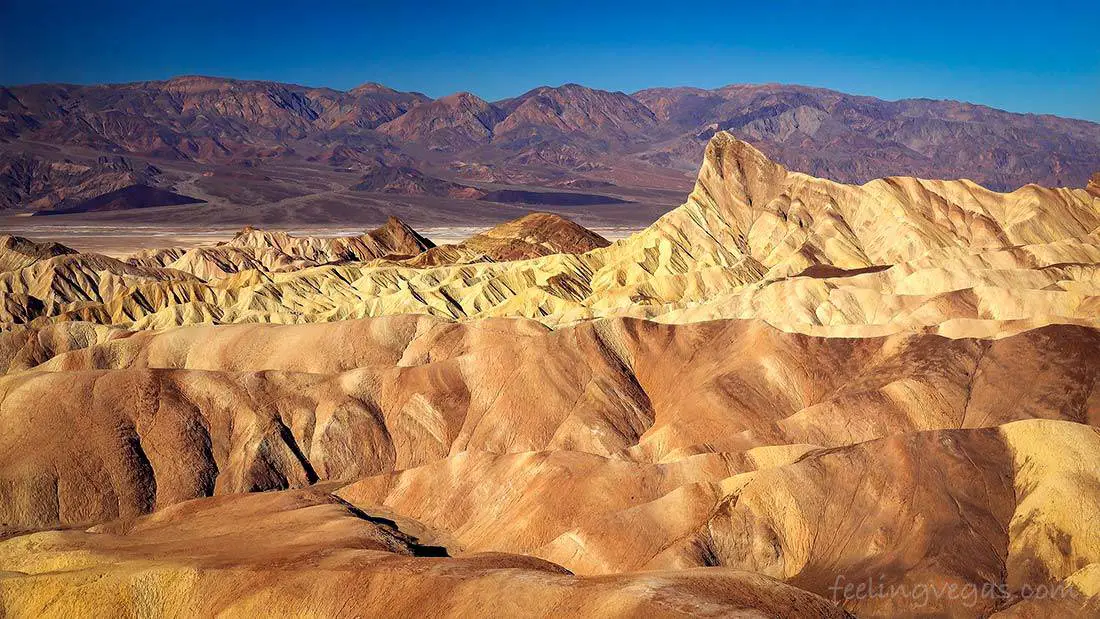 Death Valley is the lowest point of elevation in all of North America. In fact, much of it is actually below sea level.
It's also known as one of the hottest places on earth during the summer months. Having said that, Death Valley is an absolutely gorgeous national park and is only about 115 miles from Las Vegas which means it's about a 2-hour drive.
You will be awed by the views of this astonishing place. Full-day tours to Death Valley from Las Vegas can be a great way to get to experience the park.
Badwater Basin – You will find the basin at the south end of the National Park; it is just the place for you to see the salt flats. As a matter of fact, most of the basin is made of pure table salt. This amazing place is the location of the lowest elevation point in North America.
Devils Golf Course – Golf lovers, don't get too excited, this place isn't a golf course. It is a huge area of rock salt that has been slowly eroding creating spires to that form in the area due to weather. The spires have become so pronounced it has been said that not even the devil could play golf here.
Ubehebe Crater – This crater is about ½ a mile wide and 400 ft. deep, it was formed because of a volcanic eruption. You can take bus tours which will allow you to see this amazing creation.
Zabriskie Point – This place is the most popular viewpoint in the Death Valley National Park. You can see the amazing badland of Furnace Creek and look at the Paramount Mountains all at the same time. This point is a great place to view the sunrise and sunset.
The views in Death Valley are stunning, so don't miss out on taking a drive or bus tour to this fascinating place.
The Bottom Line
Whew, we've covered a lot of ground! If you're wondering about things to do for a weekend in Las Vegas, I hope you will see by now that there is no shortage of fun ideas, even if you've only got a couple of days to spend.
With a bit of pre-planning, you can do more in Las Vegas in 2 or 3 days than you can just about anywhere else! I hope this article has been helpful and have fun on your vacation!