Indoor Skydiving Las Vegas (Prices, Groupon Discounts & More!)
Imagine the thrill of skydiving without the fear of wondering if your chute is going to open! Indoor skydiving in Las Vegas has become a very popular activity and is an exciting experience for people of all ages.
Before you jump headfirst into the wind tunnel, you should know a few key things about the process like; what it costs, general safety guidelines, and weight restrictions. You'll also need to know how to prepare and what to bring with you in order to have a great Las Vegas indoor skydiving experience!
Here are the main things you need to know about indoor skydiving Las Vegas:
There are no age limits
There are, however, minimum and maximum weight restrictions
Prices depend on the number of people in your group
It gets warm in the tunnel, so dress comfortably
You don't need any prior experience
Safety is a high priority so you can focus on the fun
Indoor skydiving is an adventure not many people can say they've experienced but before you get to flying there are a couple of things you'll need to know. Pre-flight training is part of the adventure. Each participant is required to take a short training class prior to their first flight.
First-time participants will then have about 2 to 6 minutes of actual flight time. That said, it's more than worth it for the memories you'll make. Read on to find out why indoor skydiving is an activity you'll definitely want to check out when you're in Las Vegas.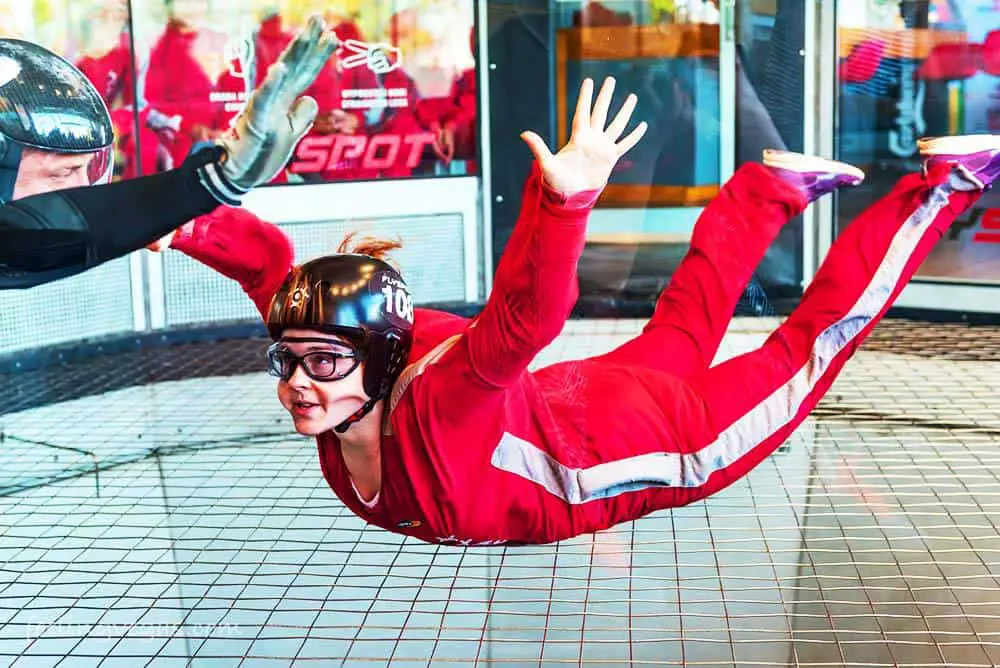 (This article may contain affiliate links, which means we might earn a small commission if you click and make a purchase. Thank you!)
Indoor Skydiving in Las Vegas, Nevada – The Facts
Though Las Vegas is filled with all kinds of tourist attractions, indoor skydiving is certainly one of the more unique activities you can find in town. Afterwards, you'll definitely have a story to tell your friends.
In order to better prepare yourself for your upcoming adventure, I've put together all the information you'll need to know, right here, in one place.
Indoor Skydiving Weight Limits
The premier provider of indoor skydiving in Las Vegas is Vegas Indoor Skydiving and according to them, there are a few guidelines to meet before you're allowed to fly. The aerodynamics of this activity is an important thing to keep in mind when considering the center of gravity of each participant.
Because the center of gravity is different between men and women, you'll find a chart below to help you make sure you meet the height and weight combination requirements.
Maximum Weight Limits
feet / centimeters
Men
lbs / kg
Women
lbs / kg
Under 5' 6" / Under 170 cm
180 lbs / 82 kg
160 lbs / 72 kg
5' 6" – 6' / 170 cm – 182 cm
215 lbs / 98 kg
180 lbs / 82 kg
Over 6' / Over 182 cm
230 lbs / 104 kg
200 lbs / 91 kg
(source)
Aside from the maximum height and weight guidelines for adults above, please note that the minimum weight for children is 40 pounds. So even the little ones can participate in this activity!
Also, just so you're aware, they will weigh you (pretty much in front of everyone) to make sure that you meet the guidelines. So hopefully you're okay with that!
Indoor Skydiving Safety is Taken Very Seriously
At Vegas Indoor Skydiving, safety is the first priority. If you've been previously injured around the area of your neck, shoulders, or back, you will be advised against flying because the physical positions you'll take during flight could exacerbate any pre-existing problems. Also, if you're pregnant you will be forbidden to fly for obvious reasons.
Children will be required to take a safety class before being allowed to fly. Their parent or legal guardian will have to attend this class with them before joining them in the tunnel.
You will be floating in a padded room above a netted floor with proper protective gear such as goggles and earplugs. The fan can generate winds up to 120 miles per hour, so this gear is essential in keeping you, your friends, and your family safe and unharmed.
Last but not least, you are not allowed to fly or sign the waiver for yourself or a minor if you are under the influence of anything such as medications, alcohol, or illegal substances. They're pretty strict on this rule. They won't allow you to sign the waiver if you've recently had even as little as one drink.
Skydiving Wind Tunnel – Experience Not Required
Can I do this even if I have no previous experience? You bet! You don't have to know a thing about it when you walk in the door. Before your flight, you will be required to attend a quick training class.
An experienced instructor will guide you through everything you'll need to know and can answer any questions you may have along the way.
They will cover all the basics of skydiving like how to position your body and what hand signals they will use to communicate with you during your flight (it's too loud to talk in there) and any safety measures that you may need to know while you're flying or waiting for your turn.
Vegas Indoor Skydiving Price: Cost to Indoor Skydive in Las Vegas?
Probably the most important deciding factor of all of this is how much it will cost you.
Fortunately, the Vegas indoor skydiving price is quite reasonable and you will be able to save even more by pre-purchasing tickets from one of the two discount options I'll give you below.
You can purchase one of two basic packages at Vegas indoor skydiving. What you get for your money and pricing is as follows:
Learn To Fly Package ($85)
1 person / 2 flights: If it's your first time flying and you're going solo, the cost will be right around $85 for two separate flights of one minute each. The package includes training, all the equipment you will need, and time in the tunnel.
Your instructor will make sure that you know everything you need to fly safely with personalized training. This package is great for ages five and older. You can expect that the entire experience will last about one hour.
The Indoor Skydiving Experience ($149)
This package includes everything that the Learn to Fly bundle has but you'll receive several additional perks including:
Twice the flight time of the Learn to Fly package.
An action video of your flights in the wind tunnel.
Photos of your flight experience.
Indoor skydiving t-shirt of your choice.
This is a great package if you've flown before or are sure you're going to love the experience and want to maximize your flying time.
Additional Las Vegas Indoor Skydiving Prices & Options
While I don't see any additional indoor skydiving options listed on their website anymore, they have previously offered several additional packages that were perfect for groups. I'd bet money these options are still available if you give them a call at (702) 731-4768.
I've kept the prices that they previously had listed for reference but you may want to expect that the prices have gone up somewhat.
1 person / 5 flights: If you really want to soar, you can have 5 flights of one minute each, this will be roughly $99.
5 or more people: There are separate prices for group flights that range from about $350 for 5 people to nearly $1500 for groups up to 30 people.
Birthday parties: The pricing ranges from about $45 to $75 per child for this package, but it depends on your party and how many extras you want. The difference in these packages is merchandise, repeat flights, photos, and videos. You can choose a package that works best for you.
Bachelor/Bachelorette party: You will have two packages to choose from. The first package is $85 per person and includes one videotaped flight. In the more expensive package ($100 per person), you will receive two flights, a video, and a group photo.
Corporate team building: Again, you'll have two options to choose from which cost either $120 or $145 per person. Included in these packages are a refreshment station and video you can take home with you. The more expensive package receives a second flight as well.
Each package has different additions. There are so many options between all that they offer, that there is a package that's perfect for everyone. They also have add-on pictures and videos you or anyone in your group can buy on top of your flight packages.
The indoor skydiving facility is located next to but not directly on the Strip (google maps) so there is plenty of room to park and parking is free, so you won't have to fork over an extra fee before you even get into the building which is always a nice bonus in Vegas.
Las Vegas Indoor Skydiving Price Discounts
While you can purchase from Vegas Indoor Skydiving directly, your best bet for saving some money is to check out the two options below for occasionally offered discount tickets.
What to Bring with You For Indoor Skydiving
All of the equipment for the flight will be included in your purchase, so you don't have to worry about buying special earplugs or goggles. All you need to worry about is wearing something comfortable, like a t-shirt and pants, that will allow you to move easily.
Also, keep in mind that the tunnel can get quite warm so dress accordingly.
Tennis shoes or similar are a must, so your shoes don't fly off your feet when the propellers in the tunnel kick on. The flight suit they'll lend you will fit right over your street clothes and you will be provided a helmet to protect your head.
Indoor Skydiving Las Vegas (Ready to Fly?)
If you're ready to defy gravity then head on over to Vegas Indoor Skydiving and suit up! In no time you'll be flying, hovering, and free-falling inside their giant wind tunnel.
With an engine that operates at 1,000 horsepower and creates wind up to 120 miles per hour, you'll soon be flying like you've been doing it all your life!
If you love a good adrenaline-inducing adventure without the fear of death, then you'll love skydiving Las Vegas indoor!
Alright, so that's everything you need to know about Indoor Skydiving in Las Vegas. Have a great time!
More Fun Activities in Las Vegas
Las Vegas is a city of never-ending fun things to do. Check out some of these other articles on our website to find out about more cool Vegas attractions: