How Long Does It Take To Ride the High Roller in Vegas? (Answered)
(This article may contain affiliate links. If you click through and make a purchase, we will receive a small commission at no additional cost to you. )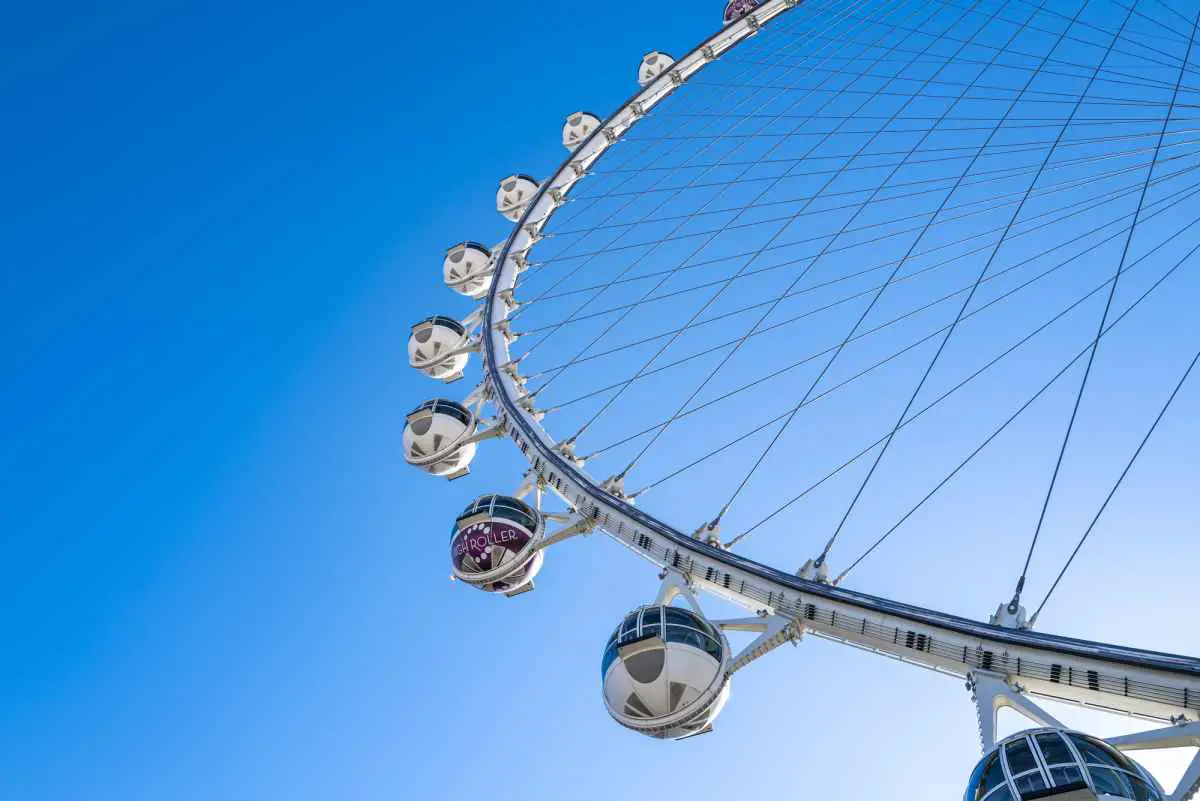 The High Roller is a 550-foot Ferris wheel built in 2014 and is owned by Caesars Entertainment in Las Vegas. This gigantic construction is the world's second-tallest observation wheel and is definitely worth a visit if you're in Vegas. However, if you're on a tight schedule, it's best to know how long a trip around the High Roller will take.
It takes roughly 30 minutes to complete a full revolution on the High Roller in Vegas. While a single ride on the High Roller takes only half an hour, it's best to set aside at least an hour to accommodate entering and exiting the ride.
In this article, we'll look at other details about the High Roller so you can plan to sneak in a quick ride on your next visit to Vegas. 
RECOMMENDED: High Roller Las Vegas Cost (Best Times to Ride) This article covers everything you need to know about riding the High Roller in Las Vegas.
High Roller Ride Length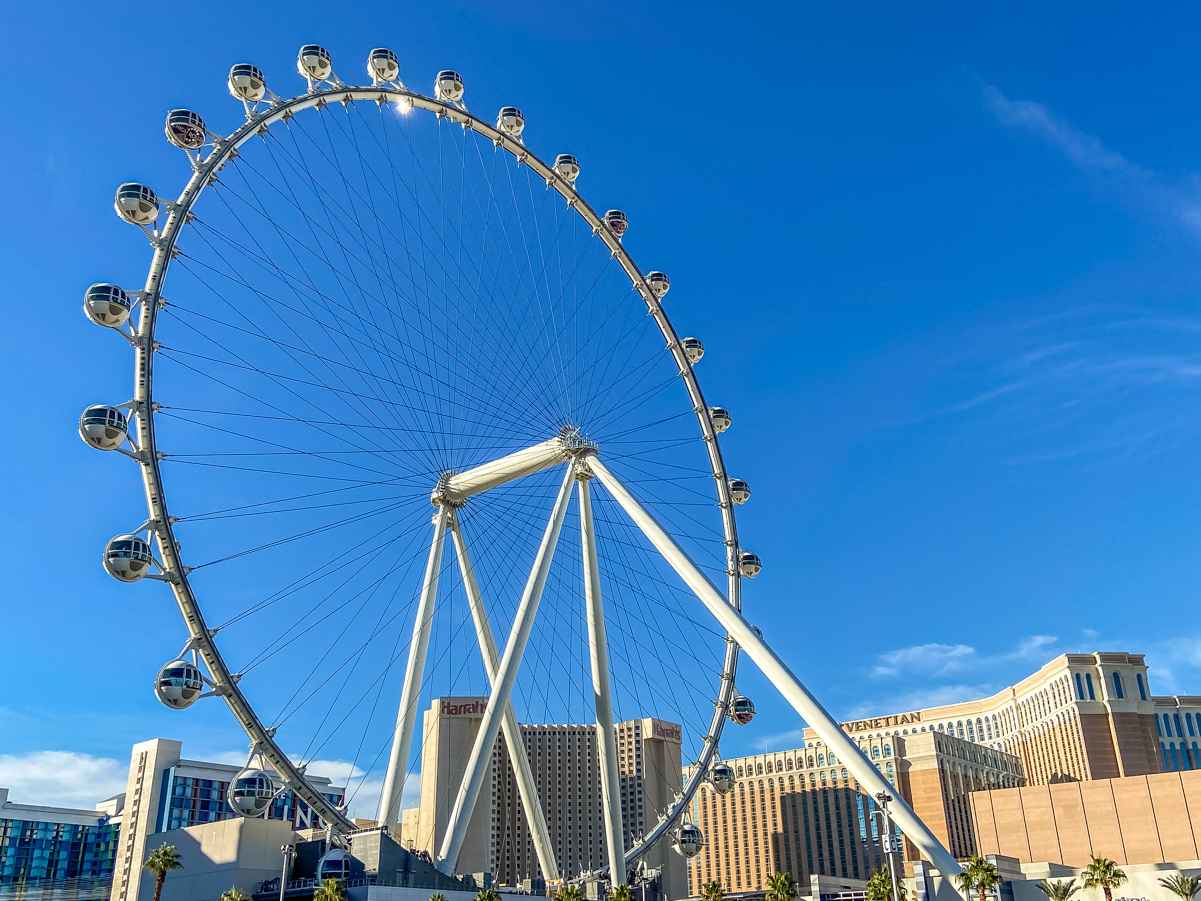 The High Roller ride takes 30 minutes from the time you step into a pod until the time you're exiting the cabin after making one complete revolution. Having said that, you can expect the entire experience to take, on average, approximately one hour.
The ride moves at approximately one foot per second (it never stops moving). It will take 15 minutes for a pod exiting the station platform to reach the very top (550 feet) and another 15 minutes to get back down to the bottom.
Best Time To Visit the High Roller in Vegas 
The High Roller wheel is frequented by guests throughout the day, so figuring out the best time for a ride can be a little complicated. The daytime is typically less busy, and you probably won't have to wait more than ten minutes for your turn on the wheel.
The High Roller opens at 2 PM and runs till 12 AM daily, and you can visit anytime in between. However, if you want to make the most of your experience, it's best to ride the High Roller at night when Vegas comes alive. Every building lights up during this time, and the Bellagio Fountains can be seen creating beautiful patterns that merge seamlessly with the lights. 
Of course, you may have to wait in line a little longer in the evenings, but it's worth it!
Can You Book High Roller Tickets in Advance?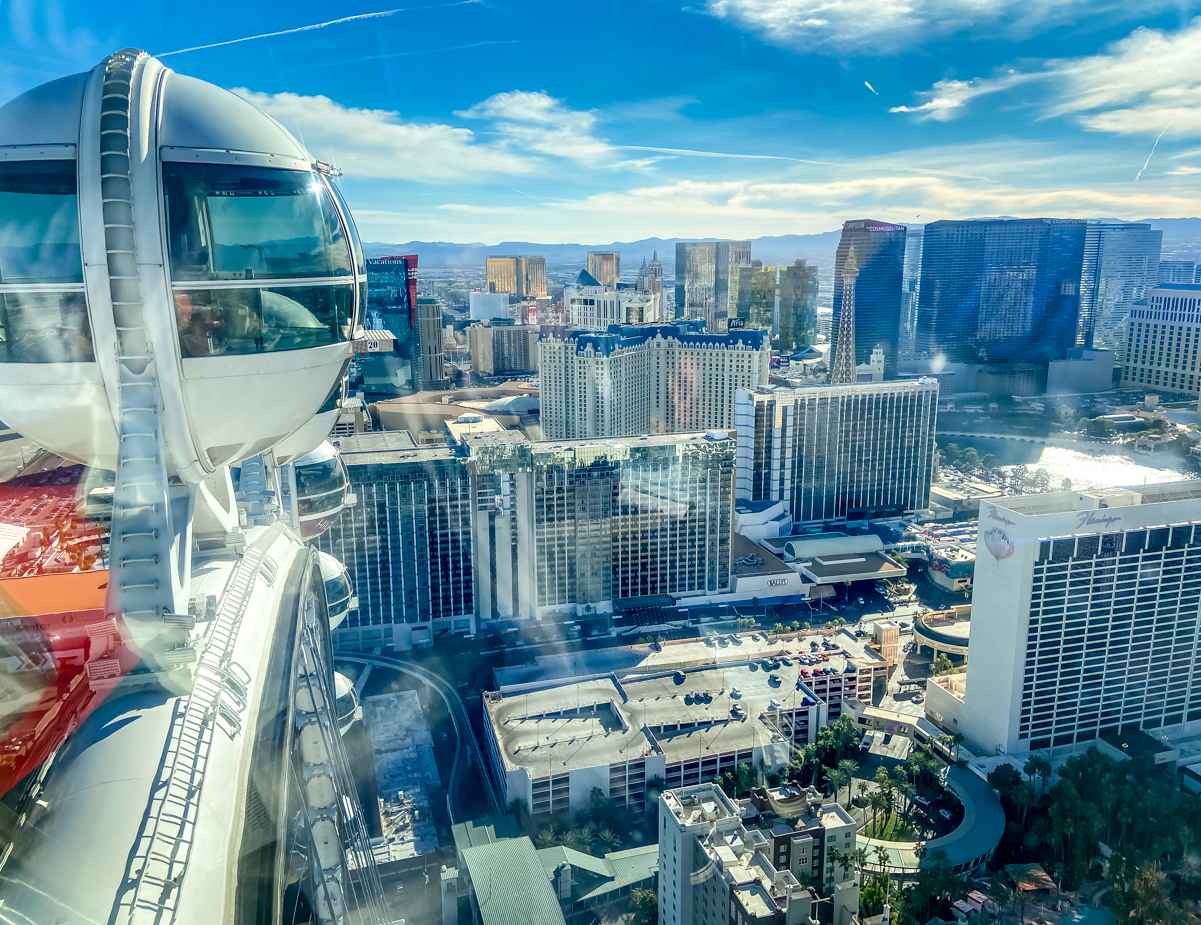 You're probably aware that big attractions like the High Roller can have a crowd waiting to hop on board. Buying a ticket at the venue isn't advisable either because too many people may be waiting in line.
Luckily, you can book High Roller tickets in advance online. There are nighttime and daytime tickets for the High Roller, and you have to visit the ride either during daytime or nighttime hours, depending on the kind of ticket you book.
You can purchase High Roller tickets when you get to the ride, but it's best to reserve tickets in advance, considering how popular this attraction is. That being said, there are thirty-two pods on the High Roller, each capable of holding forty people.
ALSO SEE: Do You Need Reservations for the High Roller Las Vegas?
So while the ride may get crowded, there's always space to accommodate people who are patient enough to wait in line for their turn.  
Daytime (2 pm to 4:59 pm) tickets on the High Roller cost around $23.50, and nighttime (5 pm to midnight) tickets cost $34.75.
Can You Drink on the High Roller?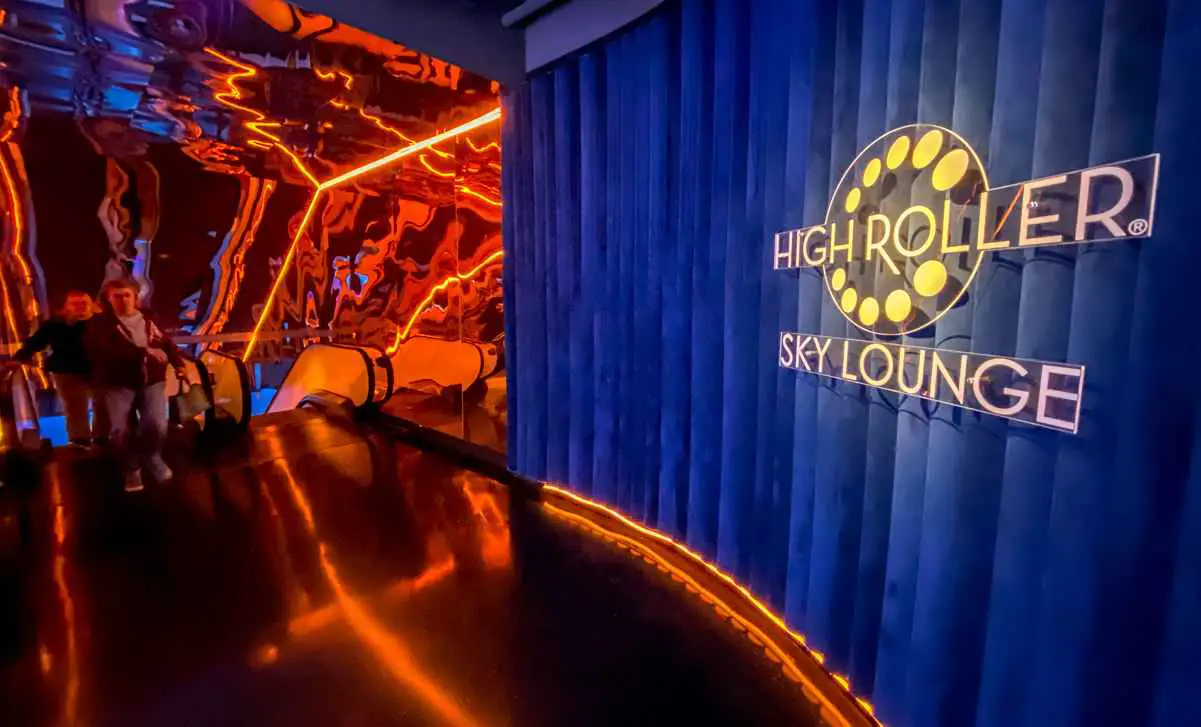 If you're seeking a unique experience in Las Vegas, the High Roller is one attraction you don't want to miss. However, some of us are there to party in Vegas, and we like to take the party wherever we go. Fortunately, the High Roller has accommodations for this.
You can take drinks purchased at the High Roller Sky Lounge bar on the High Roller, or you can carry outside beverages on the ride. The High Roller also offers a special cabin with an open bar for an additional fee.
I mentioned ticket prices in the previous section so that you can budget your trip to the High Roller accordingly. However, if you've got a few extra bucks to spare, consider buying a $60 ticket to get access to a High Roller cabin with an open bar.
And if you're looking to enjoy your ride while sipping on a few cocktails, the open bar ticket is worth the investment.
Private High Roller Cabins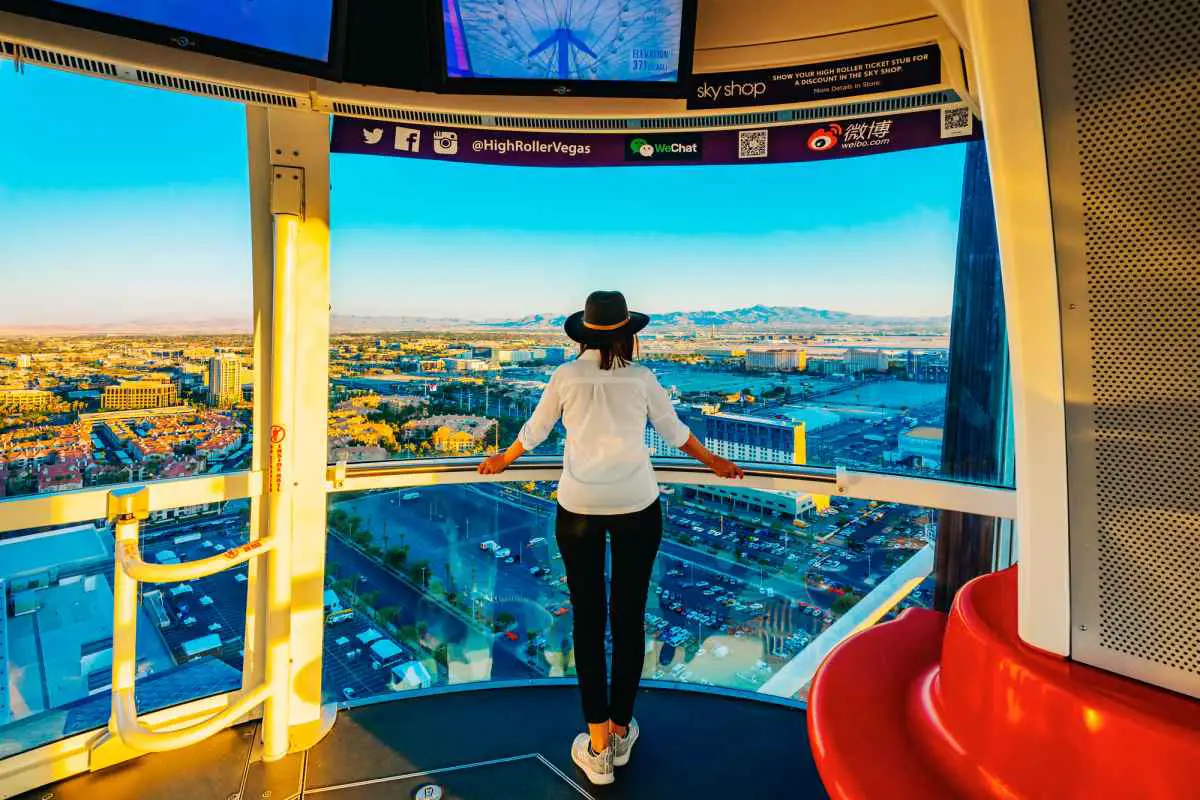 As mentioned, each cabin on the High Roller can hold up to forty people, although the staff attempts to only fill each pod with 10-15 people if it's not too busy. However, some of you may want a more private experience of the High Roller, where your friends or family can share a cabin and not have to worry about bothering other guests.
Fortunately, the High Roller offers special packages for large groups of people to have their private half-hour party on the Ferris wheel.
For $600, you can book an entire cabin on the ride, accommodating up to ten guests. At this price, you also get to avail the services of an open bar in the cabin. So if you're going with friends and family, consider investing a little extra so you can privately enjoy the experience of soaring over Vegas.
ALSO SEE: Do You Have To Share Pods on the High Roller?
Other Factors To Keep in Mind When Riding the High Roller 
The High Roller is an excellent way to get a bird's eye view of Vegas and see its splendor. But when riding the High Roller, there are a few things to remember.
Use the restroom before you enter the ride. The cabins don't have restrooms, so you want to be comfy when you get on the ride. There are bathrooms in the High Roller's Sky Lounge.
There's no smoking on the High Roller. It may be tempting for most guests who drink to light up a smoke while looking over Vegas and sipping on a banana daiquiri. However, there's a strict no-smoking policy on the High Roller, and you can get fined heavily for violating the rule.
You may have to wait a while. Most guests report not having to wait longer than ten minutes to get a cabin on the High Roller. However, if too many people are booking private cabins, or you've booked one yourself, you may need to wait a little longer for your turn.
High Roller Ride Length – Final Thoughts
The High Roller is a unique experience, and if you're a fan of Sin City, you must get on the wheel at least once. While thirty minutes may not seem like a long ride, with the right crowd, it's enough to create memories that will last a lifetime.