Wait Times at The High Roller (A guide to planning your visit)
(This article may contain affiliate links. If you click through and make a purchase, we will receive a small commission at no additional cost to you. )
A trip to Las Vegas should include many of the iconic attractions, including the High Roller observation wheel. Wait times at the High Roller aren't usually very long but can sometimes become unbearable. 
The average wait time for the High Roller in Vegas is approximately 10 min. The wait time, however, can vary greatly depending on the day and time you plan to ride. Holidays, weekends, and nights are often busier. Buying a ticket beforehand will shorten the amount of time you have to wait in line.
This article discusses the wait times for the High Roller in Las Vegas and factors that contribute to the amount of time you'll have to stand in line to board a pod on the attraction. I'll also discuss if it's a good idea to book tickets beforehand or if that's unnecessary. 
How Long Is the Wait For the High Roller?
The High Roller ride itself takes about 30 minutes to complete, and you should plan on spending about an hour for the whole experience. The pods can carry up to 40 people at a time, and there are 32 pods in total. At times there might be hundreds of people in line, so you'll have to wait longer if that's the case.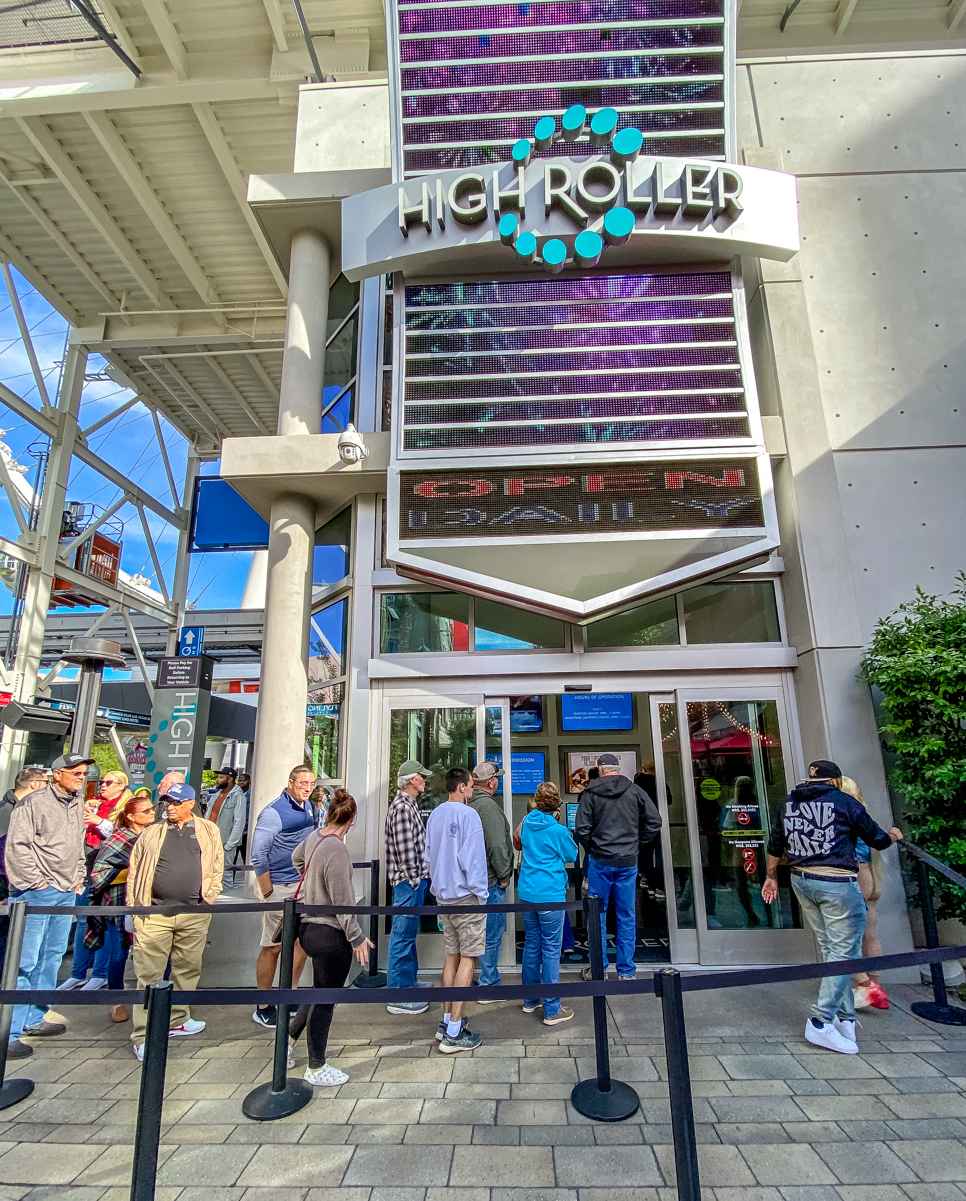 The wait can be even longer if you go for the Happy Half Hour package deal, where the High Roller pods have bars. That's because only a few of the 32 pods have a Happy Half Hour bar. In addition, these pods don't have room for the same number of people (because of the space taken up by the bar) and, thus, have long lines. I've included more info about Happy Half Hour further below.
Waiting in Line at The High Roller
The line to board the Las Vegas High Roller usually isn't long and is sometimes even nonexistent unless it's a hectic time on the Las Vegas Strip. The pods aren't always full, either, as it all depends on the time of day and which day it is. Find out if you'll have to share a pod here.
On an average day, you might have to wait around 10 minutes, which isn't too bad. 
However, those who don't buy a ticket beforehand may need to wait longer if there is a line. That's due to the separate line to the ticket counter before lining up to board a pod.
You can generally expect longer lines at the High Roller during the following times:
Opening time – The High Roller opens at 2 pm each day, and there is usually a line of a couple of hundred people when the ride first opens. Fortunately, it's not as bad as it might look. By 2:30 or so, most of the line is gone.
Weekends – Weekends are always busier on the High Roller than weekdays.
Nights – Evenings are consistently more crowded at the High Roller. Once it gets dark, you may have a slightly longer wait.
Holidays – Las Vegas and the High Roller are popular destinations on holidays, and this can increase wait times significantly.
Having said all of that, the absolute longest wait times you'll encounter at the High Roller are likely to be on a holiday weekend night. At its worst, however, I still wouldn't expect the High Roller wait times to be more than about 30-40 minutes. Even though the wheel spins slowly, the line typically moves pretty fast.
Riding the High Roller is just one of the things that you'll want to experience when you visit Las Vegas. Take a look at this article with 35+ fun things to do in Vegas if you haven't planned your trip yet and need additional activity suggestions. 
Should You Buy Tickets For the High Roller Las Vegas in Advance?
You don't need to buy tickets ahead of time for the High Roller in Las Vegas, but you certainly should consider it because it might be busier than normal when you go. It's often better to book a ticket online beforehand so you don't have to wait in line with all the people who still need to purchase theirs. 
PrePurchase Tickets To the High Roller During the Busiest Times
Business conventions, holidays, and weekends are generally the busiest times on the Las Vegas strip, so you should contemplate buying a ticket online before going to ensure a place for you and your companions on those busy days. 
The best time to ride the High Roller is at night because the view is fantastic in the dark. All the buildings are beautifully lit in different-colored lights, so you'll have a fabulous view of the city that truly comes alive at night.
It is also the busiest at that time, so booking a ticket upfront might be a good idea. 
The Las Vegas High Roller usually operates from 2 pm til midnight every day of the week throughout the year.
What You Can Expect To Pay For High Roller Tickets
Different types of tickets are available, all with their own price tag. Adult tickets for the High Roller will run between $24 and $35, depending on whether you ride during the day or at night.
Children aged 4 up to 12 cost less than half the price of an adult daytime ticket.
Those 13 years and up will need to pay adult prices.
"Anytime" tickets are available for youth and adult visitors, and they offer entrance for one ride anytime during operating hours over a three day period. This is a fantastic option for those who want to visit Vegas and book a ticket for the High Roller beforehand but aren't exactly sure when they will want to take a ride.  
The "Happy Half Hour Anytime" ticket is for people over the age of 21. The ticket can be used once over a period of three days during operating hours, and it's the most expensive ticket at around $65, but the experience is fantastic. 
An open bar in the pod serves drinks at a fast pace throughout the ride, so you might be utterly drunk when you step out of your pod. It is busiest at night because people want to enjoy the night view with a nice cocktail, beer, or wine. 
Check For Discounts For the High Roller
You can book High Roller tickets beforehand on various websites that may have several discounts on the price you would typically pay for a single ride at the attraction. 
One of those websites is Vegas.com, which offers tickets for different attractions, tours, and clubs and through which you can book hotel rooms. You can book tickets for the High Roller on the website up to two months in advance for the best prices available at the time.
Also, check out our article: High Roller Ferris Wheel Las Vegas (Cost, Tips & Discounts), for everything you need to know about riding the High Roller and a whole lot of pictures.
Wait Times at The High Roller – Final Thoughts
Estimating how long you'll have to wait in line for the Las Vegas High Roller is difficult, as it depends on the day and time you want to ride the attraction. The average time to wait to get on the High Roller is about ten minutes. However, holidays and weekends are busier on the Las Vegas Strip, so you'll probably have to wait longer than usual. 
On average weekdays there might not be a line at all to buy tickets, and you may be boarding a pod in a matter of minutes. 
Buying a ticket beforehand is an excellent idea if you don't want to miss any discounts and you want to skip the line in front of the ticket counter to board.
Source: