Do You Have To Share Pods on the High Roller? (Answered)
(This article may contain affiliate links. If you click through and make a purchase, we will receive a small commission at no additional cost to you. )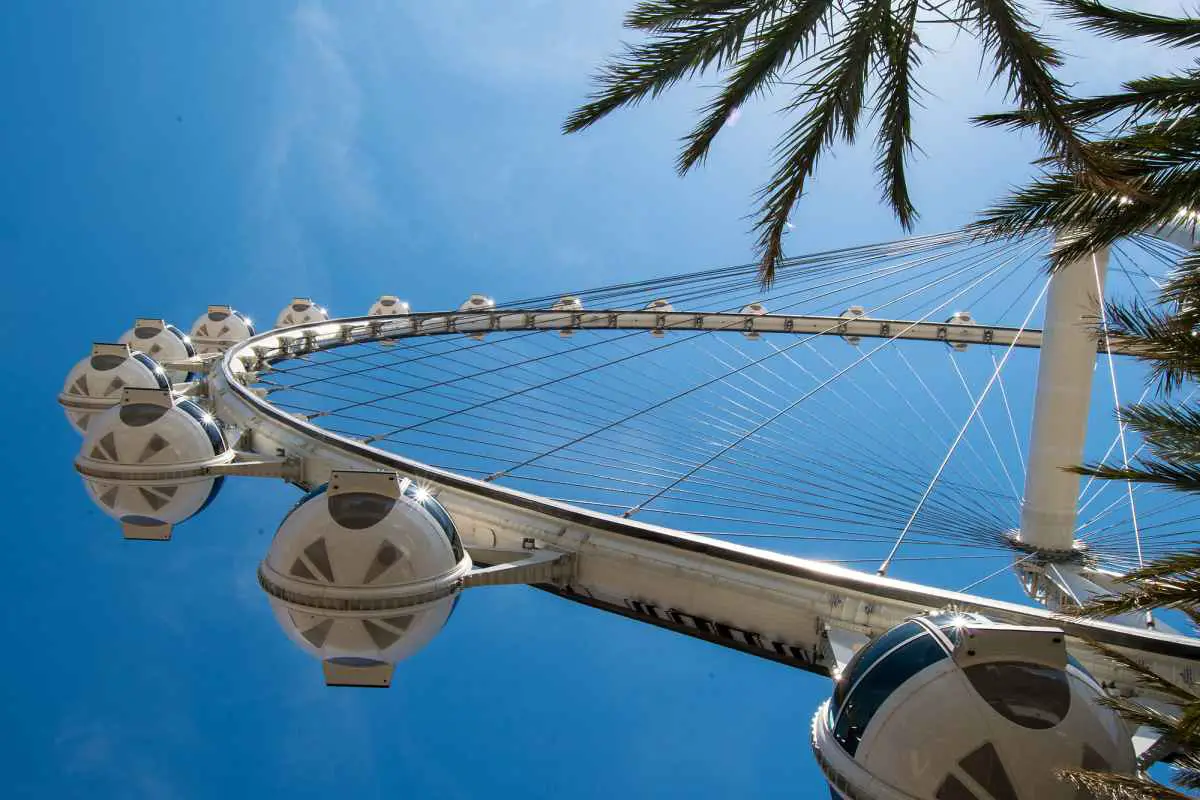 Las Vegas is well-known for its luxuries and over-the-top experiences. So, it's no surprise that the High Roller at the LINQ Promenade is one of the Strip's most popular attractions. The High Roller offers breathtaking views of the city. But what if you don't want to share your pod with a bunch of strangers?
Pods on the High Roller in Las Vegas are generally shared with other people. It is possible, however, to get a pod all to yourself if you time it just right or are willing to pay to book an entire pod. You can increase your chances of riding the High Roller alone if you ride when it's not busy.
I'm a massive fan of the High Roller, and I'm not alone. In this article, I'll discuss how you might be able to score a pod all to yourself and maybe why you should instead consider boarding with others.
Do You Get Your Own Pod on the High Roller?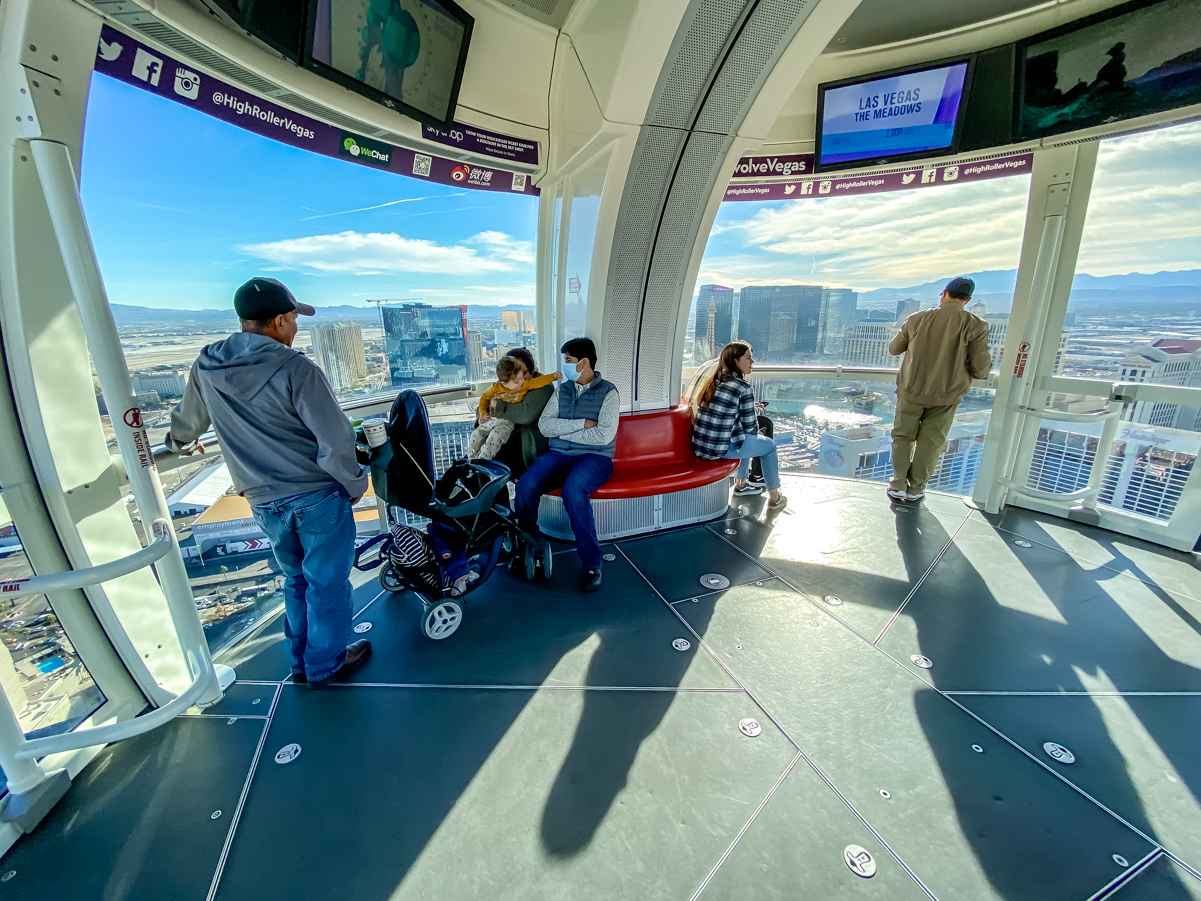 The High Roller is a popular Las Vegas attraction that gets a lot of attention for good reason. This can get you wondering about the chances of whether you can get a pod all to yourself or if you'll have to share it with others.
The High Roller in Las Vegas is not a Ferris wheel (although it is often referred to as that). Instead, it is what is known as an "observation wheel." Unlike the small individual seating gondolas of a Ferris wheel, the High Roller observation wheel is made up of 28 passenger cabins or "pods," which each hold up to 40 people at one time.
So, while it's possible to get your own High Roller pod, it isn't very likely.
Getting a Pod to Yourself on The High Roller
If you'd still like to try your hand at having a pod to yourself on the High Roller, it's all about timing and luck. Here are a few things to know that can help make a High Roller private cabin a reality.
Best Time To Get a High Roller Pod to Yourself
This is easier said than done, but there are times when the High Roller is much less busy. Typically, you will find weekdays to be much less busy than weekends and holidays, and thus present your best opportunity for getting a pod to yourself.
In addition, don't come to the High Roller right when they open for the day at 2 pm. At opening time, the lines will be very long and not at all conducive to getting a private ride. A weekday sometime between 2:30 pm and about 4 pm is your best shot at getting a pod to yourself.
Note: The chances of getting a private cabin on the High Roller for a nighttime ride are likely slim to none. If you'd like to try for your own cabin at night, your best bet will be later at night during the winter when it's cold outside, and there aren't many people around.
Rent Out an Entire High Roller Pod
The only way to guarantee a pod to yourself for a trip around the High Roller is to rent out an entire cabin yourself. This happens quite often for larger groups such as:
Corporate Events
Weddings
Bachelor/Bachelorette parties
Birthdays
VIP parties
If you're interested in having a private High Roller pod just for your group, you can contact their Group Sales office (855-234-7469) for special packages and pricing.
You can also do this if you'd like a private pod with just your significant other for, say, a special wedding proposal or even if you'd just like to be alone. Of course, this isn't the cheapest way to ride the High Roller, but it will get you a private pod to yourself.
Why You Should Consider Boarding The High Roller With Others
While I can certainly understand why you might want a pod all to yourself, if you're looking for an exhilarating experience on the High Roller, you should consider riding in a pod with others.
Not only is it more fun to share the experience with others, but you'll also get the chance to make some new friends. This is especially true if you choose to ride the Happy Half-Hour pod.
A ride in this cabin will include a full bar and bartender. You can drink your fill for 30 minutes while you enjoy the views. This is definitely a better experience when shared with others.
Why You Might Not Want To Share a Pod on the High Roller
There are also some reasons why you may not want to share a High Roller pod with others.
For instance, you may want to be in your own world, enjoying the views and the commentary. However, achieving this can be nearly impossible if the people you're riding with are causing a lot of commotion.
I was on the High Roller recently, and one of the guys in our pod was loudly facetiming with his wife the entire time. Ugh!
People can be different and may have different objectives when riding the High Roller. For example, some may want to talk, laugh, take pictures, or do other things, thereby paying less attention to the view.
Having a memorable experience with someone else in the mix can be tricky. So, if you're looking for a more quiet experience, it's best to go at the least busy times I mentioned above. You still may not get a pod to yourself, but you will likely be sharing it with fewer people.
You can find more information about riding the High Roller, along with a bunch of pictures, in my Complete High Roller Guide. It includes costs, tips for riding, and info about discount tickets.
How Many People Can the High Roller Pod Accommodate?
The observation wheel is built to hold a large capacity of people. That means you can bring your friends or family along for the ride.
Pods on the High Roller hold up to 40 people at a time. With a total of 28 pods, the High Roller can accommodate up to 1,120 people simultaneously.
Having said that, they don't usually stuff the pods anywhere near capacity unless it is really busy. On the average ride, you'll find yourself with about 12-15 other people. The pods are large enough for everyone to spread out a bit, walk around, and check out the views from every window.
Sharing Pods on the High Roller – Conclusion
The High Roller allows you to explore some amazing views of the Las Vegas Strip and the surrounding Vegas Valley.
If you don't want to share a pod on the High Roller, you'll either need to plan your ride for a time when there are few other riders and hope to luck or go big and rent out an entire pod to yourself.