The LINQ Promenade On The Vegas Strip (The Ultimate Guide)
(This article may contain affiliate links. If you click through and make a purchase, we will receive a small commission at no additional cost to you. )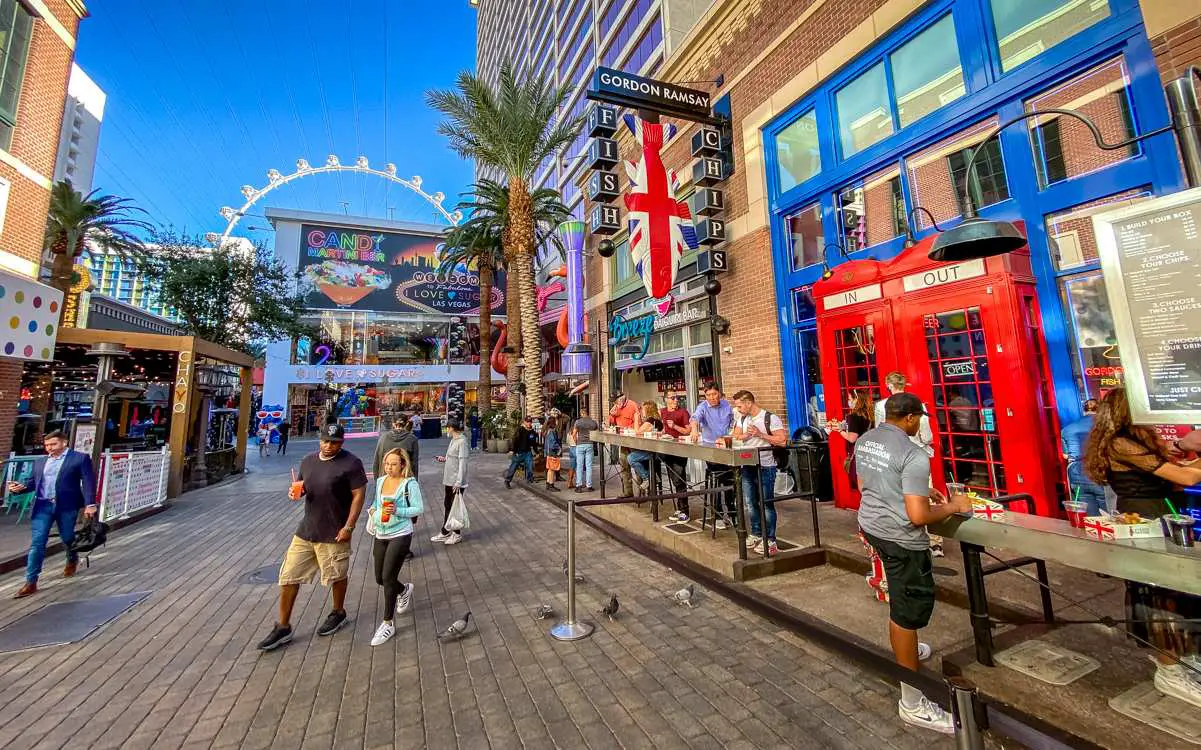 Located across from Caesars Palace on the Las Vegas Strip is a little open-air esplanade that may seem unassuming at first glance but is actually packed full of unique Vegas experiences. Everything from restaurants and nightlife to shops and attractions. 
Opened in 2014, The LINQ Promenade has grown to be a notable part of the Las Vegas skyline and is definitely worth a spot on your Sin City itinerary.
In this guide, I'll break down everything you need to know about visiting The LINQ Promenade on Las Vegas Boulevard, including all of the places I'd consider must-sees.
Compare and save! Check current LINQ room rates at TripAdvisor.
LINQ Promenade: Shop 'Til You Drop
Get ready to encounter some of the best stores the city has to offer. Whether you're going in on a shopping mission or just to look around, you'll be hard-pressed not to leave The LINQ Promenade without carrying at least a few shopping bags.
Here are some of the top shops at The LINQ Promenade:
Pier 30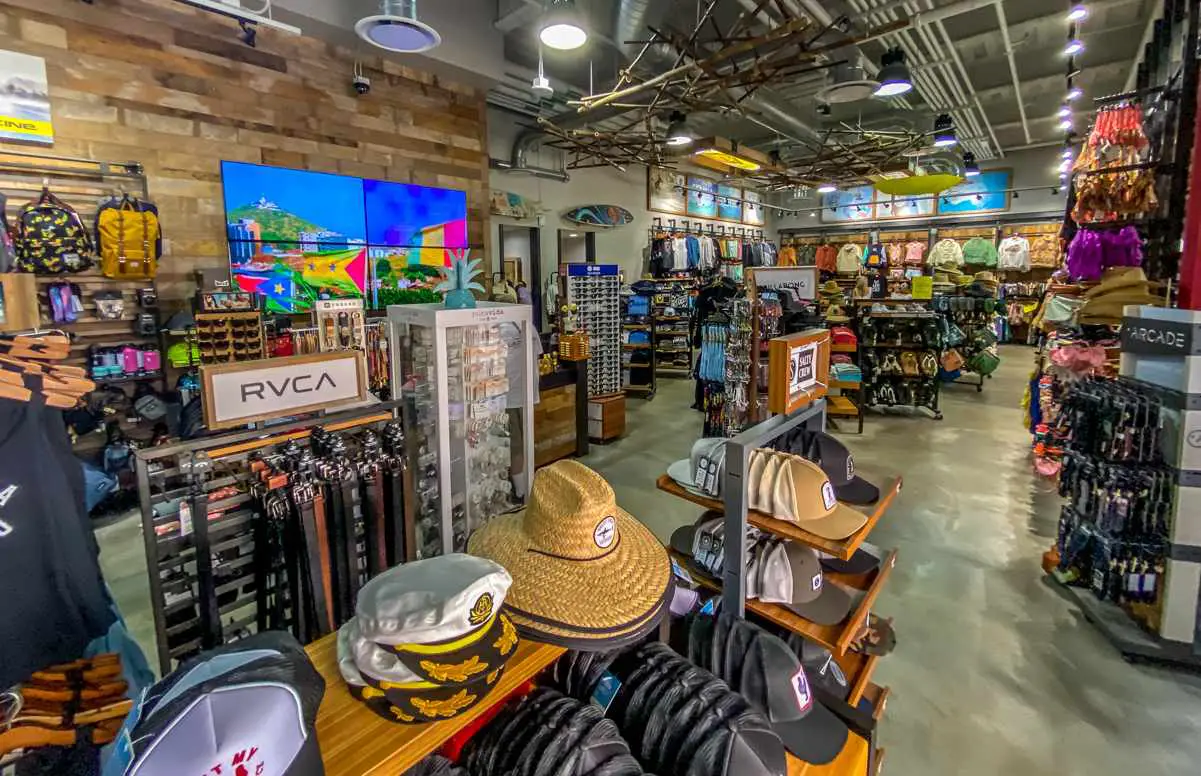 Maybe LAS (Harry Reid International Airport) lost your suitcase, you didn't pack thoroughly enough, or you're just itching for a new swimsuit to brave the Las Vegas heat. Whatever your reasons for wandering into Pier 30, I have no doubt that it'll be one of your favorite places to shop whenever you visit the promenade.
Pier 30 is the summer vacationers' dream, with the entire store packed wall to wall with swimwear, surfwear, and all the accessories and clothing a skateboarder could dream up. Something that I respect about the store is how much effort they put into knowing what's on-trend without sacrificing unique looks.
Aside from athletic clothing, the store also features a ton of casual wear that's well suited for the Vegas heat. 
Socks & Bottoms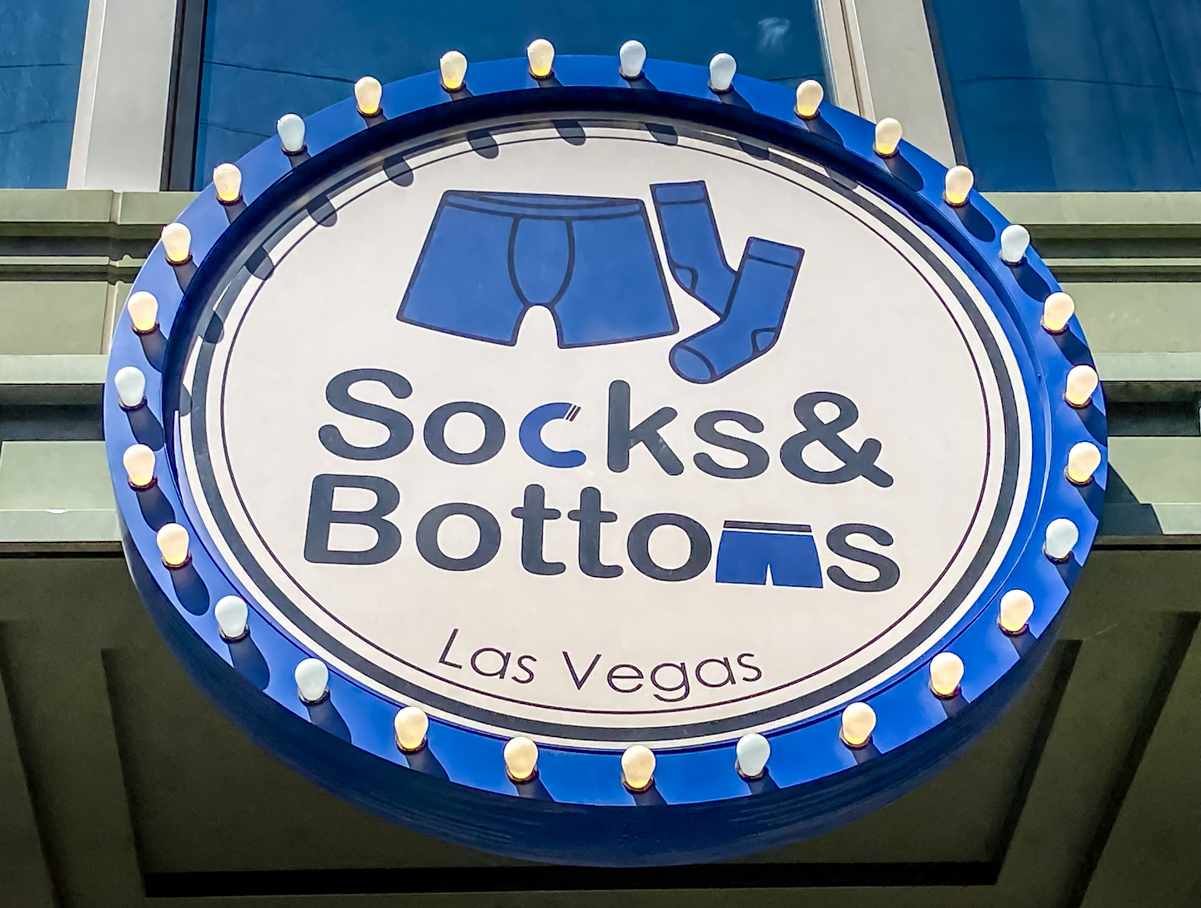 Probably the cheekiest stop on the Promenade, you and the family could spend hours browsing the collection of novelty socks and underwear at Socks & Bottoms and still not make a dent in their inventory.
Known for their unique, creative takes on otherwise basic clothing pieces, I have no doubt that there's an undergarment (or twelve) in stock for everyone on your shopping list.
I'd definitely recommend the store to households or couples looking for a fresh take on the matching t-shirt situation that so many families rock during vacation season. Despite its popularity among gift givers, it's also a great stop if you're looking to expand your own personal sock or undie collection.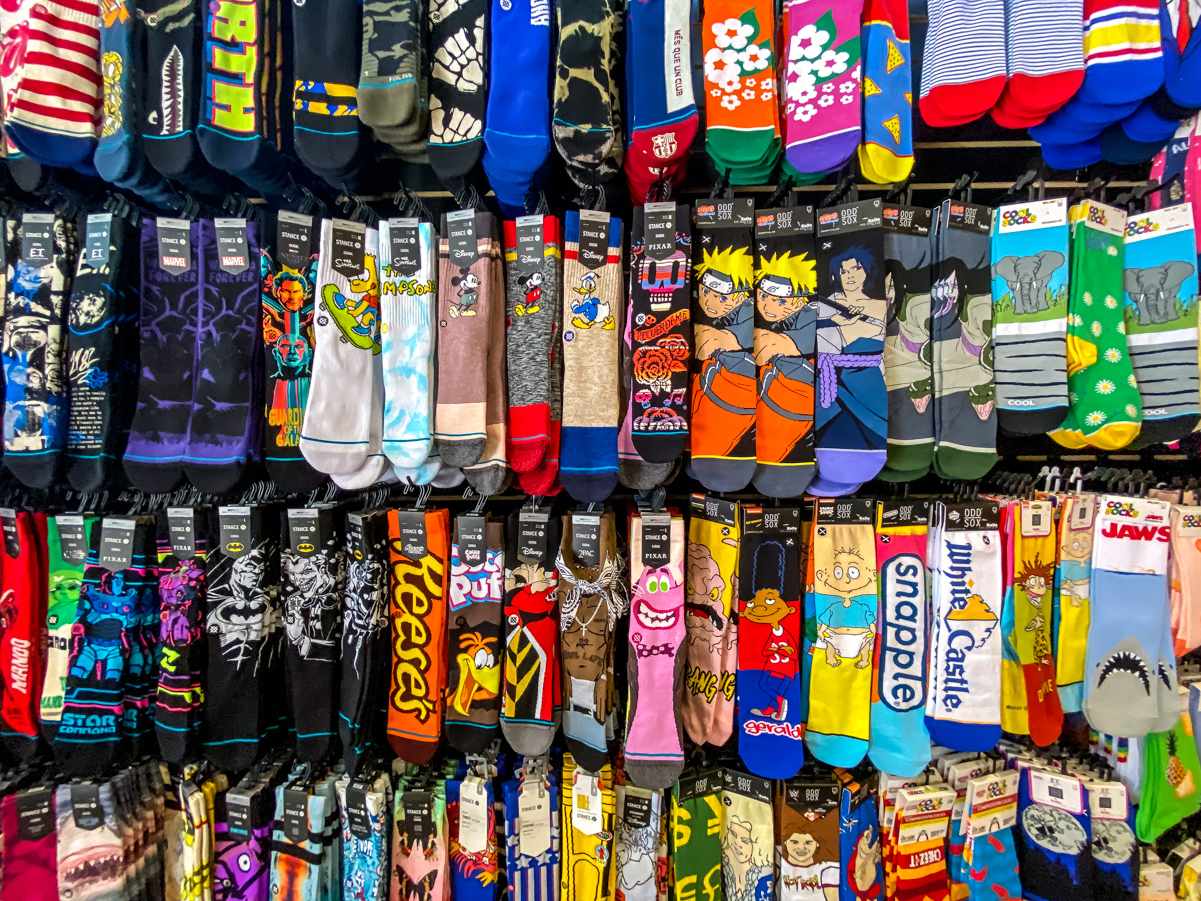 They have pop-culture references, sports team logos, even Cup of Noodle printed tube socks! It doesn't stop there, though, as they also have matching two-piece sets that are perfect for bed or to don after dark. 
Welcome To Las Vegas Store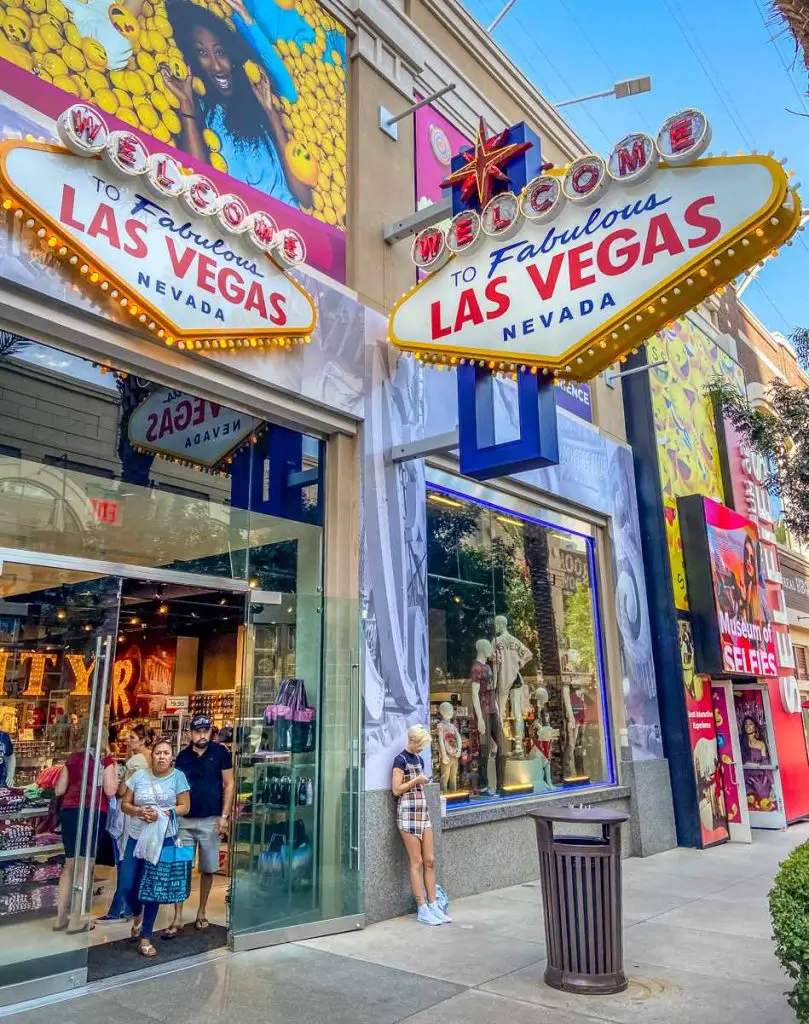 Named after the famous 'Welcome To Fabulous Las Vegas" sign, consider the Welcome To Las Vegas Store the one and only place you need to stop to grab souvenirs for you and your crew! The selection is endless and vast, with a variety of different keepsakes for all ages and interests.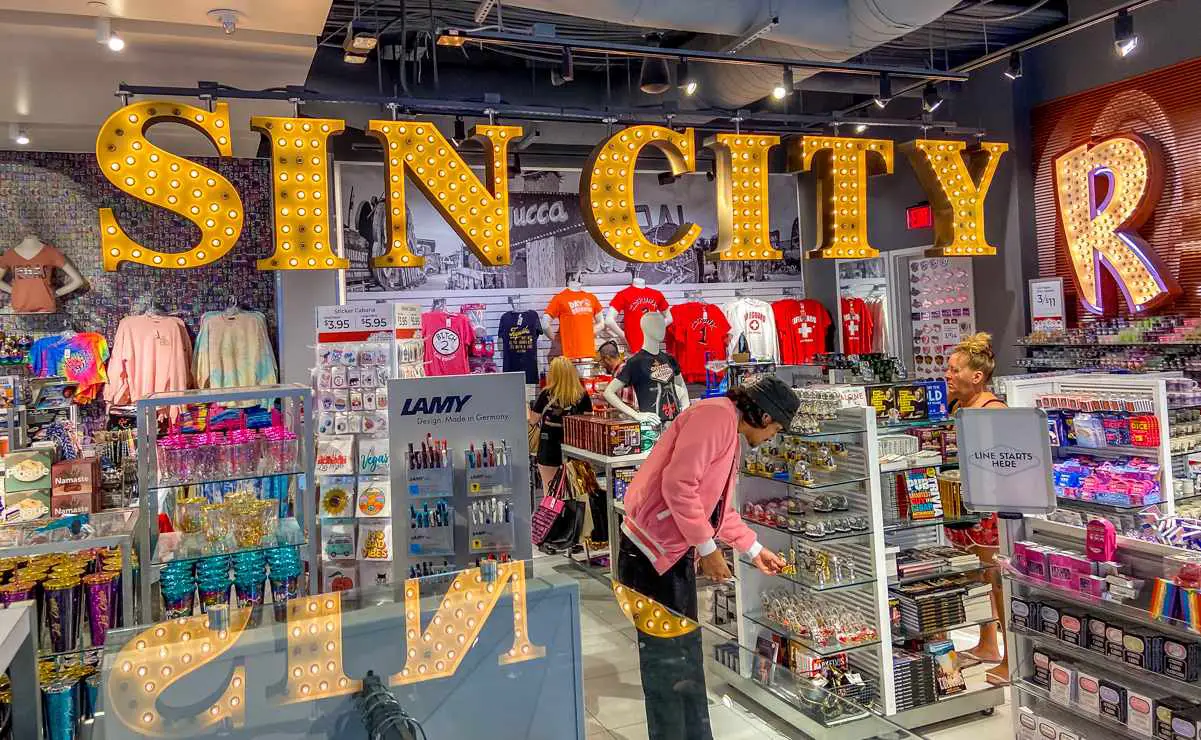 Whether you're looking for on-trend tees and sweatshirts, or something campy to give your hard-to-please distant cousins, you'll find everything you wanted (and even a couple of things you didn't know you wanted) and more on the shelves of this more-than-just-a-souvenier-store.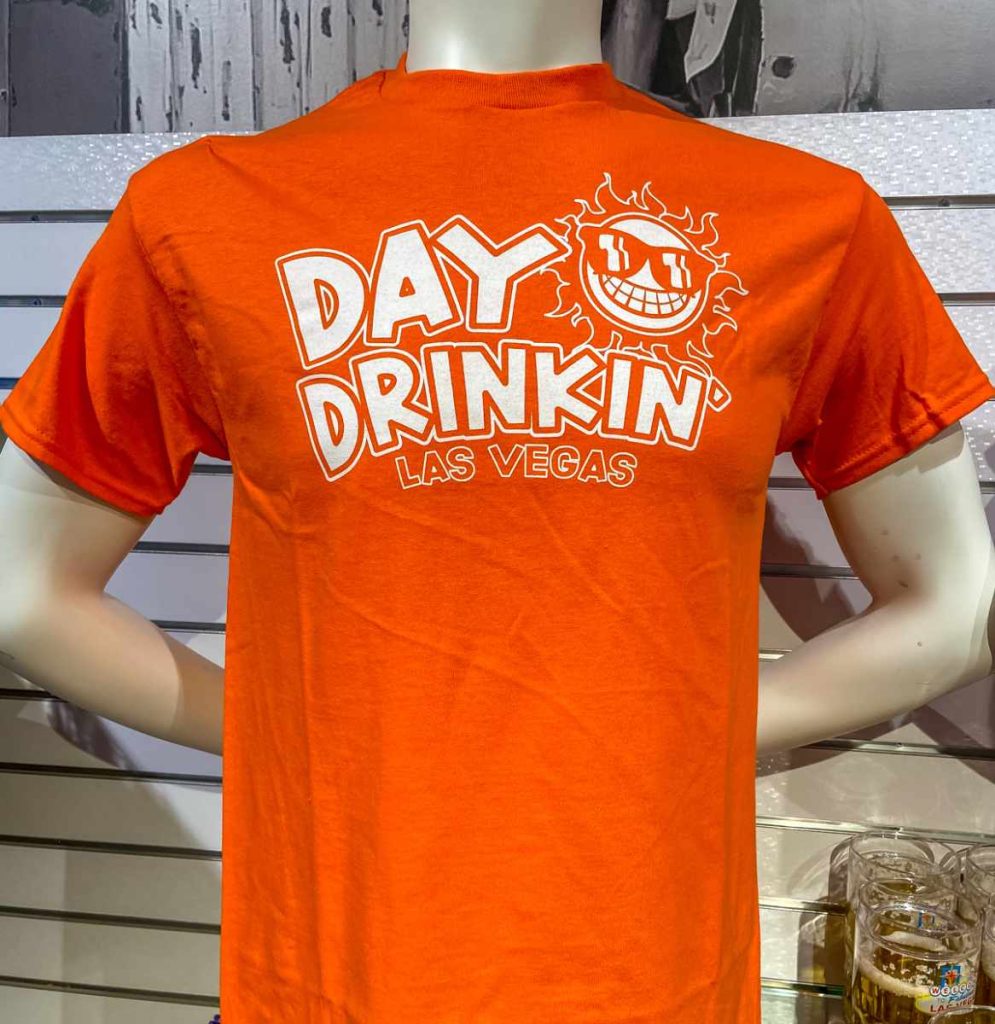 Unlike a lot of the novelty stores on and off The Strip, the quality of the mementos you'll find at the Welcome To Las Vegas store is top-notch and will last you long after your flight back home.
Grabbing A Bite at LINQ Promenade
With all the walking you'll be doing, it's only natural you'll want to stop for a bite to eat. Whether you're in the mood for desserts, all-American classics, or sultry French bistros- there's a food stop at the LINQ Promenade for every taste.
Here are a few of our favorites:
Guy Fieri's Vegas Kitchen + Bar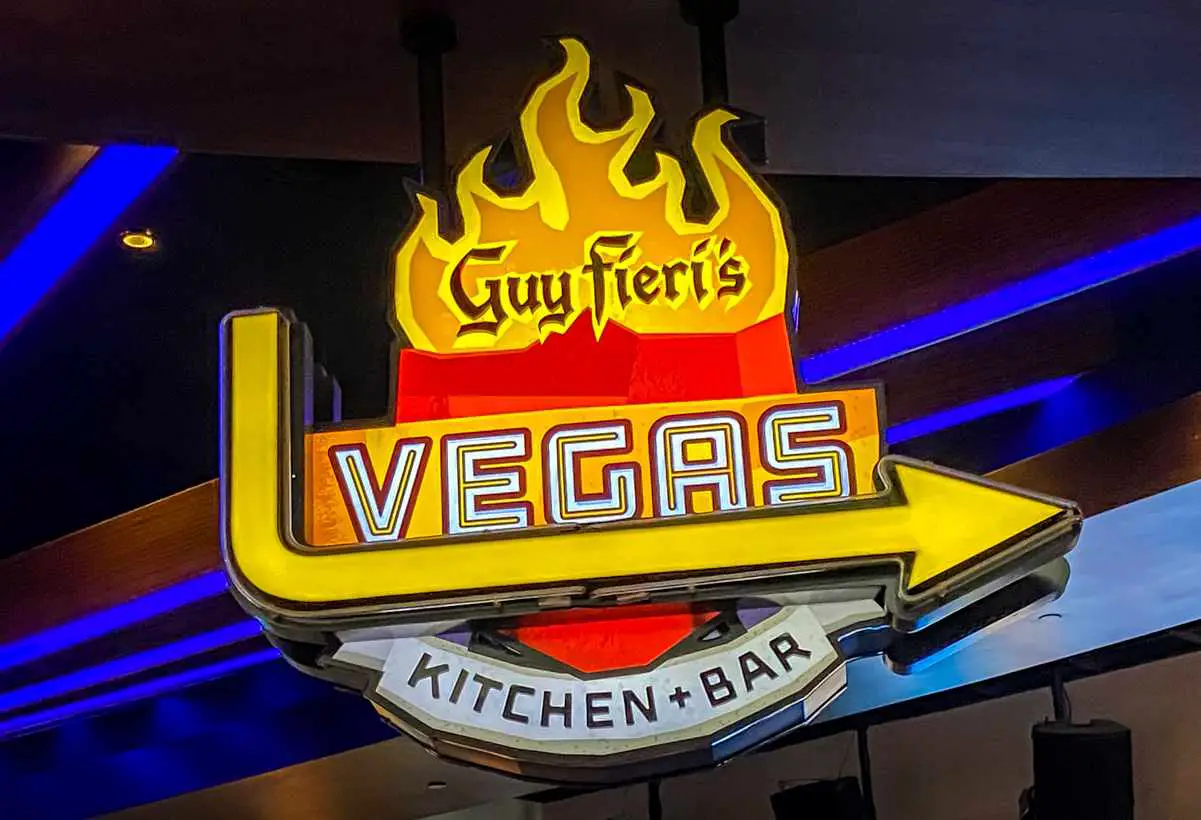 No visit to Las Vegas would be complete without a stop at Guy Fieri's Vegas Kitchen + Bar! Celebrity Chef Guy Fieri is revered for his culinary feats and the distinctive twists he makes on classic dishes like the basic hamburger or a plate of nachos.
So, if you're looking for some comfort food during your trip but still want an unforgettable experience- this is your stop.
The casual ambiance of the restaurant makes it an appropriate stop for the entire family. If you're looking for views, this might not be a bad place to stop by either!
You can enjoy your meal on a 6,500-square-foot patio that overlooks The LINQ Promenade. Those seats are quick to go, though, so it wouldn't hurt to make a reservation ahead of time.
Maxie's
Do you know the saying that people "eat with their eyes"? I wasn't quite sure how much truth that held until I learned about Maxie's. I also never felt as strong of a compulsion to take pictures of our food until they took up shop on the promenade, either!
Serving 3 meals a day, 7 days a week, Maxie's is ready to offer you and your crew a new take on traditional diner food. Due to their serving sizes, and the overall dining experience, I would definitely recommend this restaurant for diners who want to sit and enjoy their food rather than just have a quick bite.
If you're looking for a truly instagrammable meal, make sure to order their 'Fruity Pebble French Toast' or one of their 'Benedict Boxes' (which they're famous for!).
Jaburritos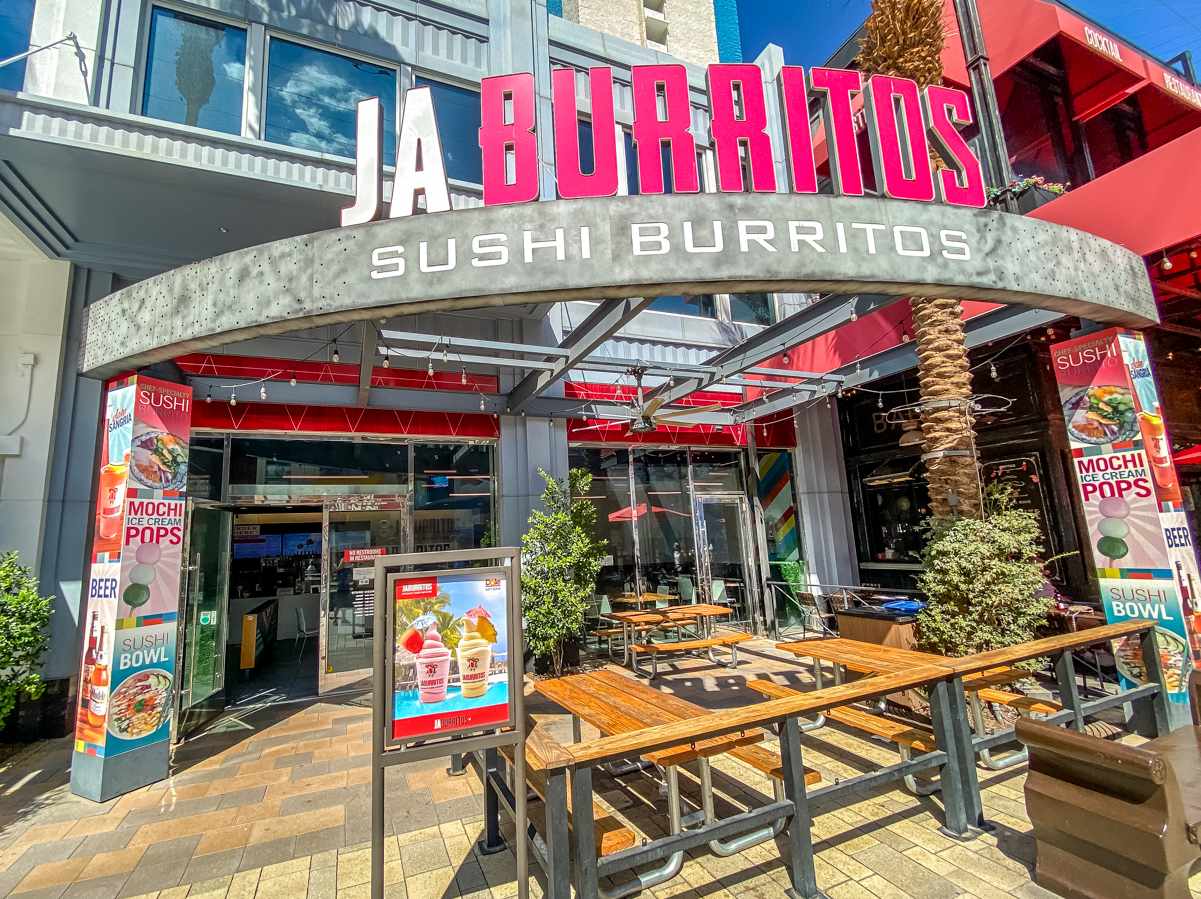 Need something portable? Jaburritos has got your back! That's right: Ja-burritos. Japanese burritos! Combining the portability of the Mexican burrito and the taste of your favorite sushi rolls, the food phenomenon has taken the world by storm (and it isn't stepping out of the spotlight anytime soon!).
This food stop is perfect if you're trying to make the most of your time on the promenade, as you can carry it around with you and eat as you walk- but if you're not ready to hop onto the sushi burrito movement, you also have the option of getting your food served up in a bowl instead.
This is probably one of the most customizable food locations at The LINQ Promenade. Think of it like Chipotle, but for Japanese food. You have the option of getting your fillings in a seaweed, soy, or tortilla wrap, and you can add or remove any of the ingredients you'd like. Easy-peasy!
Favorite Bistro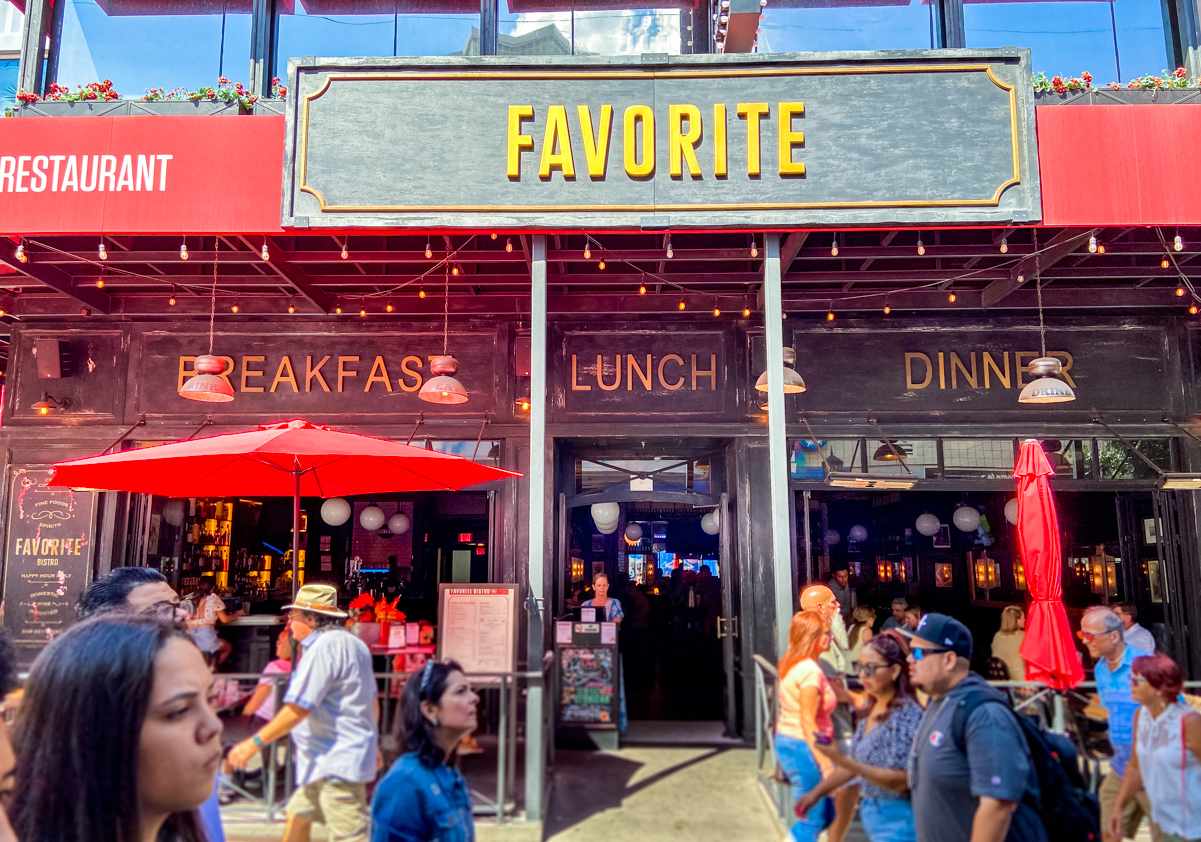 Looking for a place to tuck away from the hustle and bustle of The Strip? Favorite Bistro is definitely the place to go. Founded by the owners of the famous 'Senequier' café in St. Tropez, France, the Favorite Bistro on The LINQ Promenade is the first restaurant they set up on US soil- and it does not disappoint.
Immerse yourself in the meticulously formulated dishes that keep locals and tourists coming back for more, and allow yourself to be taken to the French countryside with every single bite. What makes this stop so special is that they combine traditional French dishes with the heartiness of American grub, making for an indescribable flavor experience. 
Lively Bars & Nightlife at LINQ Promenade
Though The LINQ Promenade is gorgeous in the daytime, the fun doesn't stop once the sun goes down! Here are just a few of the nighttime stops this slice of the city has to offer:
Purple Zebra Daiquiris
Exuberantly named, Purple Zebra is the stop for adults looking to relive the fro-yo days of their youth! Featuring 8 incredible daiquiri flavors (ranging from Peachy Keen to out-of-this-world tastes like Cosmic Lemonade), you'll find yourself gravitating back to the self-serve bar every single night of your stay.
It's a good thing that refills are completely a thing and actually cost less than your initial purchase. At Purple Zebra, you're encouraged to mix flavors up to make for your perfect taste combination, and with the slew of different drink containers you can choose from, you'll leave with a daiquiri that's entirely your own!
O'Sheas Pub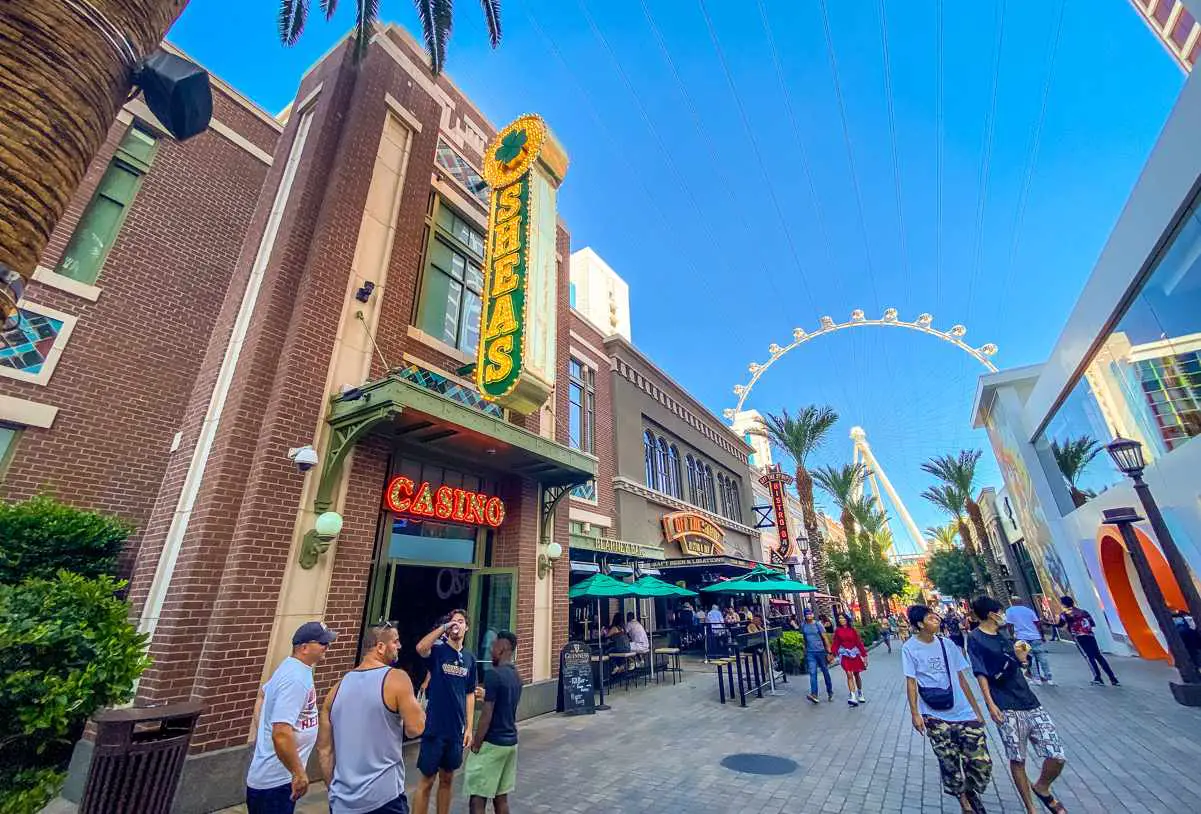 In the mood to get lucky? O'Sheas is an Irish-style pub located on the promenade that's never not a good time. Boasting a comfy hometown feel and a dining room that can fit large parties, there's no wonder why the pub is one of the most popular locations to party for locals and visitors alike.
There are 8 beers on tap, two different bars, and endless amounts of cocktails and drinks to choose from. Once you're all loosened up, try your hand at some of the games they have available for you and your party to enjoy. There's beer pong, blackjack, and roulette at the ready so you can show off your competitive side.
Brooklyn Bowl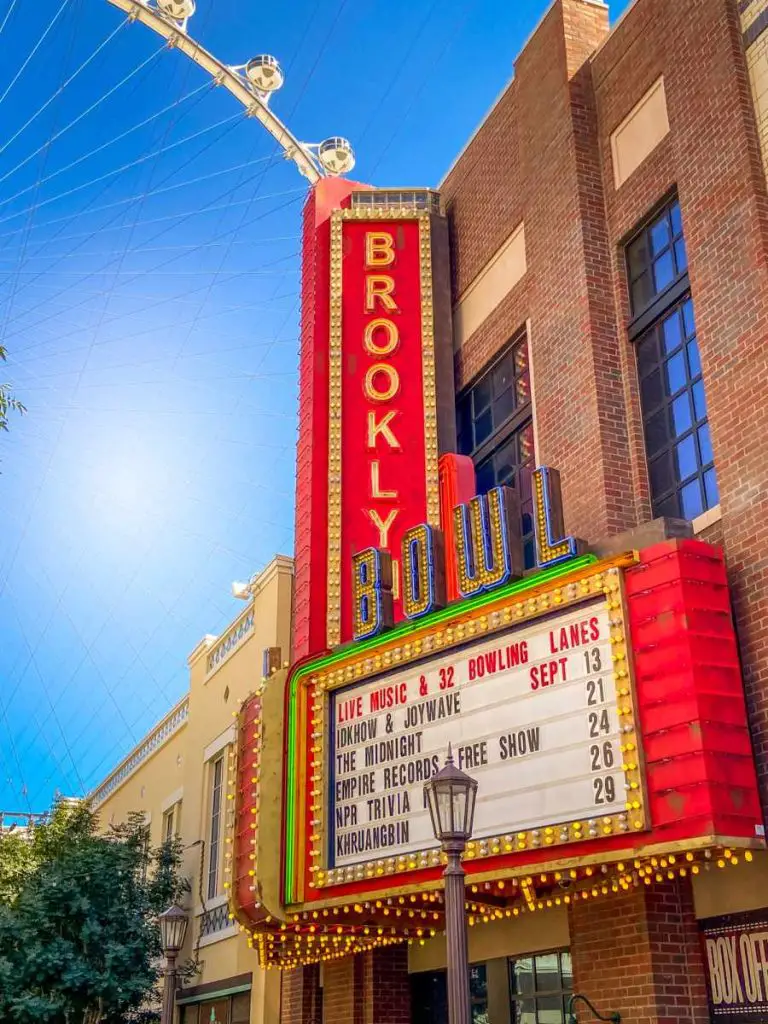 For those looking to let loose with some tunes, there's no better place to stop than Brooklyn Bowl. It's a beautiful lounge with an industrial feel, known for hosting incredible concerts- ranging from indie artists to hard rockers. They even have themed nights if you're looking to transform into a new version of yourself.
Aside from music, the lounge also has a bowling alley and is a great place to grab bar-style snacks and comfort food. Take a look at their website to see if there are any events happening while you're in town, and make sure to grab tickets beforehand to reserve your spot (the place fills up fast!).
LINQ Promenade Attractions
Probably the main reason why people find themselves walking The LINQ Promenade is because of all the attractions the area has to offer! The best part of the attractions here is that they're fun and appropriate for all ages, so everyone's sure to have a good time.
You won't want to miss these:
Fly LINQ Zipline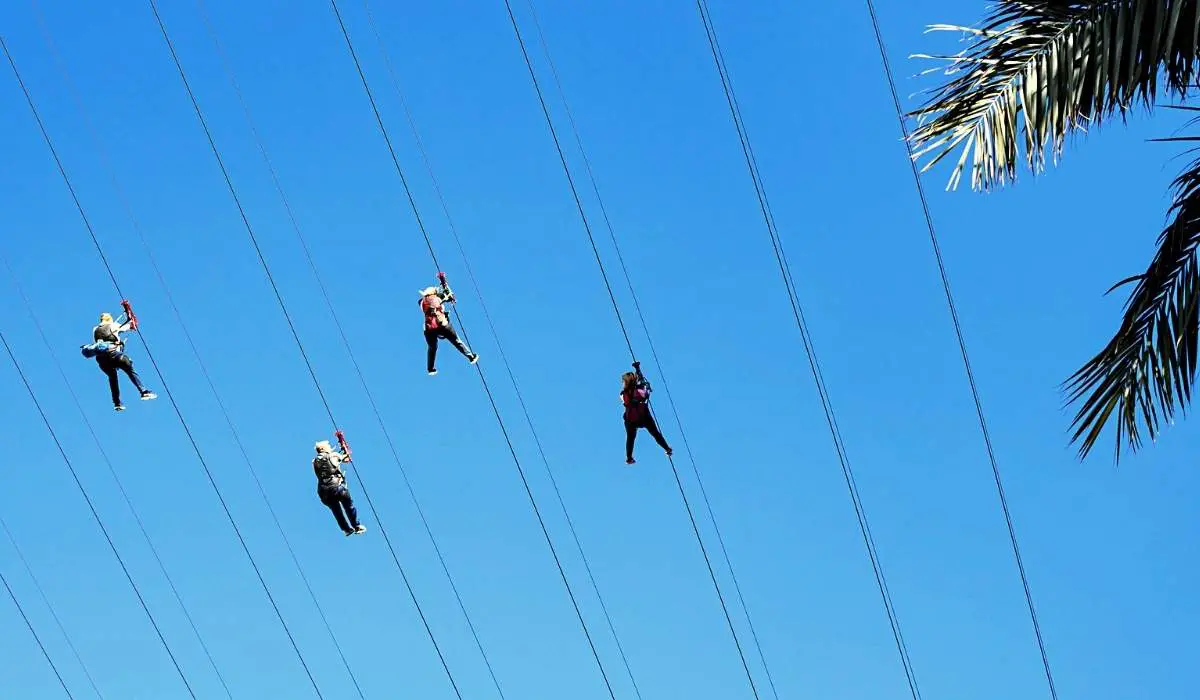 The Strip truly has it all, and that includes a zipline that flies you 1,080 above The LINQ Promenade. Perfect for the thrill seeker or for those who aren't old enough to enjoy the 21+ events that Vegas has to offer, the Fly LINQ Zipline has become a very popular attraction for those visiting the city. 
For those who decide to stand up to the challenge, the zip line reaches peak speeds of 35 mph and has a gift shop to commemorate the feat (full of t-shirts, frames for your in-action photo, and more!).
Museum of Selfies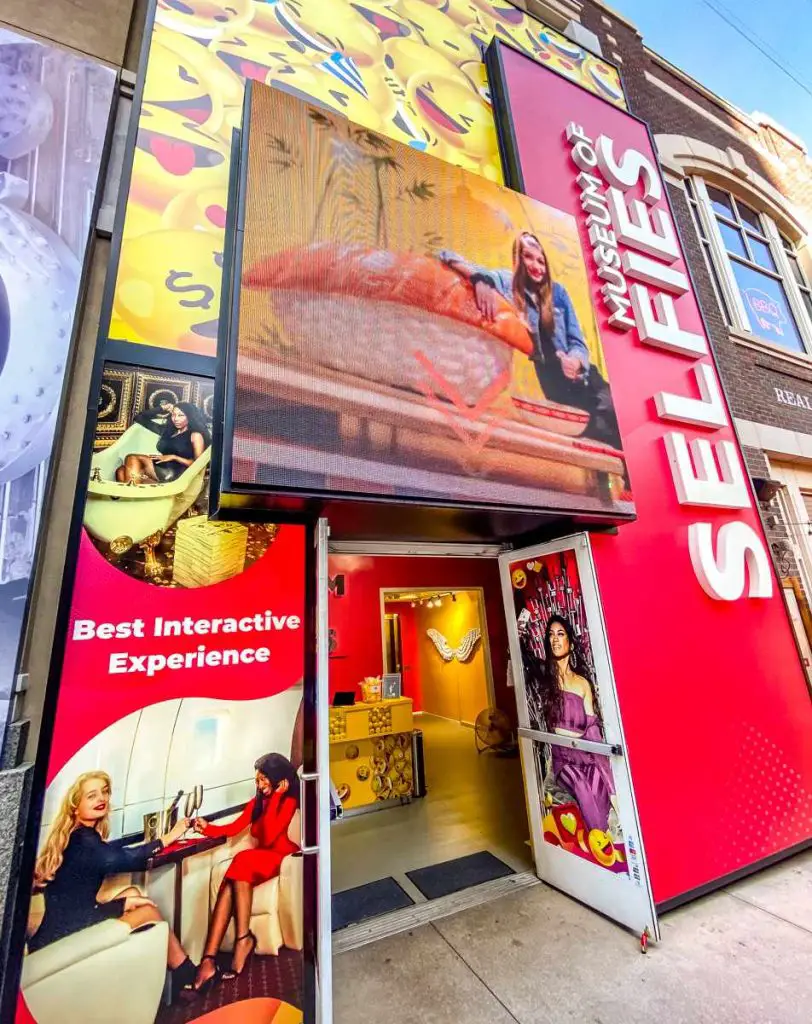 If you're traveling with teens or are a teen yourself, you're probably familiar with the unstoppable urge to want to have a photoshoot whenever passing a potentially instagrammable location. Why not get all that photo-taking out of your system with a singular visit to the Museum of Selfies?
Kickstarted in California, this attraction gained so much popularity that they just had to migrate to Sin City. Full of immersive, interactive photo-taking spots, you could take enough pictures to start a whole new Instagram account! 
Though targeted to the social-media-savvy, there are enough cool, hands-on things to play around with that make this location perfect for everyone.
I Love Sugar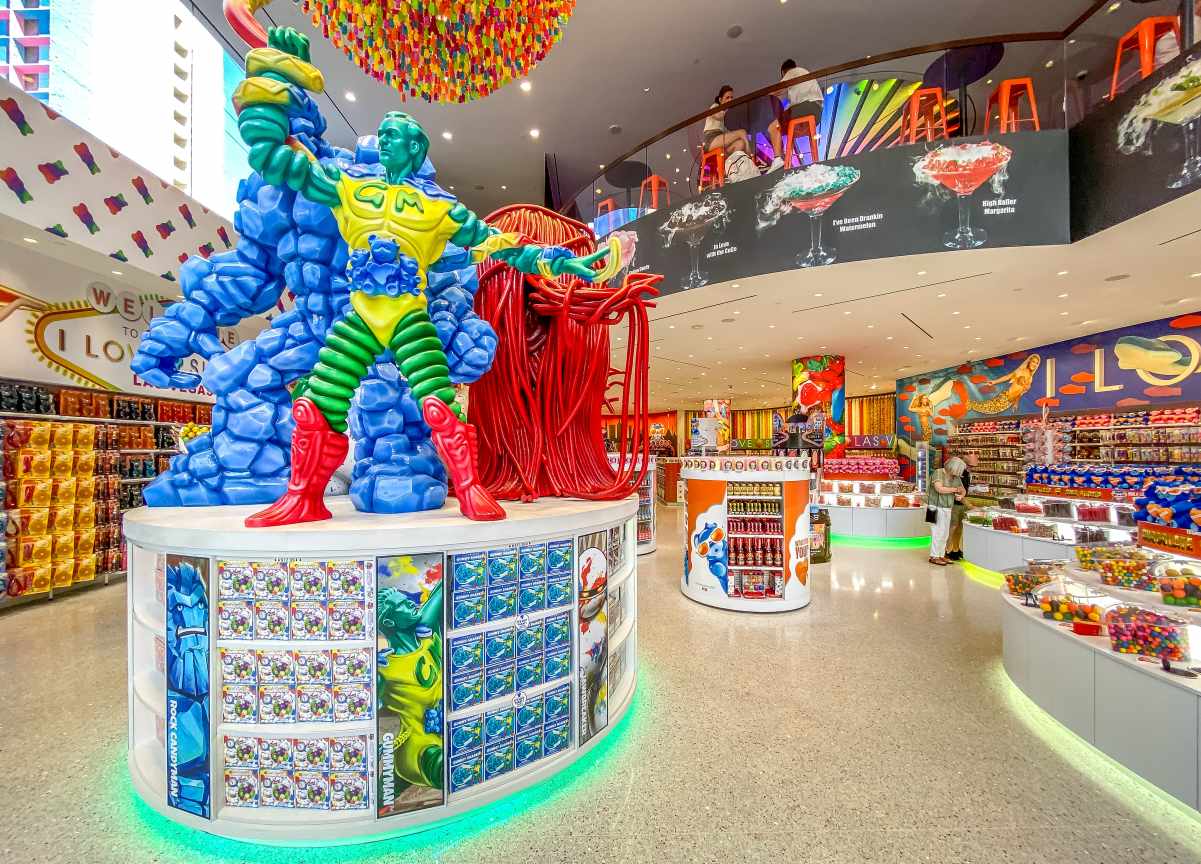 If you love candy, then prepare yourself to enter candy heaven at the I Love Sugar store. Now you might be asking yourself why I included a store under LINQ Promenade attractions. Well, once you step foot in this candy store, you'll understand.
I Love Sugar is 14,000 square feet of all your favorite candies. Pretty much every candy you can think of they've got it, including a large section of "retro candies" that you'll no doubt remember from your youth.
The candy store also has some pretty interesting giant candy sculptures. Now, this is some art you can really sink your teeth into!
On top of that, if you're over 21, then you'll want to head upstairs to the Candy Martini Bar. Here's where the candy store takes a decidedly Las Vegas turn. The Candy Martini Bar serves martinis infused with candy, and to say they are the biggest martinis you've ever seen would be an understatement!
High Roller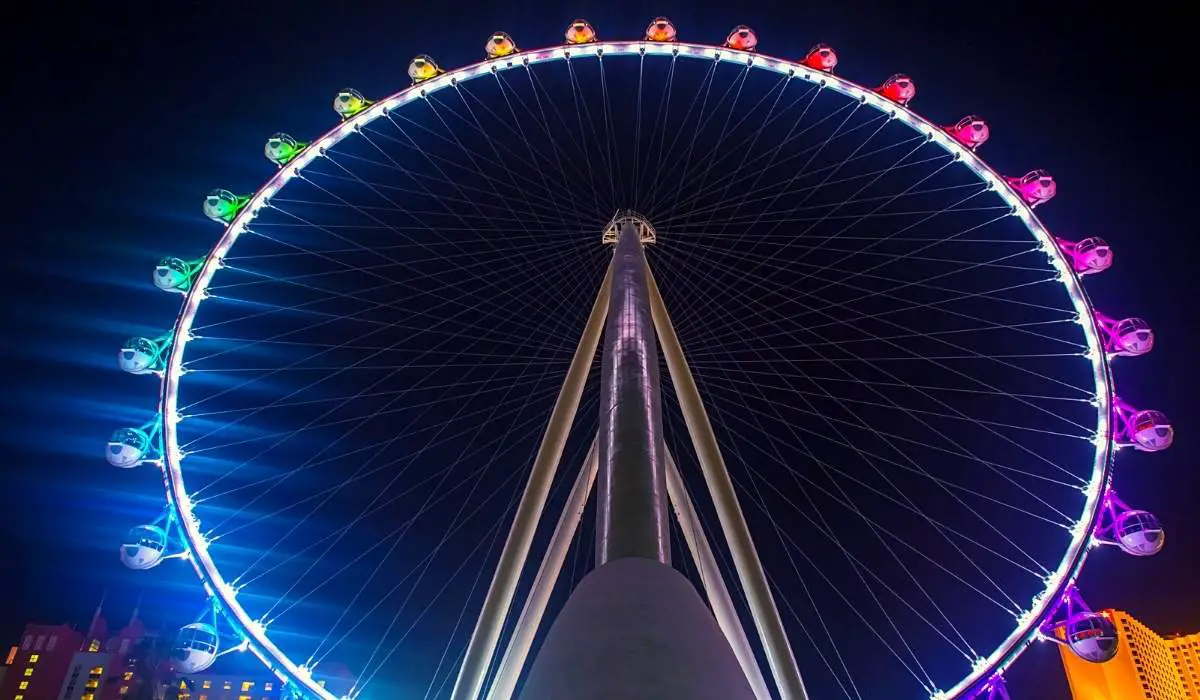 Look, I couldn't finish this guide without mentioning the star attraction of the entire LINQ Promenade, and that is the famous High Roller.
This Las Vegas landmark is actually the tallest observation wheel in North America, which is a feat in and of itself. Not only does its size set it apart from the rest, but the views you'll witness are absolutely unbeatable.
Offering unobstructed 360° views of Las Vegas and the surrounding valley, the High Roller is great for families and groups of friends alike. Kiddos will love the 30-minute cycle (this is how long it takes to make one revolution), while adults have the option of renting out a private pod for drinks and some truly unforgettable ambiance.
Where is The LINQ Promenade? (Map, Address & Directions)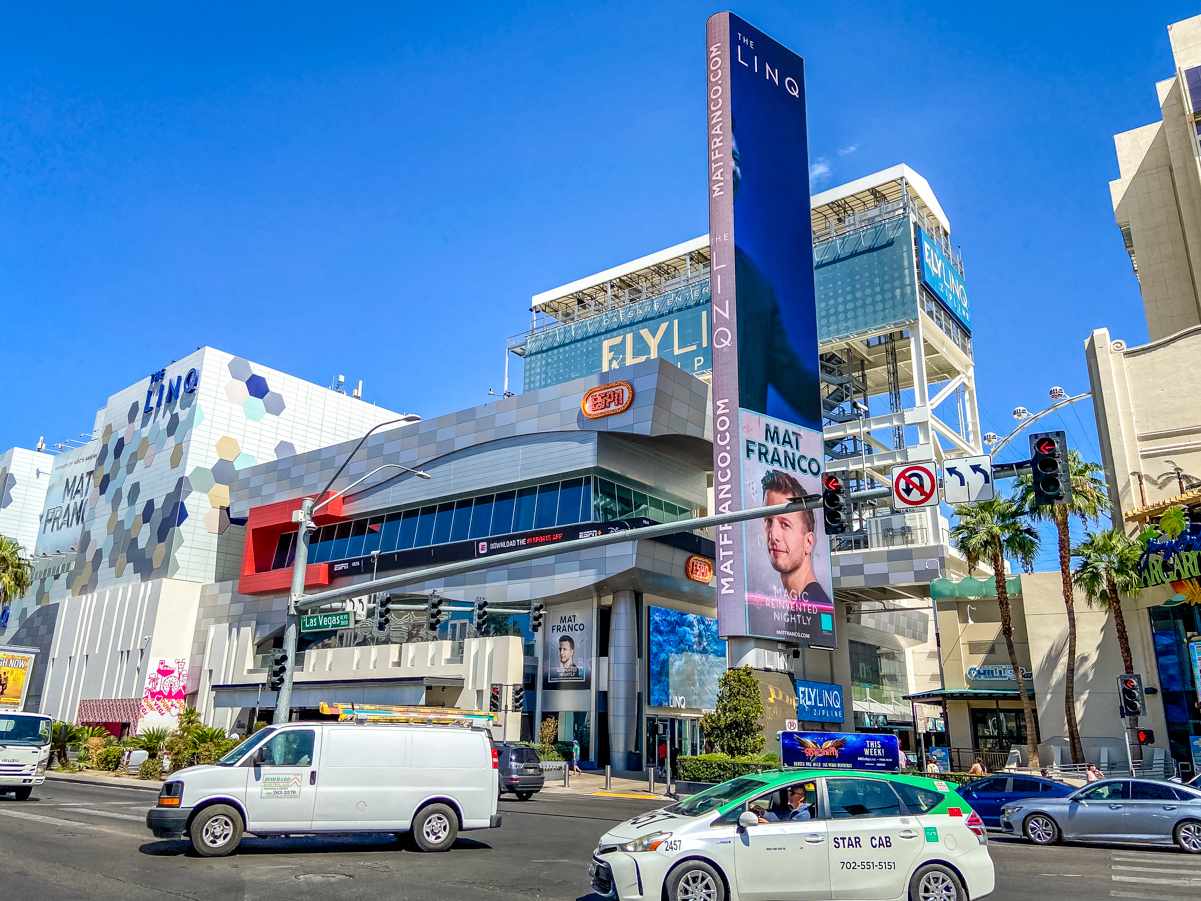 The LINQ Promenade is located at 3545 S Las Vegas Blvd. The pedestrian-friendly promenade is next to The LINQ Hotel and Casino, which is situated between Harrah's Las Vegas and Flamingo Las Vegas. You'll find Caesars Palace right across the street.
Here is the LINQ Promenade on a map:
The promenade itself is open 24 hours a day, although the businesses and attractions found there each keep their own hours.
Parking at LINQ Promenade
Once upon a time, The LINQ offered free parking for all but has since limited its parking garage fees to free for the first hour. Beyond that, parking charges at the Linq are as follows:
Weekdays (Monday Through Thursday)
| | |
| --- | --- |
| Time Period | Cost |
| First Hour | Free |
| Hours 1-3 | $15 |
| Hours 3-24 | $18 |
| Subsequent Days | $18 |
Weekends (Friday Through Sunday)
| | |
| --- | --- |
| Time Period | Cost |
| First Hour | Free |
| Hours 1-24 | $23 |
| Subsequent Days | $23 |
If you want to bypass the cost of parking, Caesars Rewards Members can utilize the parking garage for free.
This is a great option for those who frequent Caeser properties when they visit the city (Caesars Palace, The Cromwell, Paris Las Vegas, The Flamingo, etc.). You can sign up for all those perks and more here.
The LINQ Promenade FAQs
Do you have to pay to get into The LINQ Promenade?
You do not have to pay to get into The LINQ Promenade. The esplanade is pedestrian-friendly, and you can go ahead and walk right in. If you are arriving by car, however, you will need to pay approximately $15-$18 to park.
When is The LINQ Promenade open?
The LINQ Promenade itself is open 24 hours a day 7 days a week. You can visit at any time, however, the individual stores, restaurants, and attractions each have their own hours of operation. In general, you'll find most things open between 9am and midnight.
Is the LINQ Promenade better to visit during the day or at night?
Day or night are both great times to visit The LINQ Promenade. In general, you will find that daytime is popular with shoppers and families, while nighttime at the promenade has more of a party atmosphere.
What is the most popular attraction at The LINQ Promenade?
Without a doubt, the most well-known and popular attraction at The LINQ Promenade is the High Roller Observation Wheel. A 30-minute, slow-motion ride around the wheel will give you some of the best views of Las Vegas found anywhere.
Find the best room deals at The LINQ and save big with TripAdvisor!
Conclusion
If you've never been to the LINQ Promenade on the Las Vegas Strip, it's a place won't want to miss the next time you're in Vegas. Between the food, shopping, nightlife, and attractions, you're sure to have a great experience.
If you've already been to the LINQ Promenade, it's time for another visit! I can practically guarantee that there is more to do and see.