I Love Sugar Las Vegas (Candy Martini Bar) – Menu, Prices & Hours
(This article may contain affiliate links. If you click through and make a purchase, we will receive a small commission at no additional cost to you. )
Las Vegas is known for doing things bigger and better. Music shows? Check. Comedy? Check. Gambling? Check. Candy stores? Double-check. Right in the heart of the LINQ Promenade is I Love Sugar Las Vegas, one of the largest candy stores in the world! 
But that's not all, the store is also home to the Candy Martini Bar, a candy dream come true for sugar lovers over 21.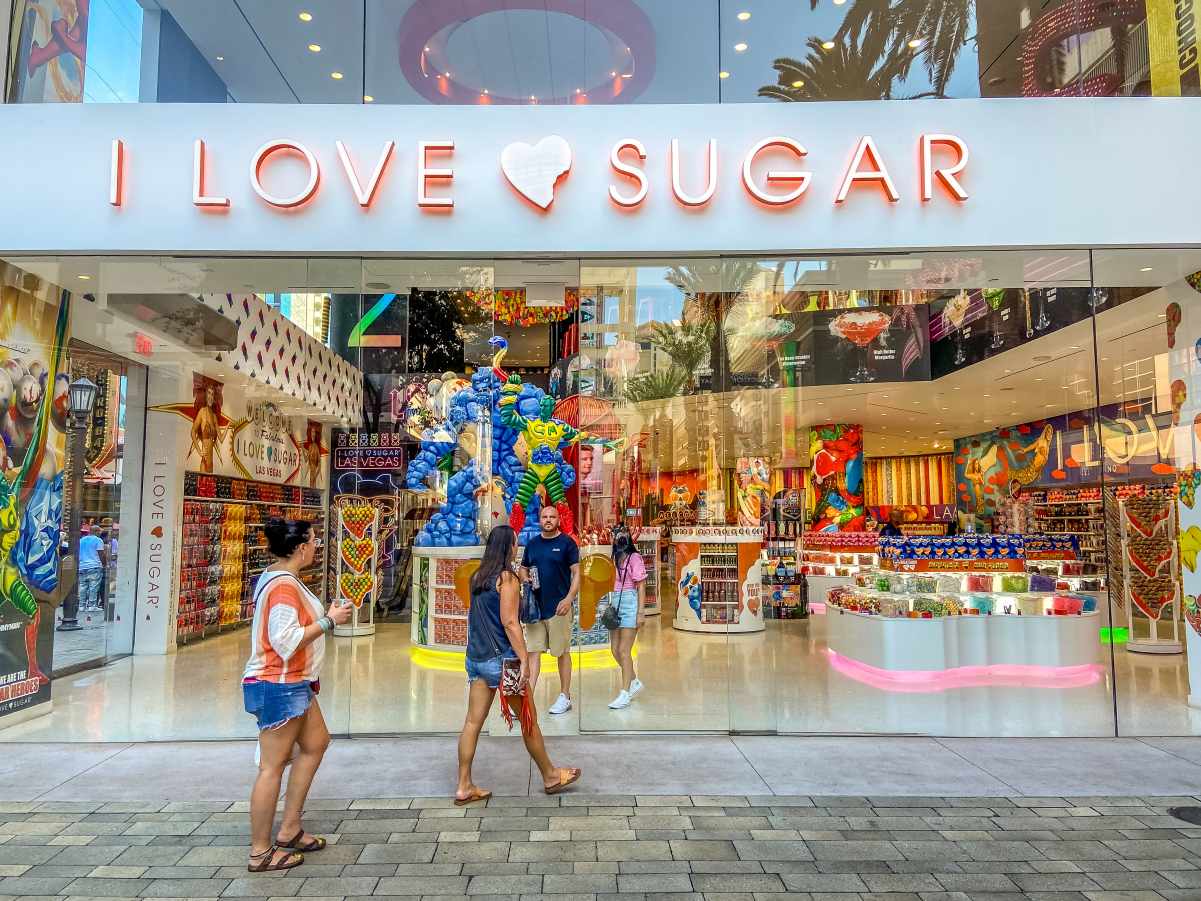 What Is 'I Love Sugar'? 
At its heart, I Love Sugar is a candy store, but it is unlike any other candy store that you have ever been in. I Love Sugar boasts a whopping 14,000 square feet of floor space, and it is stacked floor-to-ceiling with candy from the US and around the world. It is a true candy lover's dream and the perfect place to head when you really want to enjoy the best of what Las Vegas has to offer.
I Love Sugar will take visitors on a candy-laced journey. In true Vegas-style, everything inside is designed to be eye-catching. You have an entire area dedicated to chocolate, stacks upon stacks of Jellybeans, gorgeous statues, and more color than a rainbow.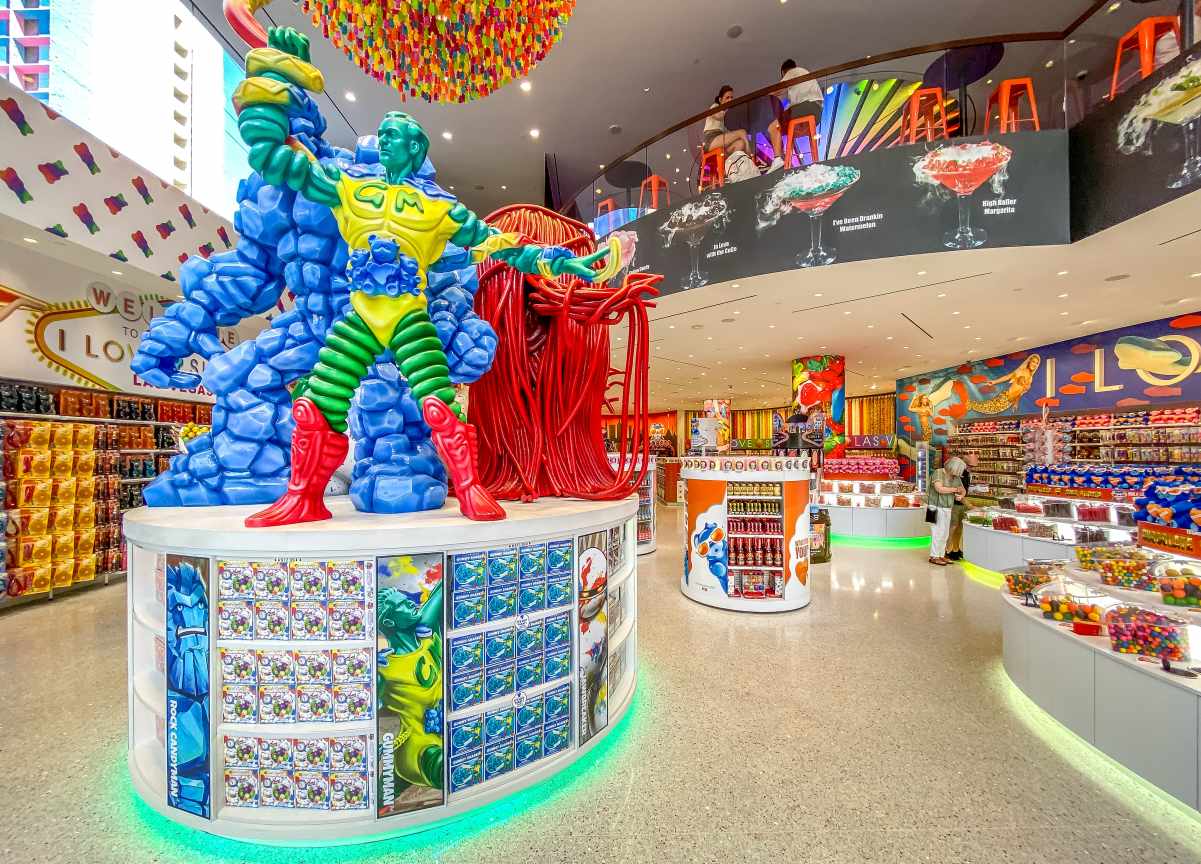 There is a reason why I Love Sugar bills itself as the Instagram lover's dream. There are plenty of shot-worthy locations within the store, and you are going to be here a long time. Plus, who wouldn't want to make their friends jealous with some snaps of all of that deliciousness? 
What Does 'I Love Sugar' Offer?
Candy, and lots of it.
If you can imagine a delightful piece of candy that you want to wrap your lips around, then you are probably going to be able to find it in I Love Sugar.
The store doesn't just stock candy from within the United States. Oh no. The stocking team at I Love Sugar has traveled around the globe to ensure that you can tuck into candy snacks that you would struggle to find anywhere else. I Love Sugar is a real candy-loving destination.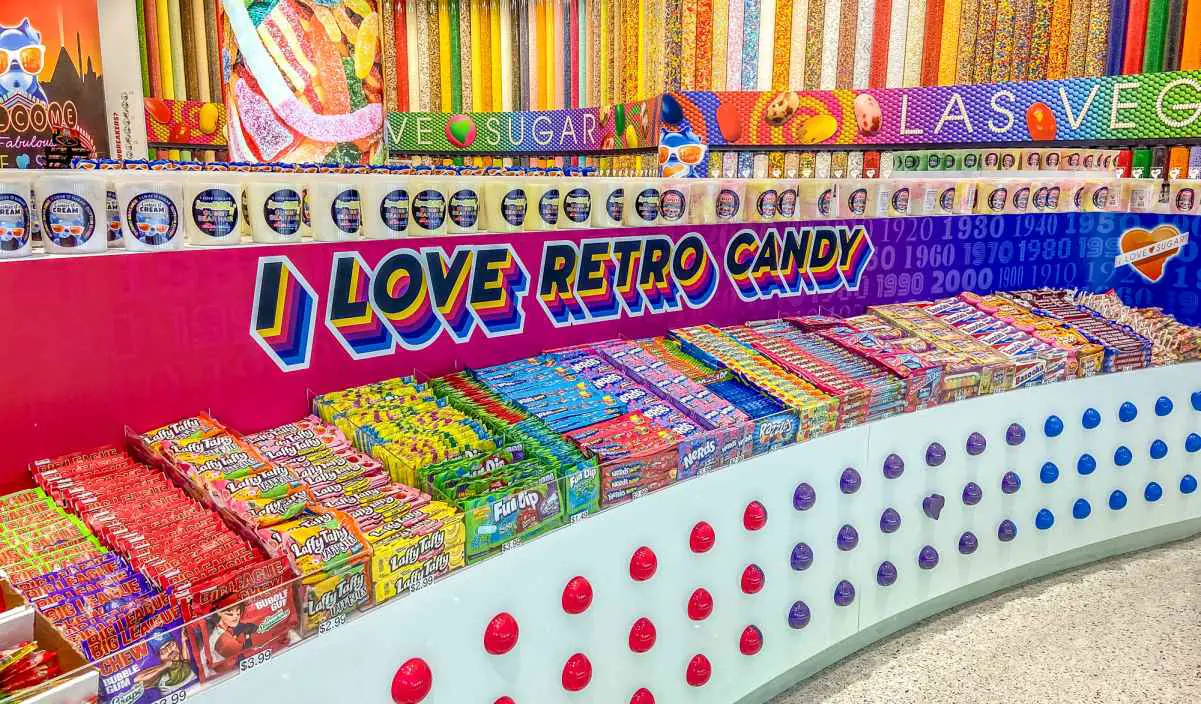 I Love Sugar stocks everything from the world's largest gummy bears (which are surprisingly affordable), mountains of M&Ms, Jellybeans, chocolate, and pretty much anything that you want. It is the ultimate candy store.
You can even pick up candy snacks that are exclusive to I Love Sugar. This is a company that really doesn't like to do things by half-measures, which is why they have brought in their own branded products that you can snap up. Great for a souvenir to take home to your friends, or just fantastic if you suddenly feel a need to sink your teeth into a chewy gummy shark.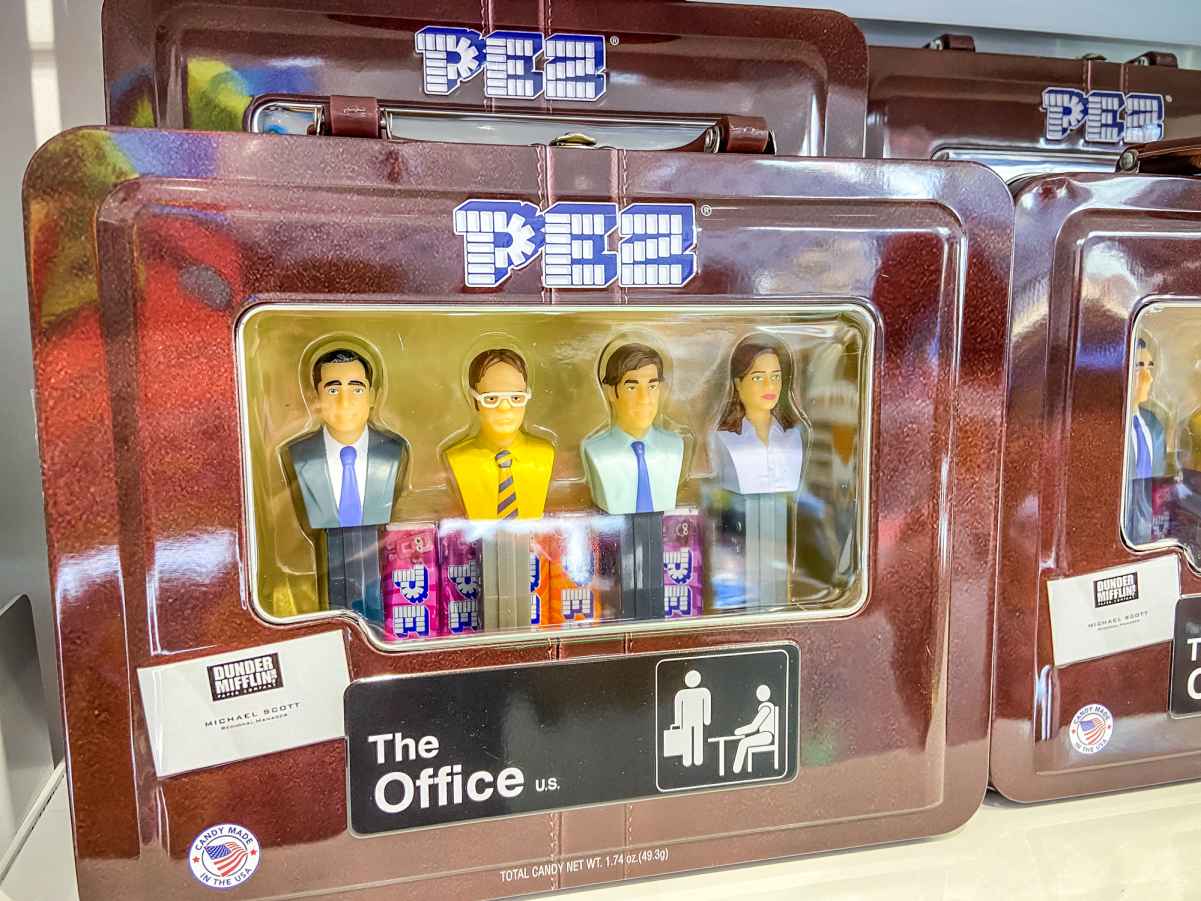 On top of all that, there is even a candy-themed Martini bar (more about that in a minute). Because, y'know, this is Vegas. Sometimes you need to have a drink to reset yourself after experiencing the hustle and bustle of the city that never sleeps.
To tell you about every item that I Love Sugar has would take all day. All you need to know is that if you love candy, then you will love this store. It stocks pretty much every piece of candy that you can imagine, and the range is always increasing. It is a place that you really need to swing by when visiting the Las Vegas Strip.
Candy Martini Bar at I Love Sugar
While the first floor is filled with candy and is appropriate for both kids and adults, if you're over 21, you'll want to take a trip upstairs to the Candy Martini Bar. This is where the real fun begins!
The Candy Martini bar boasts a wealth of alcoholic drinks, all with a candy twist. Here you'll find drinks filled with gummy bears, sour bears, cotton candy, or any number of candies that you may have seen downstairs.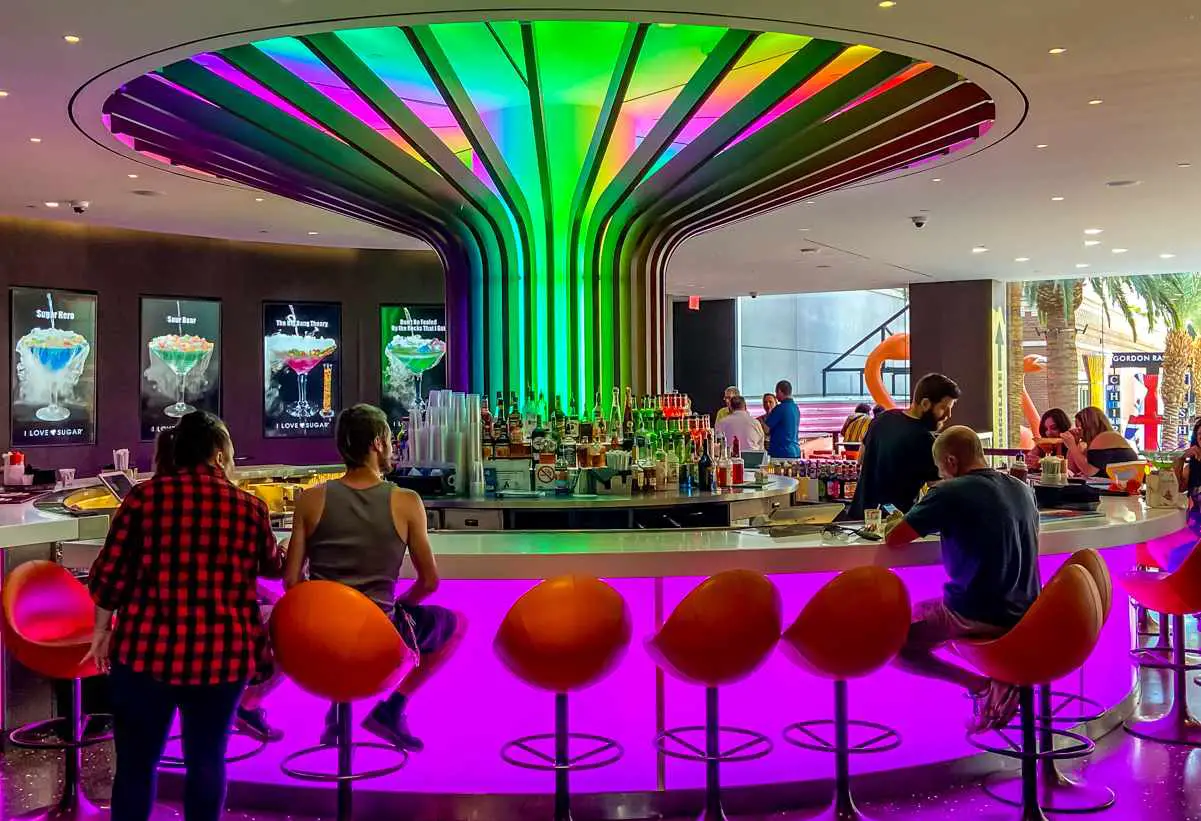 The bar boasts a friendly and cozy atmosphere and can get full pretty quickly, so you may want to make a reservation in advance, especially on evenings and weekends (you can do this through the I Love Sugar website).
If you don't feel like drinking in the martini bar, then you will be pleased to know that many of the drinks on sale here are also available to go. So you can grab a drink and head out onto the LINQ Promenade for some excitement!
Candy Martini Bar Drink Menu
So what's on the menu at Candy Martini Bar?
You have martinis, you have cocktails, you have sugar shots. You can even tuck into some tequila or vodka-infused gummy bears. It is the ultimate candy experience for adults.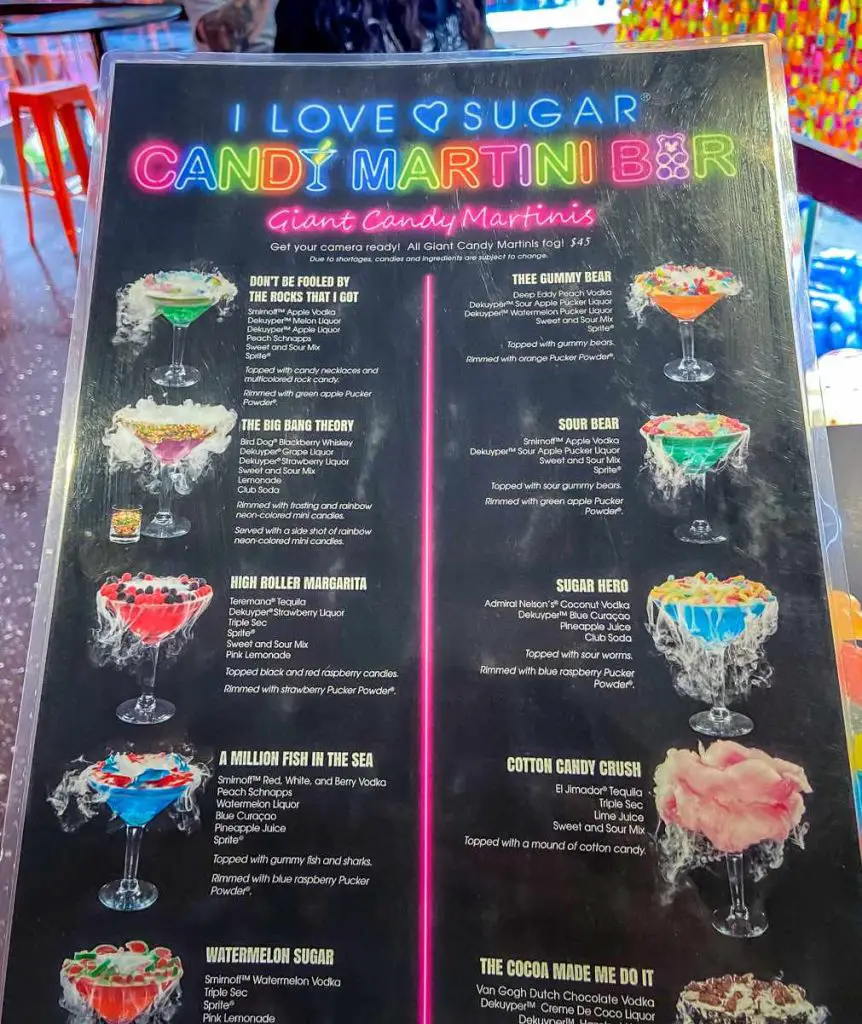 The signature candy martini drink menu includes:
| Giant Candy Martinis | Drink Description |
| --- | --- |
| Don't Be Fooled By The Rocks That I Got | A blend of apple-flavored vodka, melon/apple liquor, schnapps (peach), sprite & sweet and sour mix. The drink is topped with colorful rock candy and candy necklaces. |
| The Big Bang Theory | Blackberry-flavored whiskey, strawberry/grape liquor, sweet and sour mix, club soda, and lemonade. The rim is covered in frosting and miniature candies. Comes with a side shot of candy. |
| High Roller Margarita | Tequila, triple sec, strawberry-flavored liquor, sprite, sweet and sour flavor, and lemonade (pink). Filled with black and red raspberry candy. |
| A Million Fish In The Sea | Berry vodka, watermelon liquor, peach-flavored schnapps, blue curacao, sprite, and pineapple juice. Filled with gummy sharks and fish. |
| Watermelon Sugar | Watermelon-flavored vodka, triple sec, lemonade, and sprite. The drink is filled with watermelon gummies. |
| Thee Gummy Bear | Peach vodka, watermelon and sour apple liquor, sweet & sour mix, and sprite. Topped with, you guessed it, mountains of gummy bears! |
| Sour Bear | Apple flavored vodka, apple liquor, sweet and sour flavoring, and sprite. Topped with green apple powder and sour gummy bears. |
| Sugar Hero | Rum, blue curacao, coconut cream, pineapple juice, and club soda. Filled with sour worms and raspberry powder. |
| Cotton Candy Crush | Tequila with triple sec, sweet and sour powder, and lime juice. This baby comes topped with a mound of pink cotton candy. |
| The Cocoa Made Me Do It | Chocolate vodka with cocoa and hazelnut liquor, almond milk, and chocolate syrup. The topping is yogurt-covered pretzels and gummy bears covered in chocolate. The rim of the glass is covered with vanilla frosting and crushed Oreos. |
Oh, and did I mention that the martini drinks are HUGE! Not only are these candy martinis a work of art (make sure to have your camera handy), they come in an extra large martini glass.
Believe me when I say these drinks are meant to be shared with friends.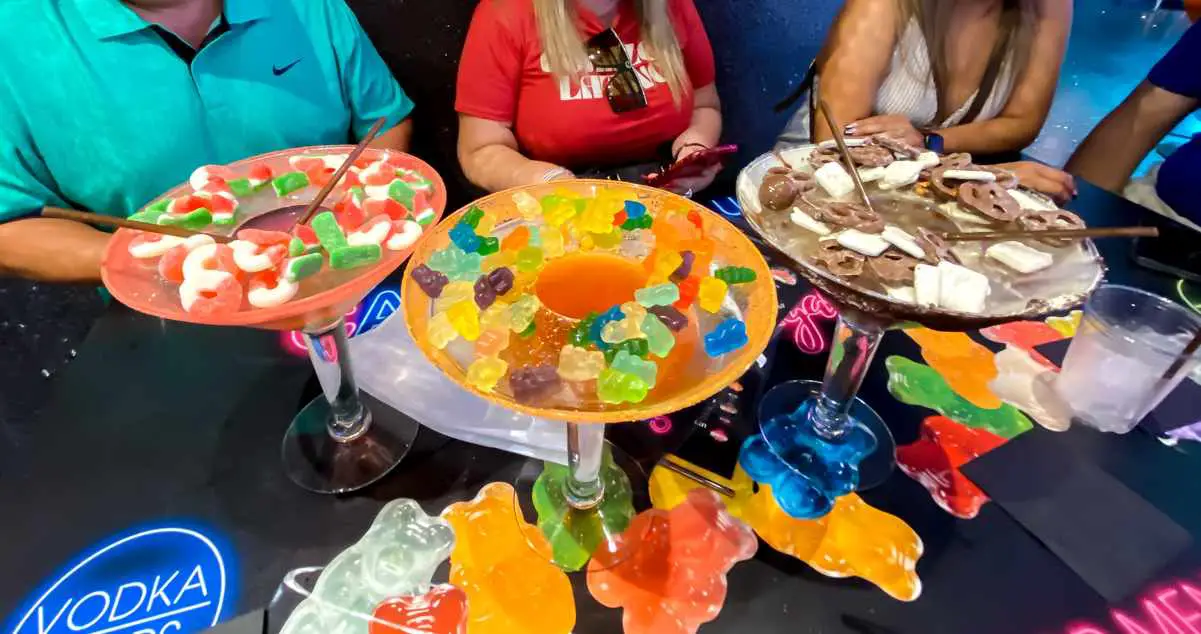 In addition to the featured martinis, the bar has ten candy cocktails to choose from as well.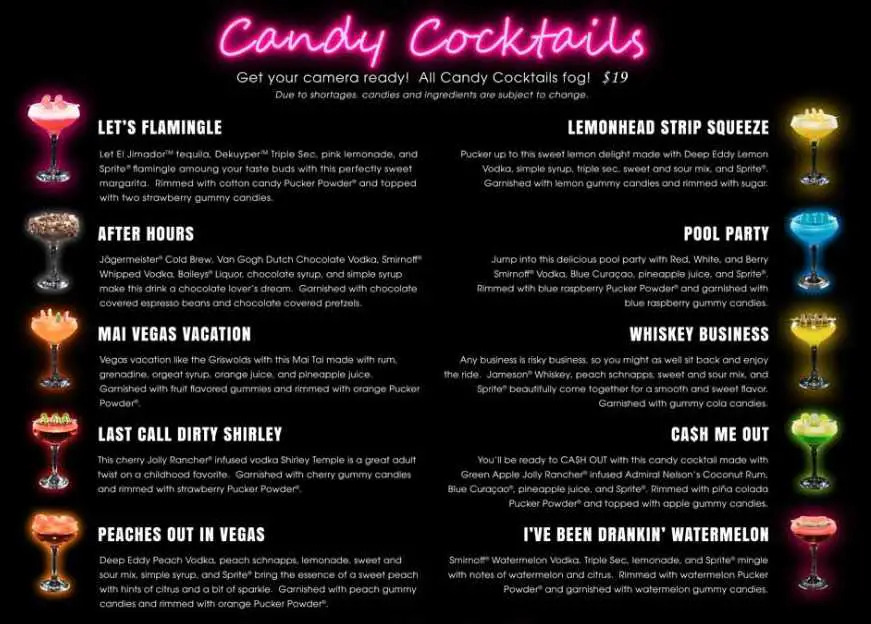 On top of that, you can even choose to have what the bar calls Drunkin' Bears (vodka or tequila-infused gummy bears) or one of three sugar shots.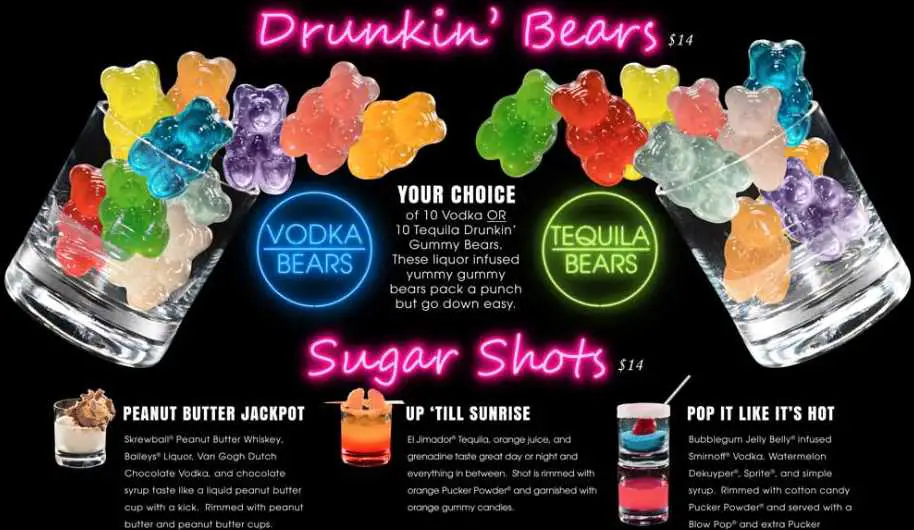 Of course, if you are not in the mood for an intense sugar rush, then there are some more normal drinks for sale too. The bar has a good selection of soft drinks, as well as a selection of beers (including some awesome craft beers).
Candy Martini Bar Drink Prices
The pricing at Candy Martini Bar is pretty straightforward. Drink prices range from $4 to $42. The individual drink prices at Candy Martini Bar are as follows:
Candy Martini Bar
Drinks
Prices
Giant Candy Martinis
$42
Candy Cocktails
$19
Drunkin' Bears
$14
Sugar Shots
$14
Craft Beers
$15
Hard Seltzers
$10
Energy Drinks
$8
Sodas, Ginger Ale,
Lemonade
$4
By Las Vegas Strip standards, the drink prices at Candy Martini are about par for the course. So, if you're looking to have a drink in a Vegas location with a visually appealing atmosphere, you'll definitely want to visit Candy Martini Bar.
Finding 'I Love Sugar' & Candy Martini Bar (Location)
I Love Sugar and the Candy Martini Bar can be found in the LINQ Promenade, which is part of the LINQ+ Hotel.
The LINQ Promenade can be directly accessed from the Las Vegas Strip, with the building located across the Strip from Caesars Palace. The entrance to the LINQ Promenade is outside between The LINQ Hotel and The Flamingo Hotel. You can also reach the promenade from inside either of these two hotel properties.
I LOVE SUGAR is not the only store in the LINQ Promenade. In fact, the LINQ Promenade is packed full of stores, restaurants, attractions, and entertainment, so it's worth scheduling at least a couple of hours to check out the entire area.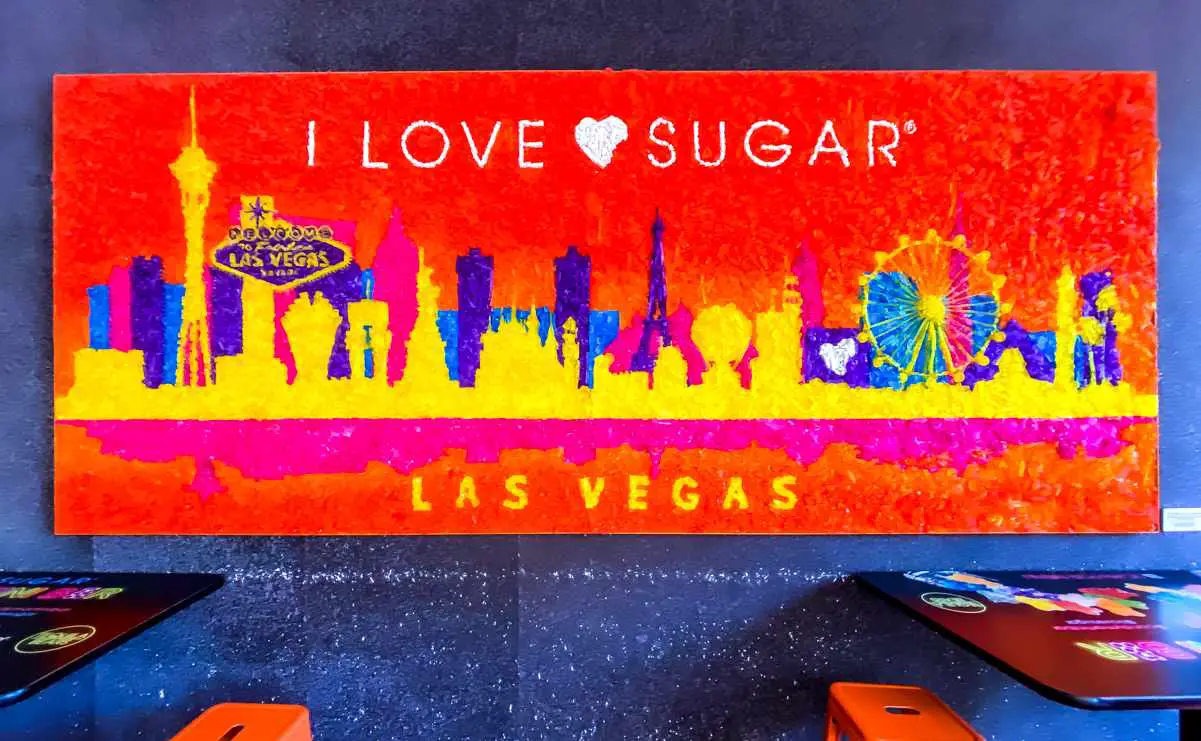 'I Love Sugar' & Candy Martini Bar Open Hours in Las Vegas
I Love Sugar has pretty long opening hours for a candy store, but then again, it is Las Vegas, right?
I Love Sugar Las Vegas Hours are:
Monday to Thursday – 9am to 12am
Friday to Saturday: 9am to 1am
Sunday: 9am to 12am
The Candy Martini Bar has the same hours as the candy store.
Related Reading: M&Ms Store Las Vegas (Location, Hours, & Parking)
Conclusion
So, there you have it. If you are looking to experience one of the largest candy stores in the world and one of the most unique bars you've ever been in, then head on over to I Love Sugar and the Candy Martini Bar at the LINQ Promenade on the Las Vegas Strip.