There's a reason why Las Vegas is considered "the place to be" by the party crowd, but sometimes you just want to chill, relax, and hang out by the pool. While an outdoor pool in summer is great, winter is actually a thing here in Las Vegas too, and an indoor pool would hit the spot nicely!
Daytime high temps during the winter can be in the 50's and 60's (10 – 15 Celcius) range. Much too cold for an outdoor pool! The truth is though that while there are a ton of pool options in Vegas, it'll be difficult, but not impossible, to find a hotel with an indoor pool in Las Vegas.
Where are the best indoor pools on the Las Vegas Strip?  Finding an indoor pool on the Strip will be a difficult task as almost all of the pools in Las Vegas are outdoors. However, there is one hotel on the Las Vegas Strip with a full-sized indoor pool. The Tropicana Resort and Casino is in the middle of the fun on the Strip and has a pool that has both an indoor and outdoor section.
Many hotels that list indoor pools are referring to indoor spas that charge a fee to enter and are restricted to adults-only bathing. Searches on many third-party travel sites will be misleading and show you hotels that don't actually have an indoor pool.
Let me show you which hotels claim to have indoor pools but don't, tell you about the one that actually does, and share a few other alternatives.
Third-Party Travel Websites Can Be Misleading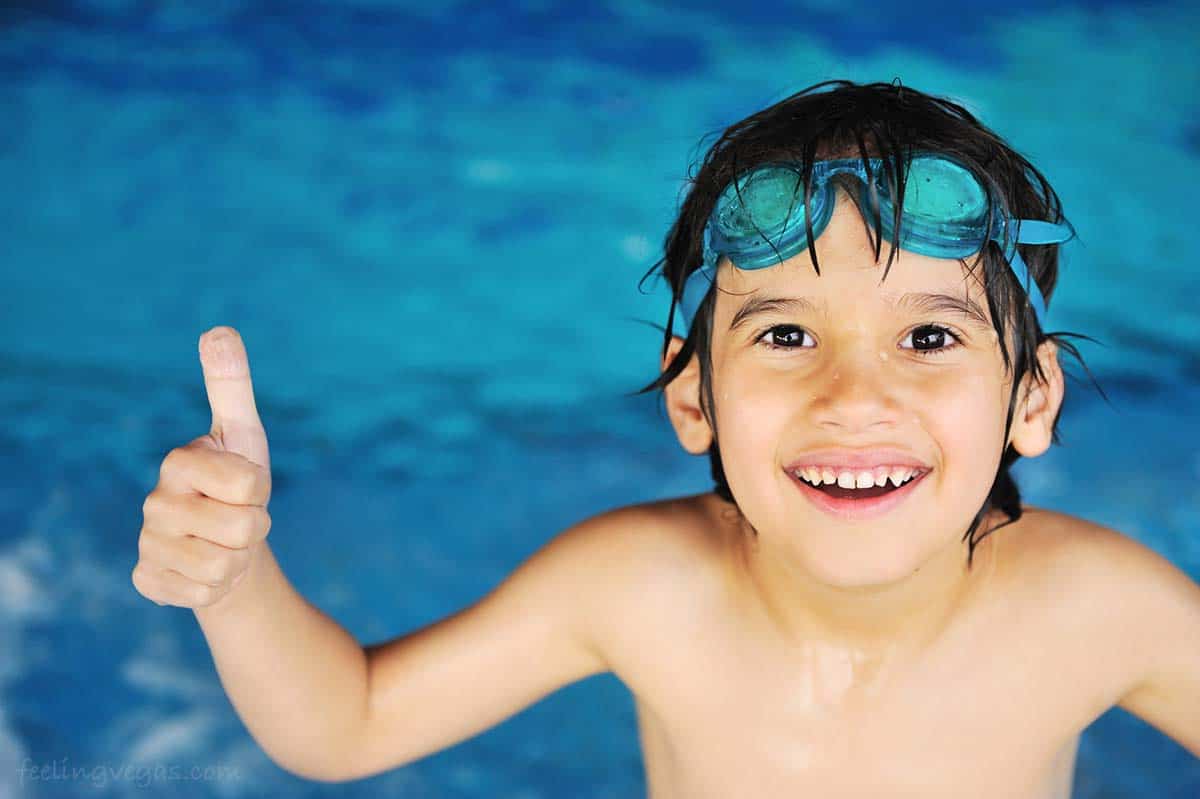 When using third-party travel sites (such as Expedia) to search for 'indoor pools' along the Last Vegas Strip, the results will include hotels like these:
The Venetian
Wynn Las Vegas
Mandalay Bay
The Mirage
Bellagio
The problem with these results is that none of these locations actually have indoor swimming pools. The 'indoor pool' they mention are in reality small dipping or soaking pools located inside the properties spa areas.
While a spa is great, it's probably not the indoor swimming pool you were actually looking for. In addition, these 'spa pools' are for adults-only and require an additional fee to access them.
These hotels are just a small sample of the results, other big-name hotels on the Strip also appear under the 'indoor pool' search filter but, in fact, do not have a true full-sized indoor pool.
Some don't have an indoor pool at all. Upon getting to their website, it's either a hot tub, an indoor spa with an additional fee, or sometimes there is no indoor pools to be found at all.
When booking a hotel you must be careful while doing your research and do not completely trust all the information found on third-party booking sites.
Searching google for "indoor pools on the strip" I found an Expedia listing that states that the following "Featured Las Vegas Strip Hotels" have indoor pools:
Stratosphere Hotel
MGM Grand Hotel & Casino
Harrah's Hotel and Casino
I can guarantee you that none of these hotels have an actual indoor swimming pool.
As you can see, it's hard to find an indoor pool in Las Vegas, because aside from a few exceptions which I discuss below, they don't really exist.
All the hotels on the Strip have amazing outdoor pools, but I want to adjust your expectations, so you don't show up having booked an indoor pool only to find an expensive hot tub that the kids won't be allowed to enjoy.
Here's what I do not want to happen to you: picture you've booked a hotel that's claimed to have an indoor pool.
You excitedly arrive with the kids, floaties in hand, baby around your hip ready for a day of fun at the indoor pool you've booked on the Las Vegas Strip! It's 53-degrees out, and you booked an indoor pool because you don't want the kiddos to freeze.
Come to find out that the 'indoor pool' is actually a small hot tub for adults-only that you can enjoy as part of a $150 massage package.
This would be a disappointing moment, and I want you to know what you are going to get ahead of time.
This guide will break down each hotel's 'indoor pool' situation so that you know exactly what to expect when you arrive and I'll point you to the hotels in Las Vegas that DO have actual indoor swimming pools!
The 7 Best

Only

Indoor Pool ON The Las Vegas Strip
#1 Tropicana Resort and Casino
If you want a nice hotel on the Strip, in the middle of the action, with an indoor pool….this is the one! The only one!
The Tropicana hotel has an indoor/outdoor pool that includes sliding glass doors that can close to partition off a 1,500 square foot indoor pool!
This is really the only full-sized indoor pool located directly on the Strip. It may be hard to find an indoor pool in Vegas, but this one is quite luxurious, even having the option to be heated which means it can be used year-round.
There is a lagoon right beside the pool so you can feel like you're lost in an oasis, with the option to swim outside if you want direct sunlight.
They even have a swim-up blackjack table!
This is the only top-notch hotel with an indoor pool on the Strip.
Check room rates at the Tropicana Resort and Casino (vegas.com).
A word of caution, however. Las Vegas hotels have a tendency to close down their pools for maintenance during the winter months. This schedule constantly changes from hotel to hotel and from year to year. So be sure to contact the Tropicana and check on their pool schedule if you're planning to visit during the winter.
Address: 3801 S Las Vegas Blvd, Las Vegas, NV 89109
Phone Number: (702) 739-2222
Las Vegas Spa Pools on the Strip
If the relaxing indoor pool on the Strip you were thinking of included rejuvenating spa treatments, you've come to the right place.
Most of these indoor pool options will hold about four to six people at maximum, although they may have several of these small pools.
The Spa at Venetian
This is a beautiful indoor spa pool option that is quite luxurious! The Venetian hotel is known for its beautiful outdoor pools as well as it's high-class spa.
Treatments start at only $70 for massages, so the access isn't overly expensive for the quality you're receiving; in fact, it's a great value.
However, this may not work if you're wanting to bring the kids.
Being that you are in Las Vegas, I'll assume it's mostly adult time, and an indoor spa day is the exact kind of indoor pool you were dreaming of! (website)
Address: 3355 Las Vegas Blvd S, Las Vegas, NV
The Spa at Wynn
This is another deluxe spa option where you can enjoy the finer things indoors while remaining on the Strip.
It will be a bit pricier, with the starting rate being around $125 and up to $850 for a couple's massage on the weekend.
You can download the spa's brochure here (.pdf)
Address: 3131 S Las Vegas Blvd, Las Vegas, NV 89109
Phone Number: (702) 770-3900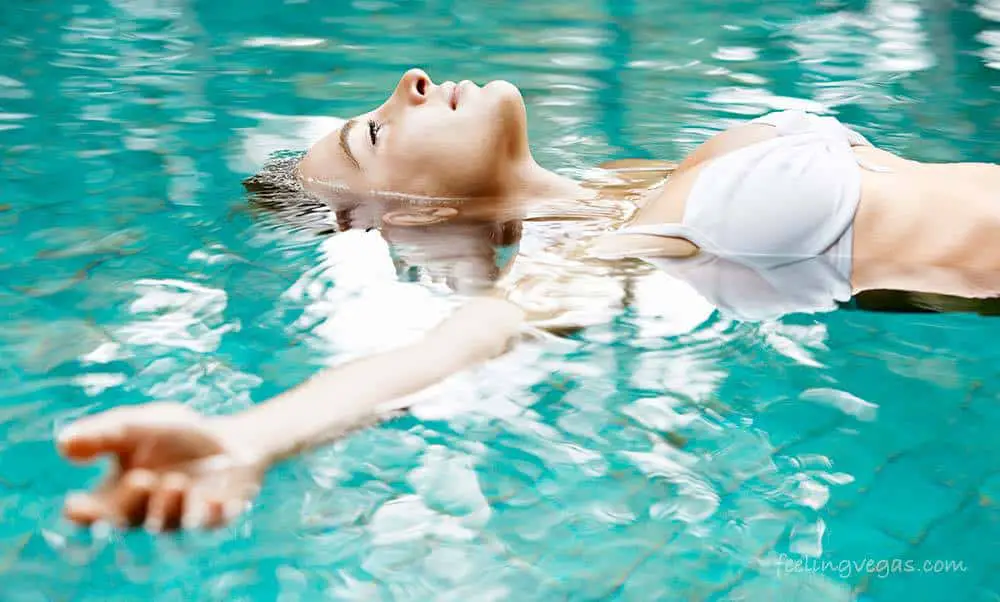 Mandalay Bay Resort & Casino Spa
This is a fantastic option for adults to take advantage of.
For only $30 – you can purchase a one-day Spa Pass. Under the Mandalay Bay's website, under the spa page, it says you will have full access to the following amenities:
Redwood Sauna
Heated Whirlpools (warm and hot)
Relaxation Lounge
Exercise Room (proper attire required)
Eucalyptus Steam Room
Cold Plunge
Shower Facility
Vanity Amenities
Their indoor pool is small but there are several attached pools to make one long one. It's one of the most affordable ways to get a little self-care treatment. Not only can you swim around a bit, but Eucalyptus Steam while you're at it! (website)
Address: 3950 Las Vegas Blvd S, Las Vegas, NV
Phone Number: (877) 632-7300
The Mirage Spa
This is one of those spas I was referencing that will be more of a hot-tub. I wouldn't personally call this an 'indoor pool,' but advertisers do as they please.
Click the link for an image of a large bathtub of sorts that will hold about five to six people at maximum capacity. There are a few of these hot tubs, so perhaps added all together, they are equal to one small-sized pool.
They do offer one day passes for the affordable rate of $30 as well.
The Spa and Salon is located in the Retail Promenade (website)
Address: 3400 S Las Vegas Blvd. Las Vegas, NV 89109
Phone Number: (702) 791-7111
Spa Bellagio
The Bellagio has a similar situation to the Mirage Spa, multiple hot tubs that are in a room together. It is quite relaxing from the pictures, but the pass will cost $50 per day for Bellagio guests and $100 for non-Bellagio guests.
According to their website, the pass includes:
Steam Room
Sauna
Cold Plunge Pool
3 Whirlpools
Find out if it's worth staying at the Bellagio in our article here.
Address: 3600 S Las Vegas Blvd, Las Vegas, NV 89109
Phone Number: (702) 693-7472
So those are the options for indoor pools and spa pools located directly on the Strip.
There are, however, some other options for full-sized indoor swimming pools that are located nearby the Strip.
The 4 Best Indoor Pools NEARBY The Las Vegas Strip
If you want a real, full-sized indoor pool to swim in and you can deal with being slightly off the Strip, you'll have much better luck. These indoor pools will be great for the entire family.
4 Indoor pools near the Strip are:
Even just a 5-minute drive away from the Strip will offer you a few more indoor swimming pool options of the non-spa charging variety!
The closest will be the Platinum Hotel:
#1 The Platinum Hotel
What I love about the Platinum Hotel is that you're actually getting a full-sized indoor pool!
Did I mention that it's heated?
The outdoors leads into a beautiful and simplistic interior pool that even has a large indoor cabana. It's about walking distance from the Strip. You can walk it okay most the year but I wouldn't recommend making the trek on a hot summer day.
It is a 4-star hotel, and the outdoor rooftop pool is even more beautiful than the indoor one. At least you have options! For around $140 a night, this is a much more economical alternative to the Strip hotel rates.
Check current rates for the Platinum Hotel at vegas.com here.
Address: 211 E Flamingo Rd, Las Vegas, NV 89169 (google maps)
#2 Hilton Grand Vacations at the Flamingo
The Hilton Grand is in an excellent location just off the Strip, near all the action and close to the monorail station at the LINQ. Around the corner from the Strip, it's about a 5-minute walk to the Venetian Hotel.
(Find out how much it costs to ride the monorail and how to save a few bucks in our article here.)
The outdoor pool is lovely, but the indoor option is more of a hot-tub. The hotel themselves captions the photo on their web page as 'Hot-Tub,' so they agree. Although it comes up under 'indoor pool' options in a search – so be careful of this with all hotels that you book.
The hot tub at the Hilton Grand is quite large, considerably bigger than most. Only eye-balling, but from my calculations, about 12-15 people could fit in there. It'd be snug, but it's certainly made for a group.
You can find a room at the Hilton Grand Vacations here.
Address: 3575 Las Vegas Boulevard South, Las Vegas, NV 89109 (google maps)
#3 The Embassy Suites Convention Center
This is the kind of hotel you can stay in anywhere in the world. The above options are at least 'very Vegas,' so expect the Embassy to be nice but not Vegas fancy.
They have great accommodations for the rate as well as a legitimate indoor pool. If that is more important to you, I say book it!
They also include Happy Hour for free, which doesn't hurt.
Since this is near the Convention Center, it will host many convention-goers and be utilized by quite a few business travelers.
Find out about room rates at the Embassy Suites Convention Center here (vegas.com)
Address: 3600 Paradise Road, Las Vegas, NV 89169 (google maps)
#4 Baymont by Windham South Strip
Finally, this is another full-sized indoor pool option that does not charge spa fees.
Just remember: this hotel is a small budget style hotel. But the Wi-Fi is free, and pets are welcome!
On the South end of the Strip, Baymont by Windham will cost about $100 a night. This hotel is in fact south of the airport and quite a long way from any of the major activities on the Strip.
It is a great option, however, for a family seeking a budget-friendly accommodation with a way to enjoy a pool without freezing in the winter months.
Address: 55 East Robindale Road, Las Vegas, NV 89123 (website) (google maps)
Off-Strip Las Vegas Hotels with Indoor Pools
If staying a ways off the Strip isn't a deal-breaker, then there are a few more good options for hotels in Las Vegas with indoor pools.
These hotels may be a few miles away from the Strip but they do have indoor pools and will be much more budget-friendly options as well:
SpringHill Suites Las Vegas Henderson
La Quinta Inn & Suites Las Vegas Tropicana
Best Western Plus North Las Vegas Inn & Suites
SpringHill Suites Las Vegas Henderson – Indoor Pool
Located 11 miles from the Strip in Henderson (about a 20-minute drive to the Strip) is the SpringHill Suites. This is an all-suite hotel which is nice to have for some extra room.
It features free WiFi, complimentary hot breakfast and most importantly an indoor swimming pool (website).
Address: 1481 Paseo Verde Pkwy, Henderson, NV 89012 (google maps)
La Quinta Inn & Suites Las Vegas Tropicana with an Indoor Pool
Located less than 3 miles from the Strip is the La Quinta Inn & Suites Las Vegas Tropicana. This pet-friendly hotel with free WiFi, and continental breakfast also has a nice indoor pool for all guests to enjoy.
You can find current room rates for La Quinta Inn here.
Address: 4975 S Valley View Blvd, Las Vegas, NV 89118 (google maps)
Best Western Plus North Las Vegas Inn & Suites
Located in North Las Vegas near the Nellis Air Force Base, Best Western Plus North Las Vegas is about 10 miles from the Strip (15-minute drive).
This is a 100% non-smoking hotel with a complimentary breakfast, gym, and RV/Truck parking. They have a covered indoor/outdoor pool (website).
Address: 4540 Donovan Way North Las Vegas, NV 89081 (google maps)
The 5 Best Outdoor Pools ON the Las Vegas Strip
Now onto the truly luxurious and glamourous pools in Vegas! These beautiful one-of-a-kind outdoor pools are truly the bread and butter of the Strip.
The Best Pools in Vegas (all being outdoor pools) and the ones you are likely to see pictures of in magazines and on social media:
The Paris Resort & Casino
The Venetian Resort
Mandalay Bay Resort & Casino
The Mirage
Aria Resort & Casino
These pools may not be indoors – but they are stunning, fancy, over the top, and they're located directly on the Strip!
As I mentioned above, many of these pools close for the winter so check with the hotel for their schedule.
#1 The Paris Resort & Casino
Check out a picture of their stunning outdoor pool beside the Eiffel tower here. Of course, it's not the real Eiffel tower, but it's a close second if you've ever dreamt of back-stroking your way around a historical monument.
There are French-themed cabanas and sun-bathing chairs so you can soak up the sights and have a beautiful swim beneath the Eiffel tower.
You can reserve a private cabana here to guarantee yourself a spot. These fill up quickly in the summer months, so book in advance.
They even have a promotion where your cabana purchase gets you 20% off at the spa! Not too shabby of a set-up compared to the indoor Vegas options. Not too shabby at all.
Address: 3655 S Las Vegas Blvd, Las Vegas, NV 89109
Check room rates at Paris Las Vegas here at vegas.com.
#2 The Venetian Resort
A 4.5-star hotel right on the Strip, staying at The Venetian is a truly lavish experience. There are hand-painted clouds on the ceilings throughout the hotel and shopping center.
The Venetian has delicious restaurants, a Venice canal running through the property, a relaxing spa, and one of the best outdoor pools in town!
Their pool options, according to their website, will include:
The Venetian Pool Deck
The Palazzo Pool Deck
The Aquatic Club
Pool Cabanas
Tao Beach
This is one of my favorite hotels on the Strip and one of those locations that, like a cruise ship, offers you everything you need all in one place.
Address: 3355 S Las Vegas Blvd, Las Vegas, NV 89109
Check room rates at the Venetian here at vegas.com.
#3 Mandalay Bay Resort & Casino
Mandalay Bay pulls out all the stops! With a Michael Jackson tribute show, an entire Shark Reef Aquarium, concerts 'on the beach' as they call them that surround the pool – Mandalay Bay is about offering their guests an amazing experience.
Their pools do not disappoint either:
The party-goers will want The Daylight Beach Club, which is essentially a nightclub party in a pool during the day.
The family-friendly and more calm pool experience will be found at the Moorea Beach Club.
Address: 3950 S Las Vegas Blvd, Las Vegas, NV 89119
Check room rates for Mandalay Bay here at vegas.com.
#4 The Mirage
With the Beatles Love Cirque du Soleil performance, beautiful rooms, dolphins, as well as beautiful pools – don't count out the Mirage for your Vegas vacay.
The Mirage Pool offers regular seating as well as reserved Oasis lounge chairs and cabanas. You can reserve a cabana here to guarantee your family a spot to catch some rays and veg out.
Address: 3400 S Las Vegas Blvd, Las Vegas, NV 89109
Check room rates at the Mirage here at vegas.com.
#5 Aria Resort & Casino
The Aria is a very high-class experience. With fine dining steak house as well as more casual dining available throughout the hotel, multiple nightlife options including nightclubs and bars inhouse you will never have a lack of things to do.
(Are nightclubs free in Vegas? Find out in our article here.)
There are three outdoor pools at the Aria, and you can take a virtual tour on their website here. Just raise your hand and have a drink promptly brought to your cabana.
Address: 3730 S Las Vegas Blvd, Las Vegas, NV 89158
Check room rates at ARIA Resort & Casino here (vegas.com)
Another Option: Las Vegas Heated Pools
While indoor pools in Las Vegas are slim to none, there is another option for swimming without freezing in the winter. Las Vegas does have some heated outdoor pools that remain open during the cooler months.
To see a comprehensive list of heated Las Vegas pools check out our article here.
The Takeaways
I hope this article has been useful for finding you a great spot to dip your toes in the pool and relax, regardless of the season.
I also hope that the takeaway you've noticed is that third-party booking sites are not always accurate and it's best to check directly with the hotel.
My favorite indoor pools from this list are the Tropicana and the Platinum Hotel. Each is giving you a full-sized indoor pool while also being either on the Strip or within walking distance to it.
Have a Great Stay in Vegas!
The Strip has really committed itself to the outdoor-pool-lifestyle and fun in the sun, which means that if you want to stay on the Strip, you probably won't be swimming inside. You might assume there are more indoor pool options in a town as party-oriented as Viva Las Vegas, but as it turns out, the best of the best pools are outdoors!
Almost all of the hotels on the Strip have fabulous outdoor pools with cabanas and waiters catering to your every need. Let me tell you, a day lounging by a fabulous Las Vegas pool is indeed paradise!
Related Las Vegas Pool Article:
Find out how to spend a day at one of Las Vegas's fabulous hotel pools even if you're not a guest of the hotel. Read our article here to find out which pools you can visit.
If you found this article helpful, please SAVE THIS PIN to one or more of your boards on Pinterest. Thank you!