When Do The Pools Open In Las Vegas? (Daily & Seasonal Hours)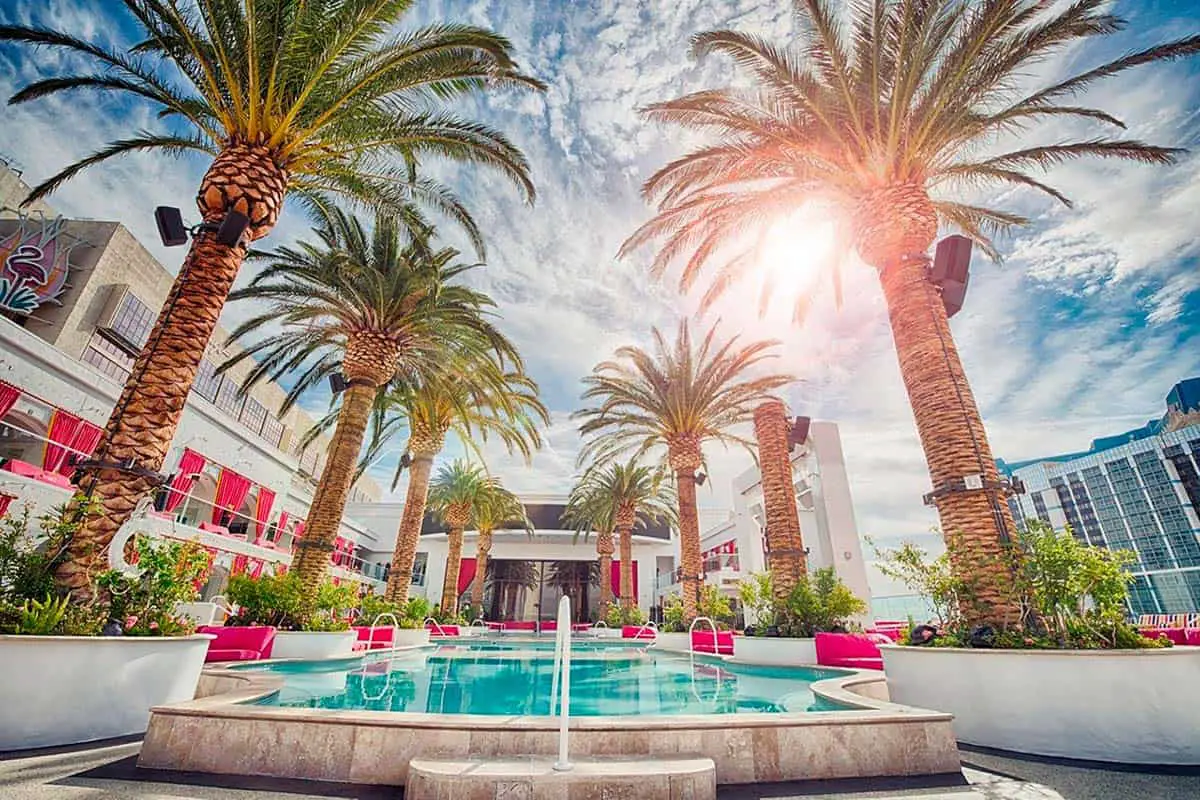 (This article may contain affiliate links, which means we might earn a small commission if you click and make a purchase. Thank you!)
Pool season in Las Vegas typically starts around early to mid-March and ends around October.
Las Vegas is home to a huge number of incredible pools. Whether you're looking for pools in the best Las Vegas hotels and casinos, pool parties, a pool complex, or some quality sunbathing on a serene pool deck, you won't have trouble finding what you need in Vegas.
Let's find out all about Las Vegas pools and the best times to enjoy them.
When Is Pool Season In Las Vegas?
There is no definitive date to kickstart the pool season in Las Vegas. Pools usually open in early March, although some wait until mid-March or later for the weather to be adequate. The end of pool season varies between different hotels, clubs, and resorts, but it's typically around October.
Some hotels and resorts have their pools heated at all times and stay open year-round, while many other Las Vegas resort pools close after October. 
It's worth mentioning that the weather in Las Vegas is sunny year-round, which gives you the chance to enjoy the pools that are heated and remain open no matter what the season.
If you happen to be in Vegas anytime outside pool season, you will easily find a heated pool where you can swim. If it's too cold, you can always go for a soak in a hot tub.
When Do The Pools Open In Las Vegas Every Day?
Open hours differ between hotels and resorts. Most pools are open from 7 a.m. to 7 p.m. or somewhere close to those times. Between late summer and early spring when the sun sets early, the pool hours are usually shortened.
If you like to swim at night, you can find a few pools that stay open late. These, however, are rare and mostly exclusive to hotel guests.
Find out why pools close so early in Las Vegas even during the summer months.
Are Vegas Hotel Pools For Guests Only?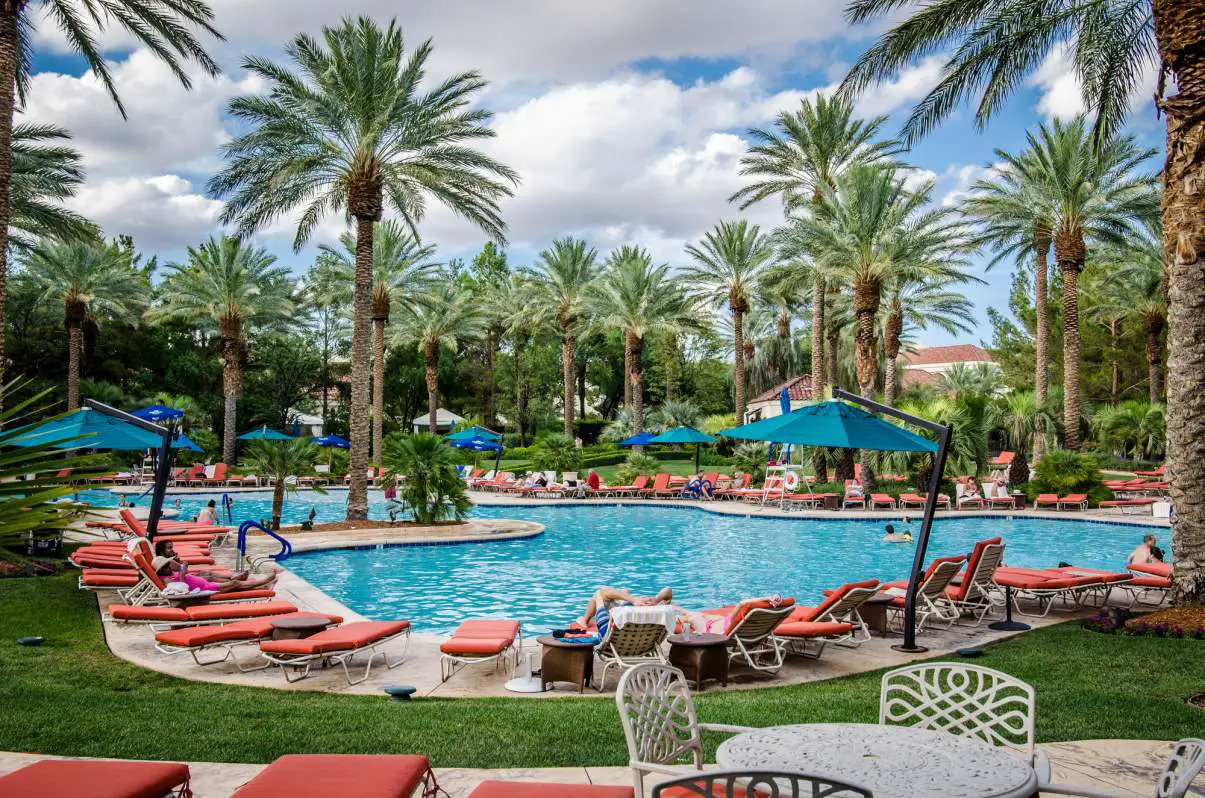 Many of the pools in Las Vegas are for hotel guests only and require you to show your room key. However, if you're not staying in a hotel, swimming in a cool hotel pool is not off the table. Many resort pools are open to the public, though most of them charge a fee.
A few Las Vegas pools even allow free entrance to the public during specific hours or days. However, this is always changing, so it's recommended to check beforehand and arrive as early as you can; admission to these pools is limited to their capacity.
What Are The Best Pools In Las Vegas?
If you'd like an all-inclusive experience, you can have the time of your life in a luxury resort pool with poolside restaurants and many other amenities.
Here is a rundown of some of the best Las Vegas pools.
Mandalay Bay Beach Pools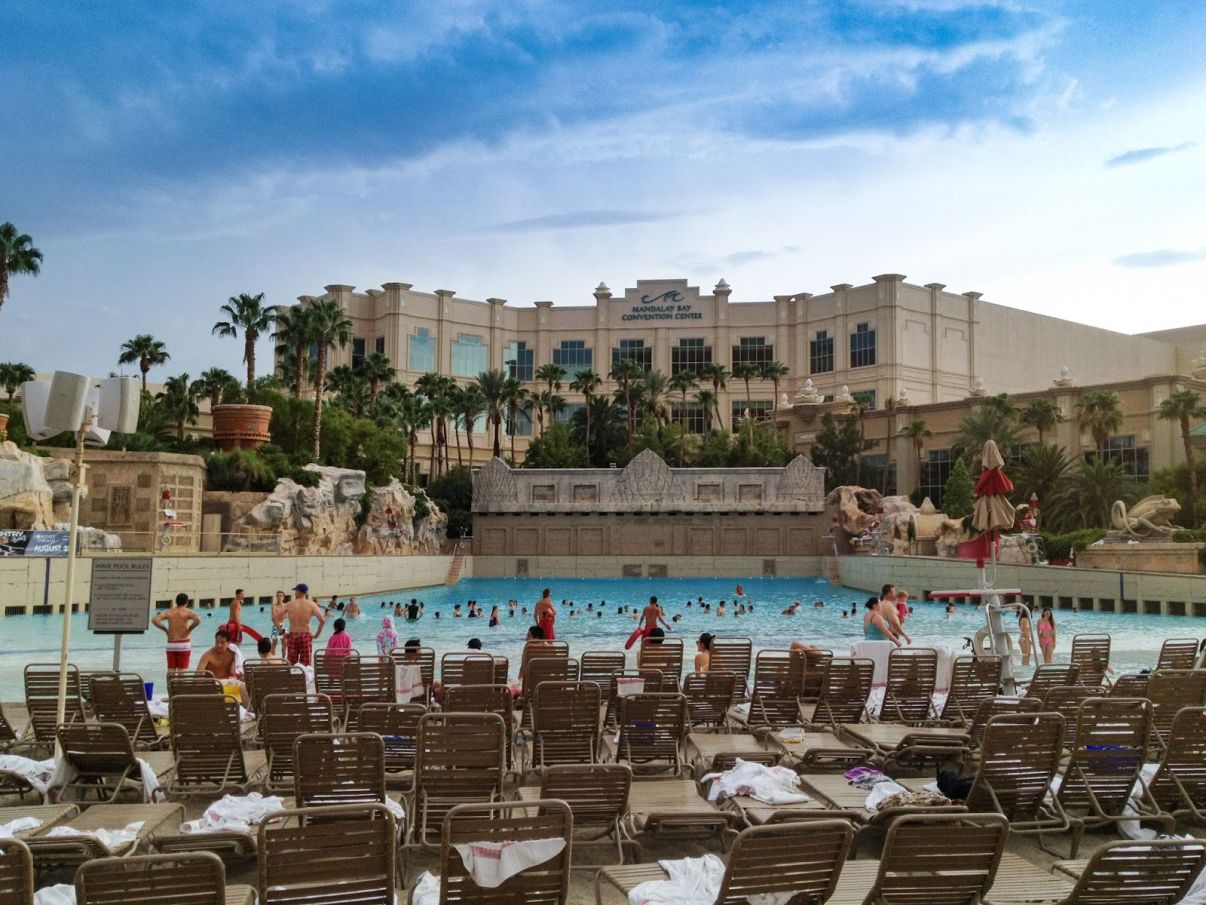 Photo:- Flickr Image
Mandalay Bay Beach has some of the most exciting pool experiences in Las Vegas. It has several pool areas, a huge wave pool, a lazy river, and many cabanas. The Mandalay Bay Beach pool complex ranks very high among the best pools in the world.
Daylight Beach Club
The Daylight Beach Club is perhaps the most popular pool area within Mandalay Bay Beach. The adult-only pool often hosts interesting events and parties.
East & West Lagoon
These family-friendly pools are impressive and calm. The East Lagoon is for reserved seating only. Several nice cabanas are situated by the West Lagoon. Between the two areas are nice and quiet gazebos for those looking for a more private space.
Wave Pool
The legendary wave pool is Mandalay Bay's biggest pool; it is the real deal. With 1.6 million gallons, waves reaching up to 8 feet high, and a gorgeous pool deck that resembles a sandy beach, this is as close as you'll get to a beach in Las Vegas.
Lazy River
The Lazy River at Mandalay Bay Beach is only one of three lazy rivers in Las Vegas. It spans over 0.25 miles and is one of the most appealing pool areas in the resort. It flows by several cabanas, day beds, and reserve seating areas.
You can either rent a cabana and watch the river flow by or grab an inner tube and let yourself get carried away. The lazy river is a genuinely soothing experience.
Moorea Beach Club
The adult-only Moorea Beach Club is another gorgeous pool area comprising one heated pool, day beds, cabanas, and lounge chairs. You can opt for a Sun Villa or a Pavillion for a more luxurious and private space.
Those who pay to get into the club can access the wave pool, lazy river, and other areas within Mandalay Bay Beach.
Get more information about the pool at Mandalay Bay: Mandalay Bay Beach & Pool: 31 Things You Should Know
Encore Beach Club
The Encore Beach Club (EBC) is heaven for pool party enthusiasts at Wynn Las Vegas. Most resorts in Vegas can pull off some great pool parties, but the EBC vibe is something else.
Encore Beach Club includes a huge main pool as well as two adjacent pools. You can book a table, enjoy top-notch service, or rent day beds, cabanas, lily pads, bungalows, beach couches, and more.
MGM Grand Pool Complex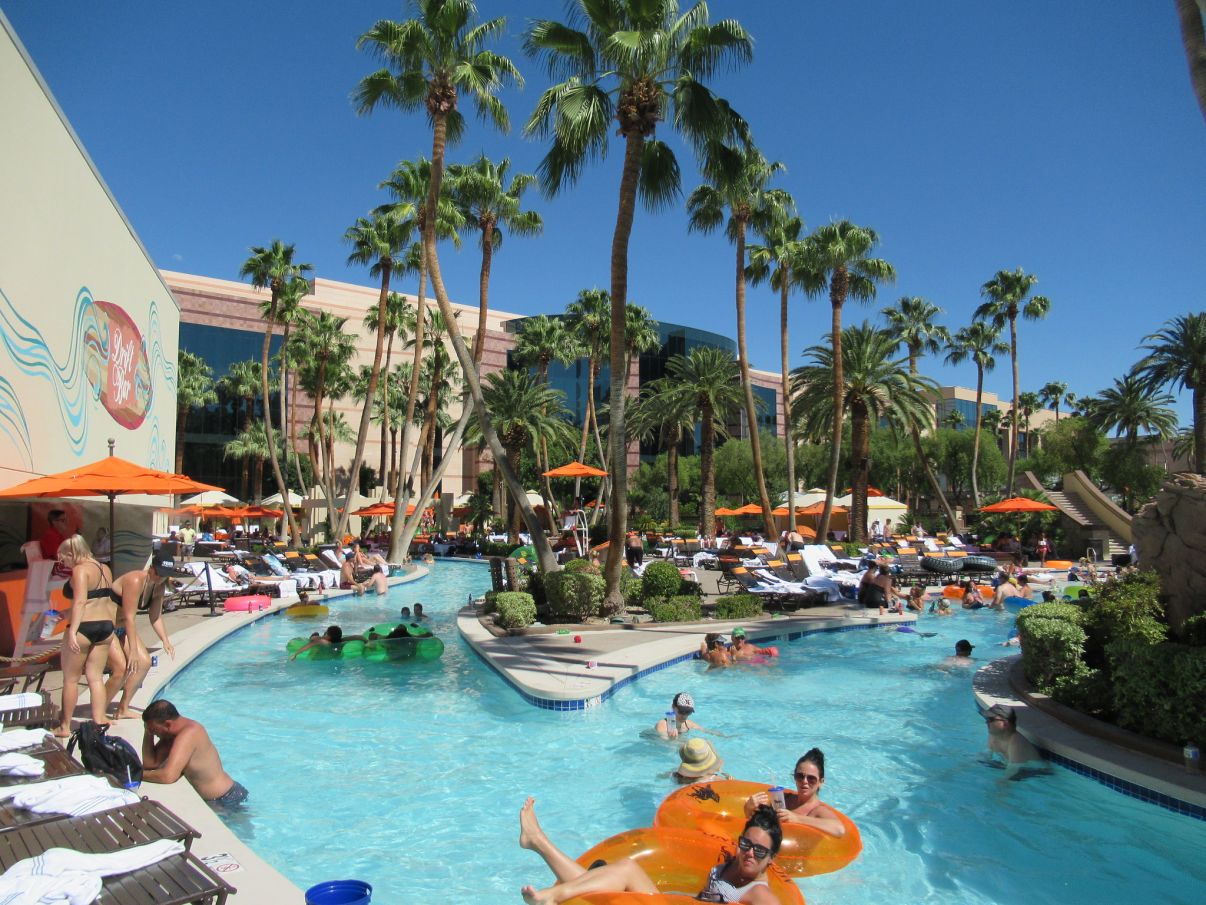 Photo:- Flickr Image
The grandeur of MGM Grand Pool Complex is guaranteed to blow your mind. It has a distinctive tropical atmosphere, packed with palm trees surrounding its huge pool deck.
The pool has something to fit everyone's needs. Featuring waterfalls, fountains, bridges, whirlpools, several pools, and a lazy river, you're sure to have the pool experience of your life.
Most pools within the complex close in September and October, but at least one pool is open during the winter.
For more info about the MGM Grand pool complex, check out: MGM Grand Pool Complex: 23 Things You Should Know
Resorts World Las Vegas Pools
The incredible Resorts World Las Vegas combines three prestigious hotels and features a total of seven pools, with each pool providing a unique experience. Among these is the only infinity pool on the Strip, offering a surreal view of Las Vegas.
Paris Las Vegas Pool
This incredible pool sits underneath the famous Eiffel Tower replica and is surrounded by a decorated French-style garden; it's an ethereal experience. It is open year-round but is closed to the general public except for Paris hotel guests and other Caesars resort overnight guests.
For more info about the pool at Paris also see: Paris Las Vegas Pool: 16 Answers You Should Know
Garden Of The Gods Pool Oasis at Caesars Palace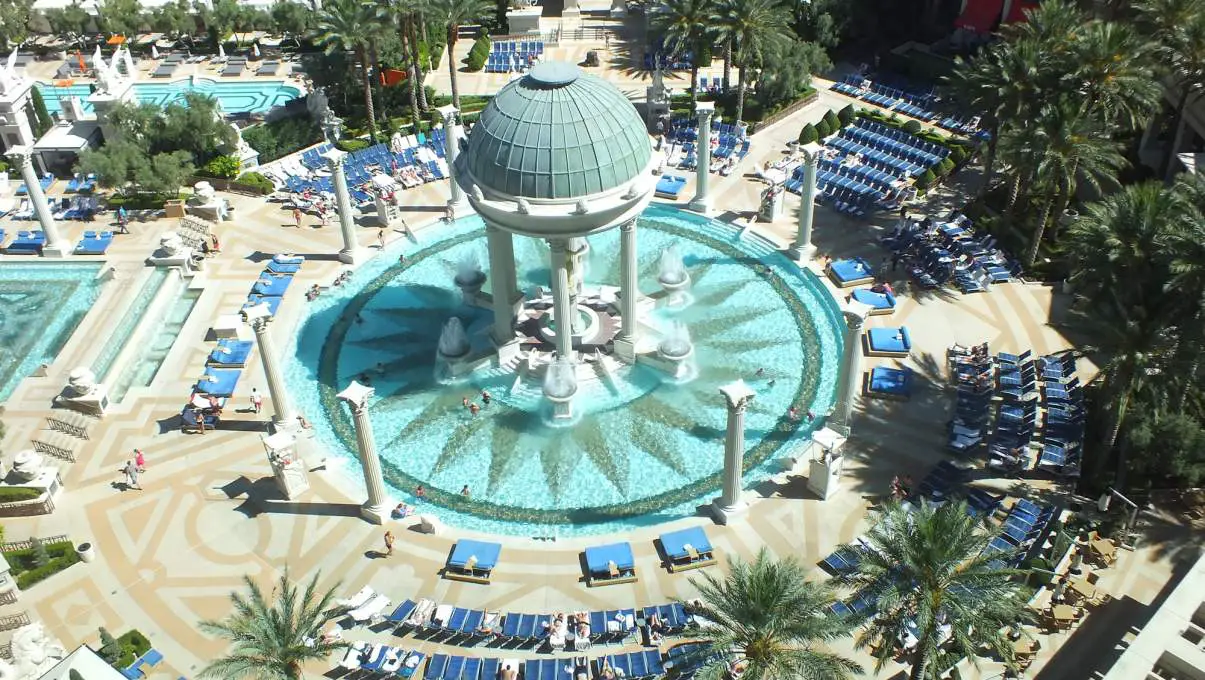 The stylish, picturesque, and Roman-style Garden of The Gods Pool Oasis at Caesars Palace provides seven ethereal pools named after Roman gods. It is one of the most appealing attractions at Caesars Palace. All the statues, temples, pools, and fountains give this place an unparalleled charm. It also features dozens of cabanas, day beds, and many other exclusive experiences and events.
SEE ALSO: Caesars Palace Pool: 22 Things You Should Know
The Palazzo Pool Deck
The elegance of the Palazzo Pool Deck is simply outstanding. It features seven pools, several cabanas and daybeds, and a fine dining experience.
When Do The Pools Open In Las Vegas – Final Thoughts
The pool scene in Las Vegas is incredible. Plenty of hotels, resorts, aquatic playgrounds, and pool complexes take pool experiences to a whole different level. 
Las Vegas pools have something for absolutely everyone. While pool season is typically from March to October, several pools do stay open during the winter months.
RECOMMENDED: Bellagio Pool: 21 Answers You Should Know (Las Vegas)