Why Does Las Vegas Have So Many Palm Trees? (Answered)
(This article may contain affiliate links. If you click through and make a purchase, we will receive a small commission at no additional cost to you. )
When you think of Vegas, you probably think of a few key images: casinos, shows, attractions, the "Welcome to Fabulous Las Vegas Nevada" sign, and palm trees.
However, palm trees aren't native to Las Vegas, so why are there so many? How did palms become such an iconic symbol of this desert city?   
Las Vegas has so many palm trees because casinos and resorts imported them, mostly from California, to provide a sense of tropical escapism and luxury. This trend likely began when the hotel Mirage opened in 1989.  
In this article, I'll answer all your curiosities about Las Vegas and palm trees, including why there are so many and why they grow well in Vegas despite not being native to the city.
If you're curious about these tropical trees, keep reading.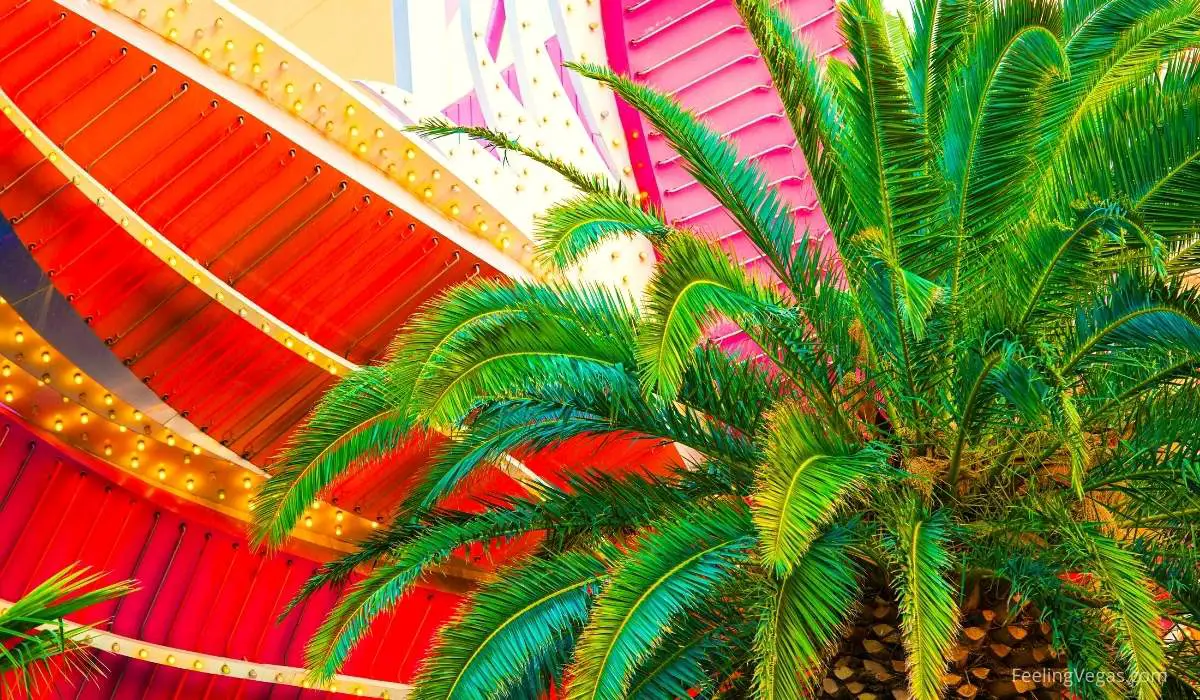 Why Are There Palm Trees in Las Vegas?
Las Vegas has many palm trees because they are associated with escapism, luxury, and paradise in American culture. Many casinos and hotels in Vegas want to give that impression to their guests. In addition, the non-native palm trees grow well in the parched southern Nevada climate.  
Palm trees are not native to Las Vegas, but regardless of this fact, they're extremely popular in the city. Residents and visitors enjoy the towering presence of these beautiful trees on the properties of casino resorts and hotels, and they are found surrounding some of Las Vegas's most amazing pools.
But if they're not native to Las Vegas's planting zone, why are there so many?     
Palm trees are popular in resorts and housing developments because, in the 1990s, Las Vegas property developers imported palm trees en masse from California.
The trend likely began with The Mirage, which opened in 1989. This hotel was immediately popular and became an icon on the Strip, partially because of the palm trees it featured on its landscaping and around its famous volcano.     
The Mirage volcano show is one of the most popular tourist attractions because the eruption is exciting to see, and the surrounding palm trees are great for photography and establishing a lavish ambiance.
RELATED: For more details about the Mirage volcano, check out my guide on show times and tips.  
More Las Vegas Resorts Started Planting Palms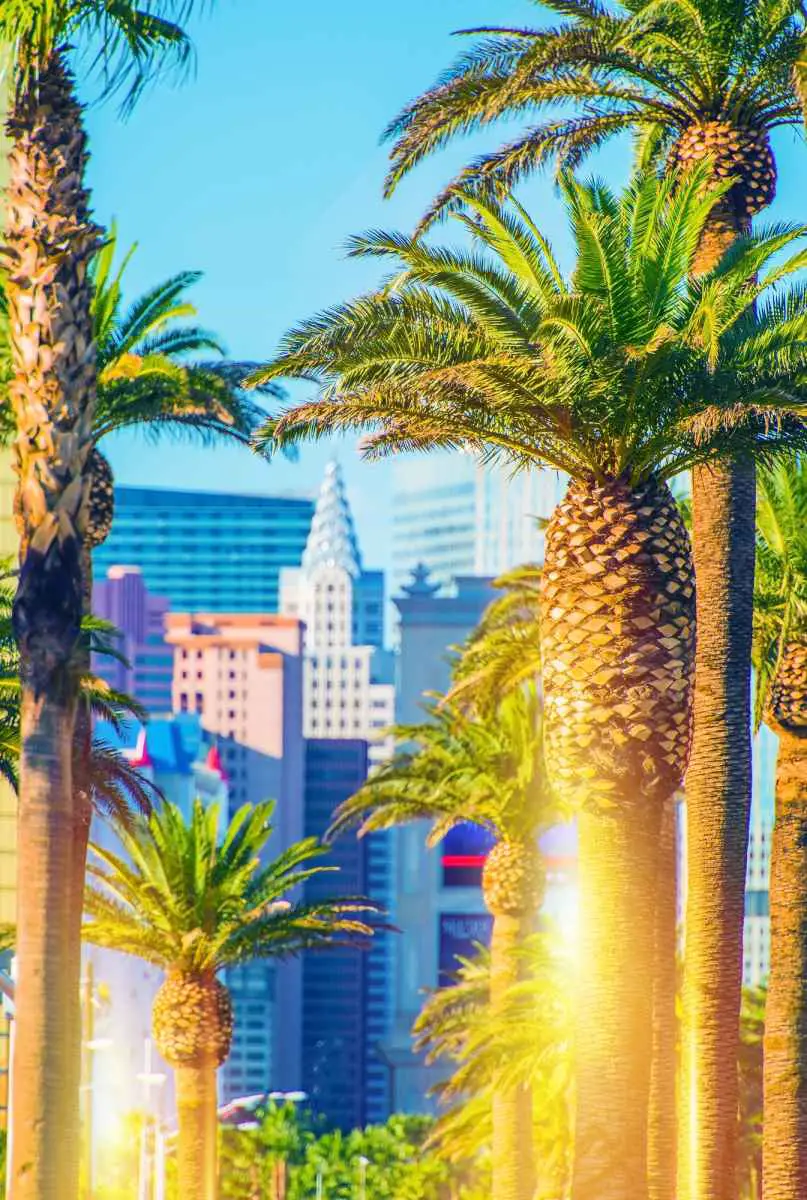 After the Mirage, nearly every casino and resort wanted to follow suit and have palm trees on their property. Palm trees grow in tropical places that often represent Americans' ideal escape or vacation, including Southern California, Florida, Mexico, Brazil, Costa Rica, and Trinidad and Tobago. 
Las Vegas resort and hotel owners likely wanted to establish the same sense of tropical paradise and escapism in their properties to encourage relaxation (and more spending).
Therefore, they prioritized importing palm trees, which was not a small expense. It cost approximately $4000 to transport a large palm tree from California to Las Vegas and plant it in the 1990s. 
Now, the presence of palm trees is a key part of experiencing Vegas and the idyllic vacation it encourages. Sipping a cocktail by the pool at a Vegas resort simply wouldn't be the same without the surrounding palms providing a tropical feel.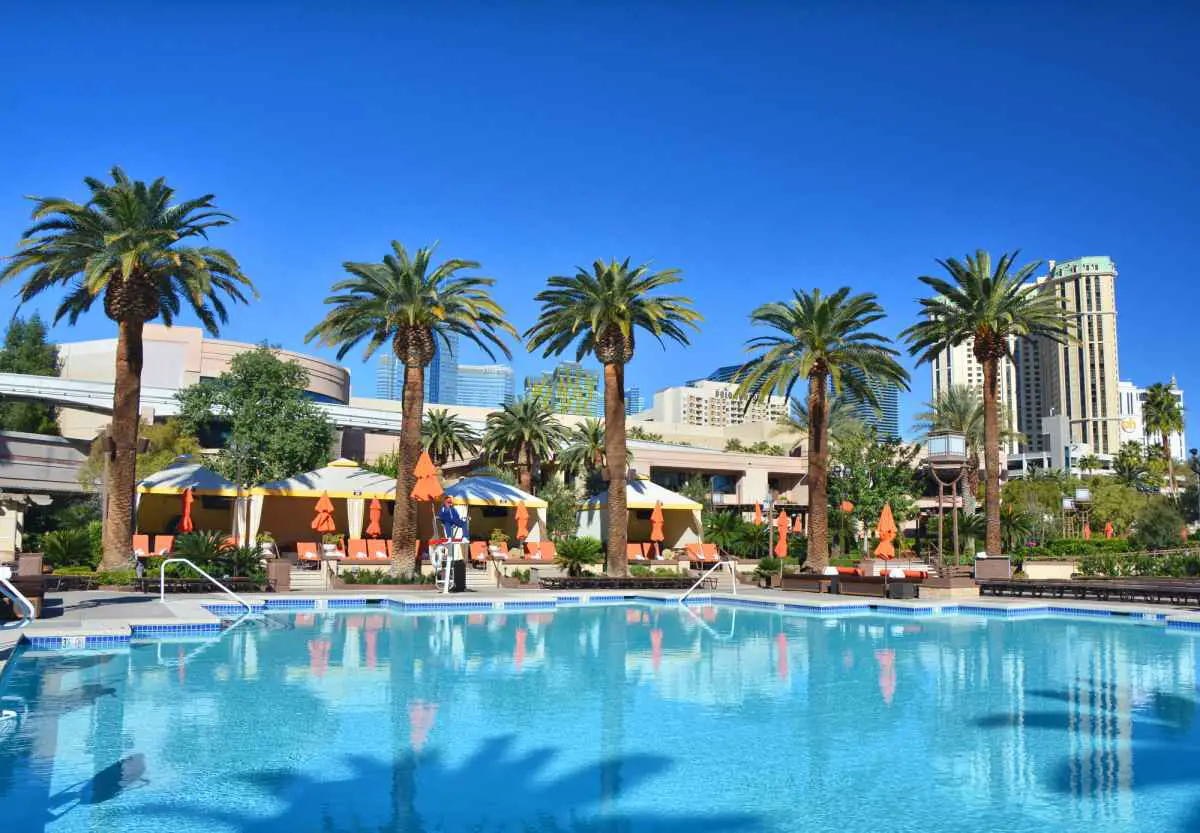 ALSO SEE: If you'd like to know the opening hours of the most popular pools in Las Vegas, you can check out my article on the daily and seasonal hours. 
Homeowners in Vegas Got on Board With Palm Trees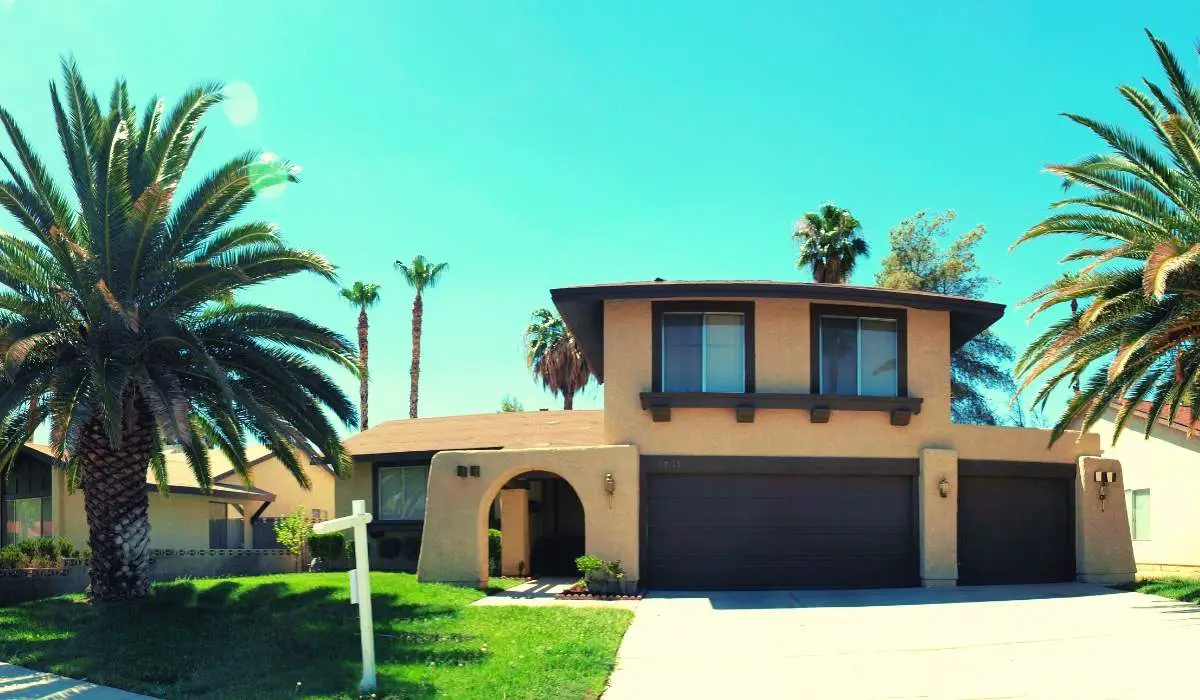 Homeowners in Las Vegas also picked up on the trend because they likely wanted to establish a tropical feel in their desert homes. Therefore, many homes in Las Vegas (including mine) have palm trees, despite not needing to establish a luxurious feel to sell hotel rooms or poolside cabanas.
Those with backyard pools are especially likely to feature palm trees in their landscaping.
RECOMMENDED: For more information about building a backyard swimming pool, I recommend reading my article on how much a pool costs to build in Las Vegas.     
Do Palm Trees Grow Well in Las Vegas?
Another reason palm trees are popular in Las Vegas is that they're relatively easy to grow and take care of in the Vegas climate. The trend would likely have fizzled out if the palm trees died too quickly or were too difficult to maintain. 
Luckily, palm trees grow well in the hot and dry climate of Las Vegas. Here are some of the most popular palm trees you'll find growing in the city:
Mexican Fan Palms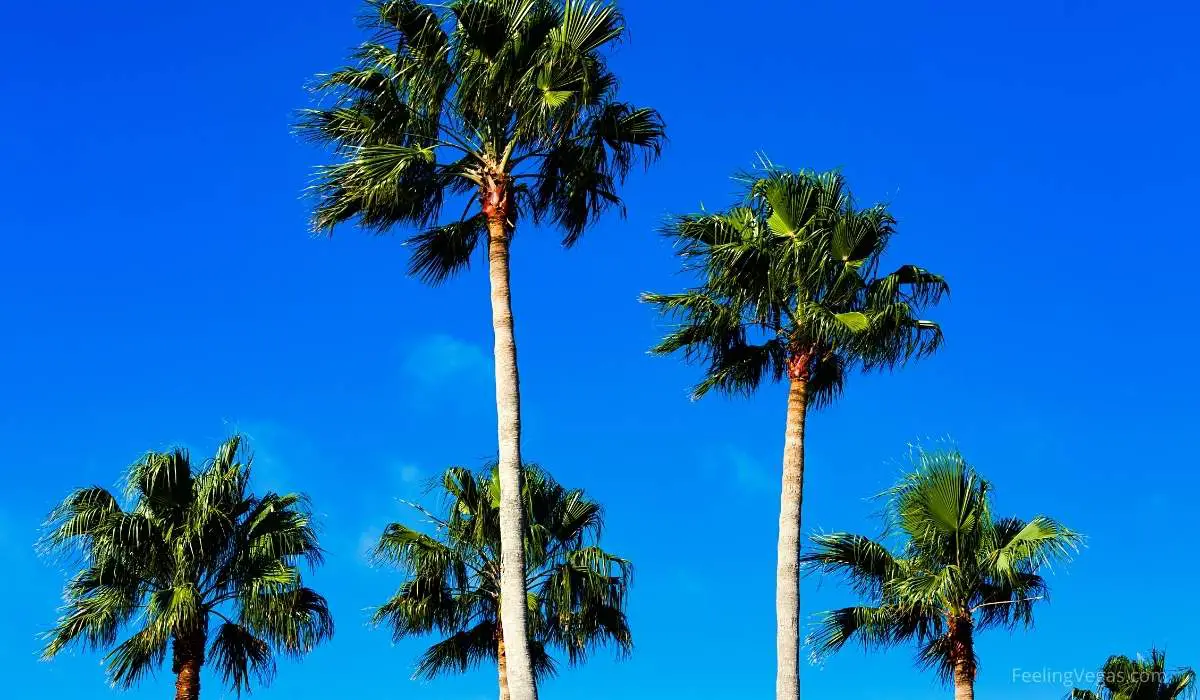 These palms are popular for resorts and hotels because they grow 80-100 feet (24-30 meters) tall and provide excellent shade for pools. They grow best in full sun and are adaptable to desert conditions, which makes them a great choice for Vegas. 
California Fan Palms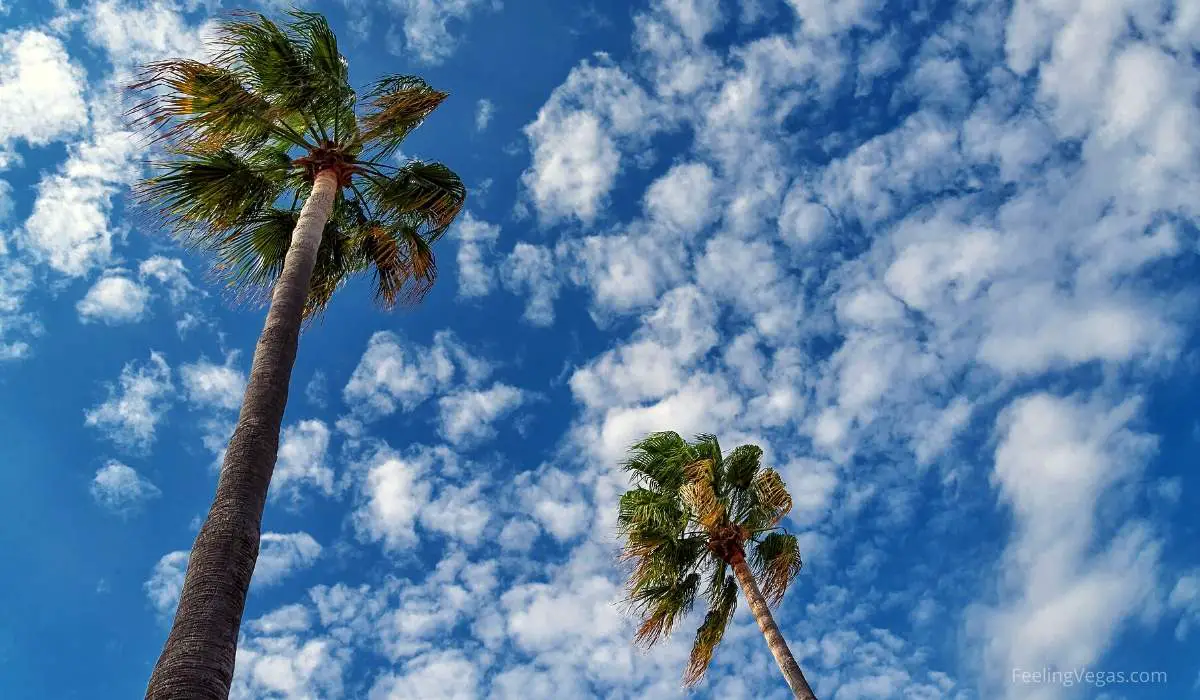 California Palm trees grow well in hot climates, which, if you've ever visited Vegas, you know is essential for any plant growing in the city. These trees grow up to 50 feet (15 meters) tall and need full sun to thrive.    
Mediterranean Fan Palms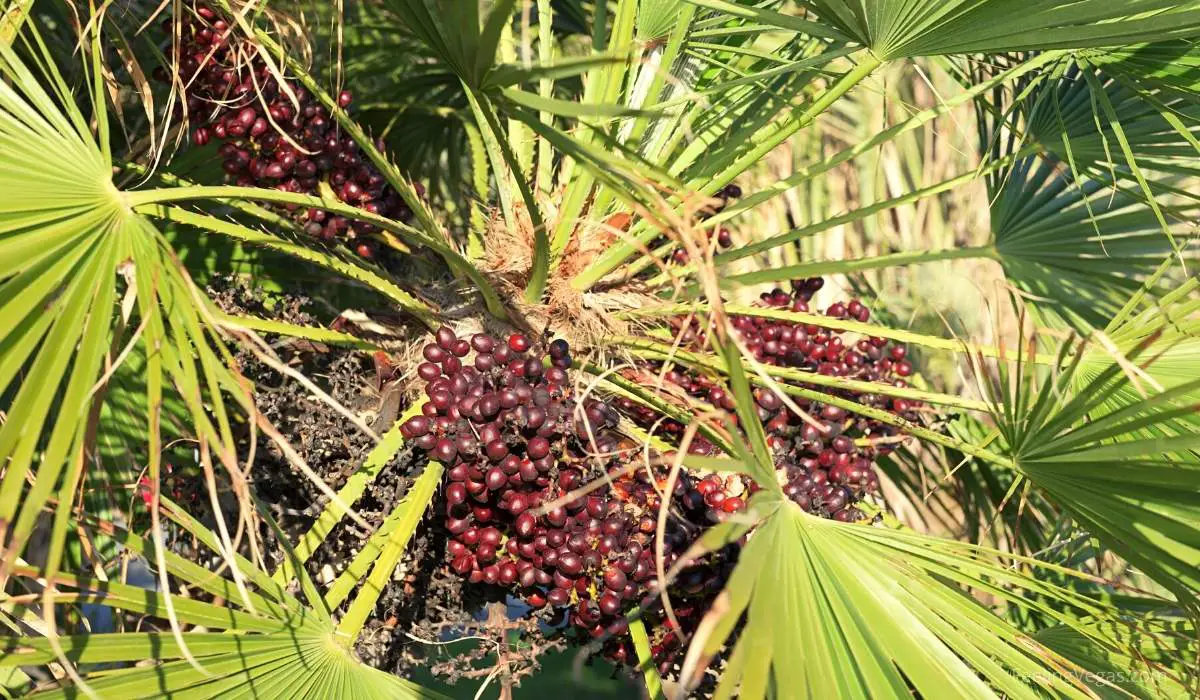 Las Vegas can have a harsh climate with blazing hot summer days and periods of freezing temps in the winter, so plants need to be hardy to survive. Mediterranean Fan Palms are some of the hardiest palms available, making them ideal for Vegas.
Piru Queen Palms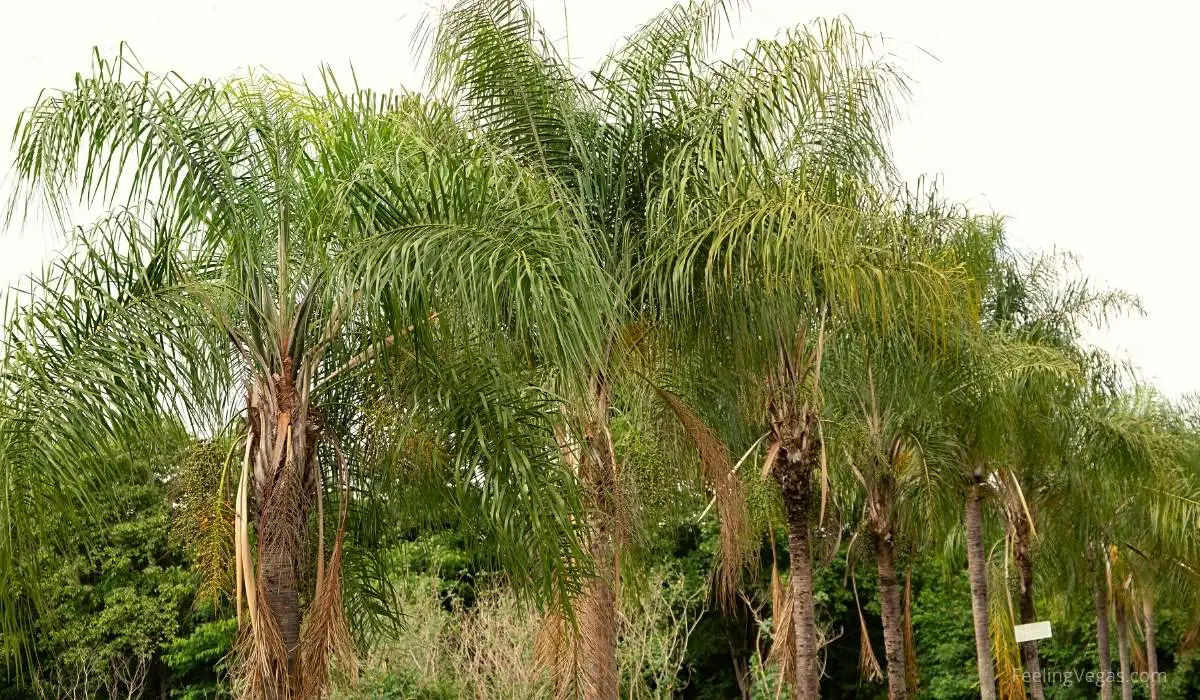 Piru Queen Palm trees are lesser known but great for growing in Las Vegas. These palm trees are perfect for the city because they are heat and drought-tolerant and need full sun to survive. They grow up to 35 feet (10.5 meters) tall.
King Palms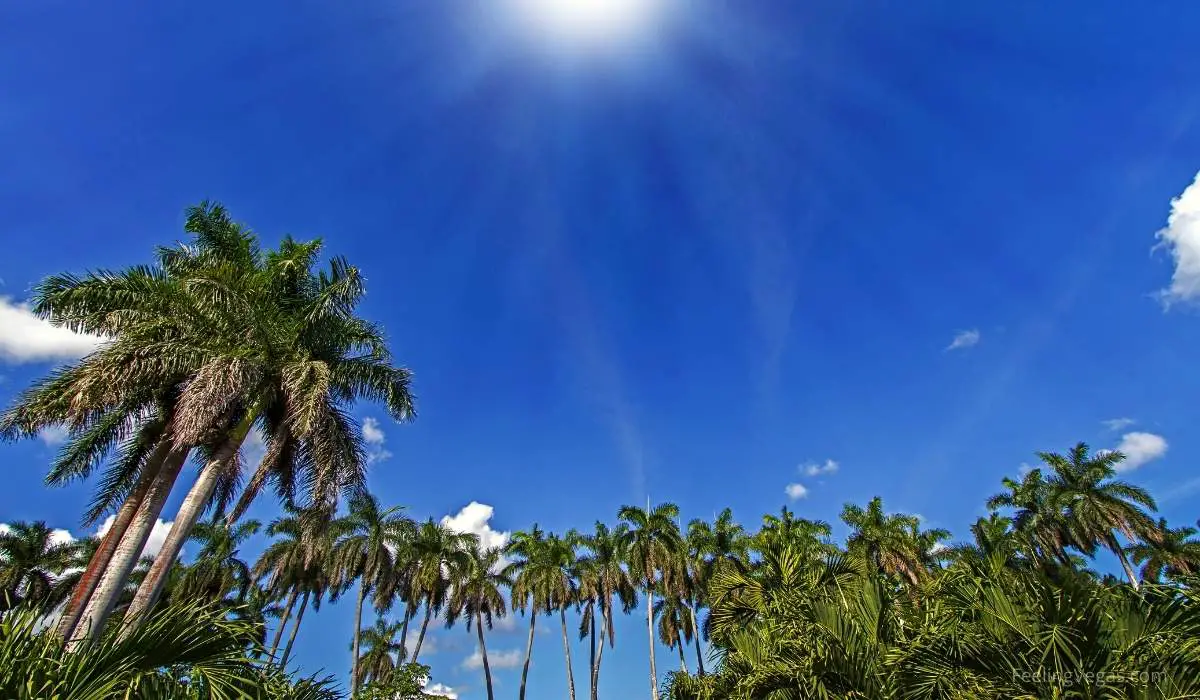 King Palms are popular for landscapers in Las Vegas because their fronds are bright green and aesthetically pleasing and because they can reach up to 10 feet (3 meters) long.   
Many palm trees grow exceptionally well in Las Vegas, making them a popular choice for landscaping on both commercial and private properties.   
Conclusion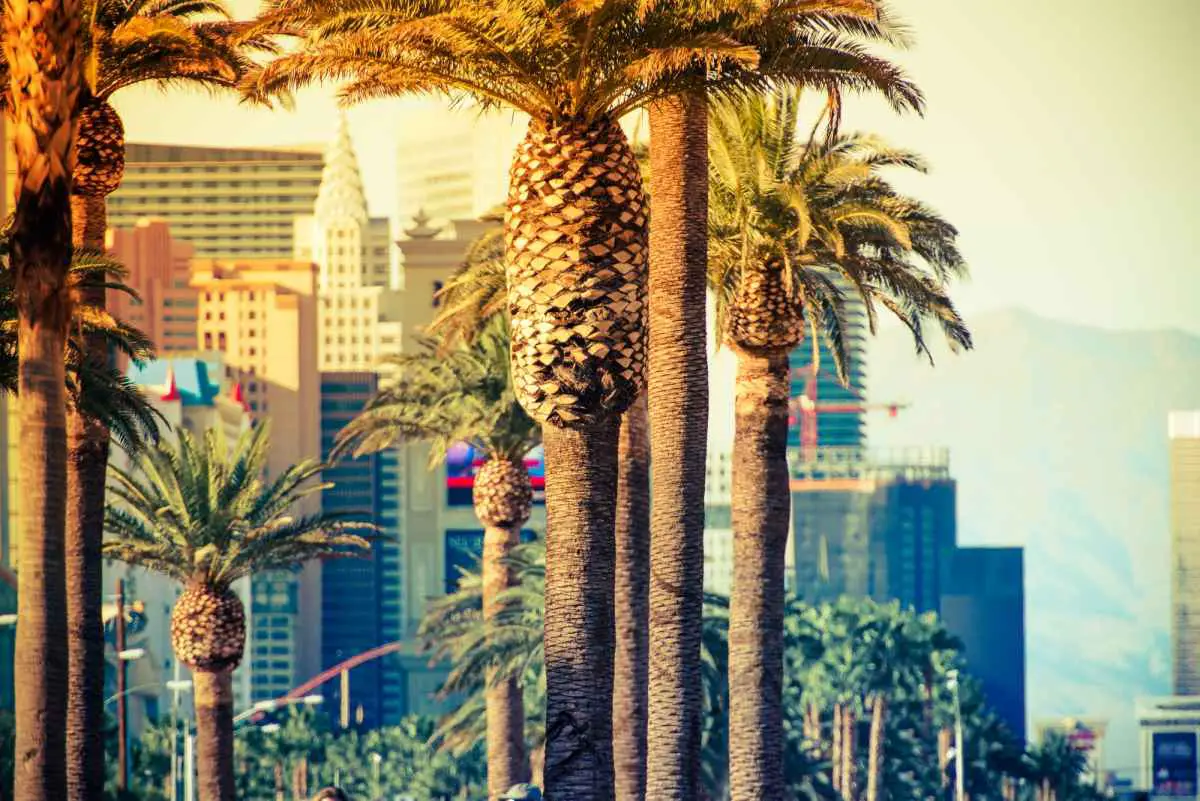 Palm trees are an iconic symbol of Las Vegas, despite the tree not being native to the state of Nevada. Las Vegas has so many palm trees because they became trendy for resorts and hotels after The Mirage Hotel and Casino started the fad in 1989.
And finally, palm trees grow well in the Las Vegas climate, especially Mexican Fan and California Fan palm trees.