Where You CAN Smoke in The Las Vegas Airport (Explained)
(This article may contain affiliate links. If you click through and make a purchase, we will receive a small commission at no additional cost to you. )
Harry Reid International Airport LAS (formerly McCarran) is popular among travelers leaving or coming into Las Vegas from afar. Like other airports, it has policies visitors must obey, so if you regularly smoke during journeys, can you do that at the Las Vegas Airport? 
You are allowed to smoke in the Las Vegas airport at the Budweiser Racing Track Bar pre-security in the Esplanade area. It is located in Terminal 1, which primarily handles domestic flights. People also light cigarettes undisturbed in the Enclosed Gaming Lounges at the B, C, & D gates.
If you're a smoker planning to land at Harry Reid soon, more places are available for you within and just outside the airport building to smoke. Continue reading as I highlight them all in this article.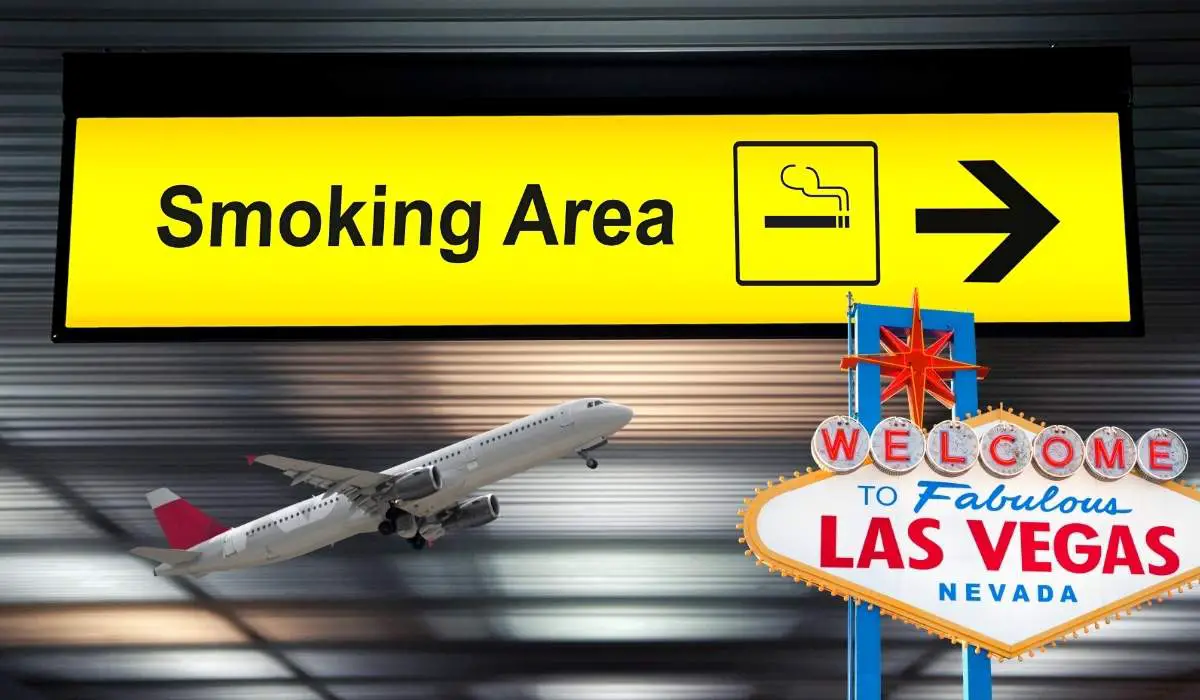 Smoking Areas in the Las Vegas Airport
Only four of the 35 busiest airports in the country allow smoking indoors, and Vegas's is one of them. However, you can't just light a cigarette anywhere within the facility because it is still unlawful in most locations due to the Nevada Clean Indoor Air Act, which prohibits smoking in most indoor areas.
Besides, not every place available to smoke is open 24/7, and your departure or arrival time may fall on the 'wrong' side of the clock.
Hence, if you're heading to the Las Vegas Airport soon, learn more about the designated spaces below:
Barney's Lounge (C Gates)
Barney's Lounge is in the airport's Terminal 1, right after the security check at C gates. It isn't a very big place but can serve over 20 people simultaneously.
The lounge's front sign clearly states that smoking is allowed within, confirmed by the airport and past visitors.
You must purchase a beverage before smoking, which is only fair. Although most visitors find them quite expensive, others feel that the cost is typical of airports.
It's also better to come with your cigarettes because there isn't any info that they are sold here. Some past visitors claim that vaping isn't allowed, but others contradict it. You'll just have to try your luck if you smoke a pipe.
As for recreational weed, it is still illegal to smoke it in public, so Barney's Lounge is not the place.
Despite smoking being most visitors' primary intent for visiting Barney's lounge, there's a menu to order from. Sandwiches and burgers are available but may be too pricey, especially if you're on a budget.
Conversely, you can make some money (or lose more) in the gaming area with slots nearby.
There are TVs in the lounge playing sports or movies. Visitors can also request what to watch, which is a really entertaining way to spend some time, especially if you're not a smoker.
Terminal 1 for domestic flights in LAS is busiest in the morning, so expect the lounge to be most crowded then.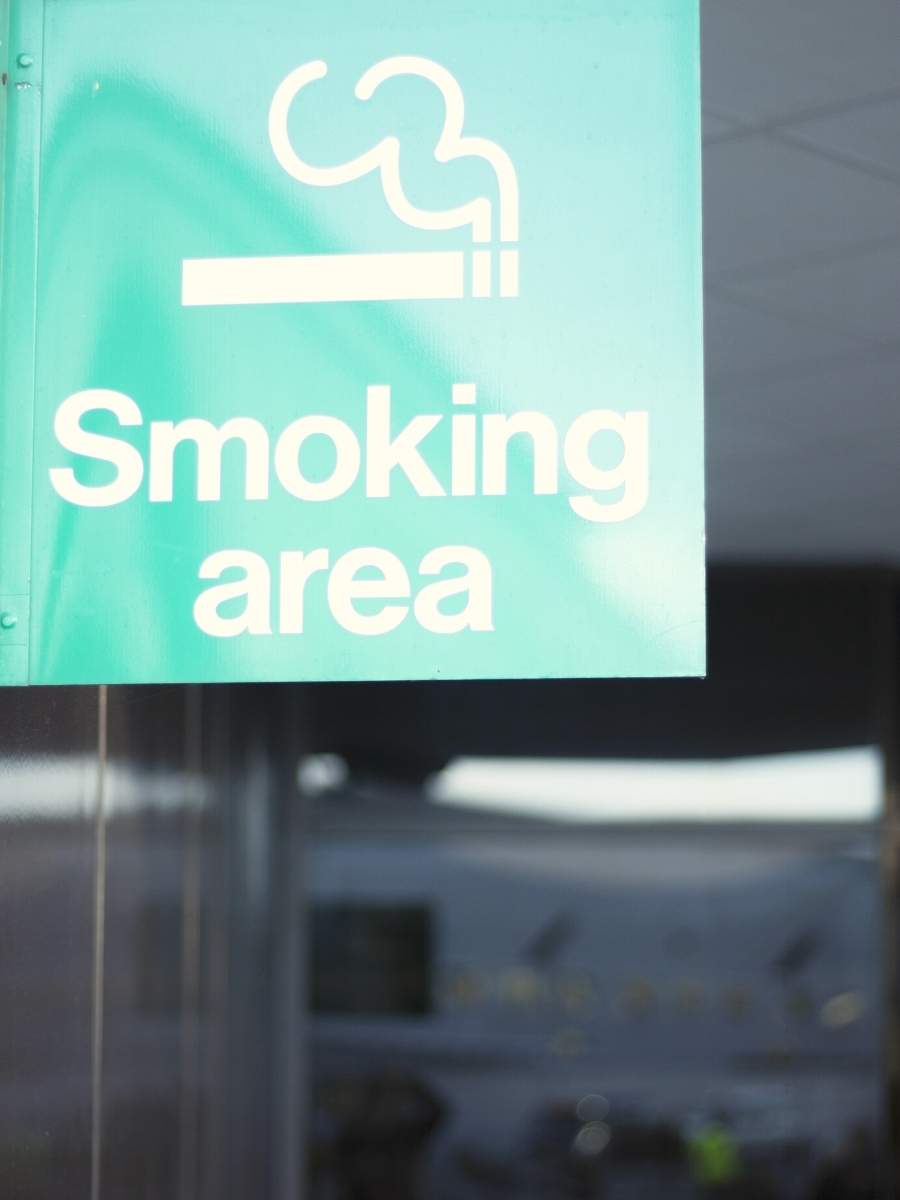 Bud 29 Track Lounge (Esplanade)
Bud 29 Track lounge is bigger than Barney's for visitors leaving or arriving at Terminal 1. It is in the Esplanade area on the second floor with other services, like shopping, and before the TSA security checkpoints.
When you're ready to smoke here, buy a drink from the variety present (mostly Budweisers'). Often customers can get discounts like a half-price shot for every beer bought, which most alcohol drinkers appreciate.
Bartenders are also really engaging and can strike up interesting conversations if you're interested, so you won't feel too bored when you're alone. And whenever you're ready, no one will stop you from lighting up a cigarette.
The lounge is open between 7:30 AM and 11:00 PM daily, so you'll need to search for other smoking areas when it is closed.
The lounge also offers snacks and dining in a relaxed setting if you're hungry. The shows (primarily sports) on TV may also interest you.
Bud Track Lounge also has a gaming area with a few slot machines. So, entertain yourself, and maybe you'll get lucky.
RECOMMENDED: Find out all about shopping at the Las Vegas airport in my article here.
Enclosed Gaming Lounges (B, C & D Gates)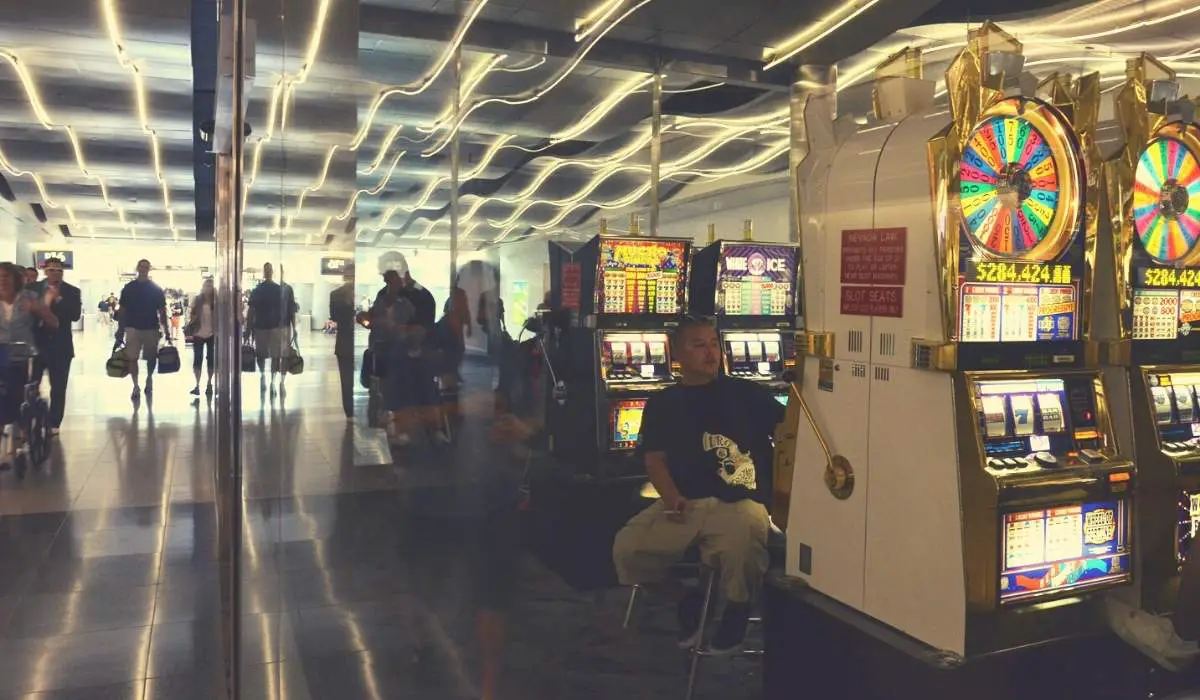 You'll find slot machines throughout the Vegas airport, but you can test your Poker skills and smoke simultaneously in several special lounges. These lounges are located near gates B, C, & D.
People departing or landing at the airport domestically can easily access them at any of the three gates. However, international visitors are much nearer to the D gates.
Unlike Barney's and Bud Track lounges discussed, you may not be able to order drinks or food at these lounges easily. However, that also means spending money to smoke in these spaces may not be compulsory. 
Remember: You must be 21 and above to gamble as per Nevada laws, so just take out your cigarettes and mind your business if you're underage.
RELATED: 14 Things to Do at The Las Vegas Airport Before Your Flight
Outdoors Near Ticketing & Baggage Claim
As with most airports, you're free to smoke outdoors in designated smoking areas close to the Ticketing & Baggage Claim areas in Harry Reid.
There is a baggage claim at the ground level of Terminal 1 for domestic travelers and another at Terminal 3 for domestic and international travelers.
Did you know that the Vegas airport used to be called McCarran International Airport? Why did they change the name? Read my guide to learn about it. [Why Did Las Vegas Airport Change Its Name?]
Where You Can Smoke in The Las Vegas Airport – Final Thoughts
Before 2010, the Las Vegas airport was utterly smoke-free in compliance with Nevada laws, but now you can smoke in the following areas:
Barney's Lounge: It is at the airport's C gates, and smokers must buy one drink at least to smoke in the lounge.
Bud 29 Track Lounge: This lounge in the Esplanade of Terminal 1 also has TVs to entertain travelers.
Enclosed Gaming Lounges: They are near gates B, C, and D. Only the lounge near gate D is available for international travelers.
Outdoors Near Ticketing & Baggage Claim: But only in designated smoking areas. 
Before You Go: Find out How Early You'll Need To Arrive At Las Vegas Airport? (Flying Home)