14 Things to Do at The Las Vegas Airport Before Your Flight
(This article may contain affiliate links. If you click through and make a purchase, we will receive a small commission at no additional cost to you. )
Spending hours waiting at a boring airport isn't usually high on the list of things travelers love to do, but when the airport is in Las Vegas, you might be surprised at some of the things you can do!
When it comes to the Las Vegas airport, you can certainly do the usual stuff like enjoy a meal, have a drink, or chill in the lounge. However, you can also work out in an actual gym, explore the Aviation Museum, and, of course, play the slots.
Below I've included pretty much everything that you can do at the Harry Reid International Airport (LAS) (formerly McCarran Airport) in Las Vegas, which is (quite literally) located in Paradise.
Here are 14 things to do at the Las Vegas Airport while you're waiting for your flight.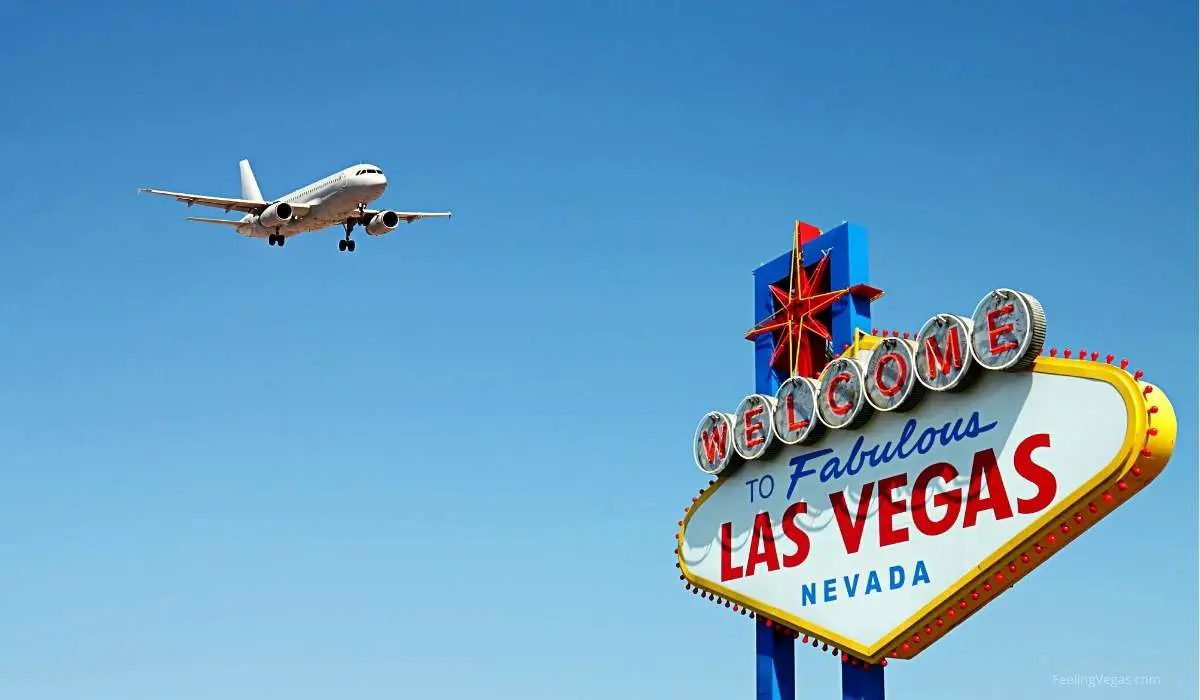 The Las Vegas Airport Has The Usual Stuff
First, I wanted to begin with the staples that pretty much any other airport has (however, that by no means makes the experience less exciting).
Enjoy a Meal
Exploring LAS on an empty stomach is not a great idea. Thankfully, the airport has plenty of places for you to choose from, including Subs, Starbucks, Aunt Annie's, and Wendy's.
If you'd like to skip the quick airport food and are looking for a proper dining experience, then head to Las Vegas Chophouse & Brewery (Terminal 3 near gate E8) for a delicious New York Strip steak under a Wild Turkey Whiskey sauce.
Typically, airports do not always have healthy meal options available, LAS is a wonderful exception. At Rachel's Kitchen, which is located near gate D6, you'll find a wide range of different salads and wraps (you can bring the latter on the plane, by the way). There is also a selection of fresh juices and smoothies.
Do bear in mind that even in Vegas, a majority of airport food locations close at around 6-8 p.m., and there are only a few restaurants that are open until 10 p.m. So if you are at the airport for a late-night flight, make sure to eat earlier if possible.
Have a Drink

at The Airport Bar

Of course, you can have a cheeky cocktail or a pint practically at any restaurant where you decide to have a meal. But there is also a gorgeous full-service bar in Terminal 1. Crafted Bar offers unique cocktails and an extensive wine and beer list – it's the perfect place to pass an hour or two.

And if you're a fan of beer and a noisy, fun atmosphere, then ordering a pint at Corcoran's Irish Pub might be the right choice for you.
Shop Till You Drop

at LAS

It's challenging to surprise a frequent traveler with duty-free shops, but the Harry Reid International Airport has a great selection of brands that are ready to please even the fussiest customer.

Here, you can shop for not only clothes and perfumes but also flowers, cigars, and novelty boxer briefs. You might also want to spend half an hour or so in Tentation (Terminal 1), where all the accessories are sold for around $30 or less.

If you need to get a last-minute souvenir, then 'Welcome to Las Vegas' in Terminal 1 is where you should head. Gaming souvenirs and practically anything you can think of with 'Las Vegas' written on it – your friends and family are going to love these fun Vegas gifts.

Also see: Shops in Las Vegas Airport (Stores & Brands at LAS)
Relax In a Vegas Airport Lounge
If you're not a fan of running around the airport or you have had enough of everything that LAS has to offer, then you can spend a few relaxing hours at one of the Vegas airport lounges.
The Centurion Lounge is only for American Express members, while the United Club is just for United members. But there is another lounge at the Harry Reid International Airport that anyone can take advantage of.
All you would have to do is purchase a day pass for $45 and enjoy the snacks and the drinks (including alcoholic beverages) that the Club LAS lounge has to offer. You can also connect to the Wi-Fi, watch TV, read a fresh newspaper, and even have a shower at one of the two lounges (Terminals 3 & 1D).
If you have a priority-pass ticket, then you won't have to pay an additional charge. Access is allowed 3 hours prior to your departure time.
Take a Nap
If the airport noise doesn't bother you, then you can catch some z's practically anywhere you want. All chairs in the airport have armrests, so if you're someone who can fall asleep while sitting, you wouldn't have to look for the right place for too long.
There are also a few armrest-free couches near the slot machines and pre-security in Terminal 1.
However, if you want to have good-quality sleep on an actual bed, then you can always rent a sleep room at Zero Level Fitness (more on Zero Level below). The room comes with access to a sauna, shower, and fitness center, so you might end up spending half a day there.
Sport & Spa

at The Las Vegas Airport

If you want to stay on top of your fitness and beauty routine even when you're traveling, then the following activities might be exactly what you need.
Take Advantage of the Las Vegas Airport Walking Paths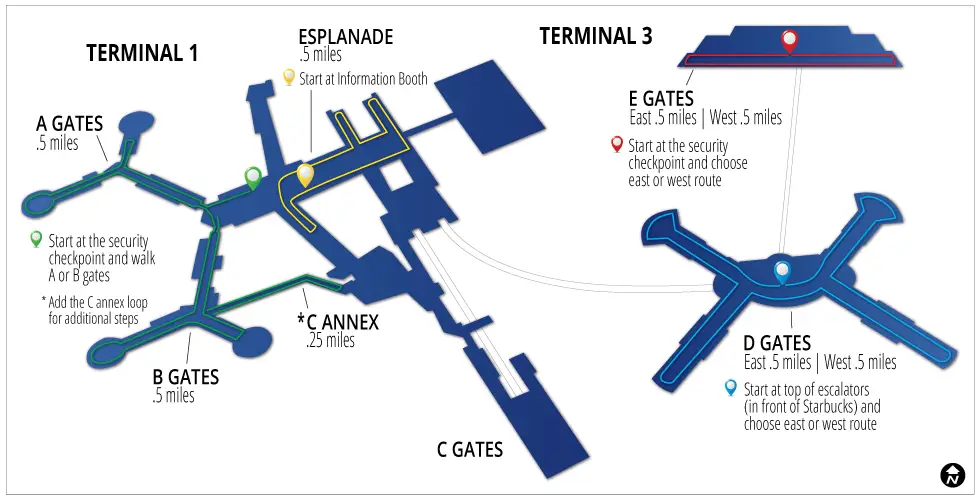 To encourage airport fitness, LAS and Fly Fit came up with convenient walking paths. Simply follow one of the color-coordinated routes in your terminal, and you'll end up walking for anywhere between 0.5 and 1.5 miles.
This is a great way of exploring the airport and getting your daily steps in. It is also a completely free fitness experience, so why not give it a try if you have some time to spare?
Get a Workout In at The Vegas Airport
If you'd like a proper workout, then you should definitely pay a visit to Zero Level Fitness and Wellness. They have over 13,000 square feet of state-of-the-art fitness equipment, free weights, changing rooms, and showers. They also offer restorative muscle therapy that can help you get rid of any nagging aches.
Even though the center was built mainly for the airport's employees, anyone can take advantage of ZEROLevel. Do bear in mind, however, that the fitness center is closed on Saturdays and Sundays.
Pamper Yourself

Vegas Airport Style

XpresSpa is a chain of airport spas where you can get a massage, facial, blow-dry, haircut, and manicure or pedicure.

You'll find XpressSpa pampering stations in Terminals 1 & 3. The spa is closed on Saturday and operates from 9 a.m. to 5 p.m. the rest of the days.

Recommended: How Early To Arrive At Las Vegas Airport? (Flying Home)
Entertainment

at The Las Vegas Airport

There are a few extra special and unique things that you can do during a stop at the Las Vegas Airport, so don't forget to snap a few pictures along the way.
Make a Quick Trip To The Strip
If you are having a layover at the Las Vegas airport and want to take a short trip to see the action, then this might be a great opportunity. LAS is located very close to Las Vegas Boulevard (aka The Strip). In fact, it will take you literally around 10 minutes to get to the city center by taxi or uber.
Ideally, you would want to have at least 4 hours of free time. If you have that or more, then you can definitely hit up the Las Vegas Strip or explore Fremont Street (the place where Las Vegas got started).
Explore the Vegas Airport Aviation Museum
The Aviation Museum is an amazing free stop for those who are interested in aviation history. The main exhibit is located in Terminal 1 on Level 2, right above baggage claim. The rest of the exhibits are spread across the airport.
The museum features only one actual aircraft, but it's full of interesting stories about aviation history in southern Nevada.
Admire the Art

in The Airport

The Las Vegas airport is full of amazing artwork, and trying to find all of the art pieces might become an exciting challenge that will help you kill a few hours.

You can admire the giant paper airplanes at the D gates just above the food court made by local children. In the same area, you might stumble into four larger-than-life scaled animals made out of concrete.

And those are just a couple of examples. The airport features dozens of artworks that can be simply admired or used as a backdrop for a stunning photo.
Try Your Luck on the Las Vegas Airport Slot Machines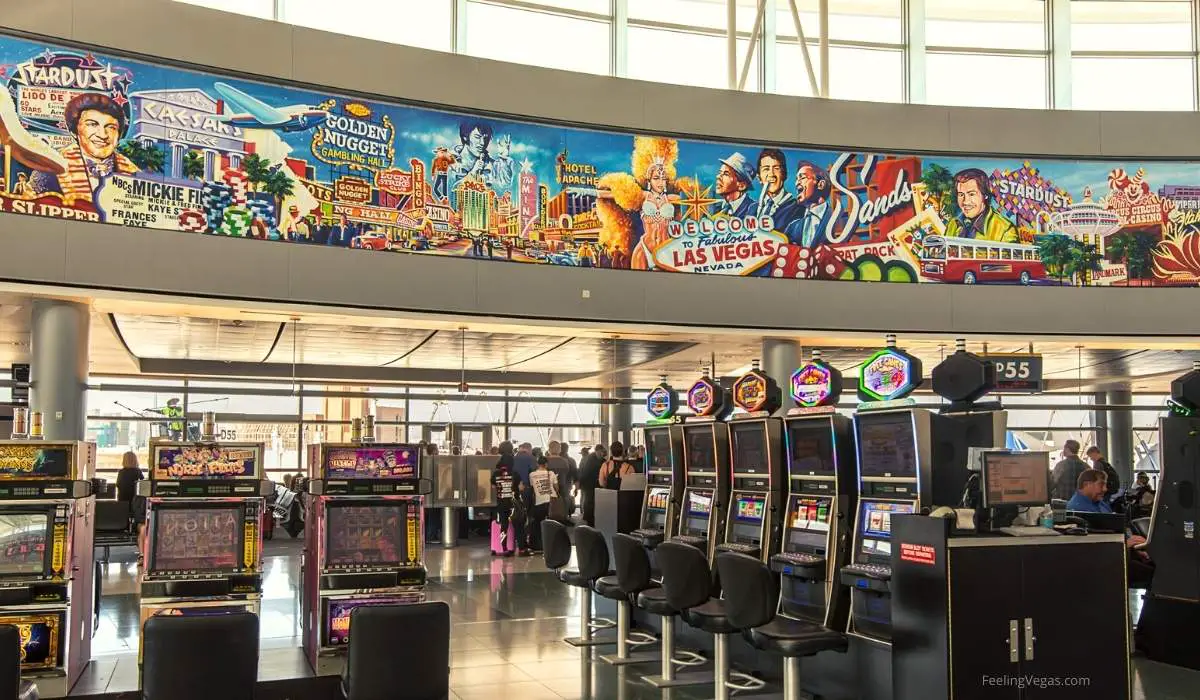 The most unique thing about the Las Vegas airport are the slot machines. You can pass the time until your flight by playing on one or more of the one-armed bandits found scattered throughout the airport.
You will find plenty of slot machines all around the airport (there are nearly 1,400 of them!). As long as you're over 21, you can play a game or two and try your luck. By the way, unlike a lot of other entertainment options in the airport that close at around 9 p.m., the slot machines are open 24/7.
Let the Kids Explore The Airport Play Area
Another attraction that is open all day long is…the kids' play area. If you've got a long wait and want your child to have a fun break, then head to the D gates on level 2.
The aviation-themed area is free of charge. It features a few colorful murals, a mock jet engine, and an interactive mini-control tower – not too much, but enough to keep the children entertained for half an hour or so.
Send a Last-Minute Postcard

From Vegas

This random adventure might be the right fit for those who have already ticked everything else off their list.

The Las Vegas airport has a full-service US post office on Level 2 in Terminal 1. So, you can get a cool postcard in one of the souvenir shops and send it to your friend or family member. After all, there are not that many people out there nowadays who have had the privilege of receiving a physical postcard from an airport, right?
Final Thoughts
This was the what to do Las Vegas airport edition.
The great news is that there is a little something for everyone. You can go and workout, have a cocktail at 10 a.m., or learn more about Nevada's aviation history – the world (and Las Vegas airport) is your oyster.