Is Mandalay Bay Aquarium Worth It? PHOTOS! (Shark Reef Aquarium)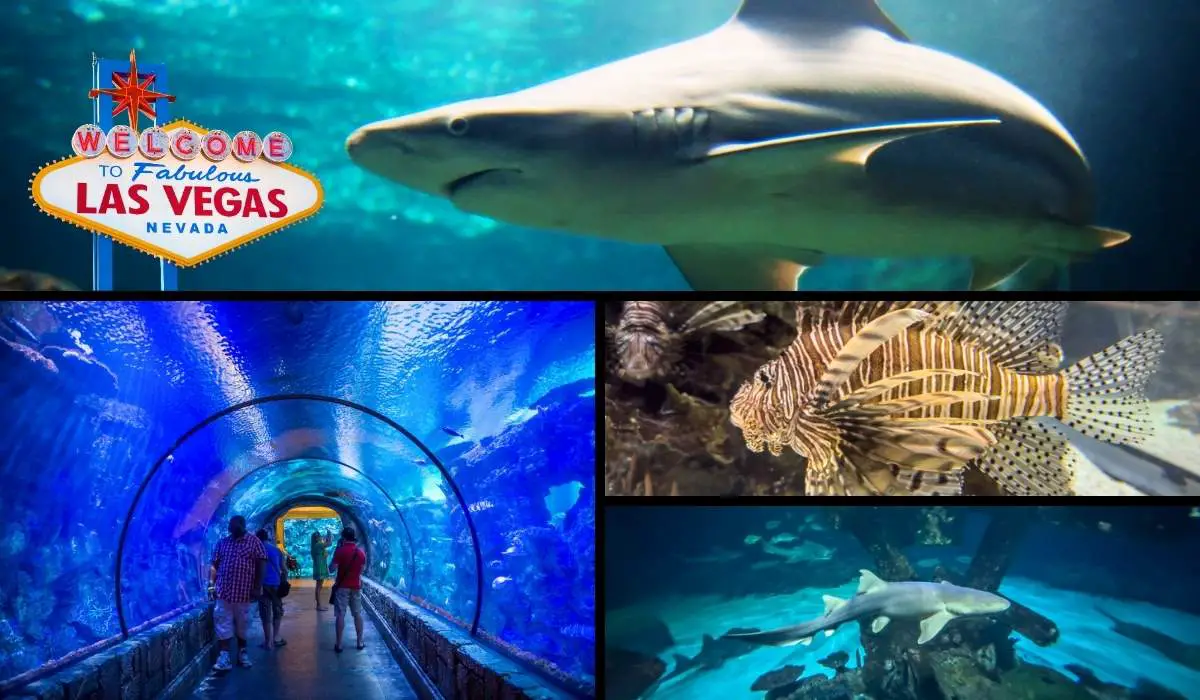 (This article may contain affiliate links, which means we might earn a small commission if you click and make a purchase. Thank you!)
There's so much more to Las Vegas than its glamorous nightlife and glittering casinos. The city is also home to several attractions suitable for both families and adventurers, one of the most notable being the Mandalay Bay Aquarium (aka Shark Reef).
Visiting Mandalay Bay Aquarium is a popular attraction for many Las Vegas visitors. Shark Reef is reasonably priced and provides an opportunity to see over 2,000 different marine animals you won't find at your local aquarium, making the experience well worth the price of admission. 
In this article, I'll provide information on the Mandalay Bay Aquarium, including the current price of admission, what to expect when you visit, how to get there, and why I feel the exhibit is well worth it. I'll also include some food and dining options you'll find near the attraction. Let's get started!
Don't miss out! Get your tickets to Mandalay Bay Aquarium online at Vegas.com or Viator.com before they sell out.
Mandalay Bay Aquarium: Ticket Prices and What To Expect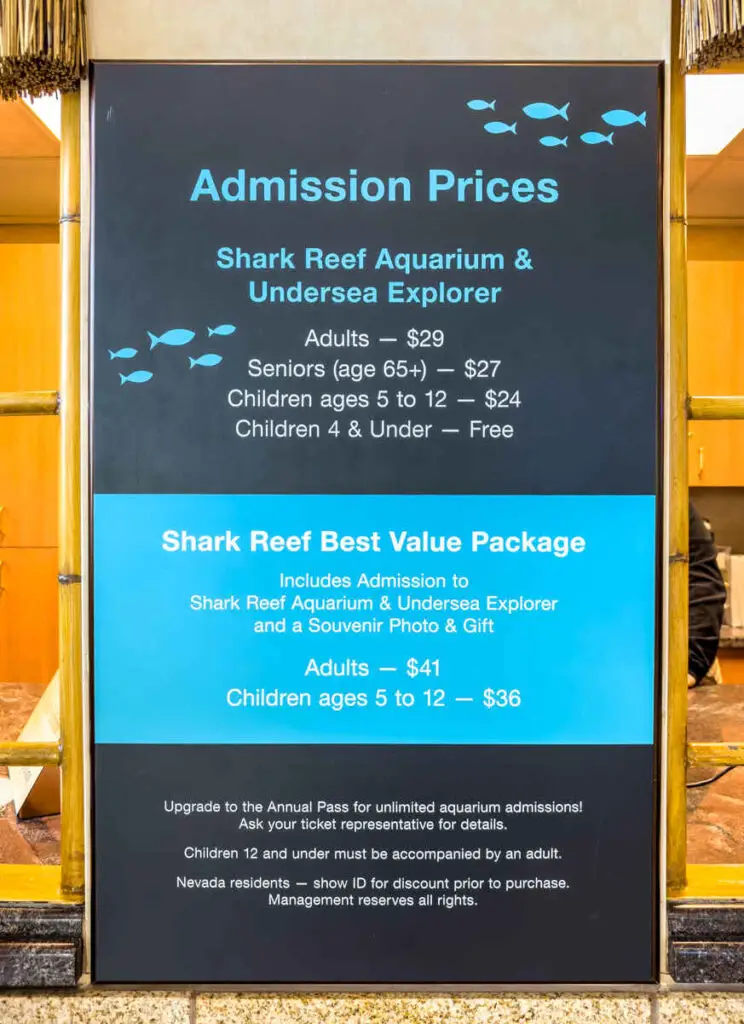 Las Vegas is known for many things, but sadly, reasonably priced experiences aren't one of them. However, the Mandalay Bay Aquarium is priced well for the experience it offers.
Ticket Prices
Admission tickets range from $24 to $41 based on who is attending (child, senior, or adult) and what type of ticket you'd like to purchase (timed entrance or anytime tickets). Children aged 4 and under are admitted free of charge and don't require an entry ticket. 
Shark Reef Admission
(Timed Entry)
Ticket Price
Adults
$29
Seniors (age 65+)
$27
Children (ages 5 to 12)
$24
Children (4 & under)
Free
In addition to the regular entry fees, you can upgrade your ticket to what they call the Shark Reef Best Value Package. On top of regular admission, you'll also receive a souvenir photo and gift. The prices for this package are as follows:
Shark Reef
Best Value Package
Ticket Price
Adults
$41
Children (ages 5 to 12)
$36
It's worth mentioning that if you're staying at Mandalay Bay, you can sometimes avail of a guest's discount. For more information, check out my article discussing whether the aquarium is free for guests staying at Mandalay Bay.
A ticket to the Mandalay Bay Aquarium gains you access to the facility for a self-guided tour of the aquarium. You can stay for as long as you'd like, giving you the freedom to browse at your leisure.
There's more than enough to see with just the self-guided tour. However, suppose you desire a more hands-on experience. In that case, the aquarium does offer an opportunity for visitors to feed some of the animals, such as sharks, turtles, and sting rays, at an additional cost. Tickets for these activities cost $65 and $99, respectively.
Timed Entrance vs. Anytime Tickets (Shark Reef)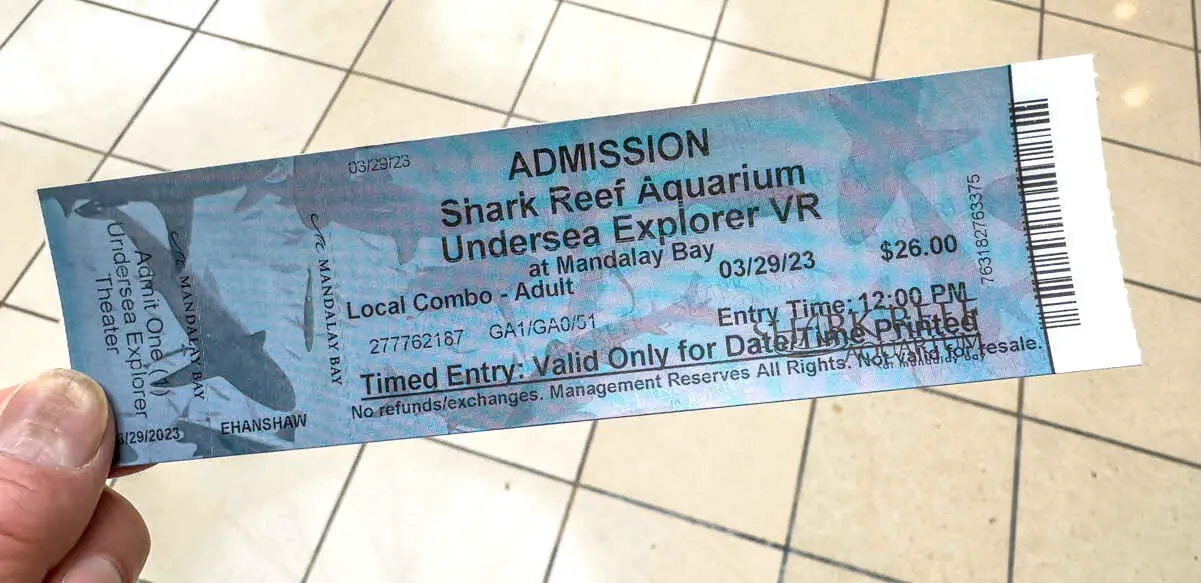 There are two primary types of admission tickets for the aquarium: Timed Entrance and Anytime Tickets.
Timed Entrance tickets allow visitors to reserve a specific time and date to visit the aquarium. It's the ideal option during peak times, when tickets at the door may sell out. Timed entrance tickets can be utilized for the hour window selected, and because the timing is so specific, these tickets are a bit cheaper than their more flexible alternative, Anytime Tickets.
Anytime Tickets can be used anytime during normal business hours on your selected day of entry. While these tickets are a bit more expensive (they add $7 to all ticket prices listed above), many visitors without set plans find it easier to have to choose only a day to visit instead of both a date and window of entry. You can get anytime tickets here.
How To Purchase Mandalay Bay Aquarium Tickets
Tickets can be purchased either in-person at the box office or online ahead of time. I highly recommend purchasing tickets online ahead of time due to the popularity of the aquarium; space is limited, and the aquarium often reaches full capacity. By purchasing tickets in advance online, you can guarantee both entry and an expedited check-in process. 
Like many experiences in Las Vegas, you may come across vendors selling entry into the Mandalay Bay Aquarium. However, I recommend purchasing tickets from either Vegas.com or Viator.com to ensure authenticity.
Hours of Operation
The aquarium is open daily from 10:00 a.m. to 8:00 p.m.. If you're planning to visit on a holiday, be sure to call ahead to verify operating hours, as they are likely to be limited. While the aquarium is open until 8:00 p.m., keep in mind that the last admission is at 7:00 p.m..
Aquarium Location
The aquarium is located south of the lobby, adjacent to the Mandalay Bay Food Court and South Convention Center. There are numerous signs within the resort, which do a great job of helping guests locate the aquarium. 
Finding the aquarium is quite simple whether you decide to walk, drive, or rideshare. If you're more of a visual person or want a general idea of where you're going before your visit, here's a map of the Mandalay Bay resort showing where you can find Shark Reef. 
What To Expect During Your Visit To Mandalay Bay Aquarium
Located in the Mandalay Bay Resort, The Mandalay Bay Aquarium is an impressive exhibit of aquatic animals that boasts a 105,000-square-foot (0.97-hectare) facility. Due to the nature of the attraction, it's recommended that visitors wear comfortable clothing and non-slip shoes. 
(Personal note: Every time I've visited Shark Reef, I've found it to be rather warm and humid inside, so for comfort's sake, this is not the place to be overdressed.)
Shark Reef Aquarium houses over 2,000 animals, many of which are considered rare. You can expect to see animals such as:
Several species of shark
Piranhas
Komodo Dragons
Jellyfish
Stingrays
Crocodiles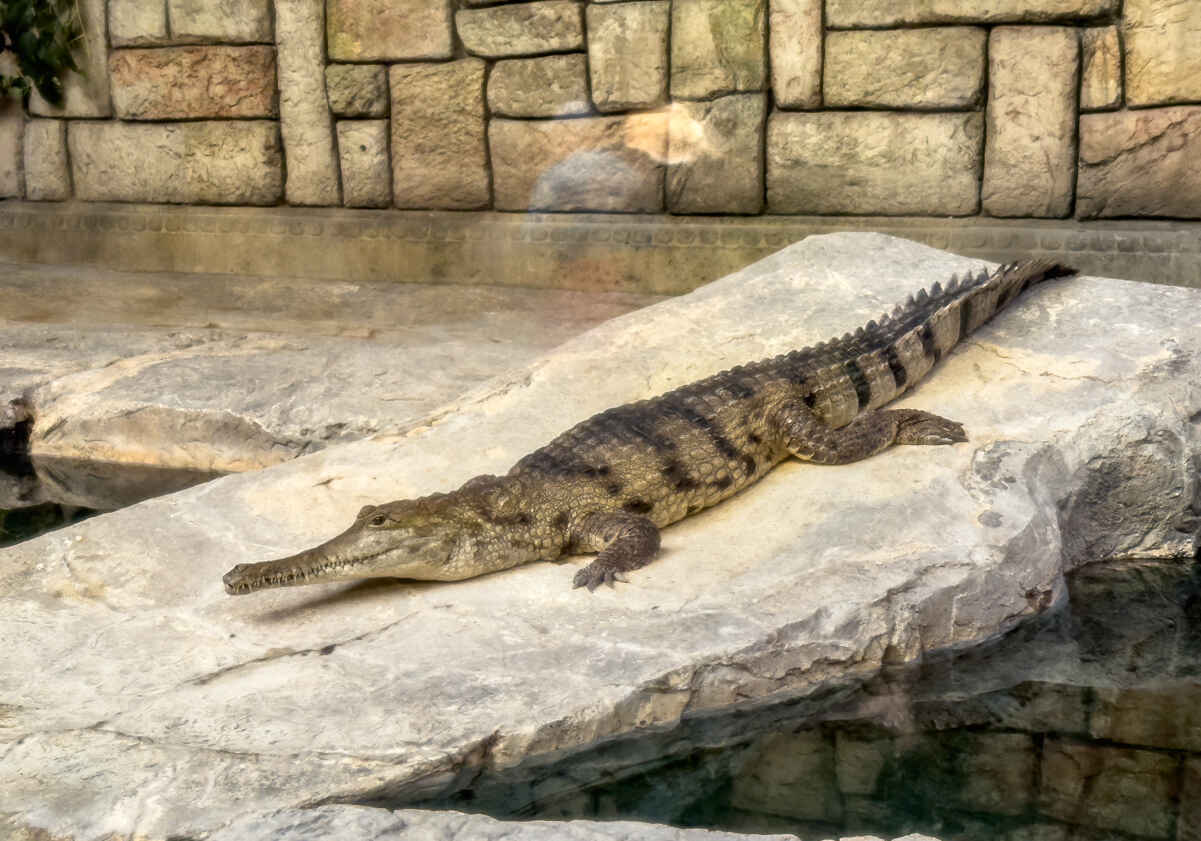 What sets the Mandalay Bay Aquarium apart from the rest is its focus on predator marine life. It's the only aquarium of its kind in North America, so expect to see a number of predatory animals you won't find at your local aquarium.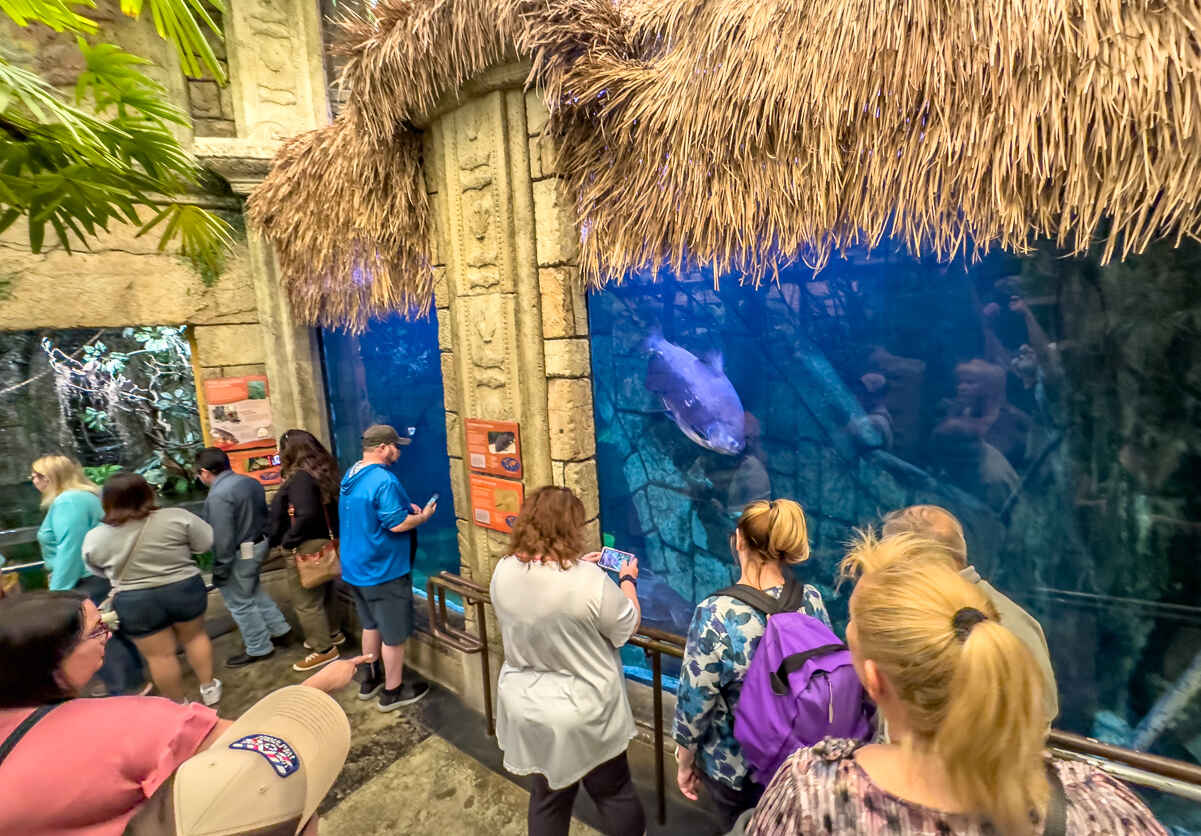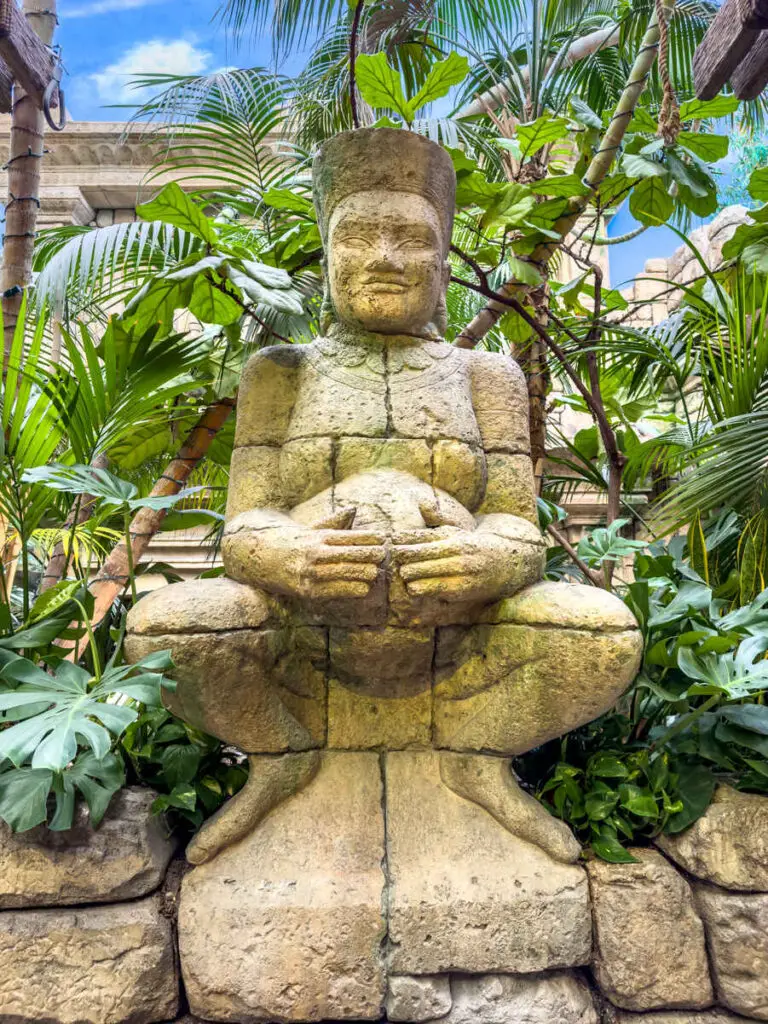 In terms of the experience itself, be prepared for a self-guided exploration of the facility. There are several different exhibits and activities inside the aquarium, including:
Two underwater tunnels allow you to experience the animals from a diver's perspective
Jellyfish tank
Stingray touch pool
The massive Shipwreck exhibit, a 1.3 million gallon tank brimming with sharks and other marine animals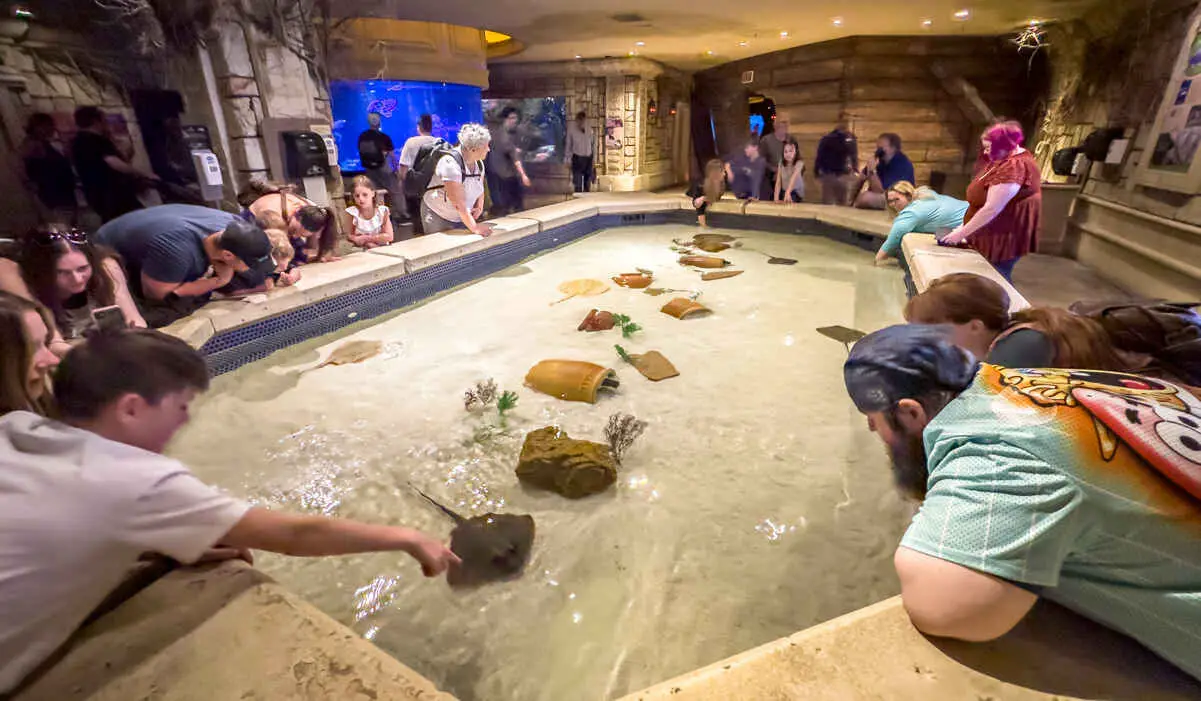 One of the upsides to this exhibit is that with the price of one ticket, you have access to pretty much the whole facility. However, a few optional experiences require additional funds, including the shark, turtle, and stingray feed. There's also an option to purchase an underwater proposal (yes, you can arrange a special marriage proposal in front of the sharks!)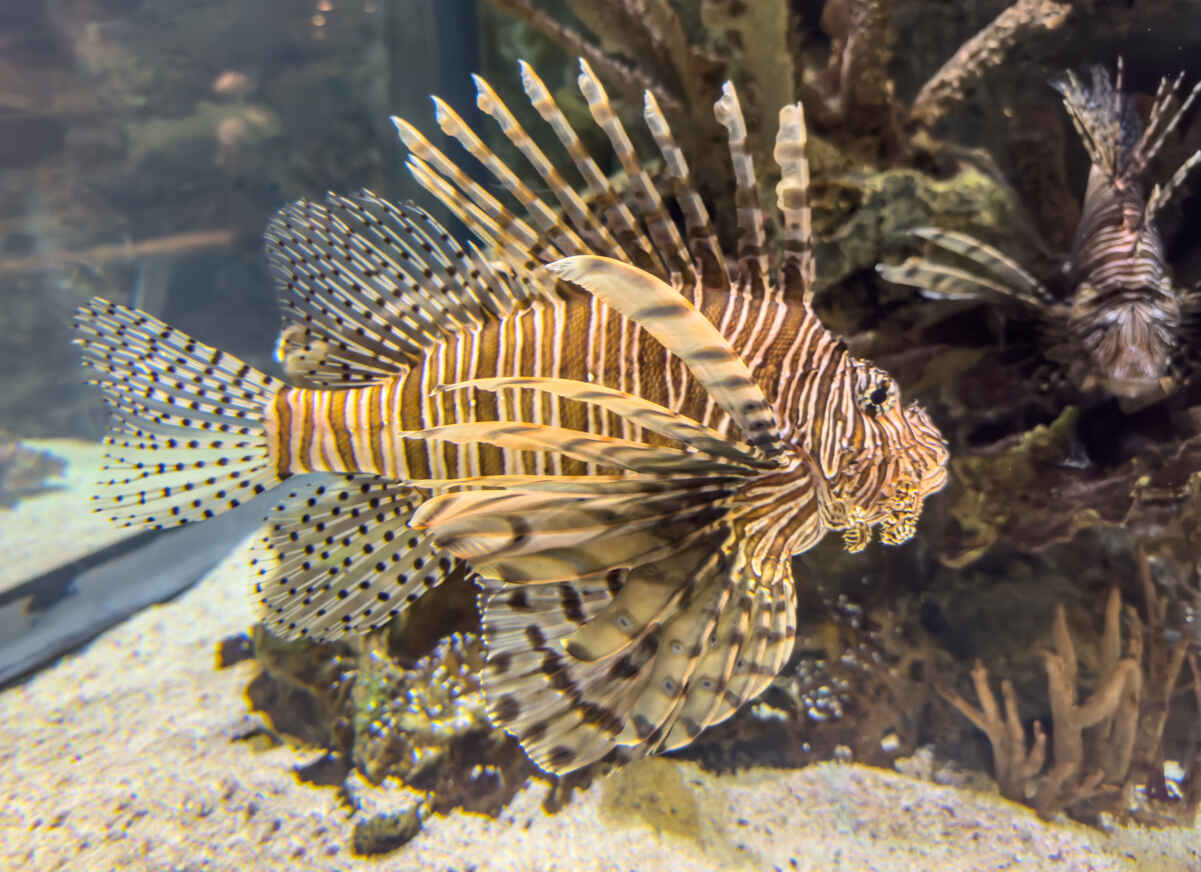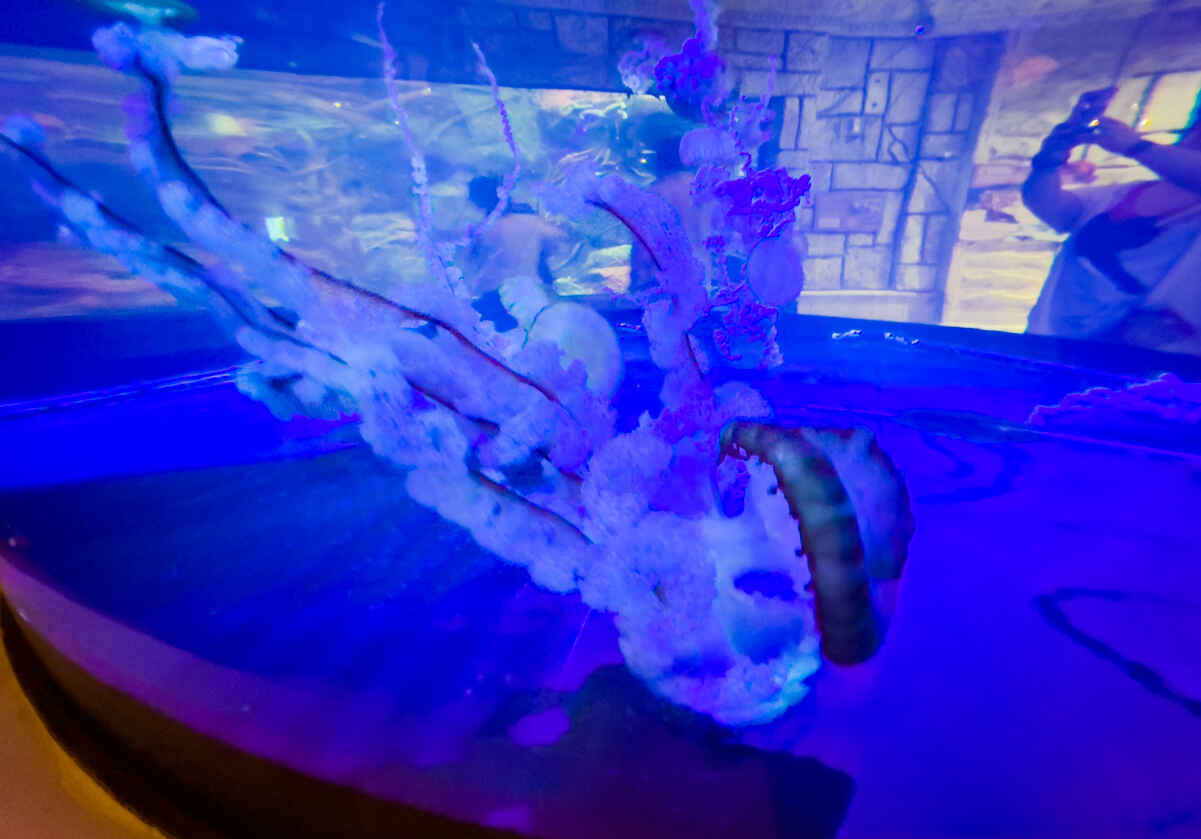 After checking out the stingray touch pool, the lionfish, and the jellyfish, it's time for the main event. The sharks!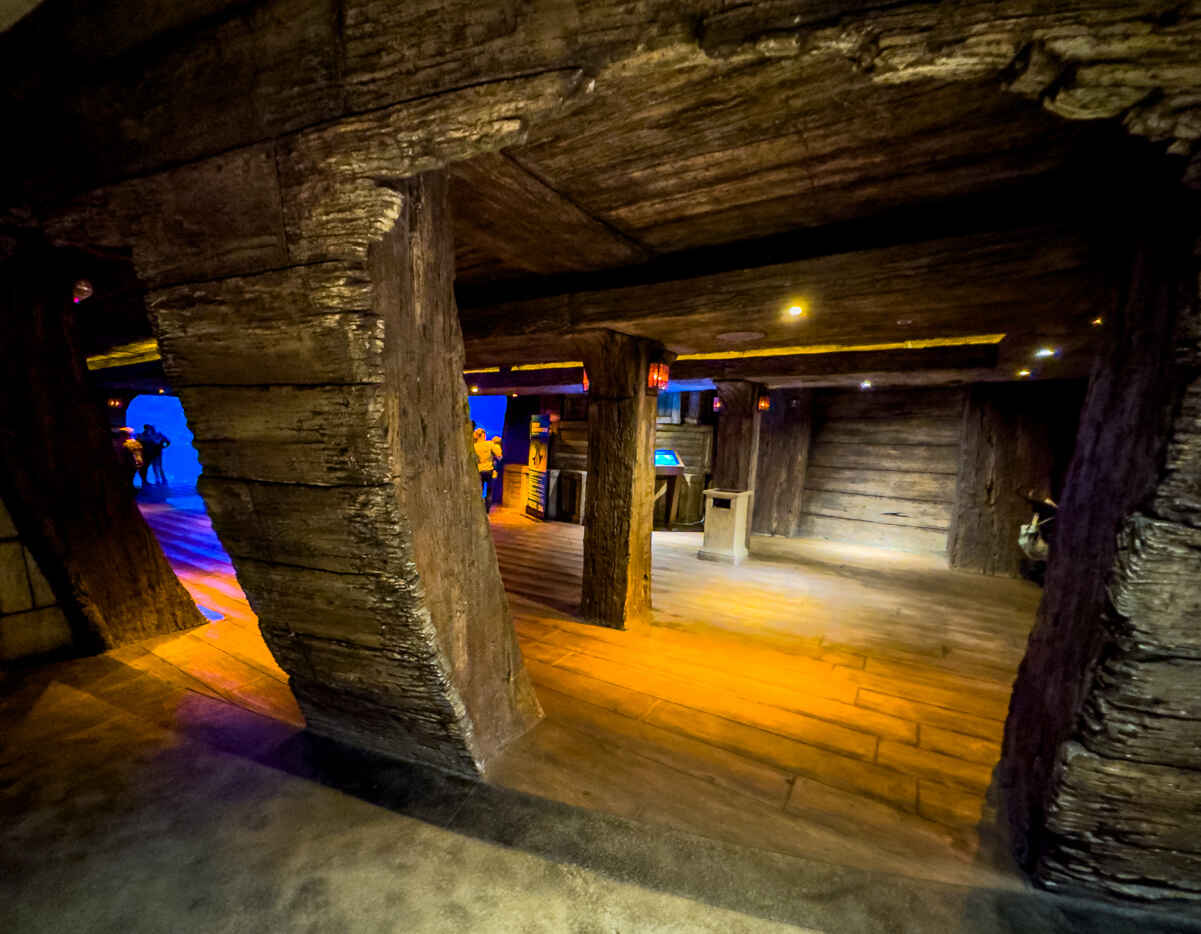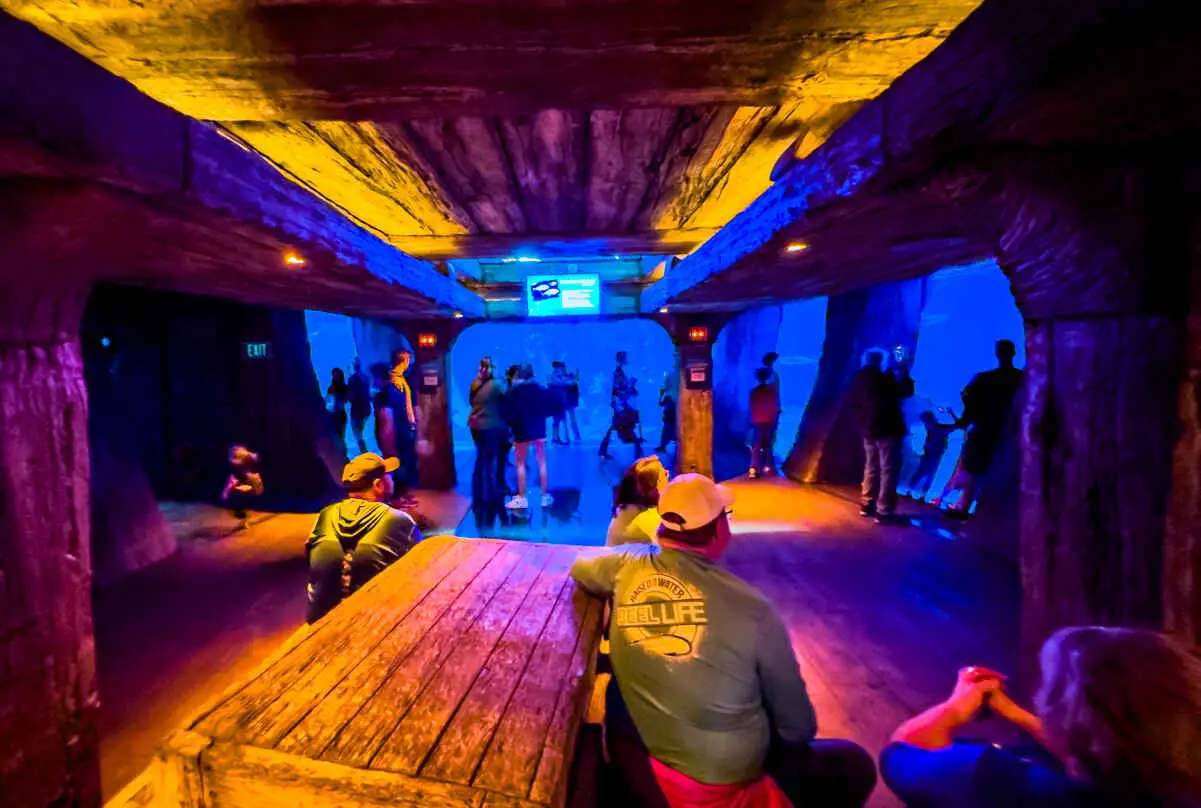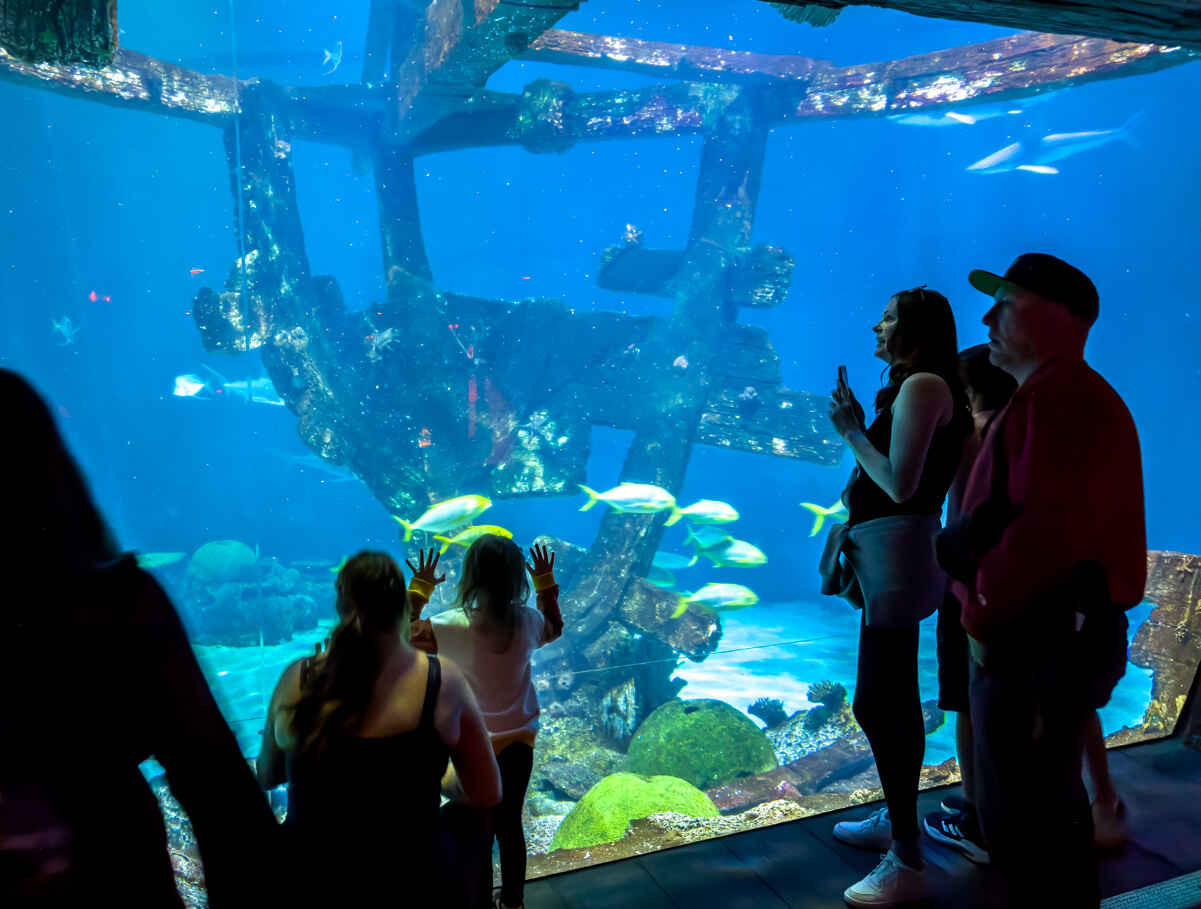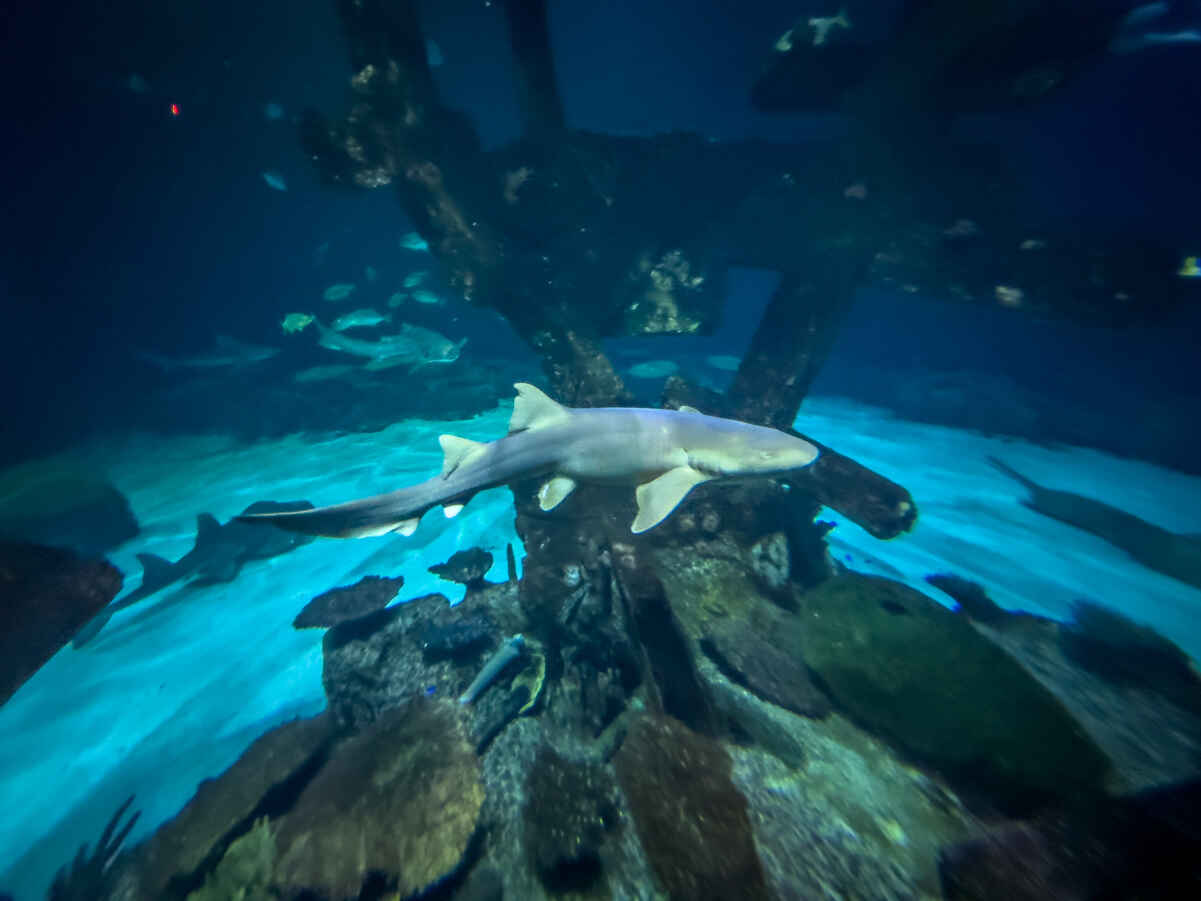 Is the Mandalay Bay Aquarium Worth It?
While I believe that a visit to the Mandalay Bay Aquarium is worth the price of admission, I'd be remiss if I didn't address the concerns of some that feel it isn't. A glance at the Mandalay Bay Aquarium's Google reviews will show that the vast majority of visitors enjoyed their experience and felt that it was worth it. 
However, when it comes to those who felt that the exhibit wasn't worth it, there seemed to be one recurring complaint—they didn't feel the exhibit was big enough to warrant the $29 price tag. Some have even said that they made it through the entire exhibit in less than 30 minutes. 
If your goal is to fill a large block of time with an event, you may consider looking elsewhere. The Mandalay Bay Aquarium is no Sea World, but the fact that the attraction offers visitors the opportunity to see a rare collection of predatory sea life you wouldn't come across elsewhere make this exhibit worth the price tag. When it comes to this experience, the quality exceeds quantity.
How Long Should I Plan To Stay at Shark Reef Aquarium?
Because the attraction is self-guided, how much time you'd like to spend at the aquarium ultimately depends on you.
Those short on time during their visit have reported being able to swiftly move through the aquarium in 30 minutes, while those with time to spare note that they found themselves completely engrossed in the experience, walking out a couple of hours after they arrived. 
On average, I'd say to expect to spend an hour or so at the aquarium. This will allow you to see everything at a leisurely pace.
Feel free to work through the aquarium at your own speed, skip certain displays, and spend more time at your favorites, as there's no time limit on how long you can be there after admission.
My Review of The Aquarium at Mandalay Bay Resort
As a fan of aquariums and marine life in general, I'd give the Mandalay Bay Aquarium, otherwise known as Shark Reef, two thumbs up. I've been to a lot of major aquariums around the United States, and while I've enjoyed all of them, there's something special about Shark Reef.
The design of the aquarium, as first a temple sinking into the sea and later a sunken ship gives the aquarium more of a theme park feel, which increases the aquarium's value as a worthy Las Vegas attraction.
Although it may not be as big as some aquariums found in other cities, its singular focus on animal and marine predators is unique. On top of that, it is a Las Vegas attraction that is both fun and appropriate for families and kids, as well as being a relaxing diversion for those who are in Vegas to have a wild time!
How To Get to Shark Reef at Mandalay Bay Las Vegas
So you've decided to give the Mandalay Bay Shark Reef Aquarium a try! But how should you go about getting there? You can either drive, take an Uber/taxi, or walk over from the Strip. Whichever method you choose, I'll provide detailed instructions on how best to get to the aquarium.
Mandalay Bay Aquarium: Driving & Self Parking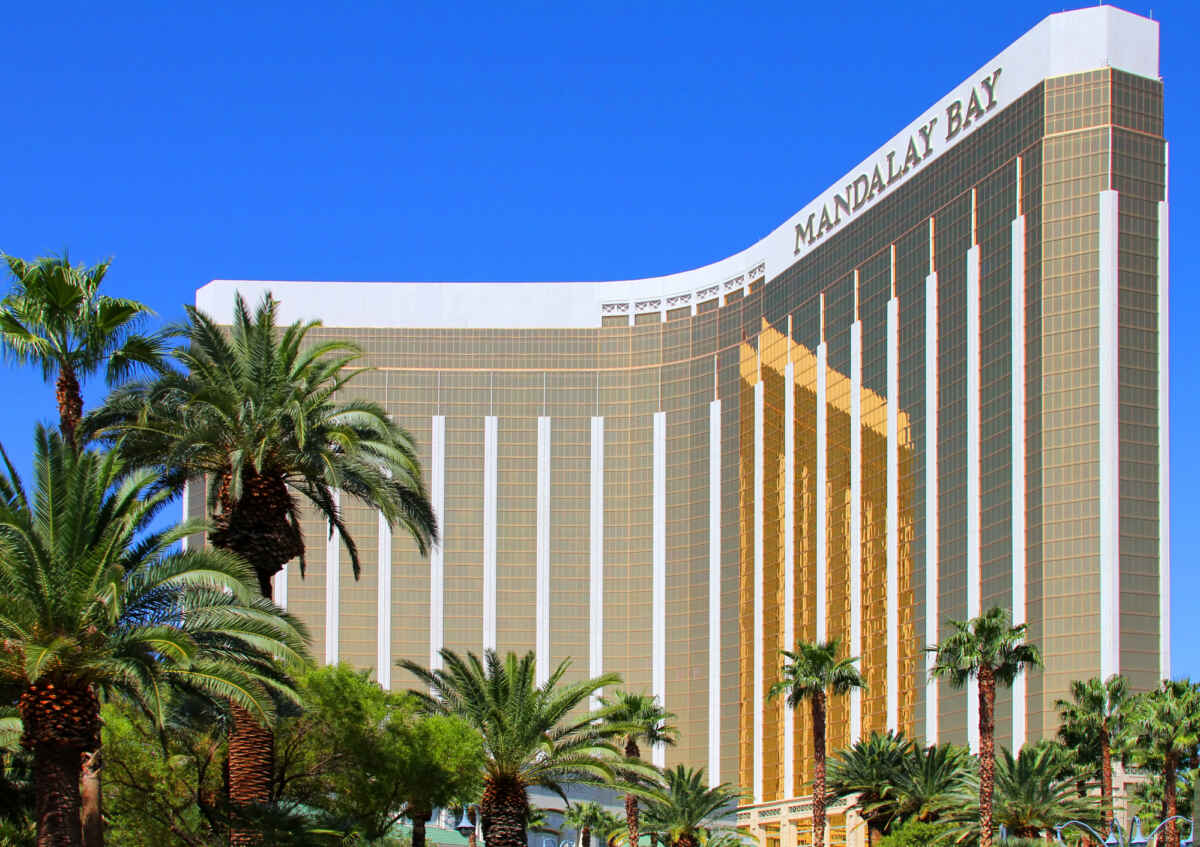 Shark Reef Aquarium is located inside Mandalay Bay Resort and Casino, so if you decide to drive, we recommend utilizing the self-parking or valet option the resort offers. You can locate the parking garage by navigating to the following address and following the signs for parking. 
Mandalay Bay Resort and Casino: 3950 S Las Vegas Blvd, Las Vegas, NV 89119 (google maps).
Self Parking
If you have access to a smartphone or GPS, visitors find it easiest to simply input the above address into their device and follow the directions. The self-parking garage is located west of the main lobby, on the side of the property that faces the highway. 
In terms of cost, the first hour of self-parking is free for all visitors. After the first hour, rates range from $15 to $18, depending on how long your car remains parked. 
Valet Parking
Valet parking ranges from $18 to $30 depending on which day you visit and the duration of time your car is parked. There is no free hour for the valet parking option, and rates are slightly elevated on the weekends.
Although the above prices are current, prices are subject to change at any time and may be higher during special events at the resort. I recommend checking our Mandalay Bay Parking guide for the most up-to-date and accurate pricing information. 
Also, for payment, only credit cards and contactless payments are accepted. 
Uber/Lyft & Taxi
If you decide to take an Uber, Lyft, or Taxi, you'll likely be dropped off near the main drive at the Uber drop-off location. You'll want to give your driver the address for the Mandalay Bay Resort and Casino. You can either type that phrase into the destination field or use the physical address, 3950 S Las Vegas Boulevard, Las Vegas, NV 89119. 
From the drop-off location, you'll enter the hotel and find the main lobby. Continue walking straight past the hotel elevators and follow the path, taking a slight left. You'll pass several restaurants; continue heading towards the food court. Keep following the main path until you reach Weddings By Mandalay Bay, then take a slight left, where you'll find the Mandalay Bay Shark Reef Aquarium. 
Once you've concluded your visit, the Uber pick-up location is south of the hotel lobby and located on the beach level. You'll need to take the escalators down to reach it. 
Walking Directions
If you're staying at a hotel near Mandalay Bay, walking to the aquarium might be a good option. For example, you can follow our guide to get from Luxor to Mandalay Bay. The easiest way to locate the hotel is from the Las Vegas Strip. Locate the main lobby, and follow the signs for the aquarium.
Whether this is your first time in Las Vegas or you've visited many times before, a walk down the Strip is seldom boring. If you find yourself needing more information about walking between the various hotels on the strip, check out this guide to walking on the Las Vegas Strip.
Food and Restrooms at Shark Reef Aquarium
Outside food and drinks aren't permitted on the premises, there are food and beverages available for purchase nearby within the resort.
There are public restrooms available for guests, and the aquarium is also both wheelchair and stroller accessible, so feel free to bring the whole family along.
Food & Dining Options Near the Mandalay Bay Aquarium
Because there aren't any food options in the aquarium itself, it's recommended that you plan to eat either before or after you visit the aquarium.
Luckily, the Mandalay Bay Resort and Casino offers several dining options, including both a food court and numerous formal dining options. Keep in mind that outside food or drink isn't allowed in the Mandalay Bay Aquarium, so eating prior may be a wise choice.  
The Mandalay Bay food court is located just west of the aquarium, making it the closest dining option available. It's a great option for a quick bite before the aquarium and is also a great way to spend some time while awaiting a timed entrance slot. 
It includes some fast food dining options like:
Subway
Bonanno's New York Pizzaria
Johnny Rockets
Nathan's Famous Hot Dogs
Pan Asian Express
The food court itself is open 24 hours a day. However, each restaurant has its own operating hours. Check out the Mandalay Bay Food Court webpage for more information on operating hours and a brief description of each restaurant. 
Most visitors of the aquarium utilize the food court due to both its proximity to the aquarium and the fact that food can be obtained quickly. However, if you have more time before your visit or are looking for a nice sit-down dinner after a great day of seeing the aquatic animals, Mandalay Bay offers various dining options, including Italian, American, and Japanese cuisine. 
You can find a complete list of the resort's dining options along with their hours of operation here. 
Get your tickets to Mandalay Bay Aquarium online at either Vegas.com or Viator.com
FAQ: Shark Reef (Mandalay Bay) Aquarium
What can I see at Mandalay Bay Aquarium?

Mandalay Bay Aquarium features a variety of marine life, including sharks, rays, sea turtles, and fish. Visitors can also see a shipwreck exhibit and a touch pool where they can interact with some of the animals.

How much does it cost to visit Mandalay Bay Aquarium?

Admission prices for Mandalay Bay Aquarium vary depending on age and residency status. Children under 4 years old are free, while adult tickets start at $29. Discounts are available for Nevada residents, military personnel, and seniors.

Can I take photos or videos inside Mandalay Bay Aquarium?

Yes, visitors are allowed to take photos and videos inside Mandalay Bay Aquarium, but flash photography and tripods are not permitted.

Is Mandalay Bay Aquarium wheelchair accessible?

Yes, Mandalay Bay Aquarium is wheelchair accessible, and wheelchairs are available for rent on a first-come, first-served basis.

Are there any guided tours or educational programs available at Mandalay Bay Aquarium?

Yes, Mandalay Bay Aquarium offers guided tours and educational programs for visitors of all ages. These programs include behind-the-scenes tours, animal encounters, and educational talks. These will need to be booked directly with the aquarium.

Is there a gift shop at Mandalay Bay Aquarium?

Yes, there is a gift shop at Mandalay Bay Aquarium's exit, where visitors can purchase souvenirs and gifts.
Compare and save! Check current Mandalay Bay room rates at TripAdvisor.
Final Thoughts
The Mandalay Bay Aquarium truly stands out among all the other attractions in Las Vegas. It boasts a solid 4.4/5 review rating on Google, with thousands of visitors attesting to having an unforgettable experience. 
With the price of admission starting as low as $29 for an adult, the Mandalay Bay Aquarium is well worth the visit, especially given the sheer amount of marine animals you'll encounter. 
If you're eager to see the best Las Vegas has to offer, the aquarium is worthy of adding to your list of Las Vegas attractions to visit.