MGM Grand Table Minimums Explained (MGM Grand Casino)
(This article may contain affiliate links. If you click through and make a purchase, we will receive a small commission at no additional cost to you. )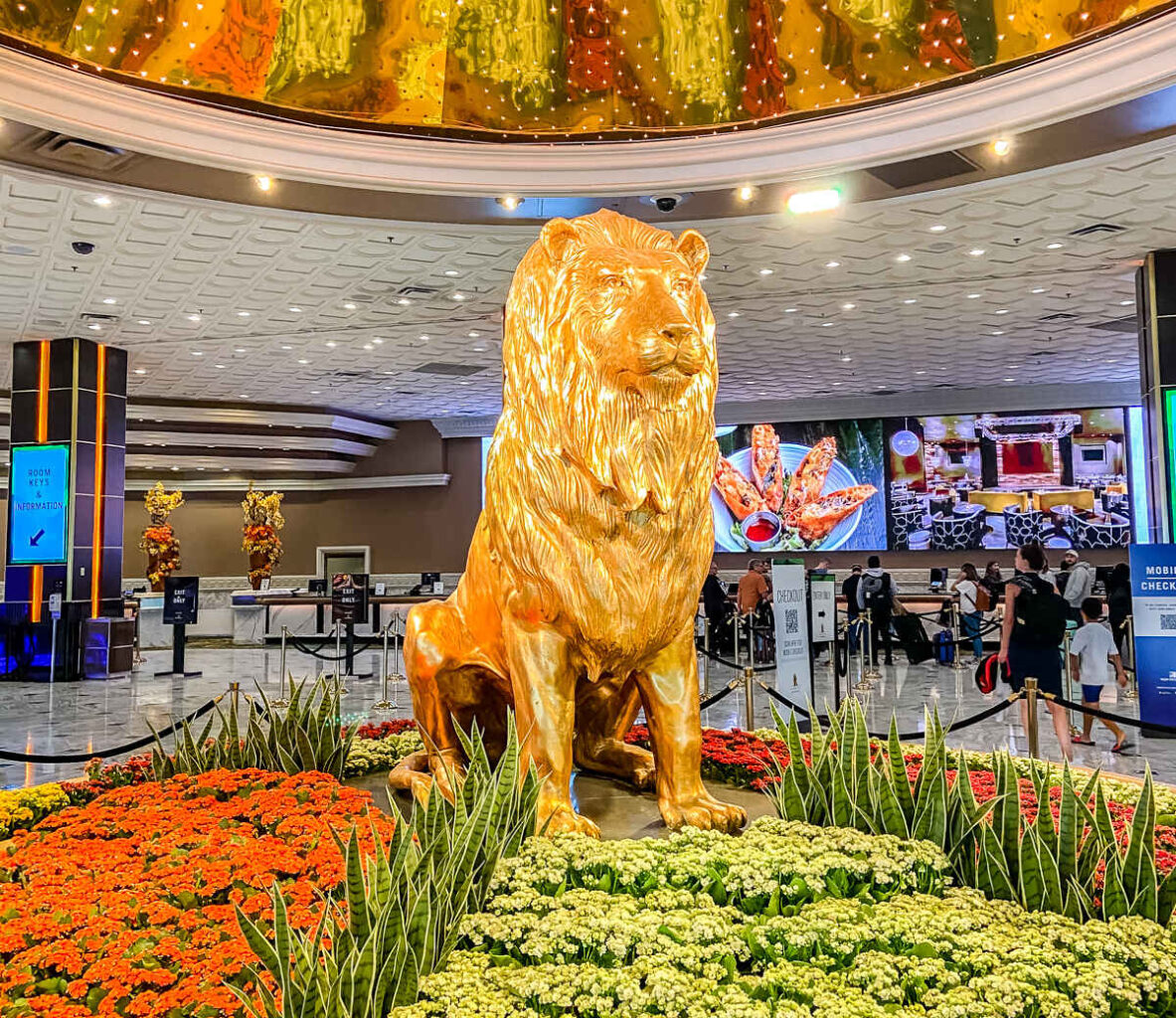 If you're looking to do some gambling while in Vegas, the 171,500-square-foot MGM Grand Casino and Resort is a perfect choice. Besides being one of the most popular casinos in Vegas, it's been featured in more than 40 movies.
The table minimum at the MGM Grand starts as low as $5. This makes it one of the more affordable options in Las Vegas and means that just about anyone can get in on the fun. The MGM Grand table minimums will go up on weekends and during special events. 
If you're looking to experience all that the MGM Grand has to offer without breaking the bank, the casino is a great option.
Compare and save! Check current MGM Grand room rates at TripAdvisor.
Table Minimums at MGM Grand Casino
You don't need as much money as you think to start playing at a table at MGM Grand. In fact, with some of the lower minimums in town, you can start playing for as little as $5. Of course, if you're looking to play for higher stakes, you'll need to bring more money.
But if you want to have some fun and win a little money, $5 is all you need to get started. Here are some of the tables games with the lowest minimums at the MGM Grand Casino:
MGM Grand Blackjack Minimums
Blackjack is one of the most exciting table games at the MGM Grand.
With a minimum bet of $5 to $10, it is accessible to casual players and high rollers alike. Featuring an easy-to-learn set of rules and high-potential payouts, blackjack is quick to draw in new players and keep them returning for more.
Whether after a simple distraction or an adrenaline-fueled adventure, blackjack offers it all, making it one of the best games around at the MGM Grand casino and beyond.
MGM Grand Baccarat Minimums
Known for its fun gameplay, elegant atmosphere, and high table payout rates, baccarat is a breath of fresh air in an industry dominated by slots and roulette. 
Despite its relatively low minimum bet of just $25, baccarat offers a level of sophistication that sets it apart from other casino games. But the most appealing thing about baccarat is its high payouts on winning hands.
With the banker's hand having a 45.85% chance of winning compared to 44.62% for the player's hand and a 9.53% chance of experiencing a tie, players can expect big rewards when they come out on top.
Poker Room Minimums at MGM Grand
The MGM Grand is a popular destination for both avid poker players and novices. Known as the "$1/$2 No Limit Capital," this bustling casino features a premier poker room with 13 action-packed tables.
You'll find $2/$5 games at the MGM Grand with minimum buy-ins of $200. However, if you're lucky, you might stumble upon a $5/$10 table.
Poker is an excellent game for those who enjoy strategy and competition, and the MGM Grand's poker room is the perfect place to test your skills.
MGM Grand Roulette Minimums
With its vibrant atmosphere and easy-to-understand gameplay, roulette is perfect for both casual players and high rollers.
The MGM Grand offers a variety of roulette games with different minimum bets. You'll find $25 minimums on some tables where the limit can increase to $50 to $100 during busier periods.
Roulette is an excellent game for those who want to experience the excitement of casino gambling without risking a lot of money.
RECOMMENDED: Before you head over to the casino, find out what MGM Grand's Parking Fees are.
Other Games at MGM Grand That Have Low Table Minimums
Not only does the MGM Grand offer the games listed above, but they also have other excellent options for those who want to play with low stakes. Some of the other games you'll find at the MGM Grand with low table minimums are:
High Card Flush: $25
Ultimate Texas Hold'em: $10
Crazy "4" Poker & Texas Hold 'em: $15
Pai Gow Poker: $25
Three Card Poker: $15
Let It Ride Poker: $10
How Does the MGM Grand Compare to Other Casinos When It Comes to Table Minimums?
Overall, the MGM Grand ranks among the top Las Vegas casinos regarding table minimums. With a wide variety of games available and low minimums across the board, this casino offers an unbeatable gaming experience for those looking to bet big or play it safe.
The MGM Grand Las Vegas can help you stretch your gambling dollar with various low-betting tables available. This makes it challenging to wager a reasonable amount on each hand or spin. You might be stuck with high minimums at other top-end casinos at certain tables.
If you want to minimize your risks while maximizing your returns, look no further than the MGM Grand.
The Benefits of Playing at a Table With Lower Minimums
When it comes to gambling, everyone has their own strategy. Some people go for the high-stakes tables with the big payouts, while others prefer to play it safe at the lower minimum tables. So, what's the best way to approach gambling? It depends on your goals.
Let's examine the benefits of playing at a table with lower minimums:
You can reduce your overall risk. The potential payoff may be smaller, but so is your potential loss. This is especially important if you're new to gambling or not comfortable risking a lot of money.
Gambling can be a costly endeavor. Set a budget and know when to quit. By only playing at tables with lower minimums, you can ensure that you will spend your money wisely.
Playing at a lower minimum table can help you hone your skills. If you're new to gambling, it's essential to start small and gradually increase your stakes as you become more comfortable and confident.
Lower betting tables are more fun and relaxed. You can focus on enjoying the game. At the higher stakes tables, there's more pressure to win, which can take away from the fun. By starting at a low-stakes table, you can get a feel for the game without putting too much pressure on yourself.
If you're spending time in a casino, don't miss the bar. I've listed the top drinks you can order in a casino in my other guide here.
Looking to hang out where Vegas locals play? Then check out our article: 6 Casinos Las Vegas Locals Go To Gamble
Conclusion
With its premier location in the heart of Vegas and a variety of top-notch gaming options, the MGM Grand is the go-to destination for those who like to gamble with low table minimums. Plus, with reasonably low minimums across all games, it's easy to stretch your budget and stay in the game longer.
So come down and try your luck at Vegas's most popular and trusted casino. When it comes to quality gaming at low table minimums, there's simply no place better than the MGM Grand!
Fun Fact: Did you know that the MGM Grand is the biggest hotel in Las Vegas?