Top 10 Drinks To Order in a Las Vegas Casino (Revealed!)
(This article may contain affiliate links. If you click through and make a purchase, we will receive a small commission at no additional cost to you. )
Las Vegas is known for many things, including drinks and gambling. Many people enjoy a drink while they are in the casino, but what are the best drinks to order in a Las Vegas Casino?
Some of the most popular drinks in Vegas casinos include classics like Old Fashioned, Moscow mules, and martinis. You can also find several kinds of liquor, champagne, and beer. Or, if you do not want something alcoholic, soda and mocktails are always good options. 
Read on for the top 10 drinks to order in a Las Vegas Casino, including some cocktails, simple drinks, and non-alcoholic options. 
1. Old Fashioned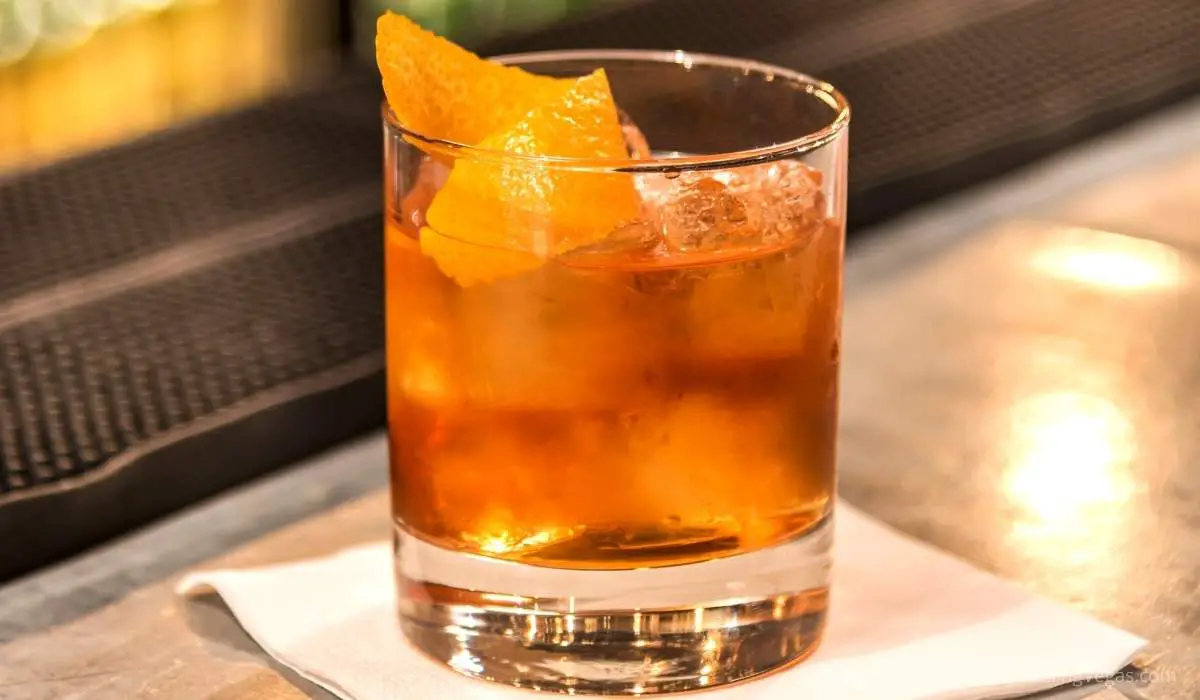 The first drink to order in Las Vegas is an Old Fashioned. Not only is it one of the classier drinks to sip on, but there are plenty of whiskeys available to customize them. An Old Fashioned can vary slightly between casinos, but they are typically made with bourbon or whiskey and Angostura bitters. 
Every casino in Las Vegas will have a slightly different take on the drink, but it's a good way to try out different whiskeys and variations until you find one you like. 
For example, you can order a High West Old Fashioned at the Caesars Palace Alto Bar. This version comes with Angostura bitters, orange bitters, and High West Double Rye whiskey, hence the drink's name. 
2. Moscow Mule
Or, you can order a Moscow Mule, which is another classic drink that you can find at most, if not all, Las Vegas casino bars. These drinks also can have some variations depending on the liquor in them. 
A classic Moscow Mule comes with vodka, ginger beer, and lime, which is an easy-to-recognize drink that comes in a copper mug. However, you can also get a mule with other liquors like tequila and bourbon. 
3. Daiquiri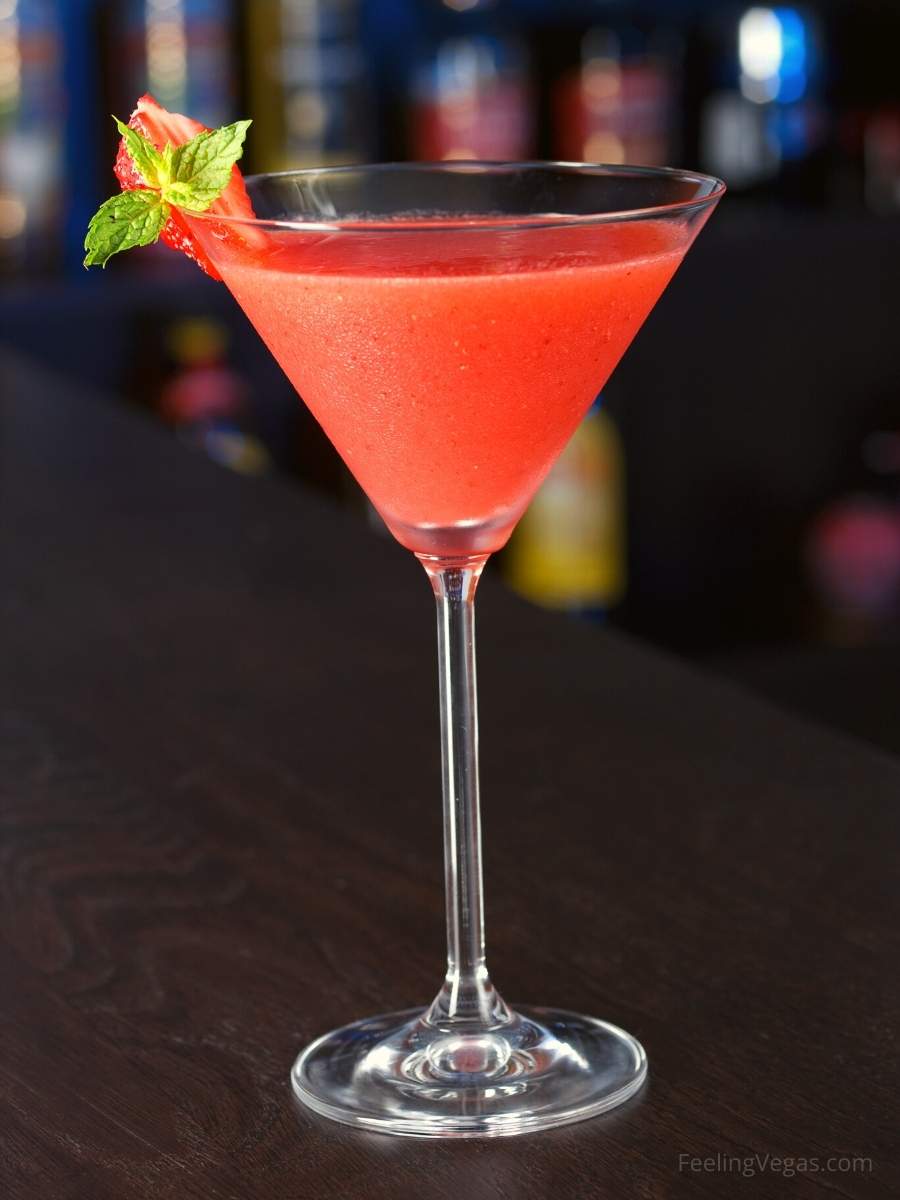 Daiquiris are another common drink in Las Vegas, especially in casinos. They are similar to margaritas in that they have lime juice, but instead of tequila, daiquiris have rum. And they use simple syrup, not triple sec, which is the most common third ingredient in margaritas. 
Daiquiris come in many different flavors, so ask your server what options the casino has. 
4. Mojito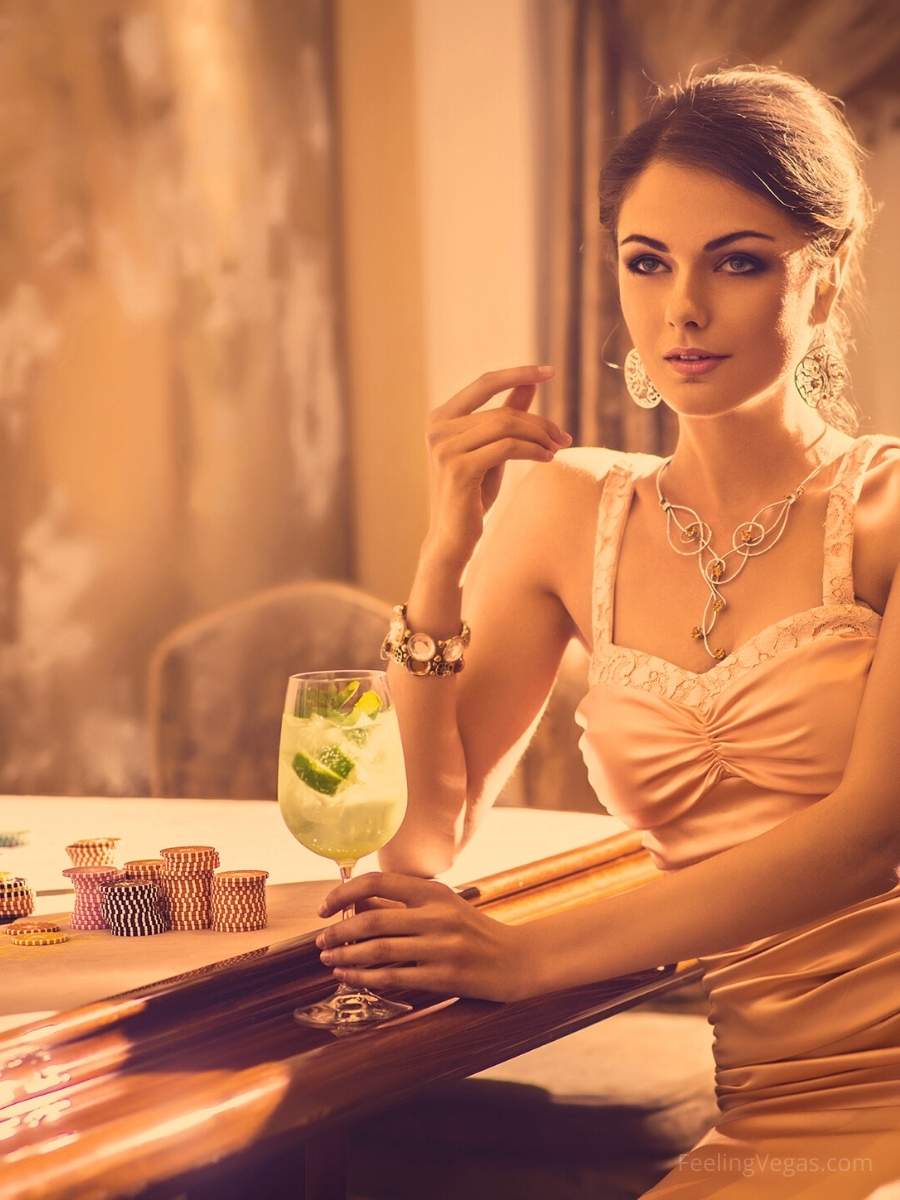 Mojitos are another rum-based drink that people commonly associate with margaritas and daiquiris. In addition to rum, mojitos are made with: 
Lime juice
Simple syrup
Club soda
Ice
Mint 
Mojitos have more ingredients than daiquiris, and they are served on ice, whereas daiquiris can be frozen. If they still seem similar to you, try both at the casino, and you can decide which one you like best. 
The standard mojito flavor is lime, but you can also find other fruity flavors like blackberry, strawberry, and orange.
5. Martini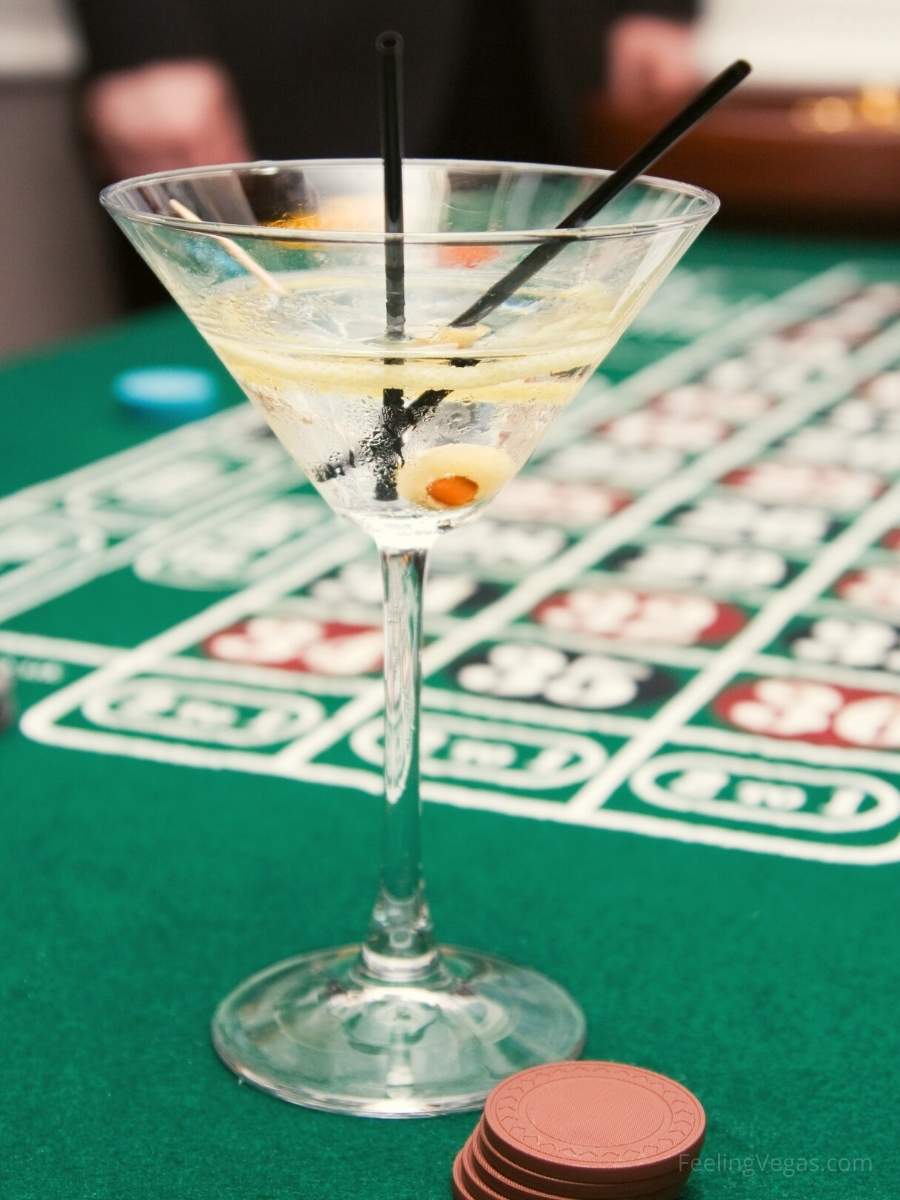 If you consider yourself a suave and sophisticated individual like James Bond, try a martini when you're in a Las Vegas casino. You can even have it shaken, not stirred. If you are drinking a martini, you likely already have a special way you like to drink it. 
But, if you are new to martinis, there are variations of the drink you can get, such as: 
Dry martinis are a mix of mostly dry gin with some dry vermouth and orange bitters. This is the most common version of a martini. 
Dirty martinis are martinis with an equal ratio of gin to vermouth. 
You can also get a vodka martini, which replaces the gin with vodka. 
The bar or casino might have other versions, too, like an espresso martini, so be sure to ask if you are undecided on what type of martini you want. 
Did you know that you can get free drinks in a Las Vegas casino? Find out how in our article here.
6. Liquor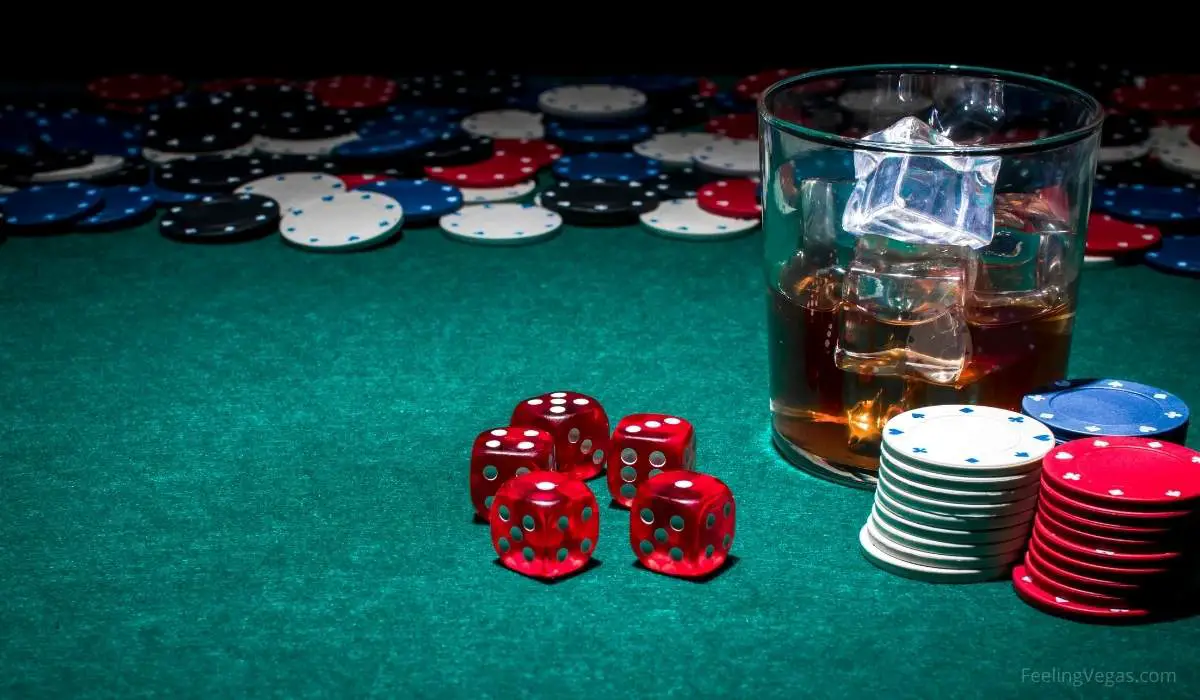 If you don't want a cocktail, you can always get something simple, like liquor on the rocks or soda with a liquor of your choice.
You can choose from dozens of different liquors no matter what casino you are at, as there are many options. 
7. Champagne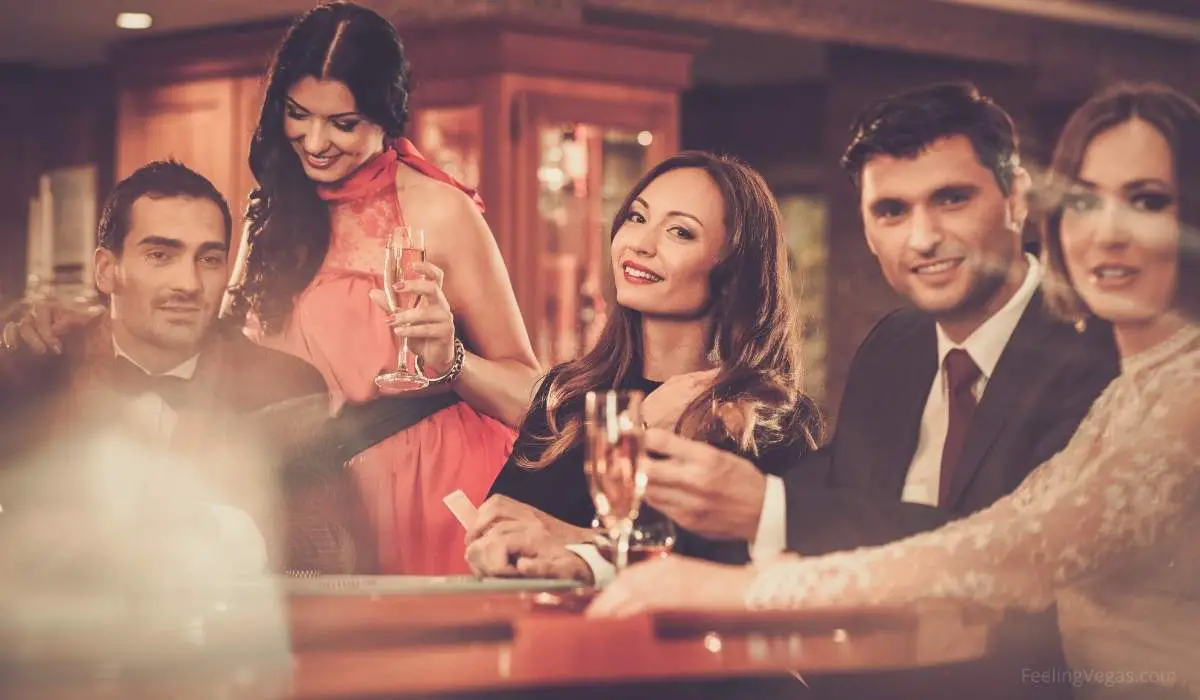 Champagne is another classic drink you can find at every casino in Vegas. There are so many different types of champagne too, so if you have a favorite, you should be able to find it with no problem.
Or, you can try other types and find a new favorite. The servers and bartenders know all about the champagne options, so they'll be happy to help you choose the right one for your taste. 
However, you are not limited to just a classic glass or bottle of champagne. For example, at the Cosmopolitan Las Vegas on the 2nd Level, they have a champagne cocktail you can order and drink inside a giant crystal chandelier. 
8. Draft Beer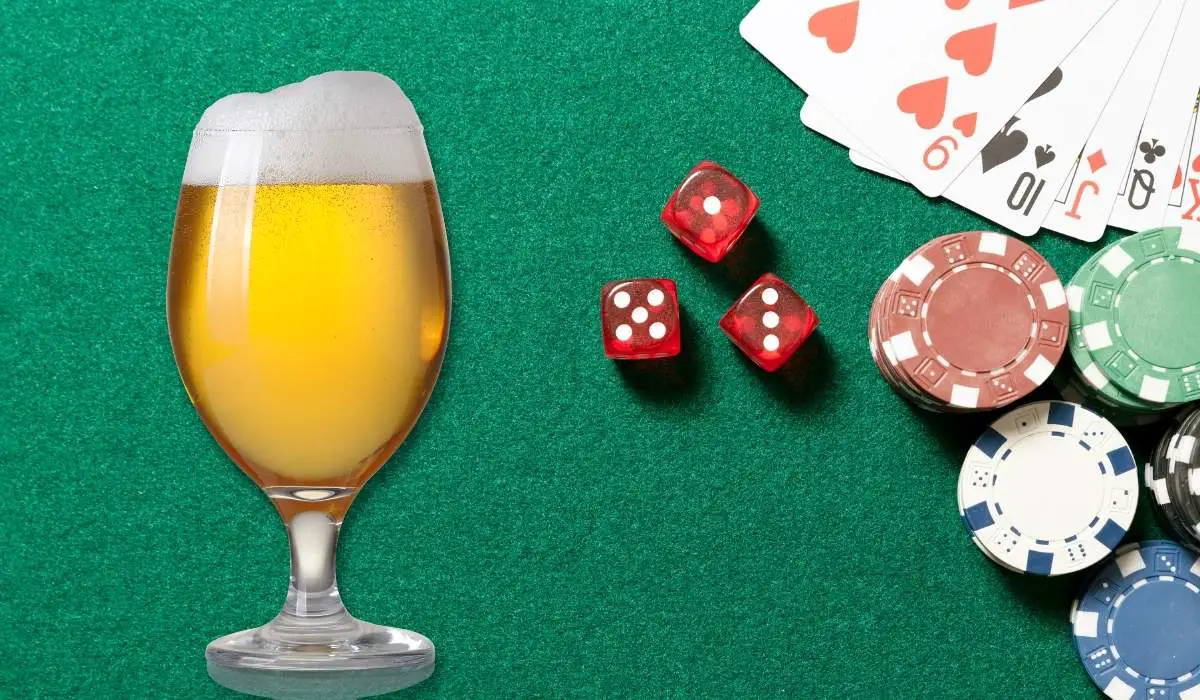 Draft beer is the easiest drink to order at a casino in Las Vegas. Every bar and casino you come across will have many beers on draft. Some of them now even have hard seltzers on tap. You should have a lot of options for beer at casinos since they have a variety of domestic, import, and craft beers. 
You can also find some cans and bottled beers, which will also vary depending on the bar. These should also cover domestic, imported, and craft beers. 
Tip: If you want to continue to drink your casino beer as you head out onto the street, either get a beer in an aluminum bottle or pour your beer into a plastic cup (many casinos have these available near the exits).
9. Mocktails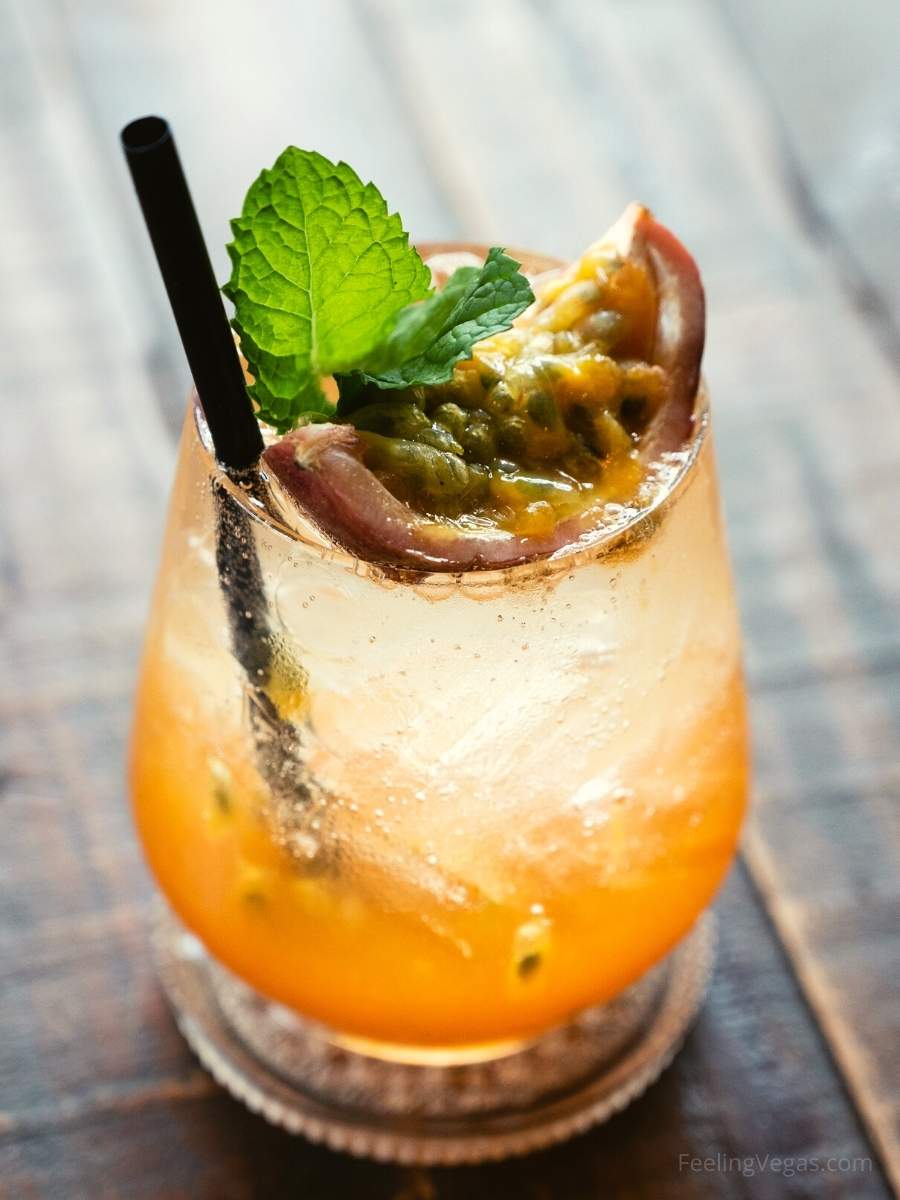 Being at a casino doesn't mean you need to have alcohol, as you can still enjoy a fun drink without alcohol while at a Vegas casino. You can ask the server for their mocktail options or choose one of their standard cocktails and get it without the alcohol. 
All the bars at the Cosmopolitan Las Vegas offer mocktails, including the Mischief Maker, which has lime and ginger bubbly, and a Chill Pill with ginger and cucumber fizz. 
10. Soda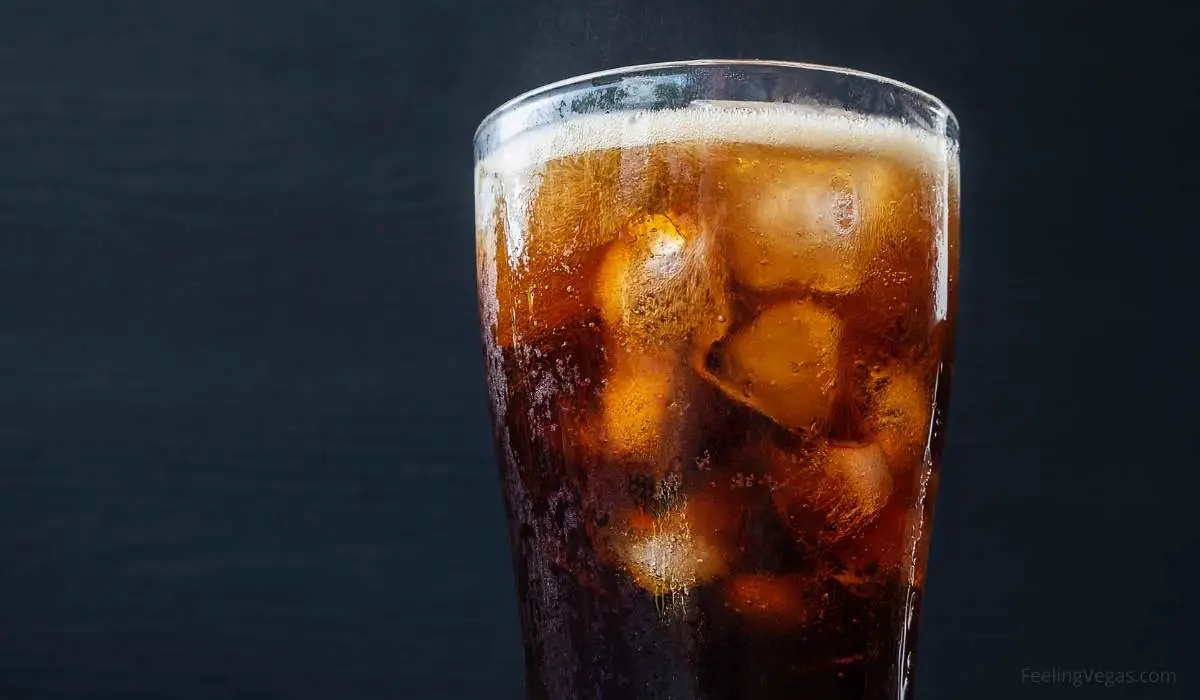 And finally, you can always opt for a simple soda drink. Since casino bars offer drinks like Jack & Coke, you can always order just a plain soda. There are several options to choose from, like Coke, Sprite, rootbeer, and more. 
You can also find juices like lemonade and orange juice if you need something uncarbonated. These drinks are great if you have too much to drink the night before and need a break or just want to take a short hiatus from the alcohol.
Conclusion
And there you have it, ten of the best drinks to order in a Las Vegas casino! Las Vegas casino bartenders are standing by for your order 🙂