The casinos in Las Vegas have a reputation for offering freebies or "comps" to certain visitors and hotel guests. One of the most prominent of these complimentary services is free drinks.
So, are drinks free in Las Vegas casinos?
Alcoholic and non-alcoholic drinks are free in Las Vegas casinos if you are actively gambling. Playing a slot machine or table game will ensure you are approached by a server for a free drink. Note: Free drinks are only served by the roaming cocktail waitresses, never at the bar.
Keep reading and I'll show you how to score free drinks in any Las Vegas casino and keep them coming. I'll also share how and where to find reduced-priced drinks on or near the Las Vegas Strip.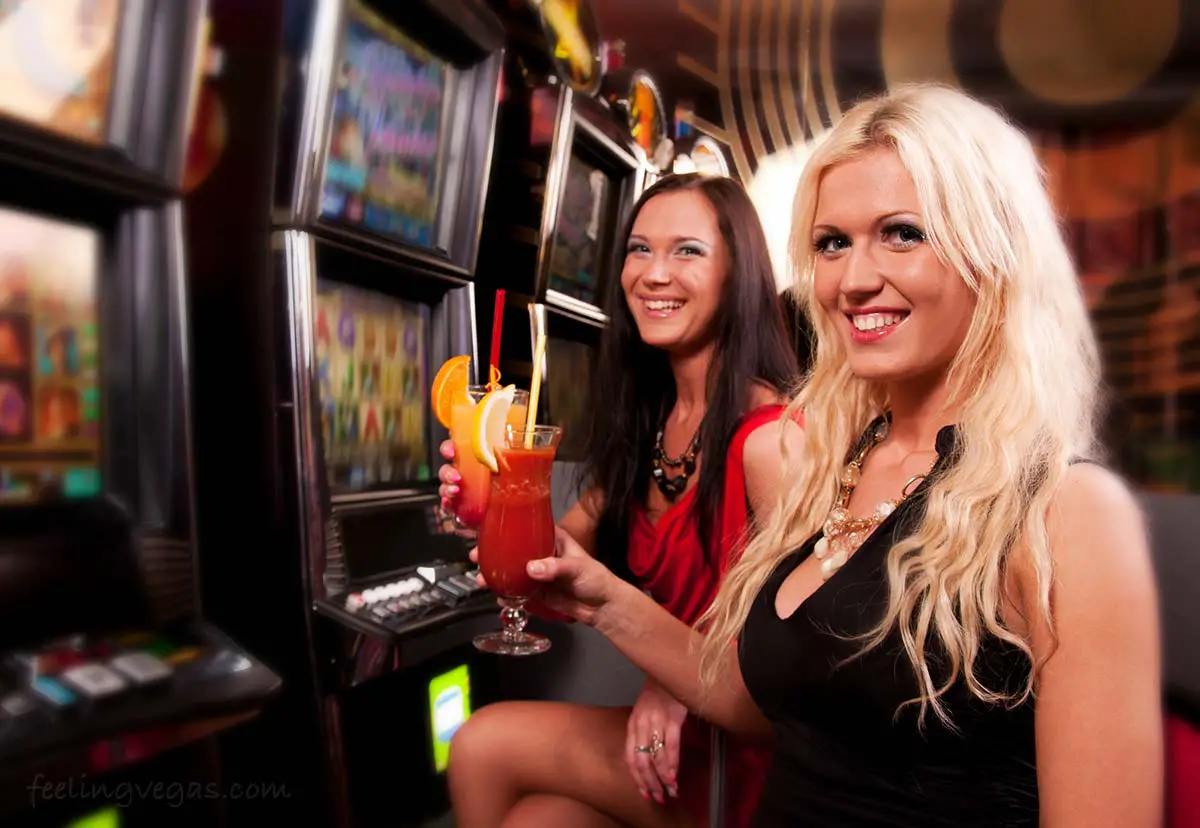 (This article may contain affiliate links and we may earn a commission if you make a purchase.)
How to Get Free Drinks in Las Vegas Casinos
Free drinks are one of the legendary perks available to you at casinos if you meet the requirements. Here are some of the easiest ways to get them at casinos up and down the Strip and throughout Las Vegas.
Free Drinks Are Found on the Casino Floor
Casino owners know that the more alcohol customers consume, the more inclined they'll be to spend their money at the tables and slot machines.
I often wonder how frequently an inebriated person walks past a roulette wheel, for instance, and plunks down $20, $50, $100, or more on a long-shot bet with terrible odds.
After losing they stumble off without giving it another thought. I'd imagine that that scenario plays itself out countless times every day.
So the bottom line is, Casinos don't give out free drinks for no reason! Every "free" drink on average makes a profit for the casino.
Fortunately, however, you don't have to be a high roller (or even much of a gambler at all) to get complimentary cocktails, beer, wine, or spirits. All you have to do is sit down at a machine and play.
Before long a cocktail waitress will come by and ask you if you'd like a drink. Boom! You just got your first free drink at a casino in Las Vegas.
Wendy and I aren't actually much for gambling. It's not really our thing but on occasion, we like to go out and put a couple of dollars in a penny or nickel video poker machine (see I told you we weren't big gamblers) and get a few free drinks.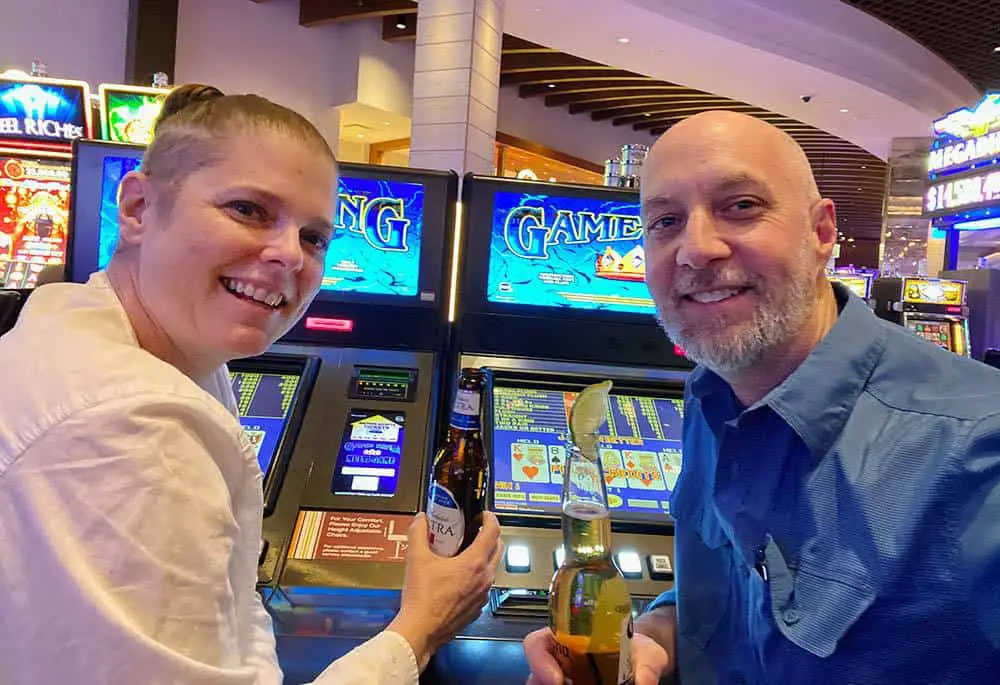 We actually have a pretty good record of playing for a while, having a good time, and then moving on with our drink once we break even or are possibly even up a couple of bucks.
That's the best way to gamble in my opinion.
BUT if you like to play for longer here are a couple of tips and suggestions to help you out.
Don't rush your games. If you're in it to have some fun and have a couple of complimentary cocktails, take your time. You don't want to lose all your money before you've gotten your complimentary drinks. A free beer or cocktail isn't worth much if you've poured a ton of money into a machine before your drinks have even arrived.
The cocktail waitresses will only give you one free drink per person at a time. I've tried ordering a "shot and a beer" multiple times and it's a no go.
Also, take note that some of the more modern casinos nowadays use some sort of a tracking system to monitor your gambling and decide if you've played enough to earn a comped or free drink.
Finally, the cocktail waitresses are often slow to return once you've received your free drink (that's on purpose). If your goal is to have several drinks in a short span of time you'll likely have to head to the casino bar where the beverages are definitely NOT free.
How To Get Free Drinks in Vegas Casinos For Non-Gamblers
Fortunately, there is a way to get free drinks in Las Vegas without gambling. Hang out with a friend that is gambling.
Sometimes, you don't even have to be the one playing at the casino to get a complimentary drink. You can get a free drink just by being an enthusiastic cheerleader for your gambling companion.
The casinos understand the impact a friendly face can have on a player. So, they'll be happy to serve you drinks free of charge if that's part of what it takes to keep you and your high-rolling friend at the table.
This technique doesn't work very well at the penny slot machines but it can work at the craps table or other table games.
What Kind of Free Drinks Do Las Vegas Casinos Offer
You can pretty much order anything you want as long as it's simple. Steer clear of complicated mixed drinks like Manhattans or Cosmopolitans.
Cocktails, beer, spirits, and wine are all readily available. Be forewarned when ordering wine and spirits that you're not going to be getting served from the top shelf.
It's not poor quality alcohol, it's just not the high-end stuff. For instance, ordering a shot of tequila is going to get you a Jose Cuervo Gold or something similar.
Don't expect Gran Patron Anejo Burdeos. (At $458 a bottle, that's not on the complimentary drink menu!)
If your refined tastes require a certain brand label or a complicated mixed drink made to your specifications, you're better off heading to the bar for premium drinks.
Always Tip Your Server Even if the Drink is Free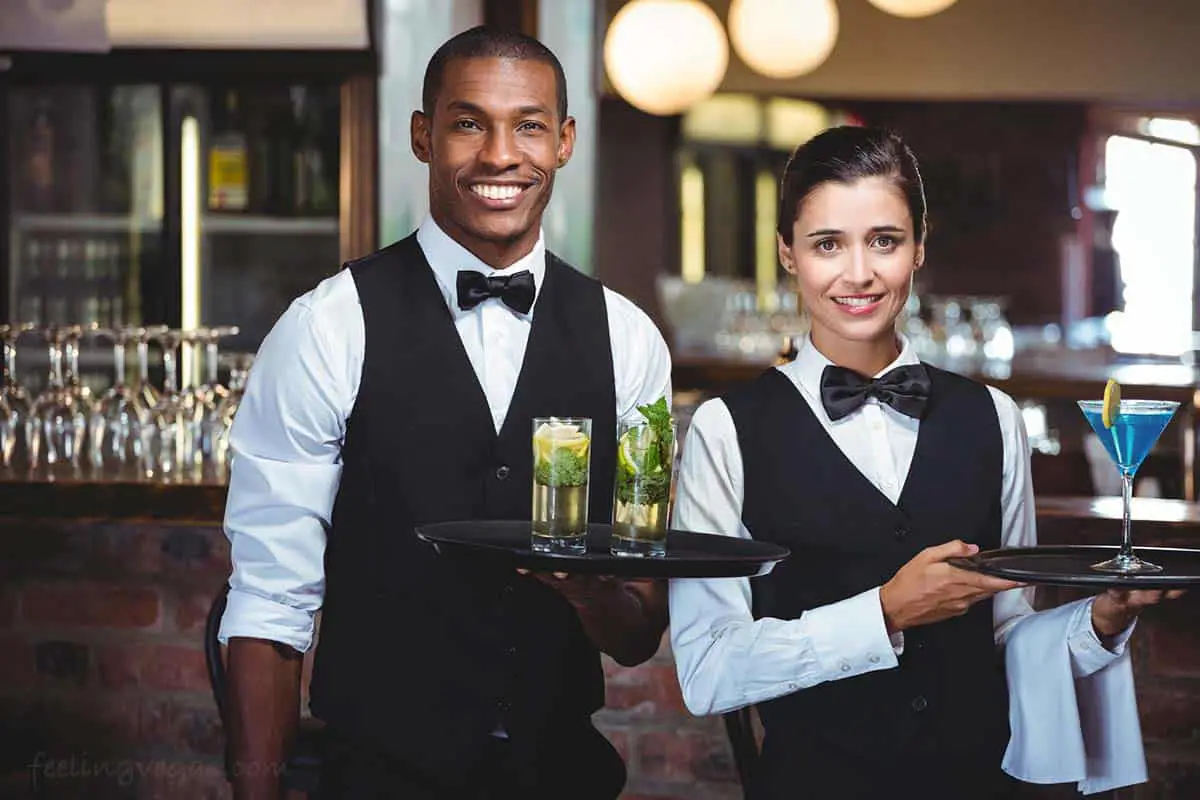 If you're already getting free drinks, please don't cheap out on tipping your waiter or waitress. They work hard and your tips make up the majority of their paychecks.
In most cases, a $1 or $2 tip per drink will suffice.
Also, people tend to forget how significant tipping is when it comes to getting quick and friendly repeat service.
At some point during your stay at the casino, the waitress will stop offering you drinks unless you hand her a tip every time she does. Keep tipping your waiters and waitresses, and you should have a fairly steady flow of free booze.
Another suggestion is to tip your server well from the get-go and they'll be likely to be back sooner to check if you need another drink. It's just human nature.
Check out our complete Las Vegas Tipping Guide to find out Who to Tip, When to Tip, and How Much to Tip in Vegas.
DON'T Go to the Casino Bar and Ask for a Free Drink
If you're looking for a free drink, whatever you do, don't try to get one directly from the bar.
If you walk into a casino, stroll to the bar, and ask for free drinks from the bartender, they'll refuse. The entire concept of complimentary drinking at casinos is for customers to gamble before receiving drinks on the house.

Stick with the servers on the casino floor if you don't want to pay for cocktails and wine in Las Vegas. As long as you're sitting at a slot machine or playing at a table, they'll come to you.
They want to see you busy adding value to the casino before offering free liquor. 
How to Save Money When Going Out in Las Vegas
Getting free alcohol is just one of the many ways you can save money while having the time of your life in Las Vegas. Entertainment on the Strip appears to be getting more expensive with each passing day, but with the following tricks, you can save money and still have a ton of fun.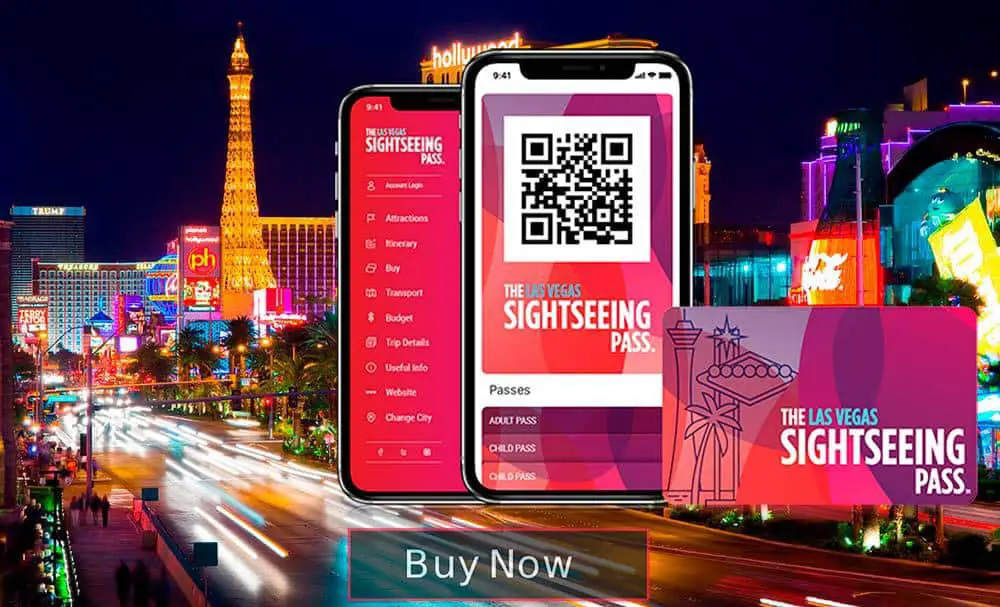 Whichever Casinos You're Spending Time at Get a Players Card (They're Free)
At casinos owned by MGM Resorts, for instance, you can pick up an M Life Rewards Card. This player's card is associated with all MGM resorts in the country. These cards establish your membership in MGM's loyalty program.
When you reach a particular tier, you get to enjoy free parking at all MGM resorts in Las Vegas. Check out our article here to find out how to do it.
All of the casinos in Las Vegas have their own player loyalty cards. If you're going to be playing, get a free card at the closest guest services desk and put it in the machine your playing at.
While you're sipping your free drink you can be acquiring points on your card that will get you discounts on dining, hotel rooms, parking, etc.
Take Advantage of Las Vegas Hotel & Casino Benefits
Nightclubs in Las Vegas are expensive. Fortunately, some hotels in the city offer free passes and other benefits to their guests.
This won't get you free drinks in the club but it will help get you inside which isn't always easy.
You can find out more about clubbing in Las Vegas in our article here.

Las Vegas hotel guests can sometimes also get free or discounted access to events, buffets, or affiliated stores. Ask the staff members nicely about the perks available to you as a guest in their hotel.
Enjoy Vegas Happy Hours at Bars & Restaurants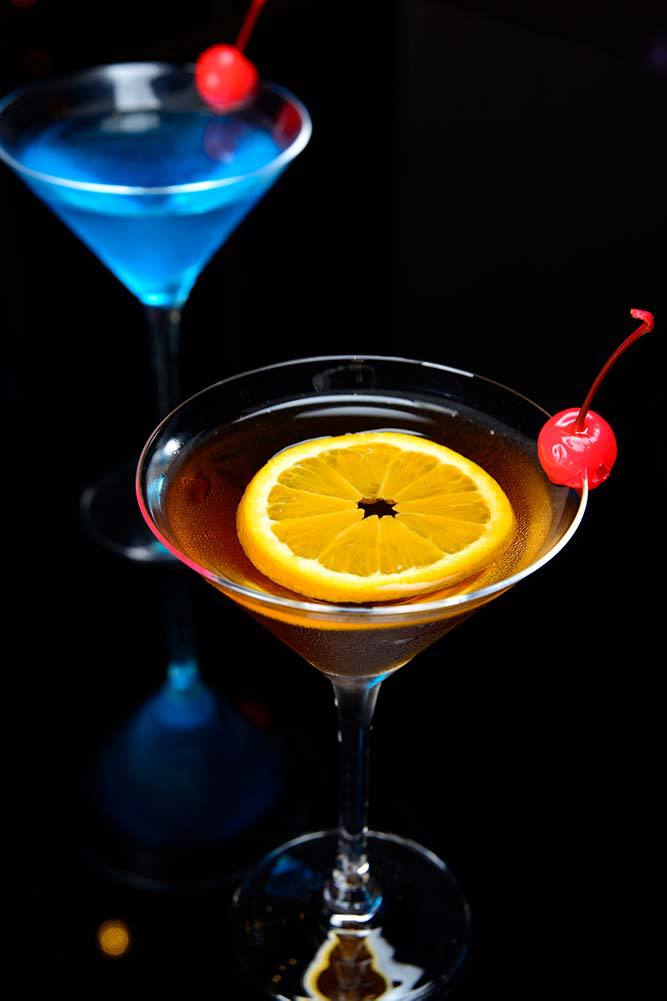 Drinks and food on the Strip can be expensive! The best way we've found to enjoy low-cost drinks and top-quality meals in Las Vegas is by taking advantage of happy hours.
If you don't want to gamble but you'd still like a deal on a drink, many restaurants in the city offer happy hour drink discounts and appetizers every day. Here are a few of the most popular options along the Strip:
Sushi Roku at Caesars Palace gives discounts on drinks from Sunday to Thursday ( 4 – 7 PM) and Friday to Saturday (4 – 6 PM). (google maps)
107 SkyLounge at the Stratosphere has happy hour 2 for 1 drink specials and half-off appetizers every day (4 – 7 PM). (google maps)
Affordable Bars in Las Vegas
Another effective way to save money when you go out in Las Vegas is to visit the most affordable bars in the city, alone or with your friends. The following are the best bars that offer drinks for under $5 apiece:
Bird Bar at Flamingo (they also have .50 cent happy hour beers (google maps)
O'Shea's pub at The LINQ (google maps)
Dino's Lounge (google maps)
Flight at the Luxor (google maps)
Born and Raised sports bar at Bally's (google maps)
Fat Tuesday (Bally's, Stratosphere, Venetian, MGM, Planet Hollywood, Mandalay Bay, and more)
Additional Tips for Going Out in Las Vegas
Here're a few extra tips to remember next time you go out to explore the streets of Vegas:
Stay in hotels that are in the center of the Strip. This tip will save you transportation costs as you'll be closer to the most exciting places in the area.
Use local bank ATMs instead of casino ATMs. Local ATMs charge low fees.
If you have one, use your player's card for gambling; you'll earn more reward points.
Also, take some time to find out how to stay safe on the streets of Las Vegas at night in our article here.
Conclusion
Hanging out in Las Vegas doesn't have to be an expensive adventure. If you follow the tips from this article, you'll know how to enjoy free drinks at Las Vegas casinos, where to find affordable bars, and how to have fun on a budget.