The Best Sports Bars on the Las Vegas Strip [2023 Guide]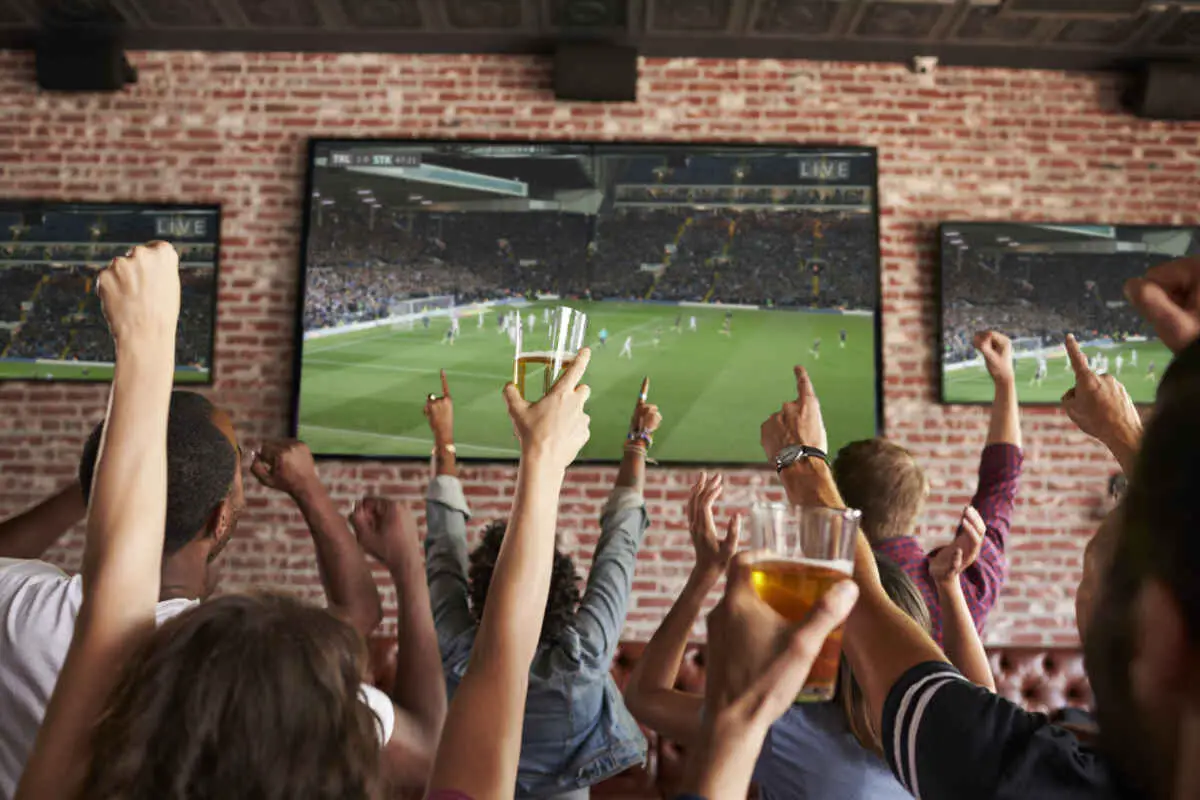 (This article may contain affiliate links, which means we might earn a small commission if you click and make a purchase. Thank you!)
When it comes to experiencing the vibrant pulse of Vegas, visitors have plenty of options available to them.
From shopping to catching the best shows and trying your luck at the plushest casinos, this iconic destination has it all.
Don't worry if you're a sports fan because Vegas has you covered, too! Whenever you want to kick back and revel in the thrill of a live sporting event, just enter one of these incredible bars.
In this article, we'll journey through the glittering lights to bring you the top sports bars on the Strip.
Exploring the Best Sports Bars on Las Vegas Strip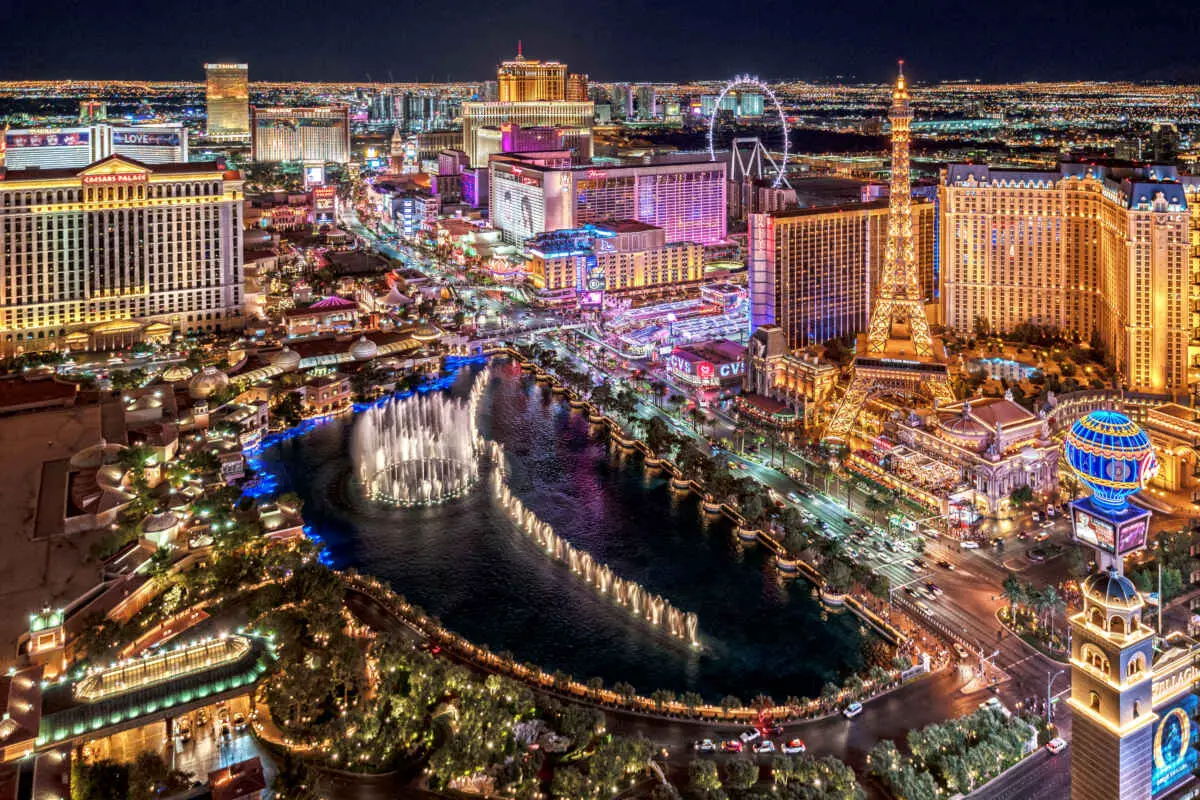 You'll find sports bars that add a different kind of excitement to your visit.
In this section, we'll show you the very best in the city. Whether you're cheering for your favorite teams or enjoying tasty snacks and drinks, we've got you covered.
Overview of Sports Bars in Las Vegas
Though it's far more famous for its many casinos and high-stakes gambling, the Las Vegas Strip is also home to several sports bars where you can grab a draught beer and a hot plate of french fries.
These bars dot the Strip, so you're never too far from one. Here, patrons can cheer on the Vegas Golden Knights or the Las Vegas Aces amidst a backdrop of luxury and excitement.
Importance of Location and Atmosphere
Location and atmosphere are the cornerstones of the sports bar experience on Las Vegas Blvd. The location seamlessly integrates the thrill of sporting events with the vibrant essence of Sin City.
Visitors can easily transition from the casino floor to enjoying a luxe sports viewing experience on numerous TVs and multiple sports memorabilia, creating an enticing fusion of entertainment.
From engaging in bar games like a pool table or beer pong to providing a sports book, these bars offer various different experiences. Some of them even offer breakfast for a hearty start to your day!
Variety of Sports Broadcasted
Las Vegas, a city renowned for its entertainment, offers a diverse range of sports broadcasts that cater to a wide array of sports fans.
From catching the electrifying action of a Golden Knights hockey game to watching other major league sports, there's something for everyone in the great sports bars on the Strip.
These places provide a platform for sports fans to come together and revel in the excitement of their favorite games.
Diving into the Unique Offerings of Las Vegas Sports Bars
While you might expect a sports bar in this entertainment mecca to be a dime a dozen, it's the unique offerings that truly set them apart.
Amidst the dazzling lights and high-stakes gaming, you'll discover a select few sports bars that combine the excitement of a big game with outstanding food and an inviting atmosphere.
Picture this: a bustling sports bar where you can savor great food, like chicken wings. These bars offer more than just a cold beer and a front-row seat to the game.
Imagine a lively game of beer pong with friends or taking in the action on an outdoor patio with the Las Vegas skyline as your backdrop. And if you're feeling lucky, you can even place bets in the sports book.
In this article, we'll take you on a journey through their unique offerings, where the combination of sports, great food, and entertainment creates an unforgettable experience.
Whether you're a sports fanatic, a foodie, or simply looking for a vibrant atmosphere to enjoy a big game, these bars have something special in store for you.
Special Menus and Microbrews
The sports bars in Las Vegas understand that sports fans want more than just a place to watch the game. They also offer special menus that elevate the traditional bar food experience.
Whether you're watching sporting events on picnic tables at Beer Park with the Bellagio Fountains as your backdrop or from the numerous TVs, you can savor gourmet twists on classic bar food.
Another thing that sets these bars apart is their devotion to the art of brewing. Patrons can enjoy a range of beverages like refreshing draught beers, imported beers, and an impressive selection of craft brews.
For those looking to unwind, many bars feature enticing happy hour deals, making it the perfect opportunity to enjoy food and knock back a craft beer or two.
Game Night Specials
Game night specials at a Vegas sports bar add an extra layer of excitement to the big game.
During happy hour, these establishments offer excellent deals on food and beverages, making it the ideal time to indulge in your favorite treats, like mouthwatering chicken wings, without breaking the bank.
These specials will elevate your Golden Knights game night experience by ensuring you have something to munch on without missing any of the action.
Plus, the lively atmosphere of a sports bar can rival even the most amazing concert venue, creating a memorable night out where the camaraderie among patrons adds to the fun.
Exclusive Features and Facilities
These bars offer exclusive features and facilities that make them stand out in the city's vibrant entertainment scene.
Located just steps away from renowned venues like the T-Mobile Arena and Planet Hollywood, these bars are perfectly positioned for pre-game excitement and post-game happy hour.
These exclusive features and facilities transform the typical sports bar visit into a memorable adventure, combining sports, entertainment, and culinary delights in the heart of Sin City.
Reviews of Sports Bars on Las Vegas Strip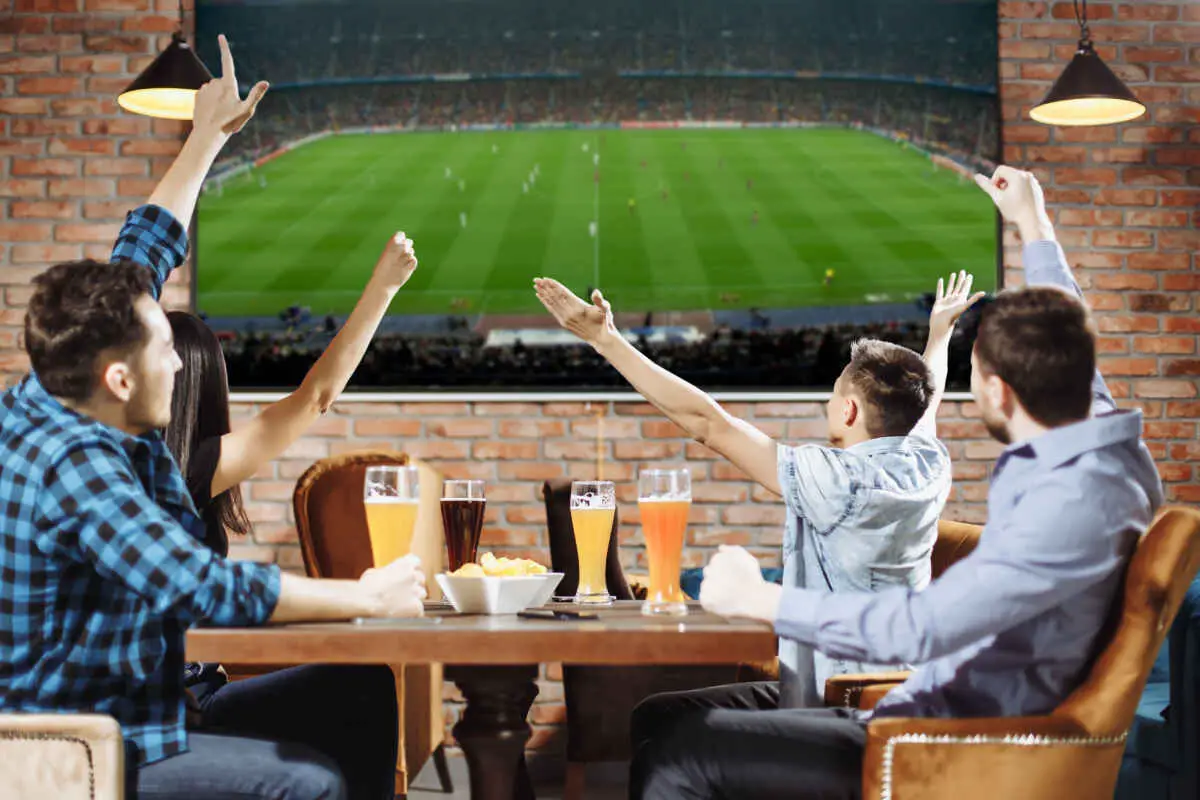 The Strip offers a dazzling array of options for enjoying the thrill of live sports. From upscale venues with gourmet bar food to lively spots perfect for catching the big game, they have it all.
Whether you're a sports fanatic looking for the best place to catch every play or a casual observer seeking a fun night out, these bars have what you need.
Join us as we explore the world of these bars, where sports, entertainment, and the Strip converge to create unforgettable experiences.
Blondies Sports Bar & Grill
Blondies Sports Bar & Grill, nestled in the heart of Planet Hollywood, ranks among the best sports bars on the Las Vegas Strip.
This upscale sports bar seamlessly combines the thrill of live sporting events with the glamor of the Strip. It's a top choice, with numerous TVs broadcasting the latest games and an inviting atmosphere.
Plus, its prime location in Planet Hollywood situates it near the best Las Vegas casinos on the Strip, ensuring you can quickly transition from gaming tables to game-day excitement.
Buffalo Wild Wings
Buffalo Wild Wings, located within the Miracle Mile Shops, is a great sports bar for those planning to watch sports in a lively atmosphere.
With a multitude of screens and a sports-centric ambiance, it's a prime destination. Whether you're catching a game with friends or indulging in their wings, this place offers a great setting.
Buffalo Wild Wings provides the ideal blend of sports and camaraderie in the heart of the Miracle Mile Shops, making it a reliable choice for game-day excitement.
Beer Park
Beer Park at Paris Las Vegas, overlooking the Strip, is a winning combination of spectacular views and upscale food. This rooftop venue offers a refreshing take.
With a wide selection of draft beers and upscale bar food, it caters to discerning palates while providing an inviting atmosphere for sports enthusiasts.
Whether you're there for the game or simply soaking in the ambiance, Beer Park's unique blend of elevated cuisine and a relaxed setting makes it a standout choice in the heart of Las Vegas.
Plus, it's a great destination to catch a Bellagio Fountain show from.
TAP Sports Bar
TAP Sports Bar at the MGM Grand is a sports lover's haven, seamlessly connecting patrons to the excitement of the nearby T-Mobile Arena.
With its prime location and proximity to the MGM Grand's Sportsbook and T-Mobile Arena, it's an ideal spot for pre-game anticipation and post-game celebrations.
The bar's extensive beer selection and classic pub fare create a welcoming atmosphere for sports enthusiasts.
Charlie's Sports Bar
Charlie's Sports Bar, nestled within the luxurious Wynn Las Vegas, is the best sports bar for those seeking a more refined place to watch sports.
With its upscale ambiance and gourmet offerings, it elevates the traditional sports bar concept. The bar's chic décor and comfortable seating create an inviting space to watch your favorite games.
Whether you're savoring a delectable meal or enjoying craft cocktails, this place provides a sophisticated setting to appreciate sports while indulging in the luxury of the Wynn Las Vegas.
Other Places Worth Checking Out
The Strip is a haven for sports enthusiasts. Here are some other bars in Las Vegas you don't wanna miss.
Ringer Bar at Planet Hollywood offers a modern twist, while Le Bar Du Sport adds a touch of Parisian elegance.
Resorts World hosts Redtail, a high-energy venue, while Luxor's Bar Code Burgers offers a casual and family-friendly experience.
Finally, if you'd rather play sports than watch, check out Brooklyn Bowl in The LINQ Promenade. This venue combines 32 lanes of bowling and live music for a truly unique outing.
Comparing the Best Sports Bars on Las Vegas Strip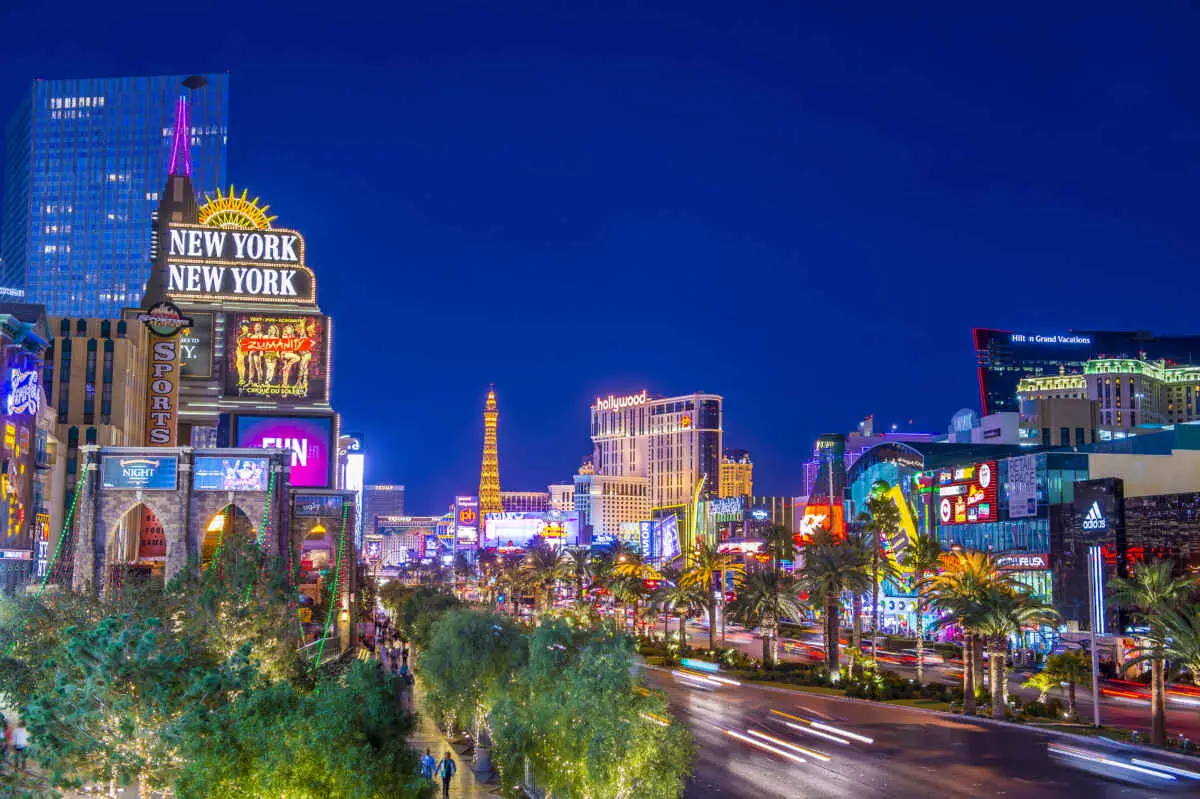 In the vibrant city of Las Vegas, these aren't just places to watch games; they're immersive experiences on the iconic Strip.
Whether you're a passionate sports fanatic or seeking a fun night after cashing in your chips, let's compare these different sports bars.
Comparison Based on Atmosphere
When comparing these, one crucial aspect to consider is the atmosphere, which can greatly impact your experience.
Brooklyn Bowl offers a lively, energetic atmosphere reminiscent of the vibrant nightlife found in the best nightclubs on the Vegas strip.
Beer Park at Paris provides a unique rooftop experience with stunning views, blending the excitement of sports with a relaxed outdoor setting.
TAP Sports Bar boasts a bustling ambiance, ideal for mingling with fellow sports fans, plus it's easily accessible from the Deuce bus Las Vegas.
Finally, Yard House, at the LINQ Promenade, and Dawg House at Resorts World provide a more relaxed and casual atmosphere. They're great options if you prefer a laid-back ambiance with classic pub fare.
Comparison Based on Menu Offerings
Menu offerings play a vital role in enhancing your experience. Charlie's Bar & Grill offers an upscale dining experience with gourmet options like prime rib and lobster bisque.
Beer Park at Paris combines a diverse menu, including gourmet hot dogs and tacos, with an outdoor setting and panoramic Strip views.
TAP Sports Bar serves classic pub-style dishes like nachos and sliders, ideal for a bustling sports bar atmosphere.
Yard House and Dawg House each provide a relaxed and casual dining experience with classic pub fare, appealing to those who prefer a relaxed setting.
Comparison Based on Sports Coverage
When evaluating these bars, it's crucial to assess the quality of sports coverage. Blondies Sports Bar & Grill features numerous screens dedicated to sports, ensuring no action is missed.
Beer Park offers a unique blend of sports and open-air views, with large screens against an iconic Strip backdrop.
Brooklyn Bowl at the LINQ Promenade stands out with its combination of live music and bowling, creating a vibrant atmosphere full of excitement.
The New York New York Hotel also offers plenty of screens to watch sports on and kick back.
Lastly, Yard House and Dawg House provide sports coverage within a more relaxed setting, making them ideal for a casual sports-watching experience while enjoying classic pub fare.
Frequently Asked Questions
Got more questions about bars on the strip? Learn more about these bars here.
What Are the Operating Hours of Sports Bars on the Las Vegas Strip?
The operating hours can vary widely depending on the specific establishment.
Generally, most sports bars cater to both daytime and nighttime crowds, with some opening early for brunch and others staying open late into the night.
It's advisable to check the schedule of the sports bar of your choice ahead of the big game.
Do These Sports Bars Offer Reservations for Game Nights?
Reservations for game nights can vary depending on the sports bar. While some may offer reservations, many, like the Beer Park or Yard House, do not.
Additionally, considering the high demand during major sporting events, it's a good idea to inquire well in advance if you're planning to secure a reservation.
What Types of Food and Drinks Are Typically Available at These Sports Bars?
They typically offer a diverse menu, including classic bar favorites like wings, burgers, nachos, and a variety of beverages ranging from draft beers to cocktails.
Many also feature upscale options such as gourmet cuisine, ensuring there's something for every palate while enjoying the game.
Are There Any Sports Bars That Cater Specifically to Fans of a Particular Sport?
Yes, there are bars on the Strip that cater specifically to fans of particular sports.
Some bars focus on specific sports like football, soccer, or basketball, creating an immersive experience tailored to that sport's enthusiasts.
What Are Some Tips for Choosing a Sports Bar on the Las Vegas Strip?
When choosing a sports bar on the Las Vegas Strip, consider factors like the atmosphere you prefer, the quality of sports coverage, menu offerings, and whether it caters to fans of specific sports.
Checking reviews and asking for recommendations can also help you find the perfect spot to enjoy the game.
Head to a casino if you're looking for a FREE drink in Las Vegas!
Conclusion
In the dazzling world of sports bars on the Strip, one thing is abundantly clear: there's a venue for everyone.
From the elegance of Blondie's to the ambiance of TAP Sports Bar at MGM Grand, these establishments cater to the diverse tastes of their patrons.
The extensive menus, encompassing everything from gourmet cuisine to classic comfort food, ensure that your taste buds are as entertained as your eyes glued to the screens.
Whether you seek a refined atmosphere, a nightclub-like energy, an open-air setting, or a relaxed environment, the sports bars on the Strip have it all.
So, whether you're cheering for touchdowns, goals, or slam dunks, these places promise a front-row seat to the action, making your visit to the Las Vegas Strip an unforgettable sports adventure.