18 Cheapest Bars on The Strip (Cheap Drinks & Happy Hours)
(This article may contain affiliate links. If you click through and make a purchase, we will receive a small commission at no additional cost to you. )
A trip to Las Vegas can get expensive, even before you factor in what you're bound to spend at the slots and tables. Shows, shopping, fancy hotels, and tons of trendy bars and restaurants will all have you reaching for your wallet. But there are plenty of ways to save on food and drinks–as long as you know where to look for the deals.
Here are 18 affordable bars on the Las Vegas Strip with cheap drinks and great Happy Hour specials:
Read on for more about these hot spots and the fantastic deals they offer. There's truly something for everyone in Las Vegas, from super-cheap dive bars serving nothing but draft beer and hot dogs to upscale international dining "experiences" from famous chefs–and everything in between.
As always, details on cheap drink specials, hours, and menus are subject to change, so be sure to check with the venue for updated information before heading out for the night.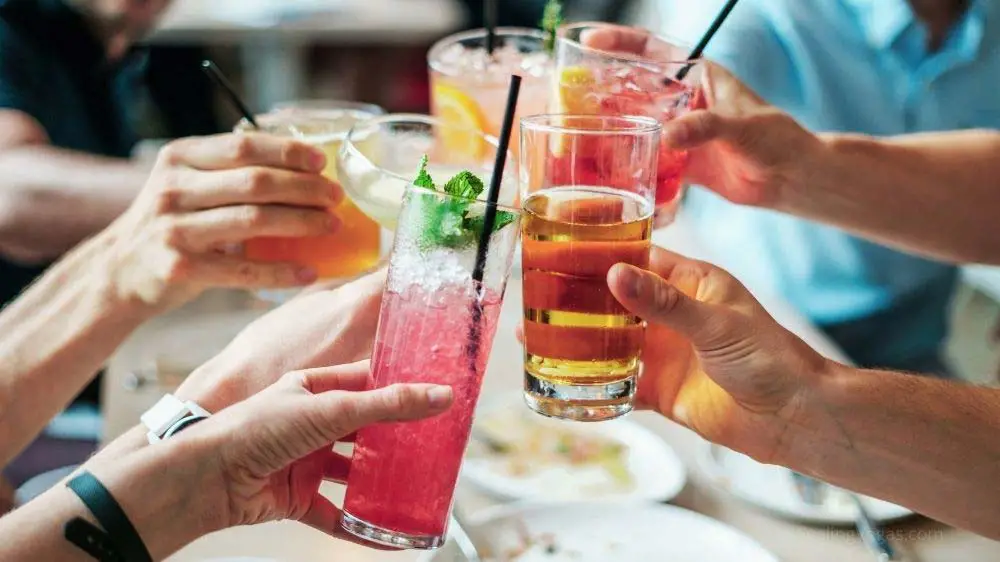 Located inside the Flamingo Hotel and Casino, the Las Vegas branch of the Buffet-inspired chain bills its Happy Hour as running "all day every day," with $5 domestic beers, $6 well drinks, $7 house margaritas, $22 draft pitchers, and a variety of inexpensive bar snacks and appetizers like $8 baskets of fried pickles and $9 dishes of spinach and artichoke dip.
The vibe and decor are exactly what you'd expect from the name–airy, easy, and island-inspired. It's a place to kick back, eat, drink, and enjoy life. Jimmy would feel right at home.
Hours are Sunday-Thursday 8 AM-10 PM, Saturday and Sunday 8 AM-11 PM. (top)
Located near the main casino in the Circus Circus Hotel and Casino, Slots a Fun's famous $1 draft beer and $1 hot dog deal can't be beaten.
Designed as a "grown-up arcade," the casino is the only place on the Strip that still offers coin-operated games and slots. With classic rock on the speakers and low-stakes table games, Slots a Fun is perfect if you're looking for a good time on the cheap.
Rowdy and casual, Slots a Fun has a dive-bar vibe and is the ideal place to let it all hang out. Cheap drinks and slots, what's not to like!
Slots a Fun is open 24 hours, seven days a week. (top)
RELATED: Looking for a free drink in Sin City? Find out how to get free drinks in our article here.
Located at 2985 Las Vegas Blvd S, Peppermill, which opened in 1972 and still features many of the original menu items, is more than just the oldest bar on the Las Vegas Strip.
It's an institution–a swanky Vegas nightspot that has shown up in countless movies (including Showgirls!), music videos, and "Best of" lists. It remains a place to see and be seen with its neon-lit booths and lively atmosphere.
Grab a spot by the indoor fire pit/reflecting pool and enjoy half-price beer, wine, and cocktail drinks from 3-6 every day, as well as snacks like sliders and quesadillas.
Hours are Sunday-Wednesday 7 AM-11 PM, Thursday-Saturday 7 AM-2 AM (top)
Use the map above when you're on the Las Vegas Strip to find out where the cheap bars and happy hours are near you.
This low-key spot, known for its mouth-watering tacos and margaritas, is located in the Fashion Show Shopping Mall at 3200 Las Vegas Blvd.
El Segundo Sol, which says it's trying to recreate the feeling of wandering into a hidden taqueria, boasts a huge open-air patio, authentic Mexican fare, and more than 100 specialty tequilas.
"Loco Hour," as they call it, runs from 3:30-6:30 PM Monday through Thursday and includes $4 tacos, $4.50 draft beers, $5.50 well drinks, and margaritas and sangrias for around $6.
El Segundo Sol is open Sunday-Thursday from 11 AM-9 PM, Friday and Saturday 11 AM-10 PM. (top)
Located inside the Grand Canal Shoppes at The Venetian, Sugarcane Raw Bar and Grill is a brasserie-style restaurant serving globally inspired small plates and artisanal cocktails in a laid-back setting.
Their Happy Hour deal runs from 3 PM-6 PM daily and from 10 PM-Midnight Friday and Saturday. Draft and bottled beers are $6, wines are $8 a glass, and mixed drinks with premium liquors are $7-$8 each.
The happy hour menu also includes upscale bites like goat cheese croquettes, bacon-wrapped dates, and a mini salmon poke bowl for between $5-$8.
Sugarcane Raw Bar and Grill is open Sunday-Thursday 8:30 AM-11 PM, Friday and Saturday 8:30 AM-12 AM. (top)
Tucked away inside the Forum Shops at Caesars, Trevi specializes in traditional Italian food, including house-made gelatos and sorbets. The Las Vegas Review-Journal has named Trevi the best Italian restaurant in Las Vegas.
Happy Hour is from 4-6 PM every day and offers frozen bellinis for $4 each, bottled beers for $5, wines by the glass for $6, and cocktails for $8. Small plates like homemade meatballs and tomato bruschetta are $7, while Trevi's famous pizzas are $10.
Trevi's hours are Sunday-Thursday 12 PM-9 PM, Friday and Saturday 12 PM-10 PM. (top)
For more than 15 years, the main bar at Casino Royale sold bottles of Michelob for $1–more than 7 million of them, they say. Alas, the $1 bottle promotion has come to an end.
Not to worry, however. Casino Royale still sells bottled beer–not just Michelob–for $3 each. The bar doesn't offer food, but there are several places to grab a casual bite to eat in the nearby food court.
It's not an upscale hot spot, but sometimes all you want is a low-key place to grab a quick drink, and Casino Royale is here to serve.
Casino Royale's Las Vegas hotel bar is open 24 hours a day, seven days a week. (top)
Blondies Sports Bar and Grill, located at Planet Hollywood in the Miracle Mile Shops, claims it has the best Happy Hour in Las Vegas, and it might be right.
Monday-Friday, from 3-6 PM and again from 9 PM-12 AM, they offer all-you-can-drink well drinks and domestic drafts for $20.
Additionally, if you need an eye-opener, they offer a $5 bloody mary and bloody maria with their breakfast menu from 7 AM-11 AM. They don't offer Happy Hour food specials, but their regular menu is unfussy and reasonably priced.
Blondies is open from 7 AM-12 AM, seven days a week. (top)
Flights, located in the Miracle Mile Shops, bills itself as "high-quality comfort food meant to be shared." The restaurant specializes in trios.
If you want to try several different versions of a drink, then Flight's Happy Hours are for you. That's right, Happy Hours, plural.
All-day long, Flight offers $10 specials on different kinds of drink trios, depending on the time of day. From 9 AM-12 PM, you can choose a flight of three bloody marys or mimosas. From 12 PM-3 PM, it's flights of three beers and wines.
From 3 PM-6 PM, it's time for three different cocktails, and from 6 PM to closing, it's back to beer and wine again.
The restaurant is open from 9 AM-11 PM, seven days a week. (top)
Located inside the Miracle Mile Shops at Planet Hollywood, Ocean One Bar and Grille bills itself as Las Vegas's busiest restaurant. They definitely like to keep things simple.
There's no such thing as Happy Hour. Cocktails are 3 for $10, all day every day. Additionally, all lunch items are $4.99. Ocean One serves a variety of classic staples in an unfussy, casual setting. This is a great spot for cheap eats!
Ocean One is open from 7:30 AM-11:30 PM, seven days a week. (top)
Buddy Valastro, TLC's "Cake Boss," helms Buddy V's Ristorante inside the Grand Canal Shops at The Venetian.
The restaurant features classic Italian dishes as well as Valastro's famous desserts. Daily Happy Hour specials from 4:30 PM-6 PM include domestic bottled beers, house wines, and prosecco and sangria for $5 and "small bites" like eggplant parmesan and ricotta dip for $6.
Buddy V's Ristorante is open Sunday, Monday, and Thursday from 11:30 AM-10 PM, Friday and Saturday from 11:30 AM-11 PM, and Tuesday and Wednesday from 4:30-PM-10 PM. (top)
Hail Britannia! This classic gastropub, located in the Grand Canal Shops at The Venetian, offers classic British fare like fish and chips or bangers and mash in an upscale pub atmosphere.
The bar boasts a bespoke whiskey collection with more than 35 options listed. Happy Hour is every day from 4-6 PM, and there's no fussing with a special menu: all drinks are half-price.
The Royal Britannia Gastropub is open seven days a week from 11 AM-9 PM. (top)
Located in the LINQ Promenade, Virgil's Real Barbecue stakes its claim to being the best barbecue in Las Vegas.
It offers Southern-inspired BBQ with all the trimmings, a wide variety of craft beers and cocktails, and an outdoor patio, along with live music. Happy Hour is from 3-6 PM daily, when you can get $5 drinks along with appetizer specials.
Virgil's is open from 8:30 AM-11 PM daily. (top)
Rockhouse, located in the Grand Canal Shops at The Venetian, is a spacious, industrial-feeling adult playground with billiards, 80 HD TVs, and three full-service bars with a variety of drink specials.
Thursday night is karaoke night, and liquid courage is $5 per shot. On game days, some draft beers and whiskey drinks are $6 each. And every day until 7 PM, well drinks and domestic beer (draft) is $5.
Rockhouse is open Monday-Wednesday from 11 AM-10 PM, Thursday from 11 AM-12 AM, Friday from 11 AM-1 AM, Saturday from 9 AM-1 AM, and Sunday from 9 AM-10 PM. (top)
Located in the Miracle Mile Shops at Planet Hollywood, Cabo Wabo Cantina is meant to have the same beachy, laid-back vibe of Cabo San Lucas, Mexico.
It offers a Strip-side patio from which diners can view the Bellagio's famous fountains. Happy Hour is Monday-Friday from 3-5 PM, when regular margaritas, red and white sangrias, draft beers, and select appetizers are all half-price.
Cabo Wabo Cantina is open Friday-Monday from 8 AM-10 PM and Tuesday-Thursday from 11 AM-10 PM. (top)
Canonita, in the Grand Canal Shops at The Venetian, offers traditional, scratch-made Mexican food on a patio overlooking the water–and from a new street taqueria on the sidewalk.
It offers two Happy Hour periods per day, from 3-6 PM and from 9 PM until closing. Beers and cocktails are $4, while specialty cocktails and margaritas are $5. Wines are $5.50 per glass.
Canonita is open Monday-Friday 11 AM-10 PM and Saturday-Sunday 10 AM-10 PM. (top)
Another hot spot in the Grand Canal Shops, the Trustworthy Brewing Company is a brewpub and taproom serving American bar-style food and West Coast-inspired craft beer.
From 3-6 PM and from 9 PM-closing every day, they offer $2 off draft beers, wines by the glass, and specialty cocktails, along with 50% off appetizers.
Trustworthy is open Monday and Thursday from noon to 9 PM, Friday-Sunday 11:30 (top)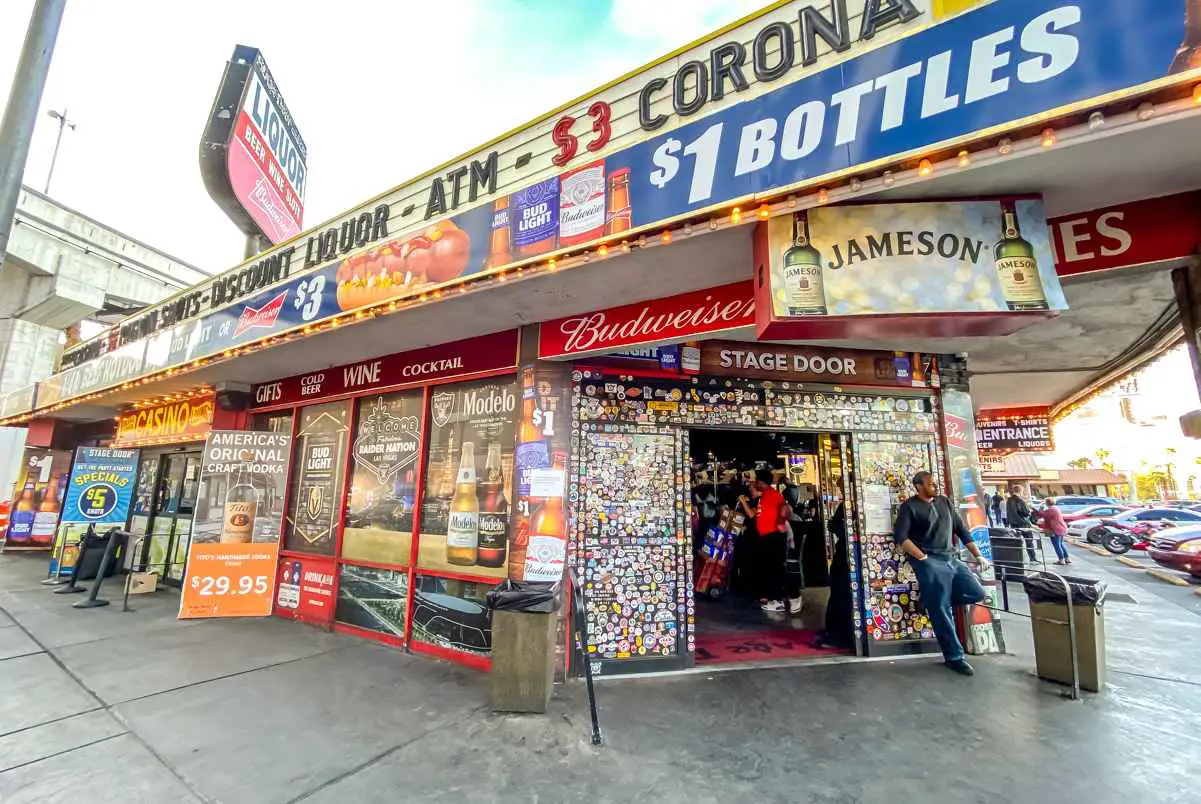 The Stage Door Casino, at 4000 Linq Lane, is technically half a block off the Las Vegas Strip, but it's worth the short walk. The casino opened in 1976, and Frank Sinatra was known to stop by after performances.
Since those days, Stage Door has sold over half a million hotdogs and paid out over $100 million in gambling winnings. With slot machines at the tables and its own liquor and convenience store next door, it's practically one-stop shopping.
Stage Door Casino also offers loads of drink specials. From $1 bottled Budweisers and $2 drafts to $3 Coronas, there's no cheaper beer to be found. Shots and mixed drinks are reasonably priced, with rotating specials.
We've posted a complete article about Stage Door Casino on our website here. Check it out.
The Stage Door Casino is open 24 hours a day, seven days a week. (top)
More Vegas Bars & Drinks Info