Coin Operated Slot Machines in Las Vegas – Where to Play! (Map)
(This article may contain affiliate links. If you click through and make a purchase, we will receive a small commission at no additional cost to you. )
Maybe you remember the melodic sound of coins as they poured out of a slot machine. Or maybe, like me, you're just captivated by the nostalgia of these coin in coin out slots. Well, you will be happy to know that there are a few places where you can still play coin-operated slot machines in Las Vegas.
Where can you play coin operated slot machines in Las Vegas?
Head to Fremont Street in downtown Las Vegas where you can find coin-operated slot machines at California, El Cortez, Fremont, Main Street Station, and the Plaza Hotel.
Downtown Las Vegas is where old school Vegas was born so it's not surprising that the best coin-operated slot machines can be found here as well. In this article, we'll dive into the top locations to play these machines and what you need to know.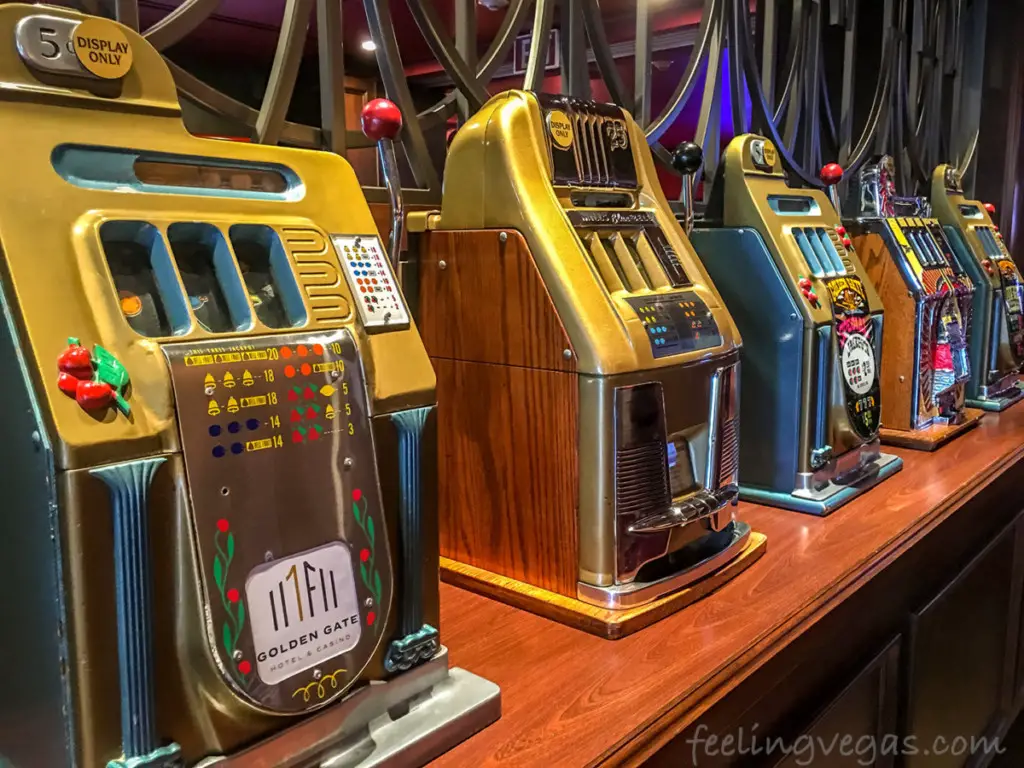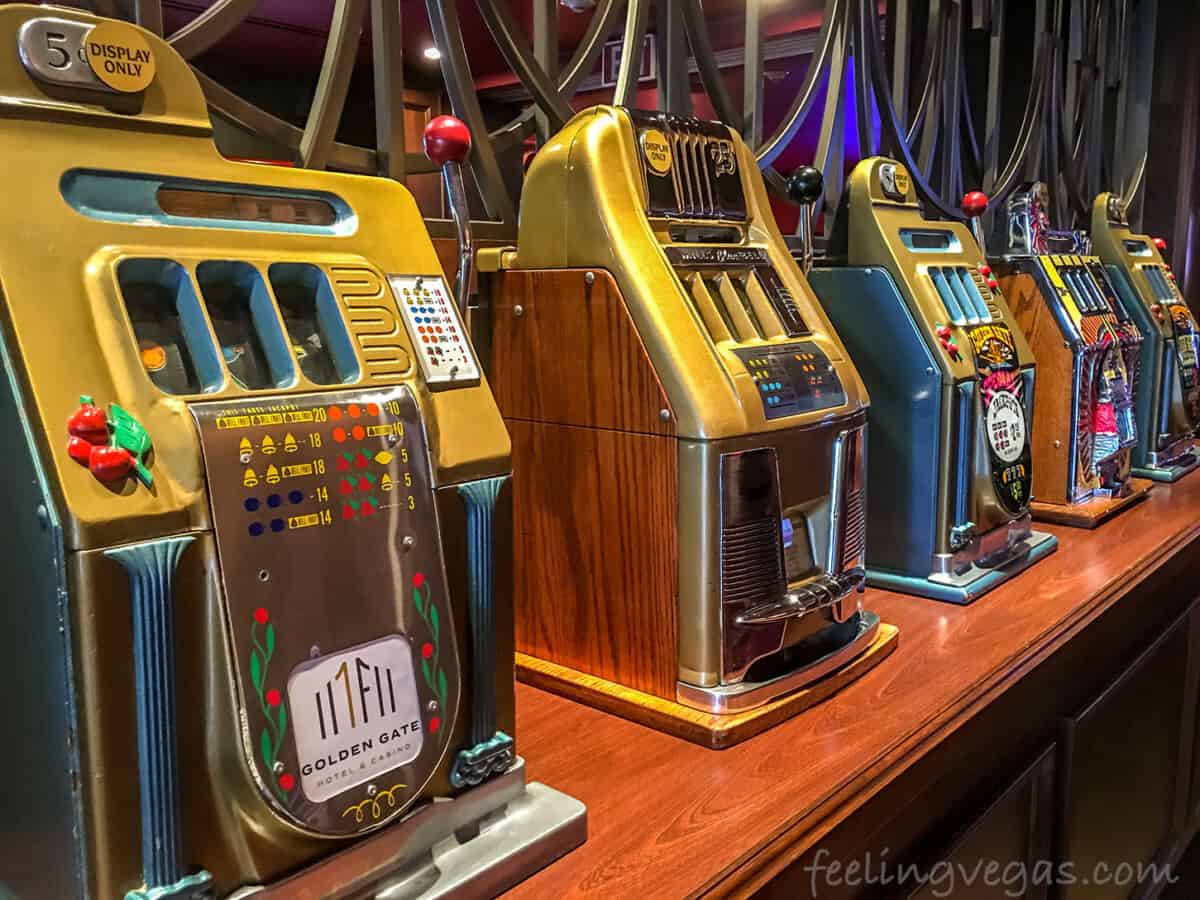 A Little Slot Machine History
The first slot machine was built in 1895 in San Francisco. The inventor Charles Fey was a mechanical engineer who named the original slot machine the Liberty Bell. The machine itself was mechanical in nature and operated by a series of levers and spinning reels.
You simply pulled the lever causing the wheels to spin. If the three cracked liberty bell symbols lined up, you would win the jackpot of 50 cents! The game was wildly popular, and the "one-armed bandit," or "fruit machine" as the mechanical machines were referred to, started showing up everywhere.
If you'd like to see it, the original Liberty Bell slot machine is on display at the Nevada State Museum in Las Vegas.
Vintage Coin Operated Slot Machines in Las Vegas
Vintage slot machines are getting harder and harder to find these days. Even in Las Vegas, where there are close to 200,000 slot machines throughout the city, coin-operated models are few and far between.
The one area of town where you can still find several casinos with coin slot machines is downtown Las Vegas. Fremont Street is the old section of Las Vegas. This is the street where Vegas began, and many of the casinos here are true vintage Las Vegas.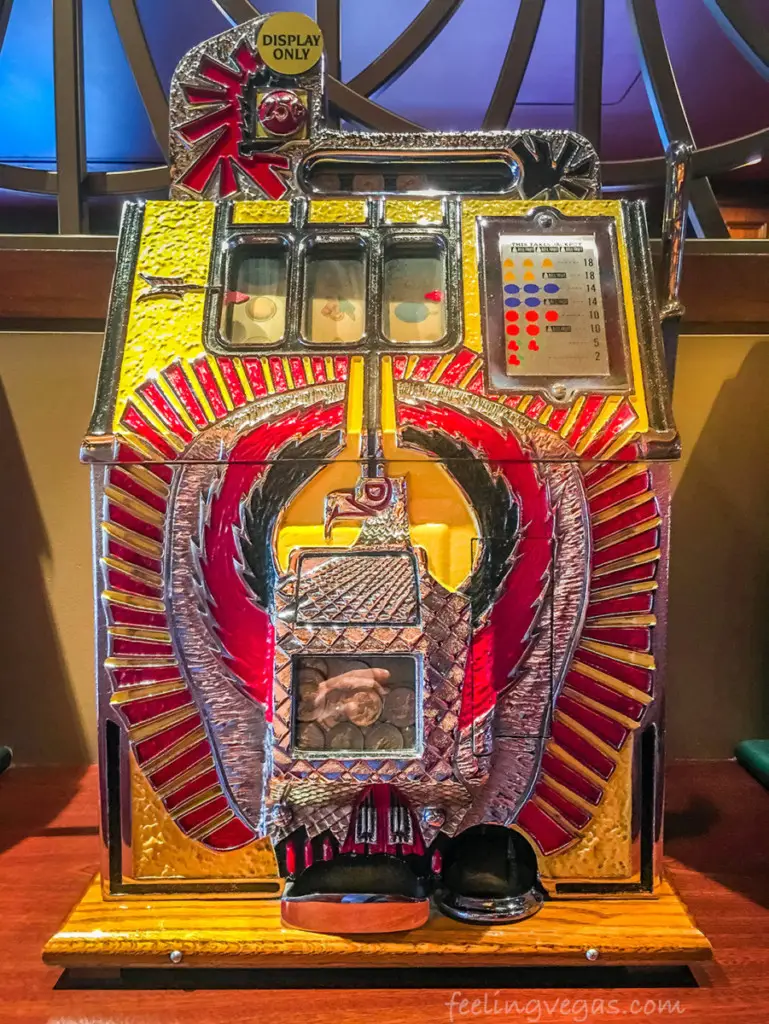 The casinos on Fremont know that the visitors come downtown to experience old-school Vegas, and they cater to that. A handful of these casinos keep some coin slots running for those that want to experience Las Vegas a bit like it was in days gone by.
Coin Operated Slots Along Fremont Street in Downtown Las Vegas
El Cortez Hotel and Casino
At the El Cortez, you can enjoy the sweet, sweet sounds of hitting a jackpot on over 200 plus coin-operated machines. The El Cortez regularly wins the "Best of Vegas" awards.
Fremont Hotel & Casino
"Penny Lane" at Fremont Hotel and Casino is a huge area of penny slots, including some that are coin operated. Located right on the corner of the Fremont Street Experience.
Main Street Station Casino Brewery Hotel
You can still hear the clanking of coins as they're dropped into some of the machines at Main Street Station Hotel & Casino. An excellent brewery as well.
California Hotel & Casino
The California Hotel & Casino has coin slots and coin poker. The payouts are better than you'll find on The Strip.
Plaza Hotel & Casino
Coin slots are an endangered species, but not at the Plaza Hotel and Casino. Old world Las Vegas with modern amenities. There's nothing quite like listening to the sound of coins hitting the tray during a jackpot.
(These are also excellent places to stay when you're visiting Las Vegas. You can check hotel rates for downtown Vegas in our Visitor Resource Guide here).
The D Las Vegas
While The D does NOT offer coin slots, they do have an entire second-floor casino full of vintage slot machines. These machines have been converted to the TITO system (see below).
Ticket In Ticket Out (TITO) in Las Vegas
Most of the machines in Las Vegas, including slots and video poker, have been modernized to use the Ticket In Ticket Out (TITO) system. These machines accept bills and coins but payout using a paper ticket.
When you cash out, this ticket can be inserted into another machine or taken to the cashier for payment. While not as much fun, the TITO system is a bit easier than walking around with a purse or pocket full of heavy coins.
Problems with Coin Slot Machines in Las Vegas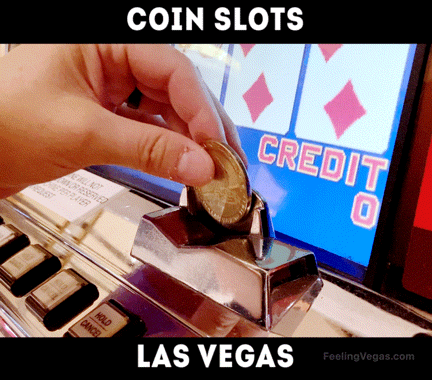 There are a few reasons that coin slot machines are a dying breed in Vegas and elsewhere. They are notoriously difficult to maintain. Mechanical machines break down much more often than digital ones.
They are also much easier to cheat. People try to cheat them all the time using magnets and dummy coin slugs.
Case in point, my wife and I were playing coin slots on Fremont Street one evening, and my wife hit a small jackpot (very small😆), and we took the coins (the machine paid out in tokens) up to the cashier, and they wouldn't accept half of them because they weren't tokens from that casino.
We finally had to take them over to the machine we won on and have them open it up. Inside we found dozens of tokens from another casino mixed in. So they ended up paying out, but this illustrates some of the problems with coin machines for players and casinos alike.
Coin Operated Slot Machines – Best Coin Slots in Vegas
Having said all that, it's still a ton of fun playing these vintage slots. While you may occasionally find a coin slot on The Strip here and there (it's always changing), the antique coin slots downtown are the best coin slots in Vegas, in my opinion.
I'd recommend visiting the El Cortez and the California casinos downtown or Circus Circus on the Strip. Even these locations only have small areas dedicated to coin or token slots, so temper your expectations.
It's good to know, however, that coin-operated slot machines haven't completely disappeared from Las Vegas.
Vegas Slot Machine FAQs
Does Vegas have penny slots?
Yes! Every casino in Las Vegas has penny and nickel slots, including the big fancy casino resorts on The Strip. Just walk through the slot machines on a casino and you'll be sure to find penny and nickel slots.
What do casinos do with old slot machines?
Old slot machines in Vegas are either destroyed or used for spare parts. I sometimes see old slot machines that have been stripped down at a nearby recycling center. Due to regulations at the Nevada Gaming Control board, old slot machines cannot be sold as is.
How do you know if a slot machine is loose?
Keep an eye on the slot machines at the end of an aisle or standing out on the floor that can be seen from many directions. Casinos like to encourage other players by placing their loosest slot machines where all the other players can see them win.
Do casinos move slot machines?
Slot machines are regularly moved around casino floors in Las Vegas. Most casinos have an area for new slot machines, and here the machines are changed out regularly.
Is there a strategy for slots?
Slot machine results are mathematically based and are completely random as designed. However, the odds of the machine are calculated so that the casino has an advantage. So, therefore, slot machines would not be considered a game of strategy.