Big Apple Roller Coaster: An Unforgettable Las Vegas Experience!
(This article may contain affiliate links. If you click through and make a purchase, we will receive a small commission at no additional cost to you. )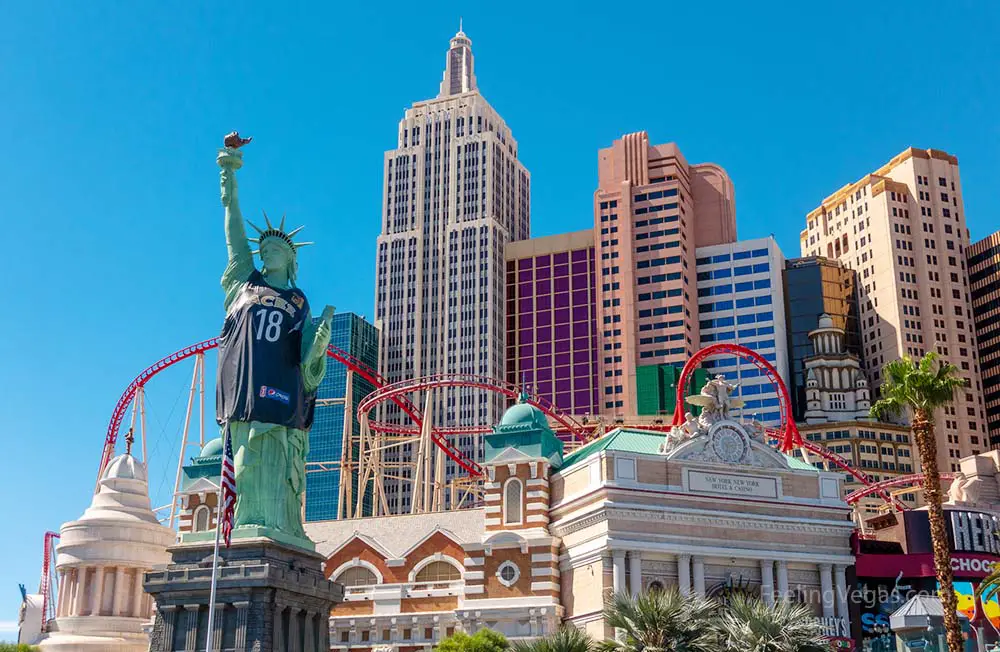 If you're in Las Vegas, and looking for an exciting adventure that combines the thrill of an amusement park ride with the iconic sights and sounds of the Las Vegas Strip, look no further than the Big Apple Coaster at the New York-New York Hotel and Casino.
As you buckle up, prepare your senses for a ride that reaches speeds up to 67mph and features the planet's very first 180-degree "heartline" twist, a riveting 144-foot drop, and a diving maneuver that caters to more than 1.4 million riders annually.
As you enjoy the ride, take a moment to appreciate the surreal setting of this unique attraction. After all, where else can you find such a thrilling and immersive combination of Las Vegas style and New York City flair? Whether you take a ride during the day or night, the Big Apple Coaster will surely leave you with lasting memories and a desire to explore even more exciting adventures.
Let's jump in and I'll tell you everything you need to know about riding this fun Sin City coaster.
Compare and save! Check current New York-New York room rates at TripAdvisor.
Riding The Coaster in Las Vegas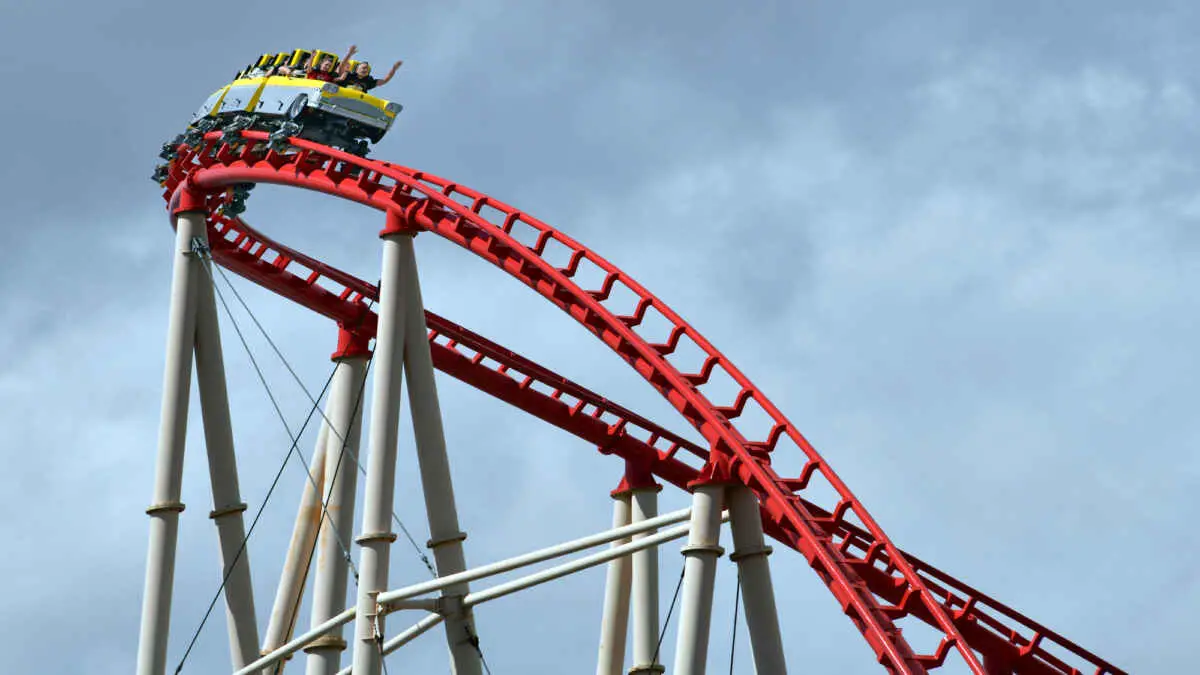 The Big Apple Coaster (formerly known as the Manhattan Express) is one of the most popular attractions on the Las Vegas Strip and is one of the highlights of a visit to the NYNY Hotel and Casino. 
As you board the roller coaster (which looks like a suped-up New York City taxicab) prepare yourself for an exhilarating experience. Starting with a climb and a small drop followed by a heart-pounding 144-foot drop, you'll feel the adrenaline rushing through your veins.
Once you regain your composure, hold on tight for a 180-degree "heartline" twist and diving movement that will have you screaming your lungs out. This unique element takes you through a thrilling barrel roll, flipping your world upside down, and allowing you to feel the excitement of this one-of-a-kind coaster.
Big Apple Coaster Highlights
Length of track: 4,777 feet long
Height: 203 feet above street level
Largest Single Drop: 144 feet
Top Speed: 67 mph
Length of Ride: Approximately 2 minutes and 45 seconds
Note: When standing on the Strip looking up at the ride, it doesn't look that high off the ground, but take it from me, once you get to the top of the big drop and are looking down at Las Vegas Boulevard below, it feels A LOT higher!
Check out the video below for a front-row view of what it is like to ride the roller coaster during the day:
Views of Las Vegas
While the twists, turns, and inversions are a significant part of the Big Apple Coaster experience, the breathtaking views of the Las Vegas Strip are equally exciting. As you soar high above the bustling city streets, take a moment to admire the stunning vista that surrounds you.
This unique vantage point allows you to see famous landmarks and get a bird's-eye view of the vibrant city.
Tickets & Prices
You can plan and buy your tickets in advance if you want to ride the coaster while in Las Vegas or you can purchase them once you're here. The advantage to buying tickets in advance is that it can significantly reduce the wait in line if it's busy.
Big Apple Coaster
Ticket
Schedule
Ticket Price
Regular Ride
Monday – Thursday, 11 AM to 11 PM
Friday – Sunday, 11 AM to 12 AM
$19 – $25 *
Military, Vegas locals,
& First Responders
Monday – Thursday, 11 AM to 11 PM
Friday – Sunday, 11 AM to 12 AM
$18
Re-Rides
All Day
$10
The price varies due to what MGM Resorts calls "Dynamic Pricing." This means that roller coaster ticket prices rise during peak periods.
Whether you ride the Big Apple Coaster during the day or at night is a personal preference and you're guaranteed spectacular views of the Las Vegas Strip no matter when you go. However, note that when you purchase your tickets (whether in advance or in-person) they will be for a reserved time range. Each ticket will give you a 2-hour window in which you can ride the coaster.
Pro Tip: Once you've ridden the coaster 1x, you have the option to ride again the same day for just $10.
You'll find the NYNY roller coaster entrance inside the hotel at The Big Apple Arcade. The arcade is home to the latest video games, plus some old-school classics like air hockey and skeeball.
NYNY Roller Coaster Packages
Big Apple Coaster
Package
Price
Scream Pass (Unlimited rides all-day)
$65
Central Park Pack (1 coaster ticket + 100 arcade credits)
$49
Manhattan Pack (2 coaster tickets + 200 arcade credits)
$79
The Big Apple Pack (4 coaster tickets + 400 arcade credits)
$149
Play Pack (1 coaster ticket and $50 arcade credit)
$89
There are also different packages that you can purchase that include one or more rides on the coaster, combined with credits to the attached arcade and some other goodies.
Scream Pass – The Big Apple Coaster Scream Pass includes unlimited rides on the roller coaster for the entire day, which means you can ride the coaster as many times as you want. It also includes a souvenir digital photo of your ride. The Scream Pass is a great option for those who want to experience the coaster multiple times.
Central Park Pack – Includes a coaster ticket, 100 credits for the arcade, a plushy toy, and a complimentary hot dog with the purchase of any beverage from Nathan's.
Manhattan Pack – This package contains two roller coaster tickets and 200 credits to the arcade, as well as two Big Apple t-shirts and hot dogs if you purchase a drink from Nathan's Hot Dogs.
The Big Apple Pack – This one's for the whole family and includes 4 roller coaster tickets, 400 credits for the arcade, four t-shirts, a big plush toy, and four hot dogs when you purchase four drinks from Nathan's.
Play Pack – Finally, the Play Pack comes with 1 roller coaster ride, a $50 arcade credit, coaster t-shirt, and a hot dog from Nathan's with a purchase of a drink.
Virtual Reality (VR): Not Your Ordinary Ride
If all of that doesn't sound enough fun, you can upgrade your roller coaster into another dimension with virtual reality! That's right, you can ride the roller coaster while wearing advanced VR goggles to transform the experience into something out of this world.
The virtual reality headset will give you a 4D experience using visual graphics that are perfectly timed with the ride to take this roller coaster to the next level.
So cool! Check out this video to see what the virtual reality ride on the coaster is all about:
Get Married on The Big Apple Coaster
The Big Apple Coaster in Las Vegas even offers the chance for true coaster enthusiasts to get married on the ride. The ceremony is performed at the station while the couple sits in the coaster's front car.
Once the "I do's" have been said, the coaster flies out the door with the newlyweds on their first roller coaster ride as a married couple. What could be more fun than that? If you'd like to plan your Big Apple Coaster wedding, call MGM resorts at 702-740-6616.
Coaster Ride Requirments & Weather
In order to hop on the ride, you'll need to be at least 54″ tall without shoes. So the ride is a no-go for the littlest ones, but it is a great Las Vegas family attraction for those with older children.
Also, note that rides on the roller coaster are subject to weather conditions as the coaster is outside on top of and in front of the New York-New York resort. Weather conditions that will cause the coaster to temporarily shut down include rain and/or excessive wind.
Did you know you can drive a tank in Las Vegas? See Can You Drive a Tank in Vegas? (Crush a Car With a Tank!) to find out more.
Frequently Asked Questions
What Las Vegas hotel has a roller coaster on the roof?
New York New York Hotel and Casino is where you'll find the rooftop roller coaster ride in Las Vegas.
How long is the Big Apple Coaster ride?

The roller coaster ride at NYNY Hotel and Casino in Las Vegas is three and a half minutes long from the moment you pull out of the station until you exit the ride.
Are there any discounts or coupons available for the Las Vegas roller coaster?

Discounts and coupons for the coaster can sometimes be found online at Vegas.com.
How long is the wait for the NYNY Las Vegas coaster ride?
You can expect a wait of between 0-20 minutes for the roller coaster on top of New York New York in Las Vegas. During weekdays there is often no wait at all, while weekends and holidays may have a short line. If you do encounter a line, it will generally move pretty quickly.
New York-New York Hotel & Casino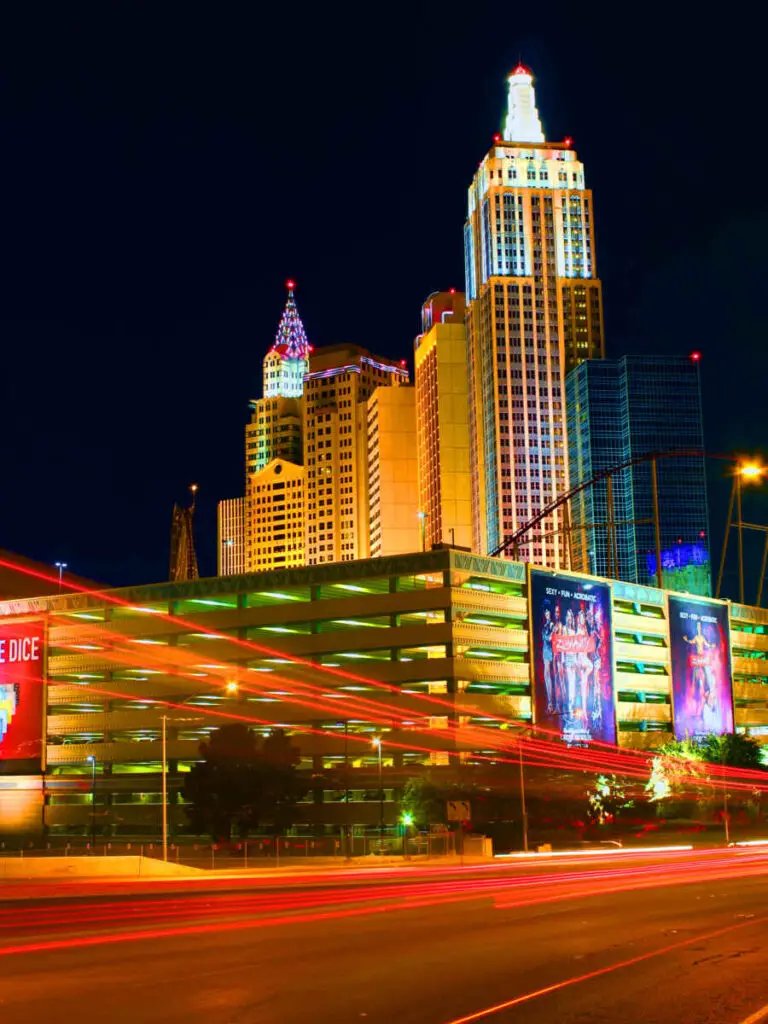 The coaster is a part of the New York-New York Hotel and Casino. The hotel is forty-nine stories tall and has more than two thousand rooms, fifteen restaurants, nine bars, a casino, a spa, and a pool. It is on The Strip and only a few minutes by car from the airport. 
As the name suggests, the hotel has a New York City theme with iconic NYC features and decor. The casino is almost as big as New York City's Times Square with eighty-four thousand square feet of games and entertainment, and the restaurants feature classic New York food, like pizza, hot dogs, and more. 
The hotel also has plenty of live music and shows like Cirque du Soleil. While many of the shows and the casino are geared towards adults, there's plenty for the kids to do as well.
If you want to see more of the NYNY hotel and casino, check out this video from Details in Luxury, which gives an overview of the rooms, the casino, the restaurants, the pool, the entertainment, and of course, the coaster:
Find the best room deals at New York-New York and save big with TripAdvisor!
Las Vegas Tourism Resources
If you are visiting Las Vegas, you want to make sure you have the best time possible. Whether you are focusing on casinos, relaxing, entertainment, or anything else, you can use the resources (available on Amazon.com) listed below to plan the perfect trip.
Fodor's Las Vegas (Full-color Travel Guide): Fodor's book is the ultimate guide to Las Vegas. You will find everything you need to know about hotels, casinos, restaurants, and how to get around the city. There are maps, color pictures, itineraries for all trip lengths, and lists of the top things to do, food, drinks, and more. The tips in this book come from Las Vegas locals, so you know you are getting the best information.

DK Eyewitness Top 10 Las Vegas: This is another great guidebook, which focuses on the top 10 casinos, bars, clubs, restaurants, and much more. There are maps with route suggestions, public transportation, and itineraries for you to follow to make sure you see all the best places while you are in Las Vegas.

Lonely Planet Pocket Las Vegas 5: This final guidebook will help you with the places to stay, eat, and go based on your budget. You will also have information like hours, prices, and website info for the places suggested in the book. There are also maps, tips, and itineraries covering Las Vegas Blvd.(the Strip), downtown Las Vegas, and other places to visit during your stay, like the Grand Canyon. 
Final Thoughts
The Big Apple Coaster at the New York New York Hotel in Las Vegas is a great way to experience some thrills while you are in the city. The coaster and hotel are conveniently located on the Las Vegas Strip, so you can enjoy a ride or two whether you are staying at the hotel or not.
Make sure to book your tickets in advance, and try out one of the coaster's fun packages for families or their cocktail nights.