Did you know that 120,000 couples get married in Las Vegas each year? That means Las Vegas plays host to around 10,000 weddings each and every month. After some research here's everything I've learned about what you need to do to get married in Las Vegas.
How to get married in Las Vegas? There are 7 easy steps to follow to get married in Las Vegas.
Las Vegas Wedding Legal Requirements
PreRegister for Marriage License
Pick Up Marriage License in Person
Decide Where to Get Married
Wedding Day
Get Certified Copy of Marriage License
Honeymoon
Las Vegas is famous worldwide for its weddings. It's super easy to get married in Las Vegas compared to many other states in the U.S. Blood tests are not required for couples wanting to get married and the best news is that there is no waiting period. You can get married as soon as you get your marriage license. So if you're wondering how to get married in Las Vegas just follow these 7 easy steps below.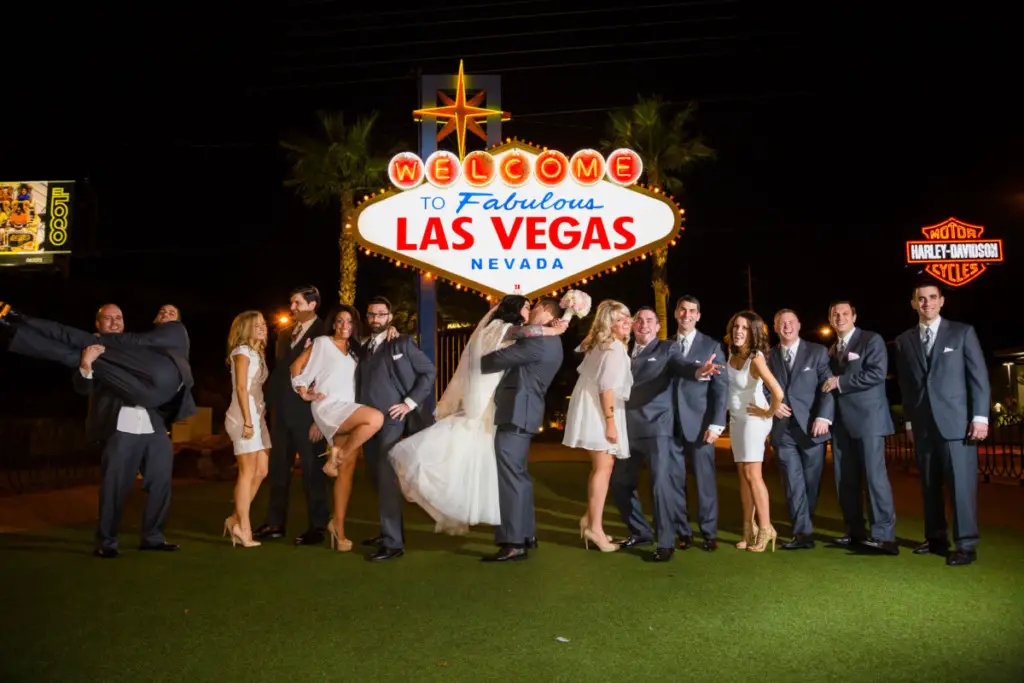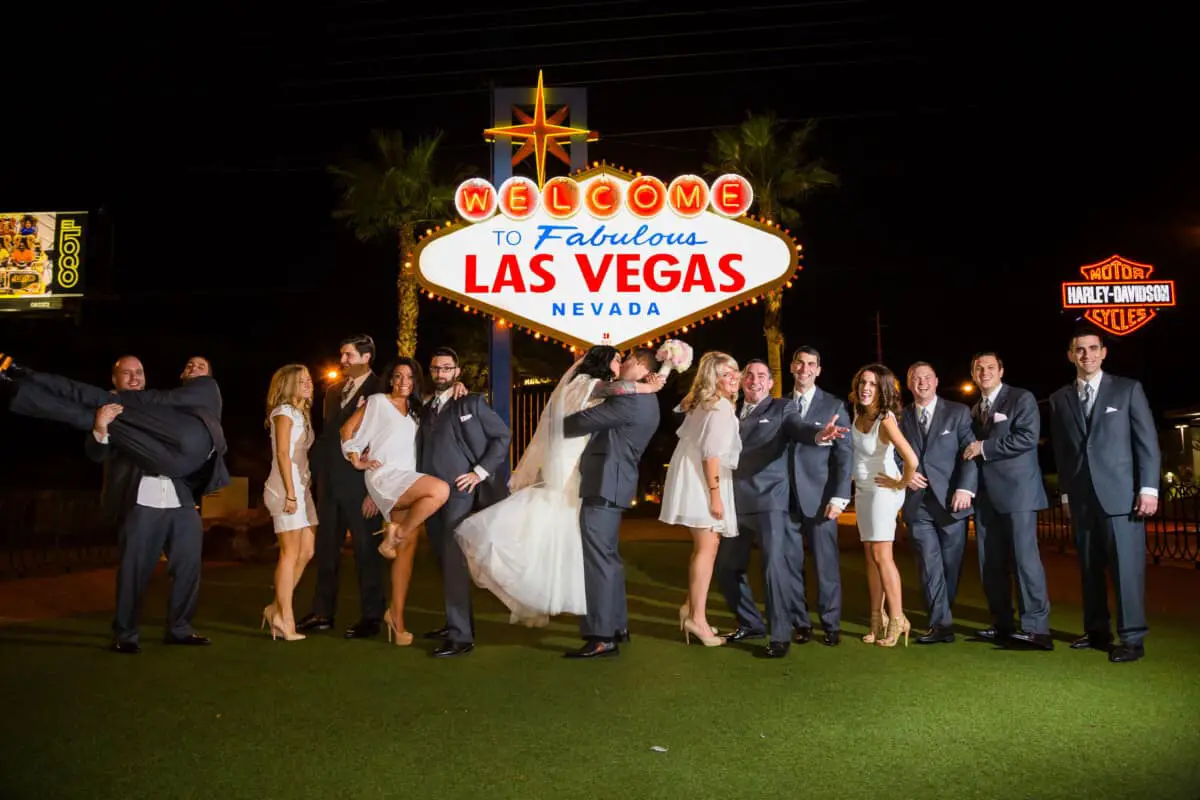 Are Las Vegas Weddings Legal? Find out in our article here.
Are We Eligible to Get Married in Nevada?
First, it's important to know if you're eligible to get married in the state of Nevada. Nevada, although pretty loose with its rules, does have three basic requirements that you as a couple must meet before you can get married.
Age Requirement
In the state of Nevada, both parties must be at least 18 years old. Pretty straightforward, however, there is a provision for getting married if you're underage.
If you are between the ages of 16 and 18 you can get legally married in Nevada with the consent of a parent (or legal guardian) as long as they give their consent in person when you apply for the marriage license. Of course, each person under 18 yrs will need this consent.
Not a Blood Relative aka Consanguinity
This should go without saying but a couple wishing to be married shouldn't be more closely related than second cousins. Marriage of any couples closer in blood relations than second cousins run the risk of breaking a law that I don't even want to mention here.
Not Currently Married
It's always a good idea when planning to get married to make sure that you're currently single (and by that, I mean single in every legal sense of the word). If not, you risk breaking another law that I also don't want to talk about here.
PreRegister for a Marriage License in Clark County
Applying for a marriage license in Clark County is much easier than other places. It gets even simpler if you preregister for a marriage license online.
You can preregister up to 60 days before the day of the wedding. Preregistration is not at all necessary because there is no waiting period between getting your license and actually getting married but it will save you a lot of time waiting at the marriage bureau.
Find out all the best places in Las Vegas to take wedding and engagement photos in our article here
How to Apply for a Marriage License in Clark County
Regardless of whether you preregistered or not, you will need to go to the Las Vegas Marriage Bureau to pick up your license. The license needs to be picked up in person.
If you preregistered it should be a quick and easy process to pick up the license.
You'll find the Las Vegas Marriage Bureau located inside the Regional Justice Center located at:
201 E. Clark Avenue, Las Vegas, Nevada (702) 671-0600
The Marriage Bureau is open every day, including holidays and weekends from 8 am to midnight. No appointment is necessary.
What Documents Do I Need to Get Married in Las Vegas?
Be sure to bring one of the following:
Drivers License
United States Passport
U.S. or Foreign issued Identification card that includes a photo and date of birth
Military ID
Resident Alien ID card
If you did not preregister it will take a bit longer at the marriage bureau but still it's not that bad. Again you will have to show up in person as a couple and fill out and submit the application for a marriage license.
Depending on how busy they are, you may have to wait for up to 1hr or more for them to process your application and prepare the license.
How much does a marriage license cost in Las Vegas? A marriage license in Las Vegas will cost $77 and may be paid by credit card or cash. No checks of any kind are allowed.
Find out the 8 huge benefits to getting married in Las Vegas in our article here
Where to Get Married in Las Vegas
Now we're getting to the fun part!
There is an abundance of wedding venues in Las Vegas. From the ultra swanky to one of the many small wedding chapels available along The Strip there is sure to be a location to meet your desires and budget.
Here are just a few of my favorites to get you started on your search:
Little Church of the West – A great location on the southern end of the Strip near the Welcome to Las Vegas sign. They provide traditional and themed weddings. Packages start at around $200
Wedding themes include: outdoor, Elvis, Western, Harley Davidson, Wedding Renewal and they even have a wedding ceremony that takes place under the Welcome to Las Vegas Sign! How cool is that?
Graceland Wedding Chapel – This cute little chapel has been on the Las Vegas Strip for more than 50 years! More than one celebrity wedding has happened here that's for sure. You can choose from a traditional wedding package or the Elvis Package in which an Elvis impersonator sings at your wedding ceremony! Prices here start at $199.
Chapel of the Flowers – They have three beautiful traditional venues to choose from: The Victorian Chapel, Magnolia Chapel and the Glass Gardens. They also offer tons of other destination locations such as the Grand Canyon, Valley of Fire, High Roller, and Red Rock Canyon. Packages start at $495.
You can read more about our favorite wedding vendors in Las Vegas here in our wedding resource guide.
Las Vegas Wedding Day
Once you've got your wedding license in hand and your venue picked out you are officially ready to get married. The license is valid for up to 1 year from the date you received it.
On the day of the wedding, be sure to bring both your marriage license and photo ID's to your officiant (the person who officially marries you).
You will also need at least 1 witness to make your marriage binding. If it's just the two of you in Las Vegas most of the wedding chapels can provide a witness for you.
If you're getting married by an officiant at one of the chapels here in Vegas or using a local minister they will have the necessary certifications necessary to perform the ceremony in the state of Nevada.
If you're bringing an out of state officiant with you, they will need to visit the Clark County Clerk website for instructions on what they need to do to marry you in Las Vegas.
Your officiant will have 10 days after the ceremony to submit your wedding paperwork to the Clark County Clerks office (see link above).
After the Ceremony – How to Get Your Marriage Certificate
About 10 days after the wedding you'll be able to order a copy of the marriage certificate from the Clark County Clerks Marriage Certificate website page. This will be a certified copy and the cost is $15.
You will need a certified copy of the marriage license to legally change your name, file taxes, get a new social security card, driver's license, etc. Also, don't forget to update credit card companies, your employer, the bank, the mortgage company, and voter registration credentials.
Congratulations You Just Learned How to Get Married in Las Vegas!
If you found this article helpful, please SAVE THIS PIN to your Travel and Wedding boards on Pinterest 😎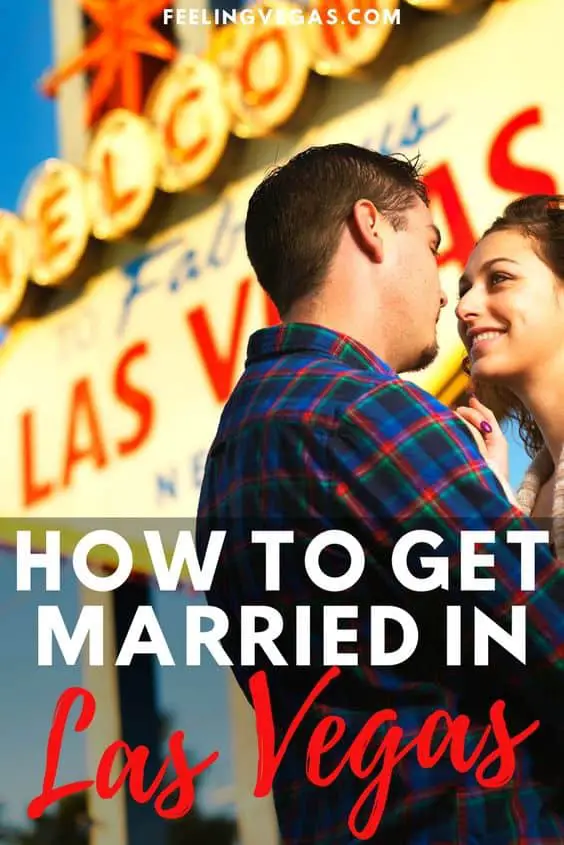 Related Questions:
Can foreigners get married in Las Vegas? Yes, foreigners can get married in Las Vegas without any problems. The requirements are the same as for U.S. citizens except you will need to get what's called an "Apostille" from the Nevada Secretary of State for a cost of $20
Is getting married in Vegas legal in Canada? Yes, getting married in Las Vegas is legal for Canadian citizens. U.S. marriages are considered perfectly legal in Canada. You only need to have a certified copy of your marriage license.
Can you get married in Las Vegas drunk? Officially no. In order to be legally married in Las Vegas, Nevada you must be able to willingly give consent and that consent cannot be obtained if you have been drinking heavily.