How To Elope TODAY in Las Vegas (Simple Step-by-Step)
(This article may contain affiliate links. If you click through and make a purchase, we will receive a small commission at no additional cost to you. )
When you think Vegas, you think weddings! Las Vegas, with all its lights and twinkles, is the ideal place to run away with the love of your life and elope. In fact, Las Vegas is one of the only places you can decide to get married and say "I do" all on the same day. However, there are a few things to do before you elope in Vegas in order to legalize your marriage.
Here's how to elope in Vegas today in 6 simple steps:
Confirm you are 18 or older.
Collect the necessary documents.
Fill out the wedding application form online.
Visit the Marriage Licensing Bureau.
Decide your venue.
Arrange officiant and witness.
Couples may choose to elope on their big day to keep the planning and preparations to a minimum. However, marriage is a legally binding contract and must be registered even when eloping. Read on as I elaborate on the steps to elope in Vegas to make the process as fun and stress-free as possible.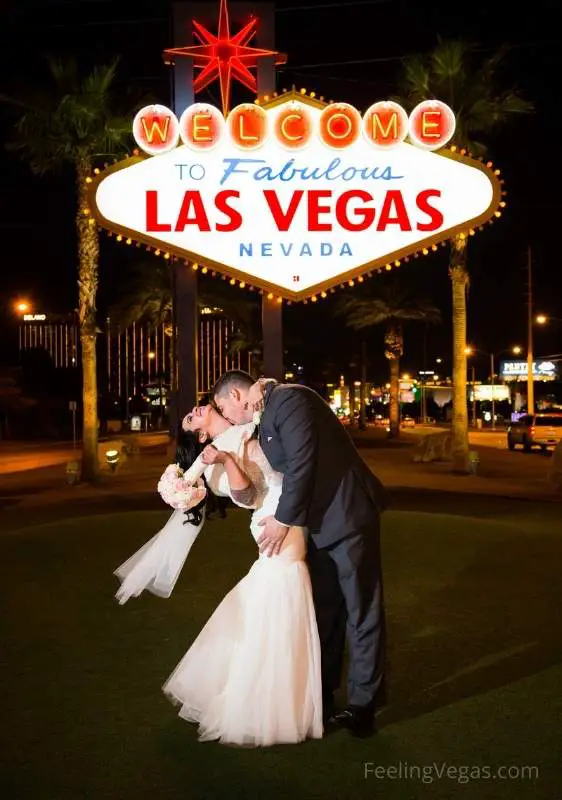 1. Confirm You Are 18 and Above to Elope in Las Vegas
Las Vegas requires you and your partner to be 18 or older to register for marriage.
The first step to your happily ever after is very straightforward. If you're both over 18 years old you're done with this step!
If one or both of you is only 17, things get a little more tricky.
The State of Nevada requires court authorization for 17-year-olds to get married. The court will require sworn testimony proving the following things:
Consent of all the parents or legal guardians.
Both partners must be residents of the State of Nevada.
The marriage is in the best interests of the minor or minors.
Apart from age, you cannot register a marriage legally if either of the partners is already married or separated without an official divorce. Nevada also doesn't recognize marriage between blood relatives, including first cousins.
Now that you're sure the marriage is legally possible, let's make sure you have all the required documents.
2. Collect the Necessary Documents For Eloping in Vegas
Before you rush into the bureau to obtain your marriage license, make sure both you and your partner have the required documents.
The main document you need is proof of identity and age for you and your partner. Nevada accepts the following as proof of identity and it must contain the applicant's photo. (The photo must be sufficiently recent with a clear likeness to the applicant)
Valid driver's license.
Drivers Instruction Permit.
ID Card issued by U.S. state or territory.
Passport.
Military ID card.
Permanent resident card.
Voter identification card (birth date must be written).
Certificate of Citizenship.
Certificate of Naturalization.
If you have none of these available, some other combinations of documents can be accepted as proof of identity.
If you're a non-US resident, check with your local officials about the need for certain documents to ensure the marriage is recognized in your country too. Usually, an additional document called the Apostille is required and is issued by the Nevada Secretary of State.
Make sure the name on the document you provide has the name you want to appear on your marriage license, as Clark County will copy it exactly as listed. Now, it's time to fill out and download the wedding license application online.
Recommended Reading: Married in Vegas: 8 Benefits of a Las Vegas Wedding
3. Fill Out The Application Form Online (Las Vegas Wedding License)
This step is very important, and you can complete it the second you decide to elope. All you need is a working internet connection.
The Clark County Clerk's Office recommends completing the application form before coming into the office. Open the form online and fill in the information required. The form is available in English and Spanish only.
Here are some of the things you will need to provide in the online application:
Accurate biodata of you and your partner. Your name should exactly match the one on your proof of identification.
Social Security Number (SSN) if US Citizen. You don't need to submit a copy.
Information about previous marriage, divorce, or death of a spouse and information about both parents. You don't need to submit a copy of the divorce decree or death certificate. You need to know the month, day, and year and where (city & state) your divorce was finalized, or you were widowed.
The application will be saved in the Clark County Clerk's system for one year from the date of submission.
Now, you're just a step away from obtaining your license!
4. Visit the Las Vegas Marriage Licensing Bureau
This step requires you and your significant other to visit the licensing bureau and appear before a clerk (you must be together in person). The Clark County Marriage License Bureau is located at 201 E. Clark Avenue, Las Vegas, NV 89101 (Northwest corner of 3rd Street and Clark). Here's a link to it on google maps.
It's a good idea, to call the office at (702) 671-0600 to confirm current office hours before your visit. However, it's famously known to be open all days of the week, including holidays, from 8 AM to midnight.
Anticipate a wait of a few hours, especially on holidays, but with your form completed and filled beforehand, the process should go faster. Also, the earlier in the day you arrive, the shorter the wait typically is.
You'll also need cash or a valid debit or credit card to pay the fees for the marriage license.
(The fee has been increased to $102 due to the recently approved legislation that requires an increase in the marriage license fee to support Nevada's domestic violence and rape crisis programs.)
Once you have the license in hand, it's time to elope, but where? The marriage license is valid within the State of Nevada borders only.
5. Decide Your Las Vegas Wedding Venue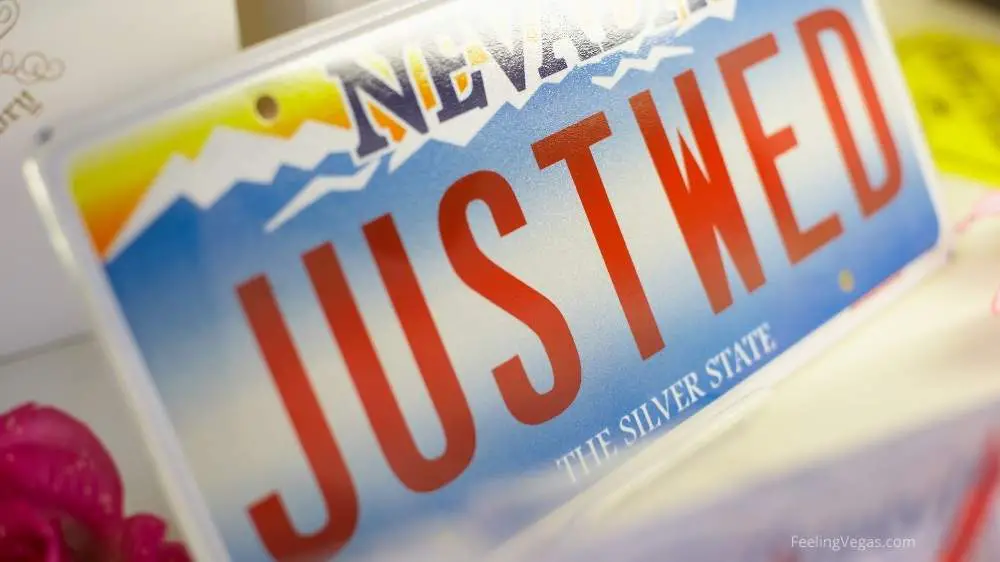 Even if you plan to elope as soon as you have the license in hand, you can still choose the perfect setting to say your "I dos."
If you're truly in a hurry to start your married life together, head into the chapel closest to you, and you're good to go. You can also find chapels in the Las Vegas phone book or look them up online. Here are a few to get you started:
Las Vegas has a ton of wedding chapels that are available day and night, so finding one shouldn't be a problem.
If, however, you want to choose a dreamy location on the city's outskirts or something out on the Las Vegas Strip (Las Vegas Boulevard), you can hire a team of Las Vegas elopement specialists to get you permits quickly and arrange transport to and from the location.
Cactus Collective Wedding is one such wedding service that offers a special elopement package called "Just the Two of Us."
You may also want to consider hiring a team of photographers, florists, or makeup artists unless you want to just keep it simple.
Now that you have a venue in mind, it's time for the guest list. You may not want any guests on your big day, but two people, besides yourselves, have very important roles in your marriage ceremony and are required by law.
Recommended Reading: Get Fake Married in Vegas! (The Ultimate Practical Joke)
6. Arrange Officiant and Witness (Actually Getting Married in Vegas)
For legal proceedings, no marriage is complete without an authorized officiant and a witness to the marriage.
The officiant needs to be a minister or government official registered to perform wedding ceremonies in the State of Nevada. Here are a few things to consider before deciding on your officiant:
If you're getting married in a well-known chapel or church, the officiant must be authorized. Each Las Vegas wedding chapel typically has its own authorized officiants on hand to perform the ceremony.
If you feel doubtful, search for the name of the officiant on the Nevada Marriage Officiant Public Search website to make sure your offciants name comes up.
If you fail to find your officiant on the site or have some other query, call the office at (702) 671-0600 to resolve the issue.
The officiant has up to ten days after the wedding ceremony to file your marriage certificate with the County Clerk's Office.
You'll also need at least one witness for your marriage to be legally binding. Don't worry, however, if the two of you are in Las Vegas alone. Every chapel can provide you with a witness as part of the wedding package.
You're finally all set!
Say I Do in Las Vegas
It is finally time to say the two magic words.
Repeat the vows issued by your officiant (maybe an Elvis Presley impersonator?) or say original ones from the heart, and complete the blessed union with "I do."
Las Vegas Wedding Chapels
Here is a list of some of the most popular wedding chapels in Las Vegas.
Special Memory Wedding Chapel (starting at $100 per group)
Paradise Wedding Chapel (starting at $65 per group)
World Famous Drive-Up Wedding (starting at $76 per group)
Graceland Chapel (Elvis themed weddings) (starting at $185 per group)
Graceland Storybook Chapel (starting at $100 per group)
Valley of Fire Wedding (starting at $620 per group)
Red Rock Canyon Wedding (starting at $630 per group)
Helicopter wedding (starting at $2,300 per group)
Bliss Chapel (starting at $430)
Limousine wedding on the Las Vegas Strip (starting at $623 per group)
7 Magic Mountains (starting at $1,425 per group)
Hawaiian wedding chapel (starting at $77 per group)
Just ensure you follow the steps mentioned above and start your beautiful journey together with peace of mind and the confidence that you have all legalities covered and this marriage is sealed with an official stamp.
A couple of weeks after the wedding day, be sure to collect your copy of the marriage certificate by ordering it online on the County Clerk website. 
Congratulations! You just eloped in Las Vegas!
UP NEXT: Best Places for Wedding & Engagement Pictures in Las Vegas