The Cost of a Trip to Las Vegas (Let's Break it Down)
(This article may contain affiliate links. If you click through and make a purchase, we will receive a small commission at no additional cost to you. )
Coming to Las Vegas can be an expensive vacation. You can expect to spend between $200 – $300 per person per day plus the cost of hotels and flights. There are ways to bring this cost down a bit, but there are also ways to make your trip much more expensive.
There are a lot of factors that go into the cost of a Las Vegas vacation. You have to think about travel, transportation in the city, food, lodging, and entertainment. Las Vegas is one of the world's entertainment capitals, and there are a lot of things to see and do here, most of which cost money.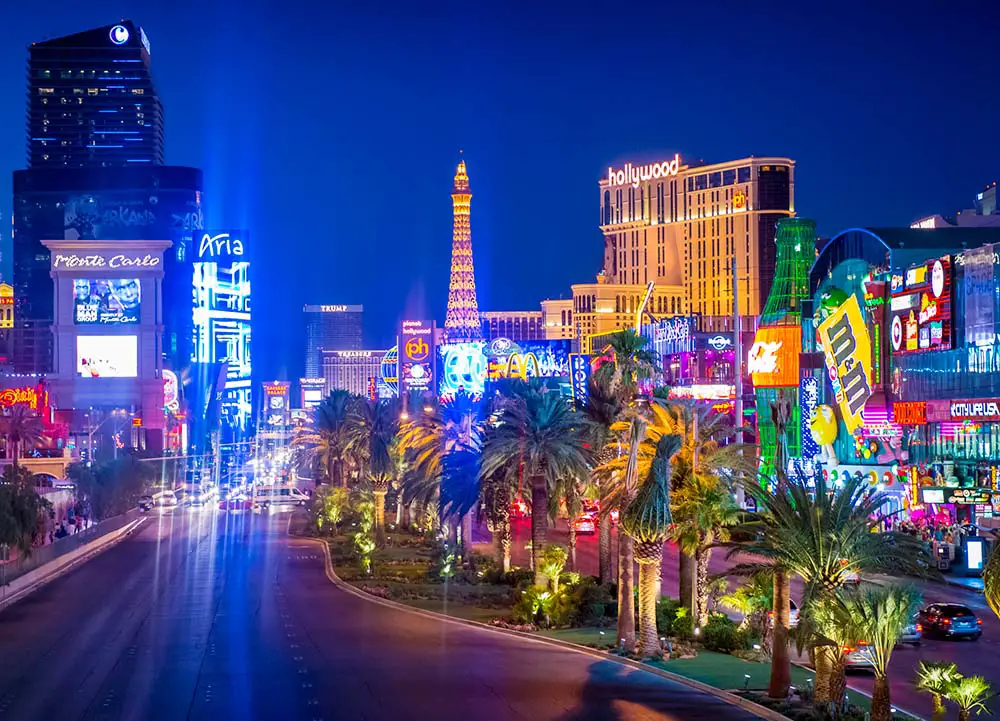 Average Daily Cost of A Trip to Las Vegas
So, how much for a trip to Las Vegas?
Well, you should plan to budget for roughly $250 per person per day. This comes out to around $1,750 per person per week.
Of course, these numbers will go up if you are traveling with multiple people. For example, two people can vacation in Vegas for a week for around $3,500, while a family of four could spend almost twice that amount.
However, it is cheaper to take a vacation in Las Vegas with children than it is with other adults. This is because you can share hotel rooms with children, and a lot of children's entertainment in Las Vegas is significantly cheaper than the adult entertainment options.
For example, children are not allowed in casinos, so you do not have to bring money for them to go gambling. Instead, there are plenty of other family-friendly things to do in Vegas.
You can also lower your average daily cost in Las Vegas by slowing down and spending more time in the city. For example, if you spend a week in Las Vegas versus 2 or 3 days and pace yourself on entertainment and expenses, you can significantly lower your daily expenses compared to cramming everything into 3 days.
Remember, however, this is an average of what people actually spend per day once they are in Vegas. You can visit Las Vegas for less or a whole lot more, depending on your tastes.
See also: Best FREE Things to Do In Las Vegas [Ultimate Guide]
Hotel Costs in Las Vegas
Before you can get to spend your $250 a day having fun, you'll have had to already book a hotel. The price of lodging in Las Vegas varies based on where you are staying and how long you are staying. So whether you book in advance or at the last minute is also an important factor in how much lodging will cost.
Another thing to consider is whether you choose to stay in a hotel or in an alternate form of lodging, such as an AirBnB.
For example, staying in a luxury suite at the Bellagio Hotel & Casino, The Venetian, or MGM Grand can easily cost you upwards of several hundred dollars per night, especially if you are booking your trip at the last minute.
The following are some of the most popular hotels on or near the Las Vegas Strip (Las Vegas Boulevard) and the starting cost of their cheapest rooms:
Bellagio Las Vegas ($205)
Trump International Hotel Las Vegas ($136)
Venetian Resort ($152)
The Cosmopolitan of Las Vegas ($150)
Vdara Hotel & Spa ($120)
Four Seasons Hotel Las Vegas ($350)
Caesars Palace ($109)
Waldorf Astoria Las Vegas ($301)
However, you can also find more affordable mid-range hotels on the Vegas Strip that will generally cost you around $100 per night. These include:
Excalibur Hotel & Casino ($35)
MGM Grand ($65)
Luxor Hotel ($44)
Mandalay Bay Resort & Casino ($70)
Flamingo Las Vegas ($34)
Treasure Island TI ($35)
Paris Las Vegas ($49)
The prices above don't include the daily resort fee that each of these hotels charges which can run an additional $30-$50 per night.
If you choose to stay off the Strip, you can find hotels that are even cheaper or give you more bang for your buck. Staying a couple of blocks off the Strip can be a good opportunity to be close to all the fun and excitement of Las Vegas while having more budget-friendly accommodation options.
You can even choose to stay at one of the Las Vegas hotels that don't charge resort fees if you don't like the idea of extra fees.
See also: How To Choose a Las Vegas Hotel (The Ultimate Guide)
Flights to Las Vegas
Physically getting yourself to Las Vegas will be one of the most expensive parts of your trip. Of course, this depends on where you are traveling from and what method you are taking.
If you are traveling across the country, a road trip might be a little bit cheaper than air fare (depending on the price of gas and how many people you're traveling with), but it will take significantly longer. This will mean that you will have less vacation time to spend in Las Vegas itself.
If you book your flight well in advance, you can usually snag a round-trip flight to Las Vegas from anywhere in the country for a few hundred dollars or less if you are lucky.
Related: Cheapest Time to Visit Las Vegas (Monthly Price Comparison)
Local Transportation in Vegas
Local transportation costs can kill your budget if you are not careful. Local taxi trips in this city can add up quickly and people can spend as much as $40 per day on cab fare getting around Sin City.
If you've got more time than money and want to save on transportation, you can skip the taxi or Uber service and take the public bus. Bus fare in Las Vegas is significantly lower than taxi fare, but the bus is slower and less convenient.
Eating in Las Vegas
There are a lot of options for food in Las Vegas, and a wide variety of food prices. You have options for luxury sit-down dining, mid-range sit-down meals, and fast food.
Breakfast in Las Vegas is usually less expensive than lunch and dinner. This is because breakfast foods typically require less work and use simpler ingredients than the meals that people typically eat at lunch and dinner.
These are some of the average prices that you can expect per person when you eat in a Las Vegas restaurant:
Least expensive restaurants (Under $25)
Inexpensive restaurants ($25-50)
Mid-Range restaurants ($50-75)
Expensive restaurants ($75-100)
Luxury restaurants (Over $100)
In addition, to the plentiful restaurants found in every resort, attraction, and shopping area, you may also want to check out one of our famous Las Vegas buffets.
Costs of Gambling In Vegas
Las Vegas is synonymous with gambling and if you choose to partake in this activity, this will be the part of your budget that you have the most control over. It's also the activity that can really blow up your budget. One report indicates that the average gambling budget for people traveling to Las Vegas is about $720, or roughly $180 per day for a three to four-day trip.
You can spend as little or as much as you would like when you visit the famous casinos of Las Vegas. However, there are some standard costs that you can expect.
For example, most tables will have a minimum bet that you have to make in order to participate in that game.
If you are gambling on The Strip, you can often find minimum table bets for around $5 or $10, especially if it is not during peak hours. These minimum bets can go even lower if you are going to a place off of The Strip.
You have to be aware of the fact that these minimums will rise during peak hours. Of course, if you are lucky this will not eat up very much of your budget.
Hopefully, you will be winning back the money that you are gambling. If you are lucky, you will walk out of the casino with more money than you had coming in.
That said, be careful because it is easy to lose all of your money here. It is a good idea to set a strict limit for yourself on how much you are willing to spend in the casinos and to leave once you hit that limit.
(Check out our article here to find out how much the average gambler loses when visiting Las Vegas.)
You might be tempted to indulge in alcohol in the casino. Casinos are known to offer cheap or sometimes even free alcoholic beverages to lower your inhibitions and change your sense of judgment. This can be a dangerous trap to fall into and can result in you losing more money than you planned.
*You should know the signs of gambling addiction, and you should seek help if you think that you might have a problem.
See also: How to Bring and Carry Money in Las Vegas (Explained)
Other Vegas Entertainment
Gambling is not the only thing to do in Las Vegas. There are also shows, day tours, museums, theme parks, and many other sightseeing attractions.
The cost of these attractions varies depending on what you are looking for and how much you are looking to spend. A lot of people report spending an average of $70 per day on entertainment when they are visiting Las Vegas.
Some common shows and attractions that people like to visit in Las Vegas include:
There are so many shows and attractions in Las Vegas that it could take you a lifetime of trips to see and do them all.
Tipping and Gratuities in Las Vegas
If you're coming to Las Vegas on vacation, you need to know that tipping for services is expected and appreciated. Any time you go to a bar, restaurant, or casino, you will be expected to tip. Like in the rest of the country, it is standard to tip 10-20% for meals and drinks at a bar.
Tipping in casinos is a little bit different. Just like wait and bar staff, dealers at the table games make a significant portion of their living from tips.
It is typically considered proper to tip at least $5 an hour when you are at a casino. If the stakes of the table that you are playing at are higher, then you are expected to tip higher.
Some people also like to tip their dealer every time they get a big win.
For example, if you bet $100 on a hand and win $150 from your bet, you would tip your dealer at least $15 from that hand. Some people also choose to only tip their dealer when they get a big win rather than tipping a set amount every hour.
This is an option that you can choose, but it is considered improper etiquette. It is better to give them a standard tip every hour.
For a list of who, when, and how much to tip in Las Vegas, take a look at our complete tipping guide here.
Budgeting For Alcohol
Like with gambling, your alcohol budget is another part of your vacation fund that you will have the most direct control over. The amount of money that you are spending on booze varies based on what, where, and how much you are drinking.
A lot of people will spend up to $50 per day on drinks when they visit Las Vegas. Again, this varies based on a lot of factors including the individual's taste and the setting where they are purchasing alcohol.
Las Vegas casinos are notorious for offering visitors alcohol for free or at extremely low prices. This is a trap to get their patrons liquored up.
The more a guest drinks, the more likely they are to make reckless decisions with their money. Gambling in a casino while drunk is a good way to make bad betting decisions, and a good way to spend more money gambling than you had planned.
Outside of casinos, the price of alcohol in bars and restaurants will probably be significantly higher than it would be if you were drinking at a bar in your hometown. Here are some typical drink prices you're likely to encounter:
Beers ($10-$15)
Shots ($12-$15)
Mixed Cocktails ($15-$20)
If you want to save money on alcohol, you can always buy your beer, wine, or liquor at a store and take it back to your hotel room.
See also: 18 Cheapest Bars on The Strip (Cheap Drinks & Happy Hour)
Buying Water in Vegas
You need to stay hydrated in Las Vegas. You are out in the middle of a very dry desert. It is hot, it is crowded, travel dehydrates your body, and there is a good chance that you will be spending some of your time drinking adult beverages.
You can expect to spend around $10 per day on drinking water when you are in Las Vegas. The public tap water in Las Vegas hotels is considered to be safe to drink, but you might prefer the taste of bottled water and your hotel will typically only provide you with one bottle of water a day.
Final Thoughts
Hopefully, now you have a better idea of how much a trip to Vegas will cost.
It can be an expensive vacation if you're not careful. Coming to Las Vegas will generally cost you a couple of hundred dollars per person or more per day.
There are a lot of fun things happening in Vegas. It is one of the most exciting cities in America, and everyone should take a trip here at least once. Your overall cost will be dependent on your tastes and desire for luxury.
Las Vegas can be fairly budget-friendly or obscenely expensive, depending on your choices.