What are the best seats for Blue Man Group Las Vegas?
(This article may contain affiliate links. If you click through and make a purchase, we will receive a small commission at no additional cost to you. )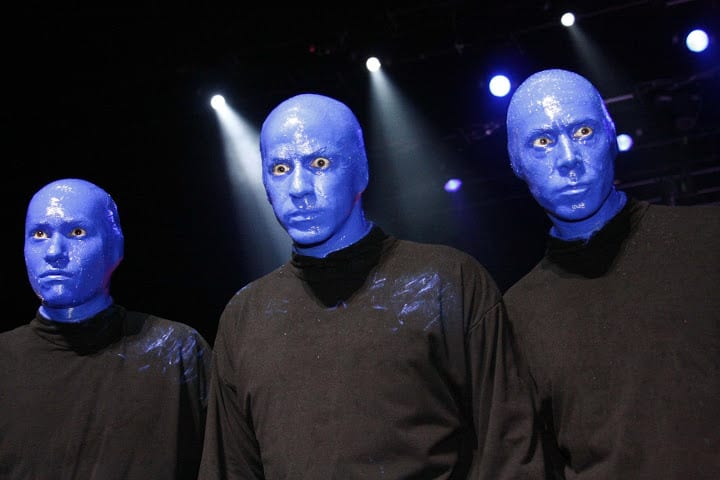 The Blue Man Group performs nightly at the Luxor Hotel and Casino in Las Vegas, Nevada. Each seating area in the theater offers benefits and you will be sure to enjoy the show no matter where you sit but some seats are better than others.
What are the best seats for Blue Man Group Las Vegas?
There are 4 categories of seats, labeled A-D. Categories A and B offer the most audience participation and are the most expensive. Category B is referred to as the "poncho" section due to the likelihood of being splattered with paint.
The whole performance is a workout for the performers, but an exciting experience for the audience. The group will also come into the audience at times, so each seating option has a chance to get a closer view of the performers or possibly even participate in the show to some extent. Read on to find out where you want to sit.
Looking for the ultimate Vegas show experience? Check out the calendar of concerts and festivals coming to Las Vegas!
Blue Man Group Las Vegas
Chris Wink, Matt Goldman, and Phil Stanton are the creators of the Blue Man Group. They've been performing for over 28 years and have performed on stage, television, and even on the street. The group has appeared on the small screen in shows like The Tonight Show with Jay Leno, Scrubs, The Ellen DeGeneres Show, and more.
There are now several Blue Man Group productions and you can find them performing in locations around the world. In the United States, you can find them in Boston, Chicago, Las Vegas, New York City, and Orlando.
The Blue Man Group has been performing in Las Vegas at the Luxor Hotel and Casino since 2015 (source).
The group has performed in over 15 countries including Japan, Switzerland, Austria, the Netherlands, Canada, and the United States. They've also won many awards over the years and remain one of the most sought-after performance groups worldwide.  
The group has won a ton of awards including a Drama Desk for Unique Theatrical Experience, Off-Broadway Alliance Awards Audience Choice for Best Long-Running Show, an Obie, and multiple People's Choice Awards from Drum Magazine (source).
They are most famous for their particular style of off-the-wall entertainment. Their blue skin isn't the only memorable thing about their shows that will leave you with an enjoyable story to share for years to come. Blue Man Group will come into the audience at some of their shows, engaging excited onlookers and bringing them into the show for a time. However, that isn't always the most interactive part of the show.
If you splurge for seats up front and center in the first four rows, members of the audience can expect to get splashed with paint during the performance. This section of seating is affectionately known as the "poncho seats."
If you are seating in this area you will be provided with a poncho to protect you from the splashing water and "paint". Don't worry, all the liquids in the show are washable. If you're going to sit in these seats just don't wear anything that needs to be dry cleaned!
Blue Man Group Las Vegas Seating Categories and Chart
There are four main seating categories, through six seating sections, offered in the venue for the Las Vegas Blue Man Group show.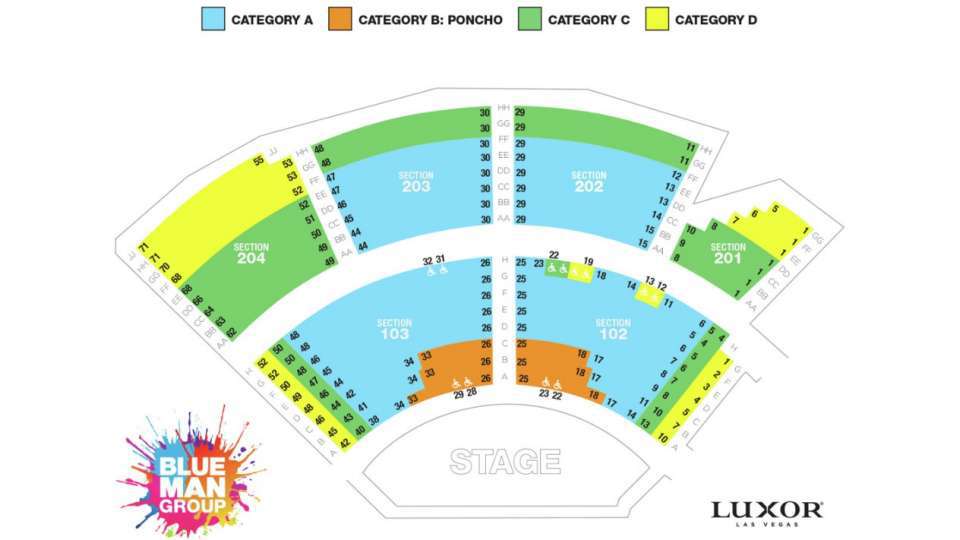 | | | | |
| --- | --- | --- | --- |
| Category A | Category B (Poncho) | Category C | Category D |
| $75-$100 | $140-$180 | $70-$95 | $60-$85 |
| Available seating in Sections 102, 103, 202, and 203. | Poncho seating is only in sections 102 and 103. | These are seats spread through all sections of seating. | Seats available in sections 102, 103, 201, and 204. |
| This is one of the best seating sections due to the viewing ease of the whole performing areas. These are some of the most expensive seats and sell out quickly, so seekers should purchase their tickets in advance if they are hoping for the best view. | These are the most sought-after seats and are therefore the most expensive. These are known as the "poncho" seats where audience members are very likely to get splattered with "paint" during the performance. They will be provided with a poncho upon arrival before the show starts. | These seats are good bargain seats for people who want to watch the performance in decent seating for a lesser price. They are a bit less likely to have the performers come into their section, but they are going to get a great show nonetheless. There are 222 seats in this category. | These seats are on the outer areas of the sections. While still enjoyable, they may offer less visual accessibility compared to other seating. These seats are most often available close to showtime and will usually be available for those who are buying last-minute tickets. |
Blue Man Group Las Vegas Discount Tickets
When purchasing your tickets, you should shop around for prices. It is often the case that tickets on the venue's website are more expensive than elsewhere. There are three other common websites that familiar theatre-goers use when purchasing their tickets.
We recommend purchasing discount Blue Man tickets here (vegas.com). As you'll see in the chart below this will generally save you the most money.
| | | |
| --- | --- | --- |
| Vegas.com   | Headout | Ticketmaster |
| This website offers tickets and special coupons to many venues in and around Vegas. They offer discounts related to hotels, shows, flights, transportation, and even have information for those famous Vegas weddings. You can find out more about this website at Vegas.com.   | Headout offers discounts on shows all across the world. They have information and deals on tours and performances in major destinations around the globe. You can find more about Headout here. | Ticketmaster has been a popular source for tickets and deals for many years. It is the go-to source for people looking for specific concerts and shows all around the world. Generally, with all of their fees they end up being the most expensive option. |
| Category A seats will run about $90 on the day of a performance. It has the potential to save a minimum of $20 depending on where you purchase your tickets from.   | Category A seats will run about $95 on the day of the show. If you purchase tickets ahead of time, the price may be even lower. | Category A seats will run about $109 on the day of the show and, while more expensive than alternatives, they do come from a well-known source for tickets and will often be less expensive than from the venue itself. |
| Category B is approximately $102 on the day of the show from Vegas.com. This deal can save you over $30.   | Category B is approximately $105 and will save you much money on the day of the show. Tickets could be less expensive with pre-purchased tickets. | Category B is approximately $140 and is not much cheaper than venue price. However, at the venue, prices are more likely to rise in price, so this may offer a better deal closer to showtime. |
| Category C tickets will run about $62 on the day of.   | Category C tickets will run about $70 and will save you a few dollars compared to the venue's cost. | Category C tickets will run about $98 on the day of the performance. |
| Category D tickets will cost approximately $60 or less, depending on how close to showtime it is and how many seats are available.   | Category D tickets will cost approximately $65 and can save you significant costs for last-minute purchases. | Category D tickets will cost approximately $70 and are relatable to the cost of the tickets from the venue. |
Blue Man Group at the Luxor Las Vegas
The Blue Man Group show in Las Vegas, Nevada, offers more than just a show. They offer an entire experience with each performance.
They pride themselves on their creativity and enjoy bringing the audience members into their performances, as well. When you are choosing your seats, be sure you know what to expect in each category.
If you wish to be part of the show and even get a little wet, then category B (Poncho Seating) is your best bet.
These tickets are the most expensive, and they go the fastest, so be aware of this when deciding to see the Blue Man Group and plan ahead. The venue will provide a poncho, but you should, perhaps, also dress accordingly.
Category A has the best view and the most seats available. They are the second-most desirable category and may also sell out faster than other areas. Categories C and D are the cheapest seats and still offer a view of the Blue Mand Group's performance.
Audience members are often happy in these seats and enjoy the money they save by choosing seats from these areas.
(Find the best stand up comedy clubs in Las Vegas in our article here)
Related Blue Man Questions:
How long does the Blue Man Group show last? Each performance of the Blue Man Group show lasts between 90 – 105 minutes. You will have so much fun watching the show that the time will fly by. Be aware that there is no intermission.
What is the age limit for Blue Man Group? The Blue Man Group is an all-ages show that is appropriate for the entire family. Children over 3 years of age will require their own ticket. Children under 3 are free provided they sit on an adult's lap.
Some related articles we think you'll love:
See what shows are playing and find discount show tickets in our Visitor Resource Guide here.