"O" by Cirque du Soleil: 15 Things You Should Know (Las Vegas)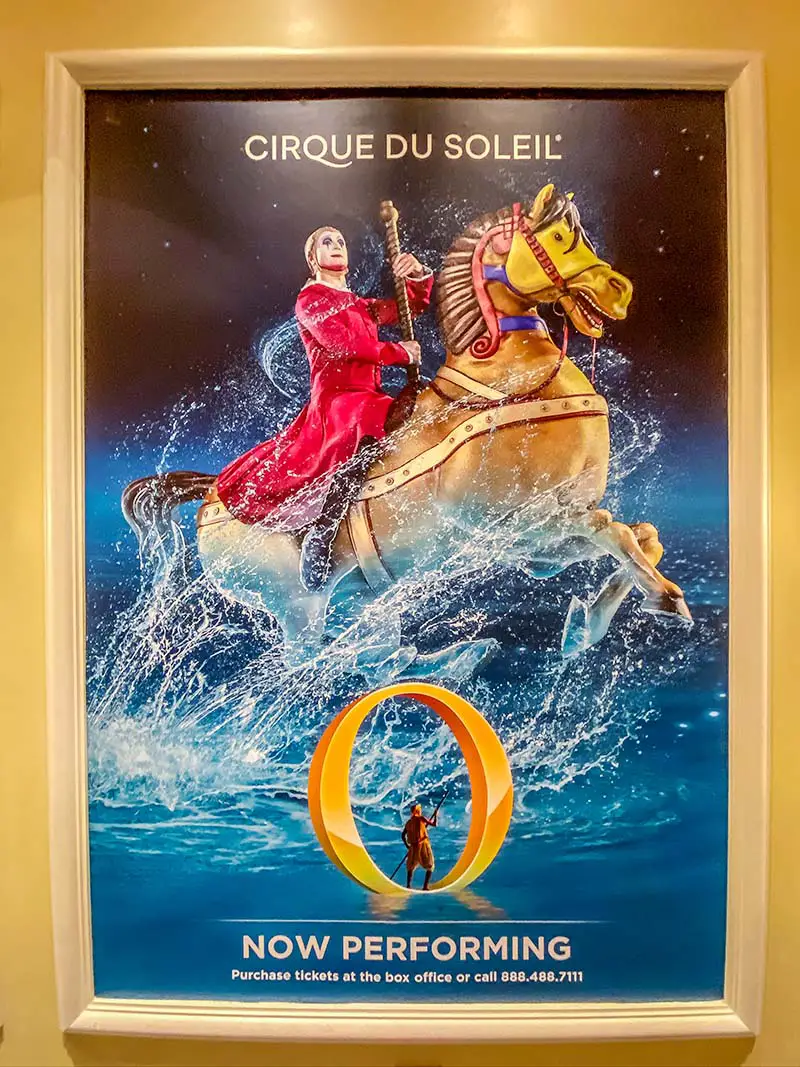 (This article may contain affiliate links, which means we might earn a small commission if you click and make a purchase. Thank you!)
"O" is an aquatic-themed performance offered by the famous Cirque Du Soleil. The "O" performance is in residence at the Bellagio Las Vegas and is one of the top attractions along the Las Vegas Strip. 
There's plenty to see and do inside of the Bellagio as well as along the entire Las Vegas Strip, and if you're thinking of visiting Vegas, then it's well worth considering reserving some tickets to see "O."
Keep reading for a guide to everything you'll need to know about "O" by Cirque Du Soleil. 
Also see: Best Cirque du Soleil Shows in Las Vegas (6 To Choose From)
Where is O performed in Vegas?
There is only one place where you'll be able to see a performance of "O" in Las Vegas, and that's at Bellagio's lavish performance space known as the "O" Theatre Showroom.
The water-themed production has played tribute to the beauty of theater and has held residence at the Bellagio since it opened in 1998. 
The O Theatre is designed to look like a European Opera house from the 14th century. It's a large theater and has seating for 1,800 guests. The O show is usually performed two times each day, with one show at 7 pm and another show at 9.30 pm, almost every day of the year.
How much are O tickets in Las Vegas?
A few ticket options are available for each performance, and tickets can be purchased online, by phone at (702) 796-9999, or in person at the Bellagio box office.
During weekdays, regular tickets start as low as $130.00 (excludes taxes and fees) and go up to $366 for VIP suites. Weekend seats are more, with regular seats starting at $138, and going up to $500 for the best seats in the house, the VIP Suites. Here's a rough guide of what to expect to pay:
Category D seats $130.04
Category C seats $182.09
Category J seats $216.15
Category B seats $173.75
Category A seats $281.55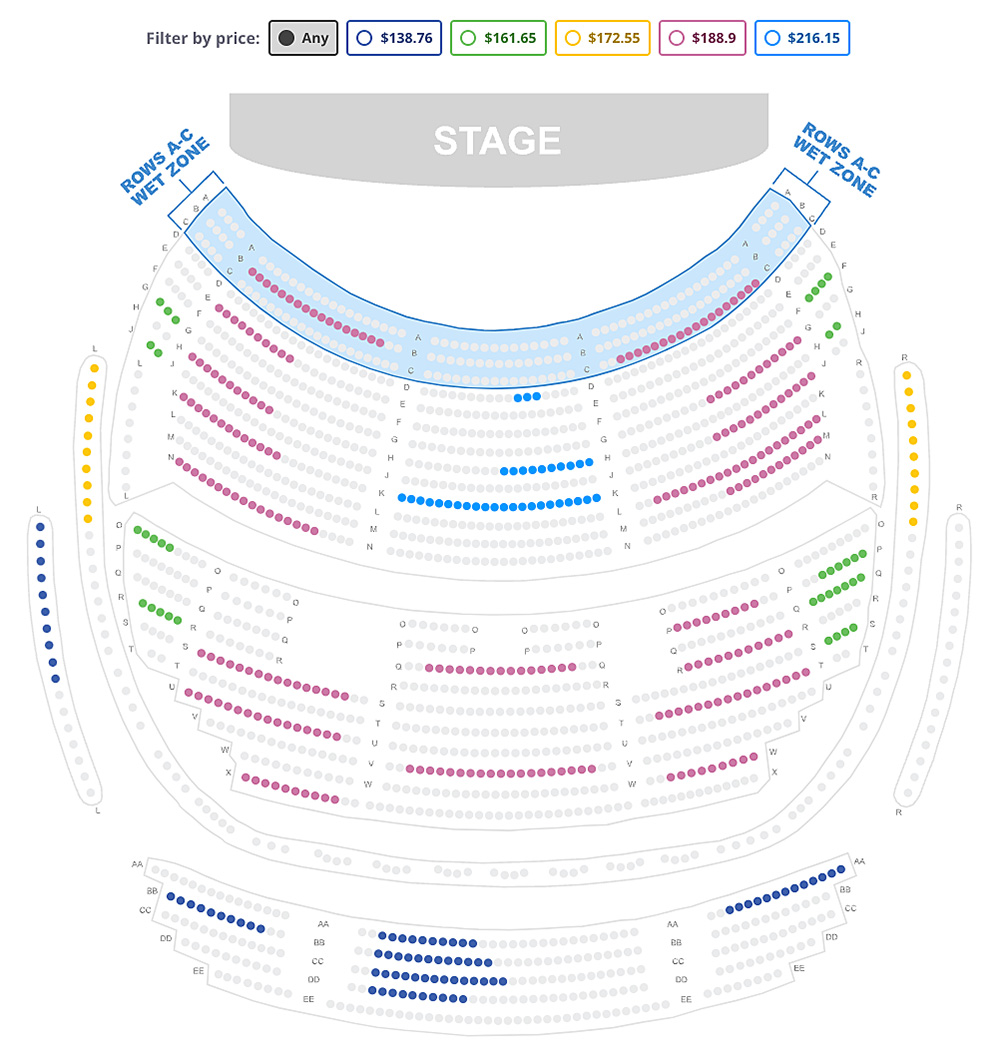 Prices for weekday and weekend shows vary, and all shows tend to sell out quickly, so it's best to get your tickets well in advance. Tickets online or via phone can be purchased up to 120 days in advance. 
What are the best seats for O in Las Vegas?
According to their price, the VIP suites are considered the best seats for the "O" performance. The VIP suites are located along the first balcony directly in front of the stage area and offer the best views of the show. 
For those looking for a fully immersive experience, 'Wet Seats' are located within the first three rows of the stage and are aptly named due to the occasional splash that may cause some sprinkle onto guests. For these seats, it's best to leave the silk gown or leather jacket at home.
Is Cirque du Soleil's 'O' worth the money?
It goes without saying that "O" is by far one of the most popular shows along the Las Vegas Strip. "O" has been a resident of the Bellagio for 24 years and is considered one of the best shows you can see while staying in Las Vegas. During its years of performances, the show has garnered many accolades and awards, including:
Entertainment Design Award, best production show, 1998
Las Vegas Review-Journal, best production show, 1999–2006
THEA, live show category, 1999
In 2019, "O" celebrated its 10,000th show at the Bellagio and shows no sign of slowing down with seats constantly in high demand. Weekday shows often sell out, and weekend shows are frequently booked out well in advance too. 
RECOMMENDED: The Bellagio Casino: 21 Answers You Should Know (Las Vegas)
How long is the O Cirque du Soleil show?
O is 90-minutes long and does not have an intermission. You'll need to allow some extra time before and after the show, too, so plan for at least two hours for the entire experience. 
All "O" shows tend to sell out and are very busy with 1,800 seats available for guests, so it's worthwhile allowing extra time to get to the theater early to find your seats. 
If you're planning to visit the Bellagio or the "O" theater from another hotel, allow extra time to navigate your way to the Bellagio, especially on weekends and holidays, as the Strip can get very busy. 
RELATED: How Much Does Uber and Lyft Cost In Las Vegas? (Explained)
What is the theme of O Cirque du Soleil?
The theme for O is an aquatic performance that is both timeless and romantic. 
According to the official Cirque Du Soleil website, "O" pays homage to the magic of theater and is set amongst a 14th century European Opera House, from simple street performances to the most extravagant of operas. O is where all is possible, and the spectacle of life's drama unfolds before your very eyes.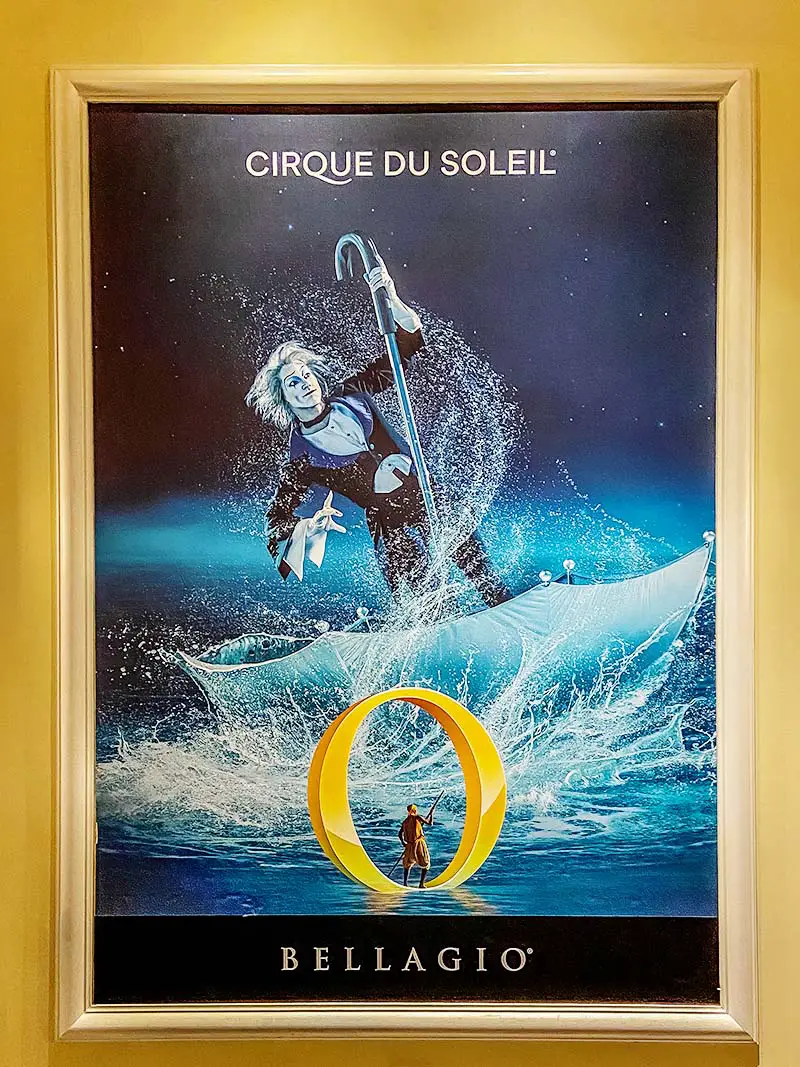 What is the meaning of the O show?
"O" is a phonetic interpretation of the French word for water that is spelled "eau." The concept of "infinity" is the inspiration for the show, and the water evokes an aquatic tapestry of artistry, surrealism, and theatrical romance.
The aquatic-themed production is performed above a 1.5 million US-gallon (5,700m3) pool of water. There are around 85 performers in each show, including acrobats, divers, and synchronized swimmers. The cast may even include some former Olympic athletes. 
What language is Cirque du Soleil O in?
Several languages are spoken or used in songs throughout the "O" performance. Musical influences and lyrics within the "O" soundtrack tend to be mostly French, but also include Chinese, African, and Latin-American influences. 
English is used to address the audience for important announcements before and after the show.
There is also a language dubbed "Cirquish" by many fans, which is a made-up language by performers in the Cirque du Soleil group. This vernacular is used to evoke a mystique to the performance and the words spoken do not have any literal meaning. 
How deep is the pool in the O show?
The pool centered around the performance of "O" is 25 feet deep and holds 1.5 million gallons (5,700m3) of water. The water in the pool is a comfortable temperature of 88 °F (31 °C) and features submerged scuba tanks that permit the performers to breathe underwater, hidden from the audience's view. Because of this, every member of the "O" cast is Scuba-certified. 
When it comes time to maintain the "O" theater pool, the pool can be drained in as little as 12 hours. The water is then deposited into Bellagio Lake (where the Bellagio Fountains are found) in front of the hotel.
It's interesting to note that the purge of water from the theatre's pool causes the large lake's water level to rise by 1 inch!  
RECOMMENDED: Bellagio Pool: 21 Answers You Should Know (Las Vegas)
Do you get wet at O Cirque du Soleil?
Given that the entire "O" performance is staged around an enormous pool, guests in the front rows may expect to get wet. The good news is that there are very few seats where the audience will definitely get wet, and even if they do, it's nothing more than a slight splash or drizzle of water. 
The aptly named "Wet seats" offer some of the closest seats in the house to the huge pool and stage area. The wet seats include the first three rows nearest the stage. In these seats, guests may experience a light spray or the occasional small splash of water. 
When booking "Wet seats," guests are advised not to wear clothes made of silk, leather, or fur. 
Can you wear jeans to Cirque du Soleil? (What Should I Wear?)
The "O" performance is hosted inside the luxurious Bellagio theater, and guests should dress appropriately when visiting the theater. The Bellagio is well-known for its luxury status, and it's a great time to dress up for the occasion. 
The "O" performance lasts for 90 minutes, so it's essential to wear comfortable clothing. Jeans are acceptable in the theater (there is no official dress code), but it's important to avoid wearing clothing that others may find offensive. 
The main audience seating area is set to be around 72 °F (22 °C) which some guests may find a tad chilly, especially in cooler months, so it's worth wearing long pants and/or a long sleeve top.
Is O Cirque du Soleil family friendly?
Tickets are available for adults and children over the age of five years old. The entire "O" performance is family-friendly, and children especially enjoy the show due to the incredible acrobatics and dynamic costumes and characters. 
Due to the extended duration of the show (90 minutes with no intermission), it is not suitable for children under five years of age, and tickets are not available for children under five. 
(If you're looking for family-friendly hotels and activities in Las Vegas, then you'll want to be sure to see our articles here.)
Can you drink at Cirque du Soleil?
Arriving at the Bellagio early before a show is a perfect opportunity to enjoy a pre-show drink at one of the many bars within the casino. Within the Bellagio, guests or visitors to the casino can enjoy a drink at the nearby Baccarat Bar and Lounge, the Lily bar and Lounge, or the Clique Bar and Lounge, just to name a few.  
Drinks and snacks are permitted within the theater venue. There is a range of beverages and snacks available at the "O" concession stand inside the "O" Theatre lobby. This includes both alcoholic and non-alcoholic beverages. 
How long has O been in Vegas?
"O" first premiered on October 17, 1998, as the opening event for the Bellagio Hotel, Resort, and Casino. Since then, "O" has remained in permanent residence at the Bellagio's O Theatre. It is now dubbed the crown jewel of performances along the Las Vegas Strip.  
The show is performed twice each day, once at 7 pm, and again at 9.30 pm, almost every day of the year. On September 1, 2019, "O" had its 10,000th performance of the show.  
How much do Cirque du Soleil O performers make?
There are 85 performers and over 180 technical staff that go into making each and every show. Performers are paid $30,000 to $100,000 each year, depending on their role in the show and their experience. 
Cirque Du Soleil offers very competitive salaries and usually offers a range of working contracts to the performers and technical staff. Most are offered a one or two-year contract, however, there are also some temporary positions available. 
RECOMMENDED: Bellagio Shops: Shopping at Via Bellagio (Las Vegas)
Wrapping Up
"O" is a water-themed production created and performed by the famous Cirque du Soleil, which has been in non-stop residence at the Bellagio resort since 1998. The popular performance boasts over 85 performers and is considered the crown jewel of performances along the Las Vegas Strip. 
Guests looking to enjoy a show should book their tickets early, as many of the performances sell out well in advance. If you're planning to visit the Bellagio, it's definitely worthwhile catching a presentation of "O."
References:
http://www.cirquedusoleil.com/