Wynn vs. Bellagio: Which Is Better? (Las Vegas)
(This article may contain affiliate links. If you click through and make a purchase, we will receive a small commission at no additional cost to you. )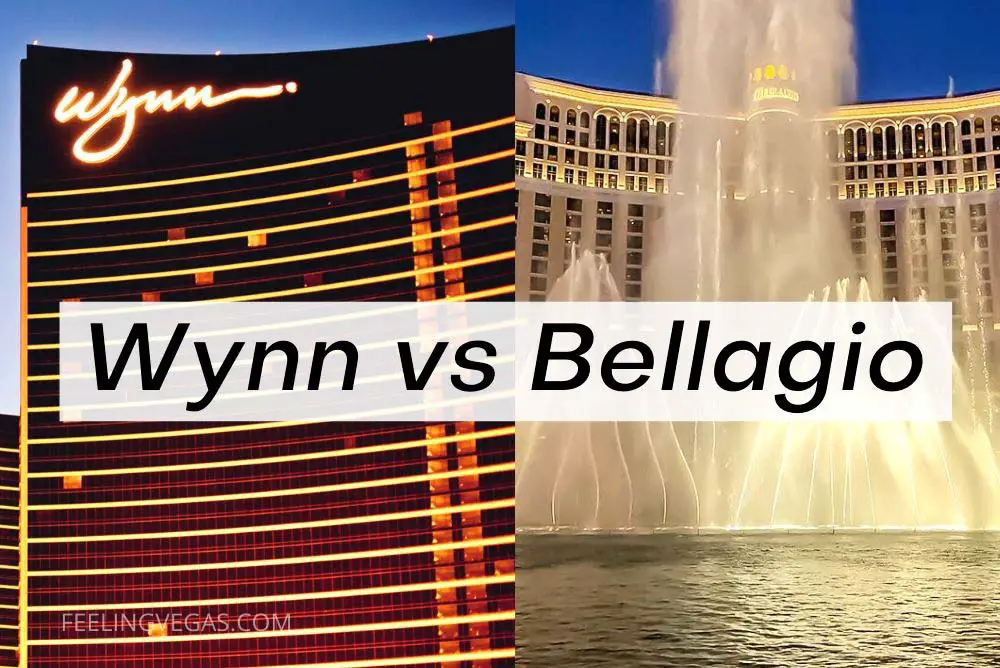 When it comes to comparing the Wynn Las Vegas and the Bellagio Hotel and Casino, you'll find that these two resorts are among the most opulent on the Las Vegas Strip! The Wynn is a vacationer's dream come true, with fine dining, boutique shops, and ornate furnishings at every turn, while staying at the Bellagio is like walking into an Italian palace in the middle of the Mojave Desert.
With such grand and dazzling accommodations, you may find yourself asking if the Wynn or Bellagio is a better choice for your Las Vegas vacation.
While both the Wynn and the Bellagio are two of the finest and most upscale hotels in Las Vegas, the Bellagio is the better choice overall due to its prime location at the center of the Las Vegas Strip. The Bellagio is surrounded by many iconic Las Vegas casinos and attractions.
Category
Wynn
Bellagio
Room Price
From $195 per night
From $159 per night
Resort Fees
$51.02 per day
$51.02 per day
Parking Fees
Free Parking
Self-Parking: $18 daily
Valet: $30 – $35 daily
Location
North of mid-Strip
Prime mid-Strip location
Major Shows
Various live comedy & music shows
O by Cirque du Soleil
Pools
4 pools, 2 jacuzzis
5 full-size pools, 4 jacuzzis
Nearby Attractions
– Wynn Golf Club
– Lake of Dreams
– The Spa
– Fashion Show Mall
– Fountains of Bellagio
– Conservatory and Botanical Gardens
– Close to many other big-name casinos
Name: Wynn Las Vegas
Address: 3131 S Las Vegas Blvd
Casino Floor: 111,000
Year Built: 2005
Number of Rooms: 2,716
Name: Bellagio Hotel & Casino
Address: 3600 S Las Vegas Blvd
Casino Floor: 156,000 sq ft.
Year Built: 1998
Number of Rooms: 3,950
It is not going to be easy to crown a winner between these two Las Vegas resorts. Wynn Las Vegas is a playground for the rich and influential but also offers upscale rooms at rates many other guests can afford as well. The same can be said for the immaculate furnishings and amenities at Bellagio. 
Whether you'll want to choose the Wynn or the Bellagio will depend on several factors that I'll cover in detail below. So read on to find out which of these two hotels is the right one for your Las Vegas vacation.
Room Rates Compared: Wynn vs. Bellagio
First things first: a stay at either one of these resorts is going to be pricey. It's safe to assume that most repeat Las Vegas visitors will be aware of this fact, but if you've never heard of these resorts, let's get this fact established at the beginning. If you're looking for a couple of more budget-friendly choices, you can check out our article that compares the MGM Grand vs. Luxor.
Wynn Las Vegas may very well be the most popular and fanciest resort on the Strip. Bellagio runs neck and neck with the Wynn and was considered the finest resort on the Strip by many before Wynn opened in 2005. 
The average room rate at Wynn Las Vegas starts at about $195 per night. This is about the minimum you can expect to pay for a standard stay in the resort's most basic room. If money is no concern, this resort has other suites available that cost thousands of dollars per night. All of the rooms are magazine quality in their aesthetic beauty, and even the most basic of rooms are equipped with numerous amenities and high-end furnishings.
Wynn Las Vegas
Bellagio
Wynn Resort King:

– 640ft² (59.5 m²)
– King bed or two Doubles
– 507-thread-count Egyptian linens
– 55'' (140cm) 4K UHD TV
– In-room wifi
– Bedside mobile phone charging
– Touch-screen curtain, lighting,
room service, and privacy controls
– Oversized marble bath and separate shower
– Floor-to-ceiling windows
– Sofa and dining area
– Desk
– Mini-bar
– Views of The Strip or the valley
Bellagio Resort King:
– 510ft² (47.4 m²)
– King bed
– Hypo-allergenic bedding
– 40″ (102cm) Flat-screen TV
– In-room wifi
– Media plug-ins & iHome docking station
– Marble vanity in bathroom with separate shower & soaking tub
– Floor-to-ceiling windows
– Seating area with two chairs
– Mini-bar
– Safe
– Various views of the Strip or Valley, depending on the room

Bellagio was also conceived by Steve Wynn, which is likely why both resorts have such a major focus on luxury.
A standard room at Bellagio runs about $159 per night to start, with rooms running into the thousands of dollars for some of the more high-end suites.
When you stay at the Bellagio, expenses should not be a concern or a surprise; it's well-known how pricey this resort can be, and it's also a well-known fact that the price is well worth it!
In terms of room prices alone, Wynn Las Vegas may offer a slightly better rate if you're looking to find luxury and still saving a few dollars. 
Resort Fees: Wynn vs. Bellagio
The resort fees at the Wynn and Bellagio properties are currently the same at $51.02 per night, including taxes.
The resort fee supplies you with internet access, usage of the fitness center, and access to phone calls. These three features are the common amenities covered by resort fees on the Strip. 
As the resort fee at either property is subject to change and often does, you can take a look at our complete resort fee guide here, in which we keep up-to-date resort fees for over 90 of the most popular Las Vegas properties.
Parking Fees at Bellagio & Wynn
As previously mentioned, Wynn Las Vegas offers free parking for both valet and self-parking. If you really analyze this aspect, the parking isn't really free since the resort advertises this as an amenity within their resort fee. Still, this is a great offer if you want to use valet parking. 
The parking fees at Bellagio are $35 per day for premium valet service and $18 per day for self-parking. 
Wynn Las Vegas is the obvious better choice for parking, but Bellagio is located at one of the best areas on the Strip, so this is a great location to be in if you're visiting the city without a car. 
Location: Wynn vs. Bellagio
When it comes to a great location, both resorts are in good shape overall, but one, the Bellagio, sits right on the most active and popular section of the mid-Strip area.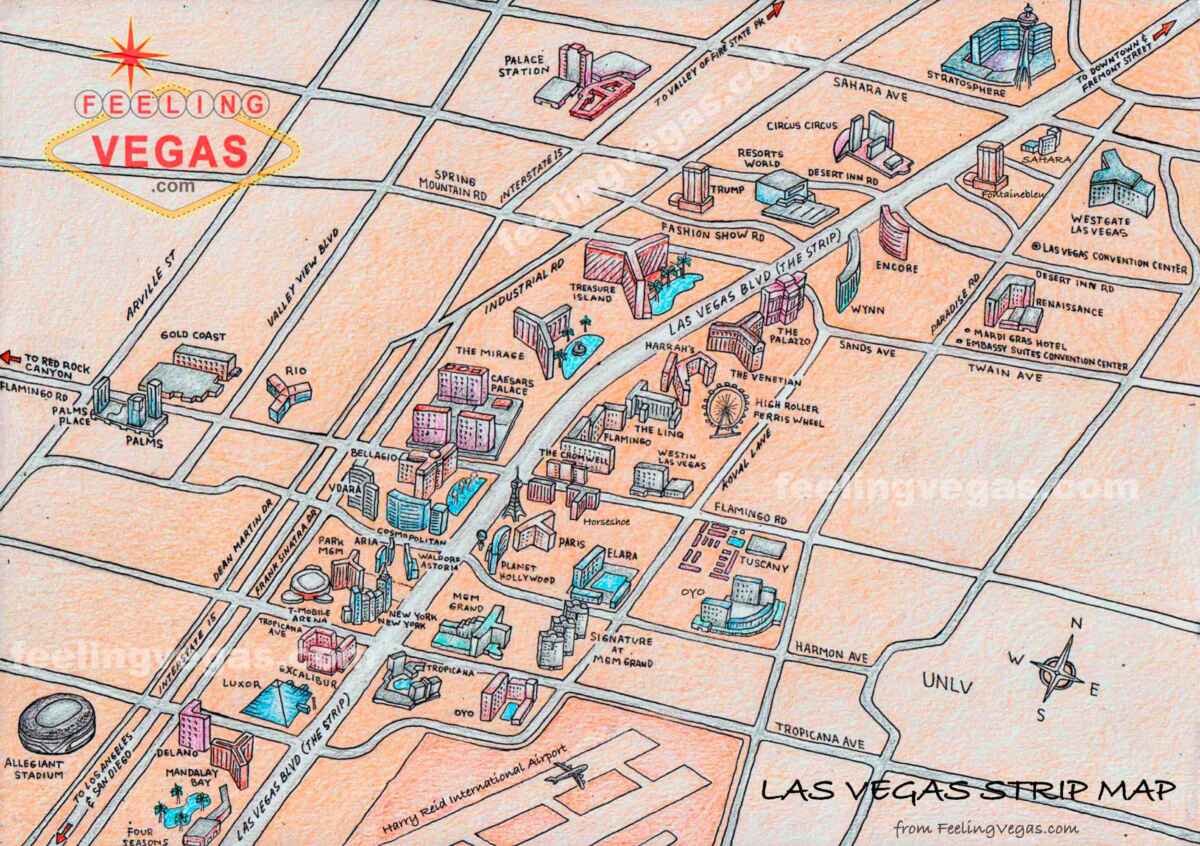 When you walk out the Bellagio's front doors, you'll be within walking distance of many of Las Vegas's most iconic resorts and attractions. These include Caesars Palace, Paris Las Vegas, Planet Hollywood, The Cosmopolitan, and the list goes on and on.
You'll find the Wynn 1.8 miles north of the Bellagio on the Las Vegas Strip. While you may not want to walk to the Bellagio area from the Wynn, you'll find that the Wynn Las Vegas is in an area with plenty of its own iconic resorts/casinos nearby, including, The Venetian, The Palazzo, Treasure Island, LINQ, Harrah's and the Mirage.
So, while neither one of these two hotels will be a disappointment location-wise, I think you'll find Bellagio's location to be superior. This is especially true if it's your first time in Las Vegas.
Shows and Entertainment at The Wynn and Bellagio
What's Las Vegas without a little entertainment? The Bellagio hosts one of Las Vegas's biggest shows.
The Bellagio is home to 'O' by Cirque du Soleil, probably the most popular Cirque du Soleil show of all time.
'O' features a lot of water and acrobatics with bright colors and beautiful music. This show is both relaxing and exciting, which is perfect if you want an evening that combines both elements. 
Wynn, on the other hand, does not currently have a major show available at the property, meaning you will have to travel to another resort to see a large production show. While this isn't a major dealbreaker for most, it may present an inconvenience for some.
Restaurants, Bars & Lounges at Wynn and Bellagio
For two of the most upscale properties on the Strip, it should come as no surprise that each hotel contains some of the finest restaurants in the city.
Fine dining at the Wynn includes well-known restaurants such as Tableau, Costa Di Mare, and Mizumi. These choices provide exquisite cuisine in a refined environment.
Since you may not want every meal to be a fine-dining masterpiece, you'll also find plenty of more casual choices as well such as The Buffet, Allegro, and Red 8.
You will be no less impressed with the dining selections at the Bellagio. Le Cirque, LAGO, Picasso, and PRIME Steakhouse are what fine dining is all about. These are just a few of the many high-end dining establishments you'll find at Bellagio.
If you're looking for a more casual dining experience, you'll want to check out Jasmine, Fix, and Harvest.
In addition, both resorts offer an abundance of luxury bars and lounges found throughout the hotel and casino areas. Each bar or lounge will offer its own themed elegance for your enjoyment.
Pools: Wynn or Bellagio
Bellagio prioritizes its pools as one of the main attractions within the resort. With five full-size pools and four jacuzzis on-site, romantic poolside escapades are never lacking at this resort.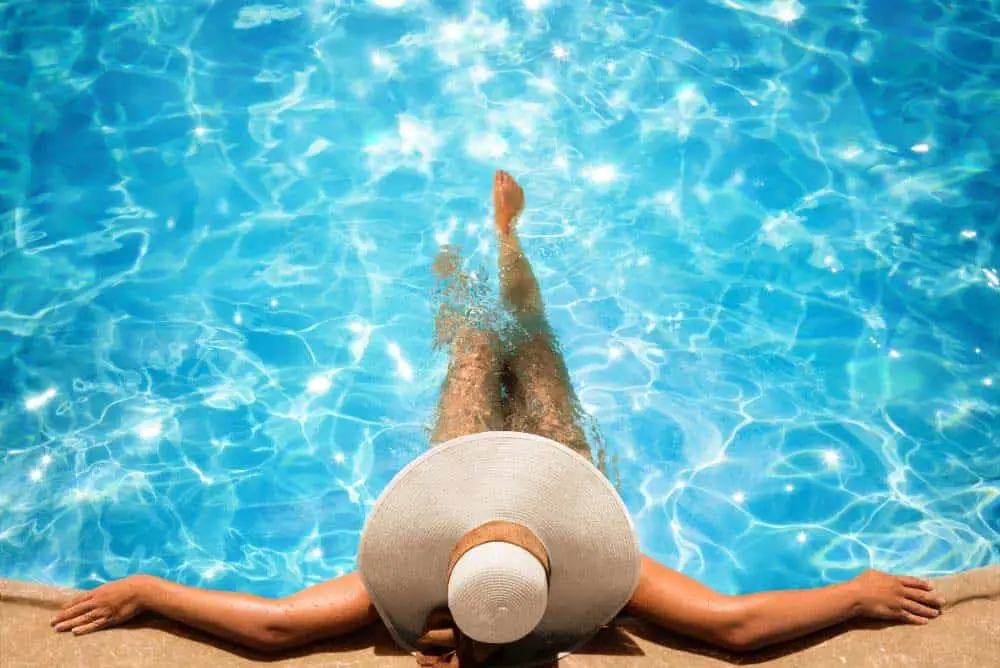 Wynn Las Vegas has two pools, each is large and comes complete with waitstaff, and multiple cabanas are available for private relaxation. 
Both resort pool areas offer luxury-level relaxation, but the Bellagio's pools need to be seen to be believed, which makes this resort a better choice for pool enthusiasts. 
Attractions: Wynn & Bellagio
Both resorts have eye-popping attractions within the property itself. The Lake of Dreams nightly show at Wynn Las Vegas is a lush, tropical paradise in front of a 40-foot waterfall. Several times each night, a free show with lights and music takes place using some pretty incredible technology.
Bellagio's Conservatory and Botanical Gardens are a bit more formal yet beautiful to behold. Several times throughout the year, the indoor conservatory is transformed into a visual masterpiece celebrating the current season. Everything, and I mean everything, is covered in flowers of all types, sizes, and colors. It's absolutely beautiful!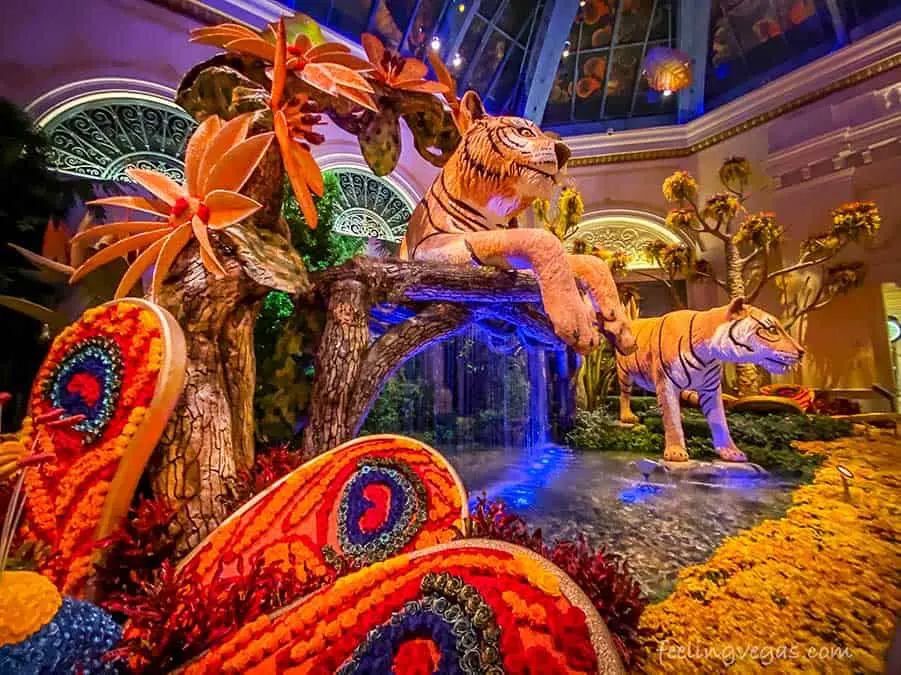 Bellagio has a few more on-site attractions, such as the famous Bellagio Fountains, to see compared to Wynn Las Vegas, which makes Bellagio the better choice for attractions.
Wynn or Bellagio – Conclusion
Both Wynn Las Vegas and Bellagio are the creations of Steve Wynn, which makes choosing the better hotel a difficult choice based on the nearly equal amounts of elegance and luxury available at both resorts.
If it's your first time in Las Vegas, I would recommend the Bellagio due to its prime location on the Strip that gives you access to so many other nearby hotels, casinos, and attractions.
If you've been to Las Vegas before or you think you'll be happier, somewhat removed from the busiest section of the Strip, then Wynn is your best choice.
Other Las Vegas Hotel Comparisons
Check out these other comparisons of Las Vegas Hotels.
Wynn vs. Palazzo: Which is better? – Find out here!
Aria vs. Bellagio: Which Las Vegas Hotel is Better? – Find out here
Wynn vs. ARIA: Who comes out on top? – Article here
Venetian vs. Wynn: Which to choose? – We tell you here
Mirage vs. Bellagio: Who's the best? – See here!
Bellagio vs. Venetian (Which Las Vegas Hotel to Choose?) – HERE
Sources: