Does Caesars Palace Have Balconies? (Las Vegas)
(This article may contain affiliate links. If you click through and make a purchase, we will receive a small commission at no additional cost to you. )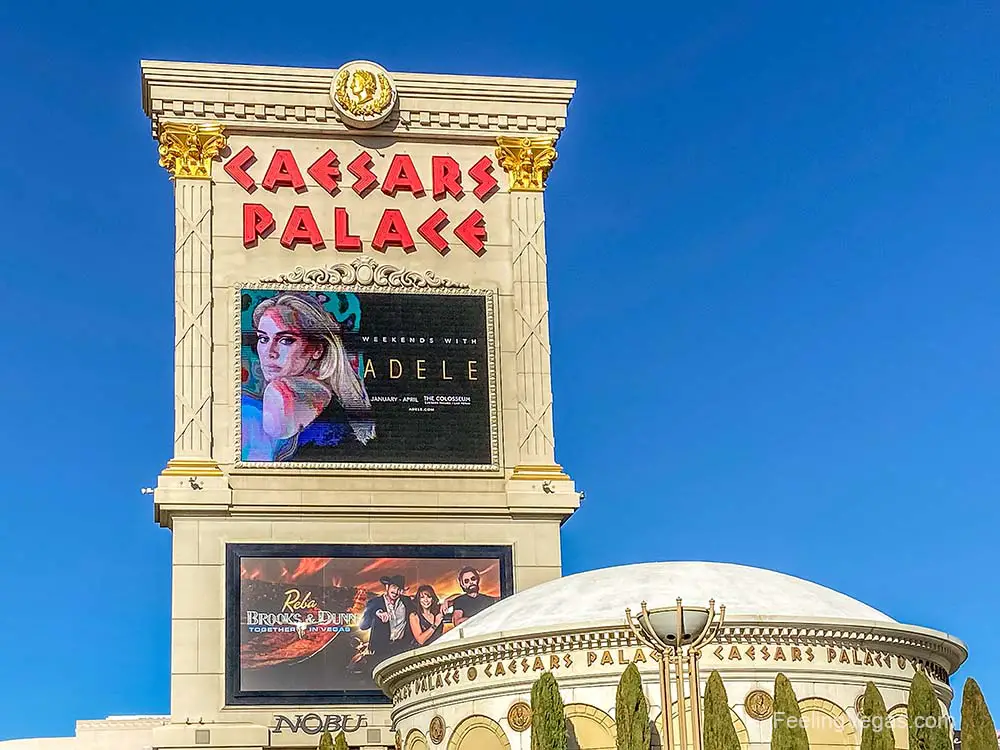 Standard Caesars Palace hotel rooms do not offer the option for balconies, but for those with deep pockets, there are several villas available that offer private terraces and patio spaces complete with fire pits, private bars, BBQs, and spas. 
Now that you know you need to get a villa at Caesars Palace, if you want a room with a balcony, you're probably keen to find out what they offer in terms of amenities and how much a villa is going to cost. Keep reading to find out.
Compare and save! Check current Caesars Palace room rates at TripAdvisor!
Caesars Palace Hotel Rooms & Villas
Room options are plentiful at Caesars Palace, and while the focus is more toward lavish high-roller accommodations, there's also plenty of affordable room options available.
Caesars has rooms in a variety of options and levels of comfort, and it also offers larger suites and stunning villa accommodation options that will take your Vegas stay to another level. 
The only room options available that offer a terrace or balcony are the Villas and they do not come cheap.
For the considerable amount of money spent per night, you'll receive an ultra-luxury accommodation (think more along the lines of a private luxury apartment or house rather than a hotel room) with every possible amenity.
All of the villas have their own unique appeal and features. Here are 4 of them, all offering you your very own private terrace. 
Marc Antony Villa
For those looking to live the luxe life, look no further than the incredible Marc Antony Villa.
The 10,000 square foot villa oozes decadence and offers ultra-luxury finishes and amenities throughout with 3 stately bedrooms, enormous living and dining rooms, a wet bar, and a butler to tend to your every whim.
There's also an indoor fountain, fireplace, a grand piano, and a private patio with a spa. 
Claudius Vegas Villa
Spanning over 11,300 square feet is the immaculate Claudius Vegas Villa.
The ultra-stylish villa offers 4 bedrooms, a media room with a full-size billiard table, and comes with your own dedicated butler.
The villa also includes a spacious private outdoor terrace with a hot tub, bar area, and fire pit.
Nobu Villa
A favorite with every high-roller in town is the incredible Nobu Villa.
The 3-bedroom 10,300-square-foot villa has its own Japanese-inspired rooftop with incredible sweeping views overlooking the Las Vegas Strip.
The private terrace balcony has a fire pit, a generously sized bar, a fire and water fixture, a BBQ and pizza oven, and a secluded Zen garden with an Italian-made whirlpool.
Marcus Aurelius Villa 
The 9,420-square-foot, three-bedroom Marcus Aurelius Villa is full of old-world charm and offers a decadent Vegas stay with every possible amenity available.
The expansive villa includes an exotic fish tank, a large double-sided fireplace, a grand piano, plus a billiard and media room complete with massage chairs.
Guests also have access to their own private balcony, with a spa tub and fire pit.
If you're looking for a more affordable balcony option in Las Vegas than the villas listed above, you'll want to check our article here where we tell you the best hotel rooms on the Strip with a balcony option.
The History of Caesars Palace
Located on the west side along the Las Vegas Strip, Caesars Palace Hotel and Casino was founded in 1966 and nowadays offers guests a choice of 3,960 rooms and suites located within six towers.
On the grounds, there is also a 300,000 square foot convention facility, a 4,296 seat theatre, a casino with a 4,500-square-foot 24-hour poker room, and many bars and fine dining restaurants.
Caesars holds a legacy of being a casino for high-rollers and celebrities and is perhaps the most famous casino in Vegas.
It has appeared in numerous films including Fools Rush In (1997), Ocean's Eleven (2001), The Hangover (2009), and TV shows including The Simpsons, The Sopranos, Friends, and Keeping Up With the Kardashians. ​​
RELATED: Does Caesars Palace Have an Airport Shuttle?
Find the best deals on Caesars Palace rooms and save big with TripAdvisor!
Summary
For many, the opportunity to experience any of Caesar Palace's luxurious balconies, terraces, and private patios offered within the secluded villa walls will be out of reach.
These rooms offer some of the most opulent accommodations on the planet and come with some absolutely eye-watering daily rates.
But, you will get private outdoor space which is not easy to come across in Vegas.
You can check out all of our Caesars Palace articles here.
Related Articles:
Up Next: How To Choose a Hotel in Las Vegas (The Ultimate Guide)
References:
https://en.wikipedia.org/wiki/Caesars_Palace