Which Tower at Caesars Palace Is the Best? (Revealed!)
When you think of Vegas, you think of Caesars Palace Las Vegas. It's one of the most iconic Vegas hotel and casino combos, and you'll never lack options with thousands of rooms ensconced within its five towers. Anyone considering going to Vegas might want to know: Which tower at Caesars Palace is the best?
For most purposes, the Augustus and Octavius Towers at Caesars Palace are the best. They are the most spacious and provide the most luxurious accommodations, with marble spa-style bathrooms, plush pillowtop beds, and a great view of the Bellagio Fountain.
In this article, I'll be covering all the information you need to know about Caesars Palace, including detailed information about each tower and its amenities.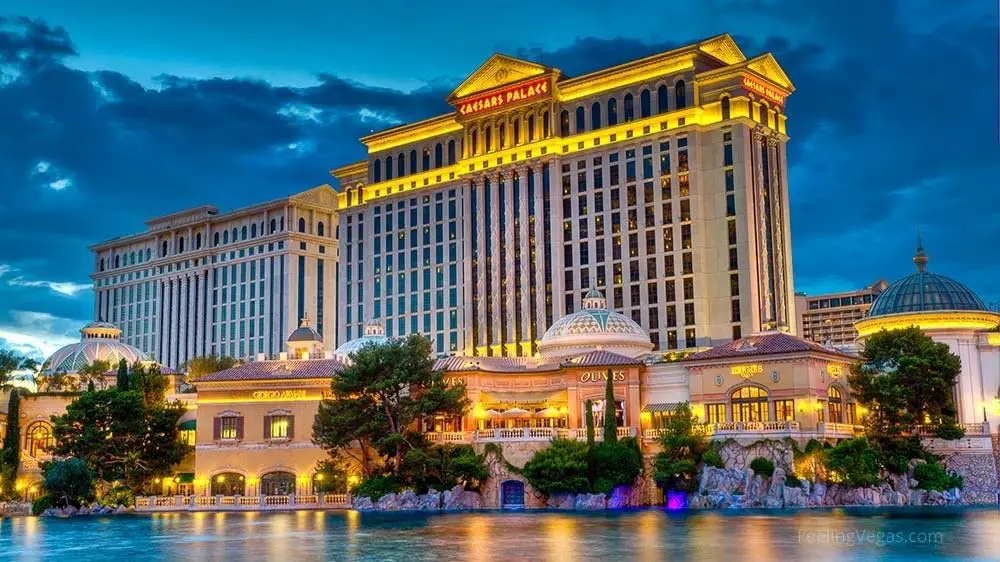 Caesars Palace Towers
One of the defining features of Caesars Palace is its five towers. These are:
Augustus Tower
Julius Tower
Octavius Tower
Nobu Tower
Forum Tower
By default, every tower has a modernized Roman aesthetic.
Each has its own unique decor that gives a different atmosphere compared to the others within the Roman theme, plus different layouts and differing access to the casino, shopping areas, and pool area.
Augustus Tower
The Augustus Tower is home to some of the most luxurious rooms and suites within the hotel. Home to 949 rooms, this tower's rooms tend toward gray and royal blue color schemes with gold accents. The Augustus Tower is located at the south end of Caesars Palace, near the lobby, with the Garden of the Gods pool oasis just a stone's throw away.
Augustus Tower rooms tend to have very luxurious marble bathrooms with dual sinks, plus plush king-sized beds. Throw in a great Strip view of the Bellagio Fountain, and you can really feel like a Caesar in this tower.
For those not very interested in gambling, this tower may be perfect, because you never have to go in or through the casino to get to this tower.
Check Augustus Tower Room Rates
Julius Tower
Julius Tower is the most well-known of the towers: the curved tower in the heart of Caesars Palace. The newest and most recently renovated of the towers, the Julius Tower underwent renovations in 2016 that totaled a whopping $100 million.
Home to 587 rooms nestled within 14 floors, the Julius Tower has both affordable rooms and top-end luxury suites. On average, Julius Tower's normal rooms are smaller than the other towers' standard rooms, but the luxury accommodations of their suites and villas make up for it.
The Julius Tower is also the closest to the casino and lobby bar and is relatively equidistant from other exclusive amenities within the hotel & casino. For a moderately priced trip to Vegas, you can't go wrong with staying in the curved Julius Tower.
Octavius Tower
Like the Augustus Tower with which it shares a lobby, Octavius Tower has a reputation for opulence. Removed from the bustle of the Palace casino, Octavius Tower sports more subdued and less gaudy decoration than the other towers. Instead, it opts for truly luxury accommodations that feel no need to look pricey.
Similar to the Augustus Tower, the Octavius Tower has plush king-sized beds, full spa bathrooms, and plenty of space. Notably, the Octavius has some of the hotel's most expensive suites, such as the Hadrian Villa and the Marcus Aurelius Villa.
These suites feature close to 10,000 square feet (929.03 square meters) of space, several bedrooms, and tons of luxury amenities that will make you feel like an actual Caesar. Before you get in a rush booking your stay, the price tag averages between $30,000-$40,000 per night. Robert De Niro once famously said, "Onward and upward!" from the roof of one of these luxury suites, so you know it's fancy.
Check Octavius Tower Room Rates
Nobu Tower
The Nobu Tower is a bit of an oddity among the Palace towers. This unique tower eschews Caesars' classic Roman aesthetic for an eastern Asian theme – everything from the lobby where you're given complimentary tea to the Japanese-inspired decorations of the rooms radiates serenity and subdued class. 
The Nobu Tower has its own Nobu Bar & Lounge where it offers authentic eastern Asian cuisine to cater to wealthy Asian guests who patronize the casino. Nobu Tower has incredibly luxurious accommodations similar in quality to Augustus and Octavius Towers, and Nobu villa area located on the top floors offer an unparalleled view of the Strip's skyline.
Forum Tower
The Forum Tower is the most affordable of the Palace's resort towers, with decor that's less opulent than the more expensive suites. The standard room in the Forum tower may be a little small, but it's still Caesars Palace: The suites in the Forum feature a spa tub, rain showers, and even waiting areas for those entertaining guests.
Where the Forum Tower shines is its proximity to the hustle and bustle of the Palace. The Forum Tower is the closest to the casino, Forum Shops, food court, and of course, the Colosseum where famous entertainers frequently perform. If you don't plan on spending much time in your hotel room and just want to go to the casino or Forum Shops, the Forum Tower is a great choice.
Which Caesars Palace Tower Is the Best Option?
Now that we're well-acquainted with each tower, you're no doubt wondering: Which is the best tower to book a stay in for my long-awaited Vegas vacation?
Unfortunately, there isn't a cut-and-dry answer to which tower is the best. That's because what's best for you depends on what you're looking for out of your Caesars Palace experience.
If I absolutely had to name what tower is best, I would say the Augustus and Octavius Towers are tied for the best towers in Caesars Palace, with spacious rooms full of amenities and marble. In these towers' suites, you'll forget all about your day-to-day life and get a taste of what the Roman elite lived like.
Of course, the Nobu Tower has extremely luxurious suites as well, and guests who prefer its eastern Japanese theme may prefer its similarly priced suites and proximity to authentic eastern cuisine. In general, though, the Octavius and Augustus Towers receive the most attention and care out of all the towers.
The Forum Tower's moderately priced rooms may be the 'best' for someone looking to save money on a room and spend it on the casino floor, or the Julius may be great for those seeking a happy medium between luxury and affordability.
What To Expect at Caesars Palace
Caesars Palace is a case study in excess even for Las Vegas. The Caesars Palace casino has the single largest poker room in all of Vegas – quite a feat in a city of casinos!
If gambling is your game, you don't have to look far for your game of choice: The Palace has:
Old-school slot machines
Virtual slot machines
Blackjack
Roulette
Poker
And much, much more!
The slot machines accept between a penny all the way up to $500 for a single pull.
The opulent Roman decor is remarkable – they have a 9-ton (8,164.66-kg) replica of Michelangelo's famous Statue of David, and the manicured greenery will make you feel like you entered a Roman dream. If art is what you're after, The Park West Fine Art Museum & Gallery within the Forum Shops features both classic and modern art.
As far as shopping, the Forum Shops mall within Caesars Palace is the single top-grossing mall in the whole country, measured by sales per square foot.
The Forum Shops are home to many luxury brands such as Rolex, Versace, Emporio Armani, Louis Vuitton, Dior, Gucci, and more. The three-floor mall features unique Roman-style spiral escalators to transport you from floor to floor, and the mall contains parking for more than 2,000 at a time.
You can't talk about the Palace without talking about the Colosseum. Famously Home to the World's Greatest Entertainers, the Colosseum has hosted many legendary artists, including Frank Sinatra, Cher, Elton John, Mariah Carey, and more.
Celine Dion's A New Day, which is the top-grossing concert residency of all time (~$385 million), was hosted at the Colosseum. This famous piece of Vegas history can hold more than 4,000 people at one time and is connected to the Forum Shops via the casino.
For swimmers, the Garden of the Gods pool complex spans three levels across 4.5 acres (18,210.9 square meters). Each pool sports granite columns, marble mosaics, as well as other elaborate Roman decor.
Each of the seven pools is named for a different god/goddess, each with its own twist. One of them has a swim-up blackjack table, and another has an 18-foot (5.48-meter) tall waterfall! Caesars typically close the pools, however, during the winter, like most resorts.
Related: Find out which Las Vegas pools are open and heated during the winter
Caesars doesn't lack for nightlife either: the Omnia Nightclub features the famous kinetic chandelier, bottle service dropped in from aerial performers, world-class DJs, and a rooftop mezzanine with a beautiful view of the Las Vegas Strip.
With 75,000 square feet (6,967.72 square meters) across multiple levels, Omnia is a master class in how to blend classic and modern. You can't get away with jeans and sneakers at this luxury nightclub!
Related: Find out what to wear to Las Vegas nightclubs
Final Thoughts
While the Augustus and Octavius Towers might be the best and most luxurious towers at Caesars Palace Las Vegas, some people may have a better experience with one of the other towers and their more affordable price tags.
In the end, the decision is yours and is all about what you want out of your Vegas Vacation. I will say that no matter which Caesars Palace tower you choose, you won't be disappointed!
If you want more information, take a look at our entire category of Caesars Palace articles. Here you'll find everything you need to know about Caesars Palace in Las Vegas.
Source: