Which Tower at Caesars Palace Is the Best? (Caesars Palace Towers Las Vegas!)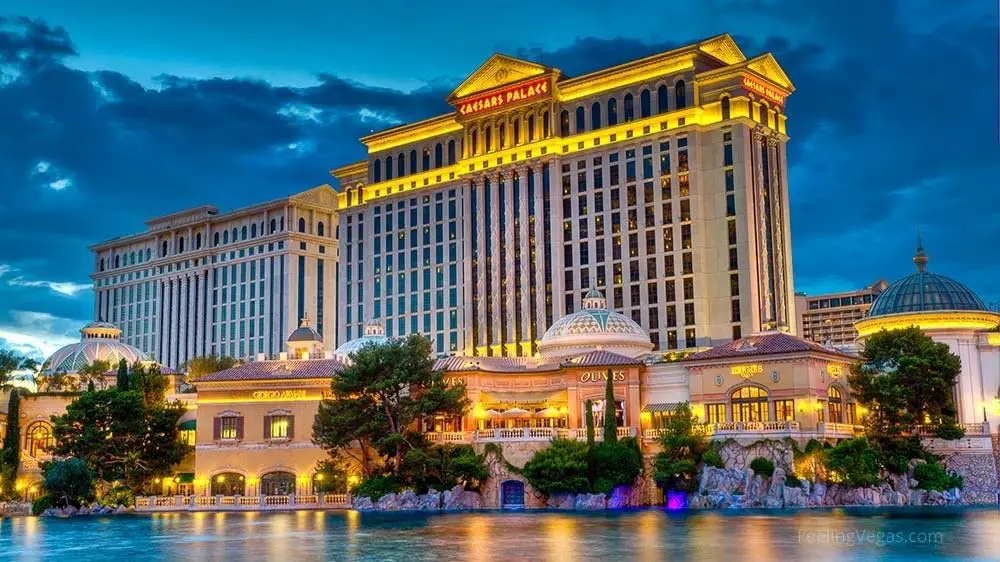 (This article may contain affiliate links, which means we might earn a small commission if you click and make a purchase. Thank you!)
Caesars Palace in Las Vegas is an iconic destination, featuring nearly 4,000 rooms divided into six distinct towers. Each tower offers a unique experience, catering to different tastes and preferences. Discerning travelers often debate which tower at Caesars Palace provides the best accommodation experience, as each comes with its own set of luxurious features and benefits.
Some visitors prefer the Julius Tower, which underwent a $100 million renovation in 2016 and is known for its central location and curved facade. The Augustus and Octavius Towers, on the other hand, draw guests with their spacious, luxurious rooms, marble spa-style bathrooms, and impressive views of the Bellagio Fountain. Finally, there's the elegant Octavius Tower, garnering praise for its refined appeal and sophisticated ambiance.
In this article, I'll tell you about the offerings of each of these Caesars Palace towers in detail to help you decide which one suits you best. By considering factors such as room size, amenities, location, and overall atmosphere, you'll be able to make an informed decision when choosing your ideal accommodation.
Compare and save! Check current Caesars Palace room rates at TripAdvisor!
Overview of Caesars Palace Towers
Caesars Palace is one of the most famous hotels and casinos in Las Vegas. The hotel offers 3,960 luxurious rooms, which are housed in six distinct towers. Each tower has its own unique personality and benefits, providing guests with a variety of experiences to suit their preferences.
This section will explore each tower in detail.
Augustus Tower
The Augustus Tower is home to some of the most luxurious rooms and suites within the hotel. Home to 949 rooms, this tower is located at the south end of Caesars, near the lobby, with the Garden of the Gods Pool Oasis just a stone's throw away.
Augustus Tower rooms tend to have very luxurious marble bathrooms with dual sinks, plus plush king-sized beds. Throw in a great Strip view of the Bellagio Fountain, and you can really feel like a Caesar in this tower.
This tower may also be perfect for those not interested in gambling because you won't have to go through the casino to get to your room.
Palace Tower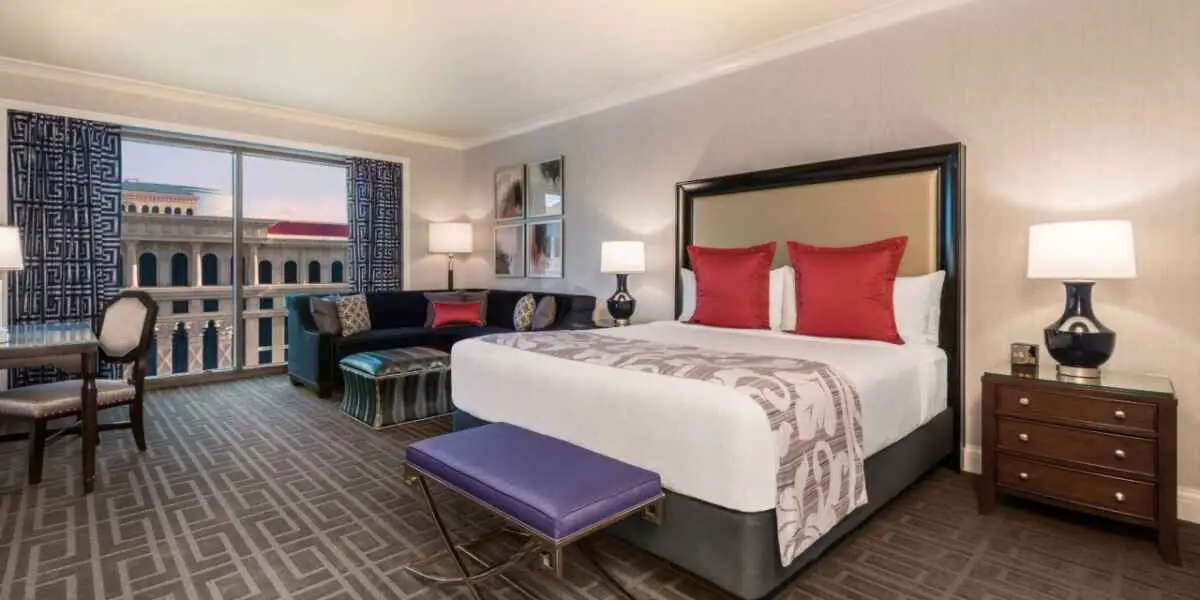 Photo: Here's a look at a Palace Tower Premium Studio room with a single king bed (Photo courtesy of Caesars Palace)
Palace Tower offers guests a regal experience with lavish rooms and a prime location close to the casino, convention spaces, and Garden of the Gods Pool. This tower features elegant décor and upscale amenities, making it a popular choice among discerning travelers.
Octavius Tower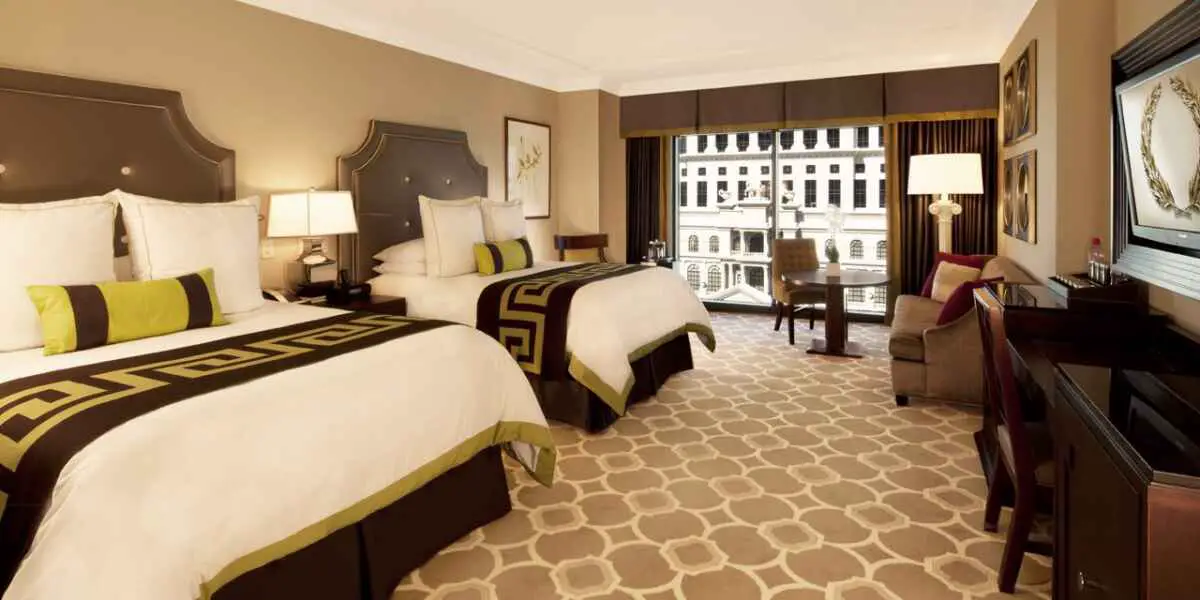 Photo: This is the 2 Queen bed Octavius pool view room. (Photo courtesy of Caesars Palace)
Like the Augustus Tower, with which it shares a lobby, Octavius Tower has a reputation for opulence. Removed from the bustle of the casino, Octavius Tower features more subdued and less gaudy decoration than the other towers. Instead, it opts for truly luxury accommodations that feel no need to look pricey.
Similar to the Augustus Tower, the Octavius Tower has plush king-sized beds, full spa bathrooms, and plenty of space. Notably, the Octavius has some of the hotel's most expensive suites and villas.
These suites feature nearly 10,000 square feet (929.03 square meters) of space, several bedrooms, and tons of luxury amenities that make you feel like an actual Caesar. Before you get in a rush booking your stay, the price tag for these accommodations averages between $30,000-$40,000 per night.
Robert De Niro once famously said, "Onward and upward!" from the roof of one of these luxury suites, so you know it's fancy.
Julius Tower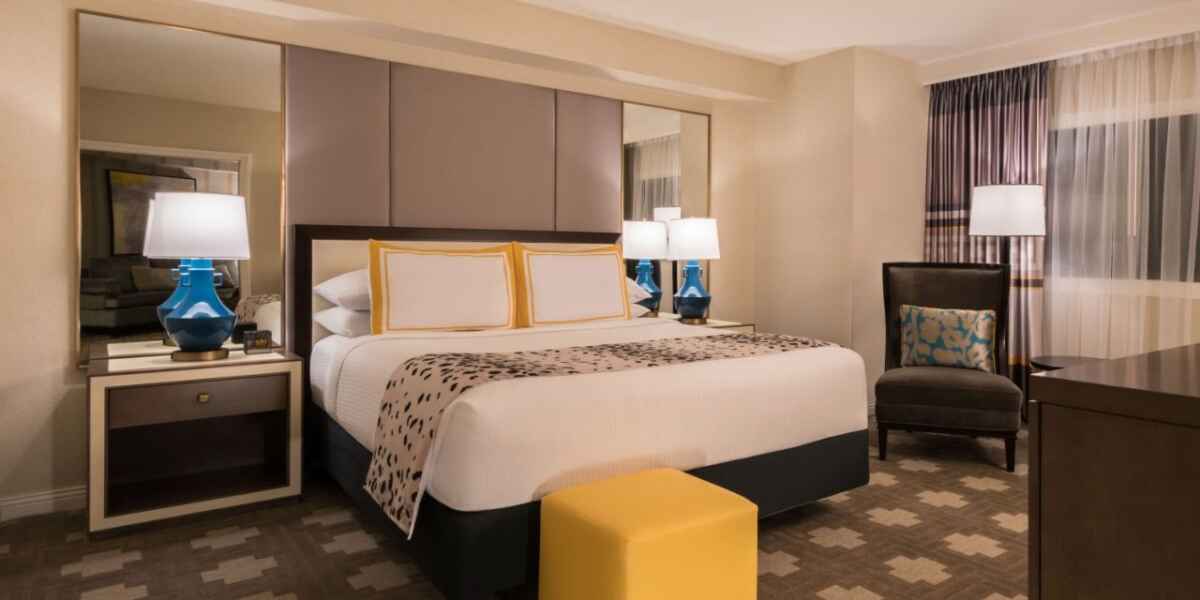 Photo: View of the Studio Suite with a king bed in the Julius Tower. (Photo courtesy of Caesars Palace)
Julius Tower is the most well-known of the towers as the curved tower in the heart of Caesars Palace. The most recently remodeled of the towers, the Julius Tower was renovated in 2016 at the cost of over $100 million!
Home to 587 rooms nestled within 14 floors, the Julius Tower has both affordable rooms and top-end luxury suites. On average, Julius Tower's rooms are smaller than the other towers' standard rooms, but the luxury accommodations of their suites and villas make up for it.
The Julius Tower is also the closest to the casino and lobby bar and is relatively equidistant from other exclusive amenities within the hotel & casino. For a moderately priced trip to Vegas, you can't go wrong with staying in the curved Julius Tower.
Nobu Tower
The Nobu Tower is a bit of an oddity when it comes to Caesars towers. This unique tower eschews Caesar's classic Roman aesthetic for an Eastern Asian theme – everything from the lobby where you're given complimentary tea to the Japanese-inspired decorations of the rooms radiates serenity and subdued class. 
The Nobu Tower has its own Nobu Bar & Lounge where it offers authentic Eastern Asian cuisine to cater to wealthy guests who patronize the casino. Nobu Tower has incredibly luxurious accommodations similar in quality to the Augustus and Octavius Towers. In addition, the Nobu Villas are located on the top floors and offer an unparalleled view of the Strip's skyline.
Forum Tower
Forum Tower is known for its affordability and convenience, perfect for guests on a budget who still want to enjoy the Caesars Palace experience. The rooms in this tower are comfortable and well-appointed, although they may lack some of the luxury found in the other towers.
Its central location provides easy access to the resort's casino, entertainment, and dining options.
Caesars Rooms and Suites
Each tower at Caesars Palace offers a wide variety of rooms, including standard rooms, suites, and villas. Let's see what you can expect from each of these room styles.
Standard Rooms
The standard rooms at Caesars Palace vary across the different towers. For example, rooms in the Augustus Tower are known for their extra space and upscale accommodations, with a classic Caesars theme redesigned with a modern twist.
Many Augustus rooms feature stunning views of the Bellagio Fountain, and their legendary marble bathrooms ensure a comfortable stay. Meanwhile, the Julius Tower's rooms are smaller and come with modern but more basic amenities.
Suites
Caesars Palace offers a variety of suites to suit different needs and preferences. In the Octavius Tower, guests can enjoy a peaceful retreat away from the ruckus, as these suites are tucked away from the casino floor.
They offer generous living spaces, lavish decor inspired by Roman architecture, and bathrooms equipped with spa tubs and rain showers. For a more exclusive experience, the Nobu Deluxe and Executive Suites at the Nobu Hotel within Caesars Palace can cater to more distinguished tastes, providing a serene atmosphere and personalized service.
Villas
For those seeking ultimate luxury and privacy, Caesars Palace offers the unparalleled Constantine and Marcus Aurelius Villas. These opulent accommodations go above and beyond the standard Vegas experience, with extravagant features such as their own private pools, extensive living areas, and state-of-the-art entertainment systems.
The stunning design of these villas is a nod to the Roman influences that permeate the entire property. Guests staying at either the Hadrian or Marcus Aurelius Villa also have exclusive access to private entrances and personal round-the-clock service, ensuring an unforgettable stay.
Discover unbeatable rates on rooms at Caesars- click here to check now! (TripAdvisor)
Tower Locations and Views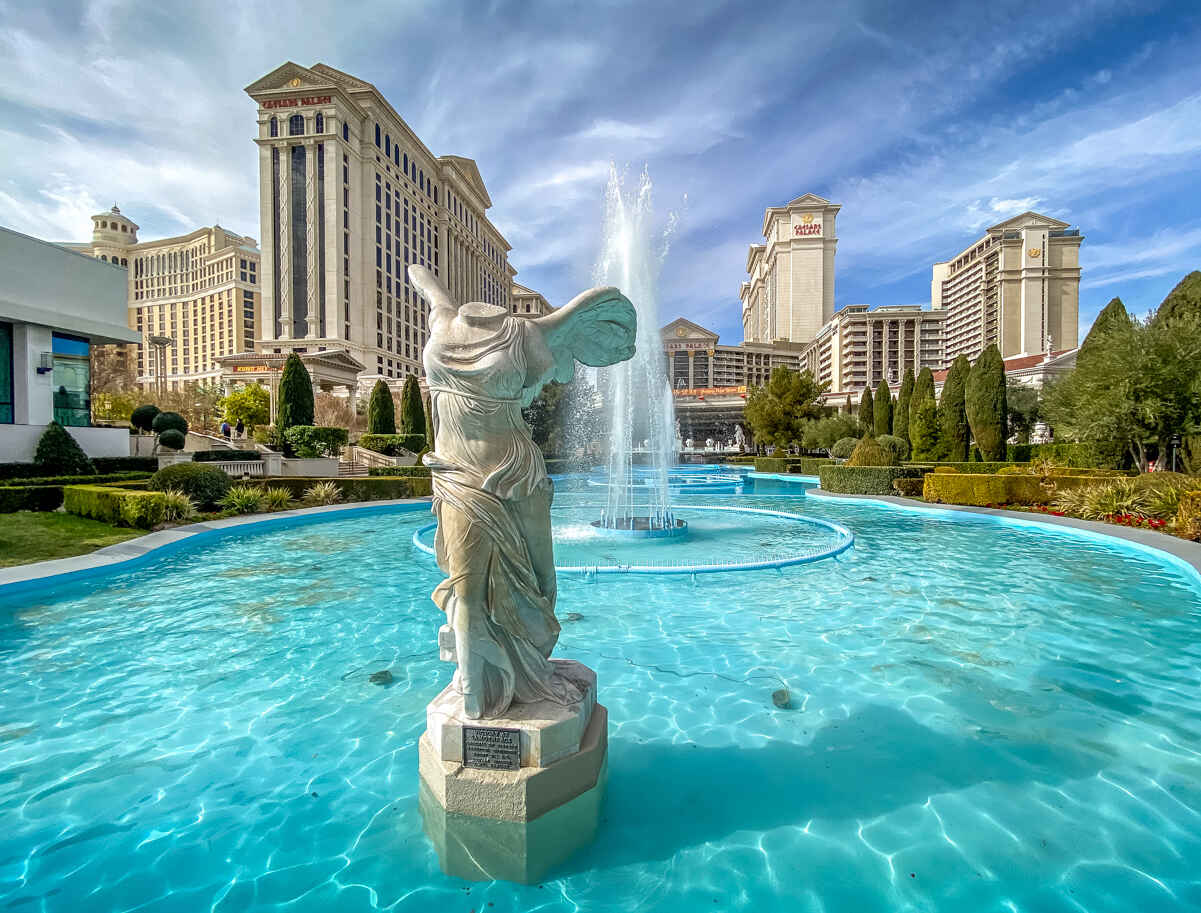 Photo: The water fountains in front of the Caesars Palace towers. The Strip (aka Las Vegas Boulevard) is directly behind me as I took this photo. The Bellagio Fountain (not pictured) is located to the left and is about a 10-minute walk from Caesars' front entrance.
Proximity to Las Vegas Strip Attractions
Caesars Palace is centrally located on the Las Vegas Strip, making it an excellent choice for visitors who want to be close to various attractions. Within walking distance, guests can find popular destinations such as The Bellagio Fountains, Paris Las Vegas, and The Cosmopolitan. This prime location makes it easy for visitors to access nearby shopping, dining, and entertainment options.
Some specific attractions within close proximity include:
Bellagio Fountains: These iconic fountains are right next door to Caesars Palace, offering guests a spectacular show set to music and lights. Also see: Bellagio Fountain Show Times & Song List
Paris Las Vegas: Just a short walk away, this themed resort features a replica of the Eiffel Tower and hosts unique dining options, shopping, and a vibrant casino atmosphere.
The LINQ Promenade: Just north of Caesars Palace, this outdoor shopping, dining, and entertainment district features unique experiences such as the High Roller, the world's tallest observation wheel. Also see: The LINQ Promenade On The Vegas Strip (The Ultimate Guide)
Tower Views
Photo: Some of the rooms in the Augustus Tower at Caesars (pictured above) features an amazing view of the Bellagio Fountain.
Caesars Palace's six distinct towers offer different views of the Las Vegas skyline and surrounding Strip. Some of the noteworthy views from these towers are as follows:
Augustus Tower: Often considered the best tower, it offers spacious rooms and stunning views of the Bellagio Fountains. Staying in this tower ensures a quiet, luxurious experience away from the casino hustle.
Julius Tower: This tower features stylish rooms with a contemporary twist on the classic Caesars theme. While not specifically known for skyline views, its central location within the property provides easy access to nearby attractions.
Octavius Tower: With a more modern design compared to other towers, the Octavius Tower offers a luxe experience along with impressive views of the Strip, including the Paris Las Vegas Eiffel Tower replica and surrounding skyline.
Nobu Tower: As the most upscale option, Nobu Tower boasts exclusive amenities and unique decor while offering a mix of Strip and pool views, depending on room location.
Forum Tower: This tower offers a range of views, including some overlooking the famous Garden of the Gods Pool Oasis.
Each tower at Caesars Palace provides guests with a unique experience and varying views of the Las Vegas Strip and skyline, making it an ideal location for those looking to immerse themselves in the heart of this lively city.
Price and Affordability of The Caesars Palace Towers
Caesars Palace has rooms that cater to almost all budgets. So whether you're a modest traveler or a flashy high roller, there's a room in a Caesars Palace tower for you.
Comparing Room Prices
Since Caesars Palace offers a wide range of rooms at various price points, it may help to provide you with a range of prices based on room type. The towers at Caesars contain a mixture of the following rooms.
Deluxe Room: Price – $119-$329, Size – 360 sqft. These rooms offer modern but basic amenities and are available with either king or twin queen bed configurations.
Premium Room: Price – $149 – $250, Size – 650 – 750 sq. ft.
Studio Suite: Price – $200-$250, Size – 560 sq. ft.
Executive Suite: Price – $351 – $1,069, Size – 960 – 1,079 sq. ft.
Premium Suite: Price – $1,119 – $1,443, Size – 1,100 sq. ft.
Check and compare current room rates at Caesars Palace (TripAdvisor)
Keep in mind that prices may vary depending on factors such as the season, availability, and current promotions. Also, remember that the nightly room rate does not include the daily resort fee or taxes.
RELATED: 3 Reasons Why Caesars Palace Is So Expensive (Las Vegas)
Value for Money
When considering the best tower for your stay at Caesars Palace, it is essential to evaluate what you get for the price. The Augustus and Octavius Towers are known for their spacious and luxurious rooms, featuring marble spa-style bathrooms, plush pillowtop beds, and excellent views of the Bellagio Fountain. These two towers are often considered the best choices for most visitors.
In the middle price range is the Palace Tower, which offers a blend of modern luxury and classic architecture. The rooms in this tower are spacious and well-appointed, providing a balance between affordability and comfort.
If you are traveling on a budget, consider the more affordable room options such as the Deluxe Room or Studio Suite. These rooms might not have the same level of luxury as the premium options but still provide comfort and easy access to the hotel's amenities.
The Asian-themed Nobu Tower targets wealthy Asian guests and features upscale rooms, including the exclusive Nobu Penthouse. This tower is on the higher end of the price spectrum, with luxurious furnishings, unique design elements, and exceptional service. However, it may not be the most affordable option for many guests.
When choosing the best tower for your stay at Caesars Palace, consider factors such as proximity to the casino, entertainment options, and the hotel's layout. The ease of accessing elevators, lobby bars, and various amenities can also impact your overall experience.
By evaluating the rooms' prices, quality, and features within each tower at Caesars Palace, you can determine which option best fits your needs and budget.
Which Caesars Palace Tower Is the Best Option? (My Opinion)
Of course, there isn't a cut-and-dry answer to which tower is the best. That's because what's best for you depends on what you're looking for from your Caesars experience.
If I had to name which tower is best, I would say the Augustus and Octavius Towers are tied for the most desirable towers in Caesars Palace, with spacious rooms full of amenities and upscale touches. In these towers' suites, you'll forget all about your day-to-day life and get a taste of how the Roman elite lived.
The Nobu Tower also has extremely luxurious suites, and guests who prefer its Eastern Japanese theme may prefer its similarly priced suites and proximity to authentic Eastern cuisine. In general, though, the Octavius and Augustus Towers are the most popular out of all the towers.
Alternatively, the Forum Towers' moderately priced rooms may be the 'best' for someone looking to save money on a room and spend it on the casino floor or other Vegas attractions, and the Julius tower may be great for those seeking a happy medium between luxury and affordability.
Find the best deals on Caesars Palace rooms and save big with TripAdvisor!
Caesars Amenities and Services
Caesars Palace offers a wide range of amenities and services for its guests to enjoy regardless of the tower or room they're staying in. The resort is known for its iconic casino, impressive pools, top-notch dining establishments, and extensive shopping options.
Pools and Poolside Services
Caesars Palace features the Garden of the Gods Pool Oasis, a sprawling outdoor complex that boasts several pools, each with its unique vibe and atmosphere. Guests can relax and unwind in luxurious poolside settings, complete with:
Family-friendly pools with shallow wading areas for younger guests
Adult-only pools for those who prefer a more sophisticated, tranquil ambiance
Cabanas and daybeds are available for rental, providing extra comfort and privacy
RELATED: Caesars Palace Pool: 22 Things You Should Know
Dining and Entertainment
The hotel offers a diverse selection of dining options, from casual eateries to high-end restaurants. Some of the notable establishments at Caesars Palace include:
Bacchanal Buffet, renowned for its exceptional selection of international cuisine
Guy Savoy, a Michelin-starred restaurant offering exquisite French dishes
Nobu, an upscale Japanese restaurant that doubles as a trendy bar and lounge
In addition to the fantastic dining scene, Caesars Palace hosts a plethora of entertainment options for its guests. The Colosseum, a landmark venue, has housed residencies by celebrity performers such as Celine Dion. Moreover, the hotel features various bars, lounges, and gambling options to suit every taste and preference.
Shopping and Lifestyle
Caesars Palace is well-known for its upscale shopping experience, with the Forum Shops featuring luxury brands like Versace, Balenciaga, and Gucci, as well as a variety of more affordable retail options:
Luxury shops for those seeking high-end fashion, accessories, and jewelry
Mid-range stores offering trendy and affordable clothing and accessories
Food court and specialty shops for a more diverse and casual shopping experience
Aside from retail offerings, the hotel also boasts a range of sophisticated amenities for an enhanced guest experience. Qua, one of the on-site spas, provides a serene and rejuvenating environment for patrons. Furthermore, the hotel houses a dedicated wedding chapel for those looking to celebrate their special day at the iconic destination.
Frequently Asked Questions
Palace vs Augustus: which is better?
Both Palace Tower and Augustus Tower offer excellent accommodations at Caesars Palace. The renovated Palace Tower features updated rooms with modern amenities. In contrast, the Augustus Tower is known for its spacious rooms and top notch views of the Strip. Ultimately, the choice between the two depends on personal preferences and priorities during your stay.
How are Octavius Tower rooms?
The Octavius Tower rooms at Caesars Palace are known for their refined appeal. They are designed with a modern and spacious layout, providing guests with a comfortable and luxurious stay. These rooms are a popular choice for those looking for an elegant experience at Caesars Palace.
Which tower has the best view?
The best view from a Caesars Palace tower room may vary depending on personal preferences. Some guests prefer a view of the Las Vegas Strip, while others might enjoy the tranquility of the Garden of the Gods Pool Oasis. Each tower offers different vantage points, so you may want to inquire about the view when booking your room.
What's unique about Julius Tower?
With its visually appealing curved tower, the Julius Tower is known for offering a top-notch stay with easy access to the casino and other on-site amenities. However, being one of the older towers, the Julius Tower tends to have somewhat smaller rooms.
How many floors in Octavius Tower?
The Octavius Tower at Caesars Palace has a total of 23 floors, with a variety of room types to accommodate different preferences and budgets.
Total number of Caesars Palace towers?
Caesars Palace features a total of six towers, each offering unique amenities and experiences for guests. The six towers are: Augustus Tower, Julius Tower, Octavius Tower, Nobu Tower, Forum Tower, and Palace Tower.
Final Thoughts
While the Augustus and Octavius Towers might be the top towers for the majority of guests at Caesars Palace Las Vegas, some people may have a better experience with one of the other towers and their more affordable price tags.
In the end, the decision is yours and is all about what you want out of your Vegas Vacation. I will say that no matter which Caesars Palace tower you choose, you won't be disappointed!
If you want more information, take a look at our entire category of Caesars Palace articles. Here you'll find everything you need to know about visiting or staying at Caesars Palace in Vegas.
Source: Caesars Palace