Is Nobu Hotel Worth It? (Nobu Hotel Las Vegas)
(This article may contain affiliate links. If you click through and make a purchase, we will receive a small commission at no additional cost to you. )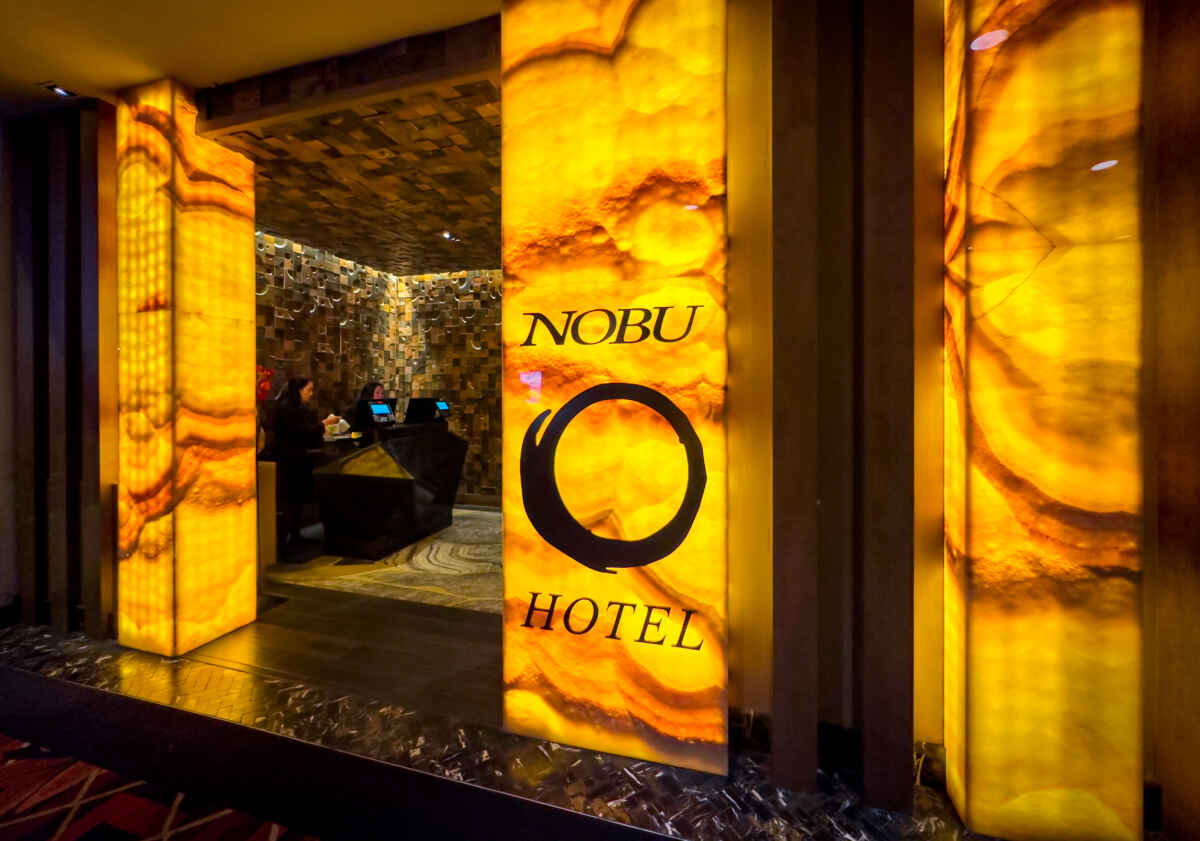 When considering a visit to Las Vegas, the thought of finding the perfect hotel to stay at can be overwhelming. With a plethora of options available, one hotel that stands out amongst the rest is the Nobu Hotel at Caesars Palace. As you weigh the pros and cons of booking a stay at this luxury hotel, it's essential to understand what makes it special and whether the experience is worth it.
Nestled within the iconic Caesars Palace complex, the Nobu Hotel is an exclusive-feeling hotel that offers an escape from the chaos of Vegas without sacrificing any of the excitement. This hotel is a collaboration between celebrity chef Nobu Matsuhisa and actor Robert DeNiro, offering a sophisticated and stylish environment with 181 artfully designed guest rooms.
One of the highlights of staying at the Nobu Hotel is its proximity to critically acclaimed dining options such as Nobu Restaurant and Amalfi.
Before you book your next Las Vegas getaway, it's useful to know that Nobu Hotel has received high marks for cleanliness, stylish décor, and superb service. Guests have praised the warm and professional staff, creating a zen and luxurious atmosphere to make your vacation enjoyable and memorable.
As you navigate the many choices available, the Nobu Hotel could very well be the cozy and upscale retreat you're looking for in the heart of Sin City.
Compare and save! Check current Nobu room rates at TripAdvisor.
Nobu Hotel Las Vegas: Location and Atmosphere
Las Vegas Strip
Nobu Hotel is situated right in the heart of the bustling Las Vegas Strip, inside Caesars Palace resort. By choosing to stay at Nobu, you'll have easy access to casinos, shopping, dining, and nightlife.
Thus, you'll be perfectly placed to enjoy all the excitement Las Vegas has to offer while still benefiting from the hotel's soothing atmosphere.
Japanese-Inspired Design
Designed by New York-based designer David Rockwell, Nobu Hotel infuses Japanese aesthetics and Zen-inspired elements to create a truly boutique hotel experience. The moment you step into your room, you'll notice the hotel's unique style: spa-like, Japanese-inspired rooms that make you feel worlds away from all the noise and energy of Las Vegas.
Soft, warm lighting and neutral color palettes help create a serene atmosphere, while the attention to detail in furniture, artwork, and overall design make the hotel stand out from others in the area. This elegant design can help you relax and unwind after a long day of exploration, gaming, and dining around Las Vegas.
Nobu Hotel combines an unbeatable location on the Las Vegas Strip with a unique Japanese-inspired aesthetic, creating a boutique hotel experience that perfectly balances excitement and tranquility. Stay at Nobu to enjoy the best of Las Vegas while still feeling refreshed and rejuvenated at the end of each day.
Nobu Rooms and Suites
Nobu Deluxe King
When you step into the Nobu Deluxe King, you'll find yourself immersed in a blend of Japanese style and the urban vibes of the city. The room offers approximately 350 square feet (32 square meters) of space and features a comfortable Nobu signature bed.
The minimalist design gives you a sense of tranquility while you enjoy the Natura Bissé bath amenities in the spa-like bathroom. The maximum occupancy for the Deluxe King is two guests.
Sake Suite
The Sake Suite provides a spacious and stylish retreat for your stay at Nobu Hotel. This suite offers stunning views of the surroundings through floor-to-ceiling windows and boasts a harmonious blend of modern design with traditional Japanese elements. Some of the standout features of the Sake Suite include:
1,300 to 1,950 square feet
A separate living area
A spacious bathroom with a soaking tub
Chic, minimalist décor
Penthouse
For an unparalleled luxurious experience, consider booking the Penthouse at Nobu Hotel. Soaring high above the city, this opulent suite offers breathtaking views and ample space to relax and unwind. The highlight of the Penthouse is its incredible outdoor terrace, perfect for unwinding with a cocktail after a long day of exploring. Inside, you'll find amenities such as:
Lavish living and dining areas
A grand master bedroom
Spa-style bathrooms complete with deep soaking tubs
State-of-the-art entertainment systems
Hakone Suite
Named after the beautiful Hakone region in Japan, the Hakone Suite offers hotel guests a serene and calming environment, with a focus on natural wood elements and minimalist design. This suite features a spacious living area, complete with traditional Japanese artworks and refined furnishings. The Hakone Suite also offers:
1,000 square feet
A luxurious master bedroom with a Nobu signature bed
An elegant bathroom with Natura Bissé amenities and a deep soaking tub
Floor-to-ceiling windows, provide a stunning view of the city
Overall, the range of rooms and suites at Nobu Hotel caters to a variety of preferences and budgets, ensuring a truly memorable and comfortable stay for all guests.
Amenities and Services at Nobu Hotel
Spa
At Nobu Hotel, you can pamper yourself with a visit to the on-site spa. The spa offers a variety of treatments and services designed to help you relax and rejuvenate during your stay. With an emphasis on modern techniques and high-quality products, you'll feel like royalty as you indulge in these luxurious treatments.
Fitness Center
Keeping up with your fitness routine is a breeze at Nobu Hotel's gym. The fitness center features state-of-the-art Technogym cardio machines and free weights, ensuring you have everything you need for a great workout. Whether you're a casual exerciser or a dedicated fitness enthusiast, you'll appreciate the quality of this gym during your stay.
Arctic Ice Room
For a truly unique experience, don't miss the Arctic Ice Room at Qua Baths & Spa. In this sanctuary-like space, you can unwind and experience the soothing effects of a cold therapy treatment. As you relax in the quiet confines of the room, you'll be surrounded by an invigorating arctic atmosphere, complete with icy walls and a crisp, cool ambiance.
This one-of-a-kind amenity sets Nobu Hotel apart from other Las Vegas hotels and offers guests an unforgettable experience.
In summary, some of the amenities at Nobu Hotel include:
On-site spa
Modern fitness center
Unique Arctic Ice Room
High-quality products and services
Enjoy all these amenities and more as you experience the comforts and luxury of Nobu Hotel during your stay in Las Vegas.
The Nobu Restaurant and Bar Experience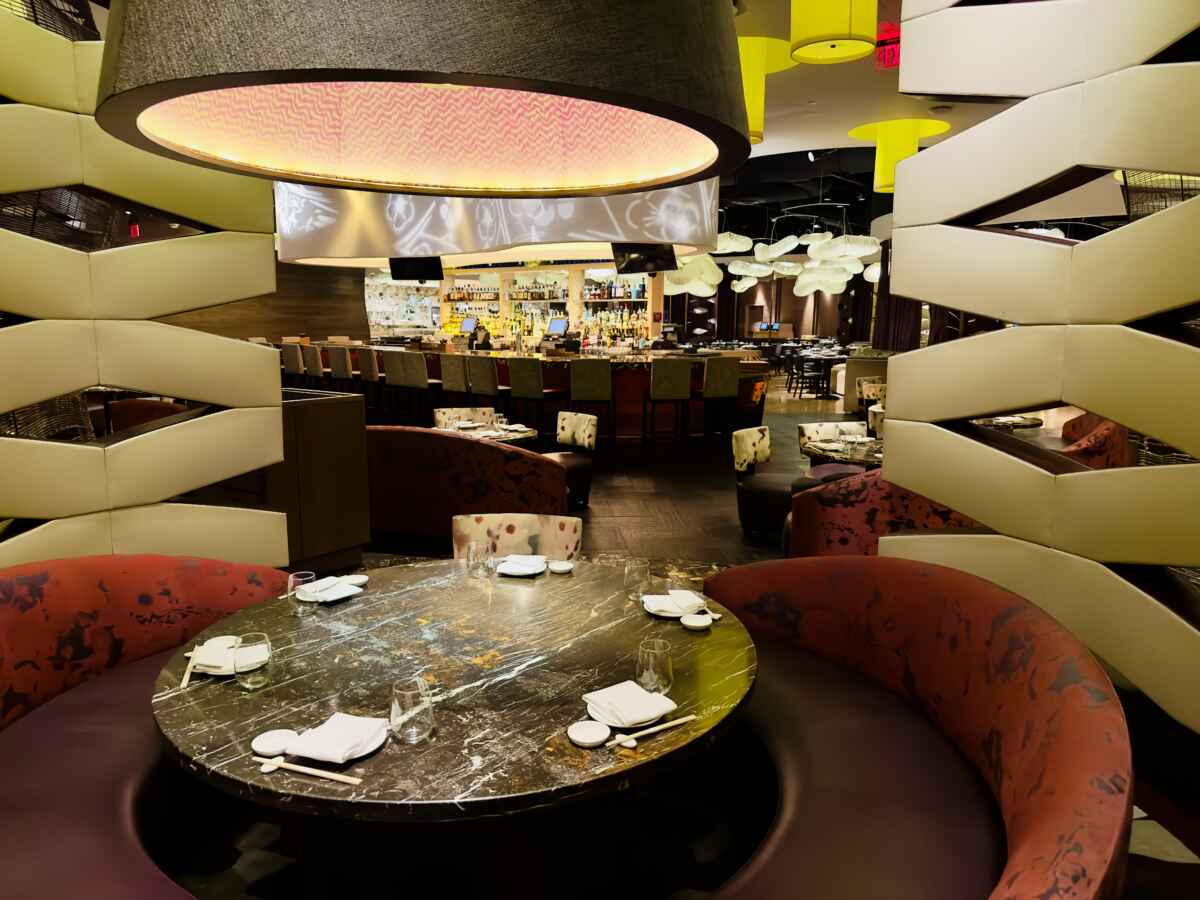 The Nobu restaurant and bar, created by celebrity chef Nobu Matsuhisa, are key components that make your stay at the Nobu Hotel worth it. With a wide selection of dishes, including sushi, black cod miso, and yellowtail sashimi, you'll find something to savor on the menu. Let's take a closer look at the different areas within the Nobu restaurant and bar.
Sushi Counter
At the sushi counter, you can indulge in a variety of premium-quality sushi rolls, all prepared with the freshest ingredients. Witness the skillful chefs create your sushi rolls, providing a personal and entertaining dining experience.
Don't forget to try their signature dishes, such as the black cod miso and yellowtail sashimi, both of which have been praised by visitors.
Omakase
If you want to indulge in the full Nobu experience, consider trying the omakase menu. This chef's choice option showcases the best of Nobu Matsuhisa's culinary expertise, allowing the chef to prepare a customized meal just for you.
Typically, an omakase menu includes multiple courses, including exquisite sashimi, delicious sushi rolls, and other creative dishes that may not be on the regular menu.
As you enjoy your meal, you can also choose from an extensive collection of sake and fine teas to complement your dishes. The lounge offers a more intimate setting to sip on your choice of beverage, making it the perfect spot for a nightcap or a social gathering.
Booking and Pricing
Booking your stay at Nobu is a breeze, as you can easily reserve a room through their app or directly on the Caesars Palace website. When considering the hotel's pricing, keep in mind that the final cost will include the room rate, resort fee, and other charges depending on the services and amenities you choose during your stay.
On average, room rates at Nobu Hotel are higher than other hotels on the Las Vegas Strip. But you should consider the exclusive luxury experience you'll receive at this unique property, which is known for its sleek design, exquisite dining options, and impeccable service.
The partnership with Caesars Palace also means you'll have access to their top-notch facilities, such as pools, spas, and casinos.
Your stay at Nobu Hotel Caesars Palace will come with an additional daily resort fee, which is standard practice for many Las Vegas hotels. The fee covers additional services and amenities, such as Wi-Fi, fitness center access, and local phone calls.
Note: Make sure to review the resort fee details carefully when comparing prices with other hotels.
Additional Offerings
Limo Service
Nobu Hotel aims to make your stay as luxurious and comfortable as possible. One of the additional offerings is their limo service. When you book a room at Nobu, you can arrange for a limousine to pick you up from the airport or any other location in the city.
This will save you from the hassle of finding transportation and ensure that you arrive in style. The limo service enhances the overall exclusive experience that the hotel aims to provide to its guests.
Private Reception
Upon arrival at Nobu Hotel, you will be welcomed into an exclusive and elegant private reception area. This special area is reserved just for guests staying at the Nobu Hotel and is separate from the busy reception area of Caesars Palace.
Nobu's reception area is designed to provide a more personalized check-in experience, allowing you to avoid the long queues and crowds typically found at the main hotel reception. Additionally, the dedicated staff at the private reception will be available to cater to your needs throughout your stay, ensuring that your time at Nobu Hotel is as flawless as possible.
Find the best room deals at Nobu Hotel and save big with TripAdvisor!
Frequently Asked Questions
How does Nobu Hotel compare to Caesars Palace?
Both properties are located within the Caesars Palace resort complex, but Nobu Hotel offers a more intimate and refined experience, while Caesars Palace is known for its grand, opulent setting. One of the best things about staying a Nobu is that you are just a short elevator ride from all the excitement of Caesars Palace.
What are the standout features of Nobu Hotel Las Vegas?
Nobu Hotel Las Vegas stands out for its exceptional dining experience as it is connected to celebrity chef Nobu Matsuhisa's restaurant, offering unique dishes and room service options. The rooms at Nobu Hotel are designed by David Rockwell and feature sleek, contemporary Japanese-inspired designs.
What can I expect from Nobu Hotel room service?
Nobu Hotel room service offers a unique culinary experience, with in-room dining featuring signature dishes from Nobu restaurant. You can enjoy high-quality Japanese cuisine in the comfort of your room, making your stay even more special.
What makes a Nobu Deluxe Room special?
A Nobu Deluxe Room is designed to offer a luxurious and comfortable stay. The room size is typically 350 sq. ft, which is standard for entry-level accommodations in Las Vegas. These rooms feature Japanese-inspired decor, along with high-quality linens and furnishings. While not the most spacious option, Nobu Deluxe Rooms provide a unique and memorable experience for guests seeking a taste of Japanese-inspired luxury.
What amenities are included in the resort fee at Nobu?
The resort fee at Nobu Hotel typically includes access to the fitness center, WiFi, and other basic amenities. However, the gym at Nobu Hotel Las Vegas has been described as minimally equipped. For a more comprehensive list of amenities, it's best to inquire directly with the hotel.
Does Nobu Las Vegas have its own pool?
The Nobu Hotel in Las Vegas does not have its own pool. Nobu guests, however, do have access to the Garden of the Gods Pool Oasis, featuring seven of the best pools in Vegas.
When did the Nobu Hotel Las Vegas open?
The Nobu Hotel Las Vegas at Caesars Palace opened in 2013 as the very first Nobu Hotel in the world.