Do MGM Grand Rooms Have…? (12 Answers You Should Know)
(This article may contain affiliate links. If you click through and make a purchase, we will receive a small commission at no additional cost to you. )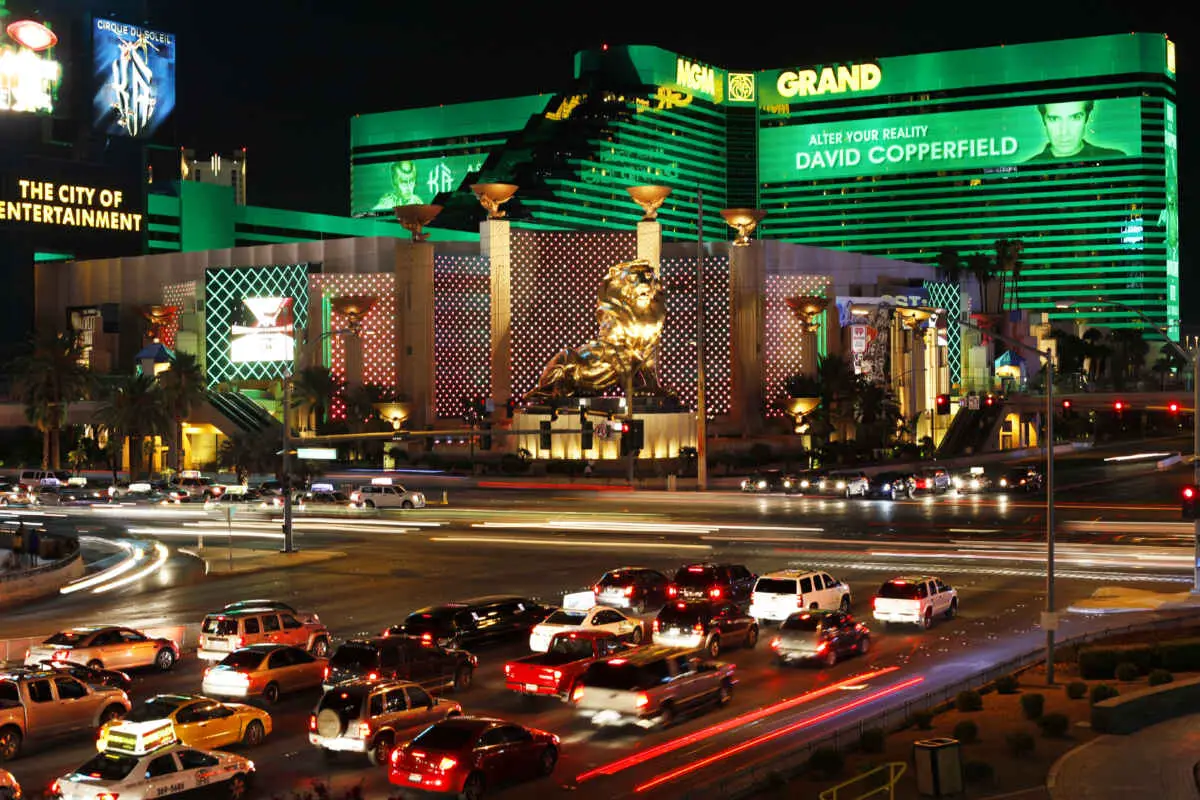 Las Vegas is one of the most exciting travel destinations in the United States. In Vegas, where you stay is almost as important as what you do while you're here – after all, with over 150,000 hotel rooms to choose from, picking one is an important decision. With the MGM Grand being one of the most famous hotels on the Las Vegas Strip, you may want to know what a room here has to offer.
The MGM Grand's rooms have room service, a safe, and jacuzzi tubs with select room options. Rooms at the MGM Grand are pet-friendly for up to two dogs. Microwaves, refrigerators, and coffee makers are not included in MGM Grand Hotel rooms.
If you have decided to stay at the MGM Grand during your Vegas trip, you're probably curious about what it has to offer. Use this article to browse some of the many amenities this hotel's spectacular rooms may or may not offer so that you can plan ahead.
Compare and save! Check current MGM Grand room rates at TripAdvisor.
1. Does the MGM Grand Hotel Have Room Service?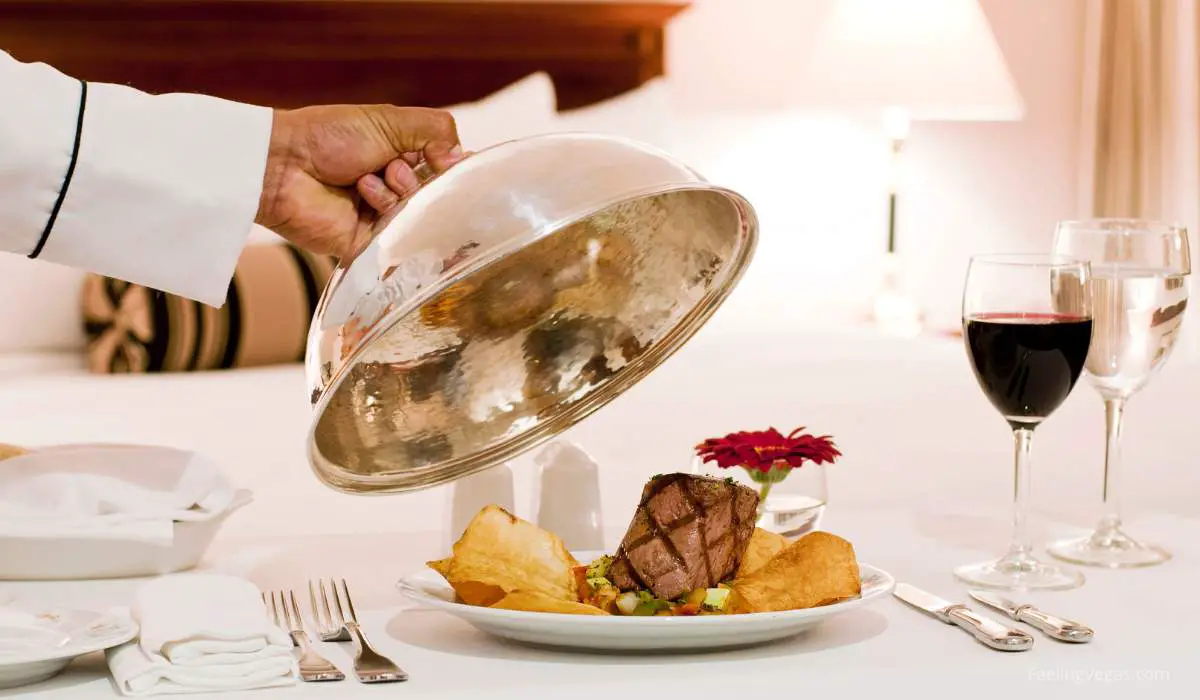 MGM Grand Hotel has room service available for all of its guests. They offer in-room delicacies, and the menu consists of various meals, snacks, and beverages. Full meals consist of fare such as burgers, grilled salmon, pasta, and hot wings. 
Room service is available daily from 6:00 am until midnight, except on Fridays and Saturdays when you can enjoy convenient in-room dining until 3:00 am. Delivery to your room will cost you a small service fee, but the charge will be well worth it.  
If you're looking for an opportunity to get dressed up and enjoy a mouthwatering meal outside your room, you can always head down to one of the hotel's many restaurants. Famous chefs like Emeril Lagasse, Wolfgang Puck, and Morimoto all have restaurants in the MGM Grand hotel. 
2. Do MGM Grand Rooms Have Jacuzzi Tubs?
Nothing sounds better than unwinding in the tub after a long day (and night) spent exploring the Strip. Luckily, the MGM Grand Hotel has a few select room options that feature a jacuzzi tub. 
For a luxurious experience in a whirlpool spa tub, the Tower Spa Suite has just what you're looking for. Additionally, the Skyloft one-bedroom loft comes with an infinity spa tub and an immersion shower. Either of these rooms will provide you with the opportunity to relax fully at the end of a long day in Vegas. 
Aside from MGM's suites and Skyloft rooms, the Grand Queen or Grand King rooms come with a bathtub or shower with less pizzaz than a jacuzzi tub while still creating the perfect, serene oasis to relax and get away from the excitement of the Strip. 
Additionally, access to the MGM Grand's pool complex is part of any stay at the hotel. You can learn everything you need to know about MGM's 6.5-acre pool complex by reading my article on the subject.
3. Do MGM Grand Rooms Allow Pets?
The MGM Grand Hotel is pet-friendly, with a few restrictions:
They only allow dogs.
There is a maximum of two dogs allowed per room.
The dog or dogs must weigh less than 100 pounds (45 kg) each.
Your dogs must be well-behaved and potty-trained.
That said, the hotel has an on-site potty area for your furry friend, and the concierge can assist you in setting up a pet sitter for when you need to leave them behind in the room.
4. Do MGM Grand Rooms Have Microwaves?
Rooms at the MGM Grand are not equipped with microwave ovens. The reason for this is likely to encourage guests to explore the myriad of dining options both at the hotel and on the Strip.
If you're staying at the MGM Grand, you'll need to plan ahead and avoid taking leftovers to your room from any of the restaurants you visit while you're in town. 
5. Do MGM Grand Rooms Have Refrigerators?
There are refrigerators in MGM Grand rooms. However, they are already fully stocked and unavailable to store your own food or drinks. The items inside the refrigerators are available for purchase, and moving those items to make room for your own could result in the hotel charging you for the for items. 
That said, if you have medication that needs to be refrigerated or think having a fridge in your room would be handy, there is another option. The hotel has refrigerators you can rent. As long as the hotel has one available, you can rent a fridge for $35 plus tax per night. 
RELATED: Does The MGM Grand Have Their Own Airport Shuttle? (Answered)
6. Do MGM Grand Rooms Have Coffee Makers?
Like microwaves and refrigerators, coffee makers are another appliance not included in MGM Grand rooms. There is a Starbucks located on the hotel's main floor if you need a caffeine fix before heading out for a day (or night) of Vegas fun.  
Additionally, you can call for room service and have a coffee delivered to your room at your preferred time. Just be sure to call the night before and give the concierge a specific time for the delivery.
7. Do MGM Grand Rooms Have Free WiFi?
One of the convenient accommodations available to all MGM Grand guests is access to high-speed internet. Rather than having you pay extra for WiFi, MGM offers property-wide internet access included in the resort fee, so you won't have to worry about being disconnected.
This is especially important if you'll need to work from your hotel room or if you're in town for a conference and need to access the internet. 
8. Do MGM Grand Rooms Have Roll-a-Way Beds?
If you find yourself with too many people and not enough beds in your room at the MGM Grand, you can rent a roll-a-way bed for $40 per night. This fee can add up, so planning ahead and deciding who will share a bed before you check in will help save you from paying the extra person fee. 
9. Do MGM Grand Rooms Have Hairdryers?
MGM Grand Hotel rooms are equipped with complimentary hairdryers that are yours to use during your stay. You'll also find an iron and ironing board and an array of soaps that housekeeping can replenish throughout your stay. 
In addition, you can expect a flat-screen TV and air conditioning in all the rooms at the MGM Grand. 
These amenities are available at no additional charge. 
10. Do MGM Grand Rooms Have Safes?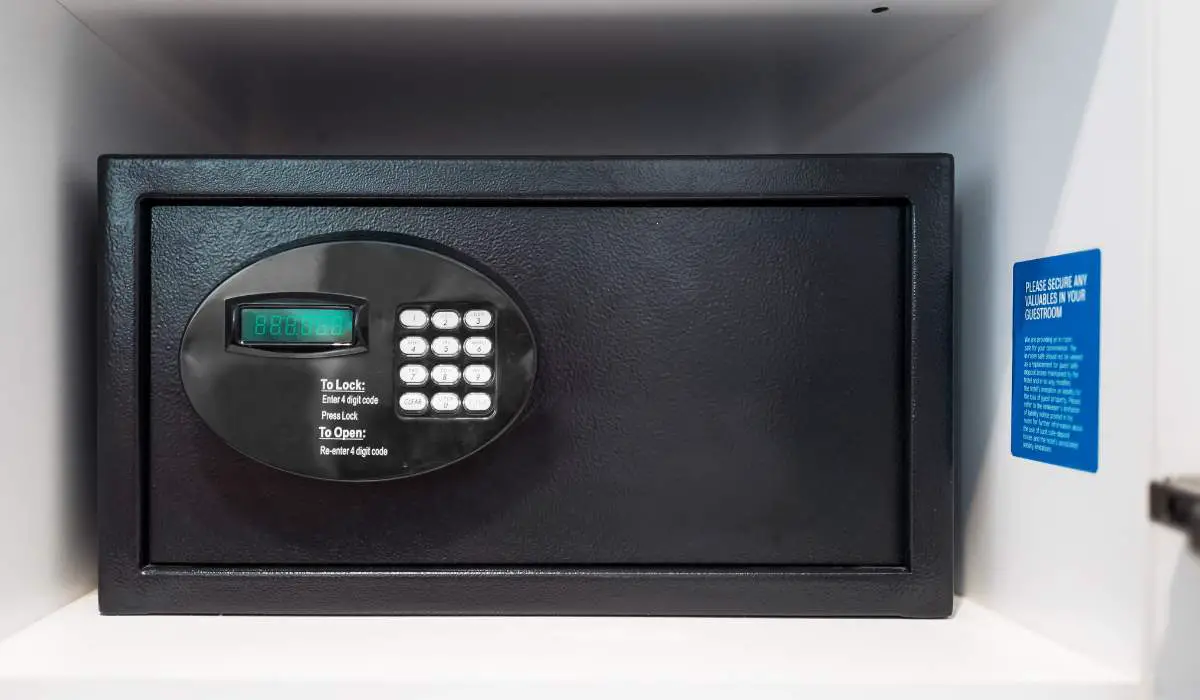 It's essential to have access to cash if you plan on gambling during your stay in Las Vegas. Rightfully, you may be wary about keeping significant amounts of cash in your room, but luckily the MGM Grand has you covered. Your room will be equipped with a safe to store your cash, valuables, and any winnings safely. 
11. Do MGM Grand Rooms Allow Smoking?
No smoking is permitted in any rooms on MGM Grand's property. If you smoke in your room, you can expect to pay a hefty penalty fee. Any evidence of smoking tobacco or marijuana in your room will subject you to a fee, and hotel staff may report the incident to authorities. If you're a smoker, be sure to only smoke in one of the designated areas outside and never in your room.
12. Do MGM Grand Rooms Come With Free Drinks?
Free drinks are not included in the reservation fee for your MGM hotel room. If you need a drink, you can select one from the pre-stocked refrigerator in the room, which you will be charged for. You can also call room service and have a drink delivered with your meal for a nominal fee, or you can head down to one of the bars in the casino and pick up a drink yourself. 
You can, however, score a free drink if you're gambling down in the casino. Click the link to read our complete article about getting free drinks in Vegas casinos.
What Else Can I Do at the MGM Grand Hotel?
Aside from relaxing in your hotel room, enjoying in-room dining, or soaking in your jacuzzi tub, what else can you do during your stay at the MGM Grand? 
You're not likely to be bored during your stay in Vegas, but too many options can often be overwhelming. Here are a few ideas of activities at MGM Grand to get you started:
Watch a Show at the MGM Grand Hotel and Casino
There are many shows available on the Las Vegas Strip, from magic to music and everything in between. If you stay at the MGM Grand, you'll be glad to know that many of Vegas' best acts can be found without leaving the resort property.
If magic and illusions are up your alley, you can't miss David Copperfield's show at the MGM Grand. You can watch this world-famous magician perform during one of his many shows, and there are multiple showtimes to choose from. 
Does comedy sound more appealing? If so, you must check out Brad Garrett's Comedy Club at the MGM Grand Hotel. The star of Everybody Loves Raymond invites comics at all levels of fame to perform stand-up sets at his club.
Finally, there's one more show you can't miss if you're staying at the MGM Grand. KÀ by Cirque du Soleil at the MGM Grand is a fascinating show featuring aerial acrobatics, puppets, and a state-of-the-art stage. You've likely heard of Cirque du Soleil, even if you've never been to Vegas, and this show by the same producers is sure to please. 
Gamble at the MGM Casino
There's a reason the MGM Grand is considered the go-to spot for Texas Hold 'em on the Las Vegas strip. Poker tables are open 24 hours a day, as are the slots and other table games. The MGM also has a service called GameSense to help you understand the game you're playing and have a more enjoyable experience.
With GameSense, you can set time limits and spending limits to make sure that gambling keeps feeling fun and doesn't become a problem. GameSense is meant to educate you on how gambling works so that you can make informed bets and know when to stop.
Dance the Night Away at Hakkasan Nightclub
The MGM Grand's on-property nightclub, called Hakkasan, opens at 10:30 pm (Thurs – Sat). Every night it's open, you can party until 4:00 am. The club has five levels and is an offshoot of the hotel's restaurant that goes by the same name. To get in, however, you'll need to know about the Hakkasan dress code.
You can enjoy performances by famous artists like Kaskade, Lil Jon, and Ludacris on Thursdays, Fridays, and Saturdays. With such well-known headliners, it's easy to see why Hakkasan is a can't-miss if you're staying at the MGM Grand (check our Vegas concert schedule for performers and dates).
Rolling Stone Magazine even called Hakkasan's director, Neil Moffit, one of the most influential people in EDM. 
Dine at an MGM Grand Hotel Restaurant
Here are just some of the restaurants available at MGM Grand's Las Vegas property:
The list above is just a tiny sample of the dining experiences available at the MGM Grand Hotel and Casino. With countless options to choose from, you could stay at the MGM Grand for a week and eat at a different spot for dinner each night, and you still wouldn't run out of new places to try out. There's something to fit every budget, including various coffee shops and even an ice cream shop.
For a more comprehensive list, you can check out my article on the best restaurants at MGM grand. [Top XX Restaurants at MGM Grand (Las Vegas)] (coming soon)
Is the MGM Grand Hotel a Good Place To Stay in Vegas?
Because of its convenient location on the Las Vegas strip, its myriad of entertainment and dining options, and its rock-solid reputation as one of the premier hotel-casinos in Vegas, you can't go wrong with the MGM Grand Hotel.
Find the best room deals at MGM Grand and save big with TripAdvisor!