Luxor vs Excalibur (Which Las Vegas Hotel to Choose?)
When visiting Las Vegas, one of the most significant choices travelers need to make is which hotel to choose.
If you're trying to decide between staying at the Luxor or Excalibur, there are some things you'll need to know in order to make the best choice for your Vegas vacation.
Choose the Luxor if you want more luxurious accommodations and more options for on-site entertainment and food, plus a larger casino. Excalibur, on the other hand, will be a better choice if you are prioritizing a lower price, better shopping, and a slightly more central location on the Strip.
When it comes to choosing between these hotels, it is a matter of first determining the purpose of your visit.
Are you going with friends? Is this a romantic getaway? Do you plan on gambling? Are you bringing the family? The purpose of your visit and who you are traveling with can have a significant impact in determining which hotel is the best one for your stay.
Though the two hotels are situated right next door to each other, there are some significant differences to examine before deciding where to stay.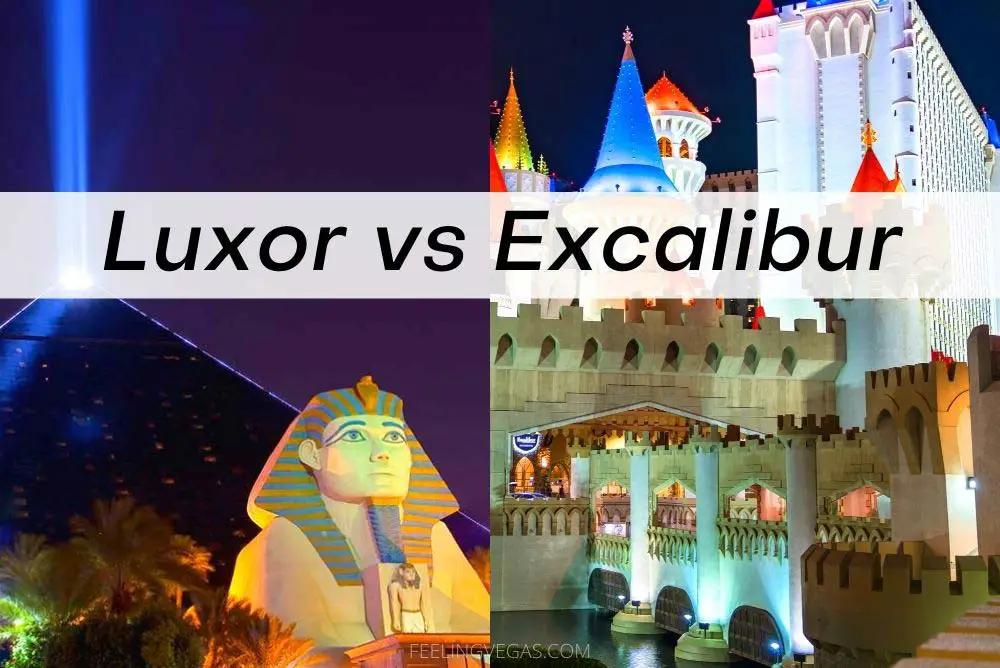 (This article may contain affiliate links, which means we might earn a small commission if you click and make a purchase. Thank you!)
The following table gives a quick overview comparing Luxor to Excalibur.
Name: Luxor Hotel & Casino
Address: 3900 S Las Vegas Blvd
Casino Floor: 120,000 sq ft.
Year Built: 1993
Number of Rooms: 4,407
Name: Excalibur Hotel & Casino
Address: 3850 S Las Vegas Blvd
Casino Floor: 96,656 sq ft.
Year Built: 1990
Number of Rooms: 3,981
Luxor vs. Excalibur: Comparing Standard Rooms
The fine details separate an excellent hotel room from one that will work as a place to crash for the night. Both hotels have similar rooms, with all the comforts you would expect in a great hotel room.
However, there are a few differences that make Luxor a slightly better choice than Excalibur.
Luxor
Excalibur
Pyramid Room:
– 420ft² (39m²)
– King bed (or two Queens)
– 40" (102cm) Flat-screen TV
– Oversized shower
– Seating area with one armchair
– In-room wifi
– Workspace desk with chair 
– In-room safe
– Max guests, 3
Resort Tower:
– 352ft² (33m²)
– King bed (or two Queens)
– 42" Flat-screen TV
– Bathroom with granite countertops
– Table with seating for 2
– In-room wifi
– Safe
– Max guests, 3
Luxor's standard rooms — Pyramid Rooms — have a king-sized bed, a sitting area, and are bigger than the basic room at Excalibur. You can also select a Pyramid Room with two queen beds in order to sleep four.
Additionally, Luxor offers many other luxurious room accommodations and suites, including their Stay Well rooms, which include an air purifier, shower infuser, and aromatherapy options.
Excalibur's standard room is the Resort Tower Room, which features a king-sized bed and a small seating area. Excalibur also offers Stay Well rooms, suites, and rooms with two queen beds.
When comparing the two hotels, each offers similar rooms and options, but Luxor offers a larger room that has a somewhat more luxurious feel.
Room Rate: Luxor & Excalibur
When searching for a hotel in Las Vegas, you may notice a considerable price difference between two different hotel rooms. Many factors affect hotel prices, including amenities, entertainment, dining options, location, views, and room size.
Though close in price, Excalibur is a bit cheaper than Luxor for a single night.
Upon a recent search for a stay in July, Excalibur came to $49 per night for the standard king room. A similar room at the Luxor during the same period was $61 per night, making it a tad bit more expensive than Excalibur.
Note: Keep in mind that the cost per night does not include the daily resort fee, taxes, and parking fees (see table at the top for current resort and parking fees).
Amenities: Luxor or Excalibur?
When staying in Las Vegas, a daily resort fee is standard and gives you access to all the extra amenities the hotel offers. All Las Vegas resorts have amenities available to hotel guests, including pools, Wifi, concierge service, and transportation services.
In this case, when it comes to which hotel has the best amenities, Luxor has the upper hand.
The amenity that makes Luxor stand out is the Nurture Spa and Salon. The spa was designed with your wellness in mind and is a true oasis that will make all your worries disappear.
Other amenities available at Luxor include the pools, cabanas, concierge service, fitness center, and more. Guests also have access to transportation (Uber, taxi, limousines, rental car, etc.) that will get you to local attractions.
Excalibur has most of the same amenities including pools, cabanas, and a fitness center, but Luxor just does it a bit better. Excalibur also has a spa and offers transportation and rideshare pickup areas for all hotel guests.
Comparing Dining Options at Luxor and Excalibur
Las Vegas has one of the best dining scenes in the country, offering everything from fast food options to luxurious gourmet meals.
Both Luxor and Excalibur have plenty of dining options, all of which are good; however, Luxor comes out a bit more out on top when choosing between the two hotels for the best dining choices.
Luxor has a quick-service food court area complete with Nathan's Famous Hot Dogs and Johnny Rockets. The TENDER Steakhouse offers a mouth-watering prime rib dinner and many other fine dining options. There are also multiple locations to grab a quick bite to eat or a cocktail.
Excalibur also has a food court with similar options to those at Luxor. Camelot Steakhouse offers high-quality cuts of beef and seafood options. Dick's Last Resort offers a unique dining experience that is fun for everyone and it is also found at Excalibur.
Though Excalibur also has many great dining options, Luxor still stands out and offers a little more.
Excalibur or Luxor for Entertainment?
Though Excalibur has some fun entertainment options, Luxor has more to offer those seeking on-site entertainment during their Vegas vacation.
Luxor is home to Carrot Top's Comedy Show, America's Got Talent LIVE, and Blue Man Group.
Additionally, Luxor is the place for those wanting to experience the "Strip's Biggest Tease", Fantasy, which runs nightly.
If you wish to see some entertaining exhibits, you will find Titanic: The Artifact Exhibition and Bodies: The Exhibition at Luxor.
Also, video gamers will be in paradise when they enter the HyperX Esports Arena at the Luxor.
Excalibur has some fantastic shows as well, including Australian Bee Gees, Mac King Comedy Magic Show, and the Tournament of Kings.
Thunder Down Under is the perfect show to see for a girl's night out and can also be found at Excalibur.
Best Hotel For Families — Excalibur or Luxor?
While Luxor has a unique Egyptian theme, and some fun areas for families to explore, you cannot beat the Fun Dungeon arcade and the overall medieval styling of Excalibur.
The sword and sorcery theme of Excalibur offers bright colors and exciting medieval shows.
In addition, the Fun Dungeon offers various arcade and carnival-style games, which are an exciting way for families to spend some time together after exploring the Strip during the day.
Best Casino: Luxor vs. Excalibur
Gambling is often the first thing many people think of when someone mentions Las Vegas.
Though gambling is not necessary in order to have a good time visiting Sin City, when it comes to comparing Luxor vs Excalibur in terms of their casinos, the clear winner is Luxor.
Luxor has a wide variety of games, many with low limits. This hotel also has $5 blackjack tables, which is somewhat rare in Las Vegas.
Are you new to gambling? No problem. The Luxor casino offers free daily lessons for those wanting to learn how to play craps, roulette, or blackjack. In addition, Luxor's casino has more than 1,000 slot machines with betting ranges as high as $100.
Luxor is also home to a state-of-the-art sportsbook betting arena, complete with individual seats with monitors and giant TVs. The sportsbook is ideal for both the rookie bettor and the seasoned pro.
The sportsbook is just one more reason why Luxor is best for those looking to gamble during their Vegas vacation.
Excalibur has a smaller casino, with plenty of slot machines but fewer table games than Luxor. So if you want the ultimate gambling experience, Luxor is the better choice.
However, if gambling and a sportsbook aren't a major part of your Las Vegas trip then staying at the Excalibur will be just fine.
Tip: When playing the slots at either property, make sure to pick up your free M Life Card. You can use it to accumulate points for freebies and discounts at every MGM Resorts property.
Better Location on The Strip: Excalibur or Luxor
Both Excalibur and Luxor are located on the south end of Las Vegas Boulevard; however, Excalibur is a little closer to the central area of the Strip.
Excalibur also benefits from being connected (via an overhead pedestrian bridge) to New York-New York and Tropicana. Plus, MGM Grand is located just across the intersection.
The overhead walkways give guests at Excalibur easier access to other resort hotels and the many restaurants, shops, and attractions found in the central area of the Las Vegas Strip.
Tip: No matter which of these hotels you choose, there is a free tram that runs between Mandalay Bay and Excalibur, which also stops at Luxor, making it easy to travel between the different hotels.
In addition, be sure to download our free map of the Strip here. It will help you get your bearings and see where exactly all the hotels are located on Las Vegas Blvd.
Best for Nightlife: Luxor Las Vegas or Excalibur
Las Vegas is known for its exciting nightlife, and both hotels offer plenty of options for those seeking the ultimate night out. Luxor is home to three nightclubs — Centra, Aurora, and Flight — all offering a unique experience.
Luxor also hosts Temptations Sundays, which is the city's most refined LGBTQ+ pool party.
Excalibur has five bar and nightclub options — Vagabond, The Lounge, Sherwood Bar, Thunder Bar, and Lobby Bar.
There may be more overall options available at Excalibur; however, the ones at the Luxor hotel offer a more luxurious night out, which is why when it comes to the best nightlife, I'd consider it a tie between the two hotels.
Best Pool: Luxor or Excalibur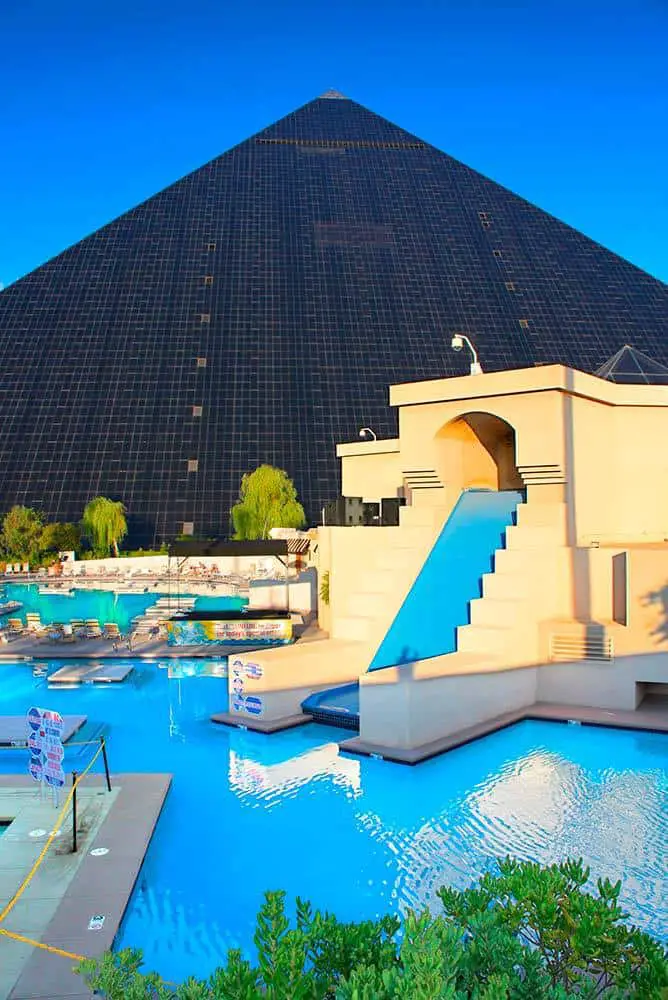 The swimming pools at both Luxor and Excalibur offer a refreshing way to spend an afternoon while visiting the Las Vegas Strip.
Both hotel pools have plenty of seating, fully stocked cabanas, and lots of space to splash around.
Additionally, both swimming areas offer poolside service for food and drink. Since both pools are equally impressive, we'll call it a tie between the two properties.
Best Choice for Shopping: And The Winner is…
Many shopping options are available up and down the Strip, including at both the Excalibur and the Luxor.
The Excalibur, however, has much more to offer in the way of stores.
There are 17 stores to shop at when staying at Excalibur, including Below the Knee, Cosmic Groove, Dragon's Lair, Kids Cottage, Magnet Max, and Pearl Factory.
Luxor is home to just four retail shops, including Lux Vegas, LX Logo Store, Oasis, and 24/7.
Luxor vs Excalibur: Final Thoughts
The MGM Resorts International Hotel Brand operates both hotels, which is why so many of the amenities and room options are similar.
When choosing between Luxor or Excalibur, it is a close call as to which one is the best.
For most, Luxor would be the best option for a more luxurious experience, with lots of amenities. However, Excalibur has rave reviews and is loved by many, especially families and those looking for a fun, medieval-themed vacation.
Base your choice on the type of vacation you are looking to have and what you want from your Las Vegas hotel. The bottom line is that you won't go wrong choosing either of these Las Vegas classics!
More Las Vegas Hotel Comparisons
Check out these other comparisons of Las Vegas Hotels or see our full list of Las Vegas Hotel Comparisons here.
MGM Grand vs. Luxor: Which Is Better? – Find out here
Luxor vs. Treasure Island: How to choose
Luxor vs. Mirage: Which should you choose? – Article here
Luxor vs. Flamingo: The best? – Find out here
Sources: