Luxor vs. Flamingo: Which Is Better? [Las Vegas]
The Luxor and Flamingo are two of the most classic hotels on the Las Vegas Strip. Opened in 1946, the Flamingo is the oldest resort on the boulevard and still retains some of its old-school Vegas vibe.
Luxor, on the other hand, celebrates its 30th anniversary in 2023 and is one of the city's most recognizable hotels/casinos. If you're considering a stay at either the Luxor or Flamingo, you'll want to know which of these Las Vegas resorts is better.
The Luxor and Flamingo both offer classic Las Vegas amenities, shows, and affordable rooms right on the Las Vegas Strip. The Flamingo, however, has the better location for experiencing the rest of the Strip and is in a very walkable area, making it the best option for many visitors.
The following table breaks down the main differences in prices and options between these two resorts:
Comparing the Luxor & Flamingo

(This article may contain affiliate links, which means we might earn a small commission if you click and make a purchase. Thank you!)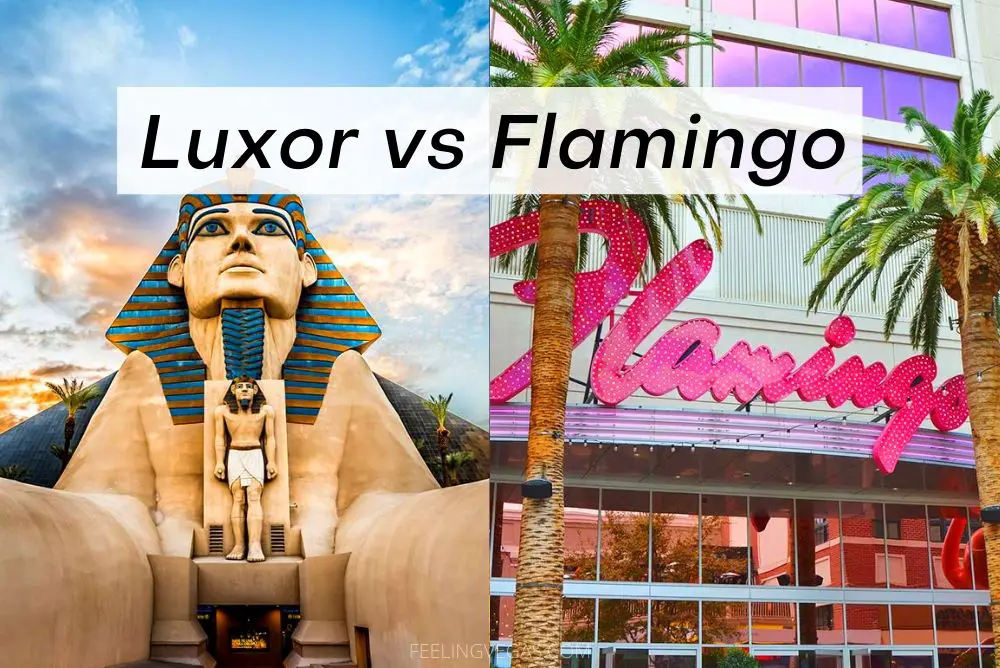 Name: Luxor Hotel & Casino
Address: 3900 S Las Vegas Blvd
Casino Floor: 120,000 sq ft.
Year Built: 1993
Number of Rooms: 4,407
Name: Flamingo Hotel & Casino
Address: 3555 S Las Vegas Blvd
Casino Floor: 72,299 sq ft.
Year Built: 1946
Number of Rooms: 3,460
Despite the age of the resorts, it needs to be pointed out that both properties are just as popular as some of the more recent, boutique resorts in the city.
Both hotels also hold a distinctive place in Las Vegas history, which makes them even more of a tourist attraction. You'll likely be pleased with a stay at either location, but there are some differences to highlight.
Read on to discover which of these two iconic hotels is best and why. 
Room Prices: Luxor vs. Flamingo
For many years after its opening in 1946, the Flamingo was the jewel of the Las Vegas Strip. The Luxor, with its unique pyramid design, was similar in that it was the place to be when it opened in the early 1990s.
Today, these Las Vegas beauties offer the full spectrum of affordable and luxurious rooms to attract as many patrons as possible. There is a room for any budget at either of these resorts. 
Room rates at Luxor range from the affordable to the extravagant based on what kind of room you want to stay in.
A standard room at Luxor typically starts at around $39 per night.
The prices can go up significantly if you choose to stay in one of the premier pyramid suites with slanted windows or one of the premium suites located in either of the hotel's towers. If you are able to afford it, always go for a pyramid suite–the views are out of this world incredible. 
Luxor
Flamingo
Pyramid Room:
– 420ft² (39m²)
– King bed
– 40″ (101cm) flat-screen TV
– In-room wifi
– Table w/two chairs
– Desk with chair
– Max guests, 2
Go Room:
– 350ft² (33m²)
– King bed
– 42″ (107cm) flat-screen TV
– Sitting area
– Desk & chair
– Denon sound system
– Electric window shades
– Max guests, 2
Comparing standard rooms at the Luxor & Flamingo resorts
The Flamingo shares a similar pricing structure to Luxor, with both basic and premium suites available.
A standard room at Flamingo typically starts around the $30-40 range.
If you want to experience the better rooms at Flamingo, ask for a GO room in the main tower, which are some of the resorts most recently renovated rooms. Deluxe and high-end suites are also available in the main tower of the resort. 
Both hotels are evenly matched in terms of pricing and the types of rooms available. Since any room at the Flamingo will place you in the most active part of the Las Vegas Strip, this gives Flamingo a slight edge overall. 
Luxor & Flamingo Resort Fees
When it comes to resort fees, the costs and included amenities are about the same between both resorts. Access to hotel Wifi, in-room phone calls, and usage of the fitness center are the listed amenities with the roughly $40 per day resort fees for both properties.
It is worth mentioning that Flamingo charges a $50 refundable fee per night for any incidental charges or damage.  
Parking Fees at Flamingo & Luxor
Both Luxor and Flamingo charge $18-$23 a day for self-parking. Valet parking is also available at each property for around $35-$40 a day.
Luxor vs. Flamingo Strip Location
When it comes to prime locations on the Las Vegas Strip, Flamingo definitely has an advantage. With its excellent mid-Strip location, you'll be surrounded by many of the most exciting casinos and attractions found on Las Vegas Boulevard.
This gives you the option to explore some of the most popular spots on the Strip by simply walking out of the front doors of the resort.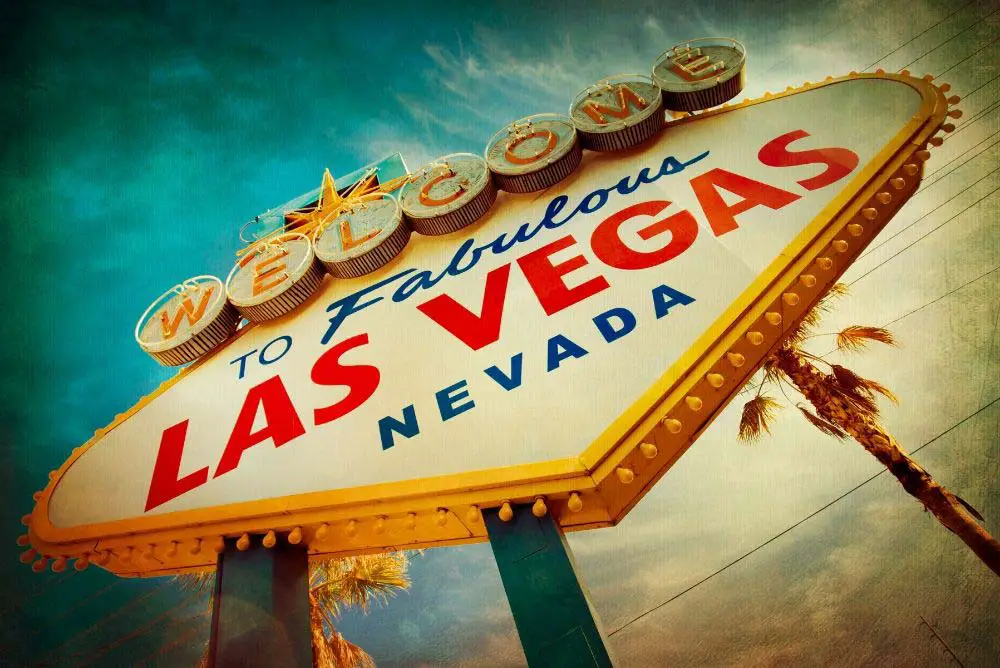 Luxor can be found towards the southern end of the Strip, which will require some walking or usage of public transportation to get to other destinations further up the Strip. 
As an example, a walk from Luxor to the Bellagio Fountains will take approximately 30-minutes, while a walk to the fountains from the Flamingo will take about 12-minutes.
I recommend that you download our free map of the Strip which shows where each of the hotels is located and which properties can be found nearby. When looking at the map, be aware that the distances between properties can be deceiving. Points of interest on the Las Vegas Strip tend to be further apart than they look.
Shows & Entertainment: Luxor vs. Flamingo
Flamingo has a slight advantage in terms of entertainment options over Luxor. RuPaul's Drag Race Live combines the best features of the television show with Las Vegas camp and elegance.
For a comedic detour, the hilarity of Piff The Magic Dragon is mixed with magic routines that are both exciting and eclectic all at once.
For adults, both X Burlesque and XBU: X Burlesque University are also available. 
At Luxor, the unique brand of comedy from Carrot Top is always fun with shows available several nights per week.
Or if you're seeking something more visually exciting, you can catch Blue Man Group, which is a visual feast of sights, sounds, and performance. 
Flamingo has a bit more variety to choose from when it comes to shows, which makes it the better choice overall for entertainment. Additionally, many more nearby entertainment options are available at other properties in the mid-Strip area. 
Best Pools: Luxor or Flamingo
Luxor has four full-size pools surrounded by incredible architecture to choose from. These pools are perfect for relaxing and having a great time.
The Flamingo has the exciting Go Pool Dayclub! It's complete with live music spun by guest DJs, entertainment, and a full bar. It's no cover Sunday – Friday for hotel guests and $11 on Saturday's. The pool is also open to non-guests for free during the week and $20 or so on the weekend.
If you're looking for a more relaxed pool experience, there is a standard pool available as well that's great for lounging and swimming.
If pool parties are your thing, then Flamingo takes the edge in this category, but if you're more into relaxation, then the multiple pools at the Luxor will perhaps fit the bill better.
Nearby Attractions: Luxor and Flamingo
Bodies…The Exhibition and Titanic: The Artifact Exhibit at Luxor are two immersive attractions that are popular on the Strip. These attractions are worth a visit even if you decide not to stay at Luxor.
From Luxor, you'll find you have nearby access to several other great casino properties, including Excalibur, Mandalay Bay, and Tropicana. These resorts are all within walking distance, and each has its own entertainment, restaurants, and attractions.
The signature attraction at Flamingo Las Vegas is undoubtedly the Wildlife Habitat, which features the pink flamingos that give the resort its name. 
The Bugsy Siegel Memorial is also a prime tourist stop near the pool complex. Bugsy is the mobster who built and owned the Flamingo during its early years.
There are also many attractions within close proximity to the Flamingo, including the Linq Promenade, which features shopping, dining, and entertainment. Be sure to take a ride on the High Roller Observation Wheel.
Since there are so many attractions to see in the center of the Strip, Flamingo Las Vegas offers much more to see and do in this category.  
Conclusion
Both of these resorts represent a snapshot of Las Vegas history, while also maintaining a popular vibe in the present. The Luxor and Flamingo are closely matched in nearly every category; however, the prime location of Flamingo Las Vegas is a hard opportunity to pass up. 
If you want to be in the heart of what makes Las Vegas such a world-renowned destination, staying at the Flamingo is an affordable way to experience the best that Las Vegas has to offer. 
Other Las Vegas Hotel Comparisons
Check out these other comparisons of Las Vegas Hotels.
MGM Grand vs. Luxor: Which Is Better? – Find out here
Luxor vs. Treasure Island: How to choose
Luxor vs. Mirage: Which should you choose? – Article here
Sources: