Luxor vs. Treasure Island: Which Is Better?
Luxor, with its pyramid design, makes it one of the most recognizable properties on the Las Vegas Strip. Treasure Island (aka TI) has a fun and exciting vibe that visitors will enjoy.
These two hotel/casinos are some of the Strip's older properties, but their continuing focus on superior customer service and luxurious accommodations keep their guests happy. So, which of these two famous resorts is better to stay in when visiting Las Vegas, Luxor or Treasure Island?
Luxor is a larger property with a better pool area, more dining options, and several on-site entertainment choices. Treasure Island is smaller in size overall but is considered by many to have a better location on the Strip. The Luxor, however, wins on price, ultimately making it a better choice for many visitors.
For a more detailed comparison, this table highlights the main differences between Luxor and Treasure Island:
(This article may contain affiliate links, which means we might earn a small commission if you click and make a purchase. Thank you!)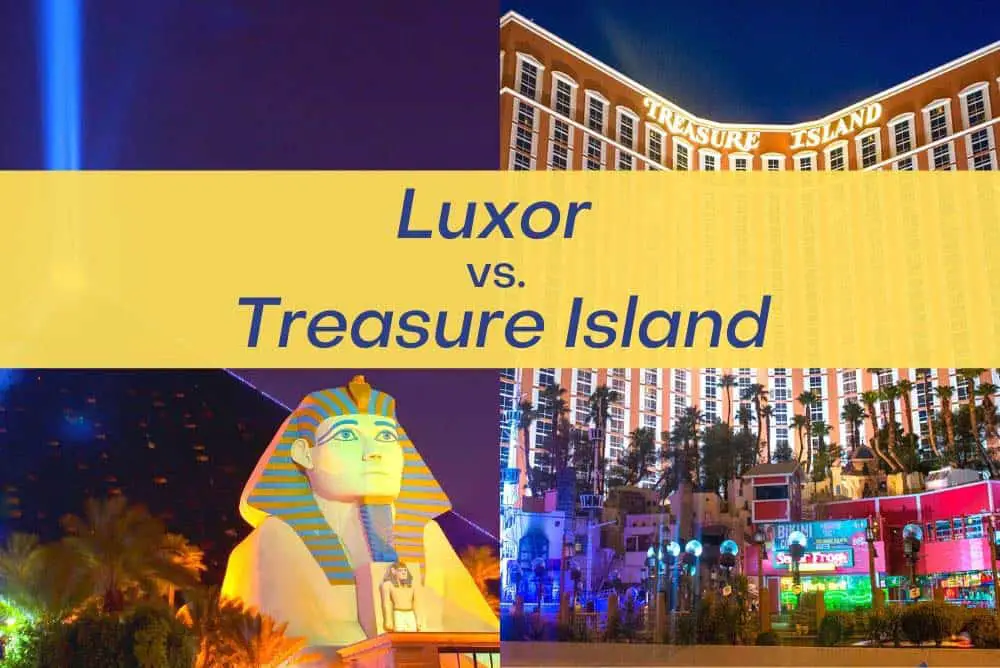 Name: Luxor Hotel & Casino
Address: 3900 S Las Vegas Blvd
Casino Floor: 120,000 sq ft.
Year Built: 1993
Number of Rooms: 4,407
Name: Treasure Island – TI Hotel & Casino
Address: 3300 S Las Vegas Blvd
Casino Floor: 95,000 sq ft.
Year Built: 1993
Number of Rooms: 2,884
When it comes down to it, deciding on a stay at either of these resorts is difficult since each hotel is set up to be an affordable option in a sea of five-star resorts on the Las Vegas Strip. Each resort is nearly perfect in this aspect, so a final decision of which is better will come down to what each resort has to offer.
Read on to discover more about Luxor and Treasure Island to help you decide which property best suits your preferences. 
Room Prices – Luxor vs. Treasure Island
Luxor and Treasure Island may not be in the same league as some of the most opulent resorts on the Las Vegas Strip, but it should be understood that in no way means either of these resorts is subpar when compared to some of the bigger names.
You can stay in an affordable room at either hotel or choose to stay in a luxurious suite that rivals some of the more elegant resorts on the Strip; Luxor and Treasure Island give you options, not a reduction in quality. 
Room rates at Luxor range from affordable and basic to extravagant based on what kind of room you want to stay in. A standard room at Luxor typically starts around $39 per night.
The prices can go up significantly if you choose to stay in one of the premier pyramid suites or one of the premium suites located in either of the towers. 
No matter what room you choose at Luxor, the views are absolutely stunning and represent some of the best on the Strip. 
Rooms at Treasure Island begin at $68 per night and head upwards of many hundreds of dollars a night for deluxe and premium suites.
Therefore, the types of rooms and suites available at both locations are similar in price but vary widely depending on what type of room you want to spend your stay in. 
Neither of these locations can be called boutique, so don't expect a red carpet to be rolled out for you, but make no mistake, these are still nice hotels. Even the most basic of rooms at these locations represent a quintessential Las Vegas atmosphere of top-of-the-line amenities and outstanding guest satisfaction. 
Resort Fees: Luxor and Treasure Island
The resort fees at both properties are fairly comparable at $39.68 (Luxor) and $44.22 (Treasure Island). These daily resort fees cover the same basic amenities at each hotel. Included in the resort fee is high-speed internet, phone calls, a fitness center, and swimming pool access.
Treasure Island's fees also include a newspaper and use of the fax machine in their business center.
Parking Fees at Luxor & TI
Self-parking at Luxor is $18-$23 a day, while valet will run you between $35 and $40 daily. Treasure Island, on the other hand, always offers free parking, which is one of the resort's most attractive amenities. 
Treasure Island vs. Luxor: Location
Although these resorts are slightly north or south of the busiest mid-section of the Strip, there is still plenty to do and see within walking distance nearby. Treasure Island is located next to The Mirage, which is perfect if you don't want to travel far to see that resort's iconic volcano erupt.
In fact, Treasure Island has a free tram that connects to the Mirage, so you can visit that property in air-conditioned comfort without even walking outside.
The resort is also close to the popular Fashion Show Mall, which features over 250 stores ranging from designer boutiques to discount markets. On weekends, the mall hosts live runway fashion shows that are a lot of fun to watch!
Luxor is located at the south end of the Strip next door to Excalibur Hotel & Casio which can be reached by an easy 4-minute walk. On the other side of Luxor is Mandalay Bay which can be reached via free tram from the Luxor.
Just across the street, you'll find the huge MGM Grand property and the classic Tropicana (about a 13-minute walk to each).
So both hotels are in good locations on the Strip with an abundance of activities within walking distance. I don't think you'll be disappointed by the location of either one.
Be sure to download our free Las Vegas Strip map so you can see where these two hotels are located on the Strip and get an even better idea of what you'll find nearby.
Shows & Entertainment at Treasure Island & Luxor
Luxor features a wide selection of entertainment options, including one of the most highly-rated adult revue shows on the Strip, "Fantasy." This production is for adults only and features an eye-popping array of burlesque, dancing, and sensual music to get your heart racing!
The headlining show at Treasure Island is Mystere by Cirque du Soleil. 
This acrobatic spectacle is the longest-running Cirque du Soleil show in Las Vegas and offers spectators a window into what has made the performance artists of Cirque du Soleil so appealing for nearly 30 years. 
Luxor has a bit more to offer in terms of entertainment. In addition to the show Fantasy (mentioned above), there are also shows from Carrot Top as well as the mesmerizing theatrics of the Blue Man Group. These are both long time running Las Vegas shows so you know they're good!
Between the shows on the properties themselves and the shows available at nearby properties, the Luxor and Treasure Island will have you covered in terms of entertainment.
Pools at the Luxor & TI
The pool at Luxor is what you'd expect from a Las Vegas pool! Four large pool sections combined with stunning architecture to make an oasis of enjoyment and relaxation. To give you an idea just how big the Luxor pool area is, there is over 19,000 sq. ft. of pool surface and over 125,000 sq ft. of pool deck!
The deck is filled with lounge chairs, cabanas, and shade-providing umbrellas. If a pool is an important feature of your Las Vegas vacation, you will definitely enjoy your time here!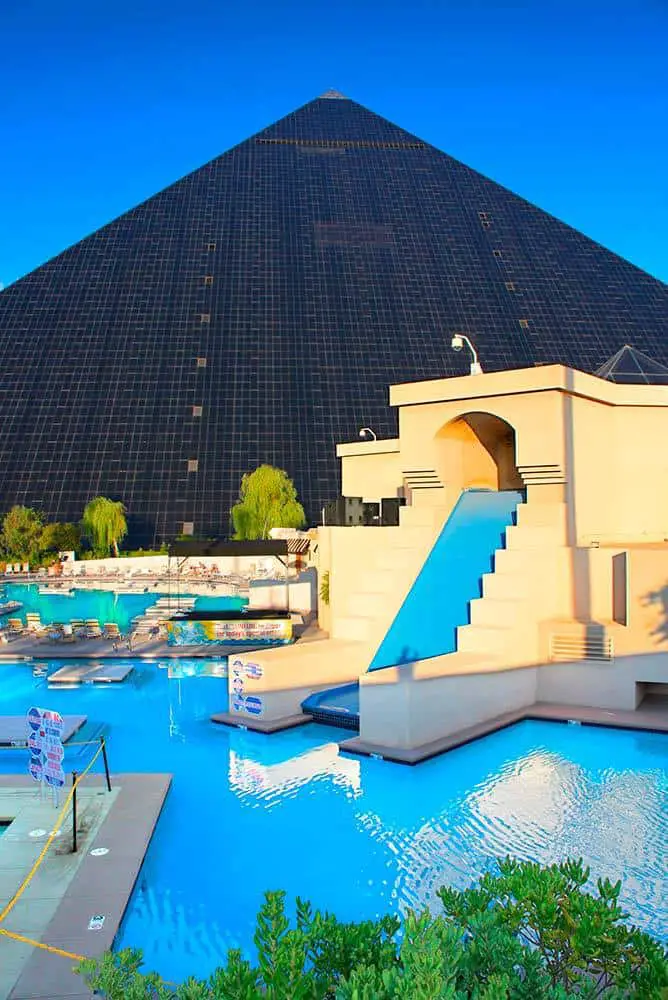 The pool area at Treasure Island is nice but a bit more modest. It features a single pool without the spectacular view found at the Luxor. The pool is surrounded by plenty of lounge chairs and cabanas for rent. In addition, the pool during the day has a live DJ spinning tunes to give more of a pool party vibe.
Treasure Island also has a much bigger jacuzzi for you and all of your friends that can fit up to 25 people at one time!
If you want a bigger selection of pool options and a nicer pool experience overall, Luxor is certainly the better resort in this category. 
Attractions Close to Treasure Island and The Luxor
On-site attractions at Luxor are pretty cool; Titanic: The Artifact Exhibit showcases artifacts brought up the ocean floor from the famous doomed luxury liner. This is an attraction not to be missed as the exhibit has a full-size replica of the Titanic's interior grand staircase. Couples get married on this staircase all the time.
You'll also find Bodies… The Exhibition where you can experience preserved cross-sections of the human body and organs. Sounds gross but this traveling exhibit has been viewed by over 15 million people worldwide!
Last, but not least, if you have a gamer in your group, they'll love checking out the HyperX Esports Arena. It's an awesome state of the art competitive gaming center. It also provides a fun nightlife area for gamers to hangout.
When visiting Treasure Island be sure to check out the on-site attraction Marvel Avengers S.T.A.T.I.O.N., which offers an interactive and informative tour of the entire Avengers franchise. 
You should also visit Gilley's Saloon. It's a modern take on the classic cowboy dance hall and honky-tonk saloon. Featuring live music and performances by the famous Gilley Girls!
Finally, you won't want to miss the nearby Volcano show out on the Strip in front of the Mirage.
Conclusion
So, these two resorts represent a couple of the best mid-range resorts on the Las Vegas Strip with similar prices and amenities. You may find that Luxor is a better choice based simply on the iconic exterior structure alone, but Treasure Island is also a fun and amazing resort. 
Since Luxor has a few more entertainment options, attractions, and a better pool area, I'd prioritize a stay at this resort first and then consider Treasure Island on your next Las Vegas trip. 
Other Las Vegas Hotel Comparisons
Check out these other comparisons of Las Vegas Hotels.
MGM Grand vs. Luxor: Which Is Better? – Find out here
MGM Grand vs. Luxor: Which Is Better? – Find out here
Luxor vs. Flamingo: The best? – Find out here
Sources: