How to Move to Las Vegas From Canada [Step-by-Step Guide]
Leaving Canada behind and moving to Las Vegas has become a popular trend recently. It's easy to see why with the nice weather and low cost of living as well as the bright lights, and entertainment available on the Las Vegas Strip and in the downtown areas. These attributes are further enhanced by the stunning landscapes and suburban neighborhoods of the greater Las Vegas Valley.
It's a fact that Canadians make-up Las Vegas's largest contingent of foreign visitors, and it only makes sense that some of those visiting from Canada would want to stay forever! If you're ready to move to Vegas from Canada, here are the things you'll need to do to make that dream a reality. 
To move to Las Vegas from Canada, apply for an immigrant visa, and wait for approval to receive a green card. Arrange a place to live and find employment.
With your visa in hand, load up a truck and drive your possessions south across the border to Las Vegas. Enjoy everything that living in Las Vegas has to offer.
Since Las Vegas has a long history of featuring superb Canadian talents, such as Cirque du Soleil, Celine Dion, and Shania Twain–it will be easy to integrate into the welcoming Las Vegas cultural atmosphere. With that said, moving to a foreign country can be a challenging task, even if both nations share a border in addition to the same language.
Read on to find out how to ease the stress of your move and begin living your absolute best Las Vegas life!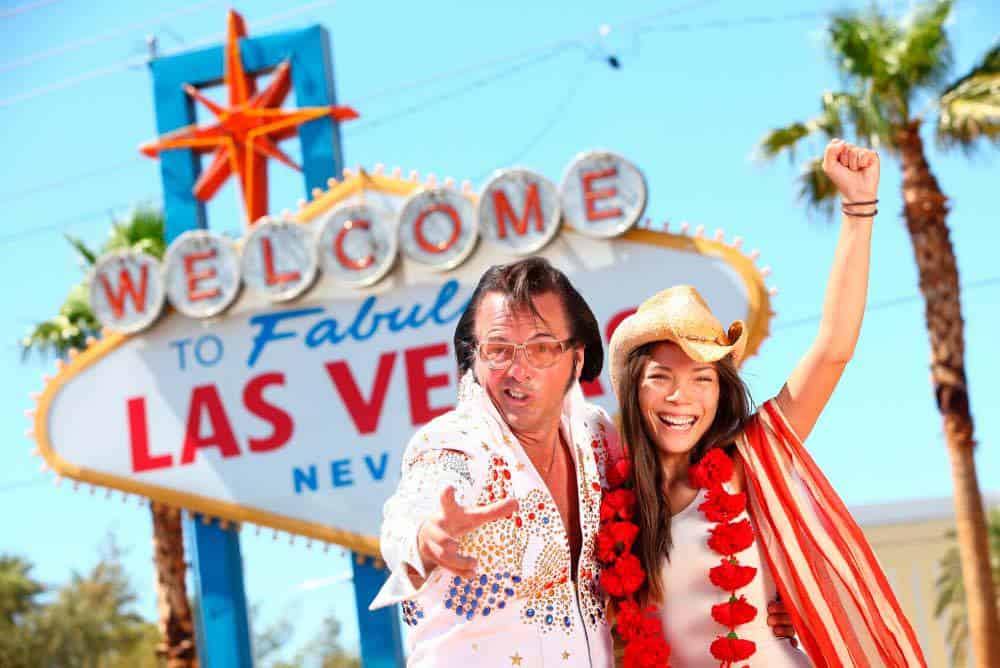 (This article may contain affiliate links, which means we might earn a small commission if you click and make a purchase. Thank you!)
Obtain a Green Card
It sometimes is a little odd for me to consider that Canada is a foreign country, especially since Las Vegas has become a home away from home for so many Canadians. I've also spent enough time in Canada myself that it just doesn't seem that foreign.
Be that as it may, vacationing in the U.S. and living here full time are two entirely different things when it comes to the governments involved. To move to Las Vegas from Canada you will need to receive the proper documentation to begin living in the United States. 
The first step is to apply for an immigrant visa for the United States. The types of immigrant visas you can apply for are:
Employment Sponsorship. This type of immigrant visa is the most popular for Canadians wishing to transition to the US. You will need to meet certain qualifications to apply for this visa. 
Business and Investment. If you wish to start a business in Las Vegas–which is always welcoming to small business ventures–you can apply for this type of visa to receive approval for your new Las Vegas business venture. Alternatively, you can also invest in a current Las Vegas business, which can help you receive green card approval. 
Marriage or Family Sponsorship. If you recently met a significant other on a Las Vegas vacation who is an American citizen, the good news is that you can be fast-tracked for a green card by tying the knot. If you have family in America, this can also easily lead to a green card through family sponsorship.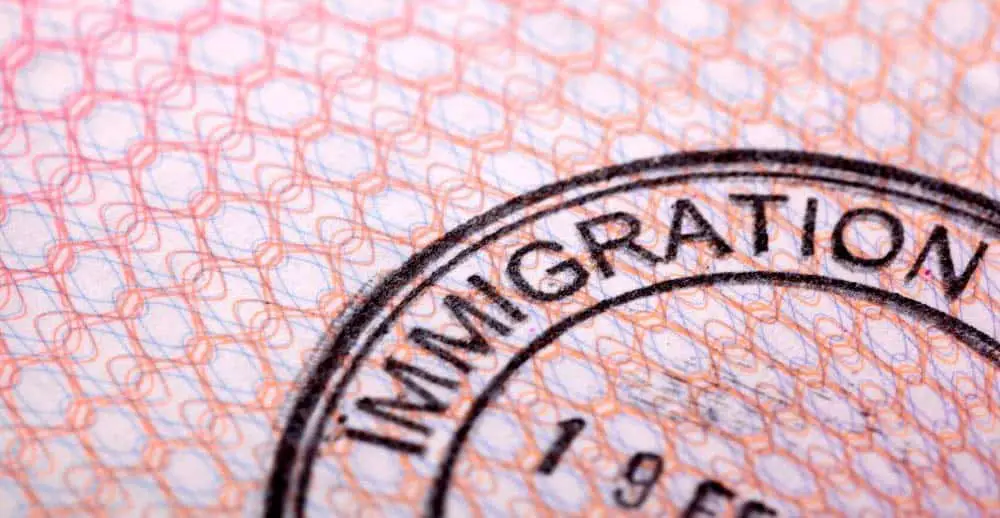 To make a long story short, you will need to establish that you are willing to become a taxpaying American citizen or business owner to immigrate here. If you are unlucky in the marriage or family sponsorship categories, the good news is that Las Vegas is an oasis of opportunity and a great place to start a business.
Start the process that best corresponds to your situation. Once your visa is approved, you are free to move.
Rent or Purchase a Home in Las Vegas
The next step is to arrange a place to live. Las Vegas is a vast landscape of varying types of real estate; some of the most opulent homes in the world can be found here as well as some of the most reasonably priced.
If you've only experienced the Las Vegas Strip or downtown area on visits, you are in for a surprise at just how large and accommodating Las Vegas really is. You can choose to live in a multi-million dollar residence or rent a modest apartment.
The choices are endless. You can live in the cultural melting pot areas near the Strip or begin the process of becoming a Las Vegas local in the Henderson area (a separate city that's connected to Las Vegas). You can live near nature in the wide-open spaces of Summerlin, or raise your family in the sunny and pristine areas around Green Valley Ranch. 
Average Las Vegas Home Prices
As of summer 2020 the average Las Vegas home costs around $290,000 USD ($393,650 CAD) (source). Remember that this is an average. There are available homes on the market for well below this price as well as homes that greatly exceed this number.
Size, neighborhood, and area of town, are all factors that will contribute to the final cost of the home. You can take a look at Zillow to see available homes on the market right now.
Average Apartment Rent in Las Vegas
Just like home prices, apartment rents in Las Vegas can vary by quite a bit. The chart below gives you the average monthly rental rate for apartments in Las Vegas. You can also check for apartments currently available in Vegas here on Zillow.
Las Vegas
Apartments
1 Bdrm
2 Bdrm
Average Monthly Rent
$1,003 USD
$1,361 CAD
$1,148 USD
$1,558 CAD
(source)
Las Vegas has a relatively modest cost-of-living depending on where within the city you decide to call home and whether you choose to buy or rent. Obviously, rental rates and purchase prices will be higher in nicer areas and planned communities, but there is something for everybody and every budget when choosing to call Las Vegas your home. 
Time to Relocate to Las Vegas
Once your visa is approved, and you've arranged a place to live, the next step is to start the relocation process. When many people think of relocating to another country, the initial thoughts usually center around just how difficult it will be to pick up and move everything to another continent.
Thankfully that isn't the case here, you can easily drive to Las Vegas from nearly anywhere in Canada. 
When driving to Las Vegas from Canada, there's even a direct route, once you cross the border, on interstate I-15, which will lead you directly into town. Driving may be the best method since this will allow you to control when and how your belongings travel to your new Las Vegas home. 
Adjust to Your New Vegas Surroundings
If you have ever visited Las Vegas, you are already aware that there is a major difference between the city and the temperate climates found throughout Canada. Las Vegas is not always the inferno that people make it out to be.
Spring, fall, and winter offer comfortable temperatures, and due to the city sitting in the middle of the Mojave Desert, the nights in Las Vegas are cool and crisp for most of the year (not including summer, however 🙂
You can check out the monthly average temperatures in Las Vegas in our article here.
The biggest difference between the climate in Las Vegas and Canada comes down to humidity. Las Vegas is extremely dry. You will have to get used to the lack of moisture in the air compared to what is found throughout Canada.
But not to fear–the adjustment process will not take very long, and you will even start to appreciate the lack of humidity since you won't sweat as easily.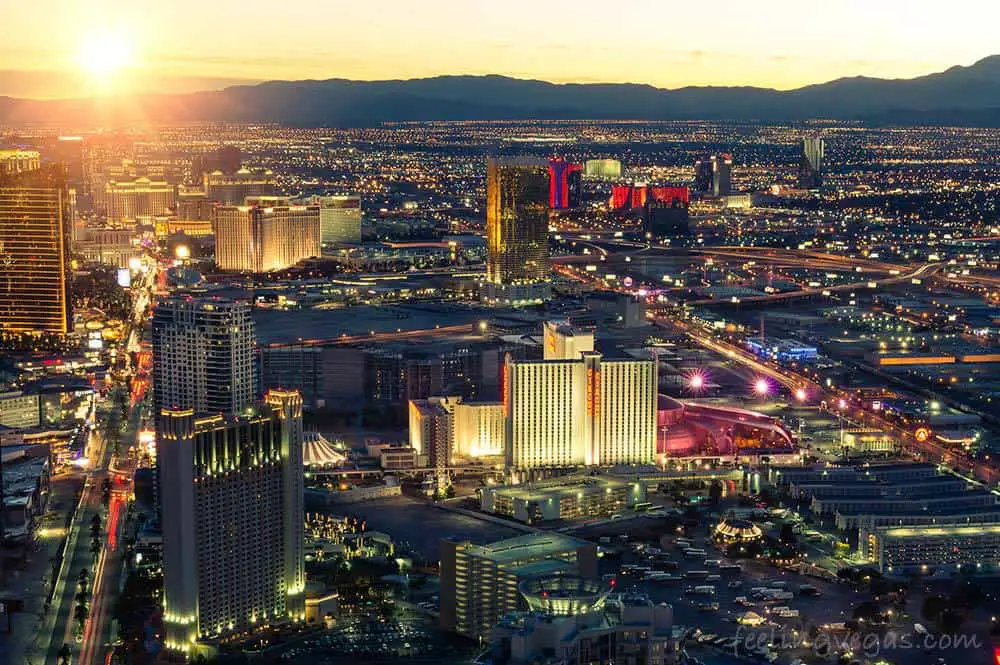 When it comes to Las Vegas culture, you will also appreciate the welcoming and diverse atmosphere of cultural expression found here. Millions of people from around the world come to Sin City each year, which is reflected in the local culture.
Many locals are themselves from different parts of America and even the world; therefore, the transition to integrating yourself into the culture of Las Vegas will be a breeze. 
The difference between Canadian dollars (CAD) and American dollars (USD) is also fairly easy to transition to. The banking systems and taxation in the US is also similar to Canadian models. 
Apart from a slight adjustment in the climate, you will find that Las Vegas is an easy city to integrate into. Although the US has some inconveniences that will take some adjusting to (you have to pay for healthcare here), Las Vegas strives to make itself a playground and attractive living space for people from all over the world, not just from other parts of the US. 
Conclusion
This guide has served to provide you a brief snapshot of what it takes to move to Las Vegas from Canada. It is not a far-out proposal to consider a move to Las Vegas since many Canadians find that Vegas has a distinctive Canadian atmosphere when it comes to entertainment and amenities. 
The most important step to make your stay in Las Vegas permanent is to acquire a green card as soon as possible. After approval, Las Vegas is your new home. 
Welcome to Las Vegas!
Related Articles
How to Move From Hawaii to Las Vegas **Complete Guide!** – Read it here
How to Move to Las Vegas From the UK [Step-by-Step Guide] – Article here
Sources: