Why Is Las Vegas So Hot (And 6 Ways to Keep Cool)
Despite being the 28th-most populated city in the US and a major stop for tourists from all over the world, Las Vegas is pretty darn hot. Temperatures in Las Vegas reach as high as 113°F in the summer and the city averages around 300 days of sunshine every year.

So, why is Las Vegas so hot? The answer to this question lies in Las Vegas' location. The city sits deep within the Mojave Desert, the driest desert on the continent. You can find some of the hottest places in America in the Mojave, and Las Vegas is one of them. The intense desert climate and lack of rainfall make Las Vegas one of America's hottest cities.

The hot Las Vegas weather does little to deter the millions of fun lovers that visit the city every year. There are ways to keep cool, and we'll discuss them later in this article. First, we need to understand just how hot Las Vegas is.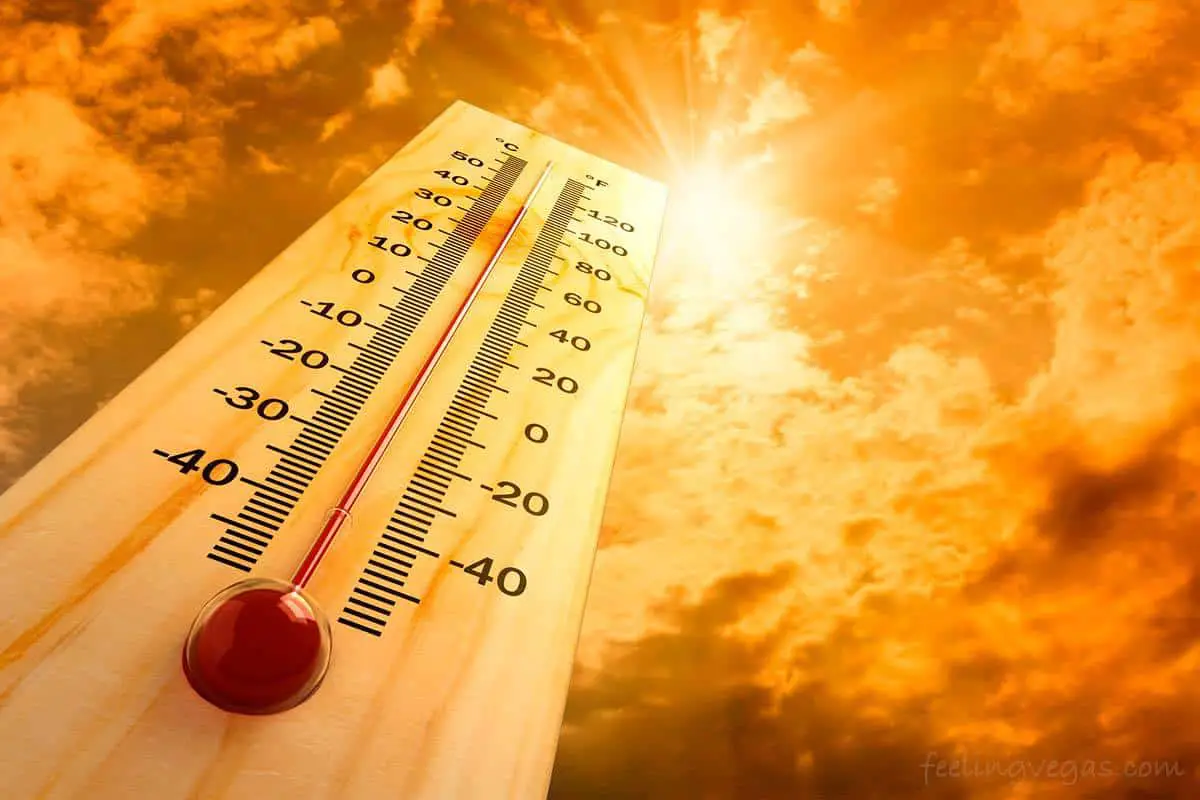 How Hot is Las Vegas?
Of course, there are months where the weather conditions in Las Vegas are favorable. In fact, Las Vegas is quite nice and comfortable throughout most of the year with the exception of summer.

Temperatures in Las Vegas Month by Month
Month
Average
High/Low °F
Average
High/Low °C
Rain
January
59° / 28°
15° / -2°
2 days
February
66° / 33°
19° / 1°
2 days
March
72° / 39°
22° / 4°
2 days
April
81° / 45°
27° / 7°
1 day
May
90° / 53°
32° / 12°
0 days
June
102° / 61°
39° / 16°
0 days
July
107° / 67°
42° / 19°
1 day
August
104° / 66°
40° / 19°
1 day
September
96° / 57°
36° / 14°
1 day
October
83° / 46°
28° / 8 °
1 day
November
70° / 35°
21° / 2°
1 day
December
60° / 27°
16° / -3°
1 day
(source)
In case you still don't have a good enough idea of how hot Las Vegas gets, here's a summary of the city's average weather conditions in each of the four seasons.
Spring
Hottest Month: May
Average High: 90°F
In the spring months of March, April, and May, average temperatures in Las Vegas continue to rise in anticipation of summer. During this period, the city experiences only three days of rain in the same number of months.
Summer
Hottest Month: July
Average High: 107°F
The high temperature in the city peaks during this period. The sun stays up for longer, and there are only two days of rain between June, July, and August.
Fall
Hottest Month: September
Average High: 96°F
Las Vegas residents start to get some respite at this period. It's still pretty hot, though, and three days of rain in over 90 days does little to help matters.
Winter
Hottest Month: February
Average High: 60°F
This season marks the coldest three months in the Las Vegas calendar year. Even though the temperature drops to its lowest point of the year (average highs in Dec & Jan are in the mid 50's to low 60's), there's still only five days of rain and rarely any snow.
Does it ever snow in Las Vegas? Find out in our article here. You may be surprised.
You can check here to see what the Current Weather is like today in Las Vegas.
Why Las Vegas is So Hot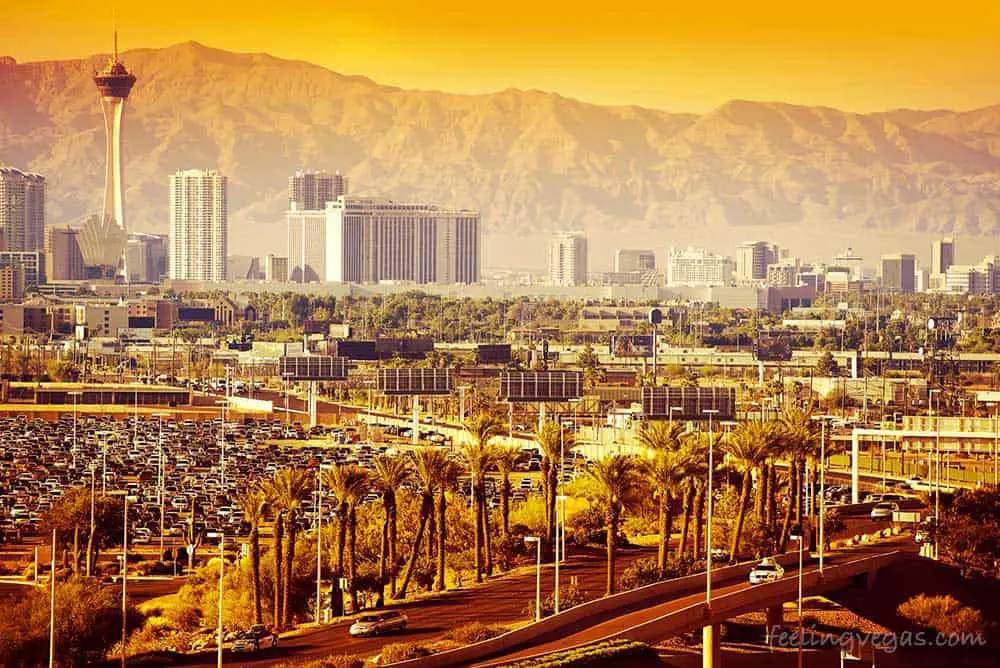 As one of the hottest and driest places you can find in the United States, Las Vegas's geographical position is a significant reason for its weather conditions. However, other scientific factors play a role in the city's high temperatures as well.

Next, we'll take a look at why Las Vegas is continuously on the warmer end of the scale. There are three significant reasons for Las Vegas' harsh temperatures, and we'll discuss each below:
Lack of Water
The fact that Las Vegas sits in the Mojave Desert is a clear indicator that there will be little rainfall throughout the year. While the city is not in a complete state of drought, it still only gets a few days of rain annually.
Find nearby points of interest in the Mojave Desert in our article here.

In a geographical area with deficient rainfall, the soil absorbs all of the sunlight that shines on it.
In places with sufficient rainfall, the moisture in the soil absorbs most of the sunshine and consequently evaporates into the atmosphere, thereby causing a cooling effect.

When the soil absorbs all of the sunlight, such as the case of a desert environment like Las Vegas, the temperature increases to very high levels, that's why Las Vegas has an average relative humidity of about 24.7%, making it one of the least humid cities in the US.
Fun Fact: In the summer, the outdoor humidity can drop to 15% or less during the day. Now that's dry!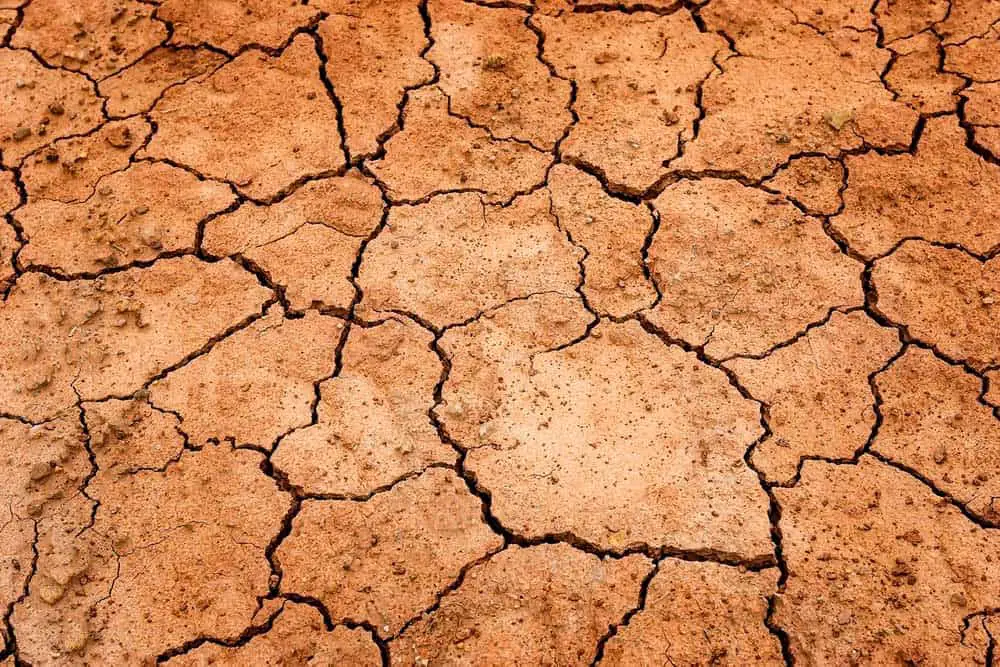 Proximity to the Death Valley
Las Vegas' position in the Mojave Desert also plays a role in its high temperatures. The city sits just 100 miles away from Death Valley, which has the hottest and driest climate in the world.

Death Valley has one of the harshest climates on the planet, and the fact that Las Vegas is only 100 miles away may give you an indication that the weather here in Vegas isn't far off.
Death Valley and Las Vegas' locations in the desert leave both areas susceptible to high temperatures and low humidity all year long.
Presence of Surrounding Mountain Ranges
Las Vegas is located in a valley that sits in the middle of several mountain ranges. The surrounding mountain elevations reach up to 12,000 feet above sea level. Moisture from the surrounding area can't get into the city because the mountains act as barriers.

The result is that the soil moisture and relative humidity in the city remain low. Thus, there's less evaporation and more heat absorption from the sun.
Here's another fun fact: During the summer, the water in our pool drops two inches or more from evaporation every day! Between the dry atmosphere and the heat, moisture is literally sucked out of anything wet in a matter of minutes.
6 Ways to Keep Cool in Las Vegas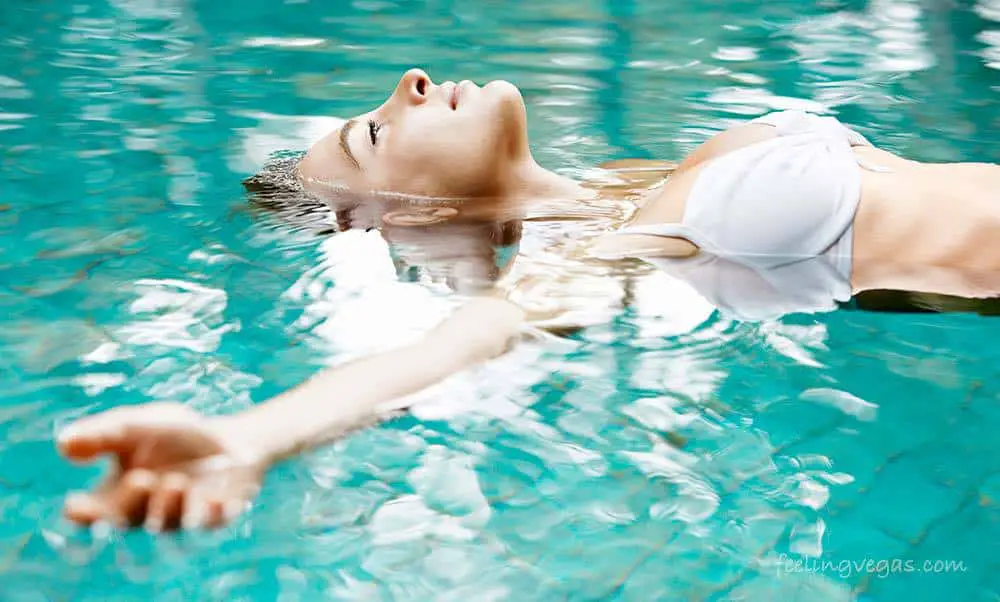 The heat in Las Vegas takes nothing away from its reputation as the entertainment capital of the United States. You can still have a good time when you're in the city even when it's hot. Every place you'll go in town has active AC units, so you have nothing to worry about while indoors.

You can't spend all your time indoors, however. So, how do you keep cool while spending time outside under the scorching Las Vegas sun?

Here are a few tips you can try out to help you keep cool and make your stay in the city a lot more enjoyable.
Spend Time at the Pool
Nearly every hotel on the Las Vegas Strip (Should you stay on the Strip? We tell you here) provides an exceptional pool experience for its guests. If you stay at one of these resorts, you can easily spend more time at the pool than you usually would in a colder city.
Find out which of the amazing Las Vegas pools you can use even if you aren't staying at the hotel in our article here.
This is our favorite way to spend a summer afternoon. Every afternoon starting around 4pm you'll find Bryan and I floating in our pool. The water evaporating from our skin makes it feel at least 20 degrees cooler.
Cool Off With Some Ice
There used to be a time when you could only find ice bars in Sweden. Now, they serve as a way to chill out with friends in Las Vegas.
If you're looking for a really unique experience to help you deal with the heat, you should try the Minus5 Ice Experience at Mandalay Bay. It's an ice bar where everything inside except the floor and ceiling is made of ice.
They even give you a heavy-duty parka to wear before entering. This is a seriously fun way to cool off.
Enjoy Snow at the Spa
While the Las Vegas Strip doesn't get much snow, there's a spa that boasts of an artic room filled with snow. Qua Baths & Spa at Caesars Palace offers several spa services, including an artic room that simulates its own snowfall.
The snow falls all day long in the arctic spa room and the air is cooled to a constant 55 degrees and is infused with mint. It's like spending time inside a York peppermint patty 🙂
Get a Hydrafacial
A soothing massage and luxurious bath are just part of the many treatments you can get at the spas in the city. The Spa at Aria offers Hydra-Therapy facials. A cool refreshing facial that helps dehydrated skin retain moisture.
Have Fun at the Beach
The desert and landlocked nature of Las Vegas makes it impossible for it to have any natural beach. Fortunately, resorts like Mandalay Bay have built their own artificial beaches.
The Mandalay Bay Beach is 11 acres in size and is full of trucked-in sand. So yes, you really can spend a day at the beach in Las Vegas.
With a giant wave pool and a lazy river, you can spend all day chillin out on a Las Vegas beach.
Get Delicious Ice Cream and Milkshakes
Black Tap Burgers and Beer at the Venetian has a reputation for selling the most delicious ice cream and milkshakes in the city. Here, you can have your gelato spiked with some alcohol while you take some time away from the heat.
Conclusion
By now, you probably have a clearer picture of just how hot Las Vegas gets and why this is the case. Its location in the Mojave Desert didn't deter the first settlers from building such a megacity, and it shouldn't stop you from visiting, either.

We provided you with enough tips and hacks that would help you keep fresh and cool during your stay in the city. No doubt, you have all the information you need to get the best out of your time in Las Vegas without worrying about the heat.
Sources:
·    Weather Street: Why are Deserts so Hot?
·    Cheapflights: 15 ways to keep cool in Las Vegas this summer
·    KTNV: 13 Things to Do to Stay Cool When Las Vegas Heats Up