Is Las Vegas Too Hot to Visit in July? (What You Need to Know)
(This article may contain affiliate links. If you click through and make a purchase, we will receive a small commission at no additional cost to you. )
If you're thinking about visiting Las Vegas during the summer, you might be wondering whether the month of July is too hot. So, what are summers in Sin City like, and is it too hot to visit in July? 
Las Vegas may be too hot to visit in July if the bulk of your desired activities are outside, with daily temperatures reaching 106°F (41°C) on average. A July vacation in Las Vegas is best spent inside one of the many air-conditioned casinos and attractions or in one of Vegas's amazing resort pools.
In this post, I'll describe what the weather in Las Vegas feels like in July. And if you plan on visiting during the summer, I'll give you tips on how to stay cool and comfortable. Finally, I'll recommend the best month to visit Las Vegas based on weather and tourism trends.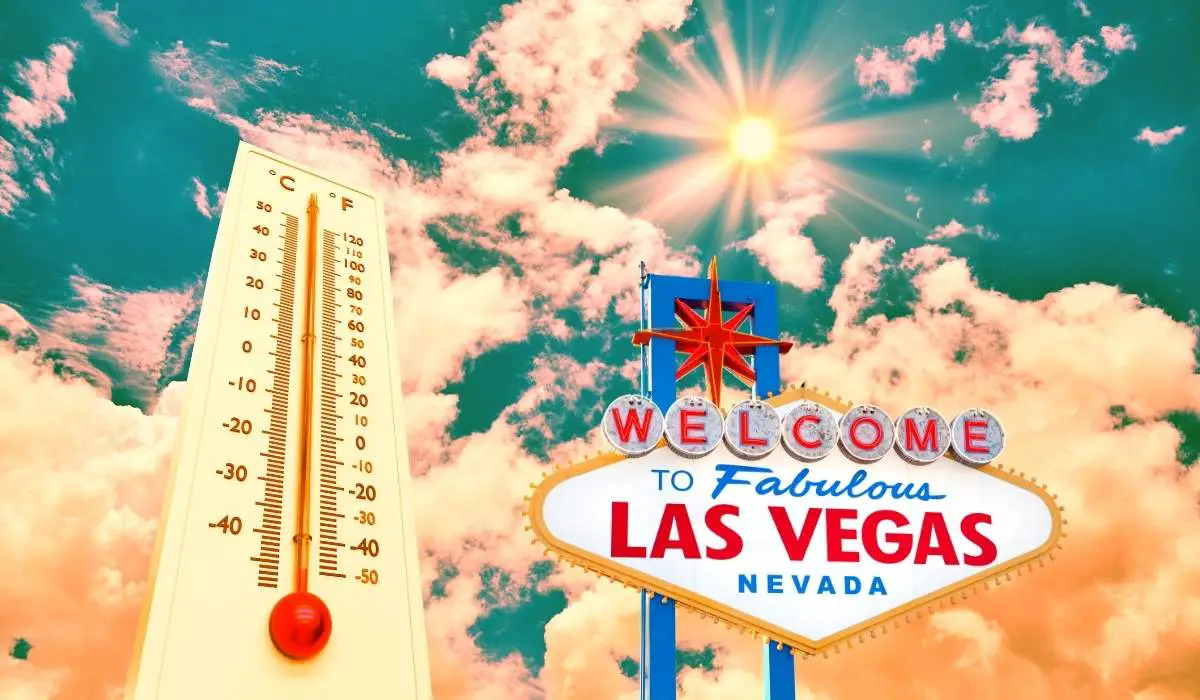 Las Vegas Weather in July
The weather in Las Vegas can get pretty hot in July. The average daytime temperatures range from around 97°F (35.9°C) to 106°F (41°C), and at night it finally cools down to around 80°F (26.6°C) just before sunrise.
If you plan to spend your Las Vegas vacation walking the Strip and downtown areas, July is probably too hot to do so comfortably. However, the weather in July is consistently good for some outdoor activities like pool parties and waterparks.
How Do People Survive in Las Vegas During the Summer?
People in Las Vegas face a unique challenge during the summer, especially when they need to spend even part of a day without air conditioning. While the city is known for its hot summers, many locals rely on air conditioning to stay comfortable.
However, even those with air conditioning can still run out of electricity due to occasional power outages. Most people cope with the heat by staying inside as much as possible. Others have developed creative strategies for keeping cool, such as jumping in the nearby Colorado River.
Whichever methods people use to cope with Las Vegas heat, they need to be prepared for extreme temperatures throughout the summer months.
So, maybe try not to visit Las Vegas in the middle of summer if it's your first trip because the weather is extremely hot, and you won't be able to comfortably experience all that Vegas has to offer.
However, if it's not your first trip to Vegas, then you've probably already seen many of the outdoor sights, and you know that you can spend your entire vacation inside without ever running out of fun and exciting things to do.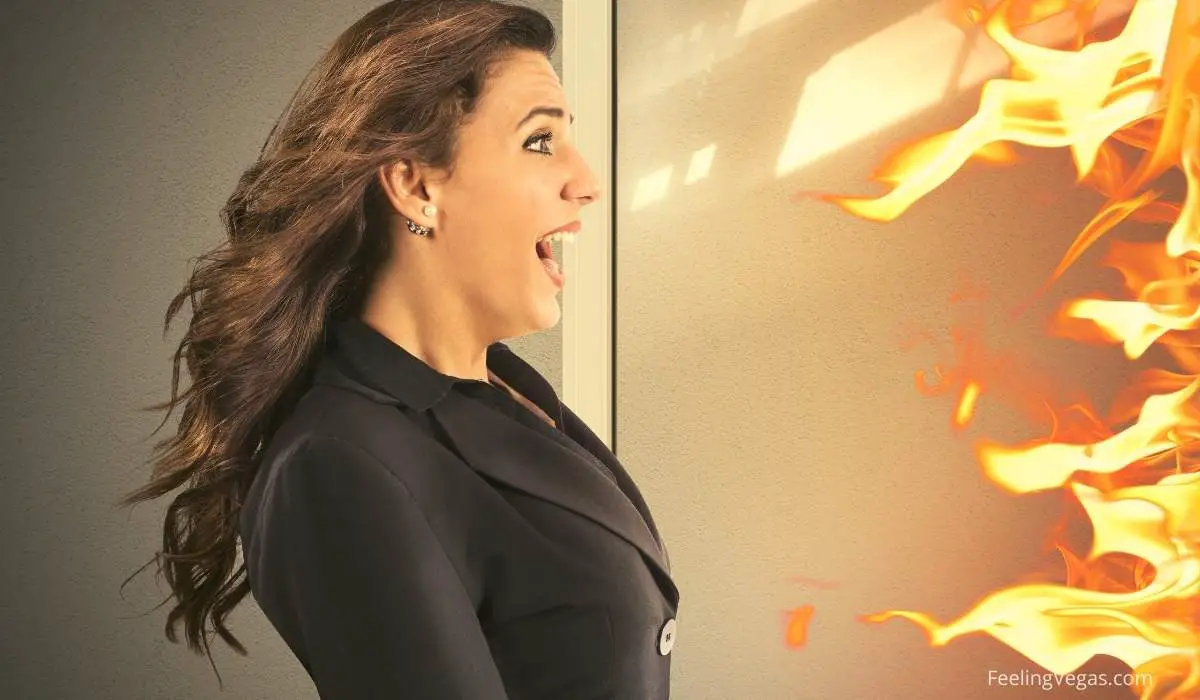 That being said, if you're in Las Vegas during July, here are some of the ways to survive the hot weather:
Drink Lots of Water
To stay healthy and comfortable in the summer heat, drink lots of water! Not only will this help you stay hydrated, but it will also keep your body cool and reduce your chances of getting sick. 
Make sure to drink plenty of fluids even if you're not feeling thirsty. And don't forget about iced drinks; they can be a great way to cool down on hot days.
You may have heard that the water in Las Vegas tastes terrible because they use special chemicals to treat it. However, it's completely safe to drink.
Avoid Strenuous Activity Outdoors
Avoid strenuous outdoor activities if you're planning to visit Las Vegas during July. It's challenging to stay cool when you're working up a sweat.
Instead, try exploring the city by enjoying a show at one of the many casinos. Or take a walk through the many casinos at the Fremont Street Experience – this lively district is home to some of the city's most iconic attractions, such as the world's biggest golden nugget. 
Dress Lightly During the Day
When choosing clothes to wear on your Las Vegas trip, err on the side of caution and dress lightly. You don't want to overheat or get too sweaty in summer weather. Choose loose-fitting clothing that allows air circulation. This will help you stay cool and avoid sweaty clothes. 
That's why wearing jeans in Vegas is not recommended in the summertime. They make you uncomfortable, especially if you're outside for a long time. In a recent article, I discussed wearing jeans in Vegas in the summer in detail. Check it out.
Wear Sunscreen
Sunscreen is a must-have for those engaging in any outdoor activities in Las Vegas, no matter the season, as the sun is especially intense here in southern Nevada. Sunscreen blocks harmful rays from the sun and helps prevent skin cancer.
So when you're in Vegas, don't forget to apply generously every time you go outside, even if it's just for a short walk.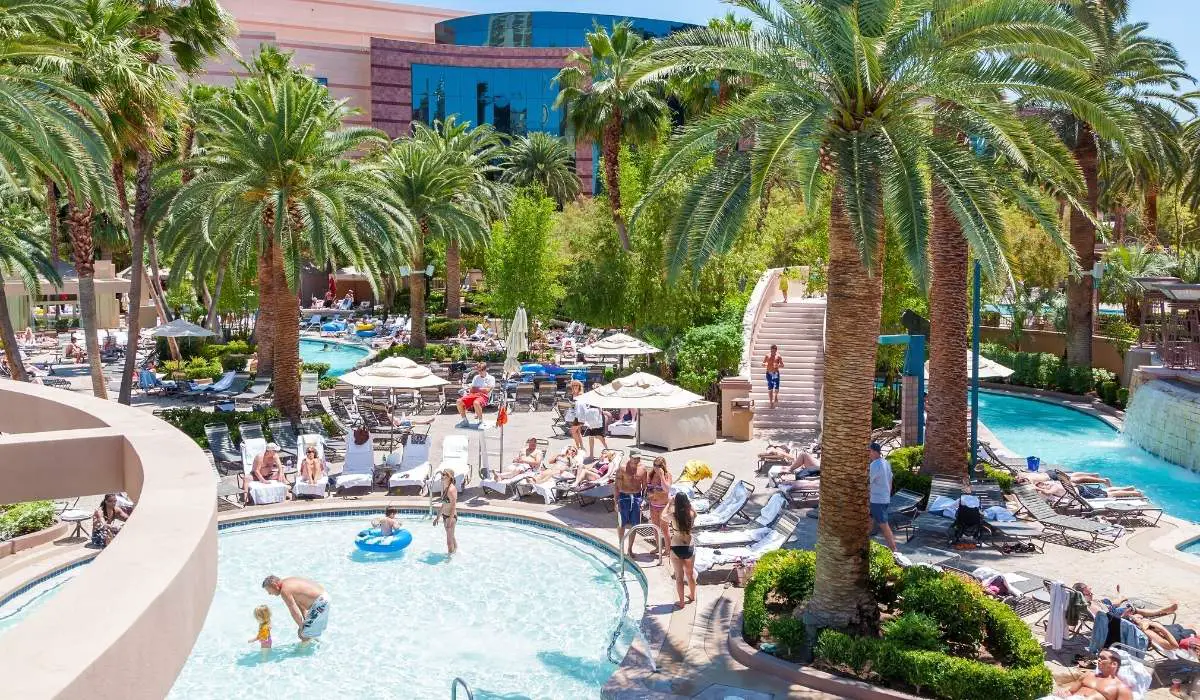 Cool Down During the Hottest Parts of the Day
The midday and afternoon sun is the strongest in Vegas, so take a break to avoid being too hot and tired. So if you're planning to venture outside, try to do so in the early morning or after the sun has gone down.
If you can't get away from the sun, try using cool misting sprays or fans to help you stay comfortable. If you're feeling really hot, take a cool shower or bath.
Your best bet is to just stay inside one of the heavily air-conditioned resorts along the Las Vegas Strip during the heat of the day.
What Is the Best Month to Visit Las Vegas?
The best month to visit Las Vegas will vary depending on your travel goals. However, some factors that could influence your decision include the weather conditions and what types of activities are available during that particular month.
It can also be helpful to plan your trip around significant events (such as New Year's Eve) or popular tourist destinations (like the Grand Canyon or Hoover Dam) to maximize your chances of getting good deals.
Finally, keep in mind that prices for hotels and other attractions tend to go up significantly during peak season, so it's always a good idea to book your reservations well in advance!
If you're looking to save money, July IS a good time to visit Las Vegas, as the prices tend to be slightly cheaper due to the heat. I've written an article all about the cheapest months to visit Las Vegas if saving money is a priority.
Which Months Have the Best Weather?
The weather in Las Vegas is typically dry and sunny. However, some months are generally considered more favorable than others, especially for those coming from cold climate areas.
January is typically the coolest month in Las Vegas, but it is still generally pretty nice and sunny during the day. February is usually milder, and March is when temperatures start to warm up a bit. April sees a slight increase in rainfall but is quite nice. May tends to be hot and dry, while June has mostly clear skies and warm temps without being overly hot.
July can be unbearably hot to some, and August cools off slightly but has higher humidity due to occasional monsoon rain showers. September is warm but comfortable. October features nice days and cool nights. November has mild temperatures overall, and December may see colder weather near the end of the month. 
To summarize, the best months for weather in Las Vegas are between March & May and September & November.
Conclusion
July is one of the hottest months in Las Vegas, and if July is the only time you can visit, you absolutely should. However, if you're wanting to catch Vegas during the best months for weather, you should plan your visit during the spring or fall seasons.
That being said, Las Vegas is a great year-round destination, and tourists flock to our exciting city every month of the year, including July. So whenever you find yourself with a time you're able to visit, my advice is…just book it!