Las Vegas in the summer…it's hot…it's dry, and it's one of the most perfect spots in the country to visit a water park. However, before you visit, you'll want to know which Las Vegas water parks are worth your time.
Here are the top five water parks in Las Vegas:
Cowabunga Bay
Wet 'n' Wild Las Vegas
Lake Las Vegas Water Sports (Aqua Park)
Mandalay Bay Beach
The Tank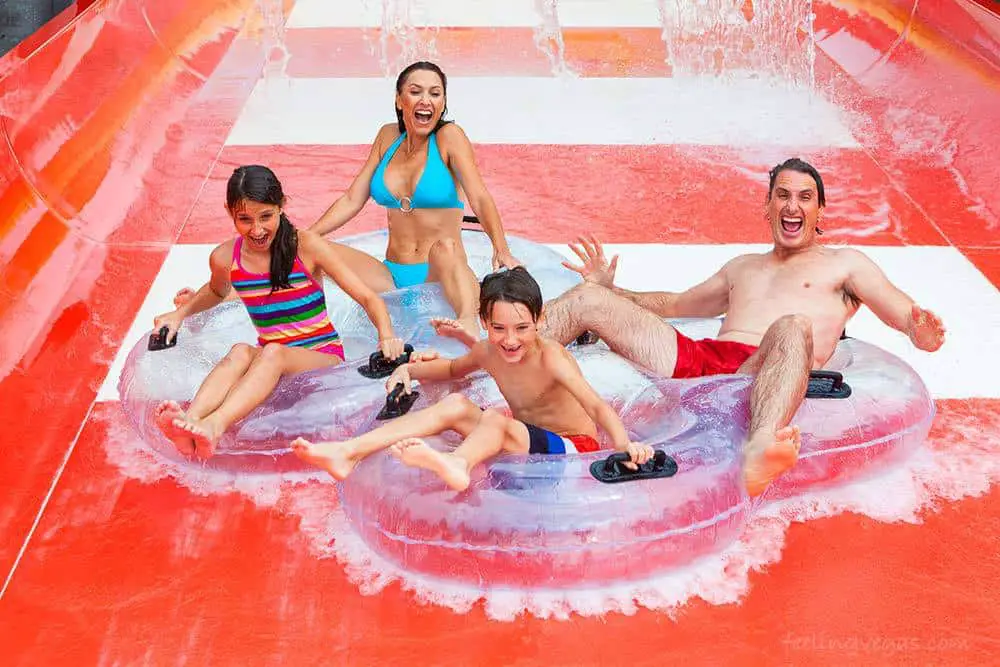 (This article may contain affiliate links and we may earn a commission if you make a purchase.)
VEGAS Attractions For Less! Las Vegas doesn't have to be expensive → Today's Deals
Las Vegas has a ton of amazing pools and some even have a water slide or two but nothing holds a candle to a true water park. These are the five water parks in town I love the most. Keep reading to find out why I believe these water parks are the ones you'll want to check out when you visit Las Vegas.
1. Cowabunga Bay
Cowabunga Bay is one of the best-reviewed water parks in Las Vegas. Only 20 minutes from the Las Vegas Strip, it's the perfect place for a family daytime outing, a complete vacation, or even an entire summer (with a season pass).
Cowabunga Bay Attractions
The theme park covers 25 acres and has over a dozen water slides, several separate water attractions, and a few places to grab a bite to eat. They even have a shopping and souvenir store.
Just some of the water slides you'll find at Cowabunga Bay:
Beach Blanket Banzai – Four riders jump in a raft and race down over 600 feet of exciting twists, turns, and drops. A thrilling slide for the whole family!
Breaker 1-9 – Choose from one of four different slides as you race your way down these high-speed tubes!
Point Panic – Jump on an inner tube and take a thrilling run down this completely enclosed water slide in pitch-black darkness. You'll never know when the next turn is coming!
Surfing USA – The starting line is over 50 feet high as you line up to race five other riders down the slopes side-by-side.
Wild Surf – This is the one you're eyes will be glued to as you enter the parking lot! It's the largest man-made wave in the world. Hop in a four-person raft and ride the wave.
There are also some slides for the little ones plus an entire splash area called Cowabunga Kids Cove.
In addition to the water slides, you'll find a lazy river as well as one of Nevada's biggest wave pools.
Cowabunga Bay Ticket Prices
General admission for one day starts around $43 with lower prices depending on the individual's height and age. Parking is an additional cost and runs about $8. There's also an option to store your belongings in a secure locker for an extra fee while you enjoy the park ($11 – $15 a day).
Cowabunga Bay Admission Type
Ticket Price
(48″ and over) General Admission
$37.95
(less than 48″) Youth Admission
$24.95
(60 and older) Senior Admission
$15.95
Current Military with a valid ID
$37.95
Summer Nights Ticket
(4 pm – 9 pm, Sunday – Thursday)
$21.95
Summer Nights Ticket
(4 pm – 9 pm, Friday & Saturday)
$24.95
Cowabunga Bay Ticket Prices
Cowabunga Bay Season Pass & Cabanas
If you plan on visiting the park more frequently, Cowabunga Bay offers season passes.
A standard season pass is around $109 and will qualify the holder for admission and discounts within the park. You are also given the option of an additional locker pass for about $50 a season.
A season plus pass is a little bit more and will qualify the holder for admission, discounts, free parking, and 3 Bring-a-Friend tickets.
If you want a truly relaxing experience you can rent a 10 x 10-foot cabana with lounge chairs, a ceiling fan, safe to secure your valuables, and a cabana exclusive pool for the day with a price of around $180 Mondays through Thursday and about $200 for weekends and holidays.
Cowabunga Bay Discount Tickets
You can often find discount tickets for Cowabunga Bay here on groupon. While not always available, these discounted tickets can sometimes be available for up to as much as 50% off the standard price.
Plan to Arrive Early
Some recurring criticisms with guests of the park are the slow wait times for the water slides.
As much fun as I have here, I agree that you can spend a lot of time waiting in slow lines when it gets busy. My advice is to arrive as close to opening time as possible and then you'll have an hour or two to slide to your heart's content before the lines start to get long.
Hotels Near Cowabunga Bay Las Vegas
Cowabunga Bay is partnered with several nearby hotels if you wish to stay closer to the park.
Sunset Station is the premier hotel of Henderson and Cowabunga Bay's official hotel, it's easy to see why. Sunset Station boasts a casino, bowling alley, movie theater, restaurants, buffet, and is only 2 minutes from the water park.
Fiesta Henderson is another Stations Casino hotel. The key difference is that Fiesta is focused more on giving maximum luxury while still on a budget. Perfect for larger families.
Green Valley Ranch is located just a few miles from both the Las Vegas Strip and Cowabunga Bay, Green Valley Ranch is a great option. Prices vary from very affordable to very luxurious.
Cowabunga Bay Address, Website & Dates of Operation
Park opening and closing times change throughout the season and are based on the weather as well as the local school's summer schedule but are clearly listed on their website for the season (see below).
2. Wet 'n' Wild Las Vegas
Wet n' Wild Las Vegas is another spectacular water park found on the west side of the valley. Located about the same distance from the Strip as Cowabunga, it's another great option for families who want to get the most out of their Vegas vacation.
Wet 'n' Wild Las Vegas Attractions
Sporting 8 water slides, a wave pool, a lazy river, and a children's area with child-friendly water slides, this is a great place for families.
Some of the water slides include:
Constrictor – Riding down this slide is like being in the belly of a snake with more twists and turns than just about any other water slide! A multi-person ride with speeds up to 18 mph.
Royal Flush Extreme – Two riders slide down a fully enclosed tube before dropping into the huge bowl where they get splashed and spun around until they get flushed down a center tube to the splashdown area!
Rattler – Four riders jump in a raft for the 360-foot plunge down through the twists and turns of the rattle. This one'll shake you up!
Canyon Cliffs – Prepare yourself for a maximum adrenaline rush as you drop straight down the almost vertical tube at speeds that will have your heart in your throat!
Zipp, Zapp, Zoom – Choose from 3 different slides as you ride through twists, turns, and enter tubes with different visual effects. For single or double riders.
When all that fun has worked up an appetite, there's cafes and food carts scattered around the park. Add in the surfing supplies shop and you've got everything you could need for a great time.
Wet 'n' Wild Ticket Prices
One-day admission for adults starts at $35 but drops down to nearly $20 after 4:00 pm. Children less than 2 years old get in free and parking is $8. They also have secure lockers for your valuables ranging from $9 – $12 for the day.
Wet 'n' Wild Admission Type
Ticket Price
(42″ and over) General Admission
$39.99
(less than 42″) Junior Admission
$29.99
(60 and older) Senior Admission
$12.99
Twilight
(After 4 pm
$14.99
Wet 'n' Wild Ticket Prices
Wet 'n' Wild Las Vegas Season Pass
For the people that want to have all summer, Wet n' Wild provides 3 different season passes to choose from.
For about $79.99 you can get a silver membership which allows for park entry from April to September. 
The gold membership is just a bit more ($99.99) and will get you entry plus free parking, priority entry between 10:00 and 10:30 am, a discount on Xpress bands, monthly bring a friend passes, the option to purchase a friend pass at a discount, $1 off rental lockers, 10% off at all park stores and cafes, free souvenir bottle, and the chance to win weekly and monthly prizes!
If you want to have even more fun you can get the VIP pass for $129.99. This pass gives you entry, free parking, priority entry, free Xpress bands, 2 friend passes a month, extra friend passes for about $20, a discount on the locker rental fee, a free water bottle, 20% off all park stores and cafes, plus entry for weekly and monthly prize drawings.
Wet 'n' Wild Las Vegas Discount Tickets
You can check for Wet 'n' Wild Las Vegas discount tickets here on groupon. Again, these are not always available but are a good deal when they are. Otherwise, head to Expedia.com to get your Wet 'n' Wild tickets ahead of time.
Tips For Wet 'n' Wild Las Vegas
The best tip I can give here is that if it's possible, plan your visit for a weekday as the weekends can get very busy. Also, arrive as close to opening time as possible to allow you to get off to a fast start before the park fills up.
Hotels Near Wet 'n' Wild Las Vegas
Hotel accommodations near Wet 'n' Wild Las Vegas include:
Holiday Inn Express & Suites Las Vegas SW Spring Valley. Only a few minutes from the water park and with great reviews it's a perfect option to consider.
Best Western Plus Las Vegas West, less than 7 miles from the park. It has great reviews and accommodations for everybody's needs
Hampton Inn & Suites Las Vegas-Red Rock/Summerlin is another great option for nearby hotels. Located only 5 miles away from the park it's a great, convenient hotel.
Wet 'n' Wild Address, Website & Dates of Operation
The park dates and times of operation can vary from season to season. For the most up-to-date information see the link below for the Wet 'n' Wilds calendar.
3. Lake Las Vegas Water Sports (Aqua Park)
Lake Las Vegas Water Sports is an unusual water park on the edge of Lake Las Vegas that's much different than the other two we've talked about. This water park is made up completely of giant inflatables that float on the surface of the lake!
This inflatable aqua park sports an obstacle course, swings, trampolines, slides, and more. You can climb, jump, slide and swim all without waiting in a bunch of long lines. This is truly fun for the whole family but you must be at least 11 years of age and you are required to wear a life jacket at all times, which they provide.
Attractions at Lake Las Vegas Water Sports
For the more adventurous guests, there's also:
Cable Park – A cable pulls you from one side of the lake to the other for simulated waterskiing, wakeboarding, and tubing. There are even jumps included for the more advanced!
Water Jet Packs – You heard that right! Strap a water-powered Flyboard to your feet and shoot up to 50 feet in the air. You control the whole gizmo with the heel and toe pressure of your feet. Instruction provided.
Electric E-Foil – You can even take a lesson on an electric E-Foil. If you don't know what that is it's basically a large boogie board type of contraption that's powered by a lithium battery. As your speed increases, the board lifts out of the water until your zooming a couple of feet above the water!
Unlike the other parks on this list, this park focuses a lot on water sports and offers rentals for:
Kayaks
Paddleboards
Pedal Boats
and more
There are even rentals of electric boats for cruising the lake and a giant yacht you can rent for special events and occasions like weddings, bachelor & bachelorette parties, sporting event viewing parties, birthdays, you name it.
On top of all that, they host what they call the Neon Paddle once every two weeks at night where paddleboards and canoes are all lit up in neon lights and fill the lake after dark.
Lake Las Vegas Water Sports Prices
Most activity pricing is done in 1 to 2-hour intervals and many activities start at less than $30.
Aqua Park: $27 for 45 min | $37 for 90 minutes
Kayak Rentals: $32 for 2 hours (single seat kayak) | $65 for 2 hours (tandam seat kayak)
Paddleboards: $35 for 2 hours
Electric Boat: $199 – $329 for 2 hour
Cable Park: $30 for 20 minutes
Flyboard Experience: $79 for 25 minutes
Yacht Rental: Inquire for pricing
Season passes are available for certain activities such as kayak/paddle boarding which starts at around $190, about $150 for the aqua park all season, and the electric boat rental at just about $1,800. Each membership comes with a discount for special events and all gear required for the activity.
Hotels at Lake Las Vegas
After enjoying a day at Lake Las Vegas Water Sports you won't have to look far for a place to relax. With a small grocery store and several excellent restaurants within walking distance, you have everything you could need right there. If you'd like to stay for longer there are some excellent hotels nearby as well.
Hilton Lake Las Vegas & Spa is located less than a mile from the park. A gorgeous property located right on the lake it's an excellent 4-star hotel.
The Westin Lake Las Vegas Resort & Spa is another great choice. Located on the opposite side of the small lake it's got the convenience you need and the four-star resort rating you want.
A little further away from the others but just as good is Best Western Plus Henderson Hotel. Super friendly staff, great breakfasts, and they allow dogs. An excellent choice for anyone's vacation.
Lake Las Vegas Water Sports Address, Website & Dates of Operation
Las Vegas Water Sports operates year-round but many of the activities are seasonal. Check the calendar link below for dates and hours of operation.
4. Mandalay Bay Beach
There is another spot in Las Vegas that is worth mentioning if you love a good water park. It's called Mandalay Bay Beach. While this isn't a classic "water park" with water slides, there are still plenty of fun water activities to be had here.
Mandalay Bay Beach is an aqua playground full of pools and sandy beaches. Highlights of this 11-acre park are the lazy river and the 1.6 million gallon wave pool! It's also the only place in Las Vegas where you can stick your toes in the sand (yes, actual sand!)
Mandalay Bay Beach is found at the Mandalay Resort and Casino and the entire pool deck is available to guests staying at the hotel at no additional cost (it's covered in the hotel's resort fee). Non-guests of the hotel can enjoy the pool deck as well by renting a lounge chair, daybed, or cabana, but guests of the hotel always have first dibs.
Recommended Reading: 9 Best Las Vegas Hotels with Waterslides (Waterparks!)
5. The Tank
While The Tank at the Golden Nugget Casino just has a single water slide, it's simply one of the best waterslides in Las Vegas and shouldn't be missed if you're a true fan of waterparks!
The Tank is a $30 million dollar pool complex that incorporates all the features of a really nice Las Vegas resort pool including lounge chairs, private cabanas, fully stocked bars, and food all set in a beautiful luxury environment. The Tank, however, has one thing that the other resort pools don't, a 200,000-gallon aquarium in the middle of the pool filled with live sharks!
You can swim right up to the side of the tank and watch the sharks swim from very close-up and if that's not cool enough, you can jump on a clear tubed waterslide that goes right down through the middle of the tank! Riding a water slide through the center of a shark tank is something you absolutely have to check off on your waterpark "bucket list."
If you're not a current guest of the hotel, it'll cost you around $25 to get in for the day.
Website: The Tank
Address: 129 E Fremont St, Las Vegas (google maps)
Distance from the Strip: About 3 miles from The Strat on the northern end of the Strip
Final Thoughts About Las Vegas Water Parks
Overall Las Vegas has a lot to offer anyone looking to have an adventure, and each of our Las Vegas water parks will guarantee you a thrilling time.
Exactly which water park is the best depends on who you ask. Some people want more thrills and slides, others want more pools, and some just want to take a relaxing kayak ride. Regardless of your water park preferences, one of these best Vegas water parks is sure to fit the bill.