So you wanna check out one or more of the really cool pools in Las Vegas but you're not a guest of the hotel, what to do? We'll you're in luck! Some of the best pools in Las Vegas are open to non-guests, meaning you don't have to be a guest of that hotel to get access to their fabulous pool!
So, where are the best non-guest pools in Las Vegas? The best pools in Vegas that are open to non-guests are:
Free Non-Guest Pools in Las Vegas
Non-Guest Pools for Families
21 & Over Non-Guest Pools
Best Las Vegas Pool Parties
Let's face it: Las Vegas can get extremely hot for a good part of the year. With the hottest days driving the mercury up well over 100°F, even a short walk down the Strip will leave you dying to find a pool.
There's good news! Las Vegas is home to a vast collection of fabulous pools that locals and non-guests are welcome to enjoy.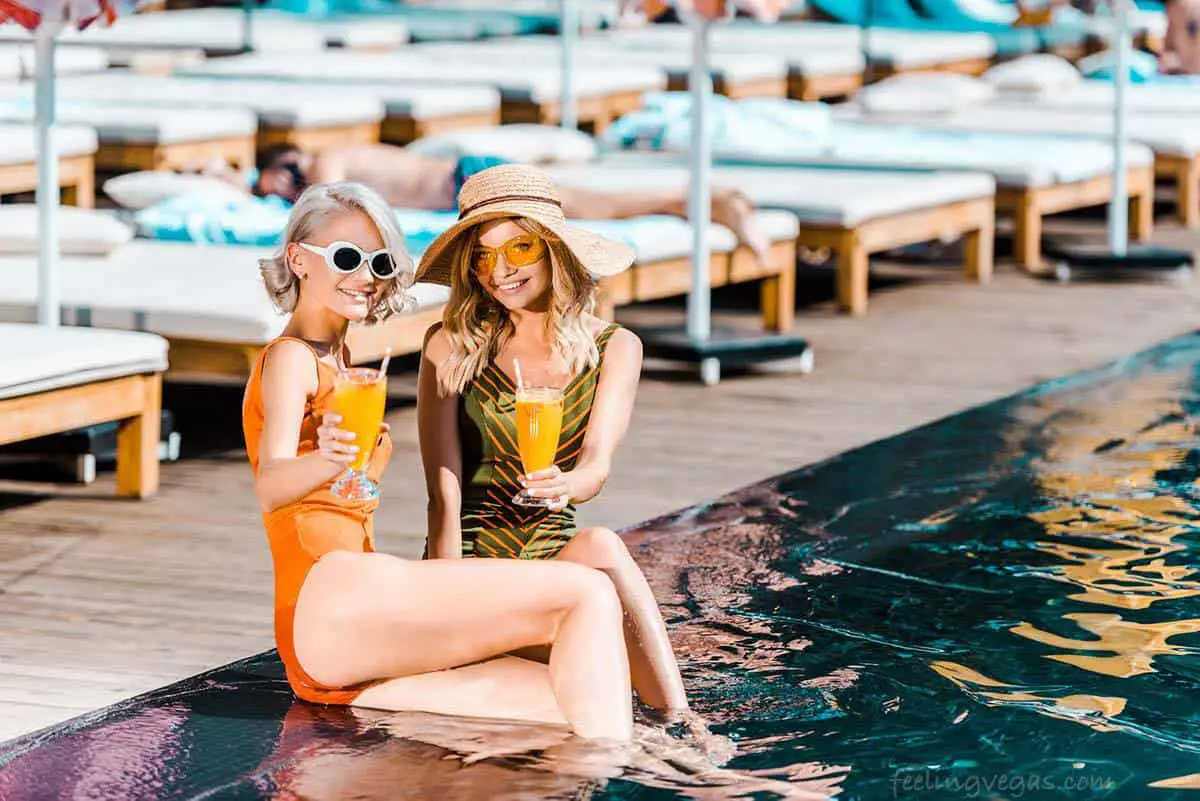 Depending on whether you're looking for a 21-and-over experience, need a place to take the kids, or are needing a free pool, there are abundant options found all over the Las Vegas Strip and downtown area.
There are even options for those looking to find a wild, raucous, full-on pool party in the middle of the day.
Note: This article includes the pools that are generally available to the public. While the majority of these pools have resumed normal operation post-pandemic, you might find that a few still have restrictions for non-guests of the attached hotel. It's always best to check directly with the resort to reserve your pool time and double-check availability before arriving.
The Best Free Pools in Las Vegas (Pools Open to Public)
Las Vegas has a reputation for costing a fortune, so maybe you're looking for an activity that won't require a cover charge. For those living locally, there are several Las Vegas pools open to public use. Even for non-Nevada residents, there are some notable options.
Keep in mind that "free" here refers to the entrance fee and that amenities such as food, drinks, and lounge space may cost you more.
Harrah's Pool: This pool is a flower lover's dream with a lovely trellis at the entrance and fragrant plants all around the pool deck. To top it off, this pool also has free entry and welcomes all ages. That doesn't mean that Mom and Dad can't sip a cocktail, though. Not only is there a bar, but there is also a pool café with the option of lunch by the pool. (google maps)
Boulevard Pool at The Cosmopolitan: The Cosmopolitan houses "The Pool District" made of three distinct pools for different uses. The Boulevard is free to the public and includes expansive views of the Las Vegas Strip as well as food, drinks, games, and jacuzzis. This pool is complementary to non-guests Monday through Thursday and restricted to hotel guests on the weekends. (google maps)
Influence, The Pool at the LINQ: This pool is not only gorgeous but also adults-only. With great food, cocktails, a DJ, photo ops, and adult games like Beer Pong, this is where the party is. Obviously, you'll be paying for the amenities, but according to the site, there is no entrance fee. (google maps)
Note: I did cross-reference with Caesars FAQ page, and this is one of the pools you may require a Caesar's Rewards card to get in free. It's not a big deal, you can easily get a Caesars reward card for free at any Caesars owned property. Call ahead to check on the most recent policies.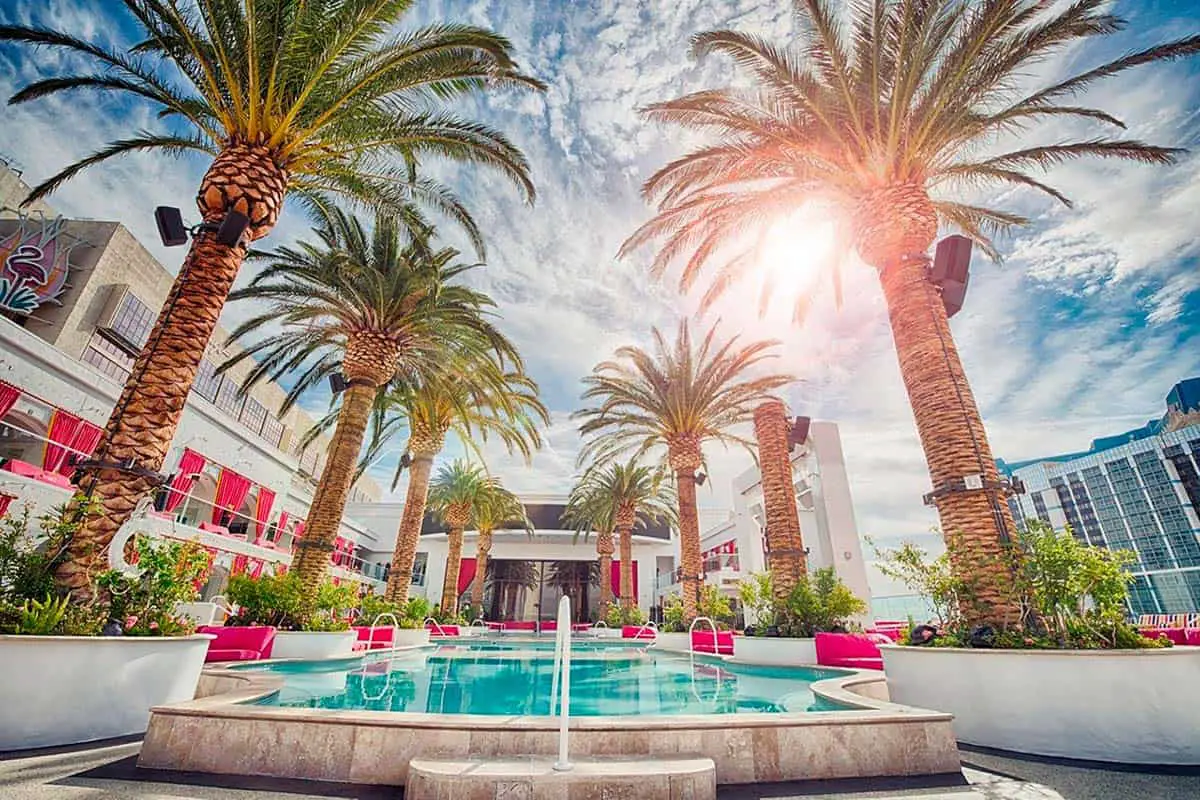 Go Pool at The Flamingo: Festooned with waterfalls and islands of shady palm trees, this is a great place to hang out. And while this list is meant for our favorite free options, we don't want you to miss out, either. Go Pool hosts some awesome live music from famous performers, so check the calendar and buy tickets for your favorite shows. (google maps)
General admission for Go Pool is free for locals Monday through Thursday, but the price on weekends is $22+ depending on holidays and special events. There may be a cover charge for out-of-state non-guests of $10, so call ahead.
Citrus Grand Pool Deck: At 35,000 square feet of party space, this is not just a pool. It is more of an experience. Citrus at the Downtown Grand Hotel & Casino boasts a stunning rooftop infinity pool, games like foosball and corn hole, as well as fire pits, and a full bar. It doesn't stop there, though. (google maps)
The restaurant features a menu developed by Season 12 winner of Hell's Kitchen, Chef Scott Commings. The website says there is no admission, but another source says non-guests may be charged a $5 cover fee. Either way, extremely reasonable!
Tip: Sunscreen is a must and you definitely don't want to pay a premium to buy it in your hotel. Instead, bring it with you. This sunscreen lotion on amazon is waterproof, non-greasy, inexpensive, and highly rated.
The Best Non-Guest Pools for Families
Las Vegas is no longer the adults-only town of old. With more shows and fun activities for the whole family, you should feel confident planning a great vacation with your kids. In fact, here are a few of the coolest family-friendly pools we could find that are open to one and all. These pools feature fun activities or features to keep your kids entertained for hours.
There's also a bar and grill for food and drinks that can be enjoyed back at your beach chair for a little picnic. Non-guests can come to play Monday through Thursday and can expect to pay $20 per adult and $10 for children between 4 and 16. Children under 3 are free.
There are also two separate pools, a live DJ, and plenty of photo ops. The Scene is a Caesars property, so while it is open to the public, an entry fee may apply for those who don't hold a Caesar's Rewards card.
Sandbar Pool at Red Rock Hotel: For this one, you'll want to call and make a reservation before heading over. While it is family-friendly, they strive to keep their space intimate. With plenty of room for lounging and over 3-acres of pool, it's the perfect place for a family looking to relax. (google maps)
The Sandbar houses a poolside bar and grill with a fabulous fresh menu, so you can come away feeling full and relaxed. And, since it is Vegas, there is a casino, as well as table games by the pool deck.
The Tank at The Golden Nugget: Are you traveling with thrill-seekers? Then this is one you have to try. It's called "The Tank" because of the glorious 200,000-gallon shark tank featured by the pool. (google maps)
As if swimming with sharks didn't sound nearly cool enough, there is also a 30-foot high water slide that will drop you right through the middle of the shark tank for the biggest rush of your life. Top this off with great food and drinks and plenty of waterfalls to play in. Entry fees are subject to availability, so call ahead.
Grand Pool Complex at MGM: If you're really looking for a way to cool off as well as a variety of activities, the MGM is your destination. The 6.5-acre complex houses 4 swimming pools, 3 whirlpools, waterfalls, and a Lazy River. (google maps)
Looking to ramp up the relaxation factor? They even offer poolside massages. Non-hotel guests can enjoy all the fun offered at the MGM Grand Pool Complex Monday through Thursday for $25 each. Children 3 and under are free.
M Pool at M Resort: The M Pool off the Strip at the M Resort in nearby Henderson is an all-ages pool that's sure to fit the family's needs. With a 100,000 sq. ft. swim deck, heated pool, hot tubs, and a couple of shallow wading pools for the little ones, the M Pool has everything you need for family relaxation (google maps).
The Best Non-Guest Pools for the 21 and Over Crowd
This list is for folks looking for somewhere fun to hang out without kids. We understand. You're on vacation and looking to let loose. Either you're looking to get a flawless tan, or you just want to enjoy your cocktail surrounded by other grown-ups. There's no judgment here. 21 and over pools are plentiful in fabulous Las Vegas.
Stadium Swim at Circa: One of the coolest new adults-only pools in Las Vegas is Stadium Swim at Circa in downtown Las Vegas. With six pools and a 143-foot big screen television playing the latest sports, Stadium Swim has really upped the game of Las Vegas pools (google maps). Learn more about Stadium Swim here.
Moorea Beach Club at Mandalay Bay: Moorea Beach Club is a private area of Mandalay Beach that is adults only for a reason. During the summer days, this deck is reserved for topless sunbathing. While guests can enjoy the view of the beach from their perch, frosted glass prohibits guests down below from seeing up. (google maps)
The amenities of this exclusive vista include poolside cocktails and massages. Cover charge varies based on holidays and special events, so you'll need to call ahead to find out what it is that day.
Hideaway Pool at Topgolf: Topgolf is already a cool destination for any Vegas visitor, but on the third floor is where you'll find the truly cool spot. The Hideaway pool is a 21+ pool and bar area perfect for lounging and catching the game. With a 28-foot HD video wall, you can truly hide out for the afternoon. (google maps)
Voodoo Beach at Rio: Looking for a place to do some day drinking? This is where you want to go. For $100 you can purchase the Bottomless Drink Package and sprawl out by the adults-only Voo Pool. With scenic waterfalls, 4 pools to choose from, and 3 whirlpool spas, you can choose your own adventure. Parking is free, and entry fees are assessed based on availability. Don't forget a designated driver. (google maps)
The Pond at Green Valley Ranch: The site boasts the tagline "The Best Hotel Pool in Las Vegas," and frankly, from the photos, they may just be right. The scenery alone will make you forget you're in Las Vegas. (google maps)
The Pond is a small adult-exclusive oasis separate from the family-friendly Pool. It offers poolside bottle service and a relaxing, modern waterfall. There's a bar and kitchen ready to serve you. They host adults for $20 seven days a week.
Bare Pool Lounge at The Mirage: Another topless adults-only club, BARE is all about Euro-style sunbathing, pool-lounging, and day-drinking. The full-service bar and poolside menu will keep you happy throughout a blissful day of sunshine. (google maps)
A live DJ brings the day club experience full circle. BARE is available to non-guests Monday through Thursday. Women are $10, and Men are $20. Locals get in free on Mondays.
The Best Non-Guest Pool Parties
This section is dedicated to the folks who have come to Las Vegas to party hard day and night. We salute you! This list is a continuation of the 21 and over list but specific to dayclubs that include pools.
Remember to look up the party rules before you head out. It's important to note that the dayclubs generally do a thorough search of your belongings upon entry.
Marquee Dayclub at the Cosmo: The Marquee is a Dayclub and a Nightclub, but we're here to discuss your daytime party needs. With DJs spinning every day, it's no surprise that some big names will take over the calendar on weekends. You can stay cool and have an immersively fun time. Call to get on the list for free entry but expect a minimum purchase requirement. (google maps)
Drai's Beach Club at The Cromwell: With a spacious 2-story, 25,000 square foot space, 2 full-service bars, and a constant stream of chart-topping DJs and EDM performers, this space is easily dubbed "The Hottest Dayclub Destination in Las Vegas" as their site boasts. Be ready to dance all day at Drai's. Women get in for $20 and men for $40, but prices go up when high-profile performers are playing. (google maps)
KAOS at The Palms: As part of The Palms' recent $690 million facelifts, KAOS is a new addition to the Vegas scene. With both indoor and outdoor spaces to party, KAOS features 73,000 square feet of space that houses two main pools with several smaller side pools and a wild 65-foot tall demon statue. (google maps)
If the stunning atmosphere didn't sell it, consider that their performer list includes the likes of Cardi B, Deadmau5, and Marshmello. Prices are subject to change based on capacity and performer.
Tao Beach at the Venetian: The pool here is a glorious Balinese-style retreat, but the party is still bumping on Fridays and Saturdays. While this would be considered a more intimate affair due to its smaller size, it's a can't miss spot. (google maps)
On weekdays when the beach operates as just a pool, it continues as an adults-only space with Euro-style sunbathing and a full-service bar. Locals can get in free unless there's something special happening. Cover charge is subject to change based on the event calendar.
Encore Beach Club at Wynn: Named 2019 Las Vegas Day Club of the Year, Encore Beach Club has welcomed big-name artists like Kygo, David Guetta, and The Chainsmokers. You can expect more than a great time from this well-established pool party. And the party doesn't stop just because the sun goes down. (google maps)
Encore's famous party keeps it going right through the night with Nightswim. Then, if you want to go wild, book a bungalow to experience your own private infinity pool and a view of the Las Vegas strip from your private balcony.
Can You Go to Any Pool in Las Vegas?
Las Vegas has a reputation for being the place where you can do anything you want. "What happens in Vegas, stays in Vegas," after all. So, you'd assume that all the pools are available to anyone who wants to go.
However, while there are a lot of great options for a spectacular day at the pool in Vegas, there are still many hotel pools reserved exclusively for guests or that require special circumstances to get in.
For example, Caesar's Palace owns and operates a number of pools. Most of their properties reserve the pools for hotel guests only. But they advertise that non-guests can come to play at some of their locations for free – if you have a Caesars Rewards card or a Nevada driver's license.
So, we took special circumstances like that into account while creating the lists above. The best non-guest pools in Las Vegas have been split out into friendly categories so you can plan out where to hang based on what will work best for you and your crew.
Please note that all prices and availability are subject to change. Each pool's management reserves the right to make those changes.
Are There Any Other Tips for Picking a Pool as a Non-Guest?
Don't be afraid to try something new or crazy, either. That's what Las Vegas is all about. Obviously, we've listed the barebones awesome traits of the previously mentioned pools and clubs, but we encourage you to look into the pools yourself.
Most of the pools offer daybeds, cabanas, and even bungalows for an additional fee. If you've got the purse strings to really go big on your Las Vegas vacation, check out those additional opportunities.
Also, most of the aforementioned pools offer a stellar menu, so if you're a foodie, look up the menu and see what you can snack on poolside. You may be surprised how well you can eat while you're chilling in your swimsuit.
Best Pools in Las Vegas for Non Guests – Wrapping It Up
No matter where you're staying when you come to Las Vegas, don't let the heat keep you from having fun. There's a party waiting for you just around the corner. Whether you're sharing a good time with your kids or if it's you and your buddies, there's something special for you.
Just because you have a room booked at a particular hotel, don't feel like you have to hang there all day. Get out and explore.
Related Las Vegas Pool Articles We're Sure You'll Love
Does Las Vegas heat their pools in winter? Find a complete list of heated pools here.
Wondering if there are any indoor pools in Las Vegas? Then you'll want to check out our article here to learn more.
If you found this article helpful, please SAVE THIS PIN to one or more of your boards on Pinterest. Thank you!