Can You Go to the Circa Pool Without Staying There? (Answered)
(This article may contain affiliate links. If you click through and make a purchase, we will receive a small commission at no additional cost to you. )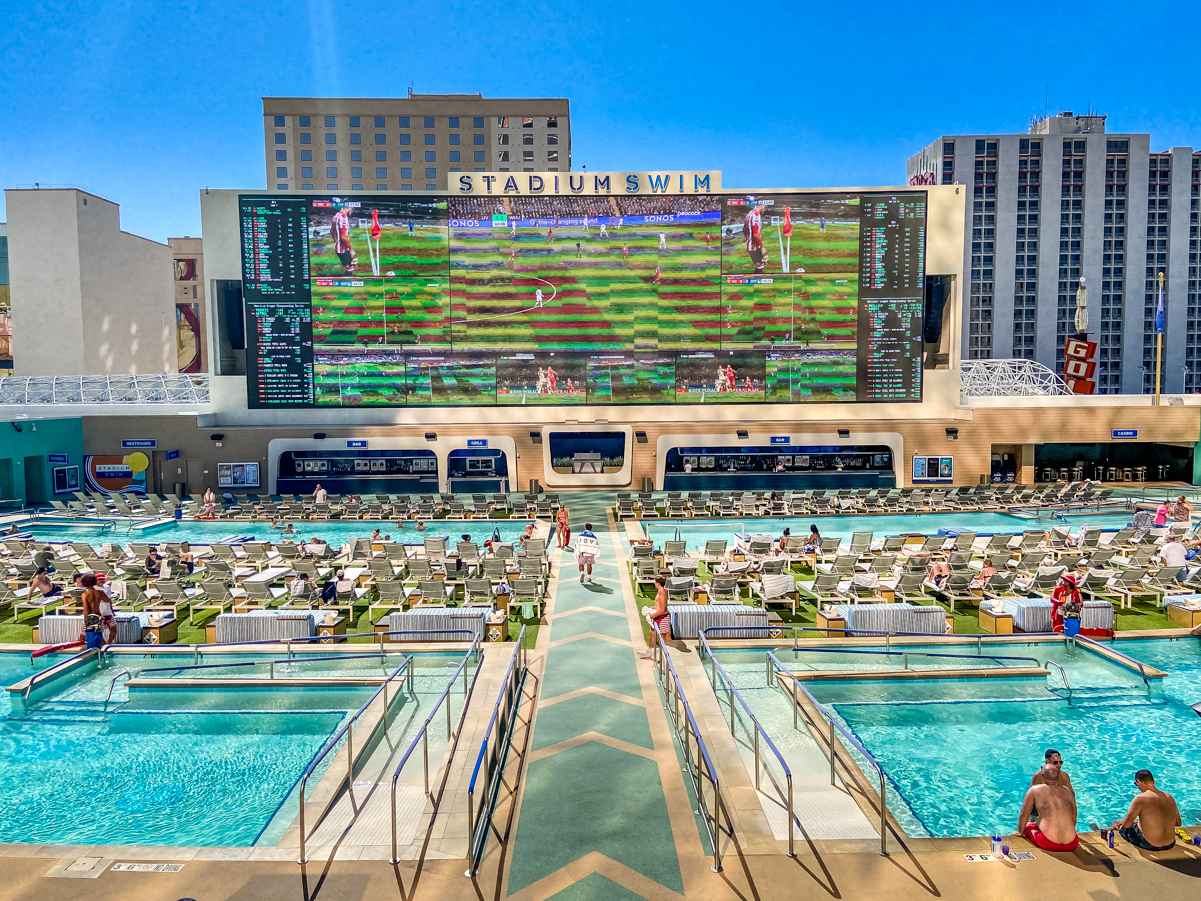 The Circa Resort and Casino is relatively new compared to its competitors, having opened its doors in 2020. However, it's massively popular among locals and tourists, primarily due to its Circa pool (aka Stadium Swim), which can host up to 4000 people.
It's a popular weekend spot and an attraction for sports fans looking to watch the day's biggest games on the 143-foot (43.6-m) screen. 
But do you have to stay at Circa in order to visit the pool?
You can go to the Circa pool without staying there if you pay an admission fee of between $15 and $70. The day's ticket price varies depending on the demand for tickets. You can also access the Circa pool without staying there for free by staying at the Golden Gate or the D Las Vegas. 
The Circa pool is a sports fan's dream – nothing beats watching a game while soaking up the Nevada sun. In this article, I'll explain the ticket pricing to help you avoid any unexpected surprises at the entrance. So, make sure to read on until the end!
How Much Does Circa Pool Cost? (Stadium Swim Cost)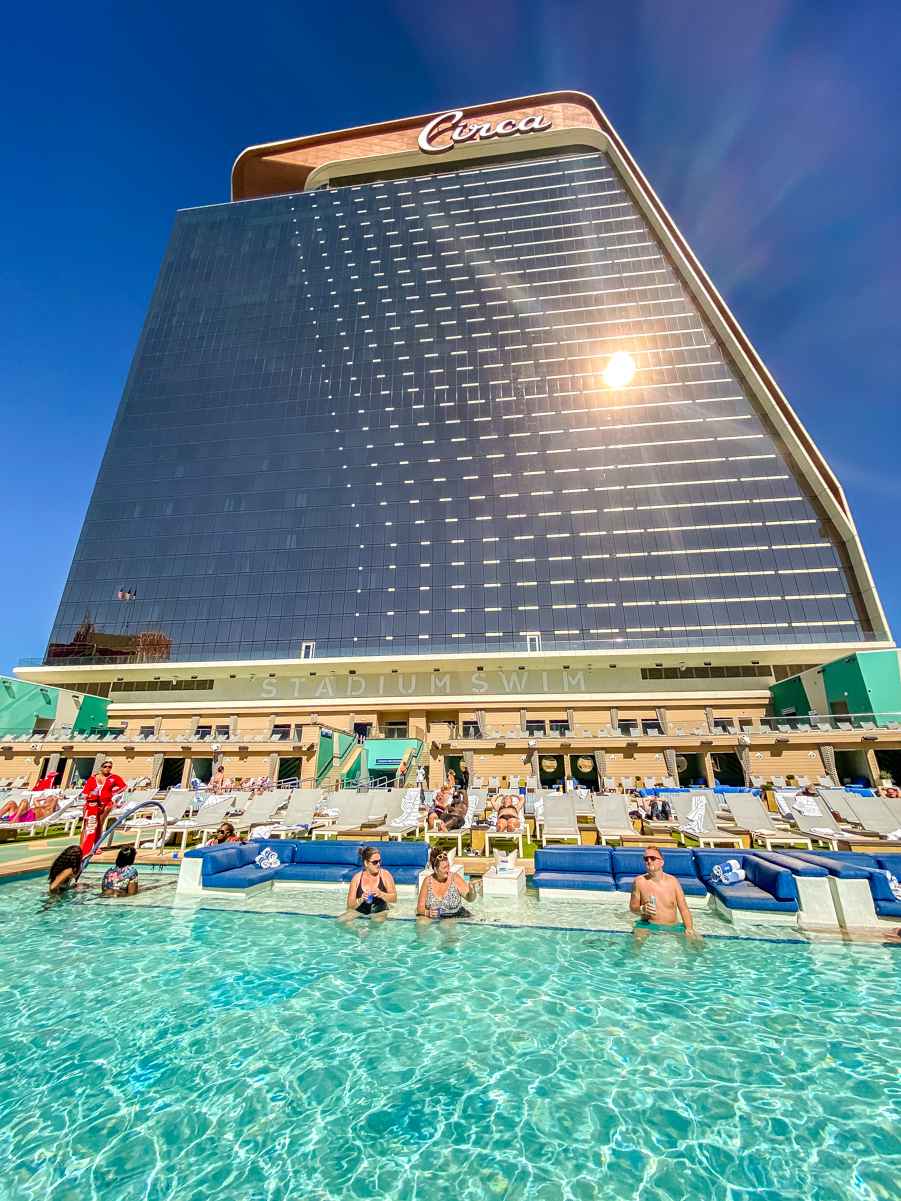 If you're not staying in one of Circa's rooms ("non-guests"), you can enjoy the magnificence of the Circa pool (Stadium Swim) by paying a daily admission cost of between $15 and $70.
Guests of the Circa hotel don't pay, as the cost per night covers the pool's admission fee. To access the Stadium Swim as a hotel guest, just show your room key card as evidence of your hotel booking. 
For non-guests, the price of admission varies depending on ticket demand. The demand for tickets – and consequently their cost – rises if it's a weekend, a holiday, summertime, or if there's a special sporting event happening that's bound to attract many people. 
For instance, when the local Vegas Golden Knights of the NHL are playing an away game, tickets retail on the higher side due to the demand. Circa sometimes rewards the revelers during such matches by booking the Vegas Golden Knights mascot, Chance, and the team's cheerleaders. 
The Stadium Swim section of Circa hotel's website demonstrates how prices can change daily. For instance, the admission fee for a Saturday when there's a College Football game is $60. Conversely, the entrance fee on a Thursday with Pro Football is $15, the same price as a Tuesday with no football. 
Weekend prices are higher because more people visit the Circa pool on weekends, and sports executives schedule blockbuster games on weekends.
The price of admission gives you access to all six pools and first come, first served lounge chairs.
What Is The Cost of Circa Pool's Daybeds and Cabanas?
The costs of other offerings at the Circa pool, such as water couches, day beds, cabanas, and poolside boxes, increase with the admission price. 
For instance, on a Tuesday with no football, the cost of booking one of the lower cabanas for a full day is spending a minimum of $900 on food and beverages. On a Saturday with College Football, booking the same lower cabana for an entire day requires you to spend a minimum of $7,000 on food and drink. 
The same amenity costs more than close to eight times more due to demand. Despite protests about Stadium Swim's pricing system, people continue paying, a testament to the pool's high entertainment value.
If you are planning on visiting the Circa pool for the first time, gathering enough information about the location will help you plan your trip. I've compiled a list of everything you need to know about Stadium Swim as a guide for any prospective visitor. 
Book your ticket early on weekends and holidays using the hotel's website. The admission fee gradually increases as the tickets sell out. 
For example, during a recent memorial day weekend, the Circa pool sold tickets in four tiers. The price increased as each tier sold out: tier 1 tickets cost $40, while tier 4 tickets cost $70. 
Reserving spots like poolside boxes and cabanas prevent other revelers from accessing them. I'd recommend booking tickets and spots early to avoid inconveniences and possibly save money. 
Stay at The D or Golden Gate for Free Circa Pool Entrance
By staying at The D Las Vegas or Golden Gate (TripAdvisor), you can access the Circa pool for free. You must carry evidence showing your booking at these hotels for the staff at Stadium Swim to admit you. A perk of staying at these hotels is that you can access the Circa pool an hour earlier than everyone else. 
People staying at the Golden Gate and The D Las Vegas get free access to the Circa pool because the three establishments have the same owners. If you're on a budget, you'll find it somewhat cheaper to stay at either one of these hotels when compared to staying at Circa (TripAdvisor).
The Circa Pool's General Admission Rules
Affording the Circa pool's admission fee doesn't guarantee admission. The staff can deny you entrance if you don't meet the pool's strict admission rules. 
The Circa Pool has the following admission rules:
The Circa resort and casino are restricted to adults over 21. When Circa opened in 2020, it became the first Las Vegas resort requiring guests to be 21 or over. Circa says the rule was implemented to enhance their guests' experience. 
You are prohibited from bringing controlled substances and weapons into the Stadium Swim. Despite the swimming area being an adult-only zone, the hotel's rules prevent guests from carrying weapons and controlled substances. 
Outside beverages and foods are banned. Like most resorts, the Circa resort excludes outside foods and beverages. Stadium Swim takes it a step further, prohibiting food and drink purchased inside the Circa casino. 
Medications over a daily dose are prohibited. If you are on medication, only carry enough for a daily dose. The rules also say you can't have over-the-counter medications or nasal sprays, and eye drops.
Selfie sticks are illegal at Stadium Swim. You read that right: one of the hottest pools in Las Vegas doesn't allow guests to carry selfie sticks. 
Some of the Circa pool's admissions rules seem over the top, but we can excuse the hotel's enthusiasm – after all, it is the first brand-spanking-new hotel in downtown Las Vegas in 40 years. At the moment, pack light, but I'd expect some rules to ease as time goes by.
Note: You will need to go through a security checkpoint which includes metal detectors, and have any bags thoroughly searched prior to entrance.
Are Circa's Pools Heated?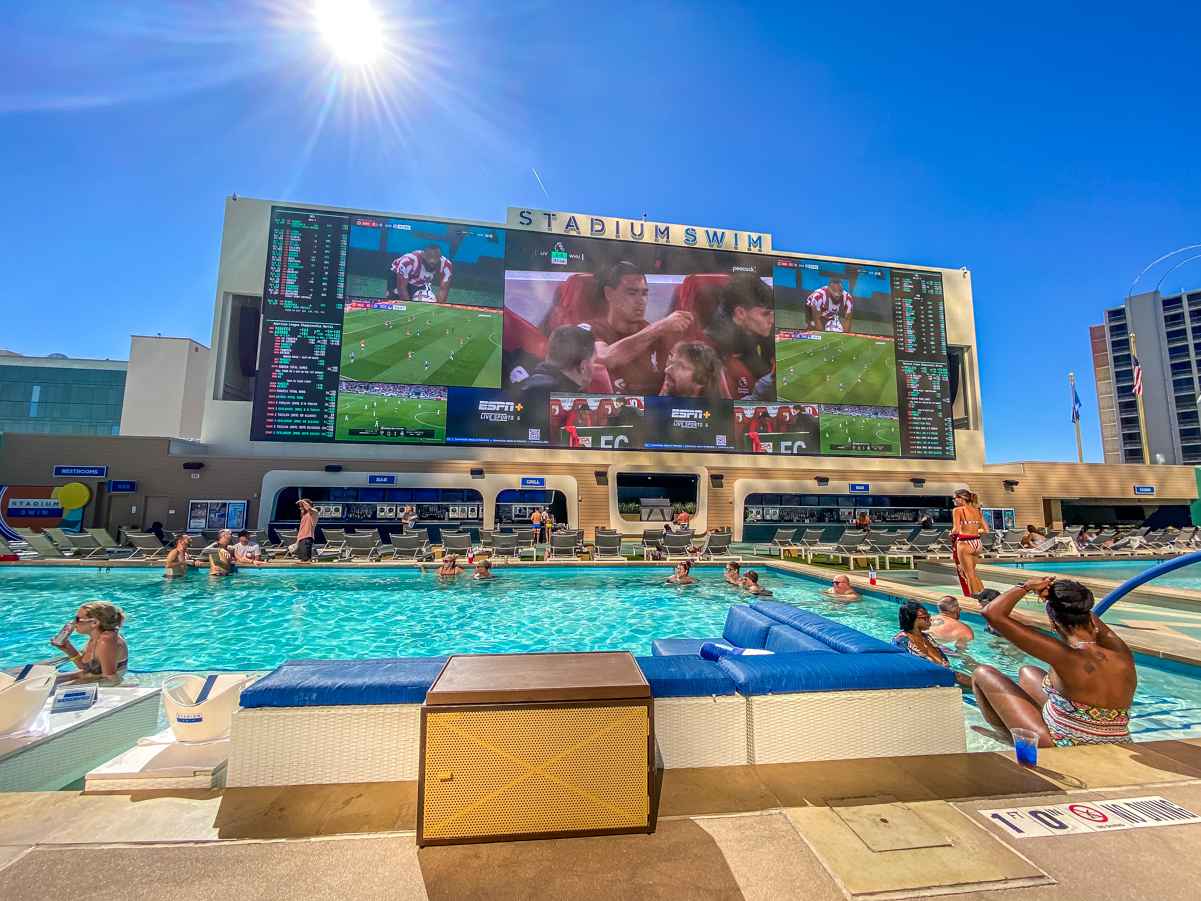 The pools at Circa are heated year-round, and I can tell you from first-hand experience that the water temperature is perfect! If you're looking for a Vegas hotel with a pool during the cooler months, the Circa pool is the one I'd choose.
You may have heard that, generally, pools in Vegas are cold, but do you know why? Check out my other guide to learn more about the reason: 5 Reasons Why Pools in Las Vegas Are So Cold
Conclusion
On a day with low demand, you can pay as low as $15 to access the Circa pool. However, on a high-demand day, the price to get in can be as high as $70.
Sometimes – for example, on holidays – Stadium Swim offers tickets in tiers. The price increases as the tier tickets sell out – on such days, purchase tickets online as soon as they become available to save money.
Regardless of the price you pay, you will have all-day access to Stadium Swim (currently 8am – 11pm), and you can come and go throughout the day.