Are Las Vegas Pools Heated in Winter? (List of 22 Heated Pools)
(This article may contain affiliate links. If you click through and make a purchase, we will receive a small commission at no additional cost to you. )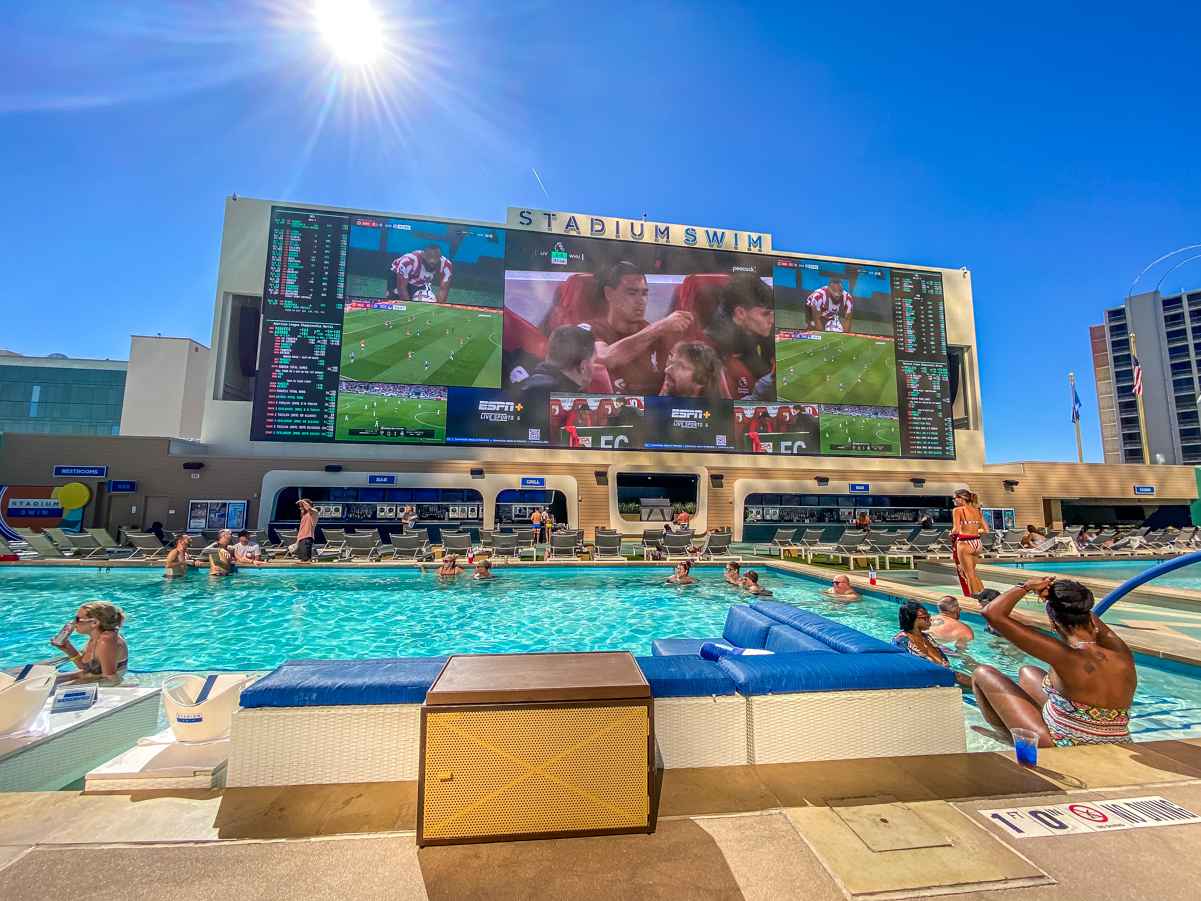 Las Vegas resorts are known to always have pools just waiting for you to sunbathe next to, but are they heated in the winter? You'll probably want to know the answer to that before you buy your plane ticket.
Are Las Vegas pools heated during the winter?
Many of the big-name hotels in Las Vegas have at least one of their pools open and heated during the winter months. However, this is also the time of year when some hotels close their pools to perform maintenance. You should always check with your hotel when you make your reservation.
Heated pools in Las Vegas are a relatively new thing, as practically none of them were heated just a decade ago. Now, most of the famous hotels on the Strip, such as Caesar's Palace, Paris Las Vegas, and Bellagio all have at least one heated pool open for the winter.
Which Las Vegas Pools are Open and Heated in the Winter?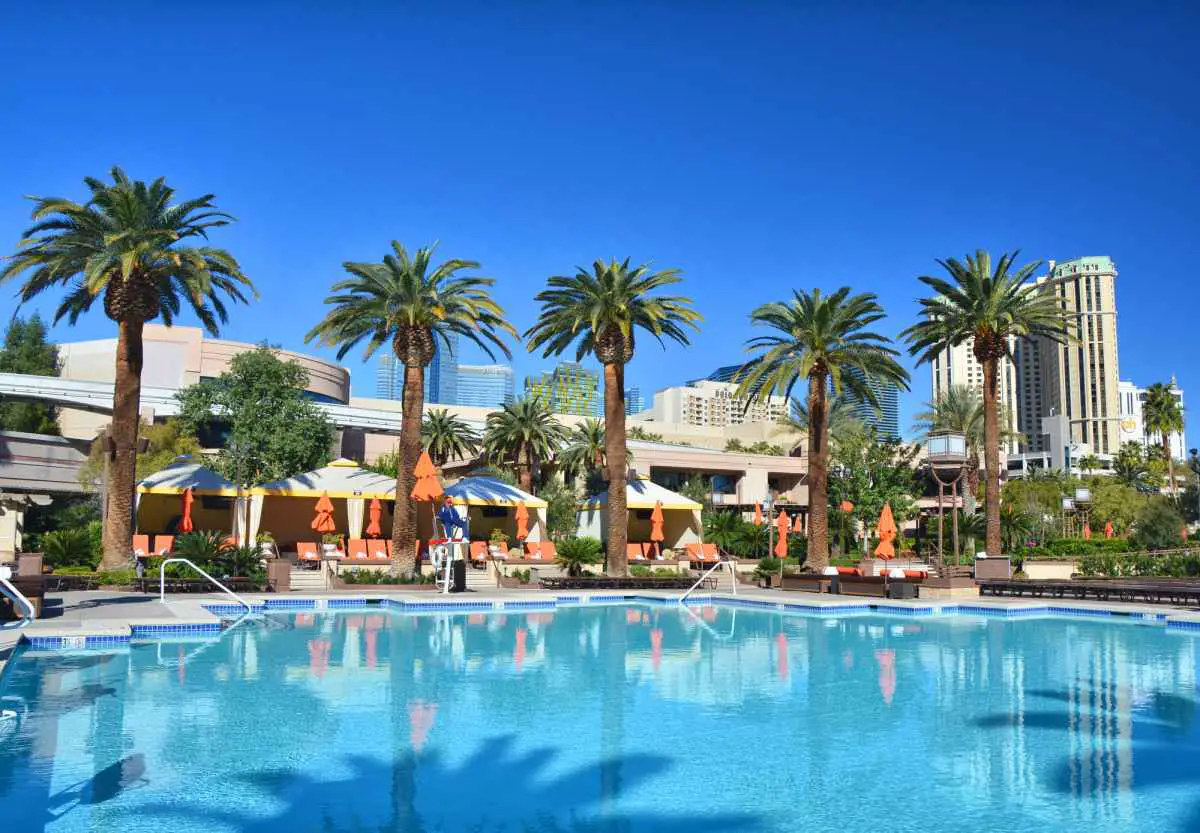 While most Las Vegas pools are heated nowadays, some do close for the winter months between mid-October to mid-March. Those that do close are usually only down for a few months during the colder season for Vegas (November – February). Some also close for a short time during the winter for maintenance.
However, every hotel is different. If you're unsure, contact your hotel directly. Or, see the chart below for a list of pools that are open during the winter months. If a pool is listed as open during the winter, it is a pretty safe bet that the pool is heated because it does get cold here.
Pools Guaranteed to be Open & Heated in Winter (Vegas Pools Open Year Round)
Name

Description

Winter Hours
(Approximately
October – March)
Aria
Sky Pool is open and heated year-round
9 am – 6 pm
Bally's
Heated and open all year
10 am – 6 pm
Bellagio
Pool heated to 80 degrees year-round
9 am – 5 pm
Caesars
Palace
Open and heated to 83 degrees
10 am – 5 pm
Cancun
Pools heated and open all year
10 am – 6 pm
Circa
Pools are open and heated 365 days a year
9 am – 11 pm
Circus
Circus
Heated to 80 degrees and open all year
9 am – 5 pm
Cosmo-
politan
Heated to 80 degrees all year
8 am – 6 pm
Excalibur
Year-round and heated to 80 degrees
9 am – 7 pm
Flamingo
Pools open all year, 1 pool heated
9 am – 6 pm
Luxor
Pool heated to 82 degrees all year
9 am – 6 pm
Mirage
Main pool open and heated all year
9 am – 6 pm
Mandalay
Bay
One pool open year-round and heated
9 am – 6 pm
MGM
Grand
Main pool is heated to 80 degrees
8 am – 7 pm
Paris
Open and heated year-round
10 am – 4 pm
Resorts
World
7 Pools open and heated all year long
9 am – 6 pm
Sahara
One pool is open and heated during winter
10 am – 5 pm
Tahiti Village
Pool and lazy river heated to over 80 degrees
8 am – 8 pm
Tropicana
Part of the pool is open and heated
10 am – 5 pm
Venetian
Palazzo
Heated to 80 degrees all year
10 am – 6 pm
Vdara
Year-round and heated to 87 degrees!
9 am – 6 pm
Wynn
One pool open & heated to 82 degrees
8 am – Sunset
Not all Vegas hotels and pools are listed here. If you don't see your hotel, try their website or just give them a call. For the more popular hotels, it's most likely their pool will be heated or they'll have an indoor option specifically for winter.
Related: 9 Best Las Vegas Hotels with Waterslides (Waterparks!)
When is Pool Season in Las Vegas?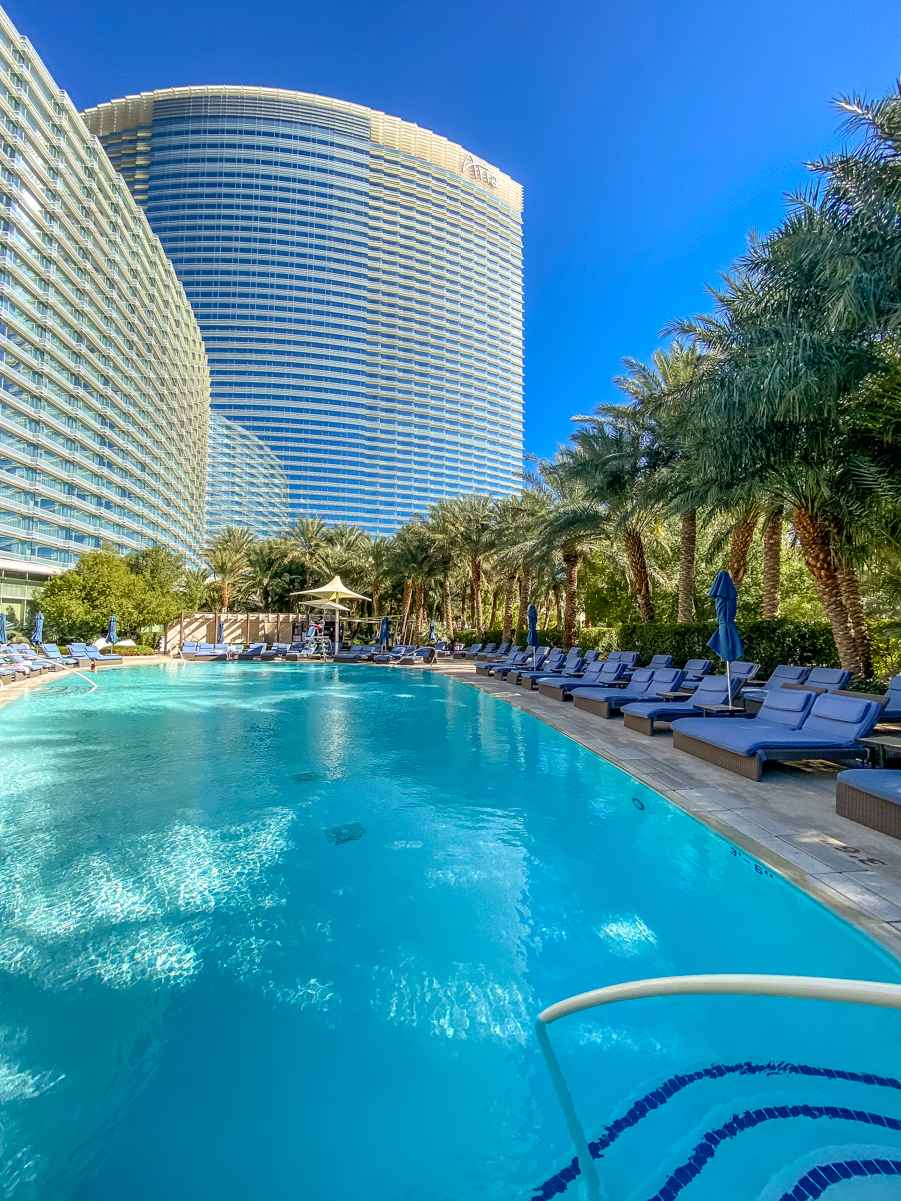 If swimming in the pool is top on your list of must-dos in Las Vegas, it's best to plan where and how you'll do that. The best option is to come in the summer months during what is officially known as the Las Vegas pool season. If you want to come in the winter, your pool options are more limited.
Although Vegas has many year-round heated pools, the official "Las Vegas pool season" is generally considered to be between March and October.
Here's a great link that will give you more information about Las Vegas pools and tell you when pools open in Vegas for the season.
For the rest of the hotels both on the strip and off, you'll need to either do some research online or just call the hotel and ask. Most hotels won't allow you in the pool unless you're a guest of the hotel or a guest of someone staying there, so keep that in mind as well. You can't just jump over to the hotel's pool beside you, although some hotels will let you use their pool if you purchase a day pass.
Some hotels will close the pool for yearly maintenance during the winter. Make sure when you pick your dates, to verify you'll have pool access during your stay. Some places, such as the Mirage, will close one or more pools for an entire month during the winter to clean and maintain the facilities.
Best Heated Pools in Las Vegas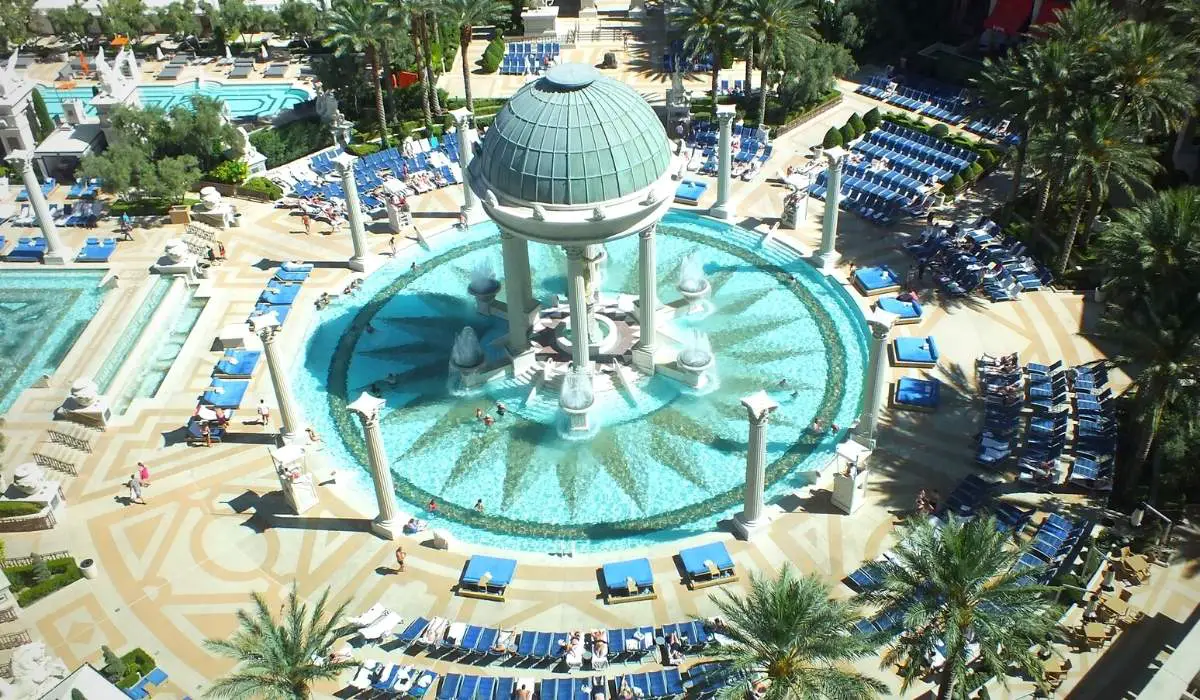 If you want a heated pool during your stay in Las Vegas, your best bet is to find a hotel on the Strip. These are the higher-end hotels, so prepare your checkbook for that! But if you're going to bask beside a pool, the Strip hotels are where you wanna go.
Caesars Palace is one of the best-known Vegas hotels, so it's not surprising that the Garden of The Gods pool is one of the best as well. The Venus pool, which during the peak summer months is a "top-tional" pool, becomes family-friendly during the winter and hangs around 80 degrees all year long.
The Bellagio hotel has five pools, two of which stay heated through the winter. If you're looking to enjoy as much pool time as possible during the winter, this is a great place to go.
The Cosmopolitan keeps one of their pools heated during the winter months. It varies as to which one, so check with the hotel prior to your stay. Amazingly, they also turn one of their pools into an ice skating rink every winter, so you can take a dip in one pool and then go for a skate on top of another.
Resorts World is home to seven beautiful pools that are open and heated for your enjoyment all year long. This is pretty impressive since the majority of Vegas hotels will only keep one pool open during the winter months, if any at all.
The Mirage hotel keeps one of their paradise pools heated during the winter.
The Tank Pool at the Golden Nugget stays open through November each year and then quickly opens again in February. The short closure is for maintenance on the pool and shark aquarium.
The LINQ hotel keeps their pool heated during the winter months. However, they do close the pool during mid-December for maintenance, and you'll have to check with the hotel to see if that closure falls on your vacation date.
Circa's Stadium Swim has six heated pools and a giant LCD television screen that plays current sporting events. It's one of the best Vegas pools open year-round.
The Cancun Resort on the far south end of the strip is another property to consider if a pool is important to you even when it's cooler. The hotel not only has a heated pool, but it also has two waterslides.
Tahiti Village is another property on the far south end of Las Vegas Boulevard that not only offers a heated swimming pool but also has a year-round heated lazy river. Both the pool and the lazy river are heated to over 80 degrees in the cooler months.
So if you're wondering, "are pools open in Vegas in December or January?", for instance, one of the above pools is your best bet.
You can check current room rates for these hotels on our website here.
RELATED: 3 Las Vegas Hotels With A Lazy River (Fun in the Sun!)
How Cold Does Las Vegas Even Get? (Too Cold For a Vegas Pool?)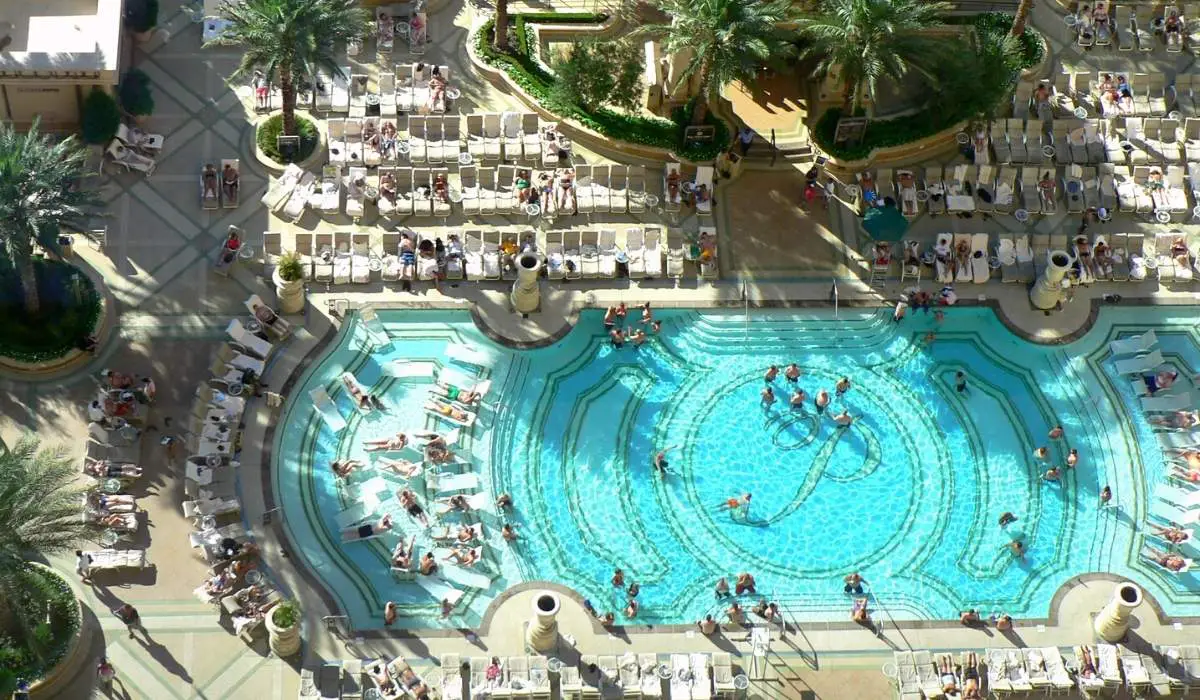 As anyone who's visited during the summer months can tell you, Las Vegas is HOT! It's over a hundred degrees in the summer on the regular, so why would you want a heated pool?
I guarantee you a heated pool is great, even during the scorching days of summer. If it's above 100 degrees, a pool heated to the mid 80's or even higher feels wonderfully refreshing.
So how cold does it even get in the wintertime?
The coldest month in Las Vegas is January, just like a lot of other states. During December, January, and February, the winter months, the temperature usually hovers between the 50s and 60s during the daytime. It's very rare for the weather to get any colder than that.
Month

Average High/Low
(Fahrenheit)
Average High/Low
(Celcius)
December
60 / 27
16 / -3
January
59 / 28
15 / -2
February
66 / 33
19 / 1
During the night, the temperature can drop down to the 30s, and we usually get at least a few nights below freezing. Despite this, it's very infrequent for Las Vegas to get any kind of snow. This is because of our desert location. The climate here is very arid and dry. Moisture is a hard thing to come by in the desert, and the majority of the rain we get is either in August or February, when it's far too warm for snow.
While winter days are generally sunny and reasonably warm, it is still much too cold to go swimming unless the pool is heated. If your hotel has an indoor pool or a heated pool, you can still enjoy a swim while visiting during the winter. However, unheated swimming pools are just too cold during the winter to be enjoyed.
RELATED: 14 Best Las Vegas Hotels With in Room Jacuzzi (Very Cool!)
What To Do in Las Vegas During the Winter Besides Swimming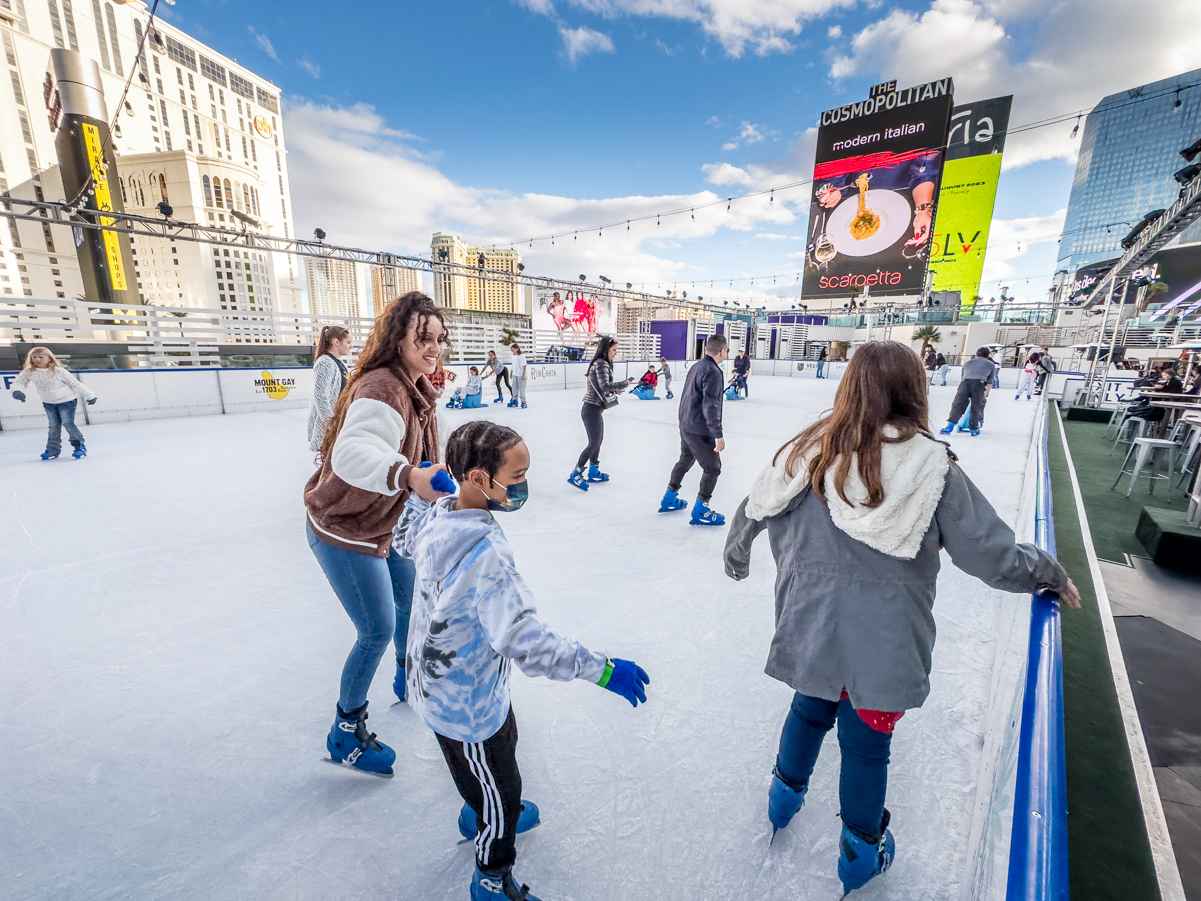 There's plenty of reasons to visit Las Vegas, and the pools are definitely a good reason. What's better than lounging beside a pool with a drink and the sun? But what if you have an opportunity to come to Las Vegas in the winter? Don't worry, as there are plenty of things still to do.
Live Music
Vegas is a huge destination for musical artists. Literally, every band, famous or not, comes through this town. You can find live music in many bars or clubs, maybe even out on the street. If you don't want to go to a huge concert, try somewhere local to your hotel. Live music can be found all over in Las Vegas.
Attractions
Even if you find it a bit cold for swimming in the winter months, never fear, Las Vegas is the land of attractions. How about trying another water-related activity, like taking a ride on a gondola at the Grand Canal Shops (check #5 on our list of best shopping malls on the Strip) or seeing one of the many wonderful shows in town.
Museums
There's a multitude of museums in the city. My favorite is the Mob Museum, where they house all the illegal mob boss history of Las Vegas from the 1920s.
Winter Festivities
If you're heading to Vegas around the holidays, be sure to check out our list of Christmassy things to do in Las Vegas.
Related Questions:
What month do pools open in Vegas? Pool season officially begins in Las Vegas in mid-March and runs through mid – October.
Are there any indoor pools in Las Vegas? While there are no hotels on the Las Vegas Strip with indoor pools, there are several hotels in other parts of Las Vegas with indoor pools. Here are a few of them:
Platinum Hotel and Spa
Best Western Plus Las Vegas West
Bluegreen Club 36
Embassy Suites by Hilton Convention Center
Are Las Vegas Pools Heated in Winter – Conclusion
Now you have access to a large list of pools in Las Vegas that are open and heated in winter. Although it can get cold here during the winter months, it's great to know that Las Vegas is still a great winter escape for pool lovers.
Related Articles You'll Love:
Would you like to spend the day at one or more of Las Vegas' most incredible hotel pools, even if you're not a guest of the hotel? Read our article here to find out which pools you can visit without being a guest of the hotel.
Does Las Vegas have any indoor pools? Find out in our complete article on indoor pools in Vegas.
Find out where the best spots to get a tan in Las Vegas are in our article here.