Should You Stay on the Strip in Las Vegas?
(This article may contain affiliate links. If you click through and make a purchase, we will receive a small commission at no additional cost to you. )
Deciding whether to stay directly on the Strip or not ultimately comes down to two things. What you want to do while you're in Las Vegas, and your personal preferences. Since you can find nearly everything you want both on and off the Strip, here is a breakdown to help you make your choice.
Should you stay on the Strip in Las Vegas?
Staying On Strip
(Benefits)
Staying Off-Strip
(Benefits)
Either Location
(Benefits)
– Big Shows & Concerts
– Upscale Shopping
– Strip Clubs
– Active walking
– Family-Friendly Environment
– Outdoor Activities (Hiking)
– Budget Travel
– Casual Walking
– Food & Restaurants
– Casino & Gambling
– Souveniers
– Outdoor Attractions  
I recommend picking one or two things above that are the most important to you while visiting Las Vegas. This will make your decision much easier. Keep reading as I cover the specifics behind choosing to stay on the Strip or not.
Map of the Las Vegas Strip – Download our free printable map of the Strip here.
A Guide on How to Choose Where to Stay in Las Vegas
There are a lot of different factors to consider before deciding where to stay in Las Vegas. Let's take a closer look.
Las Vegas Ambiance: Do You Prefer Busy or Calm?
Depending on whether you're the type of person who likes being in the middle of the hustle and bustle, or the total opposite, someone who prefers a more relaxing environment – will dictate where you decide to stay in Las Vegas.
If you like a crowded and busy environment and the most 24/7 action possible, then the Strip is the place to be!
The three most important things to consider are:
Weekends are always busier
The busy months are December and January
The Strip will always be the most popular location
If you enjoy a lively, party atmosphere, try staying at Caesars Palace or one of the other big casinos on the Strip. No matter the time of day or night, there is always something happening there.
For the most glitz and glam try staying at one of the newest hotels on the Strip. You can find which hotels in Las Vegas are the newest or most recently renovated in our article here.
If you'd like your Vegas experience to be a little bit more chill, I'd recommend staying in downtown Las Vegas on Fremont St. It's a slightly slower-paced version of the Strip. Here are some of the hotels you'll want to check out on Fremont St.
Fremont Hotel & Casino
Golden Nugget Las Vegas Hotel & Casino
Four Queens Hotel and Casino
El Cortez Hotel and Casino
Although a bit calmer, Fremont Street is still a 24/7 party area, particularly on the weekends.
So, if that still sounds like a bit too much party and excitement, then here are some other great areas in the Las Vegas Valley to check out for a more relaxing visiting:
Chinatown – Few blocks west of the Strip
Henderson – Southeast corner of the valley
Summerlin – Northwest area in the valley
University District – Few blocks east of the Strip
Now it's time to ask yourself some questions to find out more about where you want to stay in Las Vegas.
What's Your Las Vegas Budget?
There are both high-end and budget hotels on the Strip in Las Vegas. However, hotels off the Strip generally offer lower room rates. Having said that, there are a ton of luxury hotels that can be found off the Strip too. There is a wide variety of accommodations in Las Vegas to choose from, so it all depends on your preferences.
Here are a few budget-friendly off-strip hotel and casino options:
Sam's Town Hotel & Gambling Hall
Texas Station Gambling Hall & Hotel
Sunset Station Hotel and Casino
Fiesta Henderson
Boulder Station Hotel & Casino
The Orleans Hotel & Casino
Here are some off-strip luxury hotels to consider:
M Resort Spa Casino
Red Rock Casino Resort & Spa
South Point Hotel Casino & Spa
Gold Coast Hotel & Casino
Green Valley Ranch Resort Spa & Casino
All of these hotels have their own casinos, restaurants, and entertainment. Many people spend their entire Las Vegas visit without ever leaving these resorts.
Regardless of which end of the budget spectrum you're on, just remember you will generally save more money by staying in a hotel off the Strip.
No matter where you're staying in Las Vegas I recommend using one of two places to get the best hotel room rates. Be sure to check out our Las Vegas hotel discount resource guide here to find out where.
Visiting the Strip When You're Staying at an Off-Strip Hotel
It's perfectly reasonable to stay somewhere away from the Strip to save money and then get transportation to and from the locations on the Strip you'd like to go.
This will save some cash, but it will cost you in terms of time and money getting a taxi, uber, riding the bus, etc. If you plan to just visit the Strip a couple of times while you're here, this could be well worth it.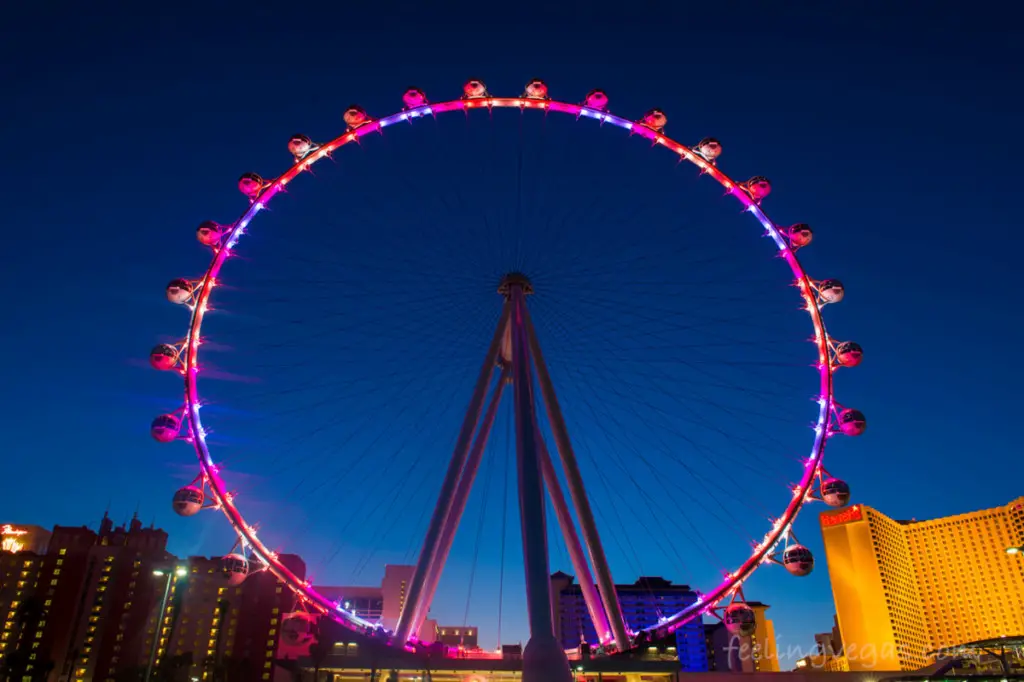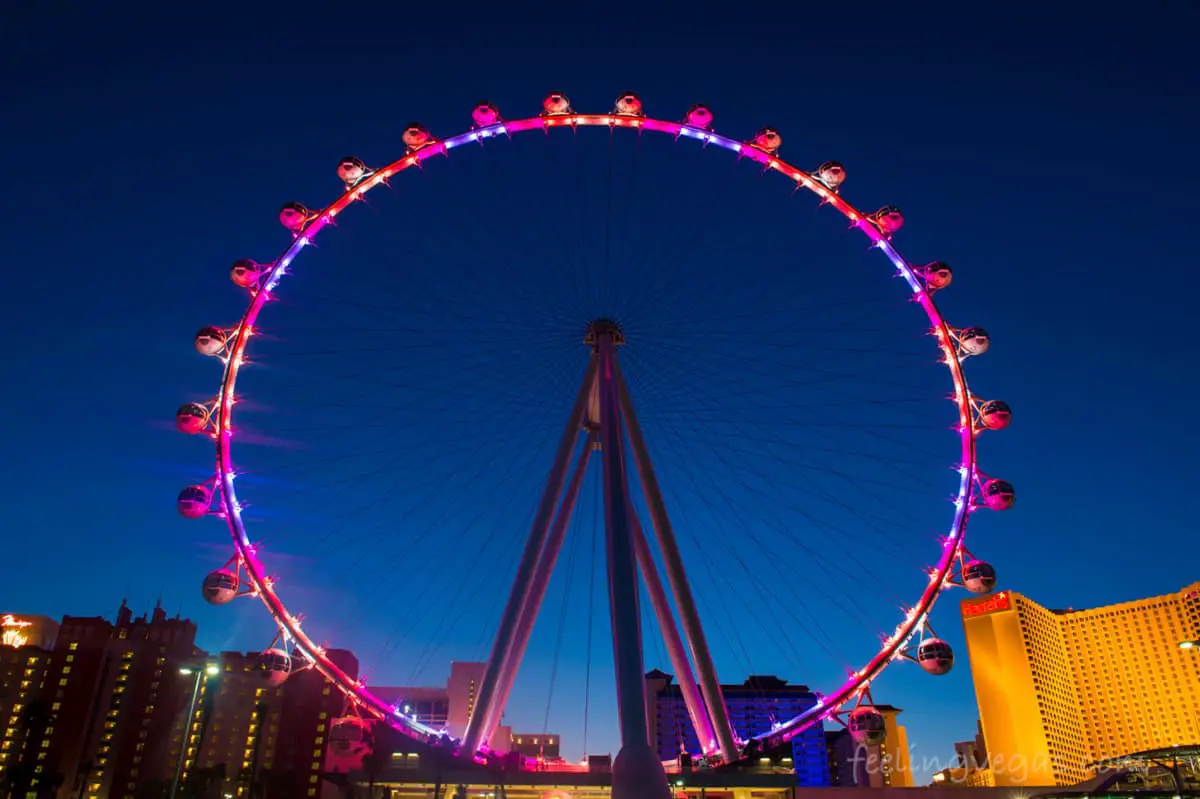 If your Las Vegas vacation is all about the Strip, you may be much better off staying on the Strip or nearby and not having to worry about how you're going to get there.
If hiking and outdoor activities are higher on your Vegas trip wish list, then there is really no reason to stay on the Strip. You'll be paying the higher strip hotel rates but spending most of your time elsewhere.
Figuring out what is going to be most important to you is really key to determining where in Las Vegas, you want to stay. The valley is not that big, but transportation on a daily basis to and from different areas can add up cost-wise.
More importantly, if you're not staying on the Strip and you want to spend the majority of your time there, you can eat up a lot of your vacation time in Las Vegas trying to get back and forth through the traffic and stoplights.
This is not to be underestimated. For instance, Sam's Town Hotel has a free shuttle from the hotel to a sister property on the Strip that is about 6 miles away. Taking the shuttle will easily take 30 minutes or more and only runs a few set times during the day. This is okay if you want to visit the Strip once or twice but becomes a problem if you're going to spend every day somewhere on the Stip.
If the Strip is where your interest lies, then, in my opinion, you should absolutely be staying on the Strip or at one of the many hotels just a block or two off the Strip.
Here is a list of Off-Strip Las Vegas hotels located within easy walking distance of the Strip:
Tuscany Suites & Casino
Hard Rock Hotel and Casino
Desert Rose Resort
Las Vegas Marriott
Wyndham Grand Desert Resort
What Attractions Does Las Vegas Offer?
There are many attractions available both on and off the Strip. Depending on the attraction that you prefer, you can decide where to stay. You could opt for a location near one or more of the attractions.
Alternatively, you can visit an attraction off the Strip while staying on the Strip and vice versa. Here are some of the top attractions on the Strip:
Fountains of Bellagio
The Volcano Eruption at the Mirage
The Gondolas at The Venetian
The Shark Reef at Mandalay Bay
The Big Shot at the Stratosphere
The Eiffel Tower at Paris Las Vegas
The attractions off the Strip in Las Vegas include the famous El Cortez, the SlotZilla Zipline, and several outdoor adventure activities. Here are just some of them:
Shopping in Las Vegas
There are great places for shopping in every price range both on and off the Strip. However, you will enjoy high-end shopping more on the Strip with popular brands such as Armani, Chanel, Dior, Fendi, and Gucci.
Below is a list of some places to shop both on and off the Strip.
On the Strip
Off the Strip
– Fashion Show
– Grand Canal Shoppes at The Venetian
– Grand Bazaar Shops
– Miracle Mile Shops
– The Forum Shops at Caesars
– The Shoppes at Mandalay Place
– The Shops at Crystals
– Town Square
– Via Bellagio
– Wynn Esplanad
– M&M's Worl
– ABC Stores
– Boulevard Mall
– Downtown Container Park
– Las Vegas North Premium Outlets
– Las Vegas South Premium Outlets
– Meadows Mall
– Summerlin Center
– Asian Supermarket in Chinatown  
I suggest you stay at the Wynn or the Mirage if you are a big shopper. You may also want to know about the 12 best shopping malls on the Las Vegas Strip. Read our article here
Food and Drinks
Many restaurants in Vegas, both on and off the Strip, offer amazing food. But if you are a foodie, then the Strip is a better option for you since it has a wider variety of restaurants.
Remember, the restaurant lines can get VERY LONG. Get ready an hour or two ahead of mealtime – unless you plan on spending more money to cut down the wait time. Some restaurants and buffets will let you pay extra to skip the long line.
You can also choose a more expensive restaurant as the lines are sometimes shorter there to begin with. For the celebrity restaurants, I'd recommend you look into making reservations ahead of time.
The following are some of the best restaurants and bars in Las Vegas:
On the Strip
Celebrity Chef Restaurants
– Sage
– Restaurant Guy Savoy
– Morimoto
– Momokofu
– Jean-Georges Steakhouse
– Jaleo
– Gordon Ramsey Steak
– Giada
– Bardot Brasserie
Buffets
– Bacchanal Buffet (Caesars Palace)
– The Buffet at Wynn
– The Buffet at Bellagio
Budget Restaurants
– Luke's Lobster
– Pizza Bar
– Nordstrom Marketplace Café
– The Peppermill
– Paris Baguette
French Restaurants
– Mon Ami Gabi
– Eiffel Tower Restaurant
– BARDOT Brasserie
– L'Atelier de Joel Robuchon
– Le cirque
Italian Restaurants
– Scarpetta – The Cosmopolitan
– Carbone – Aria
– Lombardi's Romagna Mia
– Martorano's – Paris Las Vegas
– Manzo-Eataly – Park MGM
Asian Restaurants
– TAO Asian Bistro
– Fat Choy
– Zenshin Asian Restaurant
– Aloha Kitchen
– Red 8 Asian Bistro
Bars
– The Chandelier
– Vesper Bar
– Vista Cocktail Lounge
– Beerhaus Bar
– Parasol Up
– Skybar
– Bound Bar
– The Dorsey
Off the Strip    
Local Restaurants
– Chettini's
– Paymon's Mediterranean Café and market – University District
– Rollin Smoke Barbeque
– SkinnyFATS – Summerlin
– Pizza Rock – Henderson
– Carson Kitchen – Fremont Street
Mexican Restaurants
– Lindo Michoacán
– El Sombrero Mexican Bistro – Arts District
Bars
– Downtown Cocktail Room
– Peppermill Restaurant and Fireside Lounge
– The Griffin Lounge
– Artifice
Family
Some of the major activities taking place in Vegas, such as gambling and clubbing, are meant for adults. But Las Vegas has grown into a mecca of family entertainment.
There is a non-stop stream of activities and sites both on and off the Strip in Las Vegas suitable for kids and families. Here are a few of the top spots:
Family Activities
– Rides at the Adventuredome Theme Park
– Ziplining at the SlotZilla Zipline and Zoomline
– Vegas Indoor Skydiving
Family Restaurants
– Rollin Smoke Barbeque
– Texas de Brazil
– Shake Shack
– Giordano's
– Hash House A Go Go
Family Hotels
– Tahiti Village Resort
– Mirage Hotel and Casino
– South Point Hotel
Family Swimming Pools
– Golden Nugget swimming pool
– Tahiti Village Resort swimming pool
– Mandalay Bay swimming pool
Family Shows
– Mystère by Cirque du Soleil
– Jabbawockeez JREAMZ
– Blue Man Group
Where are the Safest Areas in Las Vegas?
Which are the safest places to stay in Las Vegas? The Strip in Las Vegas is where most tourists stay, and it's generally safe for travelers. It is well lit at night and has security personnel and cameras everywhere. So, it is advisable to stay on the Strip if it is your first time in Las Vegas.
Fremont Street is relatively safe also since it too is well lit and has hundreds of people moving around throughout. You're highly unlikely to encounter any problems out on the street in either of these two areas.
What Areas in Las Vegas to Be Cautious of?
Side streets off the Strip can be a little sketchy at night, so I would advise not walking anywhere at night that isn't well lit and/or heavily trafficked with pedestrians. There are fewer lights, people, and police around to give you the sense of security a touristy area usually provides.
Some of the places you should avoid are the area north of the Encore resort since it has dark side streets. There have been several cases of theft and car break-ins near the University of Nevada Las Vegas and McCarran Airport, making them less appealing areas for visitors.
Note that taxis, ubers, buses, shuttles, and the monorails are all considered safe modes of transportation.
Is it Better to Stay on the Strip in Las Vegas
So, hopefully, now you have a better idea of whether you should stay on the Las Vegas Strip or not. My advice to you will be that if it's your first time in Las Vegas, you should stay on the Strip. It's quite the experience for a first time visitor (returning visitors too for that matter).
If you find your plans for a Las Vegas trip take you away from the Strip more often than not, you should consider an off-Strip hotel for dollar savings and convenience.
Either way, I'm sure you will have an amazing trip to Las Vegas!
Reminder: If you haven't already, be sure to check out our Las Vegas resource guide for the best deals on rooms in the city.
Related Questions:
How far is downtown Vegas from the strip? Depending on where you start on the strip, downtown Las Vegas is a 2 to 6-mile drive. It's not close enough to comfortably walk to, but catching a taxi or Uber will get you there in a few minutes.
Where to stay in Vegas for a first-time visitor? A first-time visitor to Las Vegas is going to want to stay on the Strip. Try staying at one of more prominent hotels on the Strip such as Aria, Mandalay Bay, The Cosmopolitan, Bellagio or Caesars Palace for the full Vegas experience.