How Long Should You Stay in Las Vegas – The Ultimate Guide
(This article may contain affiliate links. If you click through and make a purchase, we will receive a small commission at no additional cost to you. )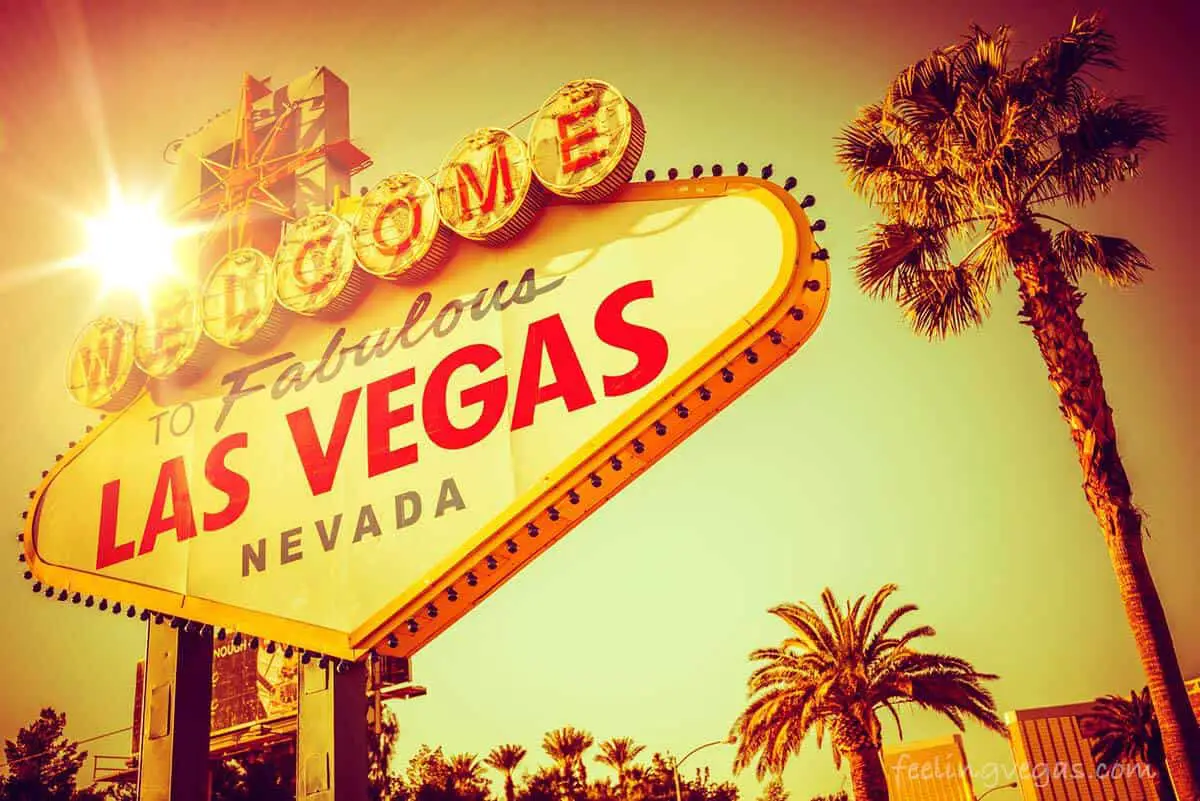 For first-time visitors and veterans alike, a getaway to Las Vegas can be an exhilarating experience. However, sometimes, people worry that staying too long could be overwhelming. How long should you stay in Vegas before you run out of patience, out of things to do, or out of money?
If gambling or partying is your main reason for visiting Las Vegas, then a three-day weekend is perfect. If you're visiting Vegas to see the sights, you can easily spend a week or more taking in all the shows, restaurants, and attractions. In this case, six to nine days in Vegas is ideal.
In order to determine how long of a Vegas trip to plan, you need to decide what kind of visit you want to have. Vegas offers lots of different things for different people. If you can pin down what type of vacation you're trying to have ahead of time, it'll be easier to plan the length of your visit.
How Long to Spend in Vegas Depends on The Kind of Trip
There are a number of things to take into consideration when planning your Las Vegas trip. There are lots of different types of vacations to take in Vegas. A boozy trip of debauchery with your squad is going to be a very different trip from a fun holiday with your family. Take some time to define your expectations for the trip. You'll be happier for it.
Do you have kids? Many of Vegas' most popular activities are less than kid-friendly. If you've got a group that includes anyone under the age of 21, then you'll want to steer away from the more sinful elements of Sin City. This may seem limiting but keeping things PG-13 can actually make it easier to extend your stay as you're less likely to get burnt out or burn through your savings.
A trip with the kids can be a longer trip. A week or so in Vegas with the kids is ideal. You'll be able to see all the major sights on the Strip, hit up plenty of the kid-friendly attractions, and maybe take some time away from Las Vegas Blvd to see a few of the sights near Vegas (i.e., Hoover Dam, Grand Canyon, etc.)
Will you be drinking? Alcohol is available everywhere in Las Vegas. Lots of casinos will even bring you complimentary drinks as you gamble. It can be easy to go on a bender, and you can only go on so many of those before you're tired and ready to head home.
Keep in mind that many Vegas veterans recommend going easy on the drinks. Sip your drinks slowly, and you'll be able to enjoy yourself longer. If you don't think you can resist the urge to get really boozy, plan a shorter trip. Three days is generally long enough in Vegas if you're on a party trip with your friends.
Party trips to Vegas are extremely fun, but they can also be exhausting. With all the bright lights, loud noises, and tight crowds—Vegas can be an awful place to be with a hangover.
Are you on a budget? While there are some free attractions in Las Vegas, it's pretty safe to say that the longer you're here, the more money you'll be spending. Three to five days in Vegas is doable, even on a tight budget. Just decide what's really important to you and stick to the plan. If you're going to gamble, set limits for yourself, and hold to them.
A tight budget doesn't mean a boring trip to Vegas, it just means you'll need to pace yourself a bit. For instance, instead of eating out every day and night, maybe get a hotel with a kitchenette and eat some of your meals on the cheap.
Also, while Vegas has plenty of great shows to see, some of them might break the bank. That doesn't mean, however, you can't see one or more of the less expensive shows in town. I guarantee you'll have a great time!
Will you be gambling? The decision of whether or not to gamble can define your trip. If gambling is your primary objective, keep your stay short, like three or four days, and hit it hard. Unless you're a real big shot (or massively lucky), your finances probably can't handle a week of non-stop gambling in Las Vegas casinos.
Now that you've identified the type of vacation you're trying to plan, you can probably see that there are two major types of vacations that you can have in Vegas: a wild party and a family outing. Obviously, there's plenty of room for a compromise between the two. But we're going to break down the extremes. Let's talk about how to make the most of each length of stay.
RELATED: How much money you should bring to Las Vegas? Find out in our article here)
Planning a Gambling Weekend in Vegas (3-4 Days in Las Vegas)
If you're looking to plan a wild and crazy Vegas getaway full of gambling, then you'll want to keep your stay pretty brief. Lots of people suggest that a weekend or a long weekend is an ideal amount of time to experience the most exciting part of Las Vegas without overdoing it.
If you aren't careful with your money while gambling on the Strip, you can really overdo it. Keeping your stay short will ensure that you're still in the green when you get back.
While some people really thrive on the energy of Vegas, for others, it can start to get a little wearying after too long. When you're gambling, you're going to spend a lot of time in the busiest, brightest, and loudest parts of the city.
If you're planning a gambling trip, come home with more than an empty wallet and a migraine by keeping your trip short. Take a Friday off work and spend a three-day weekend. Since you'll only have a few days, you'll want to make it count. Here are some of the best places to try your luck.  
Sports Betting – Caesars Palace
Is there a big game during your stay in Vegas? Maybe you want to feel the thrill of putting money down on your team. There are lots of places in Vegas that will take sports bets, but none of them have the same energy as Caesars Palace.
The race and sports book inside Caesars Palace is a sports fan's dream. A 138-foot LED video wall spans the length of a massive betting room filled with 140 cushioned chairs. The screens can support up to thirty-two simultaneous race and sports feeds. With an app on your phone, you can order food and drinks right to your seat. The betting counter allows up-to-the-minute bets on all games, so you're always in the thick of it.
For particularly big games, Caesars Palace hosts tailgating parties on their massive 15,580-square foot gaming floor or various experiences in several of their restaurants and lounges. Experience open bars, buffet, and exclusive seating with one of many tailgate packages.
If sports betting is your thing, Caesars Palace is the place to be.
Slots – ARIA
Do you want to play some slots? ARIA Resort & Casino boasts the widest collection of slot machines on the Strip. From low-limit to extremely high-limit, ARIA has something for everyone. Themed slot machines and slot tournaments can really keep things interesting. If you want to spend a few days cranking the reels and not get bored of it, you can't do better than ARIA.
ARIA's High-Limit Lounge is one of the most exclusive slot experiences in Vegas. This high-limit area has machines that cost up to $5000 per pull, but the payouts are also massive. The entire experience is meant to be upscale and luxurious.
For a little more low-limit fun, try themed slot machines such as The Walking Dead, the Simpsons, Wheel of Fortune, and Anchorman. These pop culture machines are a blast to play alongside friends. If you can earn 500 M-Life points, you'll qualify to enter a slot tournament where you'll have a chance to compete and win big. These generate a lot of buzz, though, so you'll have to get lucky to even participate.
Slots are one of the most accessible forms of gambling out there. If you're interested in putting some money on the line but aren't a total card shark, slots and ARIA might be just the thing for you.
RELATED: If you'd like to find out where to play vintage coin-operated slot machines, I'll tell you all about it in our article here.
Poker – Bellagio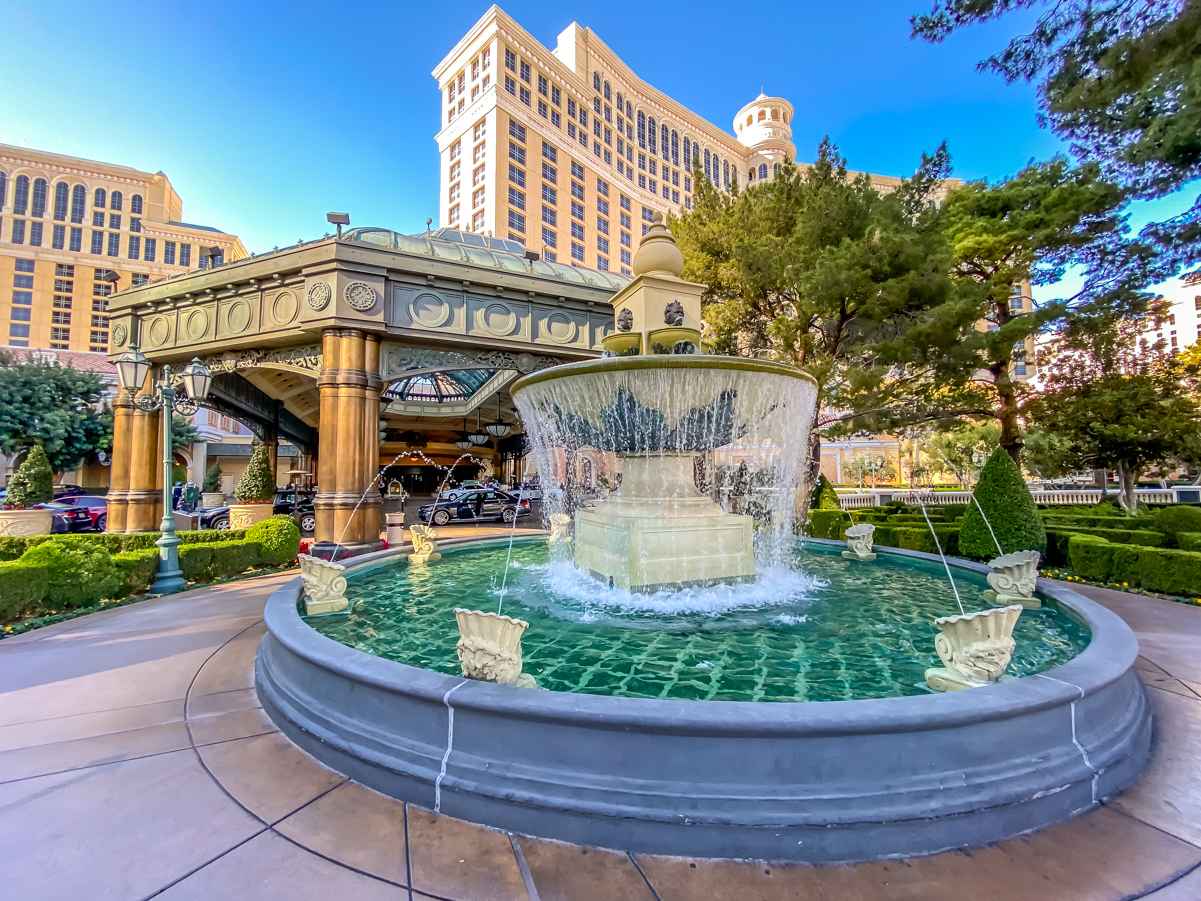 For an upscale Vegas feel, there's nothing more classic Las Vegas than playing poker at the Bellagio. The Bellagio Las Vegas hosts a large poker room with 40 poker tables and is known for being one of the most luxurious experiences in Vegas.
With a large number of tables, there are generally lots of different games available. At any given time, you can play
$1/$3 no-limit Hold'em
$4/$8 no-limit Hold'em
$20/$40 Seven Card Stud Hi
$30/$60 Omaha 8 or Better
$40/$80 mixed games
Limit Hold'em is also available at low, mid, and high limits
High-stakes $1,500/$3,000 mixed games
Despite the large number of tables, the popularity of the Bellagio for poker means that the poker area can often get quite crowded. It's pretty typical for there to be wait times that are above average. If poker is your deal, you may want to reserve ahead of time.
The Bellagio offers all sorts of perks for its poker players. You can order food and drinks directly to your table. In fact, if you have an MGM Resorts Rewards card, you can get $2 comps on food and drinks for every hour of playtime. Do you get twitchy when you're nervous? Order a back or neck massage while you play to help keep your poker face.
The world's best poker players play at the Bellagio. Bobby's Room, named after Bobby Baldwin, the 1978 ESOP champion who went on to become an executive for MGM Resorts. Playing in Bobby's Room will cost you a steep $20,000 minimum buy-in, so you may just want to take a peek. If you do, you may get a look at some of the best poker players in the world. (website)
Arcade – MGM Grand
LEVEL UP, inside the MGM Grand, is essentially a giant arcade room for adults. Featuring old-school arcade games, including a giant pac-man game. While there isn't actually any gambling going on inside LEVEL UP, it's still effectively a bar with arcade games and not suitable for children.
If you're looking for a break between bets, LEVEL UP has a number of exciting skill-based games. You can play classic table games, like billiards, air hockey, or ping pong. But you can also check a wide array of video games, arcade games, and a massive virtual reality simulator.
If you plan your trip right, you can catch karaoke or live music.
BTW if you're planning on spending time at any of the upscale casinos in Las Vegas, you'll want to learn about casino dress codes by checking out this article on our website.
Planning a Family-friendly WEEK in Las Vegas (6 to 9 Days)
There's so much more to do in Las Vegas than drink and gamble. If you're taking the family along or are just looking to see what else Vegas has to offer, you may want to plan a longer trip. Many people suggest that seven to ten days is a good amount of time to take in Vegas.
If you're trying to stay on a budget, gambling can make planning your trip very difficult. Taking in some of the other attractions can make it easier to set an itinerary and price out your trip ahead of time. Even on a trip twice as long, you may not spend as much money as someone who's hitting the slots.
The key to enjoying a longer Las Vegas trip with the family is to spend some time away from the Strip. The Strip is incredible. I'm even going to suggest several places you should check out on the strip. However, taking some time to get away from the noise and the crowds can be really refreshing and relaxing during a longer stay in Las Vegas.
The reality is that there's just more to do in this city than any single article could possibly cover, and things are changing all the time. Take a look at what shows are in town before you visit. There might be something really incredible. And pay attention as you walk around, you might find a hidden gem or a newly opened attraction.
Here are some of my top picks for family-friendly fun in Las Vegas.
The Neon Museum Boneyard
The first thing you think of when you hear Las Vegas likely isn't museums. The city isn't widely known for its educational attractions. You might be surprised to learn that Vegas has tons of really cool, interesting museums.
The Pinball Hall of Fame hosts the world's largest collection of pinball machines. Madame Tussauds is a wax museum where you can take selfies with all your favorite A-list celebrities. The Mob Museum will let you learn about the gangster history of Sin City.
But, if you only get the chance to visit one museum while in Vegas, do yourself a favor and check out the Neon Boneyard. The Strip has changed a lot over the years, and much of the old neon has been replaced by LCD and LED displays. The Neon Museum has collected much of the original neon from old Las Vegas and assembled it into an impressive display.
Walking through what feels like a part junkyard and part art gallery will take you through 150 years of Las Vegas history. The experience of walking through piles of glowing signage is a bit surreal but in the best possible way. The museum is open during the day, but it really comes alive at night when the neon signs light up in all their glory.
The Neon Museum Boneyard is one of the coolest attractions in the area. It's Sin City without the sin. Be sure to check it out.
RELATED: 23 Best Museums in Las Vegas (Cool, Fun & Weird!)
The Grand Canyon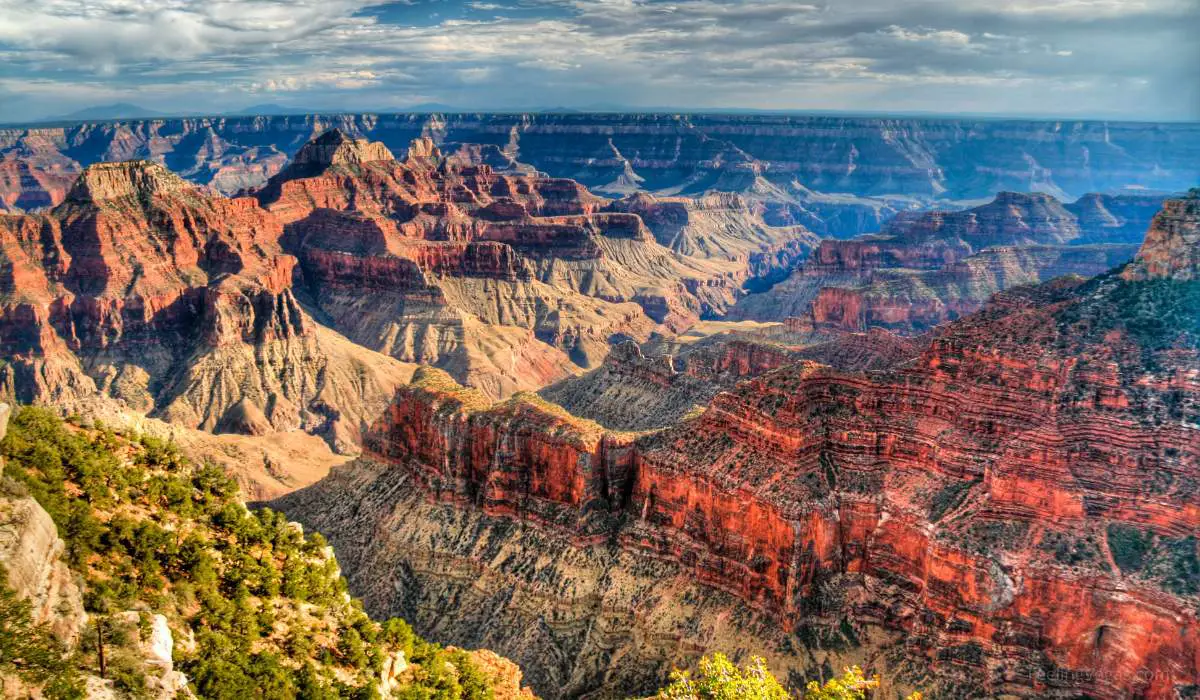 If you're spending a week or longer in Vegas, it's pretty easy to plan a day trip out to one of the rims of the Grand Canyon (Grand Canyon West). About a two-hour drive will take you over the Hoover Dam and out to one of America's most recognizable landmarks. Spanning up to eighteen miles wide and dropping as far as a mile down, the Grand Canyon is a magnificent spectacle.
If anyone in your group hasn't seen the Grand Canyon, the drive is well worth it. There are lots of ways to take in the Grand Canyon and learn about its geological significance and history.
The Skywalk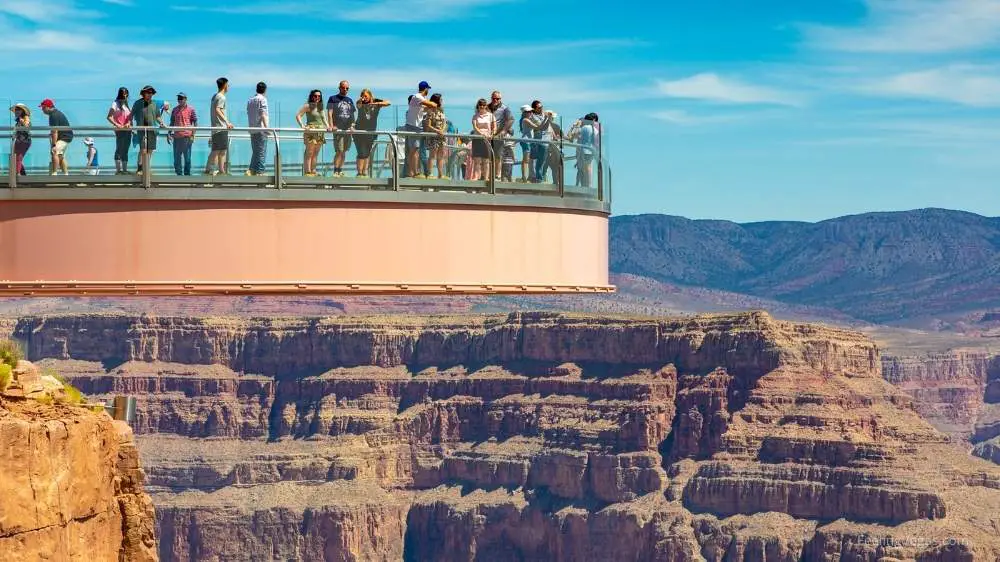 The Grand Canyon Skywalk is located at Grand Canyon West which is the closest rim of the Grand Canyon from Las Vegas. It's a large horseshoe-shaped structure with a see-through glass bottom that is built out over the canyon, allowing visitors an incredible view over the edge and directly below their feet.
Hiking
Hikes are also popular. Although be warned, the hike down is a cakewalk, but the climb back up can be grueling for anyone who isn't fighting fit. Hiking all the way to the bottom back to the top generally isn't possible within a single day. There are several hikes around the rim of the canyon, which will afford you some spectacular views.
Helicopter Tour
If you're short on time, a Grand Canyon helicopter tour will allow you to see all the most amazing parts of the canyon from an incredible vantage point. If you really want to save time, you can book a helicopter tour starting and ending in Las Vegas. This is one of the easiest and most amazing ways to see the Grand Canyon, and you can do it all in about 4.5 hours.
RELATED: 15 Grand Canyon Tours From Las Vegas (Best Trips!)
Hoover Dam
The pet project of President Franklin D. Roosevelt, the Hoover Dam, holds back the largest manmade reservoir in the United States. The Dam is a marvel of engineering and is popular with tourists for its hulking visage and historical significance. You can make a stop at the dam on your drive to the canyon or as part of a helicopter tour.
There are also several tours to Hoover Dam leaving from Las Vegas. I've written an entire article here about visiting Hoover Dam. Check it out!
Red Rock Canyon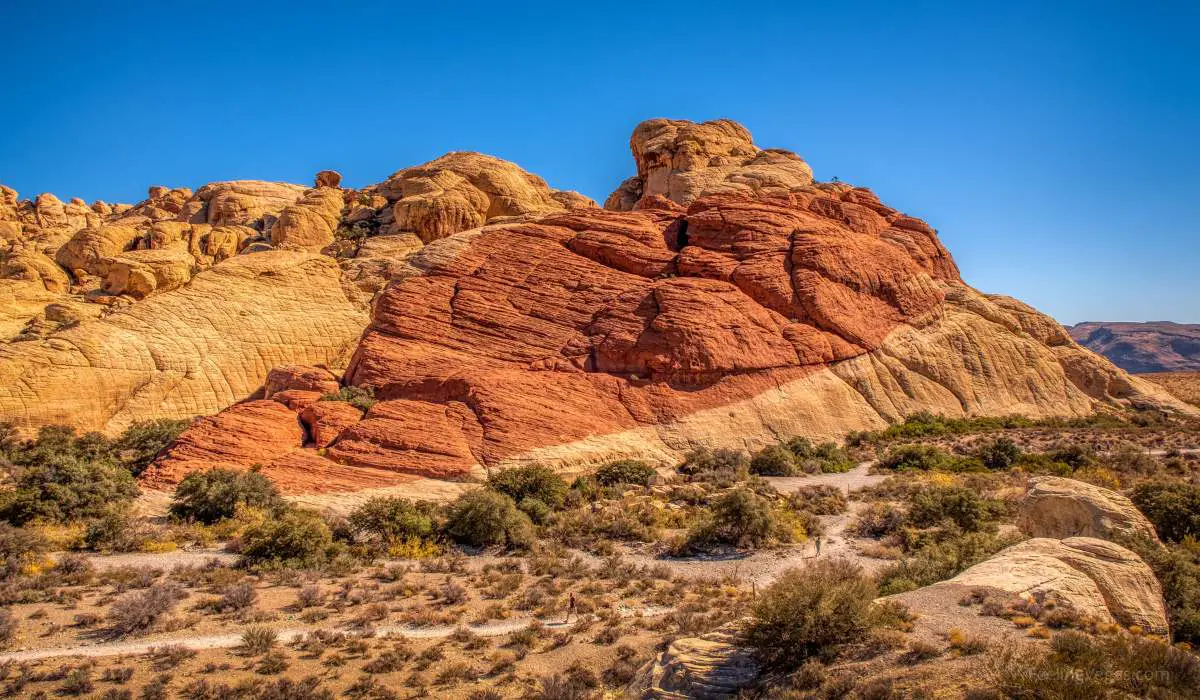 For natural splendor a little closer to your hotel, check out the Red Rock Canyon National Conservation Area. Only a thirty-minute drive from the Strip, Red Rock Canyon offers gorgeous desert views.
You can go hiking or take a scenic drive through the park. You can even view some prehistoric wall carvings. Red Rock Canyon will get you some desert sun, some fresh air, and a little personal space.
Check out our article here about how to visit Red Rock Canyon.
TopGolf Las Vegas
Vegas has so many family activities it can be hard to choose what to do. Several of the casinos have bowling alleys that jazz up the common recreational activity with a little flair. There is also a roller coaster and various amusement park-type rides attached to various hotels in Vegas.
But a true Vegas-born family outing is Topgolf. Top Golf combines a fancy golf driving range with a pool and adds in an upscale vibe.
Topgolf is easy to spot, with its towering pillars supporting a massive net to catch powerful drives. Inside, a number of bays line one side of the enclosure, all facing some large colored rings. With a system that can track where your ball goes, Topgolf allows you to play a number of fun games with your drives.
Whether you're an avid golfer or a total amateur, Topgolf can be an incredible experience. The entire laid-back atmosphere and fun game mechanics make driving a golf ball feel approachable and unintimidating.
The food isn't an afterthought either. With a chef-inspired menu, Topgolf's food and drink selection will bring your experience to the next level.
Shark Reef Aquarium – Mandalay Bay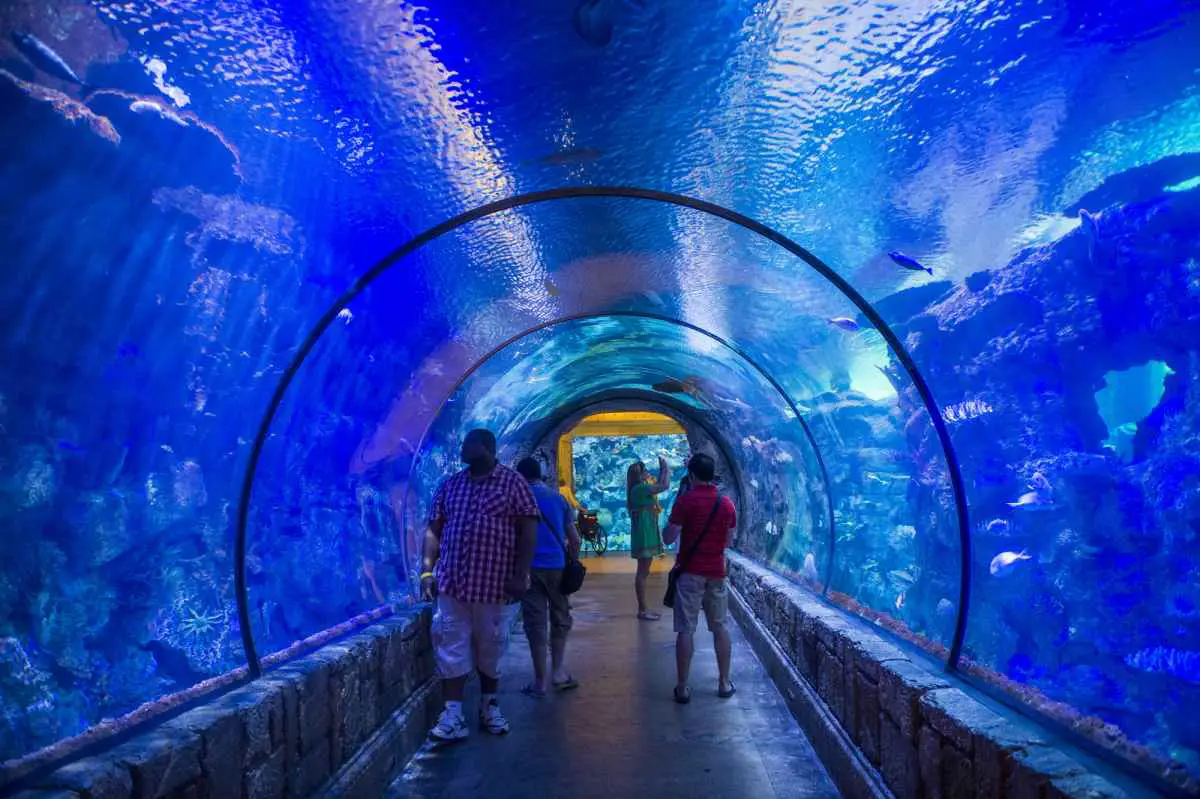 A super popular attraction with families is the Shark Reef Aquarium at Mandalay Bay Resort and Casino. This aquarium boasts a stunning variety of over 2000 different species of aquatic and reptile life. Mandalay Bay will allow you to get up close and personal with these creatures in a number of amazing ways.
The Touch Pool allows you to stick your hand in the water and get hands-on with a rotating assortment of rays, sharks, and horseshoe crabs. Your kids might come in scared of sharks, but by the time they're done with this underwater petting zoo, they'll be asking, "Mommy can we keep him?" (You can't, in case you were wondering.)
Walking through Mandalay Bay's two underwater tunnels will give you a diver's view of sharks, green sea turtles, and jellyfish. Taking a stroll through these tunnels will give you an underwater experience that you won't need to towel off after.
If you're dive certified, you can have a truly unforgettable experience by diving with the sharks. For those certified, Mandalay Bay will provide you with all the equipment you need to climb into a 1.3-million-gallon tank and swim alongside the sharks and other sea creatures. There are over 30 sharks inside this tank, and you'll be right up beside them.
RELATED: If you like aquariums, you'll also want to check out our article about the 10 best aquariums in Las Vegas.
Las Vegas Must-See Landmarks
While there are always new and exciting things to do in Las Vegas, there are a number of must-see tourist attractions that you'll want to hit. Vegas is a city filled with replicas and iconic sights. Here are some of the places you'll want to visit if only to snap a quick picture.
The Eiffel Tower: Although it's a much smaller replica of the real thing, the Vegas Eiffel tower is instantly recognizable, mostly because of how difficult it is to miss. Unless you've got a trip to Paris, France, planned for your next vacation, you'll want to stop by the original Eiffel Tower's smaller cousin.
The Statue of Liberty: Another famous replica, the scaled-down replica Statue of Liberty, will fill you with a swell of American pride.
Fremont Street: A list of everything to do on Fremont street would take its own article. This place has a lot going on. Think of it like a street festival or fair that runs all year long. There's food, music, entertainment, and activities (Warning: There may be some not-so-kid-friendly things going on down on Fremont Street, particularly at night). Plus, you can take a zipline over all the craziness. It's definitely worth an evening. You can find out more about Fremont Street and downtown Las Vegas in our article here.
Welcome to Vegas sign: The Welcome to Las Vegas sign is perhaps the most iconic entry on this list. If you only take one picture on your trip, take it in front of the Welcome to Vegas sign. This is postcard-worthy stuff.
Bellagio light show: You know that scene from the end of Ocean's 11? George Clooney and company have just finished robbing a Las Vegas casino, and they all just stand and watch a fountain light show. This is that water show. I definitely don't recommend trying to pull off any heists, but the light show at the Bellagio is a must. See here for the complete Bellagio Fountain show schedule.
High Roller: One of the largest additions to the Vegas skyline is the High Roller Ferris Wheel. Constructed in 2014, the High Roller can now allow visitors to look out over the city from a staggering height of 550 feet. Go at night to see the lights of Vegas or during the day to cast your eyes out for miles in every direction.
ALSO SEE: Can Las Vegas Be Seen From Space? (Lights, Strip, & Luxor)
What if You Only Want to Gamble in Vegas a Little?
You don't need to treat your trip as strictly a gambling or non-gambling trip. There are lots of ways to mix a little adult fun into an otherwise family-friendly outing. Perhaps you plan on sneaking down to the casino once the kids are put to bed (I can remember my dad doing this when I was little). You can also take a break from a gambling heavy trip to see what else Vegas and the strip have to offer.
It's your vacation; you decide what to do with it. No matter what your plans are, understanding what you want your vacation to be will help you plan how long you want to be in Vegas.
As a general rule, the more you want to be gambling, the more you'll want to limit how much time you have to spin all your money away. And if you want to do things other than gambling, well, there's enough here to keep you busy and entertained for a whole bunch of vacations.
Oh, did I forget to mention the shopping?! See the 12 [AMAZING] Shopping Malls on the Las Vegas Strip!
How Long To Stay in Las Vegas – Final Thoughts
As we've discussed, how long you decide to stay in Las Vegas is really dependent upon what kind of trip you'd like to have. Vegas can be great for a weekend or even a full week or more. It just depends on you and what you want to do while you're here.
RELATED: Wondering if Vegas is still fun to visit during the middle of the week? We'll tell you all about it in our article here.