Preparing For Your Las Vegas Trip (17 Things to Know!)
(This article may contain affiliate links. If you click through and make a purchase, we will receive a small commission at no additional cost to you. )
Vegas, Sin City, the "Entertainment Capital of the World", no matter what you call it, Las Vegas, Nevada is known worldwide for its ability to awe and excite tourists on every level! If you're planning a trip to this amazing city for vacation (or even a workcation), there are some things you should know ahead of time so that you're prepared to make the most of your time in Vegas.
Las Vegas offers a wide variety of experiences, so preparing in advance for a Vegas trip will ensure you make the most of your limited time. Things like: Booking ahead, packing appropriately, understanding transportation options, and choosing the right hotel will ensure your Vegas trip is the best.
To help you plan your perfect trip, I've got some tips and information about visiting Las Vegas that will save you both time and money. Understanding just a few things, and taking some action beforehand will elevate your trip from good, to extraordinary! Keep on reading so you don't miss a thing.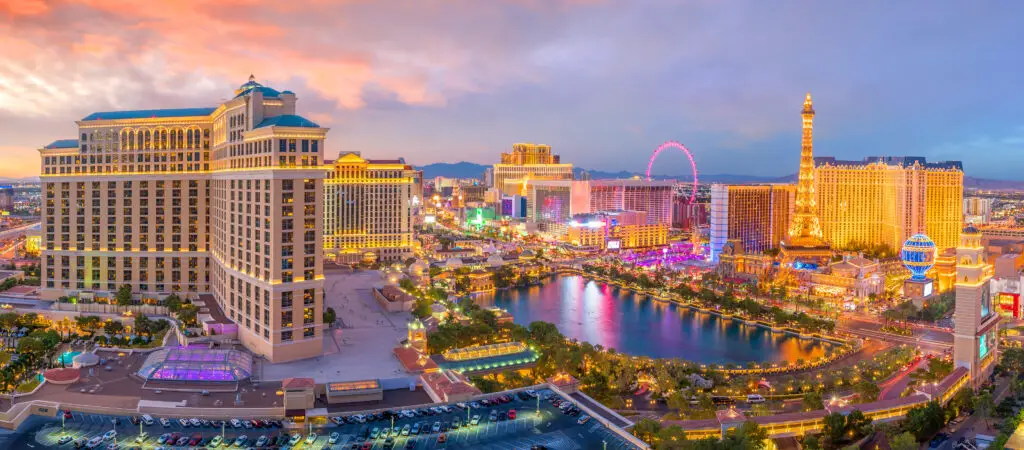 Choose Your Las Vegas Hotel Wisely
Your choice of hotel can have a big impact on your Vegas experience. Las Vegas has well-over 150,000 hotel rooms throughout the city, so finding one that meets your style and budget shouldn't be a problem. It's about finding a hotel room that's in the best location to match your vacation desires.
Whether you're visiting for a weekend or a week, a hotel that's located close to the majority of shows, attractions, and other resorts you want to visit will save an enormous amount of your limited vacation time, and keep you from spending too much of you vacation in the car traveling to and from different locations.
There is no one perfect location, it will depend on your trip goals. Here are a few articles that will help you to choose the perfect Las Vegas hotel:
Also, you will want to be sure to download our free map of the Las Vegas Strip. It will show you where all the major hotels are located, and what's near each property.
Make a List of Your Top Vegas Attractions
Las Vegas has a ton of attractions! There is no way that you can experience everything that this city has to offer in a single trip. So in order to make the most of your time, you'll want to have at least an idea of the top things you want to do and see while you're here.
Doing this will not only provide you with a basic Las Vegas itinerary, it will also help you to pinpoint the best area of the Strip or city to look for your hotel. Here's a short list of some of the top attractions in Las Vegas:
This is just a start, for a more complete list of attractions, you'll want to visit our article: 35+ Super Fun Things to Do In Las Vegas For A Weekend
Figure Out How You're Going to Get Around Las Vegas
One of my favorite things about Las Vegas is how much fun and excitement is packed into just a couple main areas of town (The Strip and Downtown Las Vegas), making everything relatively close by. Having said that, you're still going to need to know how to get from place to place. Figuring out how you're going to get around Las Vegas should be something you consider well before arriving.
Fortunately there are several ways to get around Las Vegas, including:
Taxi/Uber – There are plentiful taxi's and Ubers available in the city. Something you should know, however, is that you cannot hail a taxi or request an Uber on Las Vegas Blvd. (the Strip) itself. You will need to go up to a hotel entrance or shopping center. There you will find marked Uber and taxi pickup areas.
Las Vegas Monorail – The Las Vegas Monorail is a fun way to get up and down the Strip. Unfortunately, however, it only covers part of the east side of the Strip. It will still save you a bunch of walking.
Rental Car – If you're planning to have some adventures outside of town (Red Rock Canyon, Hoover Dam, etc.), you may want to consider renting a car in Vegas for at least part of your stay.
Free Trams – Several of the hotels on the west side of the Strip have free trams that run between their hotel and their sister properties nearby. The three free trams include routes from the Mirage to Treasure Island, ARIA to Bellagio & Park MGM, and Mandalay Bay to Luxor & Excalibur).
Hop-on-Hop-off Bus – Also known as the Big Bus Tour, this big, red, double-decker bus runs a route along the Las Vegas Strip all the way to Fremont Street, with plenty of stops for you to hop-on or off along the way.
The Deuce – The Deuce is the city bus, and you can use it to get all over town, including up and down the Strip. It runs regularly and is inexpensive, however, it will take a lot of extra time.
Recommended Reading: How to Get Around Las Vegas Without a Car [Ultimate Guide]
Book Ahead For Vegas Shows & Attractions
Las Vegas is famous for our shows and attractions! If there are specific shows or attractions you absolutely know you want to experience while you're here, you should plan on booking tickets before you arrive.
Not only will buying tickets beforehand ensure that these shows and attractions aren't sold out on the day you want to attend but booking ahead will save you a TON of time spent standing in line.
Would you rather be standing in a line to purchase tickets for a Cirque du Soleil show, or would you prefer to be lounging by one of our fabulous pools, knowing you already have your tickets? That's what I thought!
You can browse discount tickets for the top Las Vegas shows and attractions here.
Be Prepared To Walk….A Lot! (Las Vegas)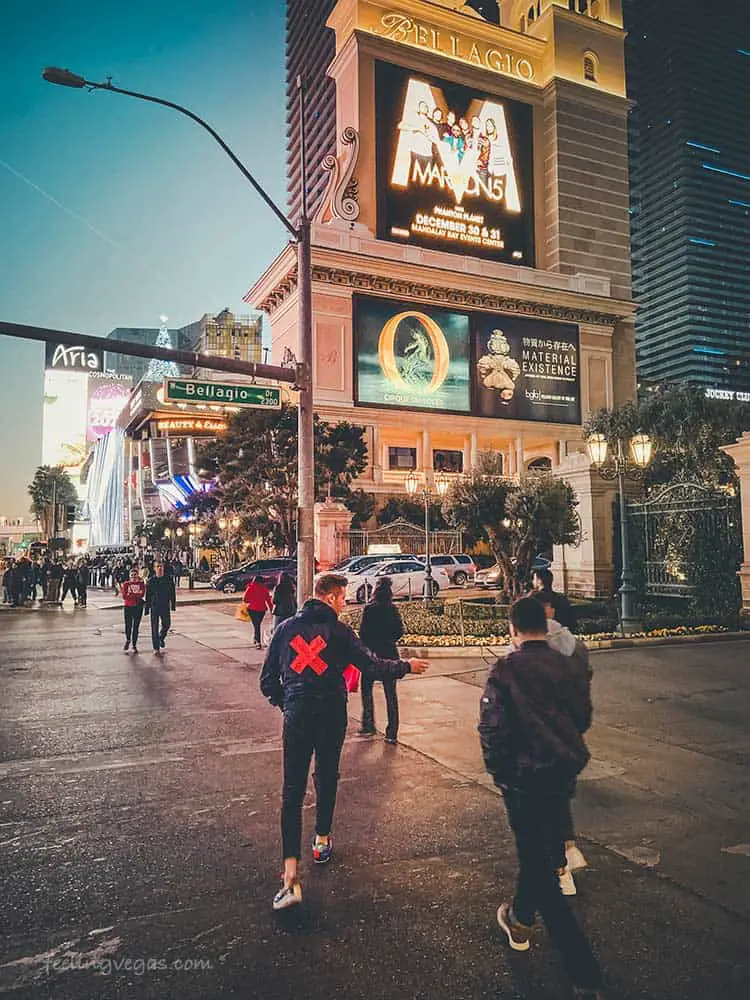 If it's your first time visiting Las Vegas, it's hard to picture just how long the Strip is, and how spread out it can be in some areas, not to mention the size of the major casinos themselves. When visiting Vegas, you must be prepared to walk…a lot!
If you're looking at a map of the Strip, know that the perceived distances can be deceiving. Things can be much further apart than they look on a map. Even hotels that are located next to each other can prove to be a long walk (especially if it's summer).
Even if you take full advantage of the trams, monorail, ubers, etc. you should plan to walk several miles each day.
The casinos themselves are huge, and often you will need to walk the full length of the property to grab a ride, find a restaurant, etc, so wear comfortable shoes.
One thing that always gives me a laugh when we're hanging out down on the Strip are the women visitors attempting to walk up and down Las Vegas Boulevard in stiletto heels! Save the high heels for the nightclubs, and grab some comfy walking shoes for sightseeing!
Pack Right (Clothing For Vegas)
In addition to bringing the right shoes for walking, you'll want to make sure that you've packed the right clothing for Vegas. Las Vegas is a pretty casual place during the day, but a lot of visitors like to get dressed up for a night out on the town.
The clothes you'll want to pack will also be dependent on the weather. While Las Vegas gets blisteringly hot during the summer, it can also get quite cold in the winter. Also, being in a high desert environment, a nice warm day can turn pretty chilly in the evening once the sun goes down.
Even in the crazy hot summer months you'll want to pack a light jacket as the air conditioning in many places can be a bit extreme. Here are a few packing suggestions for your Las Vegas trip:
Casual wear: T-shirts, shorts, flip-flops, jeans & walking shoes are a must.
Jacket: Bring at least a light sweater or jacket, no matter the time of year.
Hat, Sunglasses & Sunscreen: The sun here is strong and bright year-round.
Backpack: A lightweight day bag or backpack will keep your hands free while you're exploring the city.
Bathing suit: Make sure to pack one, or better yet several.
Evening wear: Fancy outfits, dresses, suits, heels, dress sandals or dress shoes.
Also, check out our article: Do Las Vegas Casinos Have Dress Codes: Mistakes to Avoid
Determine Your Daily Spending Budget (Las Vegas)
If you've already booked your hotel and paid for your flight, the next step is to figure out your daily Vegas spending budget. The average daily budget for visitors to Las Vegas is $243 per day, per person.
Of course this is just an average, you can spend less or a whole lot more depending on your personal preferences and interests.
Most people can figure out a basic budget for spending money in Las Vegas when it comes to food, attractions, and shows, but the one wildcard is when it comes to playing in the casinos. Without a daily spending budget, things can get out of hand real quick in a casino!
Check out our article: Here's How Much Money You Should Take to Las Vegas to help you decide how much money you should plan on spending each day in Vegas.
Groupon Is Your New Las Vegas Best Friend
If you're heading to Sin City and looking to have fun while saving some money, then Groupon Las Vegas is your new best friend!
Whenever Wendy and I are looking for something fun to do, we hop on over to groupon and take our pick of the substantial discounts available for hundreds of Las Vegas activities, attractions, and restaurants.
This works great if you're looking for something exciting to do, and are open to the possibilities. Even if there is something in particular you want to do while you're in town, it's worth taking a look because there just might be a Las Vegas Groupon discount available.
Here are some of our top Groupon discount recommendations:
Fun Things To Do
Food, Drinks & Treats
Shows
Las Vegas Groupon discounts come and go, so if you see one you like…grab it!
Sign Up For Vegas Player's Clubs
Every casino property in Las Vegas has its own version of a player's club, and you'll want to be sure to sign up for them if you're spending any money in the casino. The players club cards are free to sign up for and will accrue points when gaming at any of the properties slot or video machines.
The player's card will give you discounts at various shows, restaurants, and attractions found on the company's properties. Even if you're not gaming in the casino, just having a player's loyalty card will often get you discounts at the hotel's restaurants and buffets.
Signing up for a player's club card usually just takes a few minutes, and is well worth it. Just look for the player's club desk inside the casino. Also, be aware that the day you sign up for the card, you generally receive perks such as earning double points or something similar.
Tweak Your Schedule to Avoid Las Vegas Crowds
I've learned from my travels that people are creatures of habit, particularly when it comes to mealtimes, and if you can shift your schedule just a bit, you'll be rewarded with some great opportunities!
For instance, between 6-8pm is when the crowds in Las Vegas head to dinner, and if you move with the crowd you'll find yourself waiting in long lines at buffets and restaurants.
If you can plan to eat your meal a little earlier, or a little later, you can put the traditional dinner hours to good use by sightseeing, and visiting attractions with far smaller crowds (because everyone else is waiting in line to eat)!
Expect The Unexpected, and Be Open To It!
While having a plan of the things you want to do, see, and experience in Vegas will help you make the most of your trip, it's a good idea to not be too rigidly fixed to your planned schedule. Las Vegas is full of surprises, and you'll want to remain flexible enough to take advantage of serendipity.
Maybe there is a big convention or event happening in town when you're here that you didn't know about beforehand. Or maybe a brand-new attraction has just opened up that you hadn't heard about before.
Having a plan for your vacation is great, but staying open to going with the flow is key to experiencing everything that Las Vegas has to offer.
Explore Your Las Vegas Dining Options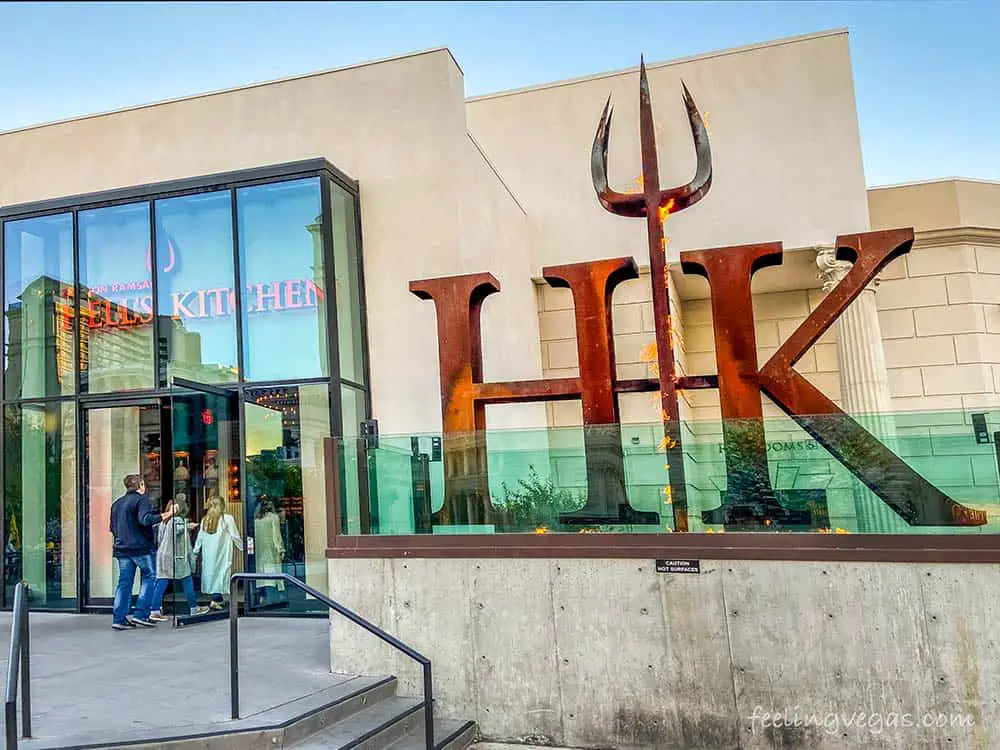 More than 40 big-name chefs are located right in the heart of Las Vegas. This gives tourists who visit Sin City amazing varieties of top-notch dining to choose from. Whether you're looking for casual eats, or some of the best fine dining there is, you'll find it here in Las Vegas.
Las Vegas is truly a magnificent destination when it comes to worldwide cuisines. Food tastes run the gamut from American, Italian, Chinese, Thai, Cuban, Mexican, Japanese, Brazilian, Nigerian, and more. You name it, Vegas has it!
You will be able to find restaurants and food available throughout the city, even if you have allergies or are on a diet.
Like I said above, there are some big-name chefs here. Gordon Ramsey opened up his Hell's Kitchen restaurant in Vegas in 2012. Other famous chefs in Vegas include:
When planning to dine at a restaurant with a celebrity chef, it is always a good idea to make a reservation in advance.
Know the Vegas Nightclub Dress Codes
Most nightclubs in Vegas have a dress code, and clubs want their patrons to be dressed to impress. If you're not dressed appropriately, you won't get in. Here are some articles of clothing not allowed by most Las Vegas nightclubs:
Sandals or any casual shoe
Athletic wear/shoes
Loose-fitting or baggy jeans
Any clothing that is ripped or torn
Workboots
Jerseys
Beanies or hats in general (unless they are considered stylish)
Shorts
The clubs tend to be more lenient towards what women wear, while men need to be more careful if they want to get in. You can find out exactly what to wear to a Las Vegas nightclub in our article here.
Avoid Las Vegas Casino ATM's
Unfortunately, the casinos charge exorbitant fees for the use of their ATMs. I recommend that you instead bring cash with you ahead of time or plan to use a credit card.
But if you need to use an ATM, you should know that the average "convenience" cost for an ATM on a casino floor can be anywhere from $5-$10, and this is in addition to what your bank might charge you. The ATM fees can really add up over time if you are constantly using a casino's ATM machine.
Instead, I suggest you look into using the ATMs found at any convenience store, as their charge will usually only amount to $3 on average. It's unlikely that you will find any actual bank ATMs on the Strip, so take advantage of the convenience stores like Walgreens, CVS, or Target.
Don't Buy Drinks at Vegas Casinos
If you're playing in a casino, the last thing you'll want to do is approach the bar for a drink. You'll find that drinking from the bar will be an expensive proposition.
If you'd like to dodge the high alcohol prices, know that if you continue playing, a cocktail waitress will approach those who are actively participating in the games and offer them a free drink.
Find out here how free drinks in a Las Vegas casino actually works.
Watch Out For Additional Fees
Casinos, bars, and restaurants in Vegas will sometimes charge or tack on additional fees that may take you by surprise. Some of the more detrimental fees include parking fees, drink surcharges, and resort fees.
Resort fees are the worst of the lot and amount to charging you an extra amount daily on top of your nightly room rate. These resort fees are for access to hotel amenities including pools, fitness centers, wifi, and business centers, and will be charged whether you use these amenities or not.
Almost every major resort in Las Vegas applies a resort fee, and these fees aren't always obvious when you're booking your room. There are, however, some hotels that don't charge resort fees. Unfortunately, these hotels are usually found off the Strip.
You can check our resort fee guide to see the resort fee amounts each Las Vegas hotel charges and what is included.
Be Prepared to Tip in Las Vegas
It's customary in Las Vegas to tip for various services such as baggage handling, concierge service, and room service, as well as dealers, cocktail waitresses, etc. Workers in Las Vegas rely on these tips, so if someone has provided you with excellent service, don't hesitate to say thank you with a tip.
Tipping can be confusing, so we've created a complete Las Vegas Tipping Guide that will help you know who, when, and how much to tip when visiting Las Vegas.
Final Thoughts
A trip to Las Vegas is likely to be something you remember fondly for years to come. With a little bit of preparation and planning, you can make your Vegas vacation even better! Now that you know how to prepare for a trip to Las Vegas, buckle up, because the fun is about to begin!