Banger Brewing in Las Vegas (Review, Menu, Happy Hour, Groupon)
(This article may contain affiliate links. If you click through and make a purchase, we will receive a small commission at no additional cost to you. )
Update 2023: Banger Brewing has been permanently closed.
Having previously lived in the Pacific Northwest, Wendy and I love a good brewpub, so we decided to check out Banger Brewing in downtown Las Vegas.
Banger Brewing on Fremont Street is a small local Las Vegas brewing company that offers some unusually flavored microbrews, such as 'Jalapeno Hefe' and 'Coffee Kolsch', along with a delicious Brown Ale, several IPA's and their famous beer shot.
Keep reading as I'll cover Banger Brewing's location, beer menu, drink prices, happy hour, tours, events, and even tell you about the Groupon discount we used to save us a bunch of money on our excursion to Banger Brewing! If you love a good beer, you won't want to miss this.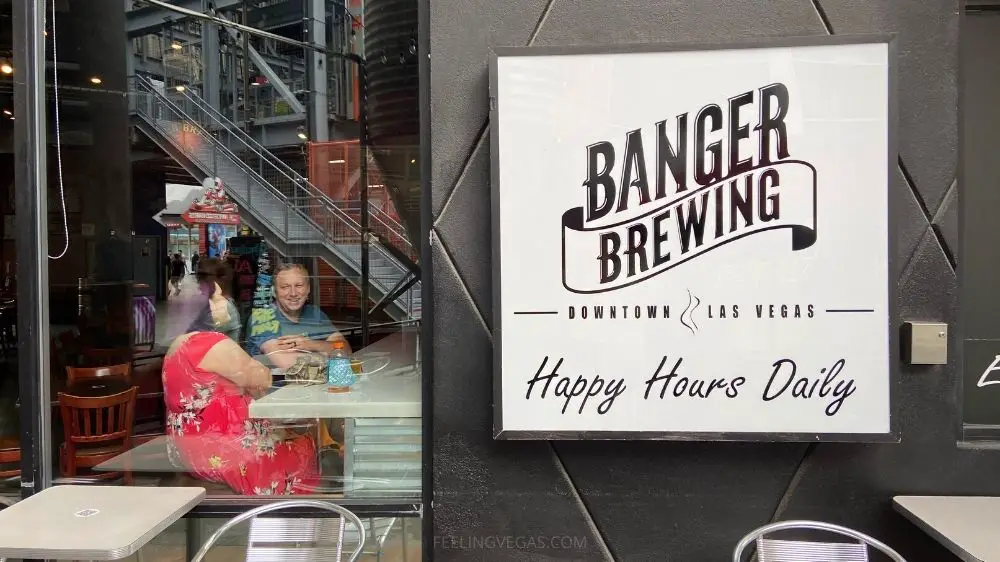 What is Banger Brewing in Las Vegas?
Banger Brewing was the dream of several friends that bonded while working together in the food and beverage industry here in Las Vegas. While Vegas is well-known for its high level of alcohol consumption, it's not known for being home to much in the way of craft brewing.
Banger Brewing aims to change that with its collection of unique brews that include fruit and pepper flavored varieties as well as more standard ales and IPA's.
The craft beer selection at Banger Brewing can be found nowhere else. In order to sample the goods, you'll need to visit the microbrewery in the heart of downtown Las Vegas.
Banger Brewing Beer Menu
While the taproom and brewery are housed in a rather small space, there is plenty of BIG flavor happening on the Banger Brewing beer menu.
Beer
Description
Alcohol by
Volume (ABV)
Watermelon Wheat
An invigorating wheat beer infused with fresh watermelon.
5.6%
Jalapeno Hefe
A wheat beer with a kick! This brew has a mixture of jalapeno, habanero, serrano, and green/red bell peppers.
5.7%
Coffee Kolsch
A refreshingly light ale mixed with French Caramel and Hazelnut coffee beans to add a hint of coffee smell and flavor.
5.5%
Black IPA
Dark roasted malts with a generous addition of hops make this beer a truly unique and opaque IPA.
8.0%
Hazy IPA
Hop, hops, and more hops, plus an infusion of mango & pineapple, make for a very flavorful beer.
6.7%
Mosaic IPA
A blend of Mosaic hops, mango, stonefruit, and pine gives this one an exhilarating citrusy blend.
6.8%
Brown Ale
A dark brown ale with hints of chocolate and caramel. A great classic!
6.4%
Imperial Milk Stout
A very dark stout that's both sweet and malty. A bit of added lactose and coffee flavors give this brew a creamy texture.
10%
Beer Shot
This one is just what it sounds like…a shot glass full of concentrated strong ale. Wow!
15%
Bourbon Barrel Imperial Stout
A dark Imperial Stout that has been aged for 13 months in a bourbon barrel giving it a clean finish.
10.5%
Bourbon Barrel English Barleywine
Aged for a year in bourbon barrels, this Barleywine displays nutty flavors along with a subtle hint of coconut, vanilla, and fruit.
10%
As Banger is a small-run microbrewery, there is always something new on the menu. Take a look at their current beer menu here for the latest updates.
In addition to their own beer, you'll also find a selection of guest beers, wines, and ciders on the menu. There is no food menu at Banger Brewing, so come ready to drink!
Note: Because there is no food served, Banger Brewing can only be visited by those 21 and up.
Banger Brewing Beer Sizes & Pricing
Each beer at Banger is available in two sizes, a 5-ounce tester or a full-sized brew that's between 11 & 16 oz, depending on the variety. The five-ounce taster beers run between $2.50 – $5.00, while the 11 to 16 oz beers cost between $7 and $12.
| 5 Ounce Beers | 11 – 16 Ounce Beers | Crowlers (32 Ounces) |
| --- | --- | --- |
| $2.50 to $5 | $7 to $12 | $11 to $24 |
Beer is also available to go by way of a "Crowler."
You may be familiar with a Growler, which is essentially a glass jug that you can have filled from the tap to take home with you. In the case of Banger Brewing, they offer a ready-to-go crowler which is a 32 oz. aluminum can.
The can is filled from the tap with your beer of choice and sealed using a special capping device. The capping process removes all of the air to keep your beer to-go fresh for a long, long time.
Banger Brewing Groupon Discount
We chose to visit Banger Brewing the same way we usually do when looking for something new to do in Las Vegas…we fired up Groupon and went hunting for something fun to do. The Banger Brewing Groupon Discount jumped out at us right away! We love hanging out and drinking beer downtown, and the choice of interesting flavors intrigued us.
The Groupon deal offered us the "Beer Experience for Two," which included a flight of four 5-ounce beers to sample, two pints each of our favorite beer choices, and two souvenir Banger Brewing pint glasses to take home.
Tip: As you may know, Groupon discounts come and go, so check out this deal, and if it's available…grab it!
Banger Brewing (Our Review)
We had a great time at Banger Brewing! The taproom is relatively small and cozy, and as we were there during the middle of the day, it was pretty quiet, which was perfect for Wendy and me hanging out and enjoying some drinks and good conversation. Due to its location on Fremont Street, I'd imagine that the joint can get pretty hopping in the evenings.
The bar was clean, the service was friendly and helpful, and the beer was great! Although I was eager to try the Jalapeno beer and the Coffee beer in particular, I wasn't at all sure I was actually going to like them. Turns out I did! The flavors were really good, and I would definitely have them again.
When it came to our two pints each, Wendy went with the Brown Ale (her favorite), and I had one Brown Ale and a Strong Ale (aka a Beer Shot). I'd never heard of a "beer shot" before and wasn't going to pass up the opportunity to give it a try.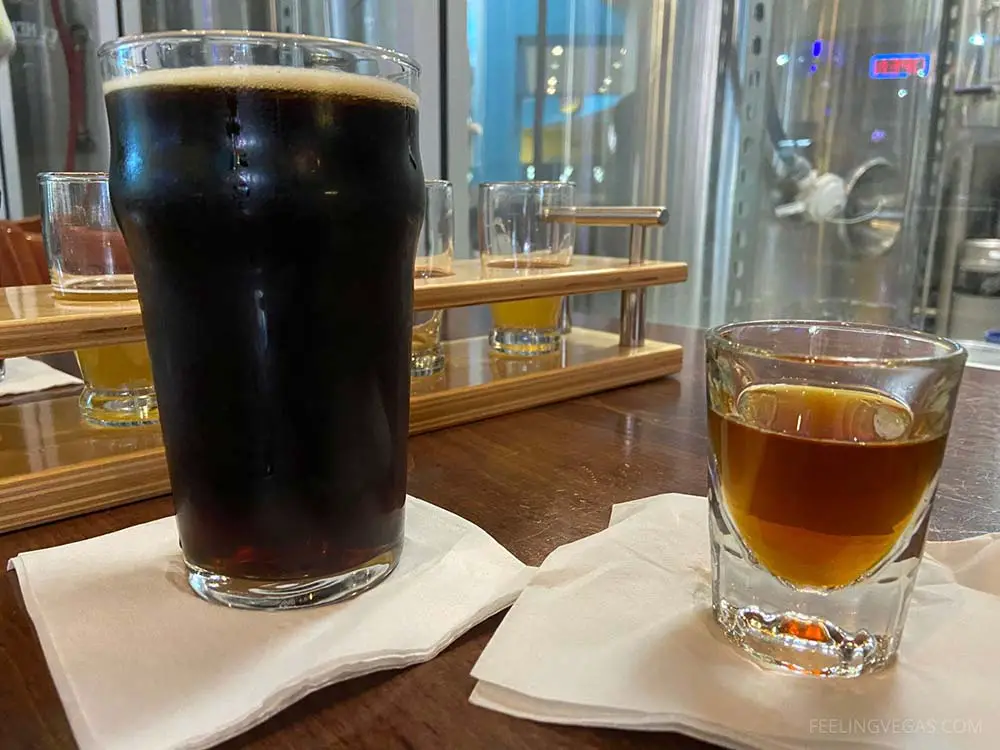 The beer shot came in a shot glass just like you'd expect a shot too, and the best way for me to describe it is it tasted like a concentrated beer. At 15% alcohol by volume, it was just that, a beer…only stronger. If you just came from a big meal and your stomach's full, but you want to get your drink on, I'd recommend a beer shot!
Banger Brewing Happy Hour
Banger Brewing also has a daily happy hour. It's actually a twice-daily happy hour!
From 1 – 3pm daily
10pm till midnight daily
At these times, you can get $2 off every drink. Pretty simple and straightforward.
Banger Brewing Tour in Las Vegas, NV
One of the coolest things about visiting a local brewery is that they often have behind-the-scenes tours available, and Banger Brewing is no exception! They offer a brewery tour where you can check out their brewhouse firsthand and learn exactly how they make their craft beers.
Since no Banger Brewing tour would be complete without a chance to sample the goods, they include a flight of their four signature handcrafted brews.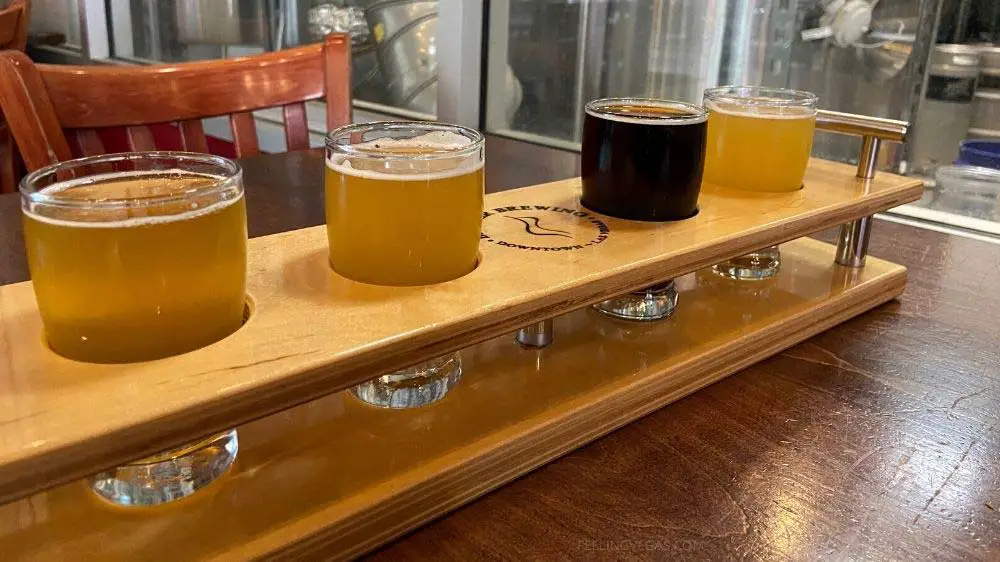 You can schedule a tour here. If you are unable to take a tour for some reason, you'll still have an opportunity to take a look at the brewing area as it's located right next to the tasting room, and the huge windows will allow you a great view of the entire operation.
Banger Brewing Events
In addition to great beer, an excellent location, and brewery tours, Banger Brewing also hosts some of its own events. For instance, on the first Wednesday of each month, Banger hosts a "Bingo and Beers" night. It's free to play, and you have the chance to win free beer as well as have some fun!
You can take a look at upcoming Banger Brewing events on their website here.
Banger Brewing Location, Directions & Hours
You'll find Banger Brewing on Fremont Street in downtown Las Vegas. It's right past the Heart Attack Grill on your right, just before you enter the Fremont Street Experience.
Address: 450 E Fremont St, Las Vegas, NV (Click this link on google maps in order to get turn-by-turn directions to Banger Brewing from wherever you are).
Hours: Banger Brewing is open Sunday – Thursday from 12pm to 12am, Friday & Saturday from 11am to 12am
Banger Brewing in Las Vegas – Final Thoughts
If you're a fan of beer, then you'll be a fan of Banger Brewing. It's a Las Vegas brewery you won't want to miss. Be sure to check them out the next time you're in Vegas!
Recommended Reading: 9 Best Cheap Eats on Fremont Street (Downtown Vegas)