Gordon Ramsay Burger in Las Vegas (Menu & Prices)
(This article may contain affiliate links. If you click through and make a purchase, we will receive a small commission at no additional cost to you. )
Gordon Ramsay is a household name. He hosts numerous cooking shows and competitions, owns restaurants worldwide, and holds 7 Michelin stars. But you don't have to break the bank to enjoy delicious recipes from this chef. Just visit Gordon Ramsay Burger next time you're in Las Vegas.
The menu at the Gordon Ramsay Burger restaurant in Las Vegas consists of classic burgers, fries, and milkshakes created by world-renowned chef Gordon Ramsay. The prices are quite reasonable for Vegas, with burgers costing between $17 and $26 each and appetizers running in the $10 to $16 range.
Located inside Planet Hollywood Resort and Casino in Las Vegas, Nevada, Chef Ramsay has brought his high-class cooking to a family-friendly level. Read on to learn what this restaurant offers in terms of its menu and how much it'll cost to eat at a Ramsay eatery.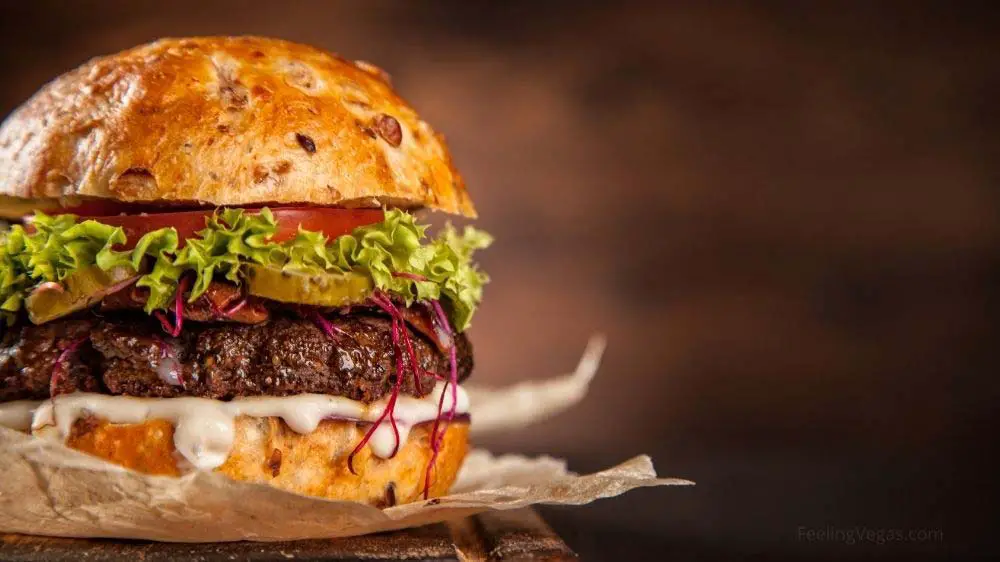 Gordon Ramsay Burger Menu (Snacks, Burgers & Dogs)
The menu at the Gordon Ramsay Burger restaurant caters to all diets with gluten-free and vegetarian options.
Snacks / Appetizers
To start the meal, you can order a small plate item that is great for sharing. The wide variety of options ensures you will find something for everyone.
Beer Battered Onion Rings: These onion rings are a classic worth sharing. They come with Parmigiano-Reggiano cheese, chipotle ketchup, and a cheddar ranch dip. – $9.99
Hummus: For a lighter option, you can get hummus served with veggie sticks and flatbread for dipping. – $13.99
Street Corn Dip: This appetizer is great to share with the whole table. The corn is first roasted over an open grill then mixed with jalapeño and Fresno peppers for a nice kick. Combined with these veggies, you'll find a variety of cheeses, lime, and cilantro. Fresh corn chips for dipping come on the side. – $13.99
Brunch Tots: Loaded with a complete breakfast, brunch tots are just what you need to kick off the day. These tots come covered in sausage gravy, fried egg, and bacon. – $15.99
Hellfire Chicken Wings: These wings are a great afternoon snack. They come tossed in their signature tangy hellfire sauce and come served with blue cheese. – $15.99
Burgers
The stars of the Gordon Ramsay Burger menu are, of course, the variety of burgers. You can also substitute a classic burger patty for a plant-based patty for an additional $6.00.
Backyard Burger: The backyard burger is Ramsay's take on the classic American cheeseburger. It comes with American cheese, lettuce, tomato, pickle, and onion. – $16.99
Blue Cheeseburger: The blue cheeseburger has blue and Manchego cheeses. It comes topped with arugula, figgy jam, cider vinegar reduction, and spicy mayo. – $16.99
UK Burger: No Ramsay restaurant is complete without a UK namesake. This scrummy burger has Dubliner cheese, mango chutney, and arugula. – $16.99
Stout Burger: The Guinness mustard aioli makes this burger stand out from the rest. The gruyere cheese, mushrooms, and crispy onions elevate this classic bar burger to a new level. – $16.99
Hell's Kitchen Burger: This burger's name comes from one of Ramsay's most popular television shows, and fittingly, it is a little spicy. This burger comes topped with roasted jalapenos, Asadero cheese, roasted tomatoes, avacodo and jalapeño aioli. – $17.99
Crispy Cherry Pepper Chicken: If you love chicken sandwiches, you'll enjoy this crispy patty topped with marinated tomatoes, lettuce, avocado, and a cherry pepper spread. – $17.99
Farmhouse Burger: This is the Ramsay take on the classic breakfast burger. Bacon, Dubliner cheese, and a fried egg all come on top of this delicious burger. – $17.99
Ultimate Cheeseburger: This burger has three delicious kinds of cheese: provolone, Dubliner, and Boursin. – $17.99
Fish and Crisps Burger: Fish lovers will enjoy this classic fish burger topped with citrus tartar and lemon cabbage and served with salt and vinegar crisps. – $17.99
Viva Vegan Burger: If a plant-based patty is calling your name, try this one covered in roasted tomatoes, lettuce, avocado, and eggless garlic mayo. – $21.99
24-Hour Burger: This house specialty is not your traditional burger. This braised short rib comes smothered in red-eye BBQ sauce then topped with white cheddar cheese, bacon, arugula, cold brew vinaigrette, and pickled shallots. – $24.99
Truffle Burger: The truffle burger is another house specialty. It comes with tremor cheese, bacon, frisée, pickled shallot, and a fried egg. The truffle butter and truffle aioli on this decadent burger give it its name. – $25.99
RELATED: Find out how much it costs to eat at Gordon Ramsay's Hell's Kitchen in Las Vegas
Hot Dogs
Ramsay Burger wouldn't be an American burger restaurant if it didn't also have footlong hotdogs:
Straight Up Dawg: This is a classic hotdog combination with pickles, onions, mustard, and ketchup. – $16.99
Hog Dawg: This meaty dog comes wrapped in bacon and smothered with BBQ pork and cheese sauce. It also comes with cabbage slaw, pickles, and crispy onion strings for a complete backyard BBQ on a bun. – $17.99
Sides, Sweets, and Tasty Drink Menu at Gordon Ramsay Burger
No meal is complete without sides, dessert, and a beverage to wash it all down.
Sides
Ramsay Burger has the perfect pairing for any of their main dishes.
Just Tots – $8.99
Just Fries – $8.99
Sweet Potato Fries – $9.99
Truffle Parmesan Fries – $11.99
Sweets
I have great news for those with a sweet tooth. Ramsay Burger serves up some classic American desserts with a little English spin.
English Toffee Shake: This ice cream shake, using brown butter, comes with almond coffee and a Biscoff cookie. – $8.99
Chocolate Malt Shake: The classic burger joint chocolate shake also comes with a decadent brownie. – $8.99
Sticky Toffee Pudding Ice Cream Sandwich: This treat is perfect for those who enjoy their brown butter ice cream with a classic sticky toffee pudding. – $9.99
Oreo Crème Brulee Shake: The Oreo milkshake is elevated with a crème brulee pudding top. – $9.99
Tasty Drinks
Gordon Ramsay Burger offers a variety of family-friendly and alcoholic beverages. For those wanting a non-alcoholic drink, you can enjoy:
Fountain Drinks or Aquafina – $5.00
Coffee or Tea – $5.00
Perrier – $6.00
Fiji or Red Bull – $7.00
Specialty Mocktails – $7.00
For those who would like something a bit stronger:
Beer: Ramsay Burger carries a variety of draught and bottled beers. You can also enjoy a beer flight that includes four 5 ounce (148 mL) pours from the selection of 30+ draught beer options for $19.00.
Wine: Red, white, and sparkling wines come by the glass or by the bottle. Enjoy a classic Champagne or even one of Gordon Ramsay's own bottles (Chardonnay, Sauvignon Blanc, or Cabernet from California). Prices by the glass range from $14.00 – $19.00. Prices by the bottle range from $65.00 to $135.00.
Cocktails: If you want something with even more of a kick, you'll have your choice of cocktails. There are sweet options like the Pear and Apple White Sangria and spicier options like the Oh' Bloody Hell. All cocktails are $18.00, and select drinks are available in fishbowl sizes (52 oz./1.5 L) for $45.00.
Since menu items and prices are always subject to change, here's a link to a PDF of Gordon Ramsay Burger's complete menu.
Final Thoughts
If you want to dine with a world-class chef on a more casual level, you should check out the Gordon Ramsay Burger restaurant at Planet Hollywood on the Las Vegas Strip.
Chef Ramsay has used his signature cooking style to elevate the classic burger and fries restaurant to a fine dining experience at an affordable price.
Next time you are in Las Vegas, take the whole family for a bite!
More Eating in Las Vegas Articles
Sources: