Heart Attack Grill Las Vegas (Menu, Prices & Restaurant Hours)
Have you ever wanted to eat a 20,000-calorie burger served by a waitress in a nurse's outfit? Do you love greasy cheeseburgers and wine served in an IV bag? Then the Heart Attack Grill in downtown Las Vegas, Nevada, is the place for you!
You can live large at the Heart Attack Grill, which serves excessively high-calorie burgers, fries, and shakes. This controversial Vegas restaurant has made headlines for years due to its unhealthy food and humorous name. It is open from 11 am to 10 pm, and menu items run between $7-$33 each.
Keep reading to learn more about the Heart Attack Grill, its history, what to eat while you're there, how much it will cost you, and how you can eat for free. Plus, you won't want to miss the photos!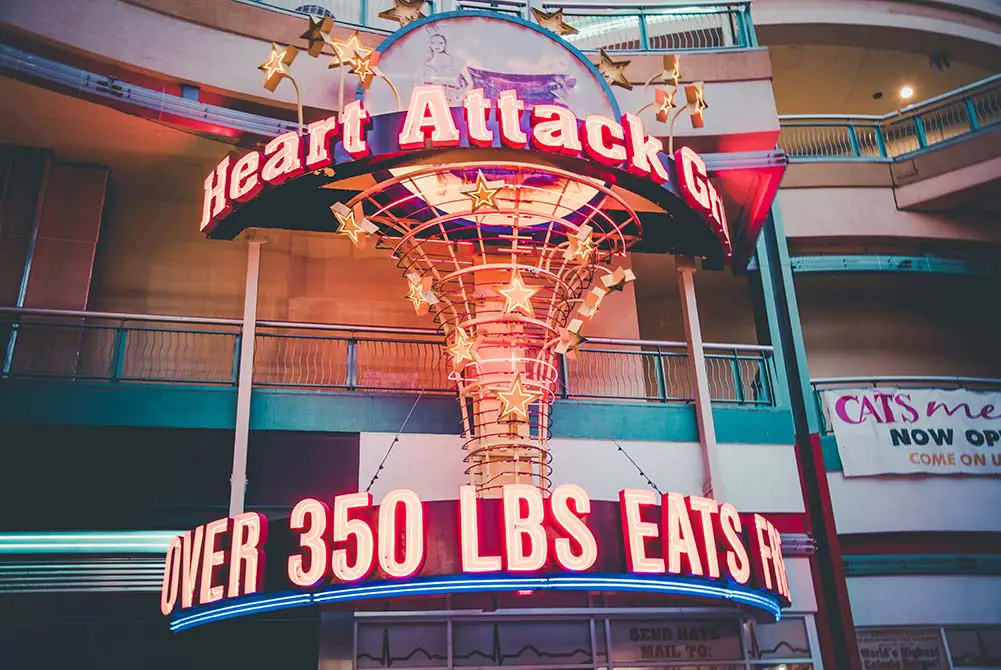 What Is the Heart Attack Grill Restaurant?
The Heart Attack Grill is a burger joint located in downtown Las Vegas on Fremont St. It is a hospital-themed restaurant that serves burgers, hot dogs, and fries that come in at a whoppingly high-calorie count.
Customers of the restaurant are "patients" and receive a hospital gown when they arrive. From there, "nurses" serve the food and will even publicly spank patients who don't finish their food.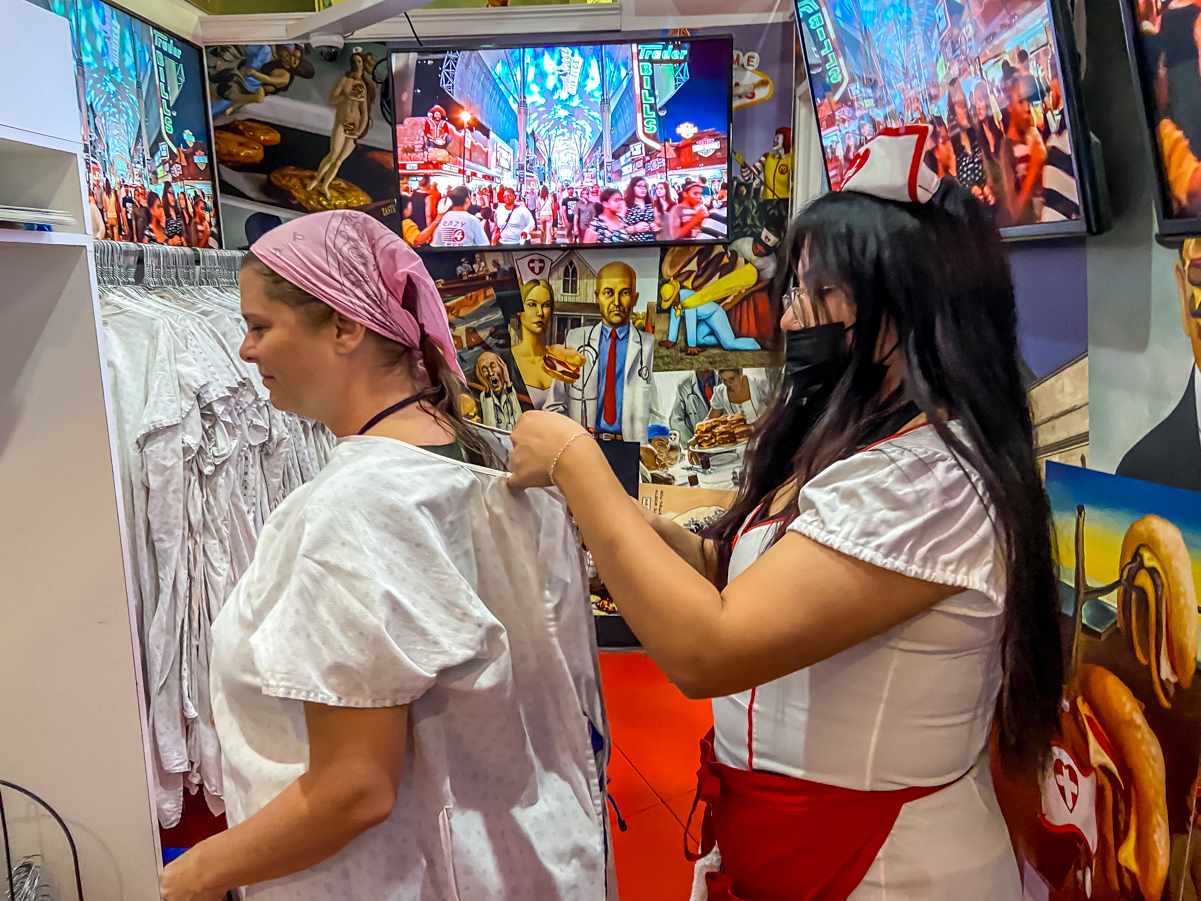 The Heart Attack Grill boasts about its unhealthiness. The owner Jon Basso, refers to himself as the "Chief Surgeon." Jon (who's not a real doctor, by the way) has been very vocal about fast food and the adverse effects it has on people's health.
Having said that, the artery-clogging good time provided by the Heart Attack Grill makes it a standout for Las Vegas tourists. The gluttony of the patrons is on full display, and everyone revels in the experience.
How Much Does it Cost to Eat at Heart Attack Grill? (Prices)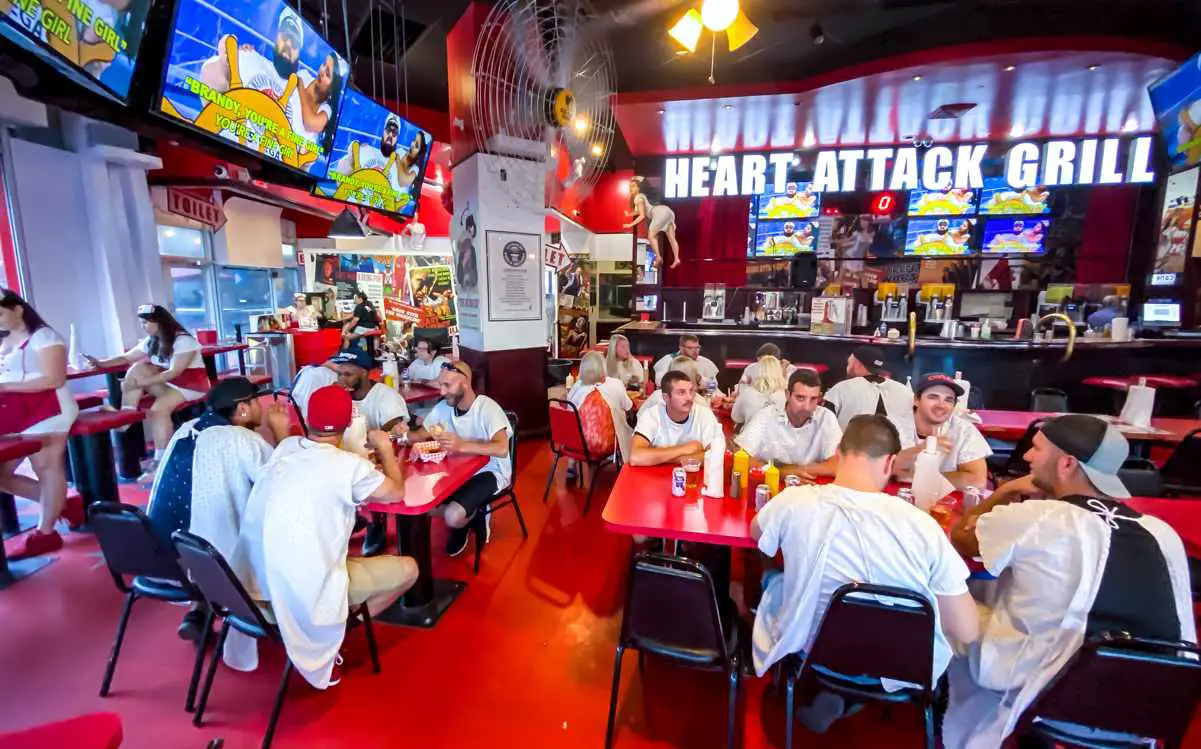 On average, it costs $25.40 for an individual to eat at the Heart Attack Grill in Las Vegas. This price includes a Double Bypass Burger, a side of fries, and a milkshake. The costs can go up from there if you want a bigger burger or choose to add alcohol or jello shots to your meal.
Heart Attack Grill Menu
The entire menu is heart attack-themed, and the stars of the menu are the many Bypass Burgers. These range from the Single Bypass Burger, which has one patty, to the Octuple Bypass Burger, which has eight patties.
If calories are your goal, you can't go wrong with the Octuple Bypass, which comes in at nearly 20,000 calories.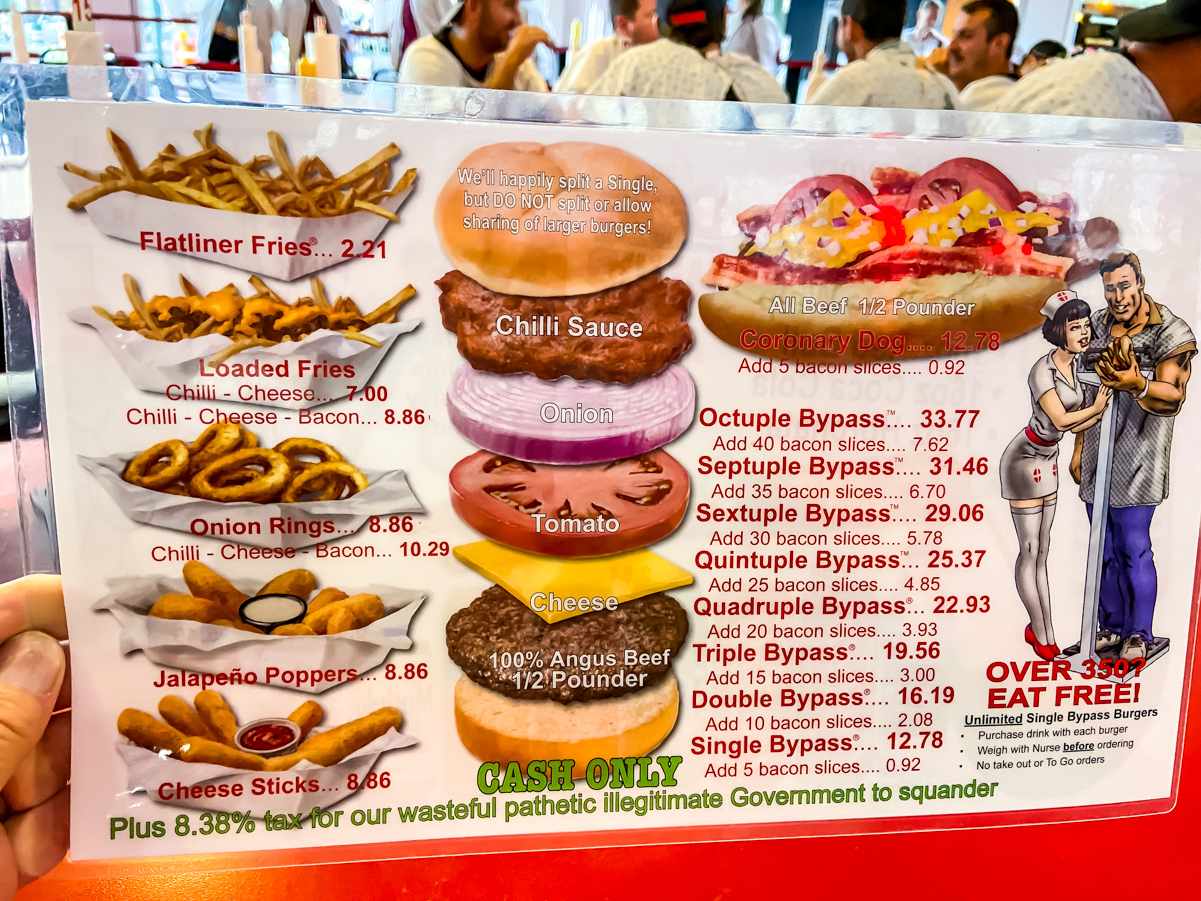 Note: Click here to download a PDF of the Heart Attack Grill menu (303 kb)
No main dish would be complete without sides. At the Heart Attack Grill, you can enjoy a ½ pound (⅕ kg) coronary dog, some Flatliner Fries with or without chili cheese, and onion rings. All sides are deep-fried in pure lard. A pack of no-filter cigarettes to go is also an option.
Of course, you'll also need a beverage to wash down all those calories. You can choose an ice cream float or a classic milkshake, but the whipped vodka is optional.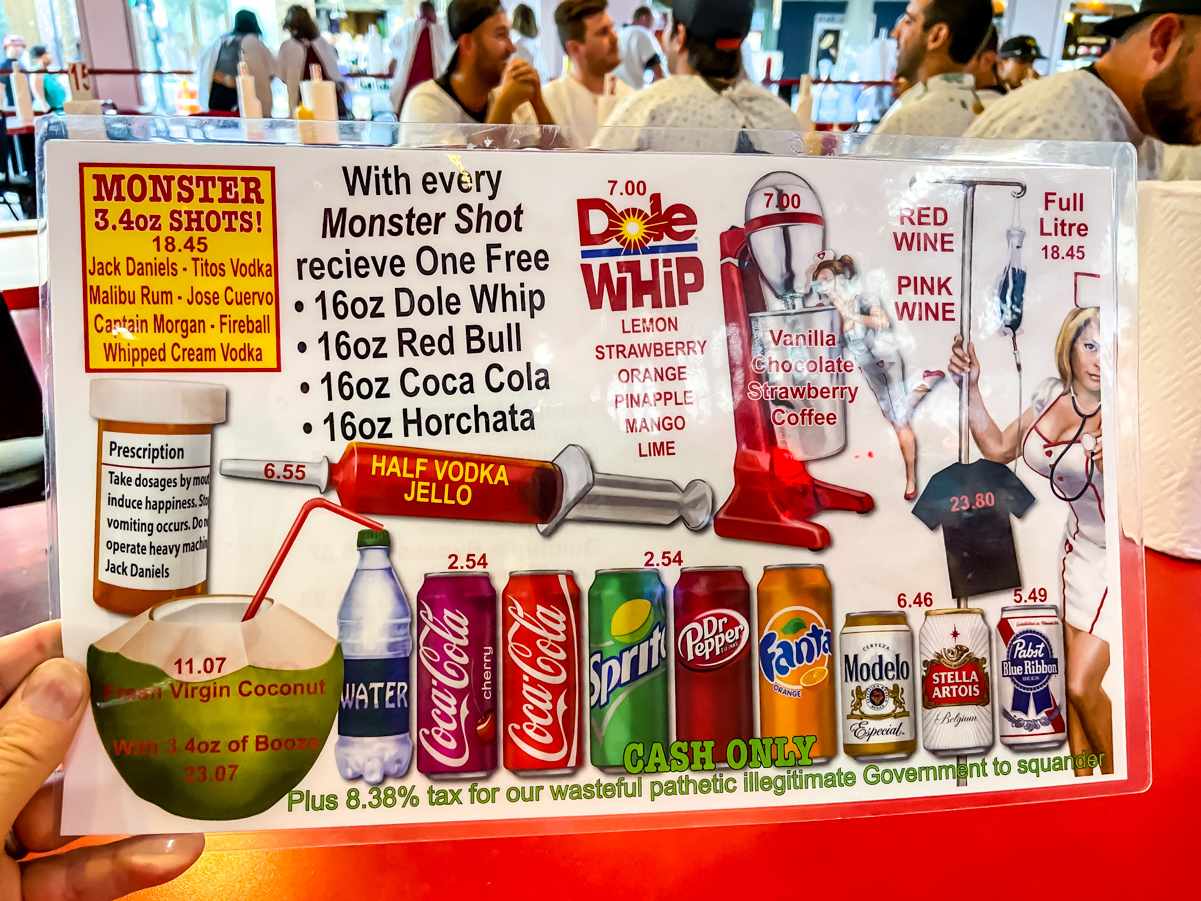 You can also choose one of the many alcoholic beverages offered. Beers include:
Modelo
Stella Artois
Pabst Blue Ribbon (classy huh?)
If you are feeling dehydrated, you can also get your red or pink wine in an IV bag. There are also various spirits and liquors to choose from, but if doing straight shots isn't your thing, you can get a Jello shot from a nurse that comes in a syringe and is ready to shoot into your mouth.
The price of your Bypass Burger will depend on how many beef patties you need.
Single Bypass – $12.78 (add 5 bacon slices for $0.92)
Double Bypass – $16.19 (add 10 bacon slices for $2.08)
Triple Bypass – $19.56 (add 15 bacon slices for $3.00)
Quadruple Bypass – $22.93 (add 20 bacon slices for $3.93)
Quintuple Bypass – $25.37 (add 25 bacon slices for $4.85)
Sextuple Bypass – $29.06 (add 30 bacon slices for $5.78)
Septuple Bypass – $31.46 (add 35 bacon slices for $6.70)
Octuple Bypass – $33.77 (add 40 bacon slices for $7.62)
You can add a side to your meal or a coronary dog for less than $10.
Flatliner Fries – $2.21
Chili Cheese Flatliner Fries – $7.00
Onion Rings – $8.86
Coronary Dog – $12.78 (add bacon for $0.92)
Family-friendly beverages range from $2.31 to $6.00.
Bottled Water – $2.54
Soda – $2.54
Dole Whip – $7.00
Milkshake – $7.00
The alcoholic beverages are a little more expensive, ranging from $5.54 to $17.32.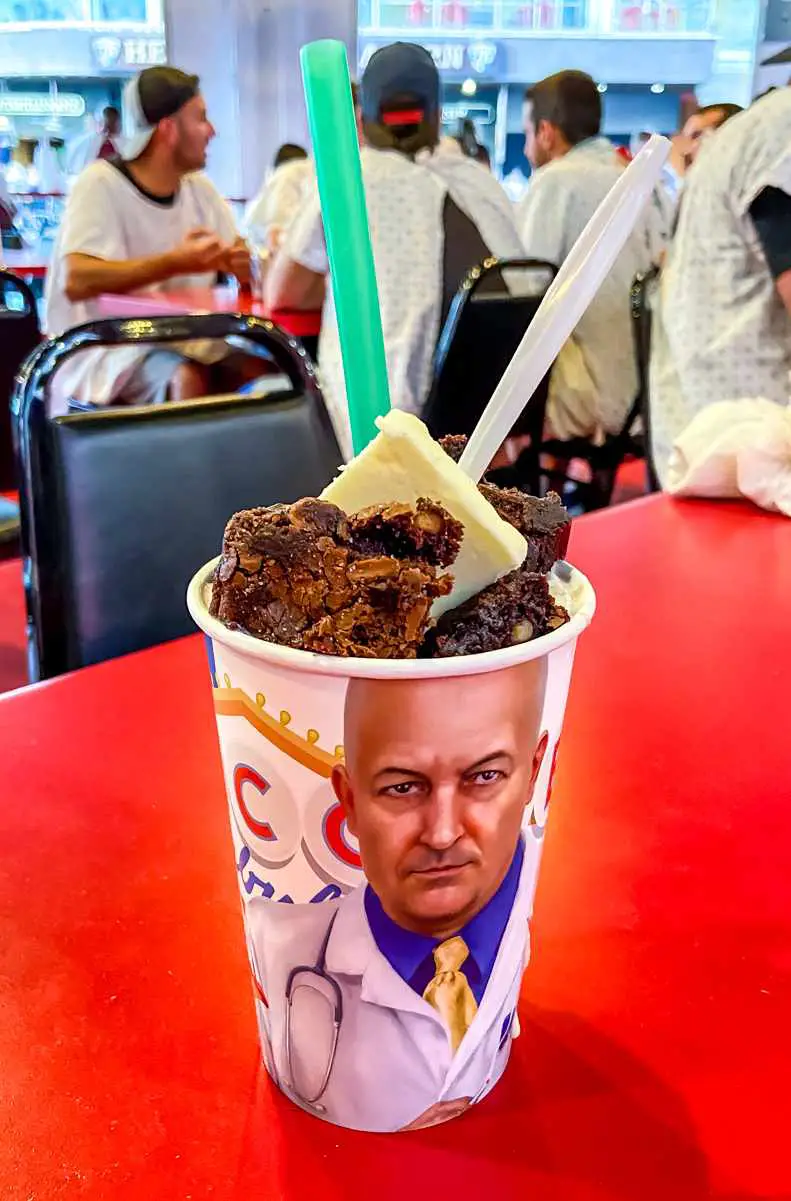 Beer – $5.49 – $6.46
Jello Shots – $6.55
Wine – $18.45
Monster Shots 3.4 oz (100.6 mL) – $18.45

Jose Cuervo Tequila
Jack Daniels
Titos Vodka

Whipped Cream Vodka
Malibu Rum
Captain Morgan
Fireball
If you want a souvenir, t-shirts are $23.80.
Important Note: Be sure to stop at the ATM before you go because this restaurant is cash only.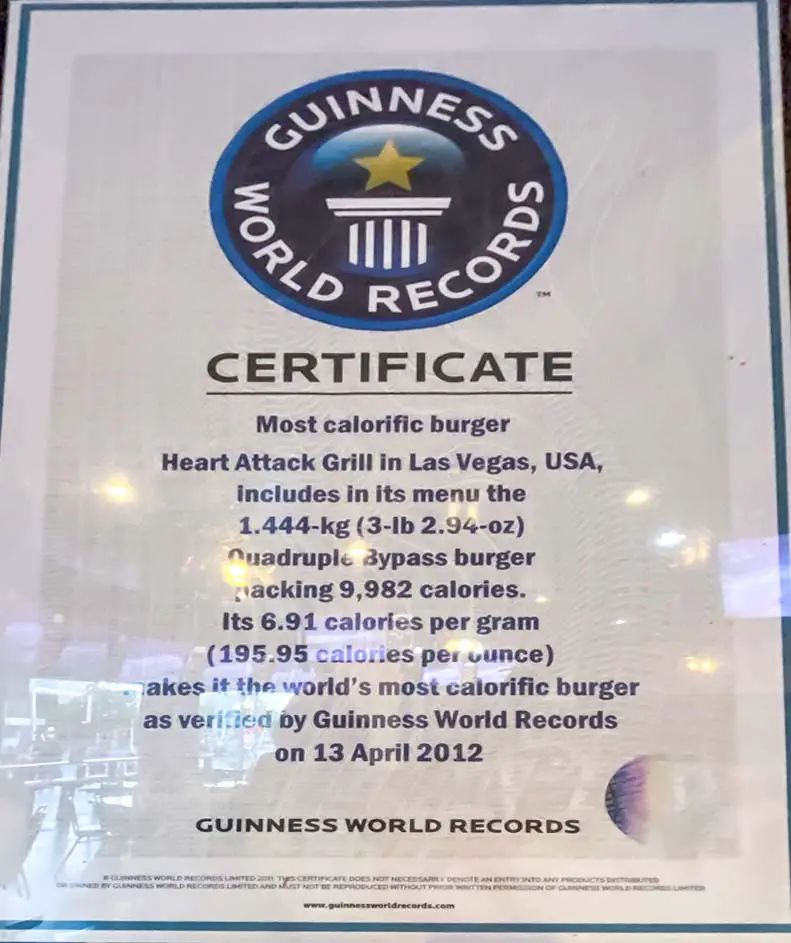 In case you're wondering if the Heart Attack Grill is the real deal when it comes to the over-the-top calorie counts, this certificate (image above) from Guinness World Records is proudly displayed in the restaurant. It shows that the Quadruple Bypass burger is a whopping 9,982 calories and weighs over 3lbs!
Just reading the calorie count on the certificate above is enough to give you heart palpitations.
Related: 9 Best Cheap Eats on Fremont Street (Downtown Vegas)
Getting Spanked at The Heart Attack Grill
One of the caveats for eating at the Heart Attack Grill (you have to agree before ordering) is that if you don't finish your meal, you will receive a public spanking.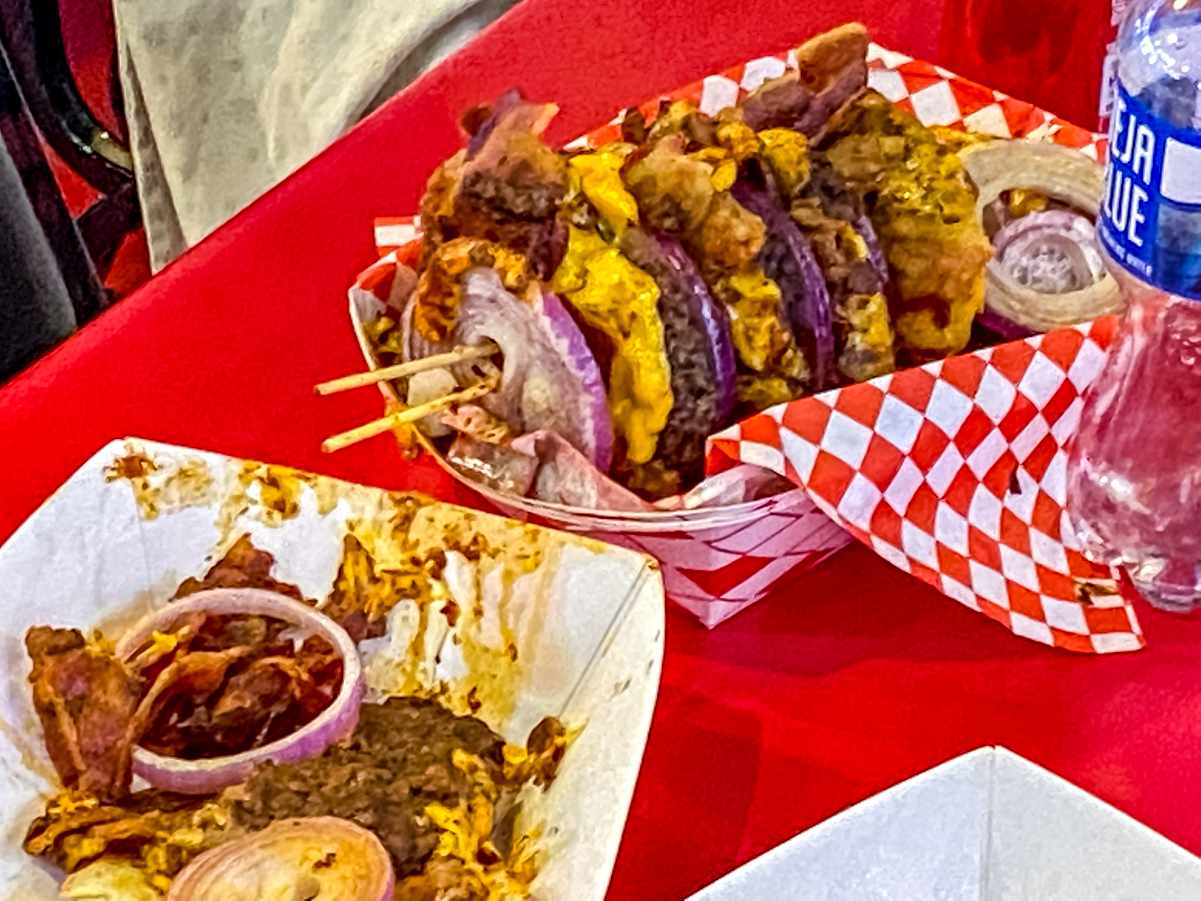 Anyone not cleaning their plate has to hold onto the flogging bar and bend over to receive their swats.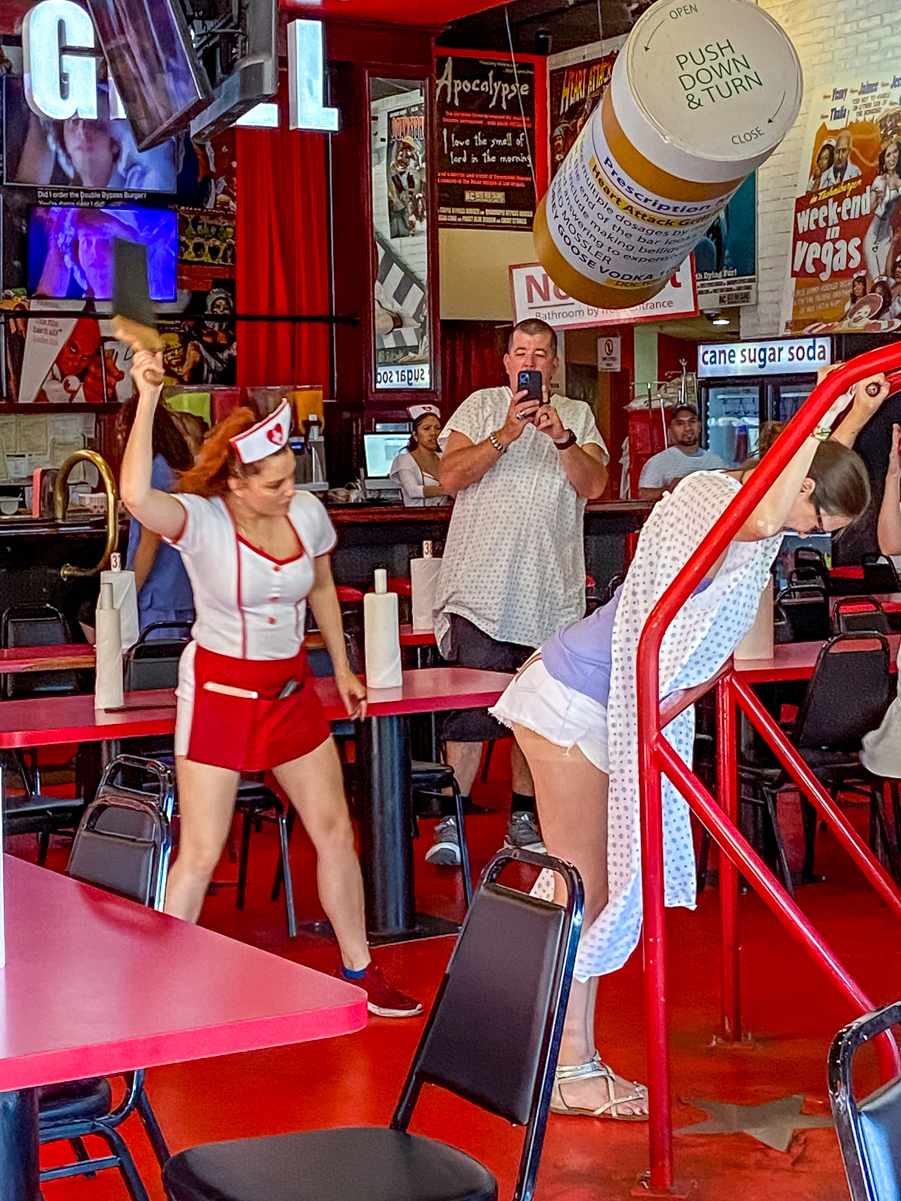 How Much Do You Have to Weigh to Eat For Free at The Heart Attack Grill?
One of the most famous claims of the Heart Attack Grill is that all customers who weigh over 350 lbs (136 kg) and are willing to prove it via a weigh-in on their giant scale eat for free!
So the deal is that if you weigh over 350lbs and are willing to publicly weigh yourself in front of a rowdy crowd on a scale made for animal livestock, you can, in fact, eat for free.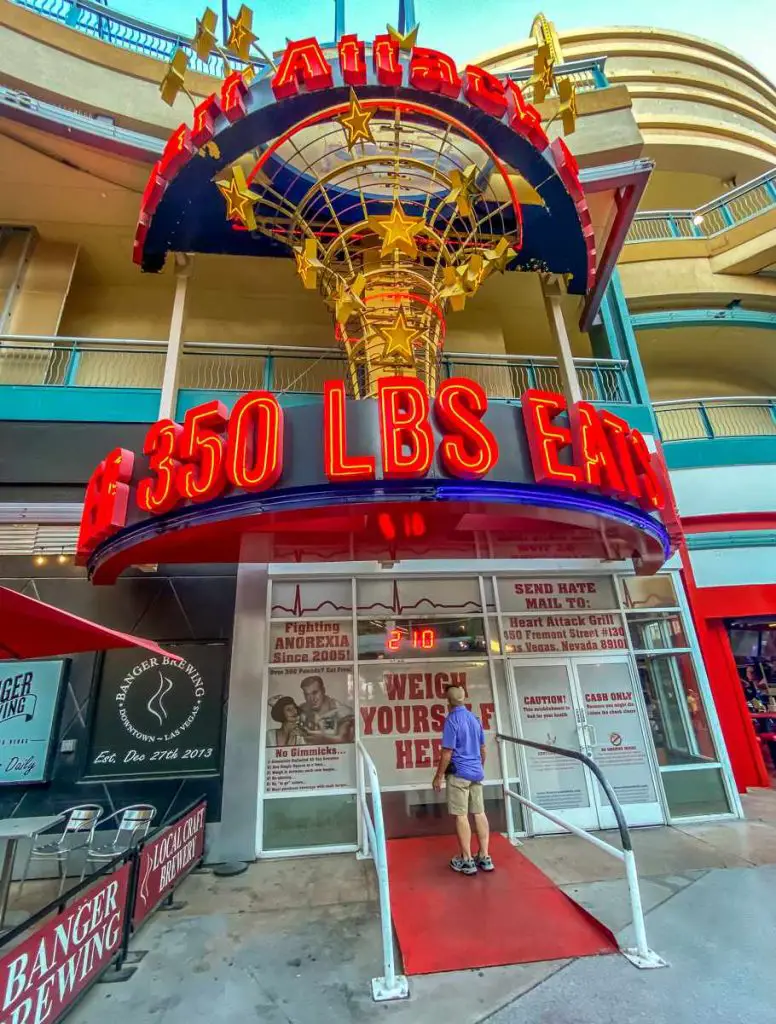 If you qualify, you can have an unlimited number of free Single Bypass Burgers, but you'll need to order a drink with each one. To-go orders and meal sharing are not allowed with this deal.
Can You Make Reservations at Heart Attack Grill?
Heart Attack Grill does not accept reservations. It is first come, first served. You shouldn't have much trouble getting in with a small party during the week, but during busy weekends or with large groups, you may want to eat at slightly off meal times when it's less busy.
Is Heart Attack Grill Cash Only?
The Heart Attack Grill only accepts cash. No debit or credit cards will be taken. The grill jokes that the joint is "Cash only, because you might die before the check clears."
You can find an ATM machine close to the restaurant near the Fremont Street Experience before you head inside. You can find directions to the closest ATM machine here (google maps).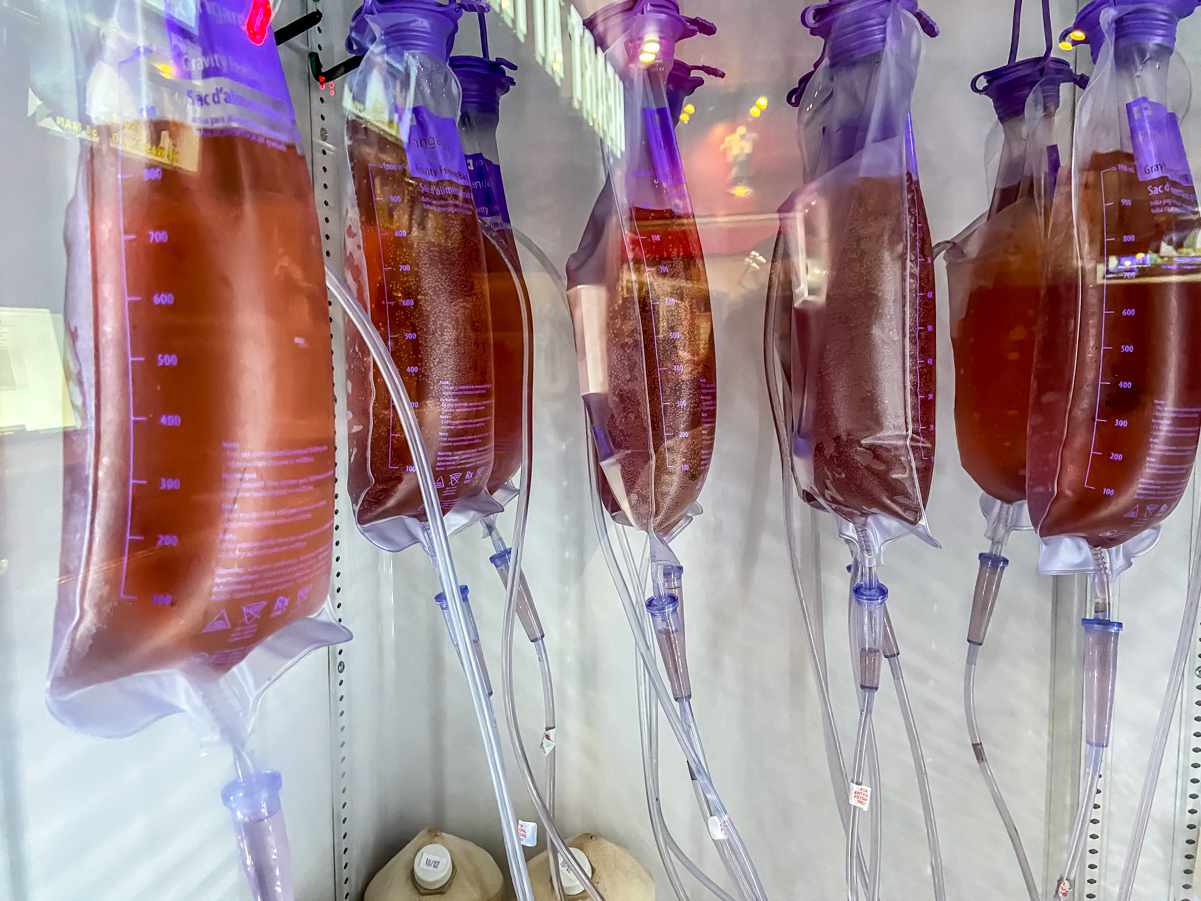 Heart Attack Grill Location and Hours
The Heart Attack Grill is open daily from 11 am-10 pm. It is the perfect spot for lunch or dinner before taking advantage of all the other things Fremont Street has to offer. And since they are open until 10 pm, you can fuel up before you head to the many 24-hour casinos.
You'll find the Heart Attack Grill in downtown Las Vegas just before the entrance to the Fremont Street Experience (google maps). It about a 13-minute drive from the Bellagio on Las Vegas Blvd.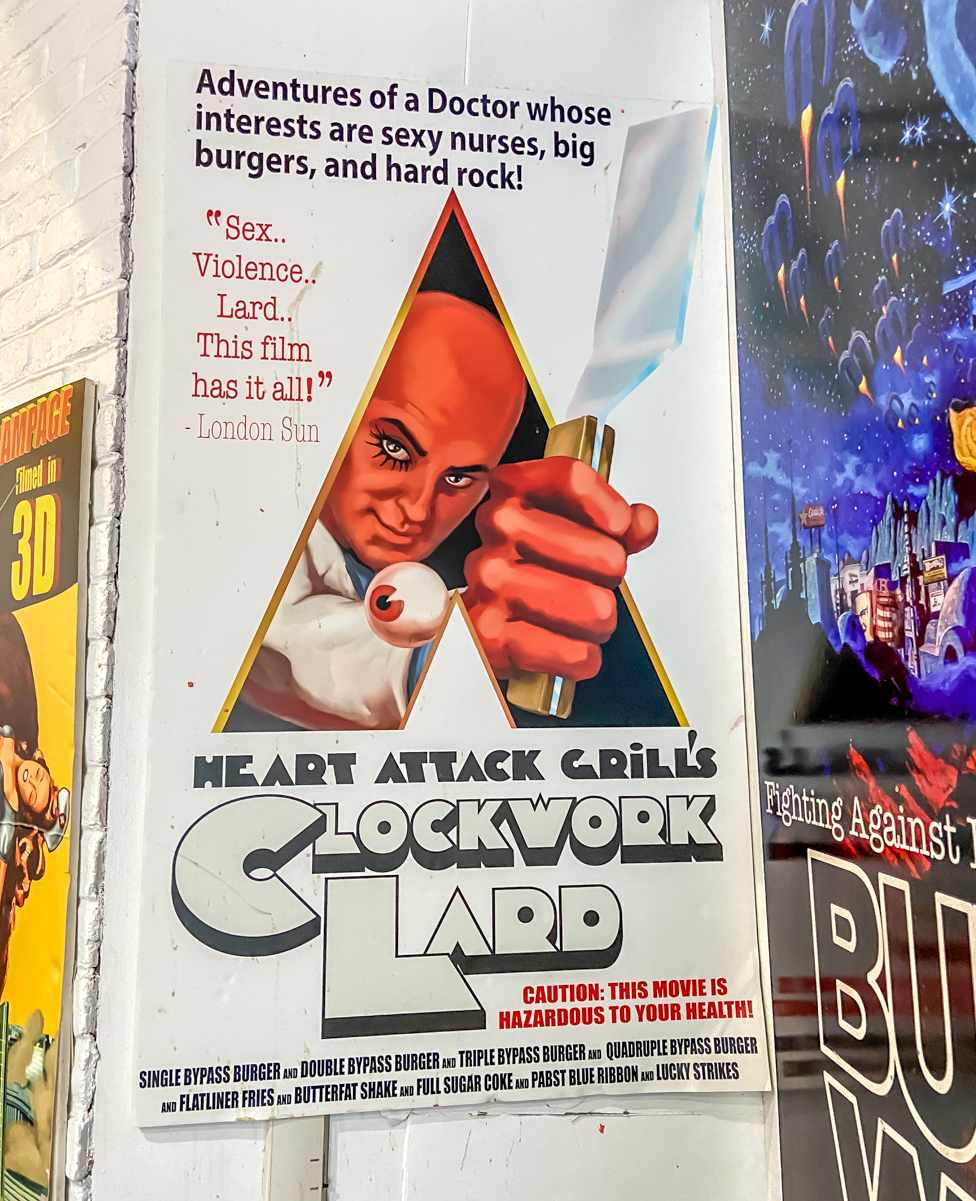 History of the Heart Attack Grill
Jon Basso first opened the Heart Attack Grill in Tempe, Arizona, in 2005. A second restaurant opened in 2011 in Dallas, Texas. Both locations closed, and the Las Vegas location debuted in October 2011.
Before opening the Heart Attack Grill, Jon Basso was a franchise owner at Jenny Craig. His job was to help people lose weight and start an active lifestyle. Though you may think his turn to greasy food is a stark change of events, he claims the opposite.
Jon says that the restaurant is making a statement about obesity and coronary issues.
Death at the Heart Attack Grill
It may not surprise you to learn that several people have had health issues and even died at the Heart Attack Grill. This death toll includes two of the company's spokesmen.
Blair River, aged 29 and weighing 575 pounds (261 kg), passed away in 2011 due to pneumonia complications. John Alleman, a daily customer aged 52, died of a heart attack in 2012.
In addition to these two tragic events, another man had a heart attack while dining at the restaurant, and another woman collapsed while eating a burger and smoking a cigarette.
So heart failure from regularly eating at this restaurant is a real possibility.
Additional Heart Attack Grill Questions & Answers
Do you have to finish your food at Heart Attack Grill?
You don't have to clean your plate when dining at the Heart Attack Grill. However, you may be subject to a public spanking if you don't. All in good fun, of course!
Is the Heart Attack Grill kid-friendly?
The Heart Attack Grill is kid-friendly and welcomes families with children of all ages. However, be aware that the restaurant sometimes hosts bachelor and bachelorette parties and can get rowdy. A family visit during the day is your best bet.
How much is the Octuple Bypass Burger?
The Octuple Bypass burger costs $33.77. In addition, you can add 40 slices of bacon for an extra $7.62.
Is the owner of Heart Attack Grill a real doctor?
Heck, no! Not even close! Believe it or not, "Dr. Jon," as he's referred to, actually once owned a Jenny Craig franchise before becoming "disillusioned" by the entire weight loss industry.
Is the Heart Attack Grill a fun place to eat?
Many Las Vegas visitors find the Heart Attack Grill a fun and unique dining experience due to its over-the-top theme and controversial menu items. However, others may not enjoy the restaurant's shock value or its unhealthy food options.
A Few More Heart Attack Grill Photos
Because there are so many cool things to look at inside the Heart Attack Grill, I couldn't resist showing you a few more pictures I took the last time we were there.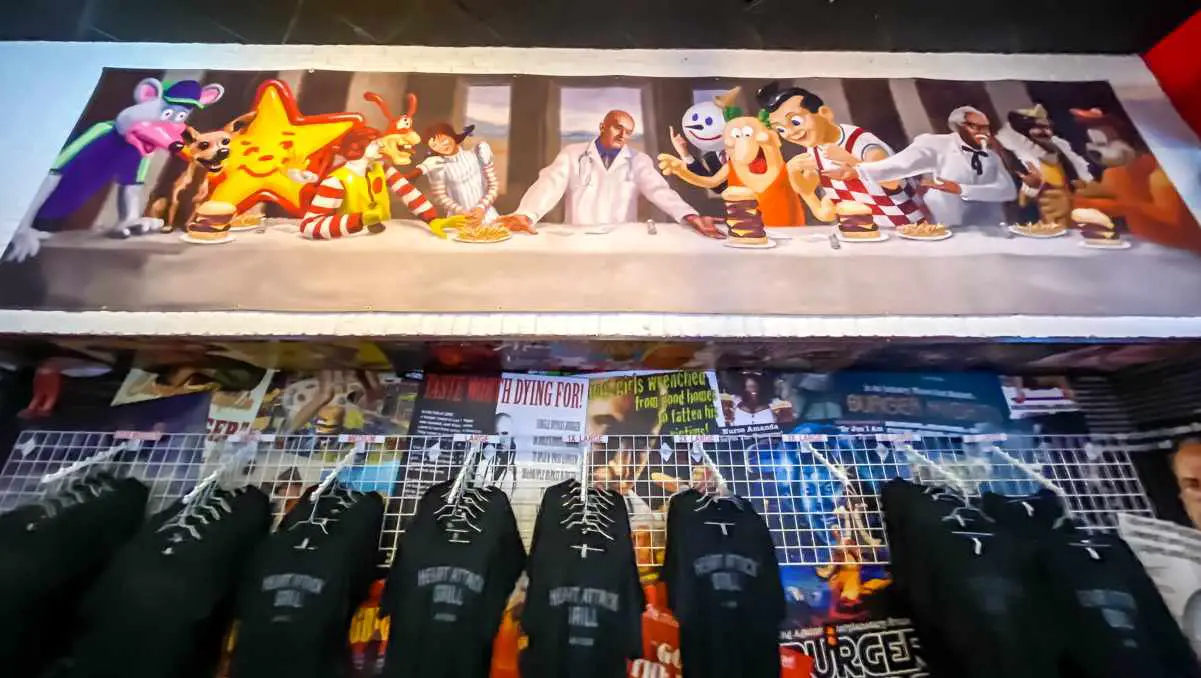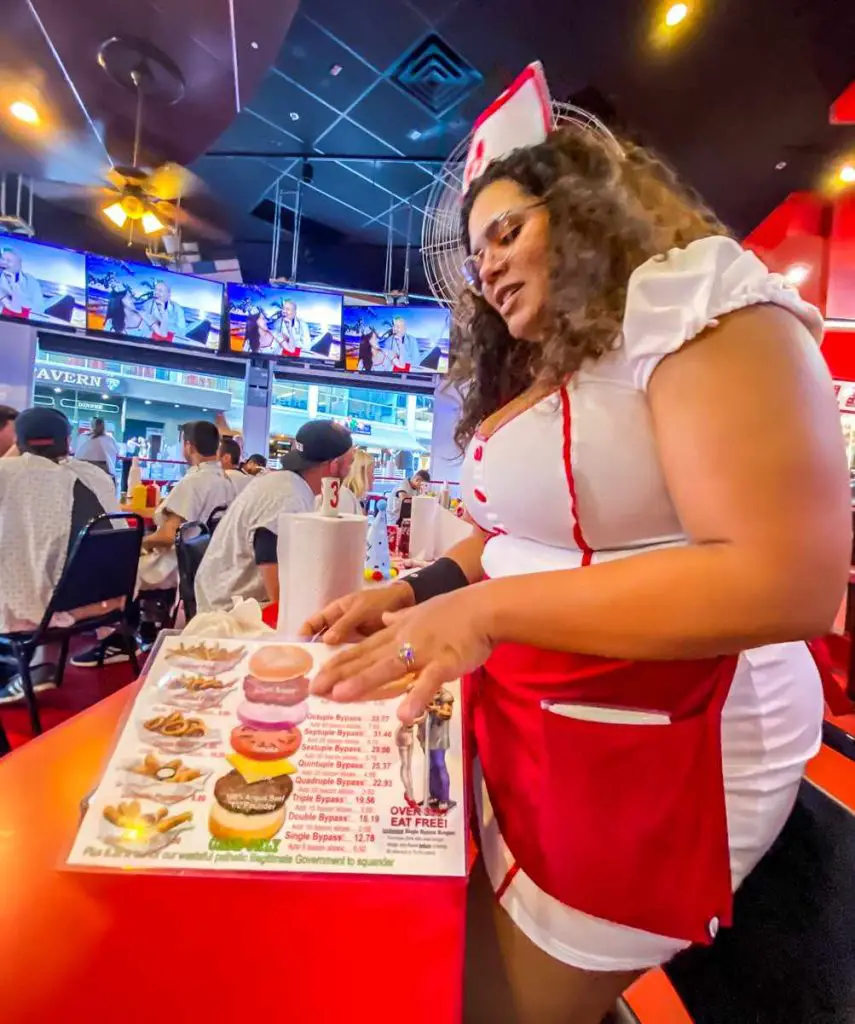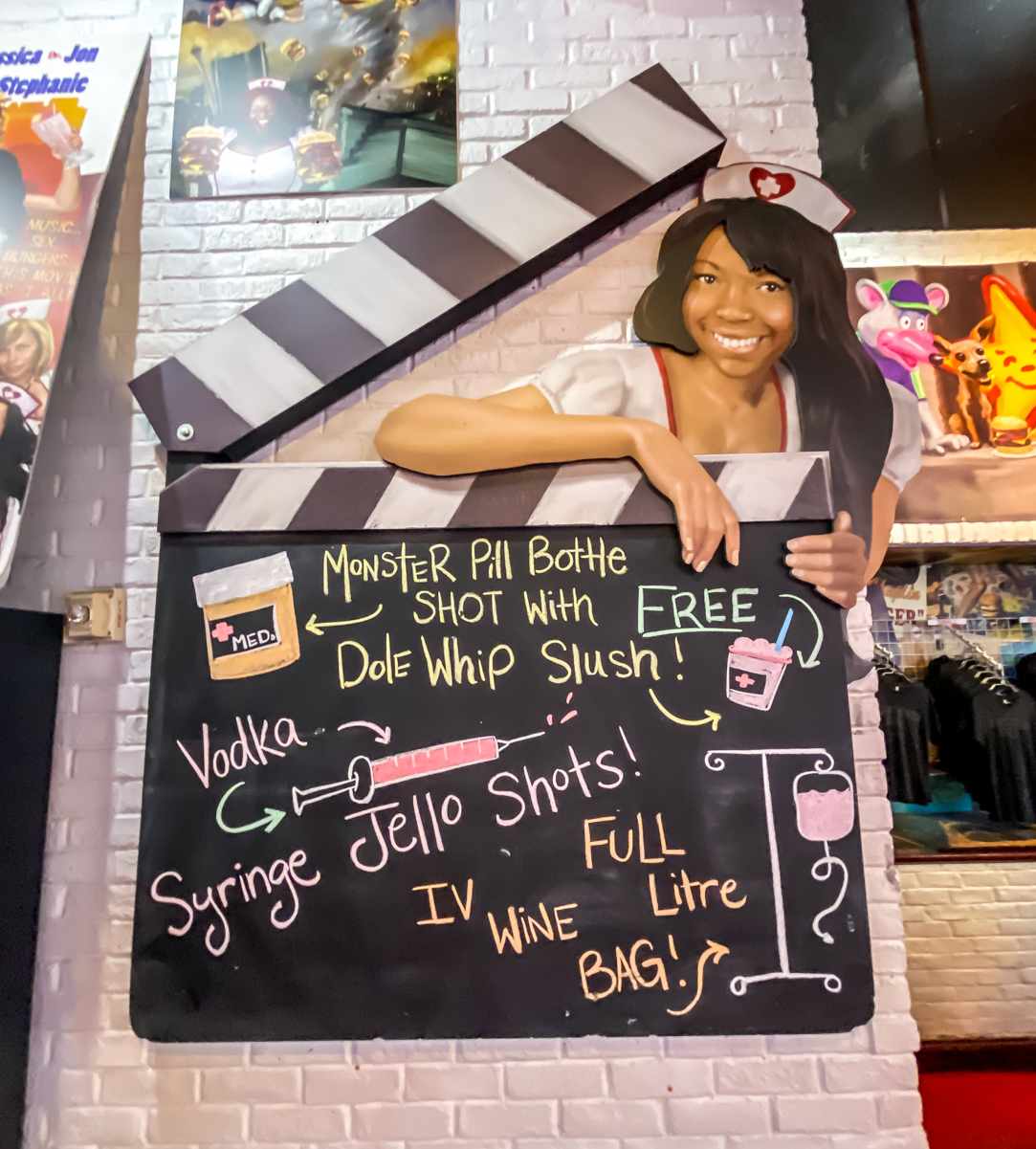 Final Thoughts
The Heart Attack Grill is a one-of-a-kind restaurant. If you are looking for a full stomach, some hospital fun, and a good story to tell, be sure to stop by.
The Heart Attack Grill has truly earned its name. It is important to note that even the owner boasts about the associated health risks of eating at the restaurant regularly.
Have fun and enjoy a Quadruple Bypass next time you are in Vegas.
Disclaimer: While the food may be delicious, you should obviously eat these high-calorie and unhealthy meals in moderation and at your own risk or not at all.
Tip: If you don't want to eat here but are still curious, you can see what's going on inside the restaurant through the large front glass windows.
Looking for a healthier burger in Las Vegas? Check out Gordon Ramsay Burger at Planet Hollywood.