9 Best Cheap Eats on Fremont Street (Downtown Vegas)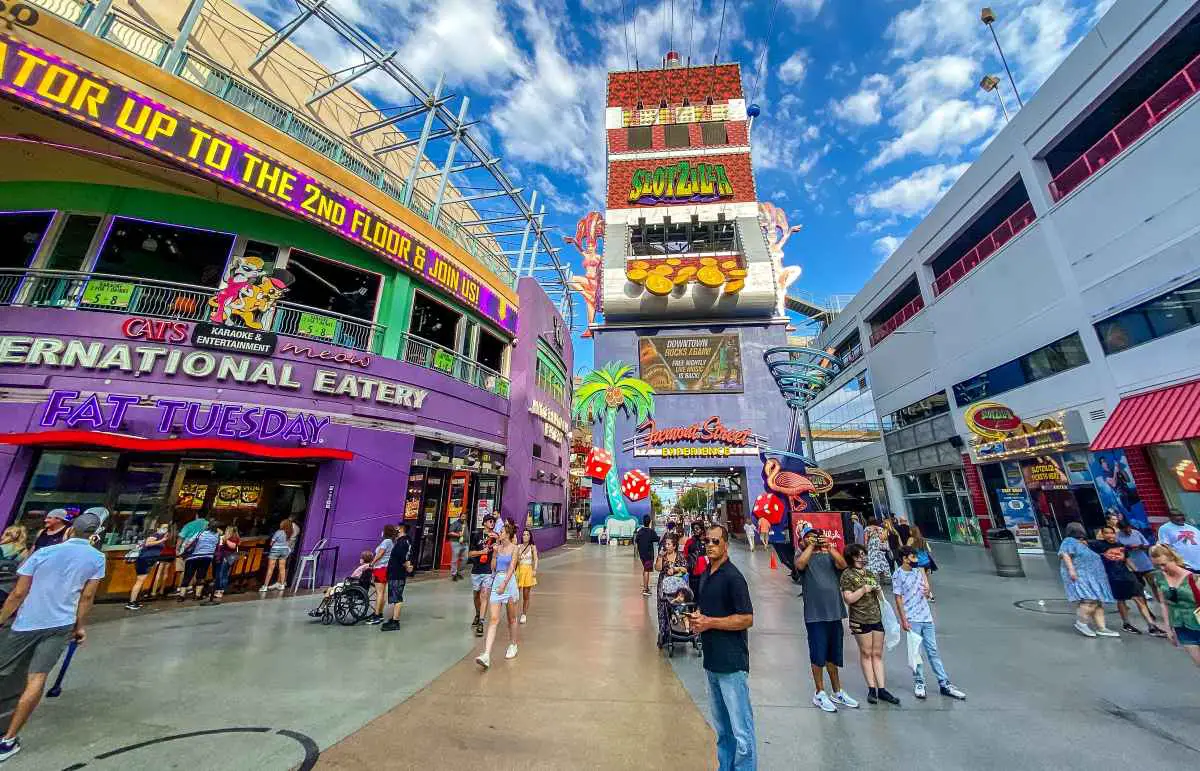 (This article may contain affiliate links, which means we might earn a small commission if you click and make a purchase. Thank you!)
Trying out new restaurants and eating good food is an essential part of any Las Vegas trip. However, eating out every meal can rack up quite a hefty bill and leave you with little money to do much else.
So instead of paying wads of cash for meals on the Las Vegas Strip, take a trip downtown to Fremont Street and check out these delicious but affordable eats.
Here are 9 of the best cheap eats on Fremont Street in downtown Las Vegas:
Chicago Brewing Co.
Evel Pie
American Coney Island
Siegel's 1941
Eureka!
Le Thai
Claim Jumper Steakhouse & Bar
Binion's Cafe
Pinches Tacos
Bonus: Tony Roma's
In this article, we're going to discover some of the best cheap places to eat on Fremont Street (under $15 a person), so you'll know where to go to get a great low-cost meal in downtown Vegas!
1. Chicago Brewing Co.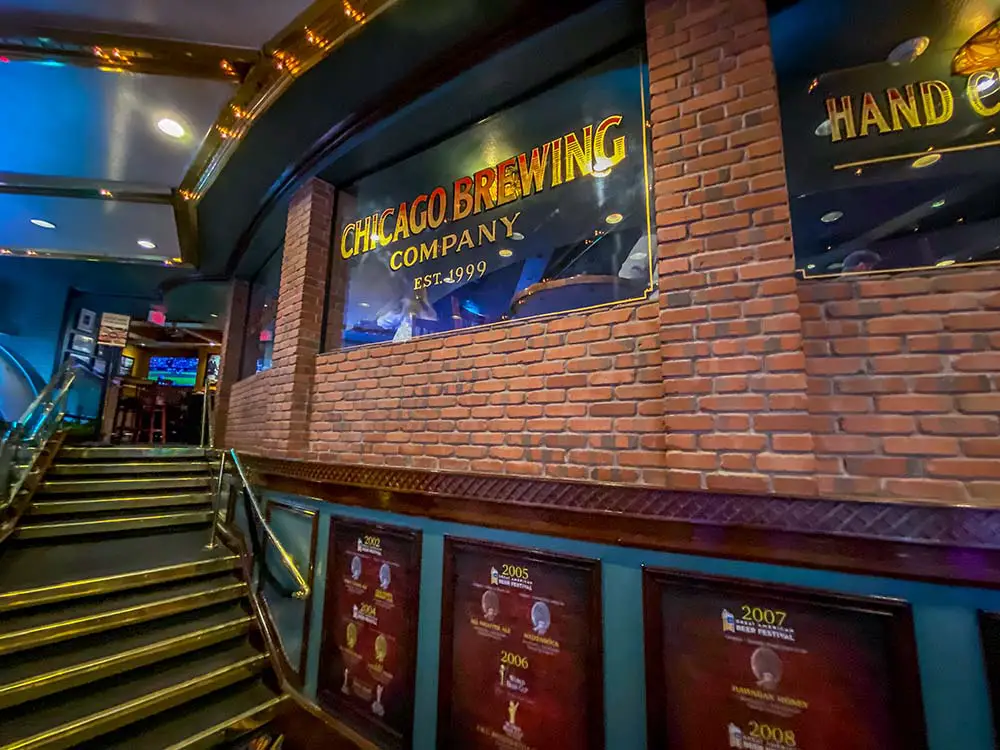 First on our list is a tucked-away gem found at the top of a flight of stairs in the busy Four Queens Resort and Casino. If you're a lover of beer and a good cheap eat, then Chicago Brewing Company is a place you should visit.
Conveniently this little place offers both smoking and non-smoking sections. You can enjoy your food, beer, and sport, which plays on their big TV screens, without having to get up and go outside for a smoke. They even have a selection of cigars available so that you can experience the Vegas life.
Chicago Brewing Co. offers a range of well-priced eats. You can order their Chicago Dog for under $8. Made with a Vienna dog, relish, onions, tomatoes, peppers, and fries. If you're craving a burger instead, their Brew Burger is also under $10 and is full of flavor!
For a healthier option, they also offer salads. You can get a classic salad for under $5 or a Simple Caesar Salad, which comes with romaine, cheese, and croutons for only $6. You can add chicken, shrimp, or salmon for an additional price.
To grab an even cheaper meal, visit this restaurant from 3 – 6 pm when appetizers are half price and draft beer is $2 less than usual!
This little gem is open daily from 11:30 am – 1:30 am.
RELATED: 9 Spots To Grab a Cheap Breakfast on the Vegas Strip
2. Evel Pie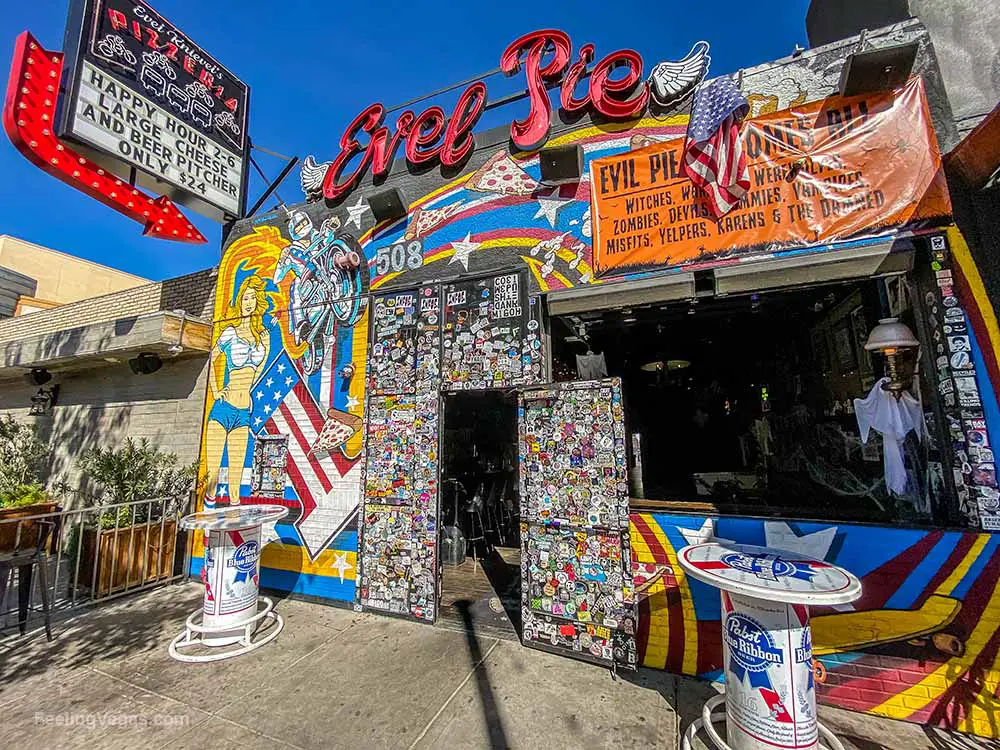 Popular among social media influencers and packed with nostalgic decor is Evel Pie. This funky joint is always packed, and you may have to wait in line for a while. However, once you're inside, you'll quickly see that the wait was worth it.
The restaurant is filled with one of the most extensive collections of Evel Knievel memorabilia in the world. While you'll love their decor, it's their cheap pizza slices that will make your tastebuds fall in love.
Although their 20-inch (50.8 cm) pizzas are priced above our $15 budget (perfect for takeout), you can enjoy a hot pizza slice for as little as $4. Just a slice is satisfactory and is deemed "more than enough" by some customers.
If you're not the biggest pizza lover, you can order their famous Grandma's Balls for $9, which comes with Evel's Tomato Sauce. There is also a Vegan option of these that come with the same sauce and are just $8.
Their $8 Wings are also delicious and come with various sauce options. And if you'd prefer a salad, they have those too. You can order their Jump'n Caesar Salad for only $7, and it's mixed with romaine, croutons, cheese, and caesar dressing.
You should definitely add Evel Pie to your bucket list. This experience will leave you with more than just a happy food memory – you'll also have an experience you can tell your friends about.
Here's a quick piece of trivia about this unique place – it's operated partially by the Evel Knievel estate and Knievel's son, Kelly.
Evel Pie is open from Saturday – Wednesday from 11 am – 1 am. On Thursdays and Fridays, they're available from 11 am – 3 am.
Catch Happy Hour from 2 pm – 6 pm. You can find Evel Pie at 508 E Fremont Street.
If you'd like to learn more about Evel Pie and see a bunch of pictures, check out my dedicated article about Evel Pie here.
3. American Coney Island
Nothing screams "Vegas" louder than the American Coney Island restaurant and all of their cheap delights.
This ever-busy 24/7 restaurant has a walk-up counter and a few eat-in tables available to their customers. However, they provide consistent, mouth-watering food that you can get quickly at a low price.
With nothing priced over $7 here, you don't have to worry about your budget for a change. You can't go wrong with their famous Coney Island Hot Dog for under $4. This Dog comes with chili, mustard, and onion. If you're visiting from Detroit, this will taste just like home.
If you'd like to flex and order the most expensive thing on the menu, you'll be offered the Gyro Sandwich for a little over $6. This meal comes in a pita and contains gyro meat, tomatoes, onions, and Tzatziki Sauce.
American Coney Island is open 24 hours daily. You'll find it next to the D Bar inside the Fremont Street Experience.
RELATED: Las Vegas Buffets (Currently Open!)
4. Siegel's 1941
Determined to bring back the vibe and memory of early Vegas is Siegel's 1941.
The many cheap options you have to choose from can make deciding on an order a bit confusing, so I recommend starting with either their Tuna sandwich or their Mac and Cheese for only $10 each.
For under $10, you'll find their Matzo Ball soup, their Soup of the Day, and their Tossed Salad.
From 11 pm to 11 am, their Breakfast Sandwich Supreme is available for under $8. This English muffin is packed with egg, bacon, and cheese, and it comes with a coffee.
Due to this restaurant being open 24/7, they've mastered their breakfasts and made them nice and cheap. You can grab a waffle or pancakes for only $8 or a Croissant Sandwich for $10.
Something I appreciate about Siegel's 1941 is that they look after their older population by offering 50% off of their special menu to anyone over the age of 50. This offer is available on Wednesdays from 6 – 10 pm.
You can locate Siegel's 1941 inside the El Cortez Hotel and Casino. They're open 24 hours on the weekends and from 7 am – 10 pm during the week.
5. Eureka!
Eureka! is one of Fremont Street's favorite restaurants, providing you with many delicious options, including a brilliant vegan menu. But we're here for the cheap seats, and they've got those too!
It's possible to find high-quality food and drinks for a low price at Eureka! Almost everyone loves a mac and cheese meal that reminds them of home. This lovely restaurant offers it – with a twist. You can enjoy fun mac and cheese balls for just over $10. Yum!
If you've spent most of your money gambling and are looking for something under $10, try their popular Chicken Tenders or House Salad. The Chicken Tenders come with a side and a beverage, while the House Salad is made with bacon, lettuce, tomatoes, garlic, and a boiled egg.
If you're vegan, you don't have to miss out on a meal because they've got you covered for under $13.
Give their Crispy Glazed Brussels Sprouts a try for only $11 or their Eggplant and Tahini Spread for just over $12.
You can catch their "Hoppy" Hour from Monday to Friday from 3 – 6 pm and again from 9 pm until they close.
They offer specials and entertainment most days of the week. These include:
Tuesdays are half prices on their wine.
Thursdays offer live music after 7 pm.
Weekends offer a $6 Bloody Mary and Mimosa.
There's never a dull moment at Eureka! You can find this restaurant at 520 E. Fremont Street. They open from 10 am on Sundays and 11 am every other day. They close at midnight daily, except on Friday and Saturday, when they close at 1 am.
RELATED: 16 Cheap Places To Eat on the Las Vegas Strip (Map)
6. Le Thai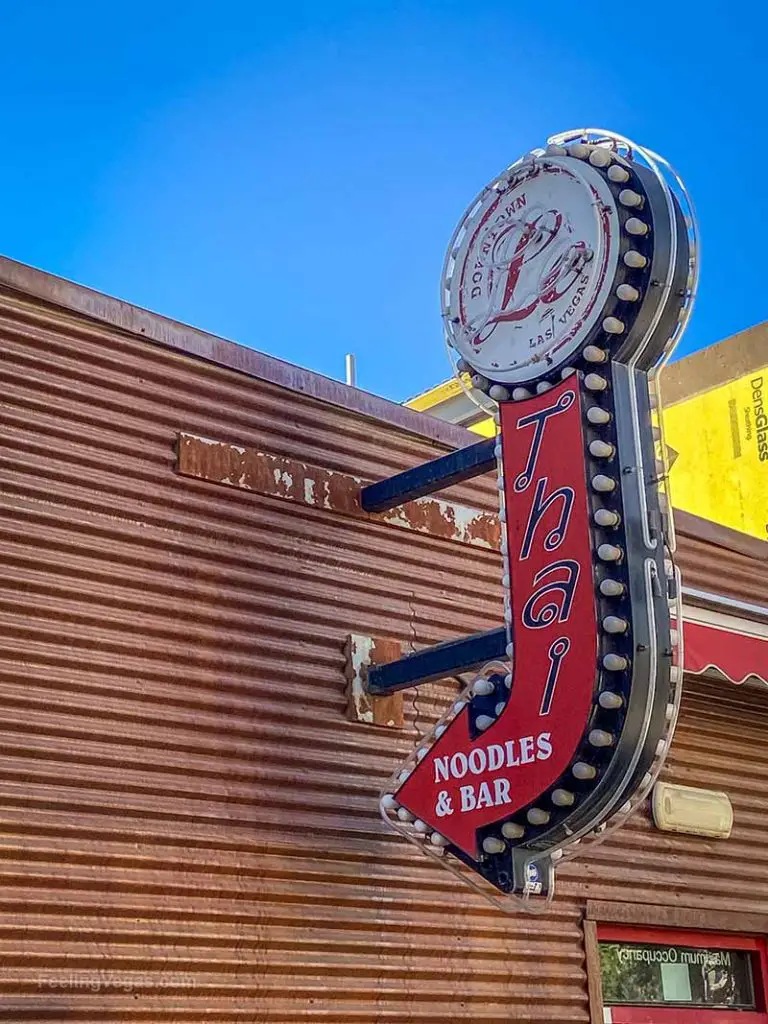 Customers rave that Le Thai has the best Thai food they've ever tasted. With a statement so bold, how could you pass up the opportunity of trying it out for yourself?
Loved by locals and tourists alike are the Le Thai menu and their brilliant prices! They offer a variety of options that include Asian, Thai, Vegetarian, Vegan, and Gluten-free.
For only $6, you can enjoy their Cucumber Salad or four crispy spring rolls for just over $7.
If you're a soup enthusiast like me, you've got to try out their Tom Kha soup for $11. It's a coconut soup that comes with chicken or tofu, mushrooms, lemongrass, lemon juice, green onions, and cilantro. Doesn't that sound delicious?
They offer lunch specials from Monday to Friday between 11 am to 3 pm. You can order any lunch option for just over $10, and it comes with a drink. Your entire lunch bill is guaranteed to be under $11. That's a pretty sweet deal if you ask me. 
Their Happy Hour prices are impressive as well, with all their drinks and appetizers sitting under $10. Be sure not to miss it during the week from 3 – 6 pm.
You can find Le Thai at 523 Fremont Street, and they're open from 11:30 am during the week, except for Sundays when they open at 4 pm. They close at 10 pm during the week and 11 pm on Fridays and Saturdays.
7. Claim Jumper Steakhouse & Bar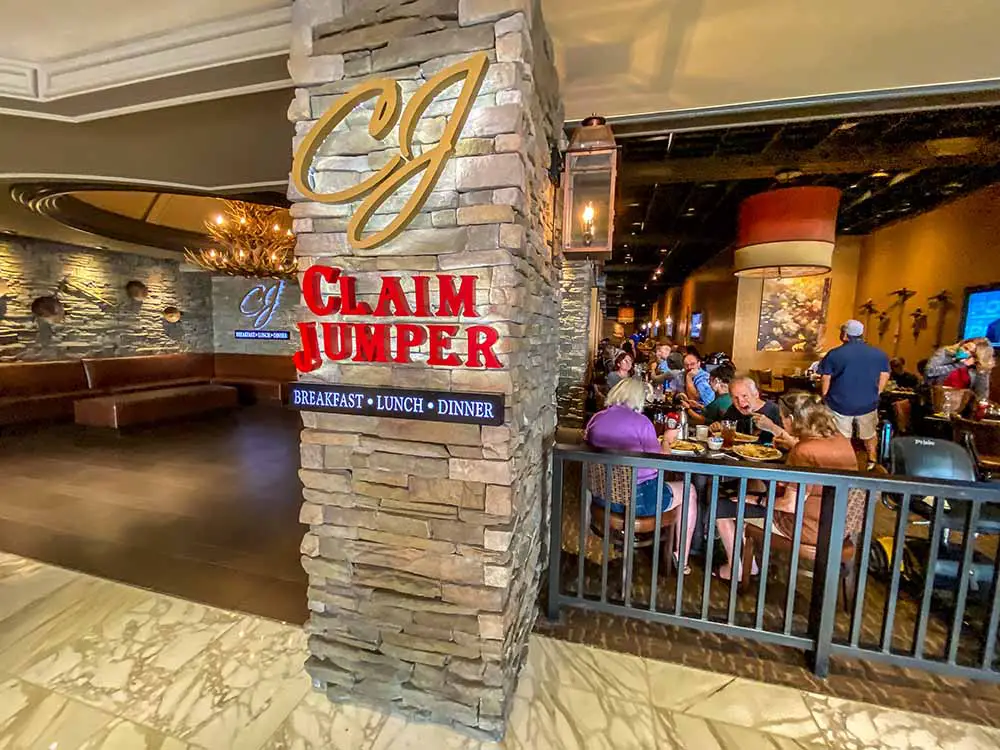 If you're big on breakfast, then you'll be happy to hear that the Claim Jumper Steakhouse & Bar serves breakfast all day! Say goodbye to jumping out of bed after a late night in Vegas just to make breakfast; now you can do it in whenever you want.
With so many options available, let me start by letting you know that all of their steamy soups are $9 or less! Their Caesar salad is also under $9.
If you're craving something sweet, you can enjoy both their Pancake Stack and their Belgian Waffle for under $10.
The best part is their Happy Hour, where all their selected drinks and snacks are $11 or under!
Go and check out Claim Jumper Steakhouse and Bar. They're located at the Golden Nugget Hotel and Casino and are open weekly from 7 am until midnight, and from 7 am – 2 am on Fridays and Saturdays.
RELATED: Heart Attack Grill in Downtown Las Vegas (Menu, Cost & Hours)
8. Binion's Cafe
If you're recovering from a hangover or a long night of gambling, Binion's Cafe just might be your lifesaver. Located inside Binion's Gambling Hall, this Cafe can be your convenient quick meal stop before heading back onto the casino floor.
Binion's Cafe offers large portions of breakfasts, appetizers, sandwiches, burgers, salads, soups, entrees, and pasta – their menu sure isn't limited.
Their cheap food may not be all glitz and glam, but their prices are impressive.
Want to get traditional? Try their Binion's Famous Burger, a staple for over 65 years – it's priced at just over $6. A little less traditional but just as affordable is their Gourmet Grilled Cheese for under $8.
Although slightly more pricey than most of the menu, I recommend their Rosemary Chicken Wrap. It's just over $10, but this garlic tortilla comes with a sliced marinated chicken breast, lettuce, tomato, avocado, and garlic lemon aioli.
All of their desserts, sides, and hot beverages are under $5, so if you order carefully, you could walk out of there with your stomach full and still have only spent under $10.
Binion's Cafe is open daily from 7 am – 1:30 am.
9. Pinches Tacos
One of the most fantastic places on Fremont Street is Downtown Container Park. It's here that you'll find Pinches Tacos, the Mexican restaurant that handpicks their ingredients every morning. You're guaranteed fresh meals daily!
This family restaurant that sees its customers return time and time again is known for its tasty yet affordable selections.
With more than ten taco options available on their menu, you won't find one of them over $7, with the cheapest ones available for under $5.
Their Carnitas Sope is under $8 and comes with beans, cilantro, and salsa. Another tasty option is their Darkness Supreme. It may sound a bit daunting – however, it's a great meatless meal that comes with Al pastor, beans, guacamole, cheese, sour cream, onions, cilantro, and diable sauce.
Once again, all of this is under $8.
You'll find Pinches Tacos easily as they're on the left side as you walk into Downtown Container Park. Their container is blue.
Their weekly operating hours are 10:30 am – 10 pm. However, Fridays are from 11 am – 12 am, while Saturdays are 10 am – 12 am, and Sundays are 10 am – 7 pm.
RELATED: Banger Brewing in Downtown Las Vegas (Review, Menu, Happy Hour, Groupon)
Bonus: Tony Roma's (Cheap Steak and Lobster)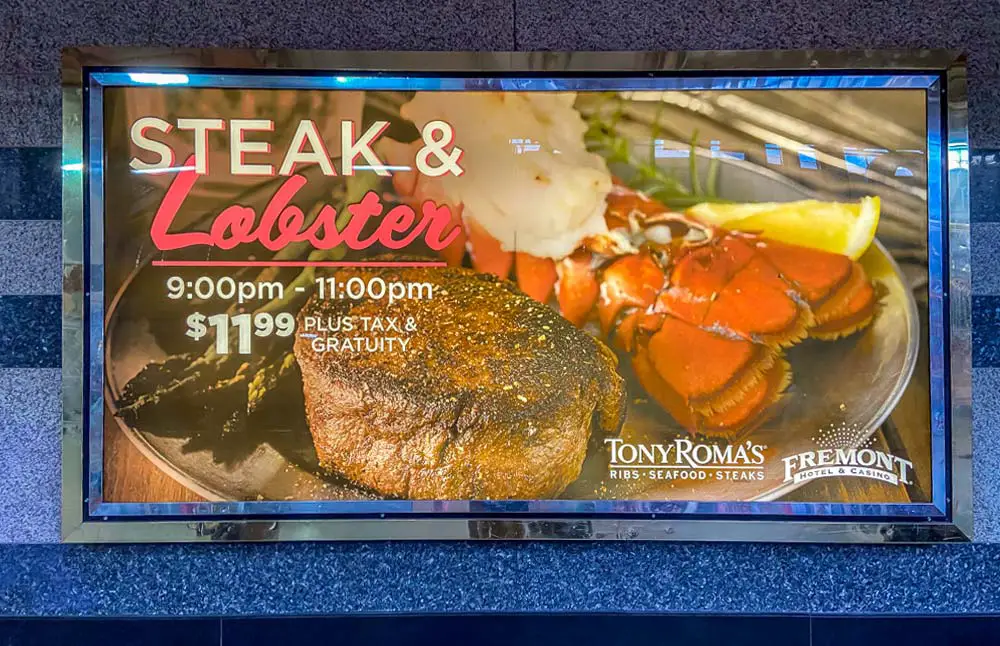 How about a bonus spot? This is truly one of our personal favorite meals on Fremont Street for a late dinner. Between the hours of 9 pm and 11 pm every night, Tony Roma's inside the Fremont Hotel offers a steak and lobster tail meal for just $11.99.
Some evenings we head downtown just to enjoy this meal. Because the steak and lobster deal is only available for a couple of hours it's best to arrive just before 9 pm and put your name on the waitlist because it can get busy.
RELATED: Find out why it's worth heading to Downtown Las Vegas
Final Thoughts
And there you have it! Nine delicious restaurants and places to eat on Fremont St. in downtown Las Vegas. Eating in Vegas may be expensive on the surface, but if you dig a little deeper there are plenty of deals for meals if you know where to look.
Happy eating!