19 Best Restaurants in Venetian Palazzo (Casual to Fine Dining)
(This article may contain affiliate links. If you click through and make a purchase, we will receive a small commission at no additional cost to you. )
Las Vegas is a place full of fun, excitement, and good food. If you're staying at the Venetian or Palazzo on the Las Vegas strip, you can be assured that these two connected resorts have some of the best restaurants in Vegas to choose from. Whether you're looking for an affordable meal or a high-end dining experience, Venetian and Palazzo have got you covered. 
CUT by Wolfgang Puck, CHICA, Bouchon, TAO Asian Bistro, The X Pot, Brera Osteria, and Buddy V's are some of the best restaurants in Venetian Palazzo. These restaurants are excellent choices for diners looking for high-end, mid-range, or affordable dining experiences within the Venetian and Palazzo.
Note that the Venetian and Palazzo are two separate hotels that are connected and share much of their common areas, including over 40 restaurants. The following article will discuss restaurants and dining options available throughout the two properties, so while you may see a restaurant specifically mentioned as a Venetian or a Palazzo restaurant, know that these dining establishments are easily accessible from either resort.
By the end of this read, you'll know just where to dine for your upcoming trip to The Venetian and The Palazzo Las Vegas.
Compare and save! Check current room rates at The Venetian (TripAdvisor)
1. CUT by Wolfgang Puck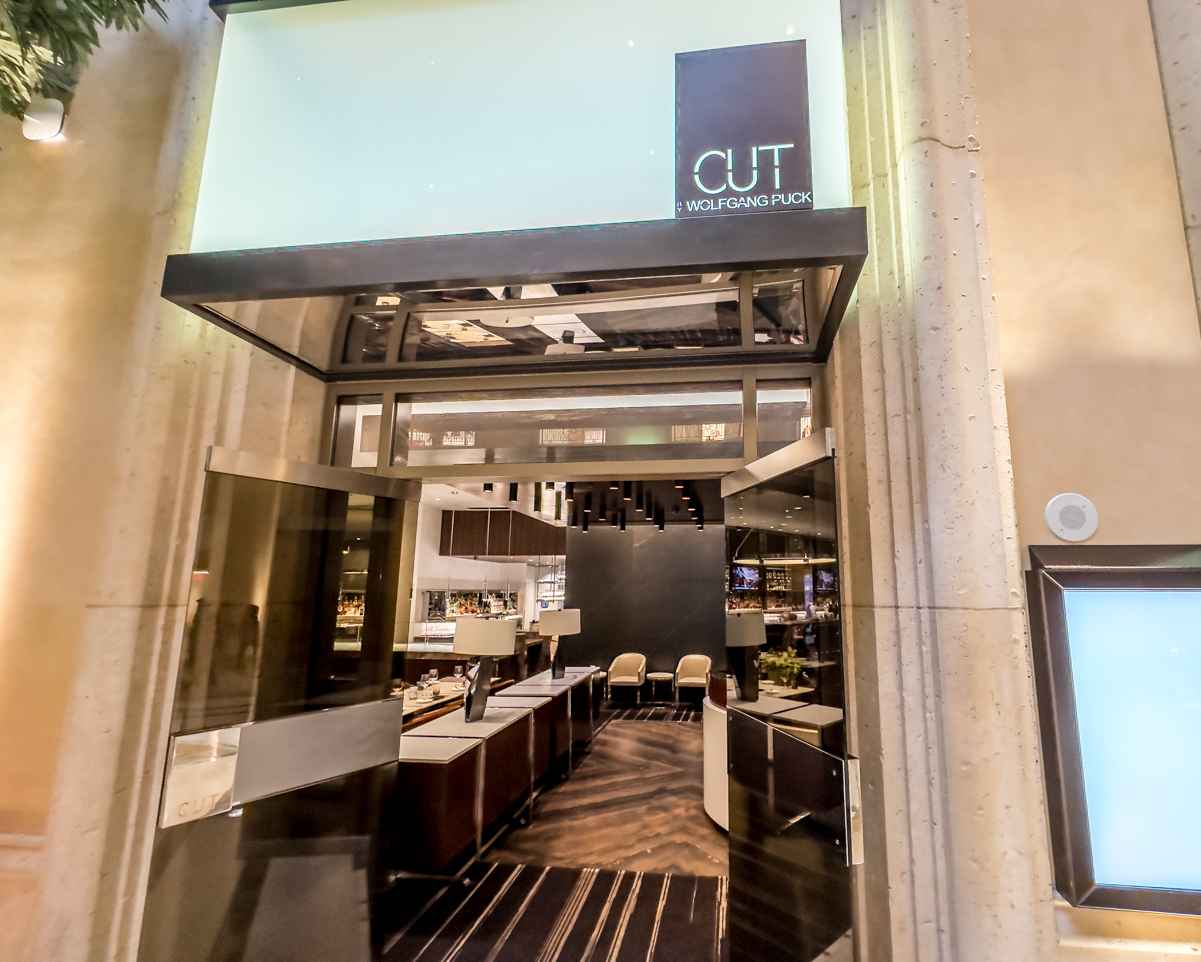 CUT is an upscale American steak restaurant located at the Palazzo. It's owned by the renowned Austrian-American chef Wolfgang Puck. With that in mind, one can expect nothing but top-notch service and food quality when dining at the restaurant. The eatery maintains high standards, leading to its popularity, especially in Las Vegas. CUT is regarded as one of the United States' best restaurants.
Consider dining at CUT for a fancy dinner celebration where high-quality, fresh, and ethically sourced ingredients are stars of the night, along with beautiful sauces to complement your main dish. While beef is the restaurant's star of the show, pork and seafood (such as lobster and scallops) are also wonderful menu options that have filled guests' hearts and stomachs with joy and happiness. 
There is a wide selection of wine at the premise for guests to be spoiled with. These wines come from the United States, Australia, Spain, France, and Italy. Whether you like your wine red or white, CUT has it. 
CUT
$$$$
American Steakhouse
Fine dining
Dinner
2. Buddy V's Ristorante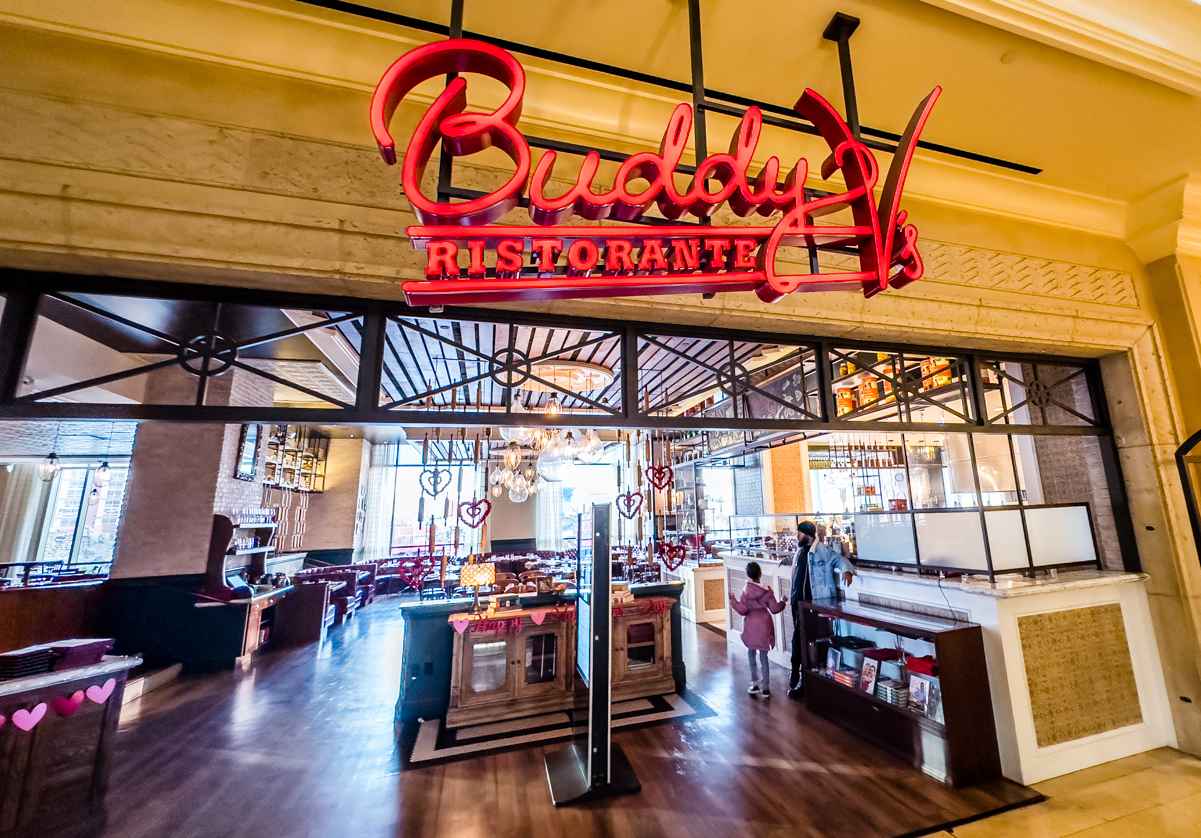 Buddy V's Ristorante in the Grand Canal Shoppes at The Venetian is a celebrity-owned (chef Buddy Valastro from the show Cake Boss) Italian restaurant offering a truly unique and authentic culinary experience. The restaurant offers an inviting and cozy atmosphere, and the service diners receive is exceptional.
Buddy V's menu features a wonderful variety of flavorful pasta dishes as well as a choice selection of steaks and seafood. Of course, since chef Buddy Valastro is known for his wonderful desserts, there are plenty of decadent options to choose from.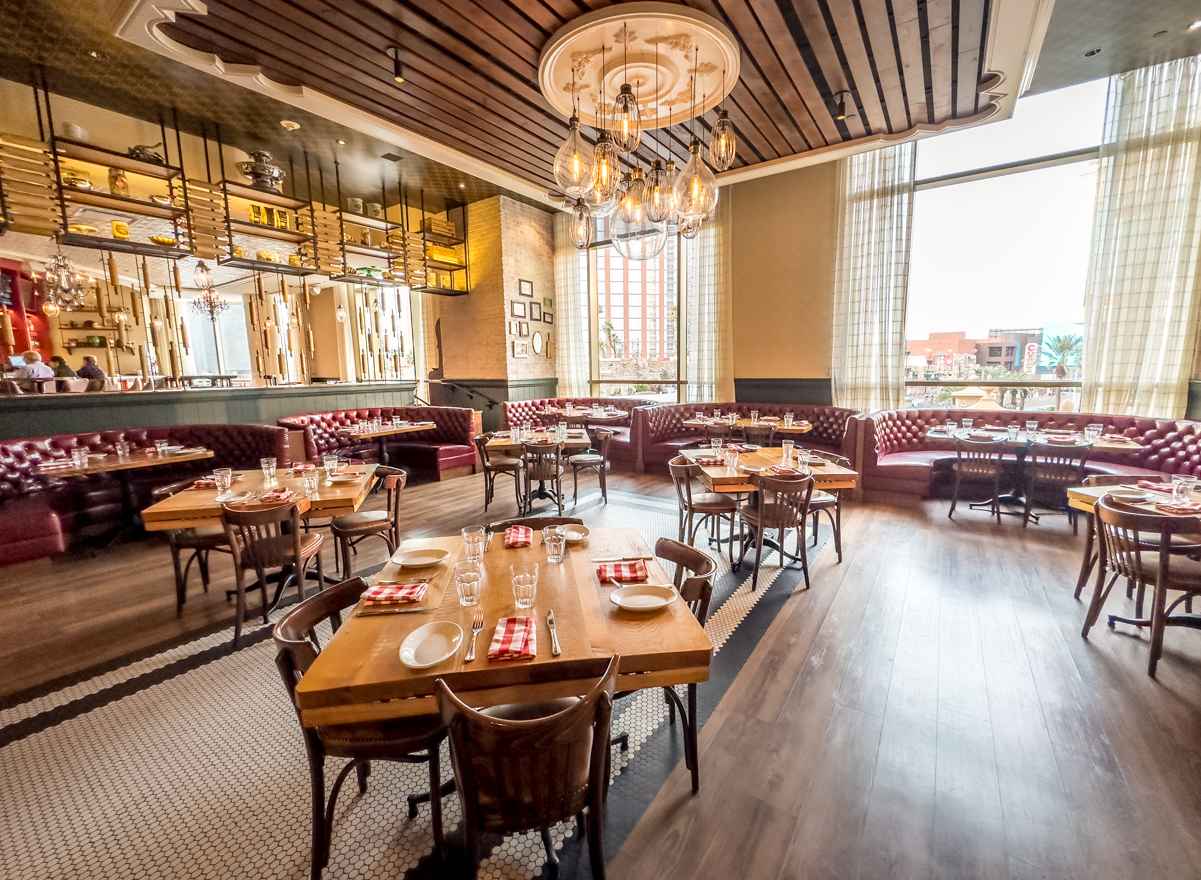 This Las Vegas eatery is an ideal spot for a romantic dinner or a family meal and is probably one of the most popular and well-known restaurants at The Venetian and is certainly one of the top Italian restaurants in Las Vegas.
Buddy V's Ristorante
$$
Italian
Casual
Lunch & Dinner
3. Bouchon Restaurant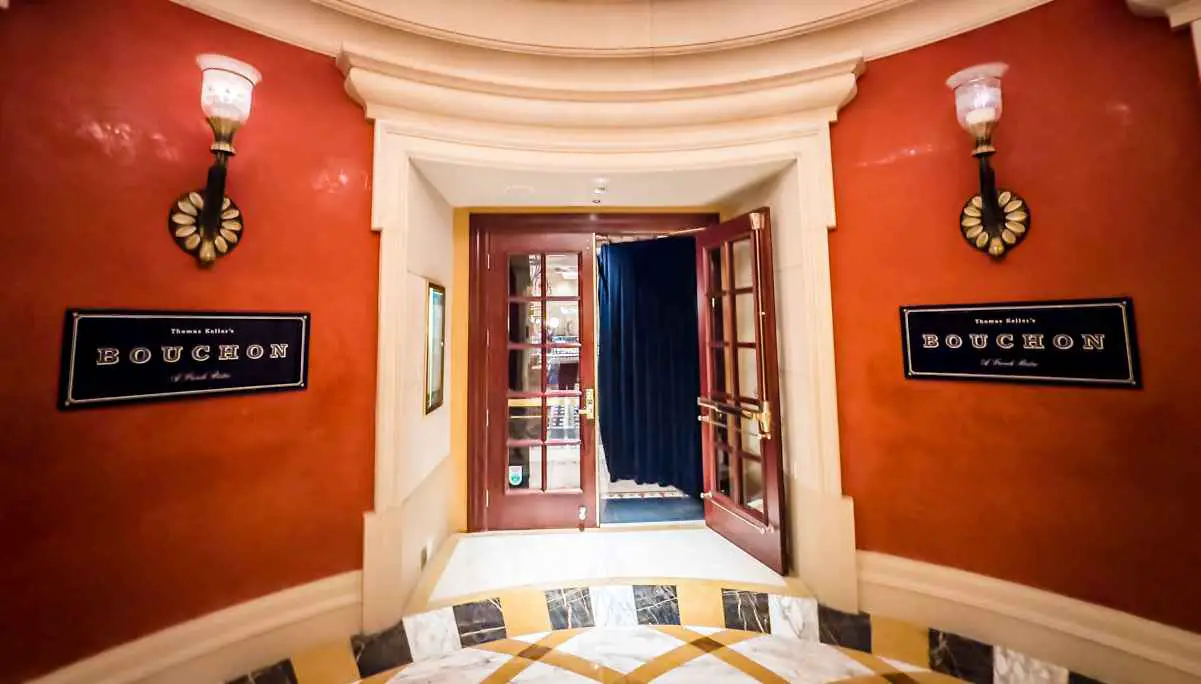 Whether you're looking to dine in for lunch or dinner, Bouchon will have you covered. That, of course, is if you're up for some French bistro food, especially if you're a food connoisseur looking for something worth blogging about.
The late Anthony Bourdain called Bouchon "the best restaurant ever." [XX Reasons Why the Bouchon in Vegas is So Famous] (coming soon)
The restaurant can be found in the Venezia Tower, on the 10th floor. It has several different dining arrangements, such as dining by the pool, patio dining, and weekend brunch. Aesthetics are important, and so is food presentation, and Bouchon combines the two to give you plenty of Instagram-worthy shots of your dining experience. The attention to detail is thanks to its Michelin-star-awarded chef, Thomas Keller. 
Some popular dishes diners can enjoy at Bouchon are Steak Bouchon, Croque Madame, and Confit de Canard, among other lovely dishes, including goat, sheep, and cow cheese (menu). 
Celebrating Christmas and New Year's Eve in Las Vegas? Then you might want to consider Bouchon's Christmas and New Year's Eve menus.
Bouchon
$$$
French
Patio and poolside dining
Lunch & Dinner
Brunch (Weekends)
4. CHICA 
Craving for Latin cuisine? Then you'll have to stop by CHICA, a restaurant located at the Venetian Las Vegas specializing in Latin dishes. The restaurant has received thousands of positive Google reviews, which explains its popularity.
CHICA means "girl" in Spanish, and the restaurant was founded by a Latina chef. Inspired by her family recipes, Chef Lorena Garcia uses her family knowledge to help her create stunning dishes, including the "Al Pastor." Al Pastor features mouth-watering baby back ribs, which you can enjoy with wine if you fancy some alcohol on the side.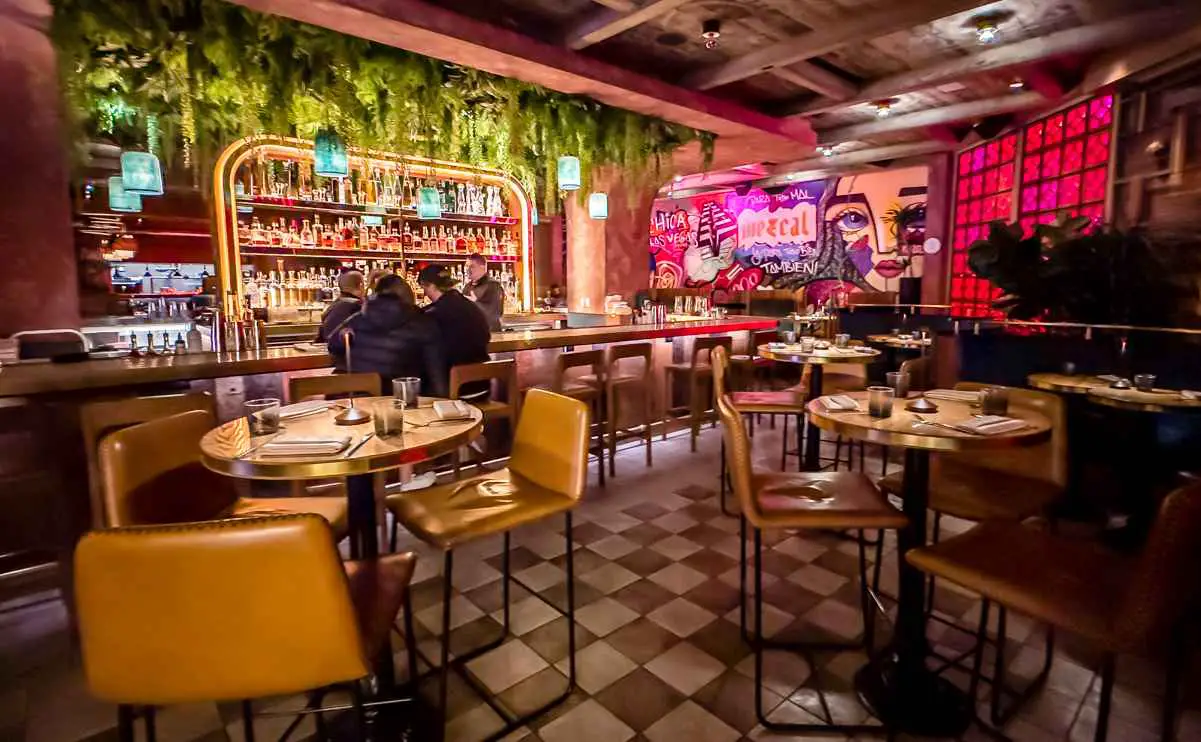 The CHICA menu covers weekend brunch and weekday dinner. Desserts to satisfy your sweet tooth are also available, such as Tres Leches and Churro Bouquet, as well as some coffee, tea, and sweet wine. 
CHICA
$$
Latin Cuisine
Fine Dining
Breakfast, Lunch, Dinner, and Late Night
Brunch (Weekends)
5. Grimaldi's Pizzeria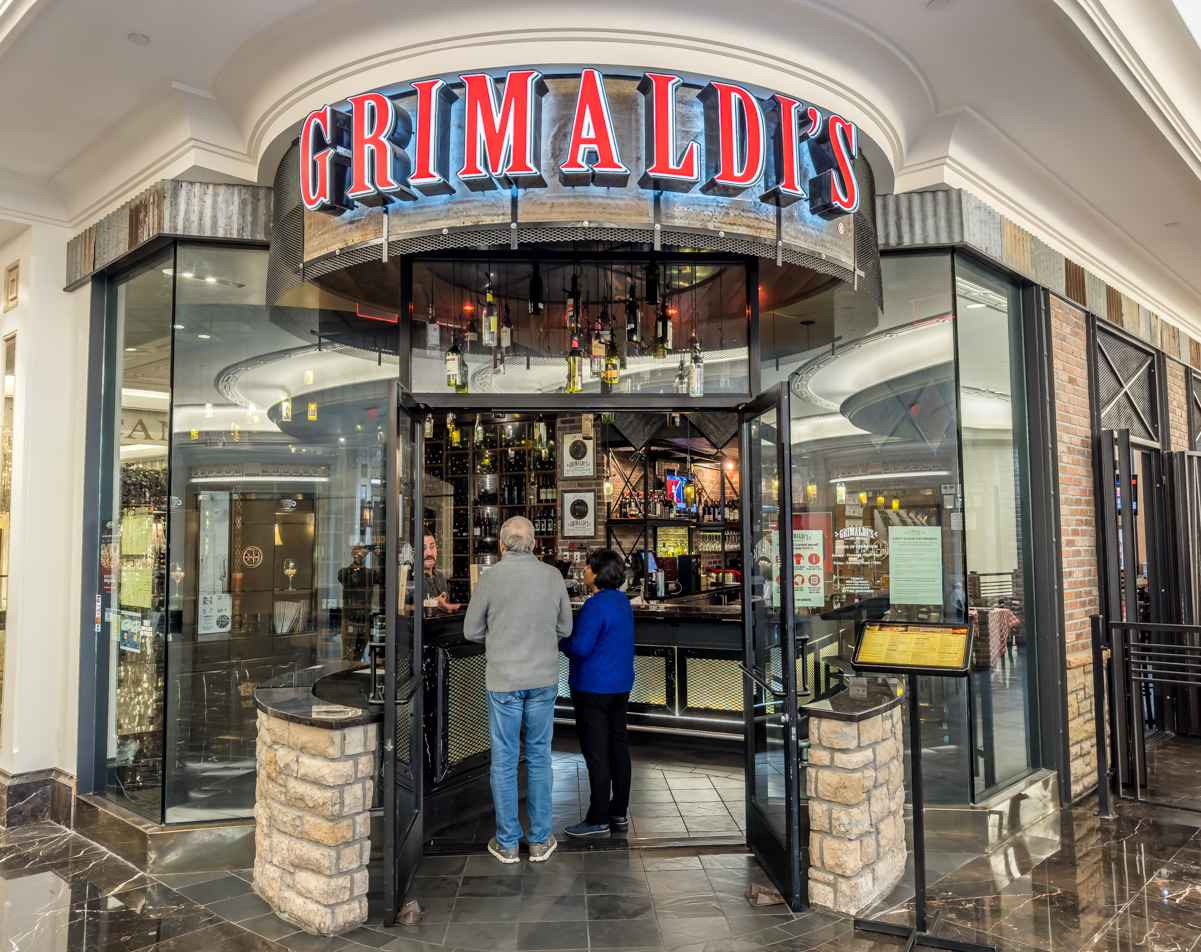 If you're looking for something quick to eat (like a pizza) and served in a more casual but still upscale environment, consider stopping by Grimaldi's Pizzeria. The restaurant opens its doors for Italian lunch, dinner, and casual dining. You can find the restaurant near the Palazzo casino floor escalators. 
Grimaldi's Pizzeria has received many positive reviews for its award-winning Neapolitan-style pizzas. The pizzas are served with fresh salads and desserts on the side. Grimaldi's Pizzeria takes a lot of pride in its dishes. The restaurant ensures all its pizzas use fresh ingredients only.
What makes Grimaldi's Pizzeria stand out in the crowd is its consistency in terms of freshness and flavors, taking diners all the way to Naples without even leaving Las Vegas. Yes, that's how good their pizzas are (menu).
Such is made possible with the coal-fired ovens used in making the pizzas. Pricing-wise, Grimaldi's Pizzeria is a considerably more affordable option when compared to many other restaurants in The Venetian and Palazzo. 
Grimaldi's Pizzeria
$$
Italian-style Pizza
Casual Eatery
Lunch & Dinner
6. The X Pot (Fine Dining)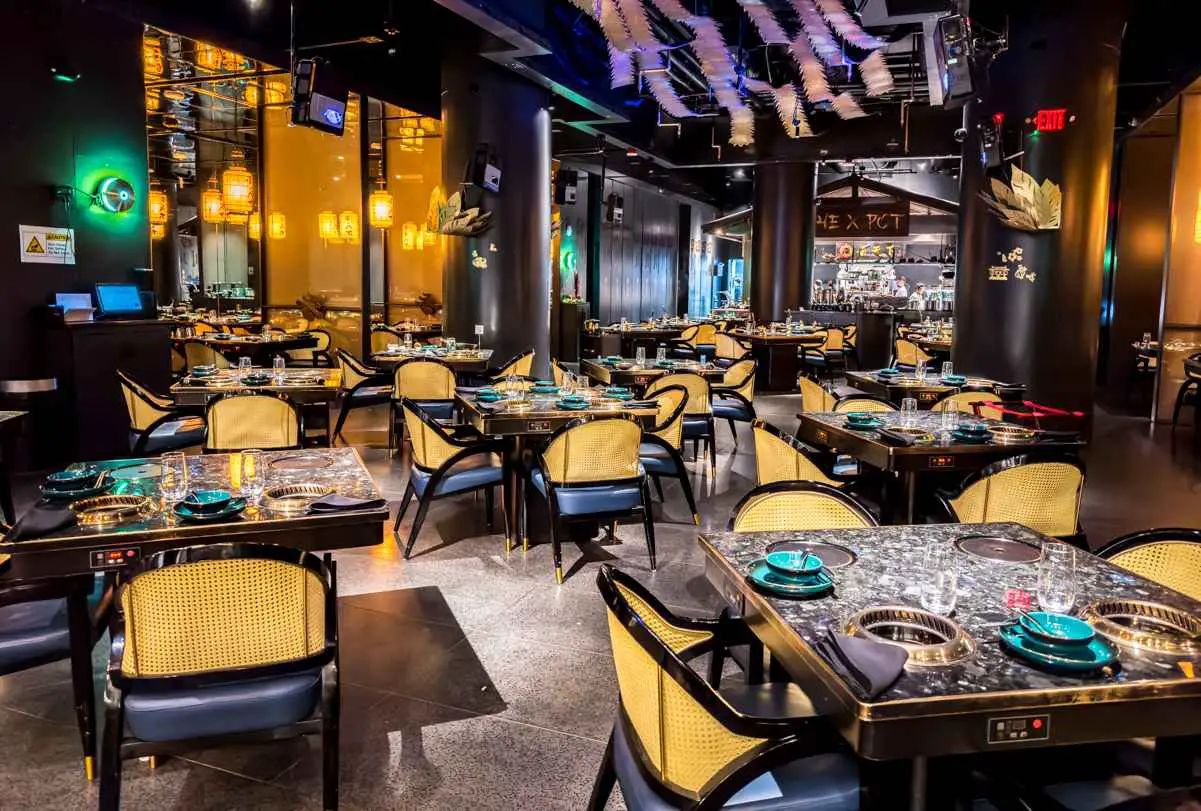 Those looking for Asian cuisine should consider dining at The X Pot, which is one of the best Asian restaurants in town. It's located in the Grand Canal Shoppes at the Palazzo, near SUSHISAMBA (another popular Asian restaurant in the area).
The X POT gives diners an Asian gastronomic experience that takes them back in time and toward the future with its timeless modern cuisine. The X Pot has received many kudos from its past guests and continues to serve its diners delicious dishes, from tartare to hot pot. Whether you like meat or seafood, you'll find it at The X Pot (menu).
The X POT
$$$$
Asian Cuisine
Fine Dining
Dinner and Late Night
7. BRERA osteria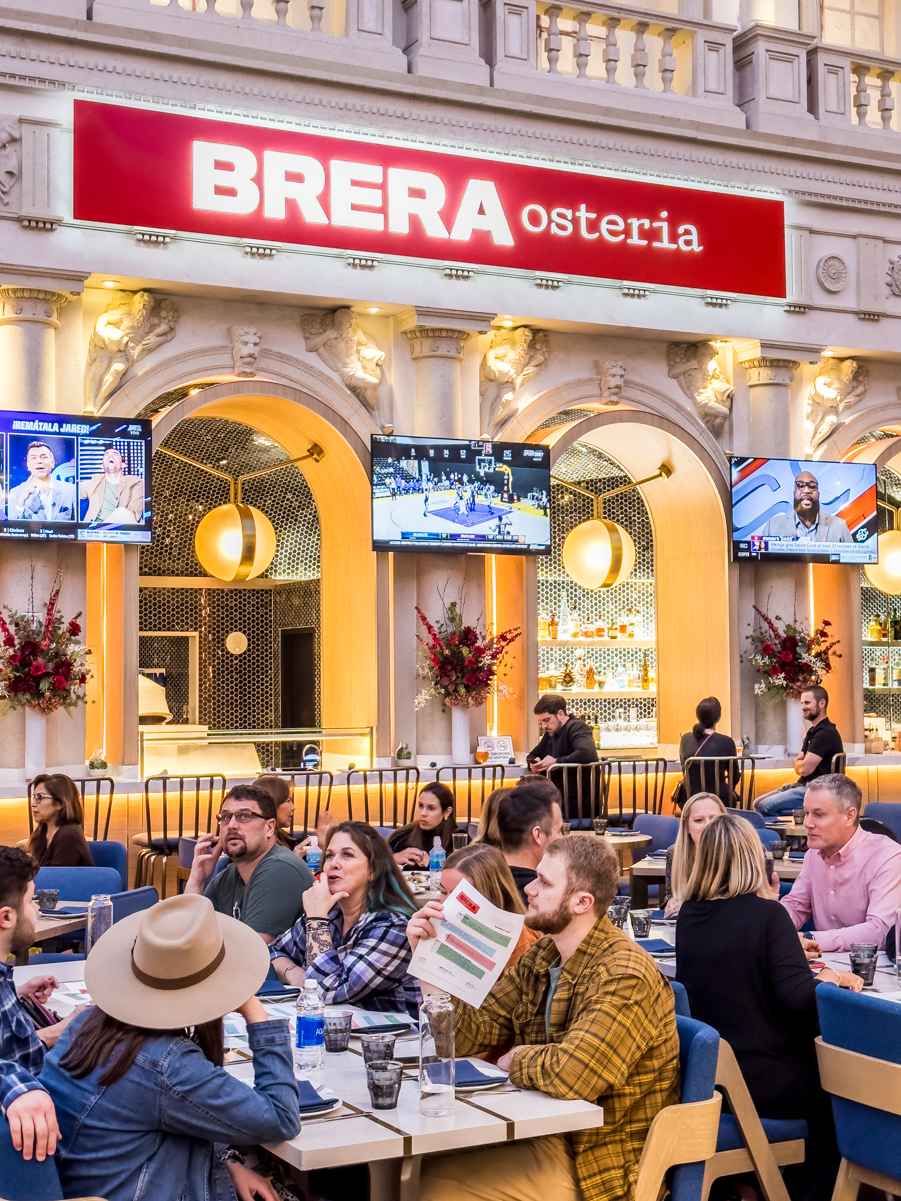 Whether you're ready for lunch or dinner, BRERA osteria, found in The Venetian's St. Mark's Square, is always ready to serve you good, no-pretense Italian food. The man behind BRERA osteria's wonderful menus is Chef Angelo Auriana, who was inspired by the Sunday dinners he had growing up. Today, the restaurant is one of the most popular in the area.
One of the restaurant's highlights is its risotto. It's creamy and has been described as "magical." Go on and have it with a ribeye, another of the restaurant's top dishes. Other stunning dishes on the restaurant's menu are pasta, roasted chicken, lamb chops, and seafood.
There are also vegan options on the restaurant's lunch and dinner menus. These options feature ingredients like baby zucchini, avocado, eggplant, cauliflower, and more. For quick bites, diners can opt for pizzas like the Margherita, campo, and coppia.
The restaurant bakes its pizzas in a woodfired oven and uses only the freshest of ingredients. So it's no surprise how tasty the pizzas always turn out.
BRERA osteria
$$
Italian
Casual
Lunch & Dinner
8. estiatorio Milos
Seafood fans will be happy to discover estiatorio Milos, a seafood restaurant in the Venetian tower. estiatorio Milos is ideal for family-friendly Greek lunch and dinner, with seafood being the star of the restaurant. 
Founded by chef Costas Spiliadis, estiatorio Milos takes pride in its food—all of its fresh seafood comes directly from fishing boats in the Mediterranean and is flown into Las Vegas daily. The menu contains fish, lobster, octopus, and more. 
A bowl of Greek salad with beautifully ripe tomatoes to accompany your seafood dishes is recommended. Interestingly enough, estiatorio Milos also takes pride in its yogurt, which gets strained using a traditional method in the restaurant's "yogurt room."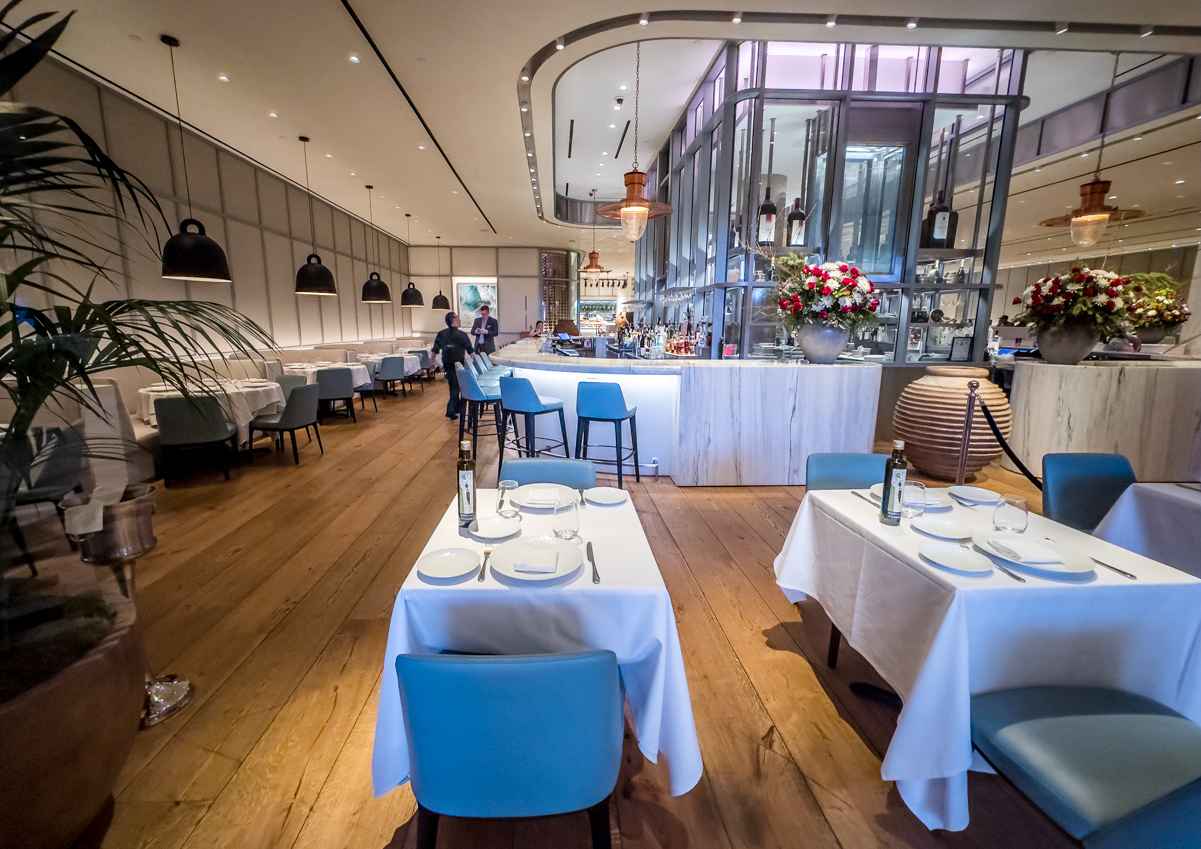 What makes estiatorio Milos special is that diners can stop by the restaurant's fish and produce markets and decide how they'd like their food to be prepared. 
If you're coming for a celebration, wine and cocktails are available to complement your special day in Las Vegas.
estiatorio Milos
$$$
Greek Mediterranean Seafood
Lunch & Dinner
9. Delmonico Steakhouse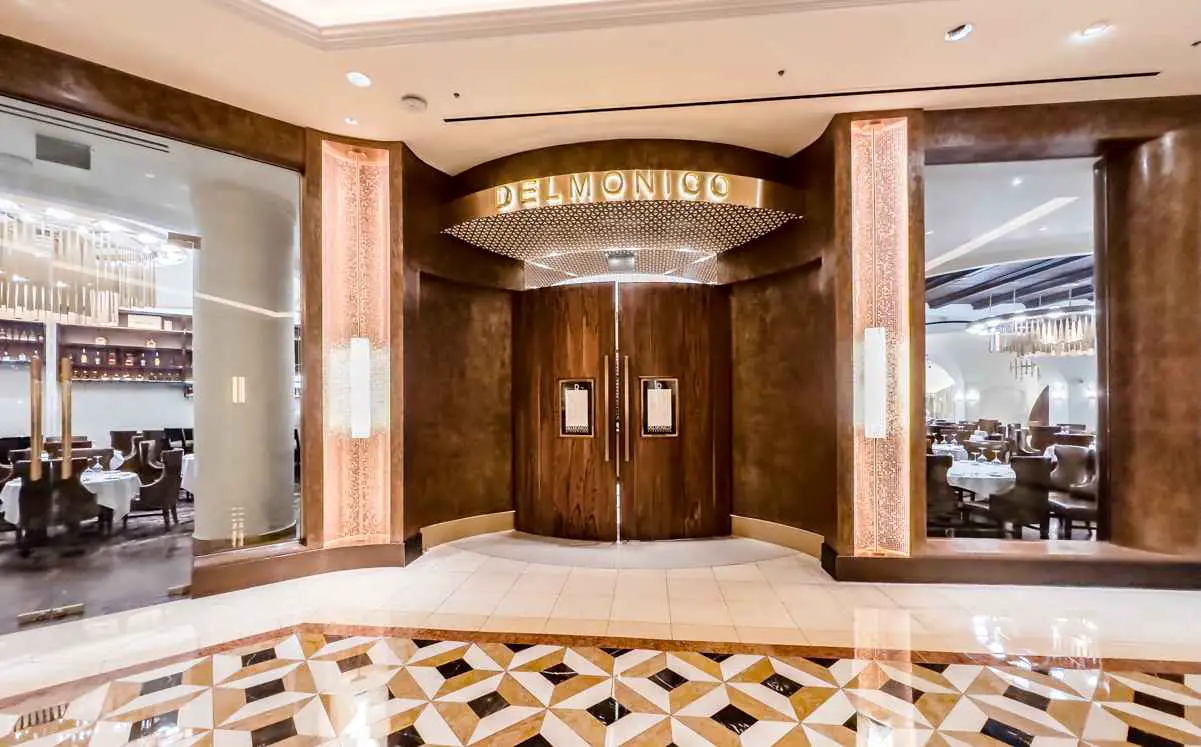 Another high-end restaurant on our list of The Venetian and Palazzo's best eateries is Delmonico Steakhouse, a restaurant with a traditional yet modern design. It was started by renowned Chef Emeril Lagasse. The celebrity chef combines New Orleans's influence with traditional steakhouse concepts to create his delicious steaks and cuisine.
Delmonico Steakhouse has been in operation for 20 years at The Venetian Resort, providing diners with an intimate dining atmosphere for any special occasion.
The steakhouse offers guests a menu with unique appetizers, from crab legs to caviar. Prior to the main course, guests can warm up their stomachs with a serving of soup or salad, such as caesar salad, onion soup, lobster bisque, and more.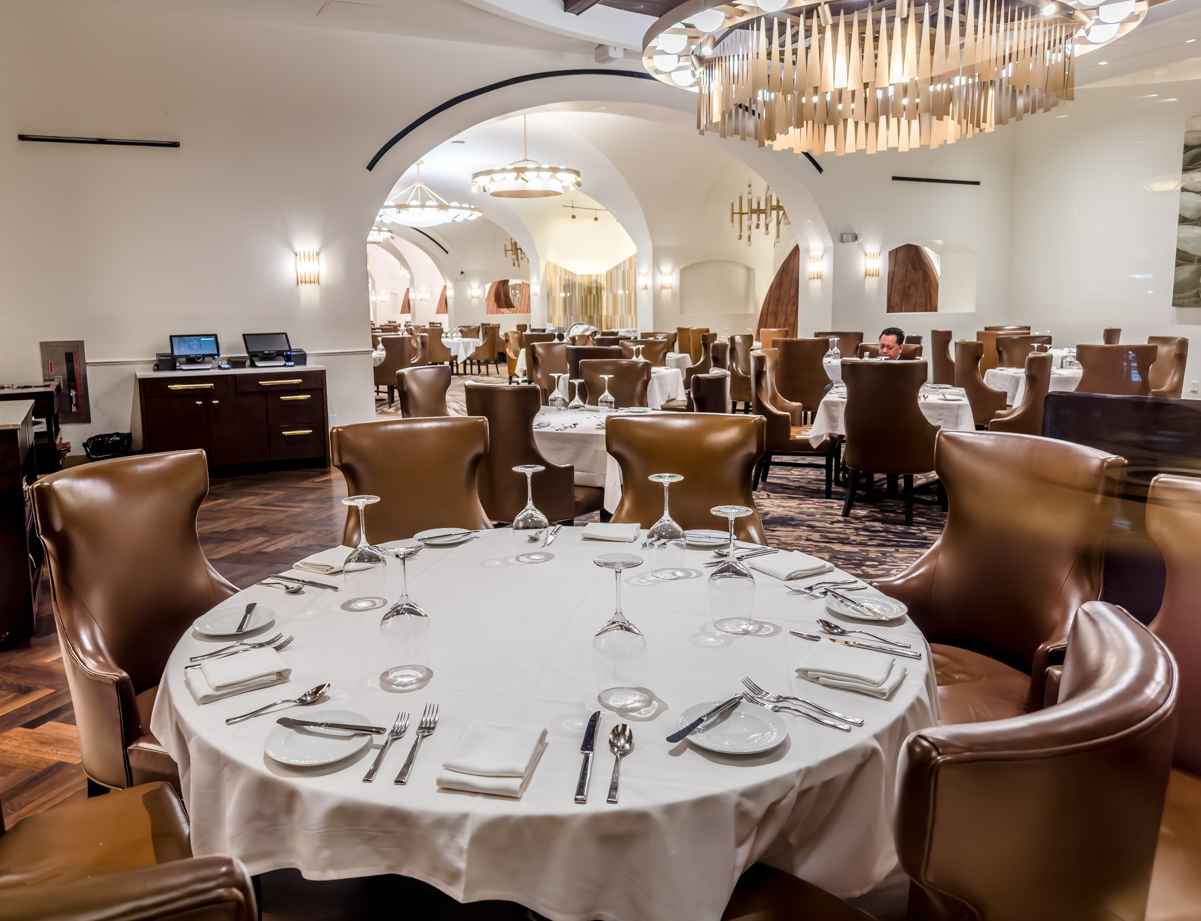 The steaks and entrees are what people come to Delmonico Steakhouse for—dry-aged bone-in rib steak and Chateaubriand are the house's specialties. For sides, guests are spoiled with an array of lovely sides, such as potatoes, mushrooms, and spinach, among others. 
For many, dinner at a steakhouse isn't complete without a glass of wine. Don't miss sipping "Grand Award" wine at Delmonico Steakhouse. Some guests prefer cocktails, if that's you, then you're in for some fascinating handcrafted cocktails as well. 
Delmonico Steakhouse
$$$$
New Orleans-style Steakhouse
Fine Dining
Lunch & Dinner
10. Wakuda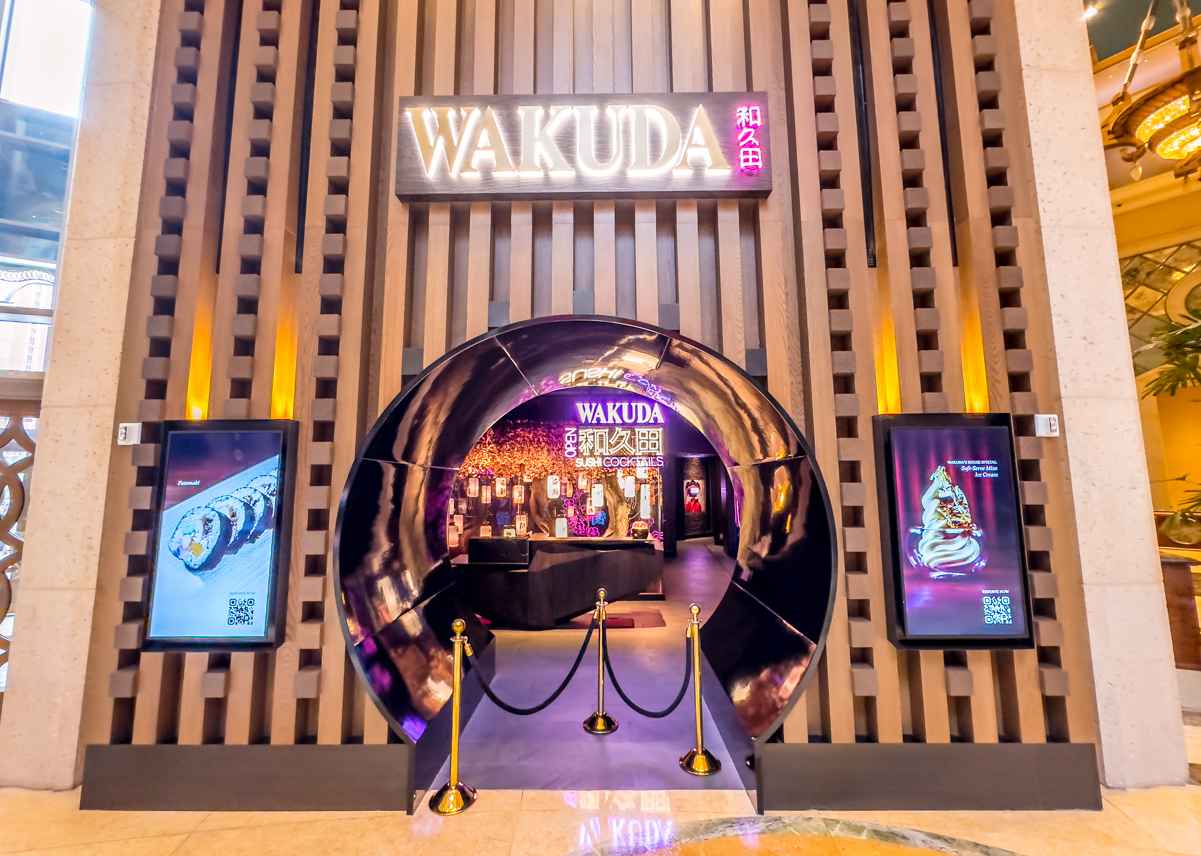 Japanese cuisine isn't just about sushi and ramen; Wakuda proves that. Wakuda is a great option for diners who want to experience modern Japanese cuisine (menu). The concept behind Wakuda was inspired by Tokyo's Shinjuku ward, and the restaurant was founded by world-renowned chef Tetsuya Wakuda. You can find Wakuda in the Palazzo tower.
Sitting in a higher price range than some of the other restaurants on our list, Wakuda is true fine dining at its best. The restaurant makes a great venue for celebrating special occasions, such as birthdays and wedding anniversaries. It has a romantic and luxurious atmosphere, which is also evident in the carefully crafted dishes.
You can choose to sit indoors or outdoors on the patio. Sitting outdoors allows you to overlook the Vegas strip.
Wakuda stands out among other available restaurants, especially on weekends. Friday and Saturday nights are accompanied by DJ-spun music that keeps guests entertained. The lounge is great for night owls, where guests can enjoy more than 50 types of sake.
Wakuda
$$$$
Japanese
Fine Dining
Dinner & Late Night
11. Miznon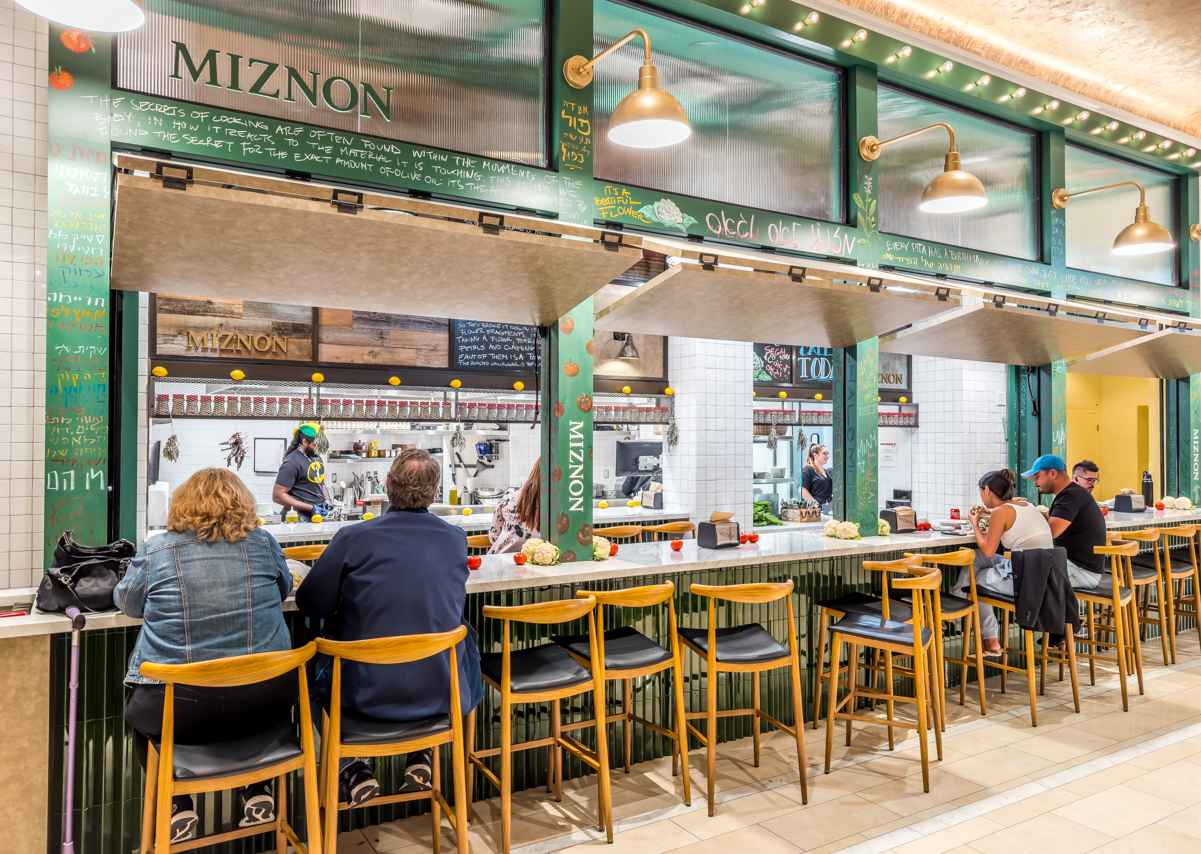 You're in a bit of a hurry and want something quick to eat in the Palazzo. Why not stop by Miznon? It's an Israeli restaurant serving delicious street food you can eat at the bar-style tables or take out for eating on the go. Food like falafel and lamb kebab are excellent choices (menu).
For diners with more time on hand, enjoying a plate of Rib Eye Minute Steak at the restaurant seems like a good idea, especially after a long day of shopping in Vegas. Have some sodas, beers, cocktails, or wine if you like.
Regarding pricing, Miznon is an affordable option in The Palazzo resort. But don't be fooled by its affordability and street food offerings; the food is commendable. The restaurant, after all, is founded by multi-restaurateur Eyal Shani, one of the most respected chefs in Israeli cuisine. 
Miznon
$
Israeli & Mediterranean
Vegan & Vegetarian
Casual
Lunch & Dinner
12. Black Tap Craft Burgers & Beer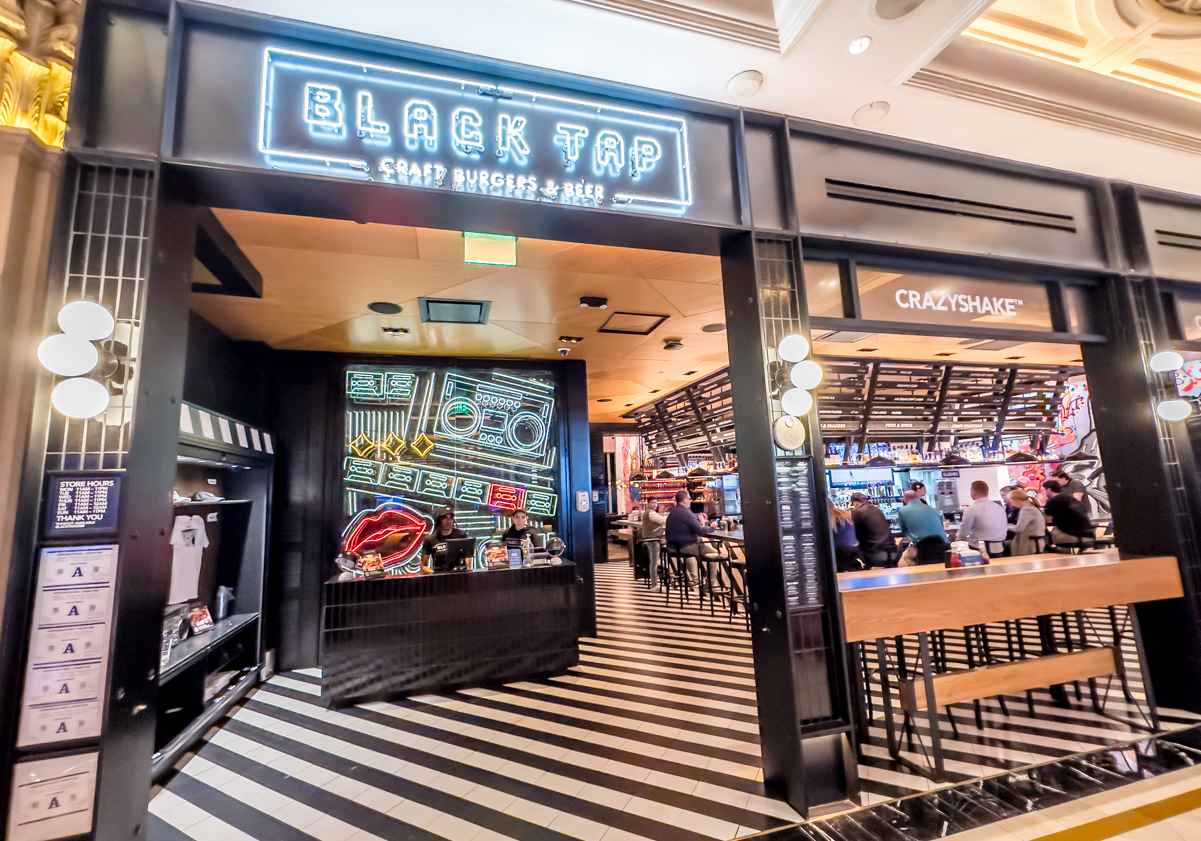 After exploring the Vegas strip, you'll definitely want to end your day somewhere nice for food and drinks. Come to Black Tap Craft Burgers & Beer to experience a heavenly gastronomic experience. Vegan options are available, too—and they're delicious. 
The highlight of the restaurant's menu is its award-winning burgers. These burgers have simple but essential ingredients that make for a phenomenal tasting burger. According to the restaurant, their burgers are never flipped more than once to help maintain their juices and flavors. Apart from the burgers, BBQ chicken wings are also high on the list of delectable delights. 
While you're there, don't miss out on the Black Tap's CrazyShake® milkshakes, one of the restaurant's must-try menu items. The shake is topped with a slice of cake. There's also cotton candy. How cool is that? 
After a meal, a glass of craft beer or two would be nice if you still have some space for them. Not a fan of beers? Perhaps have some cocktails instead. 
In addition to the indoor dining area, Black Tap also features an outdoor patio where diners can enjoy an amazing view of the Strip.
Black Tap Craft Burgers & Beer
$$
American Burgers
Casual Dining
Lunch & Dinner
13. Canaletto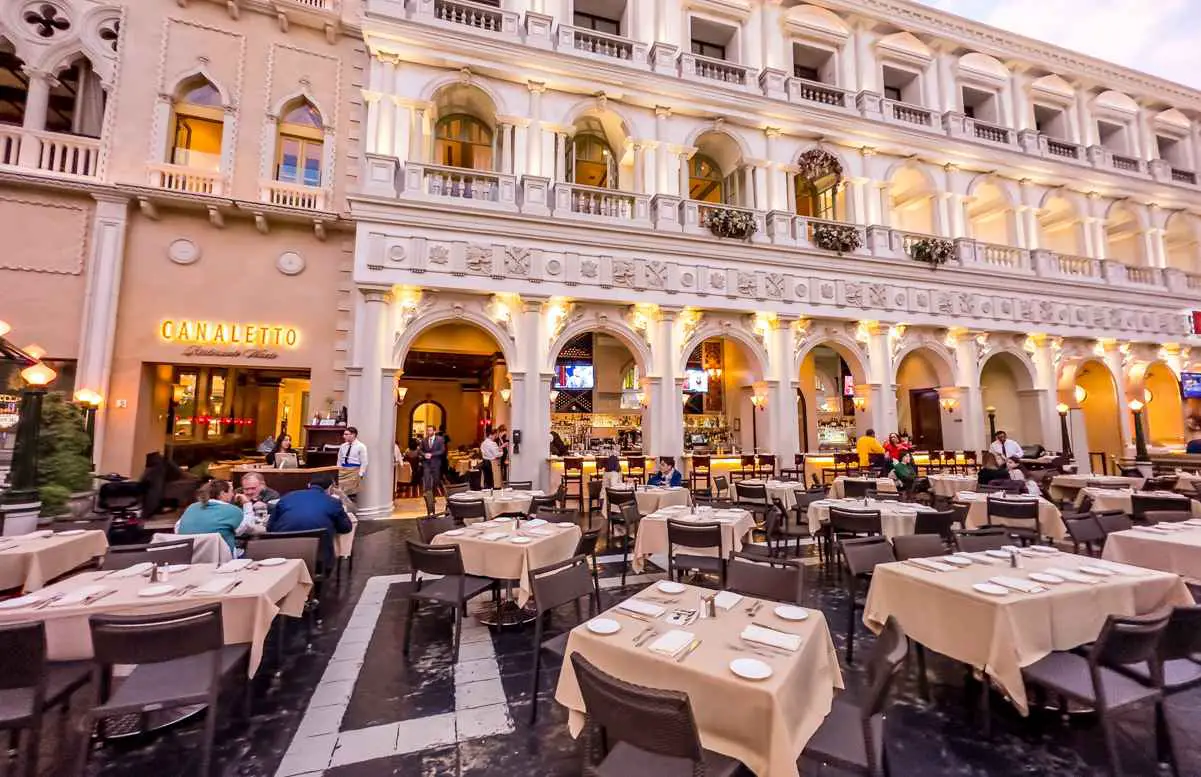 Suppose you want Italian food. But you don't want somewhere that mainly only serves pizzas. Why not give Canaletto a try? It's an award-winning Italian restaurant founded by Chef Gianpaolo Putzu that, despite offering guests elegant dining has reasonable prices.
Canaletto serves pizzas, pasta, salads, soups, and more. These dishes will give you an idea of what true Italian flavors are like. Dining at Canaletto is relaxing, thanks to its spacious dining area (large groups are welcome), offering exceptional views of St. Mark's Square, quality dishes, and lovely decor. Hence, the great online reviews it receives. 
Canaletto is open for lunch and dinner. Browse its menu for options like smoked salmon, thin-crust pizzas, minestrone soup, pasta dishes, and more. The restaurant uses premium-quality and fresh ingredients. The restaurant also offers wines and cocktails that go well with every dish.
Canaletto
$$
Italian
Casual Dining
Lunch & Dinner
14. TAO Asian Bistro
Marrying the culinary wonders of Japan, China, and Thailand, Tao Asian Bistro offers a hip dining experience unlike any other. Classic meets bold in this unique dining establishment, where the flavors of traditional Asian cuisine are combined and perfected in unique ways (menu). The restaurant is located inside Doge's Palace on the upper level of the Venetian Tower. 
While traditional options, including meat and seafood, are available, Tao Asian Bistro also offers an extensive list of vegan options for patrons to choose from. Some of their most popular dishes include the Wasabi Crusted Filet Mignon and the Miso Glazed Chilean Sea Bass.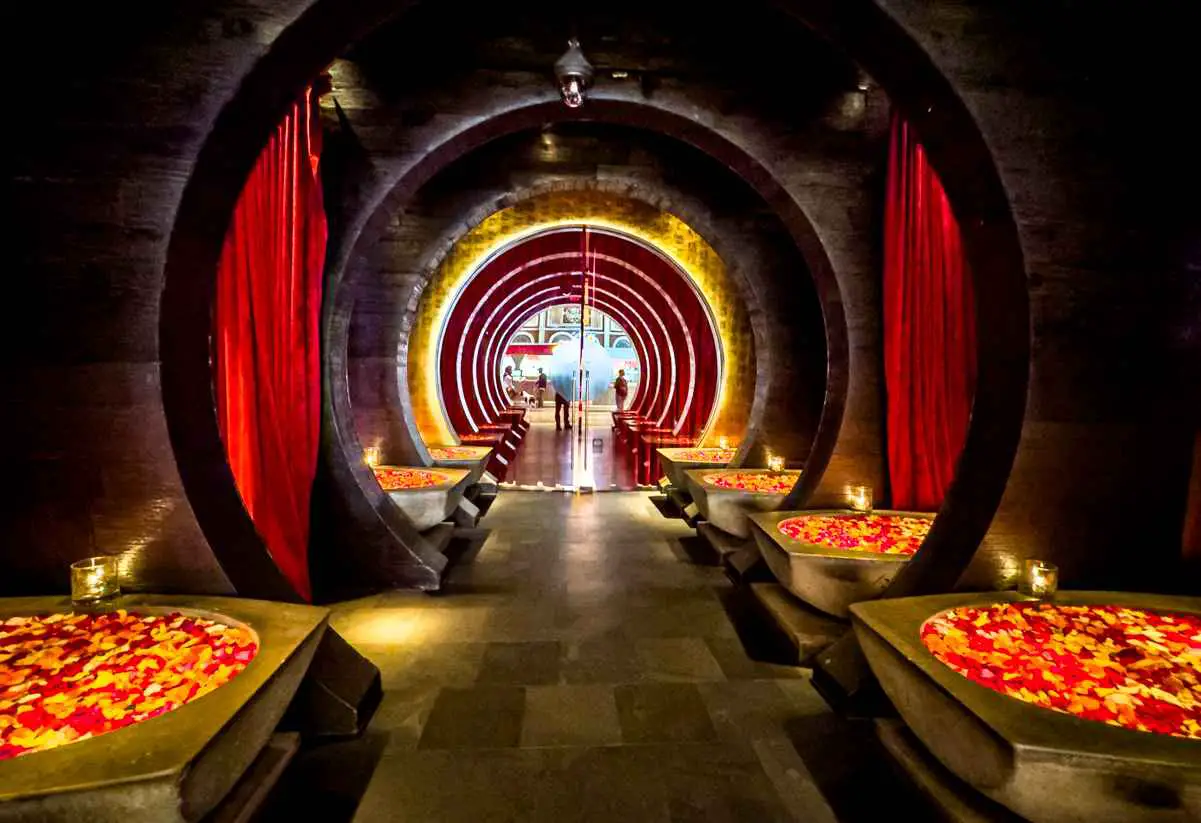 Lychee martinis are popular among diners, but if martinis aren't your thing, check out Tao's substantial list of wine, sake, and cocktails. 
But Tao's incredible dining experience doesn't end with the bold flavors and unforgettable menu. With its nightclub energy, Tao has music and lights designed to enhance a dining experience into a night of luxury and delight – leaving patrons with the quintessential Las Vegas experience. 
TAO Asian Bistro
$$$
Pan-Asian
Fine Dining
Dinner & Late Night
15. Mott 32
Thought Chinese food was great as a takeaway and not much more? Well, let Mott 32 shake things up a bit for you. Mott 32 is a Chinese fine dining experience right in the heart of the Venetian Palazzo. 
The highlight of the Mott 32 menu is the 42-day slow-roasted Peking duck, arguably one of the best Peking duck dishes in the states. This dish is so sought-after that you will often have to book weeks, sometimes months, in advance if you want your tastebuds to enjoy it.
However, don't fret if you haven't booked in advance. There are a lot of dishes on the Mott 32 menu, each of them wonderfully crafted by the experienced team of chefs at Mott 32.
The interior design of Mott 32 perfectly captures the feel of the menu. The moment you walk in, you are going to be surrounded by beautiful Hong Kong-inspired artwork and architecture. The interior designers did a wonderful job, and the style of the restaurant is one of the many reasons why we love to walk into Mott 32. 
Head to Mott 32, and it won't be long before you realize why this place has won awards for being one of the best restaurants on the Strip.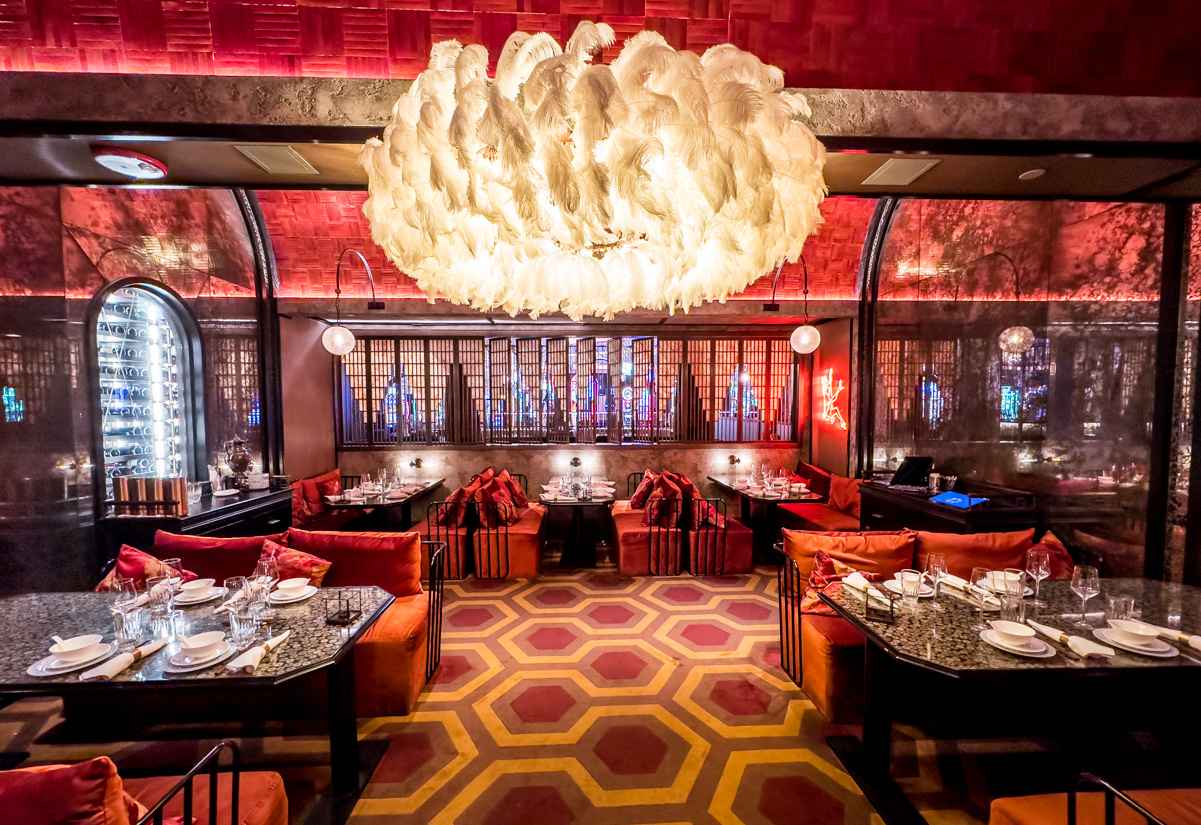 Mott 32
$$$$
Chinese
Fine Dining
Dinner
16. Grand Lux Cafe
The Grand Lux Café at the Venetian Palazzo is a restaurant/cafe concept from the creators of the Cheesecake Factory.
The Grand Lux Café follows the Cheesecake Factory playbook to a tee. You have awesome comfort food at highly competitive prices. It won't be topping any fine dining lists, but it is good, wholesome food. 
The Grand Lux Cafe is reputed to offer one of the best casual breakfasts in Las Vegas, and it is hard to argue with that. However, head here at any time of the day, and you will be able to enjoy an eclectic menu.
Sink your teeth into the likes of Pot Stickers, Beef Wellington, Filet Mignon, and many more. If you can name a classic American dish, then they probably have it on the menu.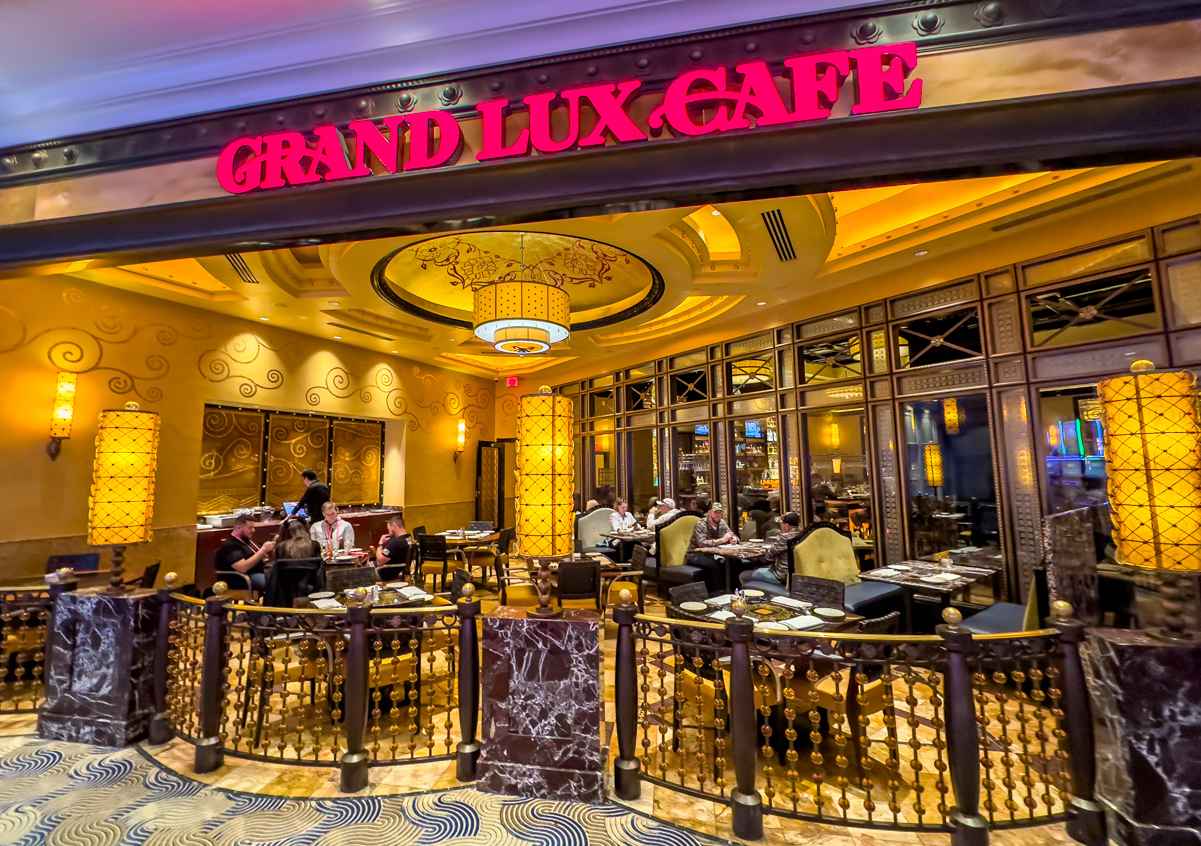 The restaurant is open 24/7 so, after an intense night of gambling or catching some awesome shows, you know that you have the team at the Grand Lux Café to help satiate your appetite. 
Note: There are two Grand Lux Café locations inside the Venetian Palazzo, so no matter which part of the resort you're in, one of these eateries won't be far away.
Grand Lux Café
$$
American
Casual Dining
Breakfast, Lunch & Dinner, plus Late Night
17. SUSHISAMBA
SUSHISAMBA is unlike any other restaurant you will have seen before. As soon as you walk in and see the stunning modern aesthetics, you know that you are in for a treat.
This modern restaurant follows the current Vegas trend of fusion food, but Sushisamba partners cuisines that you would never have imagined would work well together. Peruvian, Japanese, and Brazilian cuisines are at the forefront of the chef's minds when designing their stunning dishes.
When this happens, you end up with gorgeous dishes such as Rock ShrimpTempura, pork belly in miso, and a whole host of fish dishes. You won't ever taste something like this again. Well, unless you head back to Sushisamba. 
While all of the cuisines represented are heavily focused on meat, Sushisamba doesn't leave vegans and vegetarians in the lurch. Plenty of dishes on their menu are vegan-friendly. There are even gluten-free options. Dishes at Sushisamba aren't cheap, but the beautiful flavors will create memories that will last forever.
SUSHISAMBA
$$$
Asian Fusion
Casual
Lunch, Dinner & Open Late
18. Yardbird
Yardbird offers a casual dining experience. The restaurant concept is based on the idea of classic American dining. Think traditional dishes. Just the sort your grandma would have made. Chicken biscuits, BLTs, Mac & Cheese, and a whole host of other casual culinary delights (menu).
Yardbird sticks with the basic comfort foods but gives them an extra bit of oomph. This is why Yardbird is listed as one of the top 100 brunch restaurants in the United States,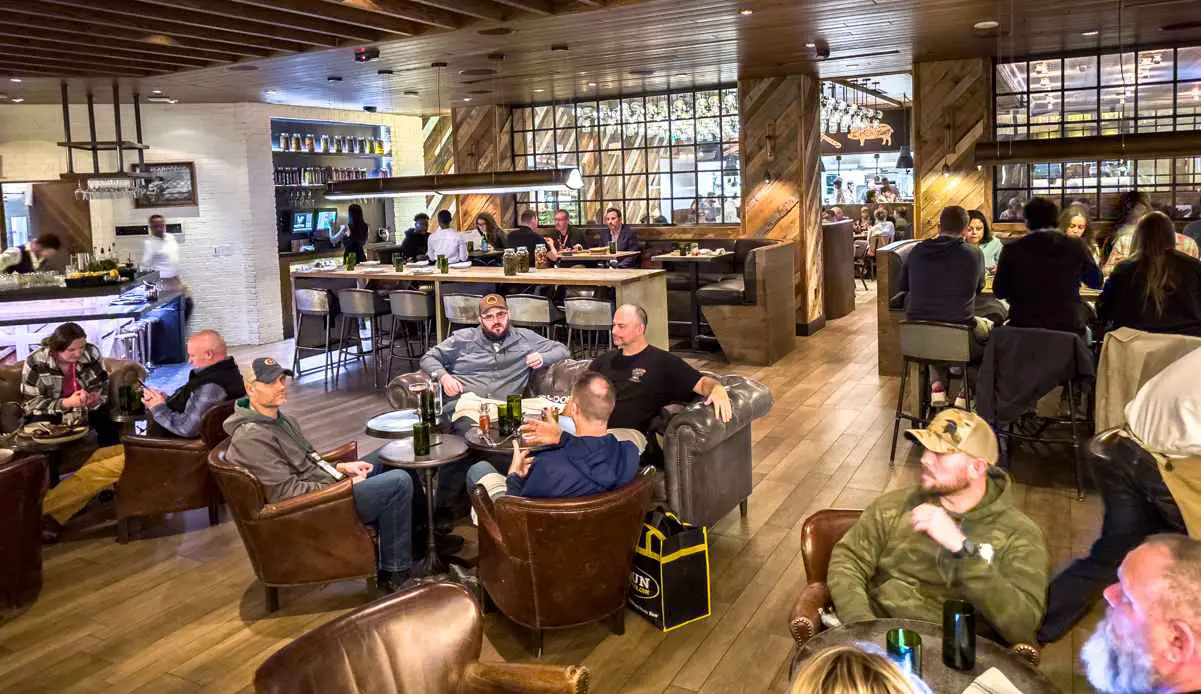 Lovers of Bourbon are going to feel right at home at Yardbird. This Venetian restaurant has one of the largest collections of Bourbon in the US, and there are options here that you won't easily find at any other restaurant.
For those looking for a great casual dining experience without the hefty price tag, Yardbird is worth checking out. 
Yardbird
$$
American
Casual Attire
Lunch, Dinner & Brunch (Weekends only)
19. SUGARCANE raw bar grill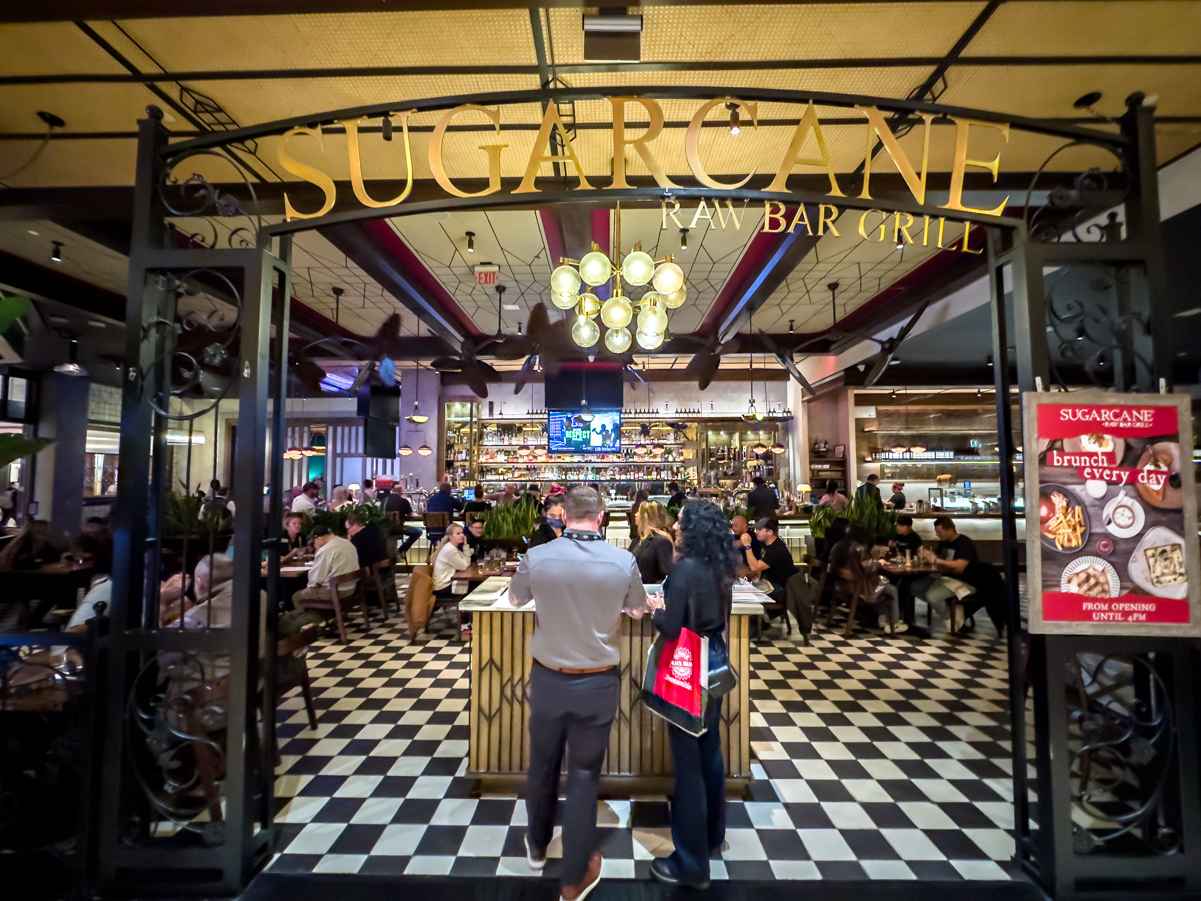 Often described as traditional comfort food with a twist, Sugarcane Raw Bar Grill offers hearty and unique dishes designed to enhance the restaurant's friendly and relaxing atmosphere. 
With culinary inspirations ranging from familiar American favorites to the more exotic flavors of Latin America and Asia, Sugarcane Raw Bar Grill has something to please even the most particular diner in your company.
Some of the restaurant's favorites include goat cheese croquettes, Korean chicken wings, pig ear and papaya pad Thai, and the Cuban benedict (menu). They also have an extensive list of vegan options.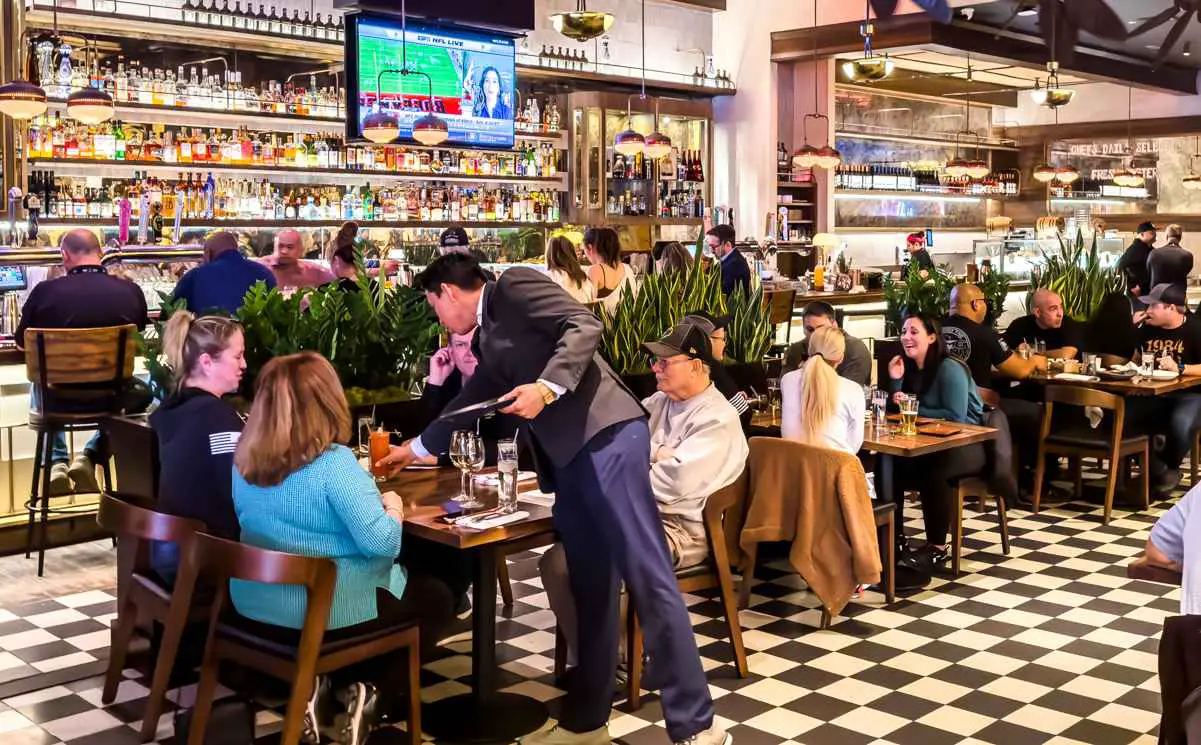 Instead of a nightclub atmosphere offered by many Las Vegas restaurants, Sugarcane Raw Bar Grill prides itself on its warm, laid-back vibe for those who prefer a quiet relaxing meal. 
Sugarcane Raw Bar Grill is located inside The Venetian's Grand Canal Shoppes. 
SUGARCANE raw bar grill
$$$
Worldwide cuisine
Casual
Breakfast, Lunch, Dinner (Open Late), & Everyday Brunch
Map of Restaurants in Venetian Palazzo Vegas (Where to Eat)
The Venetian and Palazzo properties combine to make one very large resort. So rather than walking endlessly looking for the restaurant you desire, you can first find it on the map below to make sure you head in the right direction.
This Venetian Palazzo restaurant map is fully interactive so feel free to scroll around and zoom in. Click on a specific restaurant location, and you'll be provided with the address and learn some additional information.
Should You Make Reservations at Venetian Palazzo Restaurants?
As you might imagine, many of these Venetian Palazzo dining establishments are in very high demand, and making an advanced reservation may be the only way to get seated. My advice is that you absolutely should reserve a time at any restaurant above that is listed as "fine dining." You're taking your chances at any of these upscale restaurants without reserving ahead of time.
For the eateries listed as "casual," a reservation shouldn't be necessary. Even in these cases, however, things can get very busy in Las Vegas around lunch and dinner times. A tip, in this case, would be to plan your meals at slightly off-peak times.
Celebrity Chef Restaurants at The Venetian and Palazzo
Celebrity chef-owned restaurants are all the rage in Las Vegas, and when you're at The Venetian, you won't have to go far to find one. You can find delicious dishes from many celebrity chefs inside The Venetian and Palazzo, including:
Thomas Keller (Bouchon) – An American-born chef who holds several 3-star Michelin Guide ratings.
Wolfgang Puck (CUT) – Who hasn't heard of this celebrity chef? Wolfgang Puck developed his visionary style while working in several of France's most famous restaurants.
Emeril Lagasse (Delmonico Steakhouse) – This well-known chef has hosted thousands of episodes of cooking shows on the Food Network.
Eyal Shani (Miznon) – Respected as the originator of modern cuisine in Israel, he owns over 40 restaurants throughout the world.
Tetsuya Wakuda (Wakuda) – This two-star Michelin chef has won accolades for his artistic cuisine throughout the world.
Lorena Garcia (CHICA) – This restauranteur, author, and television personality operates several restaurants and is considered to be one of Venezuela's top chefs.
You can count these chefs and restaurants among the best at Venetian Palazzo.
Find the best deals on rooms at The Venetian and save big with TripAdvisor!
Do Venetian Restaurants in Vegas Offer Takeout Food?
If you're in the mood for a delicious meal from one of the top restaurants at the Venetian Palazzo but would rather take it back to your room, no problem! Many of the dining establishments within The Venetian and Palazzo have takeout available.
Though not every restaurant at Venetian offers takeout, and not all dishes are available for takeout orders, you will find a large selection of takeout food options on Venetian's website.
Related Articles: