Cracker Barrel Near the Las Vegas Strip (2 Locations!)
(This article may contain affiliate links. If you click through and make a purchase, we will receive a small commission at no additional cost to you. )
If you're near the Las Vegas Strip and happen to be looking for some classic country cooking, then you're in luck. There are a couple of Cracker Barrel restaurants close by that will satisfy all your southern food needs.
Cracker Barrel has two locations in Las Vegas. One restaurant is right by the strip, while the other is in North Las Vegas. Cracker Barrel is the perfect place to get a taste of southern cooking with an ambiance that feels like home.
Let's take a closer look at these locations and what you can expect on your visit to Cracker Barrel.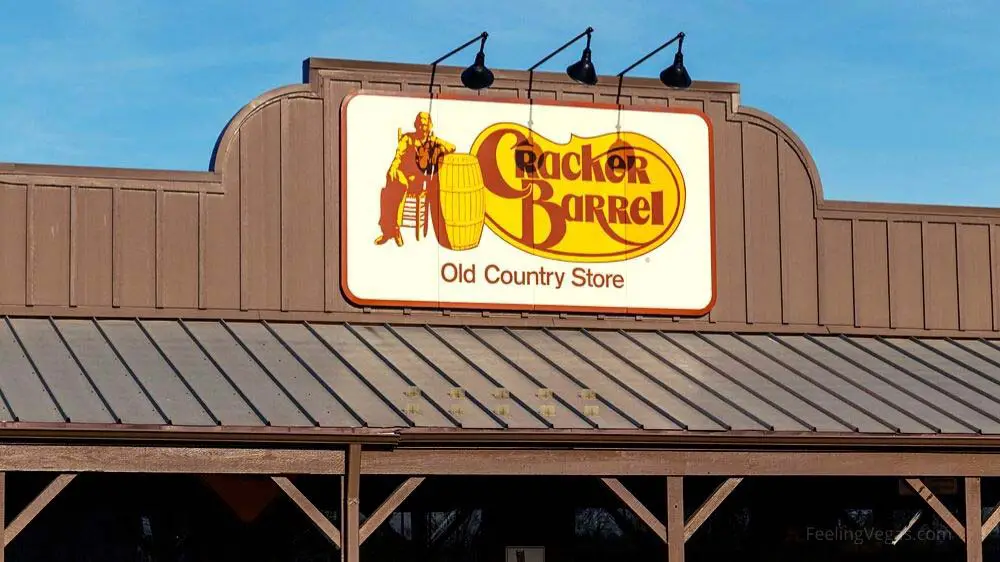 Where Are the Cracker Barrels in Vegas Located?
The two Cracker Barrels in Vegas are located on Dean Martin Drive and East Craig Road. The Dean Martin Drive location is closest to the strip, while the East Craig Road location is further north.
Cracker Barrel Location Closest to The Strip
The Dean Martin Drive Cracker Barrel is located just off the far southern end of the strip.
To get there (google maps):
Head south on I-15 to exit 33. This exit puts you on Blue Diamond Road.
From there, turn left on Dean Martin Drive.
Make the second left turn, and you'll be at Cracker Barrel. This location is just a few minutes off the strip in Vegas.
Not only is this location the closest and most convenient to the strip, but it's also located next to Silverton Hotel & Casino and the huge Bass Pro Shop. These are both worth checking out before or after your meal.
Cracker Barrel in North Las Vegas
If you're looking for another location in Vegas, check out the Cracker Barrel on East Craig Road. This is a little further from the strip, and you'll need to head north, rather than south.
To get to the East Craig branch (google maps):
From the strip, head north on I-15 until you get to exit 48. Exit 48 puts you on West Craig Road.
Turn left immediately off the exit on East Craig Road. As soon as you turn, you'll see Cracker Barrel immediately on your left.
Both Cracker Barrel locations in Vegas are just a few minutes away from the strip. While the northern location is not as close by, it is still pretty convenient for those on or near the northern end of the strip.
What Does Each Vegas Location Offer?
Both locations offer dine-in, take-out, and delivery for those located near the strip. Both are open from 7 AM to 9 PM Sunday through Thursday and 7 AM to 10 PM Friday and Saturday.
If you're looking for a down-home dining experience, Cracker Barrel is the place to go. Both locations in Vegas offer their signature front porch with classic wooden rocking chairs. When you walk in, it gets even better. You are immediately immersed in the classic southern decor that makes Cracker Barrel feel like home.
Once inside, you'll see their vast general store. It has tons of fun knick-knacks for your home and even some toys and candy for the little ones. So, make sure you stop on your way in or out to see what they have to offer.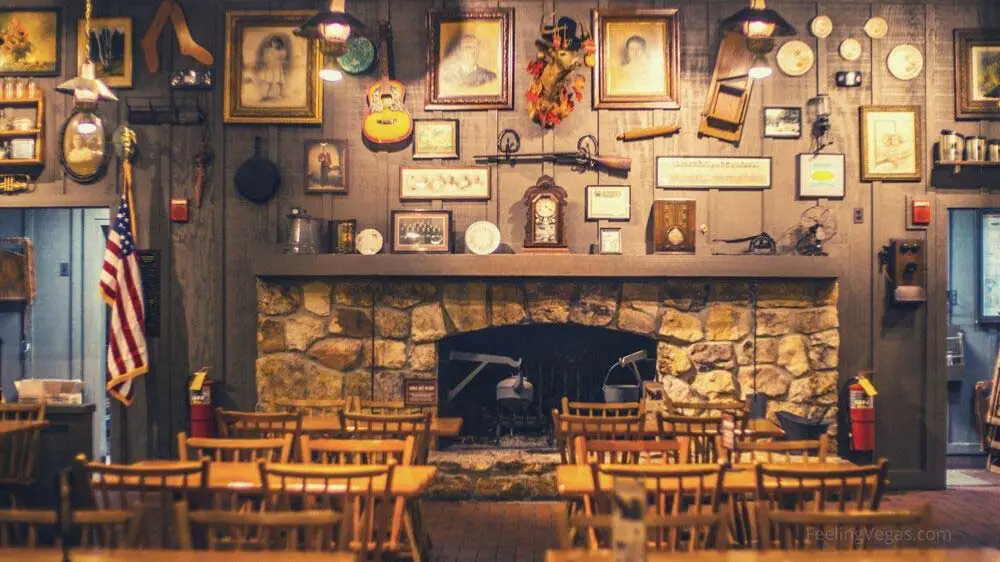 Then, you will enter the dining room, where you will find plenty of decor to remind you of your grandparent's home. Here, you are met with a wait staff trained to give you pleasant service with a smile and a touch of southern hospitality.
Both locations in Vegas also offer take-out and delivery for those who want to enjoy some southern cooking in the comfort of their home or relax in their hotel. Try takeout if you are okay with stopping by to pick up your meal or use a food delivery service to bring it to your hotel.
Cracker Barrel also offers curbside pickup, so you don't even need to get out of your car. Place your order online or on the app (Apple|Google Play), park in one of the marked parking spaces, and have your meal brought to you.
You can also have Cracker Barrel cater your next get-together. Both locations offer catering, which you can pick up or have delivered to the party or meeting location. Make sure to check out your location's catering menu to see what they have to offer.
While both locations have the same hours and overall experience, the location on Dean Martin Drive offers a little more fun.
There, you and your family can dine on the front porch and enjoy the nice weather. So, stop by this location if you want to eat on the famous front porch.
What Should I Eat From Cracker Barrel? (Menu Items)
Cracker Barrel has something for every craving, including their all-day breakfast or mouth-watering dinner options. Choose your meal based on your mood. They also have a value menu for those looking to save some money on their visit.
Breakfast and brunch lovers, Cracker Barrel is the place for you. Every location offers breakfast all day long. So, you don't have to worry about coming at a certain time, especially if you're waking up late in Vegas. Get breakfast for dinner without any judgment, if you want.
Cracker Barrel is famous for its pancakes, and they do not disappoint. Try their buttermilk pancakes in almost every combination possible, including seasonal flavor variations. If you're looking for some other breakfast options, Cracker Barrel also has:
French toast
Eggs
Omelets
Country ham
Hash brown
Grits
Buttermilk biscuits and gravy
Fried apples
If breakfast isn't on your wishlist, there are plenty of other options for you. Try their classic, southern fried chicken with all your favorite sides, or order their baked chicken if you want something a little healthier that still has that down-home flavor.
If you're looking for something hearty, try their chicken dumplings or pot pie. They also have meatloaf and baked turkey. There are even seafood options, from fried shrimp and farm raised catfish, to grilled rainbow trout. You're sure to find something you love on their menu.
Some additional dinner menu items include:
Steak
Grilled Chicken
Turkey
Prime rib
Mashed potato, baked potato, or sweet potato
Turnip greens
Green beans
If you want a lighter option, go for a salad or a burger. Any dinner or breakfast item you're craving can be found on their menu. But it doesn't stop at the main course. Try their famous hashbrown casserole as a side, or get it loaded by adding some bacon and cheese.
Once you are finished with your meal, don't forget to have a cup of coffee or tea. Then if you saved room for dessert, you're certainly in for a treat. From cobbler to cake, Cracker Barrel has you covered when it comes to something sweet.
Whatever you prefer, chances are you can find something you're craving on this vast menu. So, come to Cracker Barrel for breakfast, lunch, or dinner, and get some great food and country cooking.
You can visit the complete Cracker Barrel menu here.
Final Thoughts
The next time you're in Vegas, stop by one of these two Cracker Barrel Old Country Store locations for some delicious country cooking.
Dine-in if you like, or pick it up and enjoy it on the go.
More Eating in Vegas Posts