The 15 Best Vegetarian & Vegan Restaurants in Las Vegas
(This article may contain affiliate links. If you click through and make a purchase, we will receive a small commission at no additional cost to you. )
Las Vegas might be known best for its nightlife, but another reason so many tourists flock to this location is the food! And don't think you're stuck eating a cheeseburger or steak to get your Vegas food fix. Las Vegas is forward-thinking, and both vegetarian & vegan restaurants have popped up left and right to cater to your needs. But which ones are the best?
The 15 best vegetarian and vegan restaurants in Las Vegas are:
VegeNation
Veggie House
Grabbagreen Food + Juice
Simply Pure by Chef Stacy Dougan
Violette's Vegan Cafe & Organic Juice Bar
POTs
Bronze Cafe Downtown
Pancho's Vegan Taco
Veganos Kitchen
Slice of Vegas
Flower Child
Govinda's Vegan Buffet
SkinnyFATS
Baby Birds Cafe
Parsley Modern Mediterranean
If you're ready to sink your teeth into some of the most delicious vegetarian plates and treats Las Vegas has to offer, in this article I'll give you some great places to do it.
Read on to find out the top 15 vegan and vegetarian restaurants in Las Vegas to get you excited – possibly even more excited than the sounds and lights of your favorite slot machine.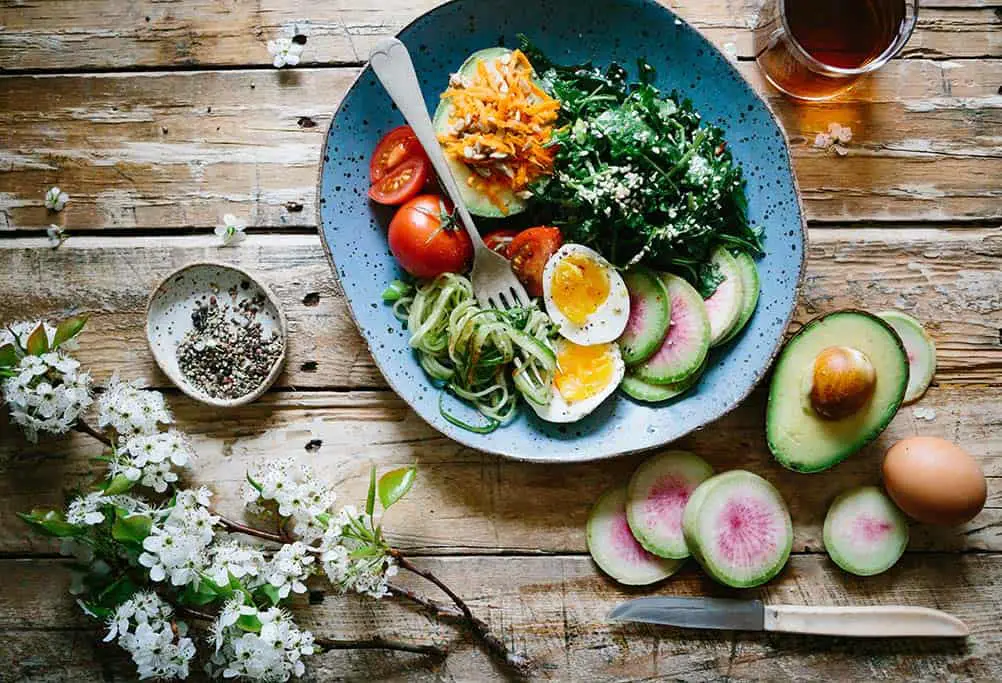 Top 5 Vegetarian and Vegan Restaurants in Las Vegas
The great news about dining in Las Vegas is that it won't be a challenge to find great places to eat. Whether you're stopping in for a quick bite between shows or settling down for a romantic evening with your partner, Las Vegas has you covered – even if you are vegan or vegetarian!
Let's take a look at what Las Vegas has to offer in the way of conscientious plant-based food. We're going to start with our top 5 very best picks, giving detailed information on the restaurants as well as recommendations of dishes and treats you might want to try.
We'll follow that up by a list of 10 other amazing vegetarian and/or vegan restaurants in town that you should certainly consider trying.
1.   VegeNation (Vegetarian & Vegan)
With over 1,800 positive reviews on Yelp and 4 and a half out of 5 stars, it's no wonder why VegeNation is at the top of our list. But why should you love it? Well, one of the major missions of this restaurant is that they strive to support the community by utilizing locally sourced ingredients.
That's right – VegeNation uses locally grown vegetables from school and community gardens. They also offer their customer's locally sourced beer and spirits to sip on, as well as tasty locally brewed teas and coffees.
Even local spices are featured on the menu! Who knew there was so much food grown in Las Vegas!?
Aside from their exquisite locally-sourced ingredients, one thing that any vegetarian can be excited about is the delicious breakfasts, lunches, and dinners that are made entirely with plant-based ingredients. As their website states:
"Yesssss our meats, cheeses, and ice creams are made from plants!"

VegeNation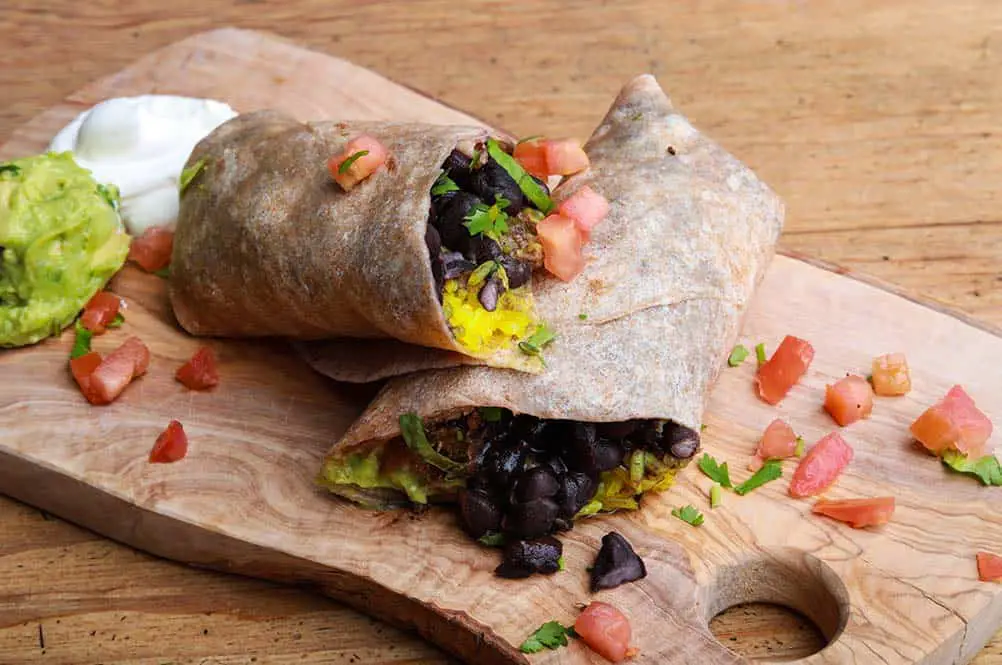 Top Picks from VegeNation
Stop in for a filling breakfast or have a seat with the family for lunch or dinner and be wowed by the selection and flavors. Did I mention there's an out-of-this-world weekend brunch you won't want to miss? All this and more awaits you at VegeNation.
Here are our top picks:
Breakfast: The Badass Vegan Burrito, made with black beans, grilled vegetables, breakfast potatoes, and chorizo in a tofu wrap. It's tasty with a touch of spice. It's also super filling to help you keep up with your busy Vegas vacation!
Lunch/Dinner: The Downtown Tony, with a delicious, flavorful blend of vegetable slaw and sriracha aioli on a portobello mushroom slider with fresh-cut fries.
Kid's Menu: Chicken-Less Nuggets, yes, you can trick your kids into loving vegetarian food just as much as you do with these delicious (not) chicken nuggets!
If you're in the mood for Chinese food, you will find peace and pleasure at the Veggie House in Las Vegas. This delicious restaurant has over 800 positive reviews on Yelp and a rating of 4 and a half out of 5 stars, so you know you're about to walk into something great.
Oh, and did we mention the ambiance of this establishment is exquisite? Just wait until you see the indoor gazebo!
Aside from the cool style that's sure to wow you, Veggie House has an equally exciting menu that will suit anyone's palette. From the spicy Szechuan Shrimp to the House Pan Fried Noodles, you are guaranteed to find a plate that's sizzling hot to wow your taste buds or comforting to leave your tummy warm and smiling.
Whether you're stopping in for lunch or dinner, you and your friends are bound to find something you will enjoy. The menu is seemingly endless, and all the items cater to a vegetarian palette. Start with some delicious BBQ Veggie Meats for appetizers and end your meal with Mushroom Squash Pumpkin with Tofu.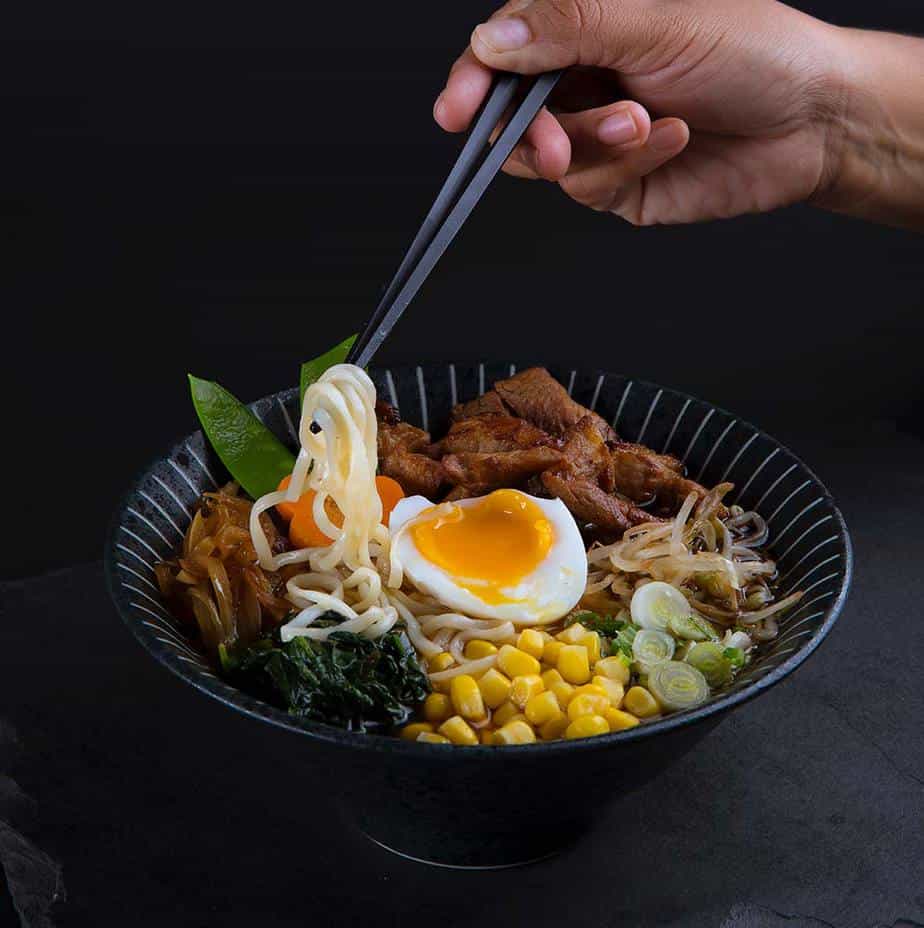 Top Picks from Veggie House
There is plenty to love at the Veggie House, but these are our top three picks that can be eaten for lunch or dinner:
Spicy Veggie Crispy Beef – If you love all things spicy and love a crunch with your bite, you will find harmony in the Spicy Veggie Crispy Beef dish. This plate comes with crispy soy beef topped off with a spicy sauce and peanuts.
Spicy Pad Thai Noodle – Love pad thai? You're going to love this chef's specialty! These mouthwatering noodles are cooked with bell peppers, bean sprouts, and peanuts to kick up the heat and leave you craving more.
Veggie Meat Ball with Basil Sauce – Tame down the heat without taming down the flavor with this top pick. Soy and shitake mushrooms are doused in a tasty basil sauce.
Whoever said that fast food had to be greasy cheeseburgers and artery-clogging fries has never stepped foot into Grabbagreen Food + Juice. This 'fast food' type establishment prides itself on its 'Eat Clean' menu that is comprised of nothing but quality, fresh ingredients, and 100% whole foods.
Grabbagreen may be one of the newer restaurants to hit the Las Vegas streets but has quickly grown since its humble beginnings in 2013. In Las Vegas alone, this restaurant has earned over 100 positive reviews and has 4 and a half out of 5 stars. Inside its doors, you will find everything from superfood wraps and bowls to top-notch juices and smoothies that send your taste buds soaring.
There is a wide selection of bowls and wraps to choose from, or you can create your very own to get exactly what you are craving. Aside from that, they also offer Elixirs that can Soothe, Defend, help your Gut, or help you to Slim.
In need of a gentle, yet thorough detox? You can use their juice elixirs for a 1, 2 or 3-day detox program.
"Grabbadetox: is a powerful way to give your body the reset it needs. This daily detox floods your system with vitamins, nutrients, and enzymes to help boost your digestive system, rid your body of toxins, and restore your body's natural balance."

grabbagreen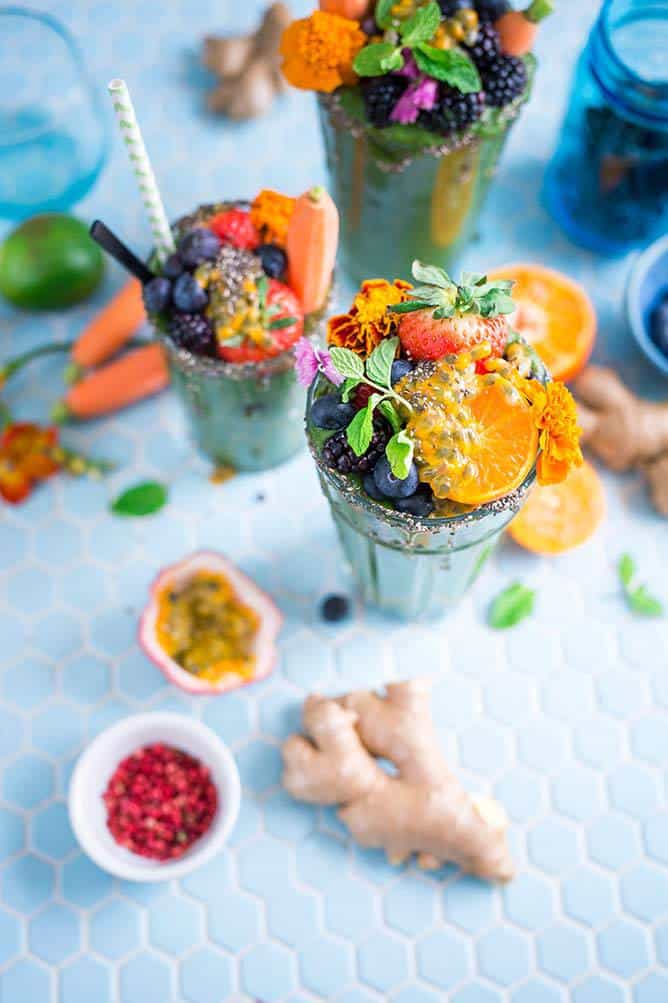 Top Picks for Grabbagreen Food + Juice
Grabba Chilli, with a warming and zesty combination of black beans, cilantro, corn, quinoa, red onions, red peppers, and tomato.
Oxidation Elimination, this smoothie has everything to keep your body healthy and active while also empowering your palette. Inside you will find a blend of acai, agave, banana, blackberry, blueberry, spinach, strawberry, and green tea.
Simply Pure by Chef Stacey Dougan is genuinely a vegan (and vegetarian's!) dream come true. Simply Pure is a delicious restaurant in Las Vegas that is so much more than just a restaurant. Chef Stacy also teaches classes to anyone looking to up their vegan cooking game while also offering catering and meal prep services.
Whether you're in the mood for a comforting plate of delectable lasagna or want to sip on a fresh-squeezed juice, you can find it all and everything in between at Simply Pure.
You even have the option of substituting 'chicken' salad and cashew cheese to make your dish completely raw.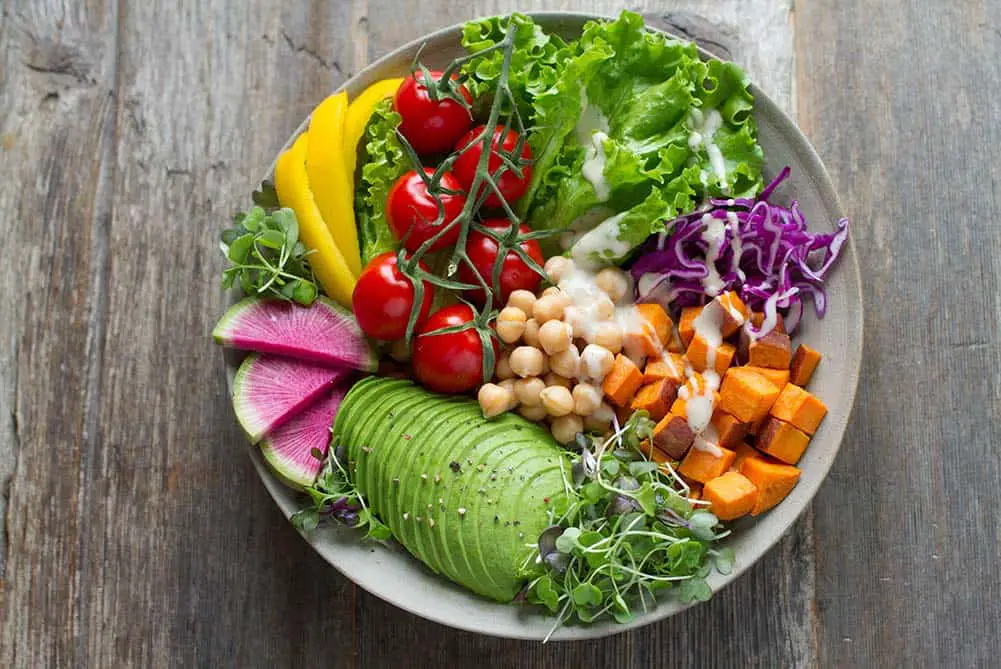 Top Picks from Simply Pure:
You will be ultimately surprised by the variety of dishes available at this vegan restaurant, and by the end of your meal, you won't hesitate to claim this as the best vegan restaurant you may have ever been to.
Here are some plates you'll want to try:
Green Enchiladas – These lovely enchiladas are made with vegan 'beef,' zucchini, sautéed onions, and peppers, all wrapped up into a corn tortilla and smothered with a homemade green chili sauce con queso, sour cream, pico de gallo, and scallions.
Jicama Chili Cheese Fries – Forget everything you knew about chili cheese fries! This plate boasts seasoned raw jicama fries topped with vegan beef, scallions, cheddar cheese sauce, and pico de gallo. You can also substitute for cashew nacho cheese or chicken salad to make it raw.
Ultimate Sampler – When you can't pick just one, have a little bit of them all. On the Ultimate Sampler Plate, you get zucchini pasta, simply pure tacos, chicken salad lettuce wraps, nachos, and chili cheese fries. Yum!
With fresh, local, and organic ingredients, Violette's Vegan Cafe & Organic Juice Bar has quickly skyrocketed to being one of the most popular vegan restaurants in Las Vegas, and they have well over 500 reviews to prove it.
"Every day we strive to redefine the dining experience by making vegan food tastier and more accessible."

Violette's Vegan Cafe
Whether you're ordering delivery or sitting down with friends and family members, you're bound to enjoy your dish – no matter if it's a fulfilling breakfast, a rockstar lunch, or a savory dinner.
Here you will find everything from juicy vegan bacon cheeseburgers to fried chicken with your choice of mac and cheese, mashed potatoes, potato salad, chili cheese fries, coleslaw, fries, or sweet potato fries.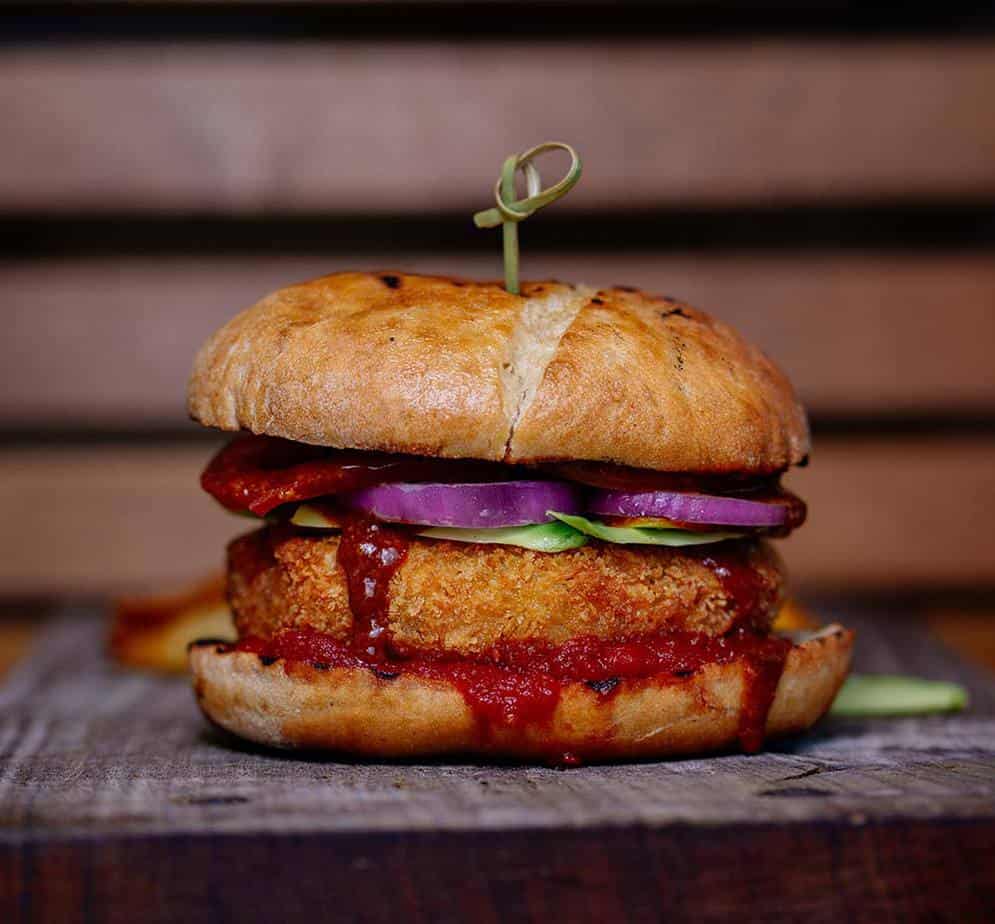 Top Picks from Violette's Vegan Cafe & Organic Juice Bar
Violette's Muffin Melt – This elegant and delicious breakfast puts other breakfasts to shame. With a tasty tofu scramble, veggie sausage patty, potatoes, Thousand Island dressing, and cheese on a toasted English Muffin, you get it all in one delicious package.
Cyndy's All-In Burger – A beyond burger with cheese and bacon is topped with onion rings, avocado, tomatoes, red onions, lettuce, and Thousand Island dressing for a burger that's out of this world.
Top 10 Runner-Up Vegetarian & Vegan Restaurants in Las Vegas
Aside from our top picks, there is an almost endless number of restaurants that offer vegetarian or vegan selections in Las Vegas. And while we provided an in-depth look at the top 5, we still have to shed some light on these ten runner-ups.
These restaurants deserve a spotlight because they are downright delicious and should be on your vegetarian bucket list.
1.   POTs (Vegan)
Looking to expand your palette, not only in a vegetarian sense but in an ethnic sense as well? If you have never tried Egyptian cuisine before, we highly recommend you do so while visiting Las Vegas – and the best place to do this is at POTs.
This Egyptian-inspired restaurant offers tasty street food for vegans & vegetarians as well as Mazza and shakes. The green walls are a relaxing touch! (google maps)
If you're looking for the perfect vegetarian place to have lunch with your pals, then Bronze Cafe Downtown is sure to hit the mark! The Bronze Cafe Downtown offers a variety of delectable sandwiches, salads, and smoothies to please your palette and keep your tummy satisfied until dinnertime.
There's a nice patio to relax on while you dine and chat, and there's also a wide selection of vegan options, too. (google maps)
Sometimes it can be a challenge to find authentic Mexican food when on a vegan diet, but Pancho's Vegan Taco puts an end to that. Pancho's Vegan Taco is known for its authentic Mexican food that tastes like it came straight from Mexico itself.
The small and casual dining spot lets you indulge in all your Mexican favorites – from sopa to tacos – in a delicious, vegan style. You won't be disappointed! (google maps)
If you want to sit back and relax with a plate of vegan nachos, then you might consider Veganos Kitchen. This is another excellent option for anyone seeking delicious Mexican food that is 100% vegan.
Here you can indulge in counter-serve Mexican fare that ranges from your favorite type of tacos to enchiladas and so much more. (google maps)
There is nothing more comforting and warm than a hot plate of pasta. Italian food gives you that 'feel-good' feeling no matter what time of day it is, and thanks to Slice of Vegas, it's never been easier for vegetarians and vegans alike to indulge in mouth-watering Italian dishes.
Whether you prefer pizza or a classic Italian pasta or sandwich, you can find a wide range of options at Slice of Vegas. (google maps)
6.   Flower Child (Vegetarian & Vegan)
Just as the name would suggest, Flower Child is a lively place with a mission to spread positivity – especially in your palette! This wonderful little spot to dine has a wide selection of cuisine to choose from, whether you're in the mood for comfort food or want to refresh with a glass of lemonade or kombucha.
The entire menu is made from scratch, so you know you're getting the best of the best freshness with every bite. (google maps)
It's not every day that you run into a buffet that's made up of entirely vegan options- until you run across Govinda's Vegan Buffet. If you are looking for an all-you-can-eat location to appease your palette, then you found it with Govinda's.
This fantastic eatery has just about anything you could think of, making it a top pick for big groups who want to ensure there is something for everyone to enjoy. Plus, it's all delicious! (google maps)
8.   SkinnyFATS (Vegetarian & Non-Vegetarian)
Simple doesn't always have to mean boring, and SkinnyFATS proves that. This is a more casual vegetarian eatery, but that doesn't mean there is any slack when it comes to flavor. From their juicy burgers to their refreshing juices, anyone can find a lunchtime meal they'll be more than pleased with.
This is the spot to take your non-vegetarian friends. There are two sides to the menu, the "Healthy" side, and the "Happy" side. The healthy side is full of healthy vegetarian dishes while the happy side of the menu is full of meaty comfort food. Everyone's happy! (6 locations, google maps)
9.   Baby Birds Cafe (Vegetarian & Non-Vegetarian)
Think of Baby Birds Cafe as the one-stop place to shop for all your vegetarian coffee needs. This is the 'local hot spot' for coffee lovers who want to sit back and relax with a vegetarian treat they can feel confident and satisfied with. So it's more of a coffee and snacks kind of place than a full-on restaurant.
With a slogan like 'Good Food, Good Coffee, and Good Vibes,' you know this is a great option. Pair your mocha with a prosciutto Caprese, and you'll be glad you did! (google maps)
Think that this list is missing Mediterranean vegetarian options? Well, you would be correct. However, this problem is solved with Parsley Modern Mediterranean. This quality restaurant is known for offering vegetarian customers with fresh and simple Mediterranean dishes that are made with pure, clean, and wholesome ingredients.
Here you will find all your Mediterranean favorites, from salads and wraps with steak shawarma to kabobs and falafels. (3 locations, google maps)
Conclusion
It's much easier than you might think to find vegetarian and vegan fare in Las Vegas; with so many options, it's almost fun!
Whether you are opting for the ever-popular VegeNation or trying the more 'hole in the wall' experience at Flower Child, you are bound to find a menu that is stacked with delicious dishes, drinks, and treats that will ignite your taste buds and keep your stomach happy throughout all of your Las Vegas adventures.
More Eating in Las Vegas